Introduction
PC cases are one of the most important components of any PC build. A good case brings your whole build together, doesn't make the building process more time consuming and difficult, and has plenty of space for all of your various components without causing any clearance or installation issues. Finding a case that offers all of this, and more can be difficult, especially if you've assigned yourself a budget.
Cases have become more versatile, and feature-rich within the past few years, especially to accommodate monstrous water cooled builds, or for those with larger graphics cards, so there's a huge range of options available. However, if you're a first-time builder, it can be confusing if you're not sure what to look out for, or what to consider.
Suggested Article: Best Graphics Cards to Buy Under £250
In this roundup we'll be taking a look at a number of awesome PC cases that sit under the $200 mark. This is a good starting budget for those looking to pick up a mid-range option that offers more than the average amount of features.
Our Recommendation: Fractal Design North
Our choice for the best Case for under $200 is the Fractal Design North. It's a great choice for those who are looking to have a straight-forward building process. The Fractal North is a well designed, versatile PC case that has a unique wooden front panel, that still looks great and is the pick of all our cases in roundup today.
All of The Cases in Our Roundup
Our Recommendations
1. Corsair iCUE 5000X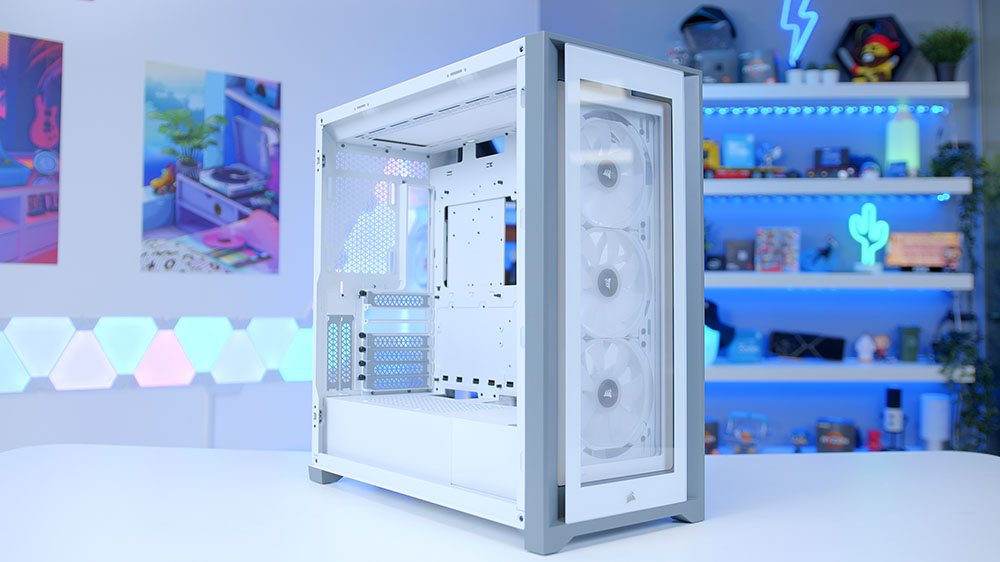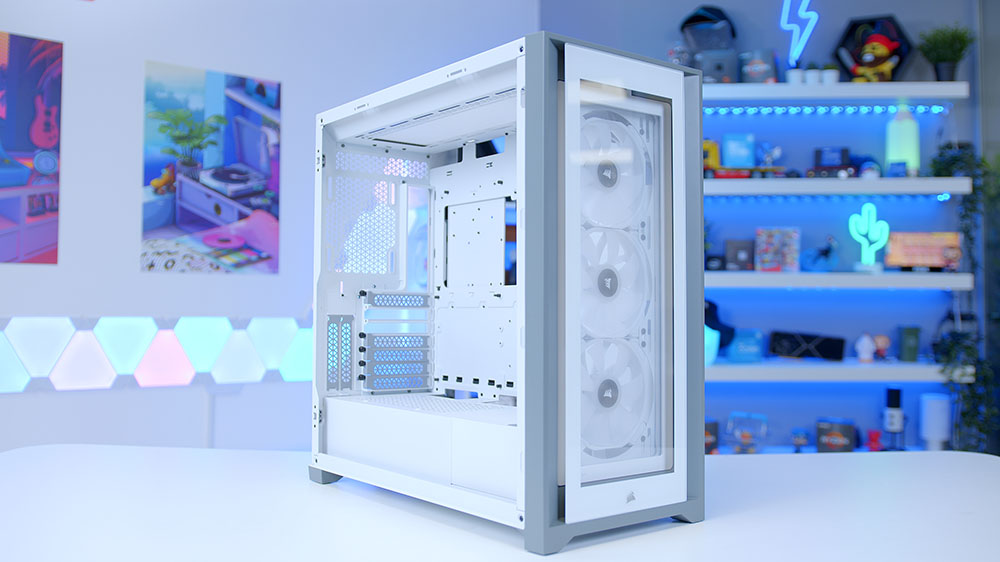 To begin, we've chosen the Corsair iCUE 5000X. This is a case that we've looked at a bunch of times in the past, in a range of builds and buyers guides. The 5000X is one of Corsair's more expensive, but highly popular cases on the market. It comes equipped with three pre-installed RGB fans at the front, shrouded by a glass front panel, which is a nice touch. This does hinder airflow slightly, but not by a huge margin. The most important point to note about the 5000X is the increased space versus other alternatives. Consumers have plenty of room for large graphics cards, E-ATX motherboards, and bigger cooling solutions.
This case has a huge amount of space for modern and large component options. If you're building a modern PC with some of the new graphics card that we've seen release within the past year or so, the iCUE 5000X is a perfect case to house them in.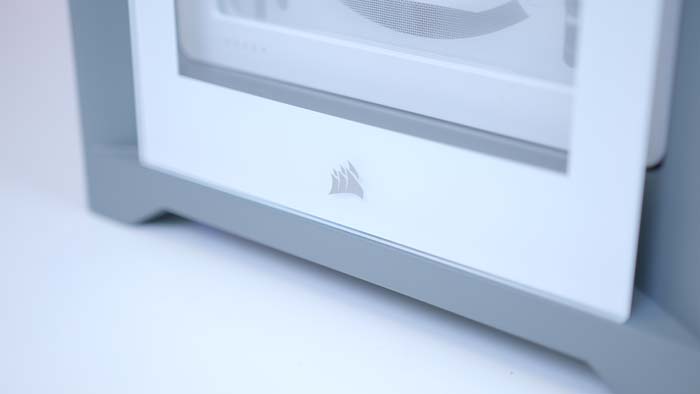 The 5000X is one of Corsair's more expensive chassis' on the market, coming in around the $170 mark. If you're looking for a slightly more affordable option, we'd recommend looking at some of the other alternatives we've recommended.
The lack of a mesh panel does hinder the airflow of this case to a degree. Although you've got the ability to install a number of fans around the case, the guide air can only come in through two small slats around the front panel, which will impact general flow and cooling capability.
Where to Buy
Buy the Corsair iCUE 5000X on:
2. Lian Li Lancool III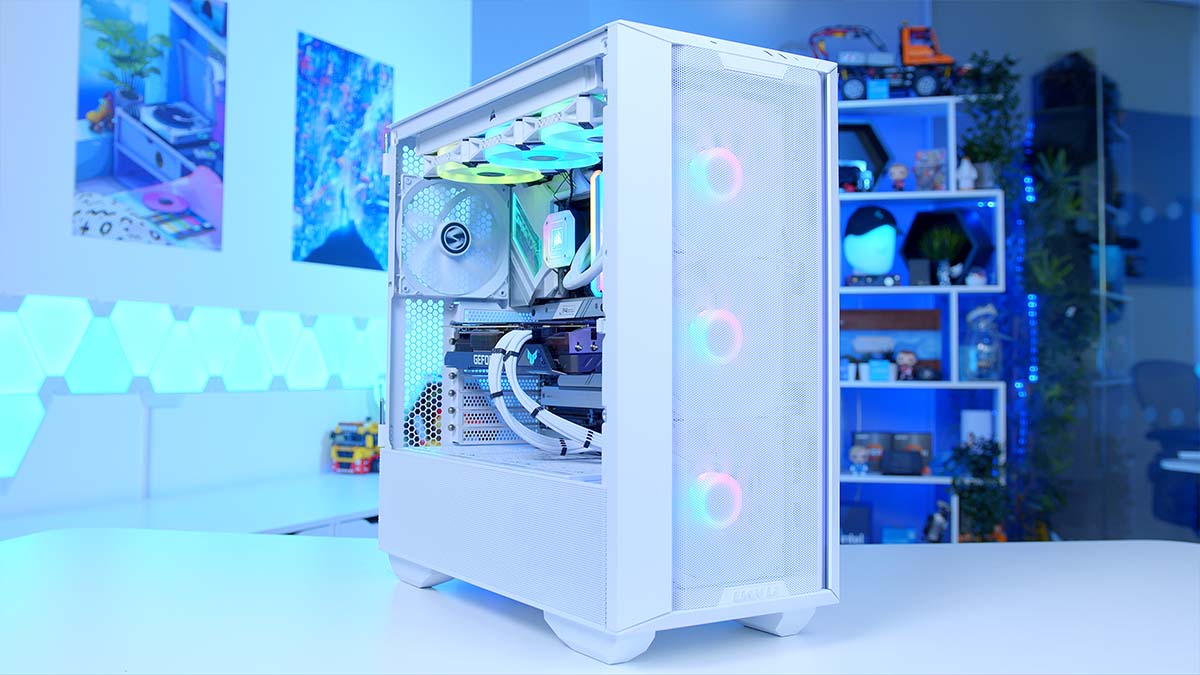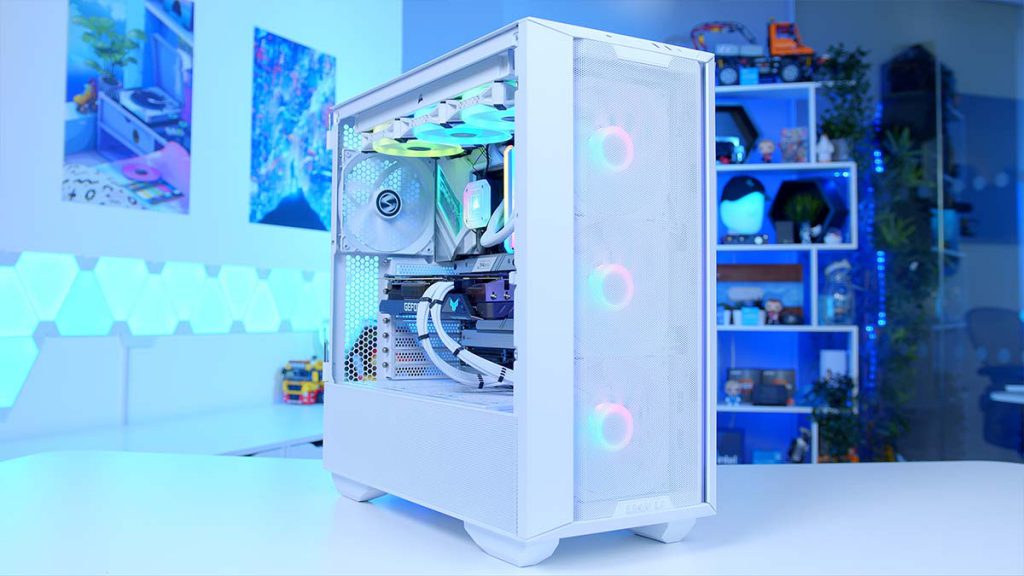 Next up is the Lancool III from Lian Li. This is a case that we've reviewed in full before, and overall we were pretty impressed. Lian Li have always been known for providing versatile cases that have plenty of utility and usability features, and the Lancool III is no exception. This chassis offers a mesh front and dual tempered glass side panels. The rear panel which is where all of your cable management would normally be, offers a range of beauty shrouds that allow you to hide away any cabling, while still providing a nice overall aesthetic.
The Lancool III is one of the strongest cases when it comes to upgrade support. Consumers can install 420mm radiators, a number of extra drives (up to 12), and you've also got a a number of mounting points for pump/reservoir combos, which are fully modular too.
This case offers a number of different features that make it much easier to build in versus other options, such as, the removable top fan bracket, modular front panel, PSU shrouding and cable routing, along with a reversible front IO panel that can be relocated to the bottom of the case.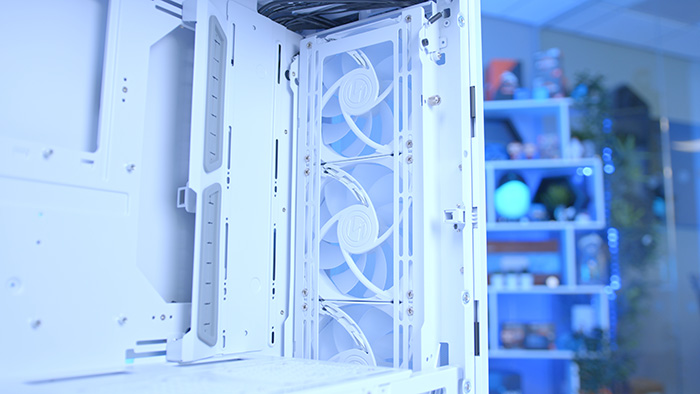 Although the beauty shrouding around the cables is a nice touch, cable management can be a bit finnicky. You'll have to thread some of your cables underneath the beauty panels, and make sure there's no bulges, or the glass panels won't close.
I understand why Lian Li have provided IO that can be moved up and down, but I feel the use-case for people having to move it to the bottom configuration is so niche, that it feels a bit redundant.
Where to Buy
Buy the Lian Li Lancool III on:
3. HYTE Y60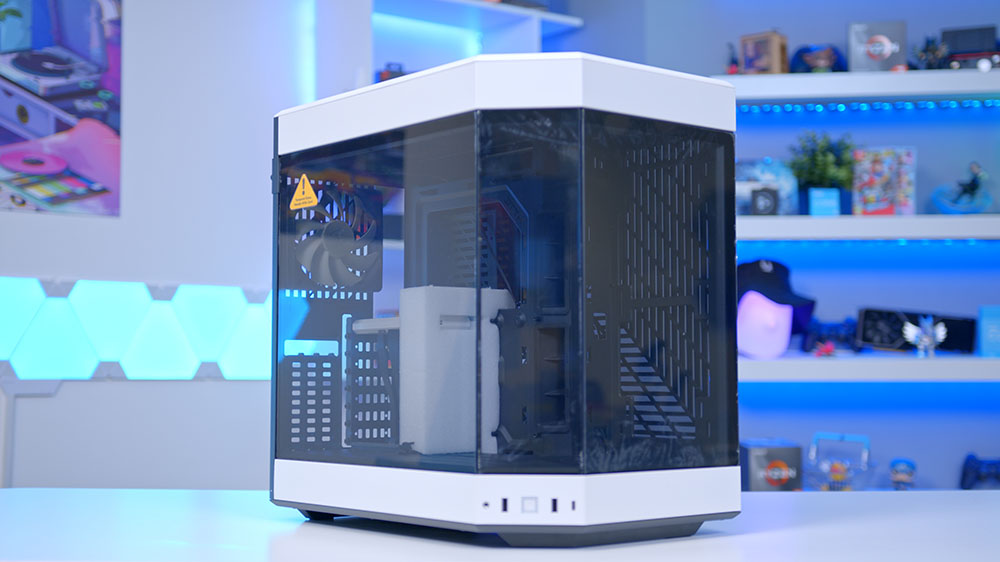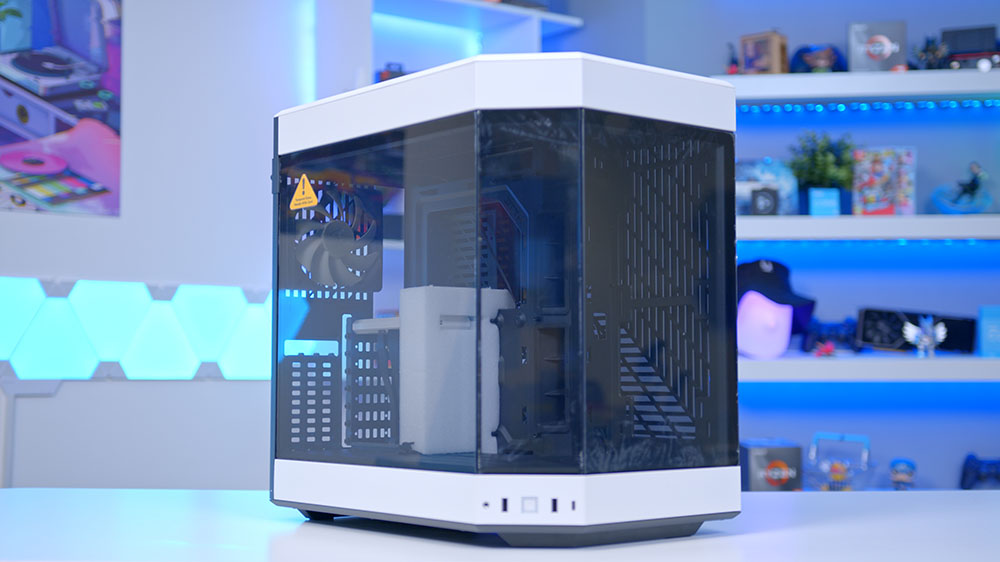 We've decided to put the HYTE Y60 into this roundup of best PC cases under $200. The reason why this case is so excellent, is because of its unique 'fish tank' style design. HYTE has gotten rid of the black borders, or metal pillars that separate the side and front panel in your case, allowing you to enjoy a seamless view of all of your components. The Y60 also offers exclusively vertical GPU mounting, providing you with an alternative look to your build.
The HYTE Y60 is one of the most unique cases on the market. The seamless glass front and side panels offer an unrestricted view into your build, allowing you to showcase all of your components in their glory. Consumers can utilise all areas of the case to increase cooling and airflow capability. The Y60 also offers a vented side panel, which can be used to exhaust or intake any air.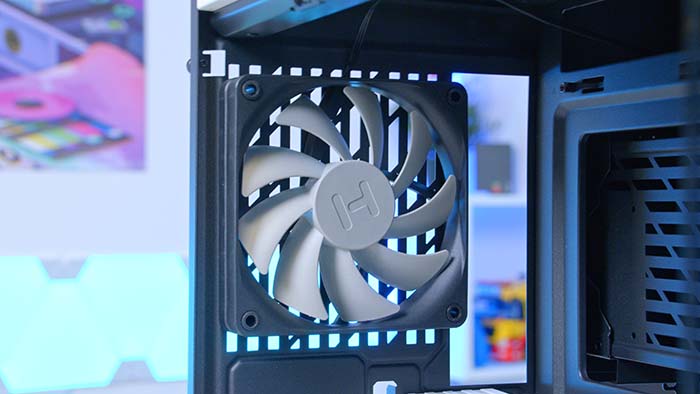 The Y60 is not a cheap case. This chassis sits just under the $200 mark, which is our budget restriction in this buyers guide. If you're looking to find something cheaper within this price range, we'd recommend looking at some alternatives.
Although the Y60 is an ATX mid-tower, it is one of the larger designs that we've taken a look at. If you prefer a smaller, more portable system, we'd urge you steer clear of this chassis.
Where to Buy
Buy the HYTE Y60 on:
4. Fractal Design North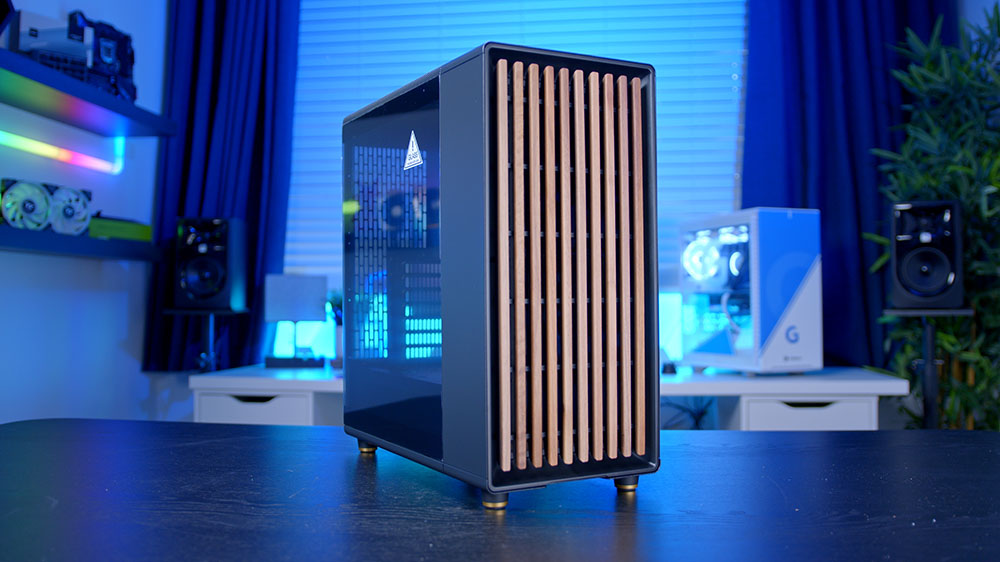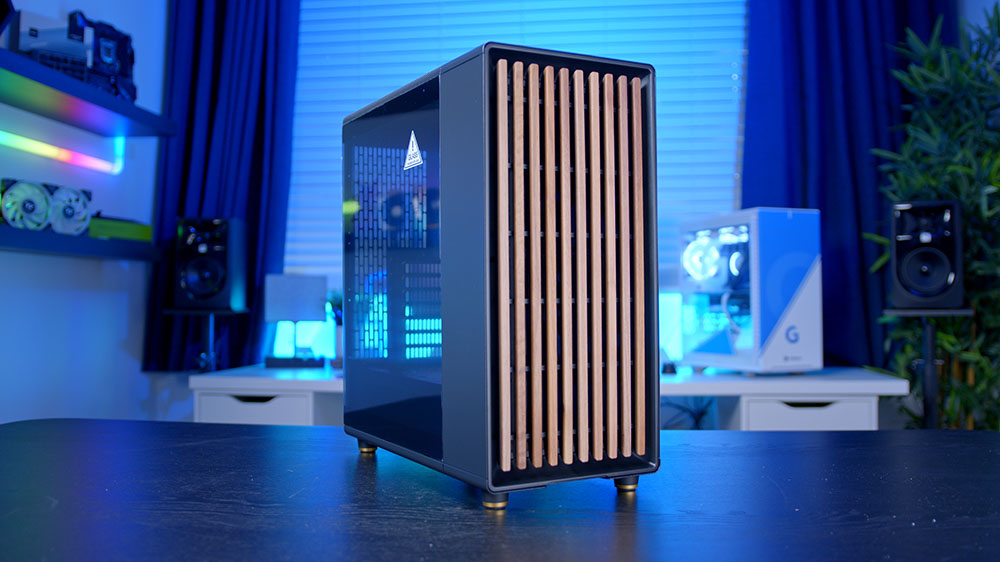 Fractal Design has been a prominent manufacturer in the case space for as long as we can remember, and the majority of the chassis' that they offer are incredibly well designed. The North in particular provides a unique wooden front panel, backed by mesh. This means that airflow shouldn't be hindered by a blocky front, allowing you to enjoy good thermals. The Fractal North is one of the easiest cases to build in, and particularly well designed, which should provide a simple experience for first-time builders looking to get into PC gaming.
This case is one of the only wooden-themed cases on the market, from a known and reputable manufacturer. The North is a robust and awesome looking case that provides a bit of a rustic aesthetic that I feel appeals to many consumers.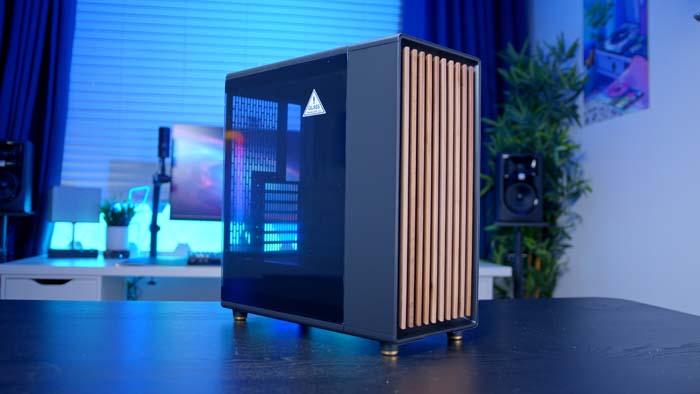 With the rising sizes of modern graphics cards, clearance has become a massively important consideration to make. Unfortunately, the Fractal North is only able to house cards up to a max of 355mm without any front fans, which will limit your options if you've picked up a new GPU.
E-ATX options have started to become rather popular for top-end builds, due to their feature-rich nature. However, the North is only able to support ATX boards at the maximum.
Where to Buy
Buy the Fractal Design North on:
Do I Need to Worry About Clearance?
As we start to look at more expensive cases, there will be a number of consumers that will be looking to pick up modern graphics cards, namely options from the RTX 4000 series. Although many of these GPUs are pretty strong, clearance tends to be a problem with many of the higher-end SKUs. This is plainly because of the size of the new cards. For this reason, its worth briefly delving into clearance and the problems that can arise, for a brief moment.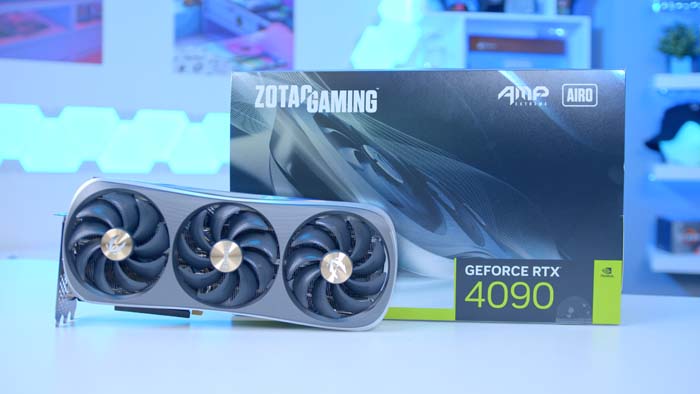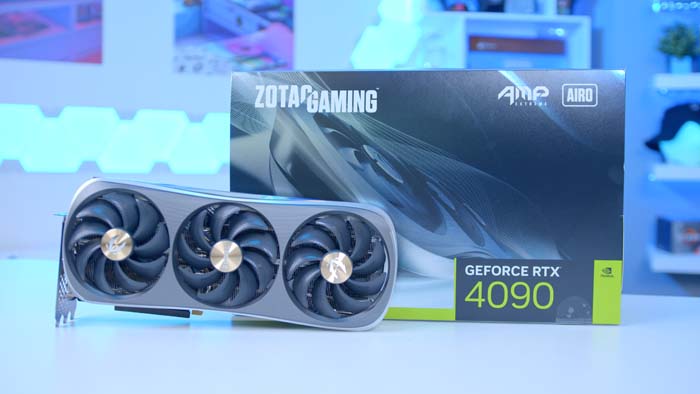 Clearance is important for two reasons. The first is installation issues. If you haven't got enough clearance between your graphics cards, and other components within your case, you might not be able to install them. This can be especially problematic with fans and radiators. If your case offers the bare minimum when it comes to maximum GPU length, a radiator can effectively minimise this length by a good 10-20mm or so, which means you won't be able to install your graphics card at all.
The second issue is thermal capability. If there are too many components, crammed within a much tighter space, which will in turn restrict airflow, your thermals are not going to look great. If you've picked out particularly large parts, you may run into this issue, and have to rearrange, or pick some smaller options to ensure that your case doesn't turn into an oven. Clearance is a hugely important factor when putting any build together, and we'd urge consumers to consider this before picking out a case.
How We Tested the Best Cases Under $200
In order to test and evaluate the best case under $200, there are a number of factors that we take into account, these are:
Versatility
Usability Features
Thermals
Aesthetic
Value for Money
Frequently Asked Questions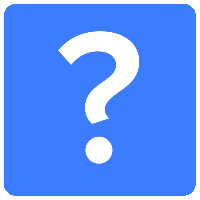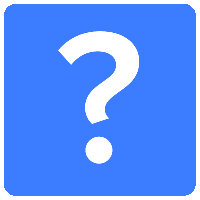 Is Cable Management Important?
Yes and no. Cable management can be purely for aesthetic, but if you've crammed your cables into an area where airflow is important, managing cables is somewhat important.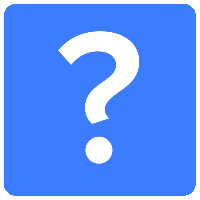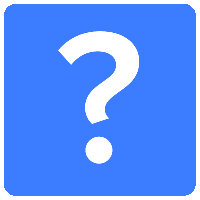 Are 140mm Fans Better than 120mm Fans?
Generally yes. These larger fans provide more surface area, so they can push more air. They're also quieter than most 120mm options.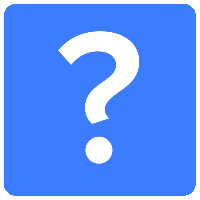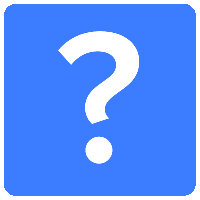 Do I Need to Spend More for a Case that Supports E-ATX Boards?
Unfortunately, yes. Although some cheaper cases do support E-ATX motherboards, it is generally larger cases that will offer compatibility.
Conclusion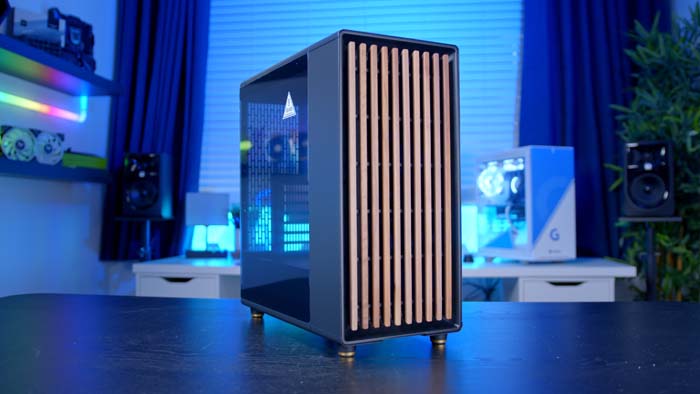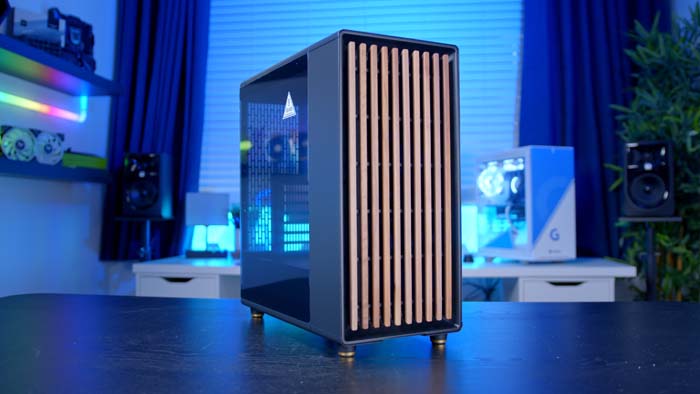 Best Case Under $200: Fractal Design North
Fractal Design's North case is one of the best options on the market right now for consumers looking to pick up a well-designed chassis, that makes the building process much simpler. The Fractal North is versatile, robust, and is the perfect option for consumers looking to make building a PC rather easy.
Read our full Fractal Design coverage, or Buy the Fractal Design North on Amazon