Introduction
When it comes to gaming audio, headsets are arguably the best way to hear all the details within these sprawling worlds and communicate loud and clear with your party members. Not only do gaming headsets block out any real-life distractions, leading to more immersive gaming sessions, these designs also include plenty of features tailored towards improving the overall gaming experience in a way that isn't offered on typical audio devices.
Suggested Article: Corsair HS65 Wireless Headset Review
Because of this, lots of gaming manufacturers develop gaming headsets to help gamers complete their ultimate setup. Corsair are a prime example of this, as they offer a range of gaming headsets alongside their plethora of PC components and gaming peripherals. The latest addition to this collection is the Corsair HS80 Max Wireless, a new rendition of one of their premium wireless gaming headsets.
In this review, we'll be putting this headset through extensive analysis of its performance, design, and features. This will then provide us with the information needed to see whether this design is a worthy investment for your gaming setup, and whether it provides a worthy upgrade from the previous iterations.
Buy the Corsair HS80 Max Wireless Headset on:
Are Wireless Gaming Headsets Worth It?
Before we take a look at Corsair's latest addition to their line-up, we wanted to take a second to explain whether a wireless gaming headset is the best way to elevate your gaming audio. If you have decided that the benefits of a gaming headset are for you, the next choice to consider is whether to go with a wired or wireless option.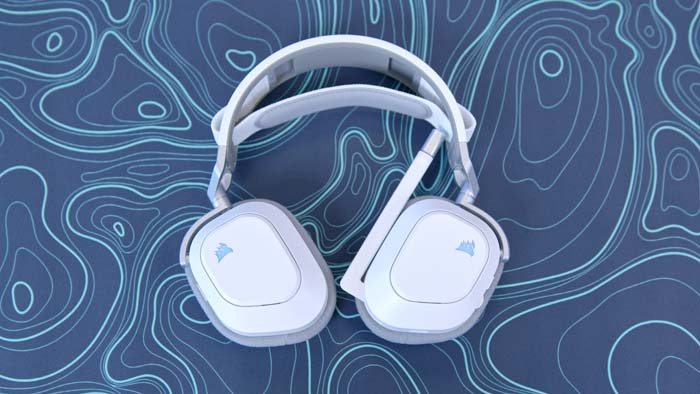 Like with many other gaming peripherals and accessories, a lot of consumers will naturally assume that a wireless gaming headset will be better than a wired option due to its increase freedom and features. In reality, the decision is a lot more nuanced.
For wireless gaming headsets specifically, the lack of wires allows gamers to move freely without accidently unplugging their device or even sustaining an unexpected injury. On top of this, the increased versatility makes these headsets extremely portable, making them ideal for commutes or those switching between multiple devices.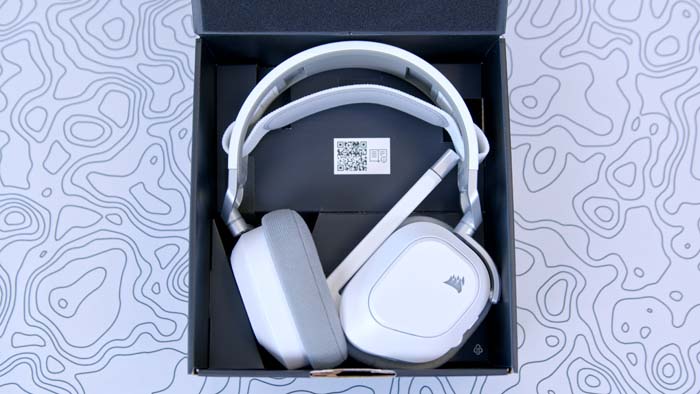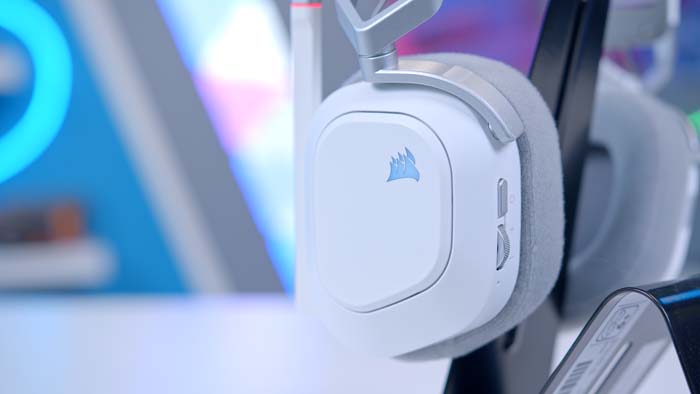 However, there are more latency concerns compared to their wired counterparts, which can cause issues such as out-of-synch audio and sudden disconnects. In addition, wired connections are guaranteed to work on multiple platforms, whereas wireless headsets tend to have compatibility issues with Xbox and Nintendo Switch.
Whilst there are some small hiccups when picking up wireless gaming headsets, the increased freedom of movement and versatility makes them a great addition to any gaming setup. On the other hand, those looking to save some money should consider wired options too.
Corsair HS80 Max Wireless Design & Aesthetic
Now that's been cleared up, it's time to turn our attention towards the Corsair HS80 Max Wireless. Corsair have been revamping a lot of their gaming peripherals recently, and the HS80 is the latest device to receive a face-lift. At GeekaWhat HQ, we've been using the previous version of the HS80 for quite some time due to its comfortable design and incredibly strong audio performance. But what enhancements does this brand-new headset provide compared to the original HS80 RGB Wireless?
At face value, the HS80 Max looks identical to its processor. In fact, we couldn't find any major differences in the appearance of both headsets, with only an additional Bluetooth pairing button separating the HS80 Max from the original. However, this isn't necessarily a negative in our eyes, as the HS80 series already boasts a comfortable design which looks and feels premium.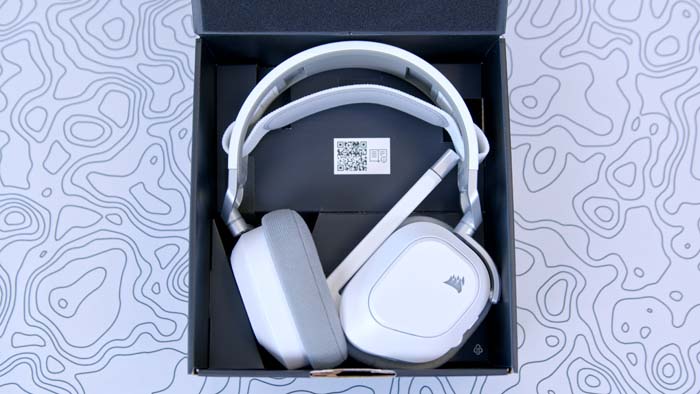 Before putting this headset on, you can tell that no punches have been pulled when it comes to the quality of the materials. Featuring a lightweight aluminium frame and cushioned fabric earcups, this headset provides incredible comfort and durability. This acts as a significant jump in comfort and quality compared to Corsair's cheaper HS65 and HS55 headsets, putting the HS80 Max at the top of the mountain.
After using this headset for a number of hours, I can confirm that the HS80 Max Wireless feels comfortable over long periods of time. Weighing in at 352 grams, you can feel this headset while playing, but the memory foam cushions and floating headband allows this design to feel very soft at all times, removing instances of fatigue during extended gaming sessions. Plus, this makes the HS80 Max significantly lighter than the previous iteration.
The main caveat with this design is that this headset can get quite warm over time, making it difficult to use the HS80 Max Wireless without having some rest-bite. Whilst the breathable fabric on the earcups does help to alleviate this issue, it is a minor downside to what is otherwise an exceptional design.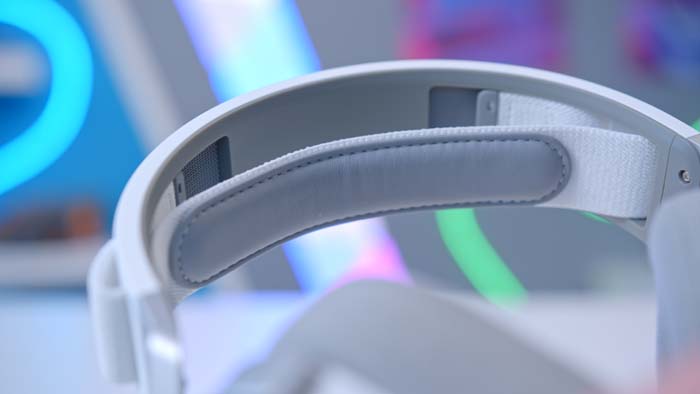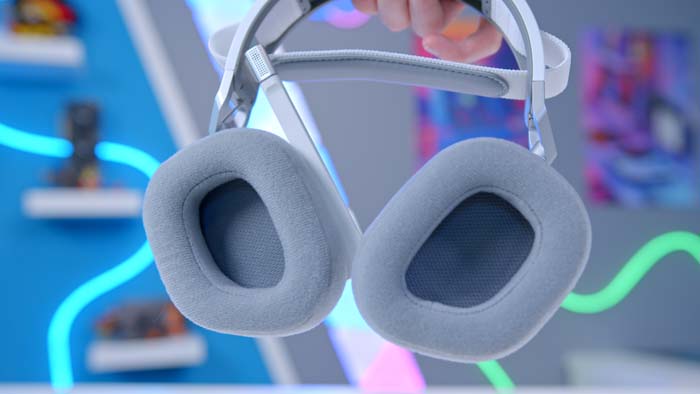 Corsair HS80 Max Wireless Specs & Performance
Whilst there haven't been many visual changes from it's predecessor, the HS80 Max does come with a number of differences under the hood, all of which are designed to offer some quality-of-life improvements. As touched on earlier, this headset is significantly lighter than the original HS80, leading to less fatigue during longer gaming sessions.
Additionally, the main improvement of Corsair's new rendition is the battery life. With a estimated battery life of up to 130 hours, this wireless gaming headset will last numerous gaming sessions without running out of charge. Although, the more realistic battery life, when using the 2.4GHz connection with RGB enabled, is cut down to 24 hours, which is still a significant improvement on the previous 20 hours.
| Key Specs | Corsair HS65 Wireless |
| --- | --- |
| Speaker Driver Size | 50mm |
| Weight | 352g |
| Connectivity | 2.4GHz Wireless & Bluetooth |
| Charging | USB-C |
| Max Battery Life | 24 Hours |
| RGB | No |
| Microphone Pattern | Omni-directional |
| Wireless Range | 50ft / 15m |
However, a few sacrifices have been made to accommodate for these quality-of-life improvements. The main example is the wireless range, which has been reduced down from 60ft to 50ft. On top of this, there have been minor tweaks to the sensitivity and frequency of both the microphone and headphones, but these changes are barely noticeable.
On a grander scale, the performance and practicality of the HS80 Max Wireless is quite impressive, allowing users hear in-game environments with greater clarity than the average gaming headset. There are plenty of key inclusions that contribute to this strong audio, such as the 50mm neodymium drivers and Dolby Atmos Spatial Audio, but some decisions on this headset seem to prioritise practicality over performance.
Corsair HS80 Max Wireless Features
Perhaps the biggest way in which the HS80 Max differentiates itself from previous Corsair gaming headsets is the feature-set. These enhancements share a lot of similarities to their latest revisions of the HS65 and HS55, which were definitely welcomed additions. Here is a list of the features that stood out during our time with this gaming headset.
Wireless Connectivity
One of the biggest selling points of this headset is without a doubt the wireless connectivity. Wireless gaming headsets are perhaps the most beneficial out of all the wireless peripherals due to the increased range of movement and lighter weight. This model comes with two ways to connect, 2.4GHz Wireless and Bluetooth, allowing you to easily switch between multiple devices. Unfortunately, it doesn't include a wired connection, but most gamers will be happy with the all-wireless connectivity.
SoundID Custom Audio
The latest customisation feature to Corsair's range of gaming headsets is the ability to create personalised audio via SoundID. In collaboration with Sonarworks, this software allows consumers to take a short sound test to figure out your hearing tendencies. These results are then used to align the drivers with your sound profile to optimise audio to cater to your personal needs.
As someone who doesn't have the best hearing, or an extensive knowledge of audio, I appreciated how this feature enhanced my experience with this headset.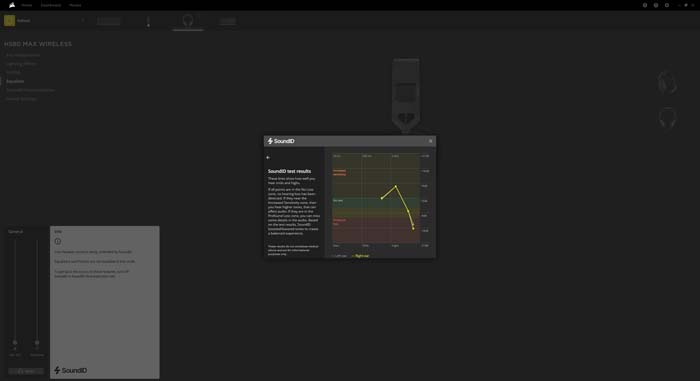 Flip-to-Mute Microphone
My biggest personal gripe with Corsair headsets is there commitment to using a flip-to-mute microphone. Whilst it's better than having a microphone that can't be repositioned, a retractable or detachable design allows you to get rid of the microphone when not in use. This helps to reduce the weight of a gaming headset during solo gaming-sessions, whilst also lowering the risk of unnecessarily damaging the microphone.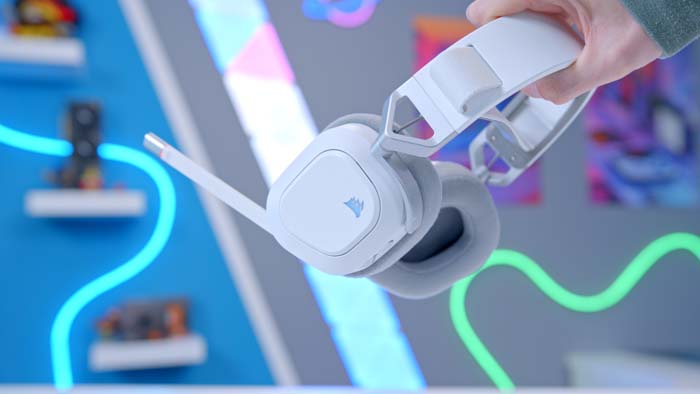 On-Ear Controls
Like most wireless gaming headsets, the HS80 Max wireless also includes a number of controls on the earcups to make it easy to adjust audio playback on the fly. Along with the typical on/off and volume rocker, this headset also includes a Bluetooth button to make switching between connectivity modes easier than ever. However, the highlight input is the scroll-wheel press, which can be customised in Corsair's iCUE software.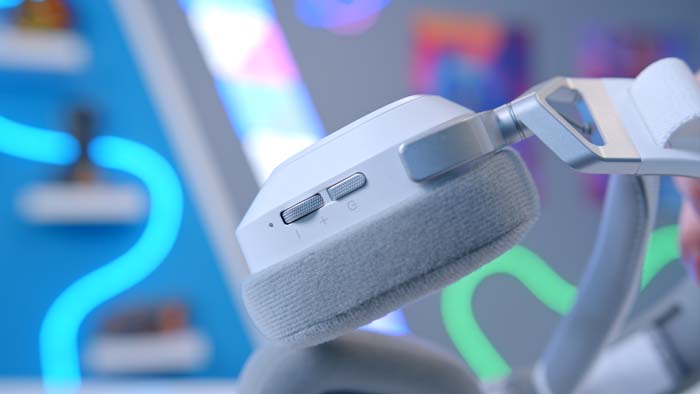 Corsair iCUE Compatibility
Speaking of iCUE, it's no surprise to see the array of customisation options available for this premium gaming headset. Alongside the aforementioned SoundID custom audio and ability to assign the scroll wheel press, this software allows users to adjust device settings, manipulate the equalizer, monitor battery life, and forge custom lighting effects for the RGB logo.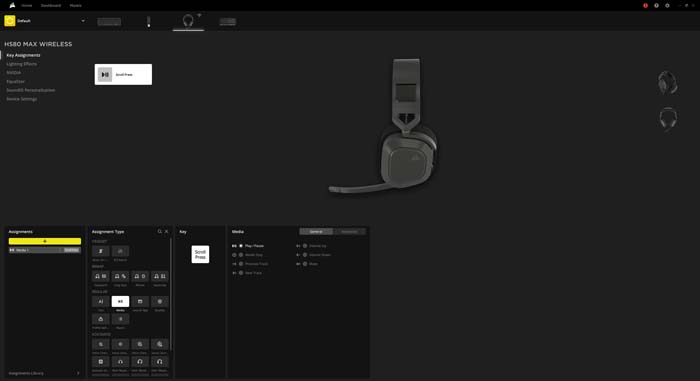 Alternatives
If the features and design of the Corsair HS80 Max Wireless sounds enticing, but you want to explore some alternatives before making any sort of commitment, then here are a list of strong alternatives to Corsair's latest release.
Corsair HS80 RGB Wireless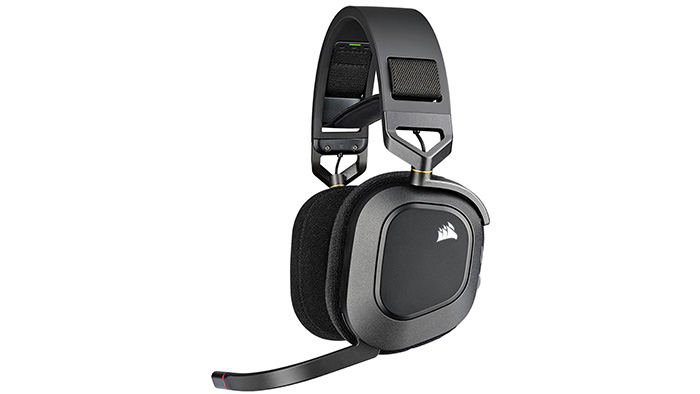 Starting off with the obvious, the original HS80 RGB Wireless will offer a similar experience for a reduced price. As the headset which acted as the inspiration for the HS80 Max, this design is the closest you'll get to the sound, comfort, and performance of Corsair's latest release.
Buy the Corsair HS80 RGB Wireless on:
SteelSeries Arctis Nova Pro Wireless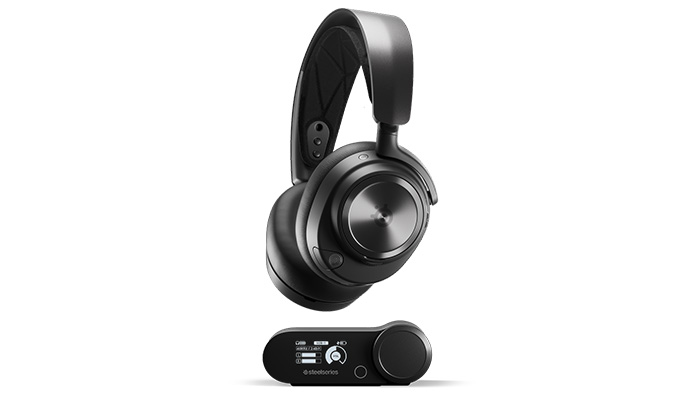 For gamers looking for a luxurious audio experience when gaming, then the SteelSeries Arctis Nova Pro Wireless is your best bet. Along with high-quality audio that can be customised on the fly via the base station, the swappable batteries ensures this headset is always charged up and ready to play.
Buy the SteelSeries Arctis Nova Pro Wireless on:
Logitech G733 LIGHTSPEED Wireless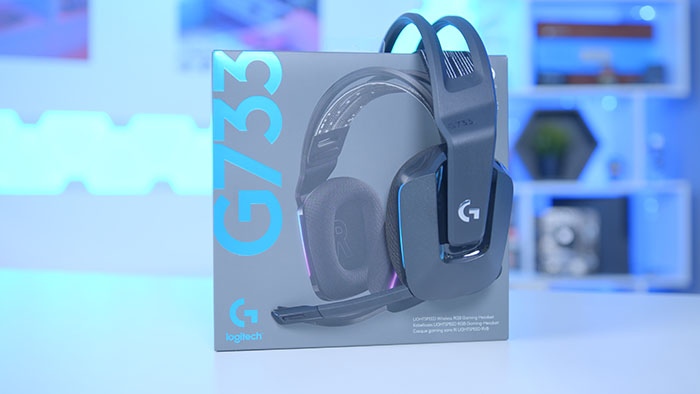 On the other end of the scale, Logitech G's G733 LIGHTSPEED Wireless is a slightly more affordable gaming headset that still provides superb audio quality and functionality. Despite the lower price point, this headset is very comfortable and lightweight, giving the HS80 a run for its money.
Buy the Logitech G733 LIGHTSPEED Wireless on:
Conclusion
Corsair HS80 Max Wireless
Product Name: HS80 Max Wireless
Brand: Corsair
Features

Design

Sound Quality

Value For Money
Summary
Corsair's latest addition to their range of wireless gaming headsets is a titan of a design that will have no issues competing with the best headsets on the market. Improving on the strong foundations set by it's predecessor, this gaming headset is probably the most well-balanced design I've ever used. Combining a high level of comfort, sound clarity, and quality-of-life features, the HS80 Max Wireless addresses a lot of the major concerns that can burden consumers during extended gaming sessions. On top of this, the changes here are enough to justify the revision on the original HS80, as well as the fairly steep price point.
That doesn't mean this headset isn't without its flaws. Though most of the changes from it's predecessor are beneficial, some of the tweaks have slightly hindered the sensitivity levels of the mic and headset, as well as decreasing the wireless range by 10ft. Additionally, the lack of a wired connectivity option and Corsair's constant use of a flip-to-mute microphone are some minor tweaks I'd personally like to see addressed in future premium offerings.
But overall, Corsair's HS80 Max Wireless is a phenomenal gaming headset that is worthy of being added to any high-end gaming setup. Because of this, I'm hoping to keep them as my daily drivers for the foreseeable future!
Pros
✅ Premium wireless audio
✅ Vey comfortable design
✅ Lots of customisation
Cons
❌ Flip-to-Mute microphone
❌ Feels warm over long periods
❌ Not drastically different to the original