Introduction
Over the years we've seen a shift in the PC case market. Manufacturers have started to make bolder choices with their case designs ,offering more features and astounding aesthetics. Today we're taking a look at one of the most insane chassis on the market, and certainly the most nuts we've been hands on with. This is our review of the monstrous Cooler Master HAF700 EVO.
This full-tower design is absolutely loaded to the brim with features along with a full fledged LCD display, plenty of RGB and a huge amount of configurations for varying types of cooling and fans. We'll be breaking down all of the standout features, along with taking a look at the design and seeing if this case is worth the near $500 price tag!
Buy the Cooler Master HAF700 EVO on:
Suggested Article: The Best PC Cases to Buy in 2022! (Budget, Mid-Range & High-End Choices!)
Expensive PC Cases – Are They Worth It?
The age old argument of expensive vs cheap cases is a rather complicated one, so we'll keep it short. The demand for full tower expensive cases has become less and less over the years, as manufacturers are fully capable of creating mid-tower designs that have a similar amount of features, at a lower price. With a mid-tower case you're also reducing the inconvenience of how massive a full tower case is!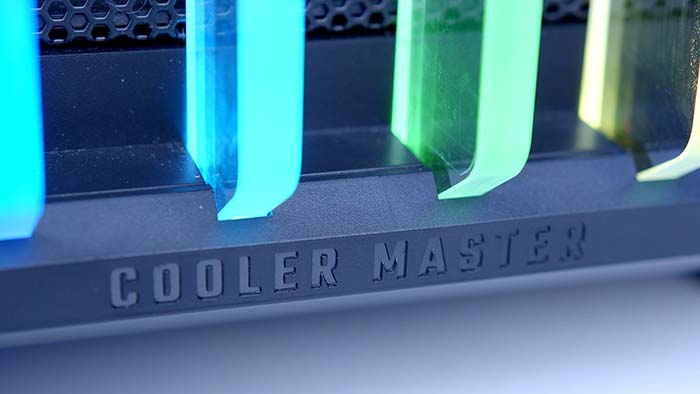 To be clear, this isn't to say that full tower cases are not wanted, because they have become more niche as PC building has veered ever closer towards the mainstream. Larger cases often drive a premium, due to the sheer size and raw materials needed to make them, and the increased design costs compared to more budget oriented alternatives.
As a general rule we'd recommend sticking to the mid-tower market as there are a plethora of options available, and there's less inconvenience of having to haul around (or building) a full tower PC. However, if you're a big time builder, looking to overclock, or build a custom water cooling loop, a full tower design makes a lot of sense. These cases generally offer a 'no sacrifices, no corner cutting' philosophy, meaning you'll have limitless options when it comes to cooling, GPU, and motherboard configurations, alongside extra features that you don't generally see on cheaper and more limited case designs.
HAF700 EVO Design and Aesthetics
There is a lot to discuss when it comes to the design of this case. At the front you'll see a few big design choices. The first of course being the LCD display, which can be customised to your liking within software. You can throw GIFs, logos, or even just thermals info on there if you wish.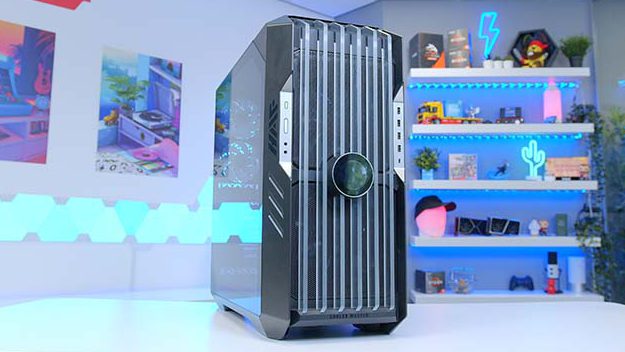 Surrounding the LCD display are sheets of glass. Not, plastic or acrylic, but actual sheets of glass. The glass on the front is illuminated by addressable RGB LEDs, allowing you to create some awesome lighting effects. You've also got all of the case IO (of which there is a lot), along with the HAF logo, and a mesh front panel design. The angular accents on the front give the case a unique look which I'm a big fan of.
Moving to the side of the case, a tempered glass panel spans the entirety, giving you a clear view into what could be a behemoth of a gaming PC. The cool angular design features throughout the entire case, giving it somewhat of a futuristic look. And on the other side panel there are vents for extra airflow allowing you to keep your PC build nice and cool. Overall, the aesthetic is awesome, with decisive and bold design choices. The chunkier design really suits the case, and the RGB and chassis choices are very well done. I must say Cooler Master has absolutely hit the nail on the head with this one!
Features
This is probably the part that you've been wanting to read the most about – features. You've probably guessed already that this case has a gigantic feature-set which offers up plenty of options for different types of PC builds. We've broken down the most standout ones (and there's a lot) below.
LCD Display
Fully customisable within Cooler Master's MasterPlus+ software, the LCD display can have effectively anything you want showing up on the screen. If you prefer a minimalist style, you can monitor your system temps, or simply display the time. GIFs or animations also look good up front, and can be matched to link with the aesthetic of your build.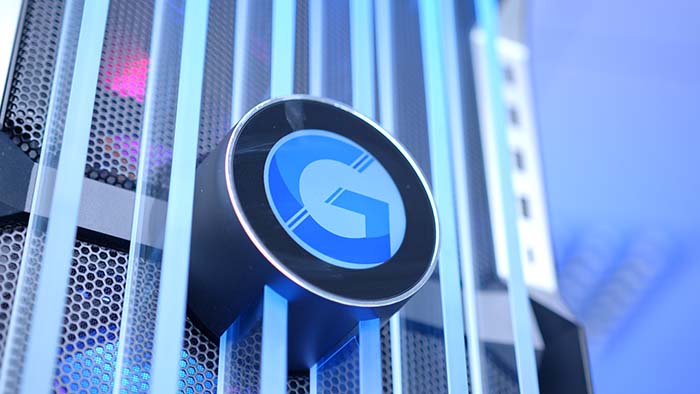 Included ARGB Controller & Hub
It can be frustrating buying a motherboard that doesn't have enough RGB headers for you to plug all of your fans into. The HAF700 EVO comes with an integrated PWM/ARGB hub allowing you to plug in all of your various fans into this case. You can fully configure and customise your fan lighting and speeds using the Cooler Master MasterPlus+ software.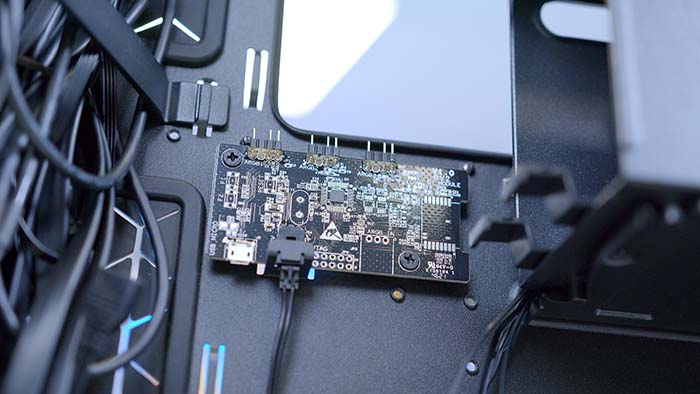 Fan & Radiator Support
Due to the massive size of this full tower case, you've got plenty of support for a range different fans and radiators across the board. Because this case supports so many fans we've created a table below that lists the various configurations you can choose from.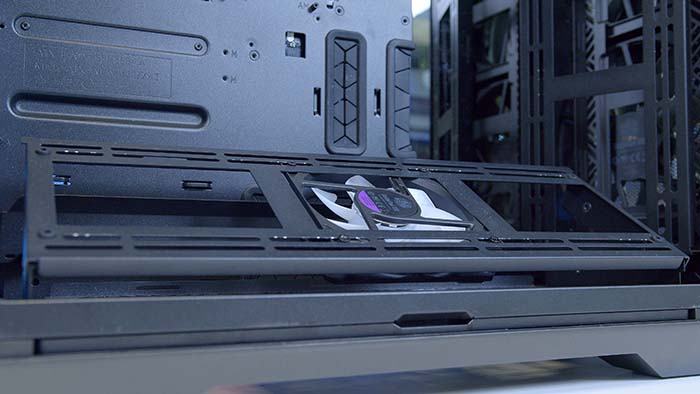 Position
Fans
Radiators
Top
2x 200mm
3x 140mm
6x 120mm
2x 360mm
1x 420mm
Front
2x 200mm
3x 120mm
3x 140mm
1x 420mm
1x 360mm
Rear
2x 120mm
1x 240mm
Bottom
3x 120mm
3x 140mm
1x 420mm
1x 360mm
Side
4x 120mm
3x 140mm
1x 480mm
1x 420mm
Fan and Radiator Configurations HAF700 EVO
Infinity Mirror
To fill up the space of the HAF700 EVO, Cooler Master has included an infinity mirror. If you haven't decided to use the side panel for mounting fans or a radiator, you've got the option to turn your case into a 'personal Hall of Fame' by using the included mirror that shows off your spinning RGB fans.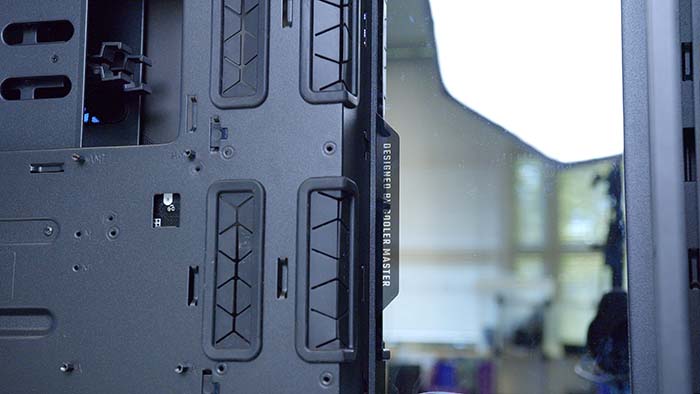 Tool-Less Installations
The HAF700 EVO comes with a load of tool-less installation methods for different components, minimising any frustration that comes with screws and brackets. You can use the tool-less vertical GPU mount to clamp your graphics card while putting it on display.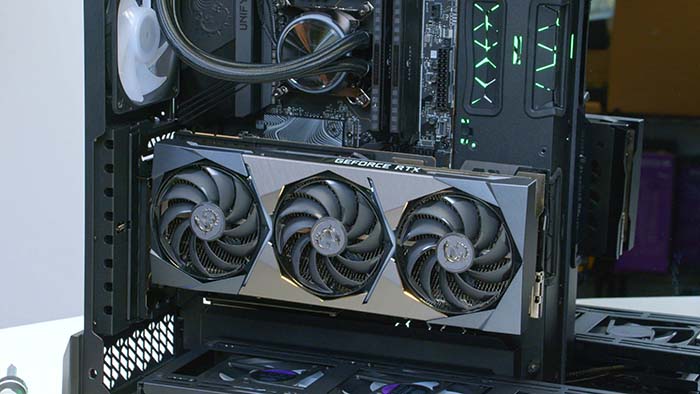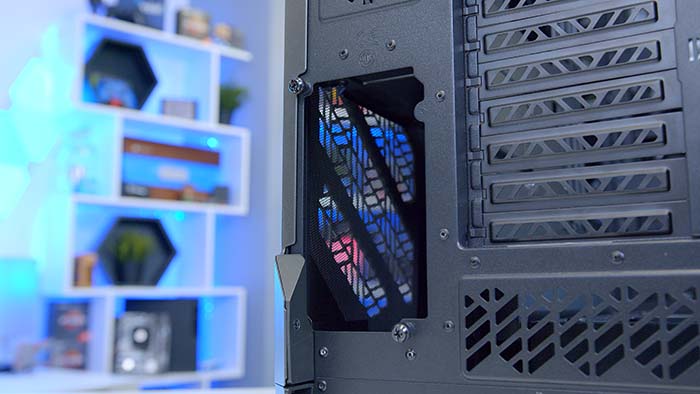 You can install your power supply with the included thumbscrews on the rear of the case, allowing you to get rid of your screwdriver.
If you're using older SATA storage options, you can utilise the tool-less HDD cage allowing you to access your drives with ease.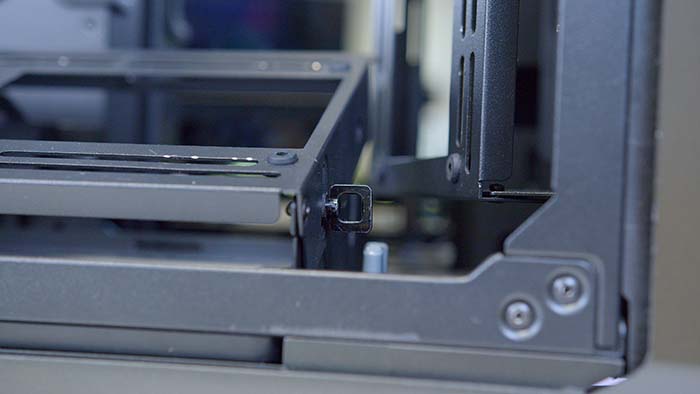 There's also a range of multifunction, reposition-able brackets that can mount SSDs, hard drives, or any pumps/reservoirs required for cooling.
PCI-E 4.0 Riser Cable and Mount
Alongside the tool-less GPU installation, Cooler Master have included a PCI-E riser cable that gives you the flexibility and choice of an alternative aesthetic by displaying your GPU in a different way. This is also a great option for those that have a slightly larger graphics card and are struggling for clearance.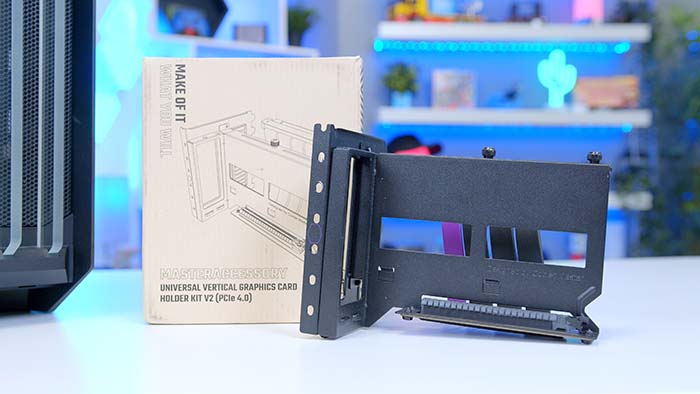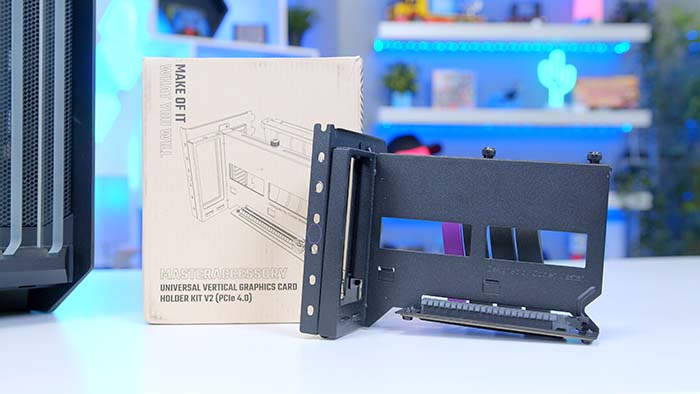 Our Hands-On Take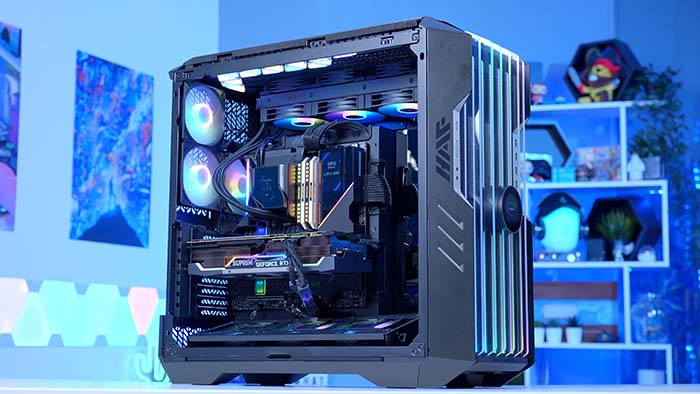 We've use the HAF700 EVO quite a few times across PC builds, and it does not disappoint. This case is a spectacle to admire, and is quite the behemoth of cases. Its physical size is somewhat daunting, and we wouldn't recommend the average builder to pick up this case if you're not as familiar with building a PC.
The amount of features that come with this case is fantastic, and if you're an enthusiast you'll definitely enjoy the moment of switching on this build and seeing all of the various pieces of RGB and fans whirring up. It's difficult to actually visualise how big this case is without having a hands on experience with it, but this case really is massive. It requires a patience touch when managing cables, and plenty of hardware to fill. the chassis, and prevent it appearing empty. A toptier chassis, if you have the ability and the funds to fill it up.
Alternatives
The market for full tower cases can be quite niche at times and this makes it difficult to find other equally awesome case designs for a reasonable price. Below we've listed three of our favourite full tower sophisticated case designs with a small breakdown of the features.
Corsair 1000D Super-Tower Case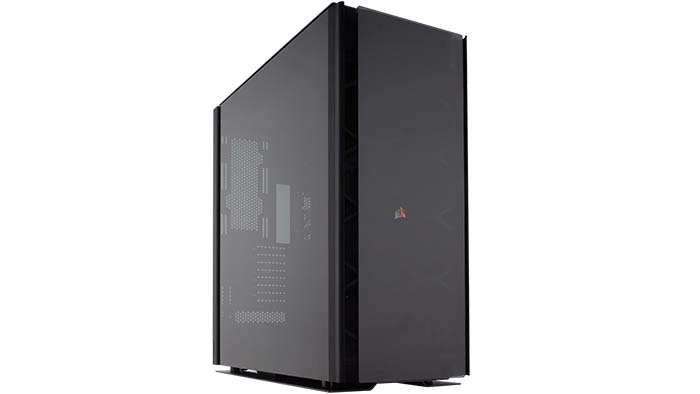 Although the 1000D doesn't quite fit the full-tower form factor, we thought it deserved to be in this list because it is gigantic. Part of Corsair's Obsidian series, the 1000D is a super-tower case loaded up with tempered glass, and up to 18 fan mounts. This case also has enough room to fully house an E-ATX and Mini-ITX board at the same time, allowing you to game and stream simultaneously. If there's plenty of room to house two PCs, its fairly obvious that this case will be loaded up with features, like an RGB IO panel, telescoping radiator trays, and a huge amount of fan and radiator options.
Buy the Corsair Obsidian 1000D Super-Tower on:
Phanteks Enthoo Pro II Case
After refining the sleeper PC aesthetic to the first edition of the Phanteks Enthoo Pro. The Phanteks Enthoo Pro II is a more modern looking version with options for RGB, a mesh filtration panel, and a full tempered glass panel on the side. This case is geared towards both the high-end and prosumer market capable of housing server SSI-EEB setups for dual CPUs. This giant full tower design is also fully capable holding two PCs running simultaneously while also providing excellent airflow performance thanks to the breathable nylon fiber located on the front panel.
Buy the Phanteks Enthoo Pro II SSI-EEB Case on:
Cooler Master Cosmos C700M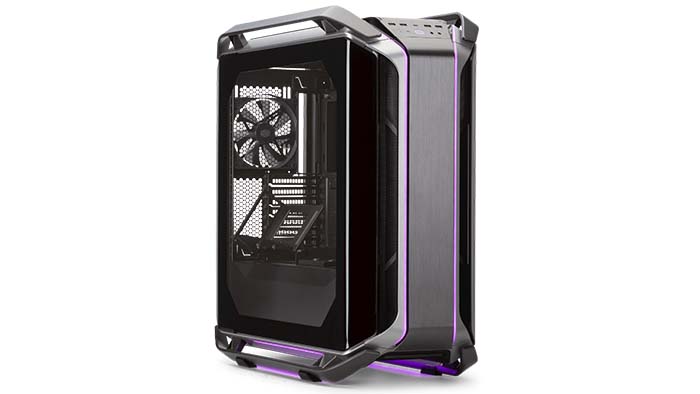 Cooler Master's very own Cosmos C700M is one of the best looking full tower case designs on offer. The angular accents and edges of the chassis are reminiscent of Corsair's 5000T but with a slight twist, as the case is absolutely lined with RGB strips making it shine brightly when turned on. Similar to the HAF700 EVO, the Cosmos C700M is loaded with features. A huge amount of front IO, a curved tempered glass panel, aluminium handles located on the top, an extensive cable cover system and a highly versatile layout providing plenty of options for cooling support.
Buy the Cooler Master Cosmos C700M on:
Conclusion
Cooler Master HAF700 EVO
Features

Design

Versatility

Value For Money
Summary
Cooler Master's HAF700 EVO is an absolutely incredible case. Out of the box you're greeted with an LCD display, tempered glass blades on the front, and a gigantic chassis that offers a wide range of configurations for fans, radiators and even custom loops. Needless to say if you're an enthusiast looking to build a high-end PC, the HAF700 EVO is a great case selection. However, there are definitely some caveats to picking up this case. Firstly is the cost, securing this case will cost you an eye watering amount of money, and is definitely for those wanting to kit out a gigantic PC. Second is the size/cable management. This massive case is big and heavy, and for this reason cable management can be complicated if you've got a lot of fans or components. Despite the obvious caveats, this case is an excellent pick. Cooler Master have done an incredible job at designing a robust awesome looking case, while cramming in as many features as possible.
Pros
✅ Sleek, premium and sophisticated design.
✅ Huge amount of configuration options.
✅ LCD display is awesome!
Cons
❌ Very expensive for a case.
❌ Not recommended for casual PC builders.
❌ Cable management is a nightmare.