Introduction
With top-end GPUs, like the Nvidia RTX 30 series, now requiring more power than ever, the necessity for higher wattage power supplies has exponentially increased. In some respects, 750W is the new 500W for the average, mainstream PC builder. Picking up one of the mid-range or top-end graphics cards means you'll need a better PSU in order to supply power for your system. This pattern of increasing wattage requirements is one that will only grow, with RTX 4000 series rumours pointing to even more power hungry next-gen graphics cards.
We've started to see an influx of higher wattage power supplies offering more flair to consumers while also giving you options for cable management and different aesthetics. Meet the Corsair CX750F RGB, a 750W power supply that gives you a hint of RGB, while also providing the ability to build a powerful system with one of the latest and greatest graphics cards.
Buy the Corsair CX750F RGB on:
Suggested Article: How to Choose the Right Wattage PSU for your Gaming PC
What Components Can I Use with a 750W PSU?
When building a PC, wattage is one of the most important considerations to make. By taking a look at how many watts you expect to be drawing, you can get a good idea of exactly the kind of components you're able throw into your build. 750 watt power supplies sit within the mid-range market offering some upgradeability for budget and mid-range gamers who decide to build a PC with a more powerful GPU later on.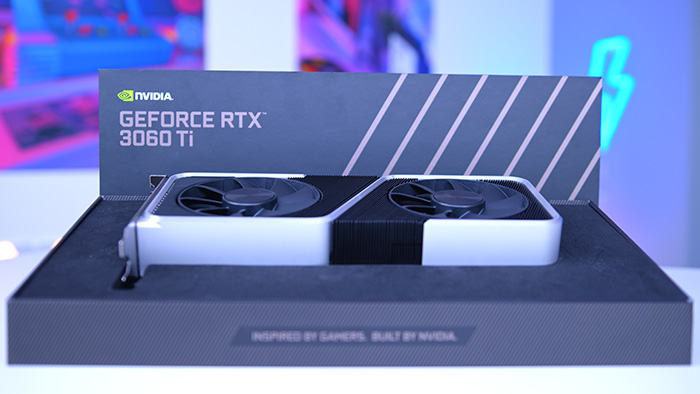 There are of course some restrictions with a 750W PSU. For example, if you're trying to build a system with a 6950XT or 3090Ti you'll need to bump up the wattage and pick a power supply nearer to 1000W. Below we've created a table that highlights some of the components you could choose from and put into a system with a 750W power supply.
Table of Recommended Components for a 750W PSU
Component
Max TDP
Key Facts
Estimated Price Range
Intel Core i5 12400F
117W
Boost Clock Speed: 4.4GHz
Core Count: 6
Thread Count: 12
$180 – $200
Intel Core i5 12600K
150W
Boost Clock Speed: 4.9GHz
Core Count: 10
Thread Count: 16
$250 – $300
Intel Core i7 12700K
190W
Boost Clock Speed: 5GHz
Core Count: 12
Thread Count: 20
$320 – $400
AMD Ryzen 5 5500
65W
Boost Clock Speed: 4.2GHz
Core Count: 6
Thread Count: 12
$120 – $130
AMD Ryzen 5 5600X
65W
Boost Clock Speed: 4.6GHz
Core Count: 6
Thread Count: 12
$150 – $200
AMD Ryzen 5 5800X
105W
Boost Clock Speed: 4.7GHz
Core Count: 8
Thread Count: 16
$250 – $300
Nvidia RTX 3060Ti
200W
CUDA Cores: 4864
RT Cores: 38
Boost Clock Speed: 1.78GHz
$370 – $420
Nvidia RTX 3070
220W
CUDA Cores: 5888
RT Cores: 46
Boost Clock Speed: 1.73GHz
$500 – $600
Nvidia RTX 3070Ti
290W
CUDA Cores: 6144
RT Cores: 48
Boost Clock Speed: 1.77GHz
$600 – $700
AMD RX 6700XT
230W
Stream Processors: 2560
Ray Accelerators: 40
Boost Clock Speed: 2581MHz
$480 – $550
AMD RX 6750XT
250W
Stream Processors: 2560
Ray Accelerators: 40
Boost Clock Speed: 2600MHz
$550 – $600
If we compare this table to the one that we created for our Corsair CX650F review, you'll immediately notice that the 750 wattage capability of this unit opens your options up to far more cards. This is a pattern that naturally follows as you work up the range of available power supplies and their increasing wattages.
RGB, Design and Features
First off, lets look at the PSU design. I feel it is difficult for a manufacturer to make a power supply look interesting or match an aesthetic. Nine times out of ten, your PSU will sit behind some kind of shroud, out of the way, out of sight and out of mind.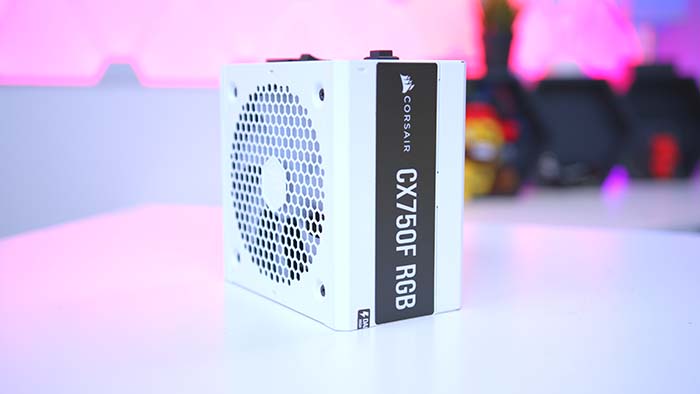 With the CX750F, Corsair have provided a cool looking PSU that has a fully customisable RGB fan for those who do want to show the unit off. The fan is designed to remain both silent, but also provides additional flair with lighting effects that you can play around with to your heart's content using Corsair's industry leading iCUE software. You've also got two colour options with the CX750F. If you're opting for a cleaner and brighter look, you can choose the white colour option, while the stealthy black aesthetic is likely to suit most traditional PC builders.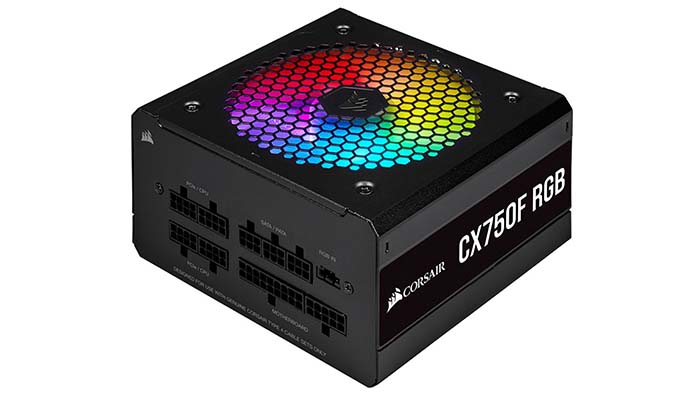 The CX750F sports a fully modular design allowing you to choose all of your cables, minimising clutter within your build. The compact casing also ensures an easy fit in modern PC cases. Coupled with the 80+ bronze efficiency, this 750W PSU is perfect for mid-range and enthusiast systems that are striving for high performance.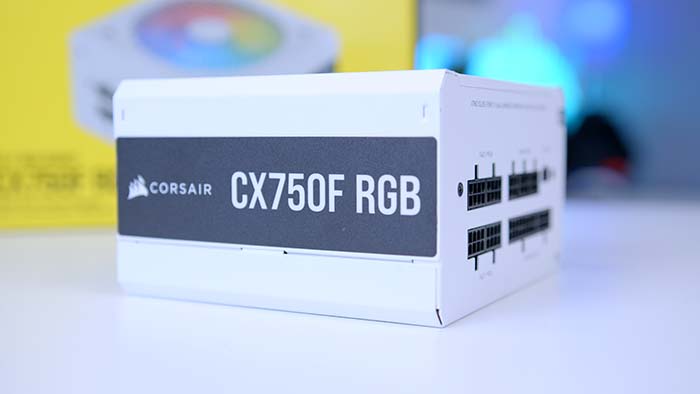 Corsair CX750F Alternatives
Cooler Master MWE 750 Gold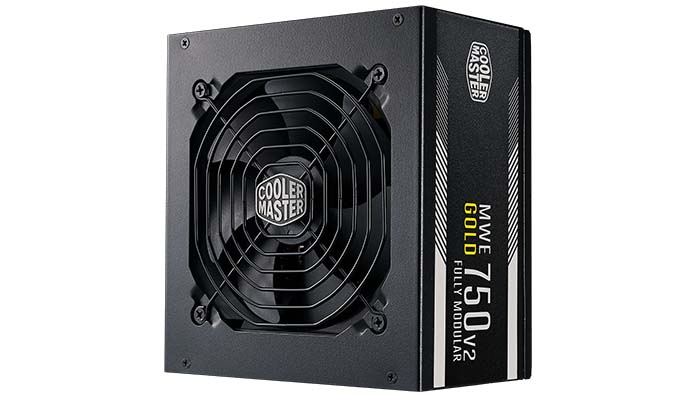 Cooler Master's MWE 750 Gold is an excellent 80+ gold rated efficiency power supply operating silently under load. The gold efficiency rating will minimise any power loss converted to heat, even when using an overclocked CPU. The fully modular design will reduce any awkward cable management too as you're able to pick exactly which connectors you need.
Buy the Cooler Master MWE 750 Gold V2 on:
NZXT C750 Bronze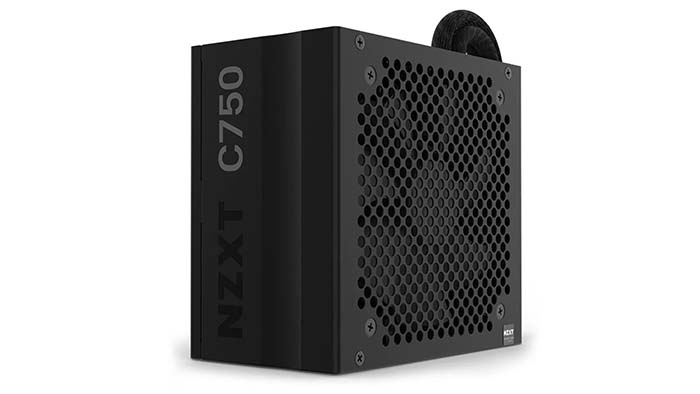 Sporting the signature minimalist NZXT design, the C750 Bronze PSU is perfect for mid-range systems. The bronze efficiency rating is ideal for systems that won't maximise out load. Although the C750 is a semi-modular PSU, you still have the luxury of picking the cables you need for all of your components and accessories. Needless to say, if you're building a minimalist PC, the C750 is a great choice.
Buy the NZXT C750 Bronze on:
DeepCool DQ750-M-V2L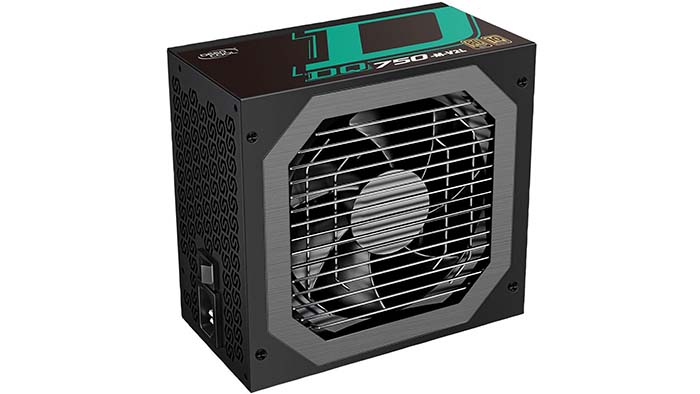 DeepCool's DQ750 is an excellent power supply and one of my personal favourites based on the unique design. Featuring 100% Japanese capacitors and high quality MOSFETs, delivering stable output, this PSU is reliable and perfect for overclocking while using powerful components. The signature DeepCool design also adds a unique aesthetic to your build with the grey and green accents.
Buy the DeepCool DQ750-M-V2L on:
Conclusion
Corsair CX750F RGB
Product Name: CX750F RGB
Brand: Corsair
Features

Design

Efficiency

Value For Money
Summary
Corsair's CX750F is an excellent RGB power supply offering consumers some additional flair with the customisable fan. The fully modular design makes cable management much easier, and Corsair's fans are barely audible even when the system is under load. As an addition, 750 watts opens up a range of options for consumers to use more powerful hardware such as the RTX 3070 and 3070Ti paired with a Core i7 CPU. However, we can't help but feel a little bit disappointed with the lower efficiency rating. Higher wattages suffer with energy loss converted as heat, especially when using more powerful components. We feel that this PSU should perhaps be Gold rated reducing energy loss, considering the standard has shifted with many power supplies achieving this rating. But this isn't a deal-breaker and the CX750F is still perfectly acceptable for a mid-range system.
Pros
✅ RGB fan is fully customisable.
✅ Modular design reduces cable clutter.
✅ Near-silent operation.
Cons
❌ Efficiency isn't gold rated.
❌ Only white and black colour options.
❌ No Zero-RPM fan option.