Introduction
Putting together your first PC build can be a daunting experience, especially with the myriad of confusing options available to you as a consumer. At some point during the process you'll need to pick out a case. You might have landed on a case choice that looks awesome, but doesn't support your motherboard or length of your GPU. Alternatively, you might pick out a case that seems to have all of the motherboard and GPU support you can imagine, but is too expensive.
With all of this in mind, we've compiled a roundup that should give you a good idea of what features to look for in a PC case, and how various budget, mid-range and high-end options are likely to differ. We'll be delving into all of the common differences between cheap and expensive cases, and what to look for when in the PC case market!
Suggested Article: The Best PC Cases to Buy in 2022!
What is a Case?
A PC case is a metal chassis that houses all of the components in your PC build. Without a case you would have no where to safely and conveniently initial components like your CPU, CPU cooler, RAM and SSDs. Not only does the case provide ample space for these components, but also a good way to mount them that ensures ample airflow, and sometimes even great aesthetics!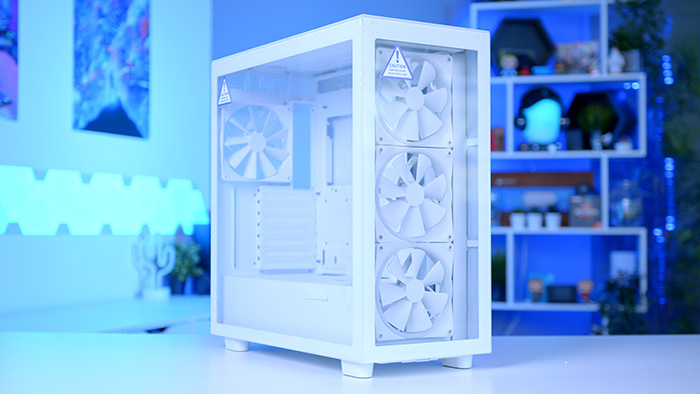 PC cases have gotten a lot more complex over the years as the PC market has continued to grow and flourish. Now, more than ever, consumers are looking for cases that showcase the hardware inside a system, for a build deserving of bragging rights.
If you are looking for a kitted out design, packed with RGB, there are plenty of options out there. Equally, if tempered glass is more your thing, you're not likely to be short of options. On the flip side, those looking for something more stealthy aren't likely to be disappointed. There really are different case designs to suit all aesthetics.
Case Form Factors – ITX vs M-ATX vs ATX
Before looking at the various case features out there, we should delve into the premise of form factors. This is something we've explored with motherboards, and PC cases follow a very similar system. Manufacturers like Corsair, & Lian Li design a chassis around motherboard form factor, with small ITX designs, Micro ATX designs and larger ATX & E-ATX design options available.
You may also see the terminology 'Mid Tower' and 'Full Tower' mentioned across case spec sheets. This takes motherboard form factors to the next level, with more compact and larger design options based around the same motherboard form factor. The idea here is to create multiple tiers of cases, which not only maximises profits for brands, but also enables consumers to be granular with the case they choose, and the features in it.
The reason why case form factor is so important is because it will dictate so many of your other part choices. This can then have a big knock on effect to the prices of your other components. Large cases that utilise a 'full tower' design will be more expensive because of the parts and machining cost. On the flip side, really small Mini ITX cases will also demand a price premium, due to the specialist nature of their design and manufacture.
This can make Micro ATX and ATX Mid Tower cases the best options for those conscious of value for money. These designs are also more likely to fit generic component sizes, with no need for smaller form factor power supplies or compact GPUs here to drive up the price.
Top PC Case Features to Consider
The amount of features now available in a PC cases is fairly endless, and listing them all will take so long that new ones will have landed by the time we're finished. With this being said, there are plenty of important features to look out for amid a market full of gimmicky USPs.
Motherboard Support
Motherboard support is an important area to consider when buying a case. For those looking to build a small form factor system, you'll want a case with support for the smallest ITX motherboards. For those looking at the most expansion possible, you'll want a design with ATX or E-ATX motherboard support.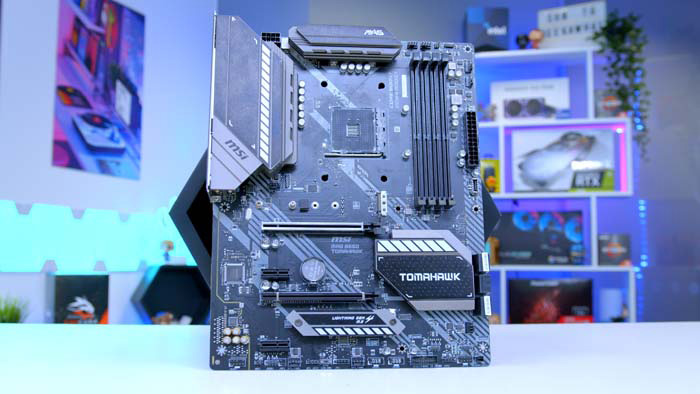 As a general rule, the more versatile a case is with its support for motherboards, the larger the case will likely be. A case which supports the largest E-ATX motherboard designs is also likely to have the physical space for ITX, Micro ATX and regular ATX board sizes. That's not say anyone should actually install a tiny motherboard into a large case.
For most builders, you'll want to pick up a case that can support both Micro ATX and ATX board designs, leaving your options as open as possible.
Fan & Radiator Mounting Options
You might be surprised to hear that many cheaper cases still offer ample support for various fans and coolers, and that you do not need to have an expensive case to make use of good cooling support. This makes it a great feature to look for, that won't necessarily cost you the earth.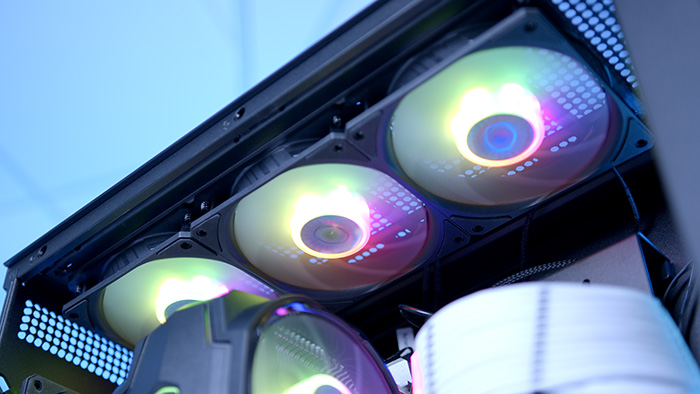 Using MSI's AMG Forge 100M as example: this case costs around $60 and has incredible cooling support. With room for an large AIO at the top and front, you also get really strong fan mounting support: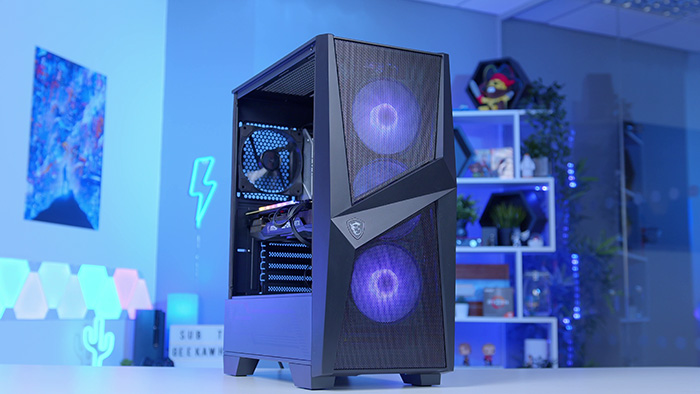 Position
Fan Support
Radiator Support
Front
3 x 120mm
2 x 140mm
up to 240mm
Top
2 x 120mm
2 x 140mm
up to 240mm
Rear
1 x 120mm
120mm
The MSI Forge 100M has strong support for fans and water-cooling radiators, despite it's budget friendly price tag.
If we compare this to NZXT's H7 Flow, a much pricier design, you only gain an extra spot on the front and rear for both fans and radiators. Here the radiator support grows to 360mm, while the rear fan can jump up from a 120mm to a 140mm design. This doesn't make the NZXT H7 a bad choice, it just goes to show that show that you don't need to spend the earth on a case to get great airflow support.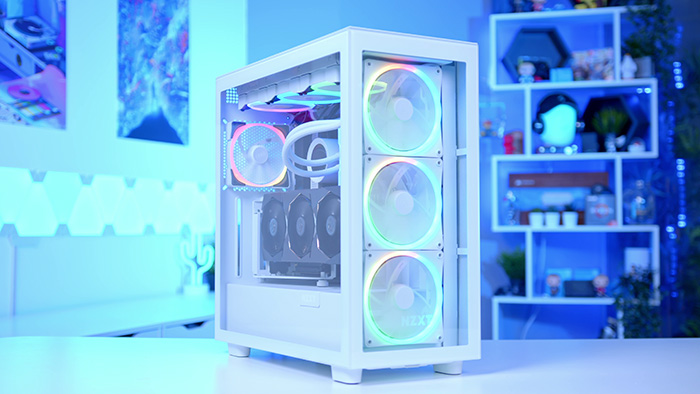 Position
Fan Support
Radiator Support
Front
3 x 120mm
2 x 140mm
up to 360mm
Top
2 x 120mm
2 x 140mm
up to 360mm
Rear
1 x 240mm
240mm
NZXT H7 Flow/Elite Fan Support
High-Speed Front IO
Along with ports on the rear of your motherboard, a case will also provide a number of connections to boost the usability of your PC.
Buyers may wish to look out for USB C connectivity, or fast USB type A ports on the top panel. It is also worth looking at the quantity of USB ports at play.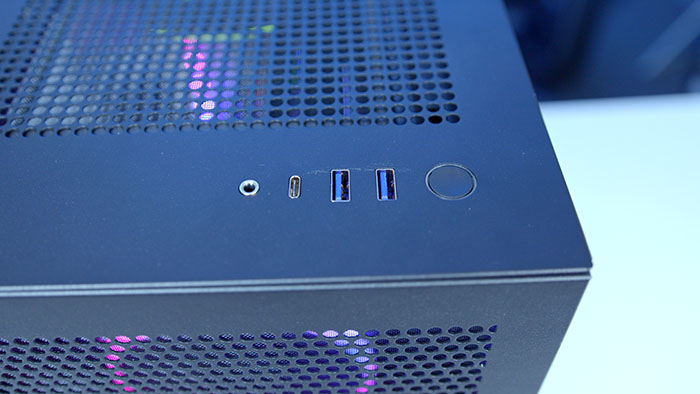 As with all things, the more you spend on a case, the more likely you are to see a better top IO. Keep in mind the release date of a case, and the likely impact this will have on the generation and speed of USB ports available.
Easier Building Process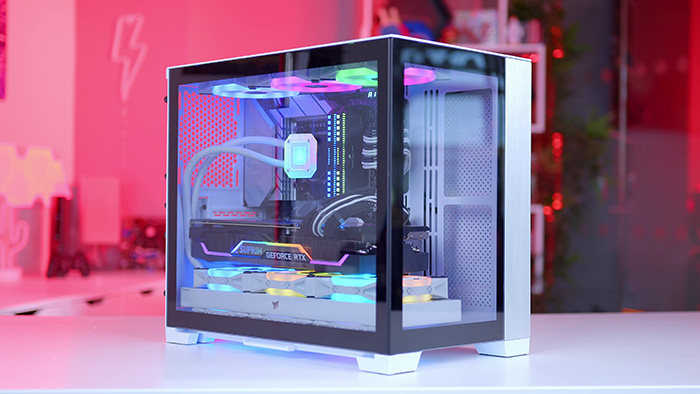 Making your build as easy to assemble as possible is at the centre of many case manufacturers design philosophies. A case that is easy to build in often points to one which is well thought out and built well. Cheaper cases are often harder to build in, given a manufactures low cost- minimal approach here. Features that a case manufacture can incorporate in a case to make it easier to build in include:
Raised motherboard stand-offs. These hold your motherboard into place while you screw it in, making the motherboard installation significantly easier.
Included fan and RGB hubs. These may also include pre-routed fan cables, allowing you to plug your connections into a hidden hub at the rear of the case, much easier than plugging everything in directly to the motherboard!
Proprietary cable management systems. These will help you run all of the cables in your system, keeping cable management to a minimum.
A good number of included fans. Good quality, pre-installed fans save you cash on aftermarket units and the time and hassle needed to install them.
Tool-less hard drive and side panels. Tool-less mechanism help to keep the build time to a minimum, and also lead to a cleaner build aesthetic.
Cable Management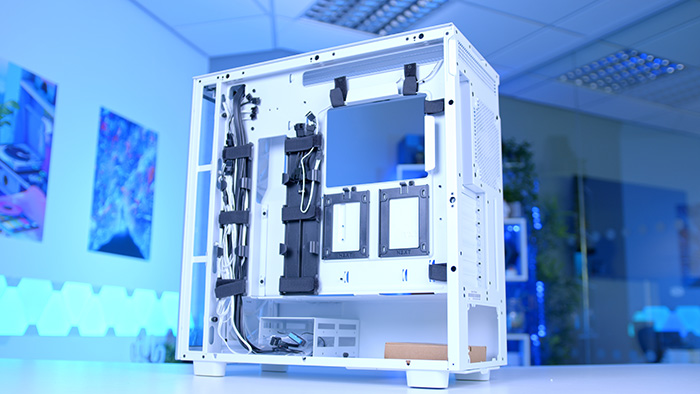 The easiness of a build to complete often goes hand-in-hand with included cable management features. Cases that have proprietary or useful cable management systems can cost a little more, but aid greatly in the build experience and build aesthetic. NZXT and Corsair are standouts for cable management, with built-in cable channels and reusable Velcro cable fasteners simplifying the process no end.
Strong cable management functions do drive up the price of a case, but having deeper channels or more clearance won't necessarily be the makeup of an expensive case. The best way to avoid spending a fortune is simply to carry out some extra research, keeping a keen eye on the cable management options available on the case options you have shortlisted.
Aesthetic & Design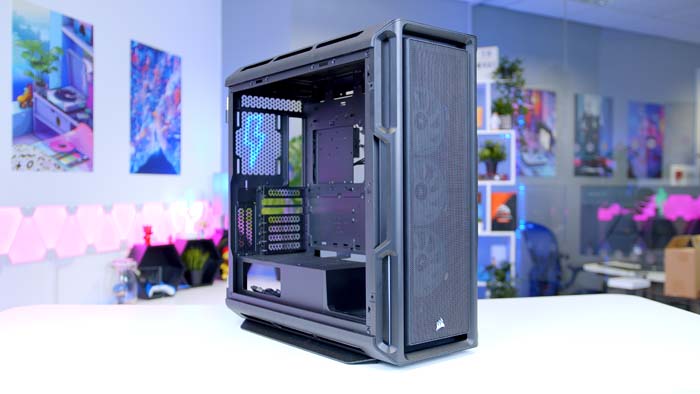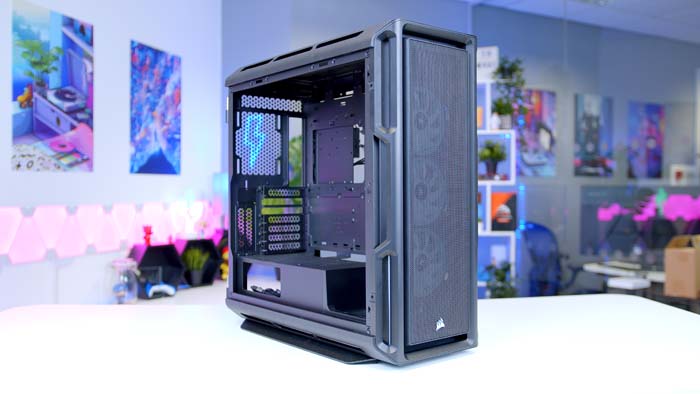 While the aesthetic and general design of a case will be down to personal preference, more expenses cases tend to look nicer. The increased cost allows manufacturers to incorporate a wider range of features side by side. From tempered glass side panels and LCD displays to addressable RGB, metal accents, premium materials and mesh fronts panels. Expect to see some of these features/design options present on budget cases, buy the more included, the higher the cost is likely to be.
Our Recommended Case Selections
Best Cheap Cases
Tecware Nexus M2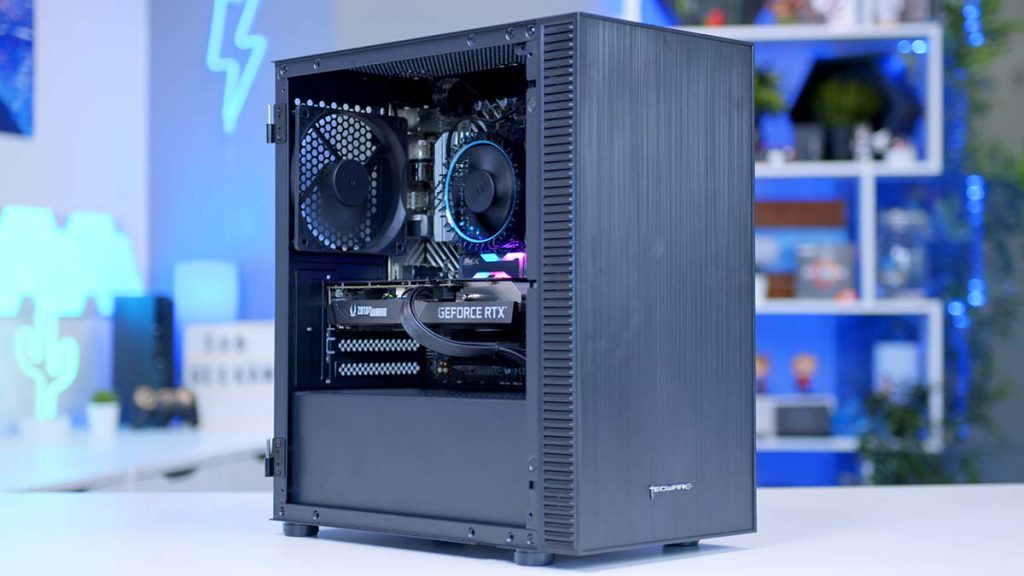 Tecware's Nexus M2 case is one of our favourites that you can pick up for a very low price. This case supports ITX and Micro ATX boards along with multiple fan and radiator configurations. Although there isn't much in terms of aesthetic, the brushed steel chassis is a nice touch, and the tempered glass side panel gives you a look into your build!
---
MSI MAG Forge 100M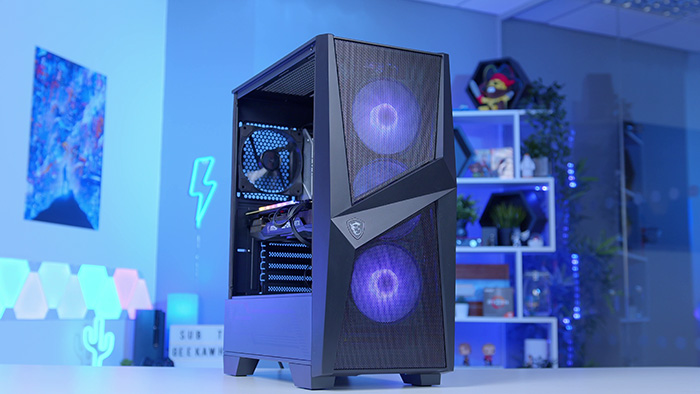 The MSI MAG Forge 100M is a brilliant case sporting a front mesh design that we love to see, because it adds some extra aesthetic and encourages better airflow. This case supports ITX, Micro ATX, and ATX boards, along with different fan and radiator layouts, including 240mm at the front and top. This case brings an awesome design and look for a very reasonable price!
---
Best Expensive Cases
Cooler Master HAF 700 Evo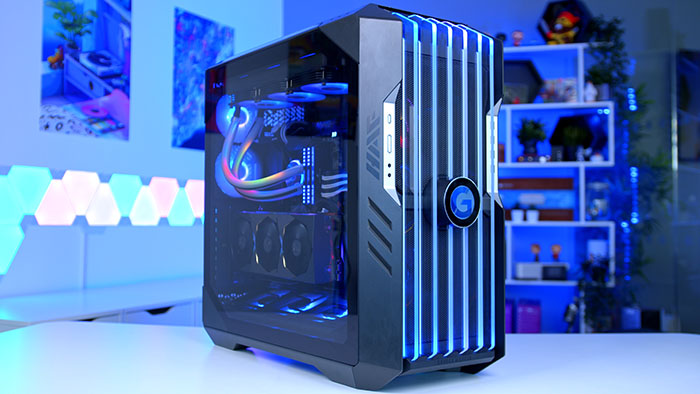 Cooler Master's HAF 700 EVO is an excellent case that quite literally comes with 'all the things'. Not only does this case support all consumer motherboards it has as much tempered glass as you can fathom (including glass sheets at the front). It also features an LCD screen that you can customise to your heart's content. If you're looking to build a top-end PC, then this case will be a great fit.
---
Corsair iCUE 5000T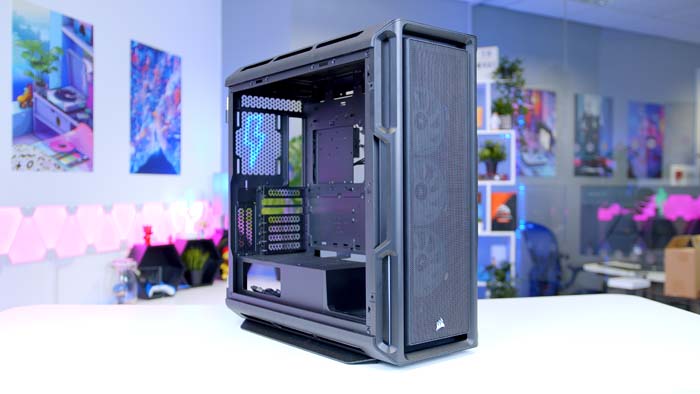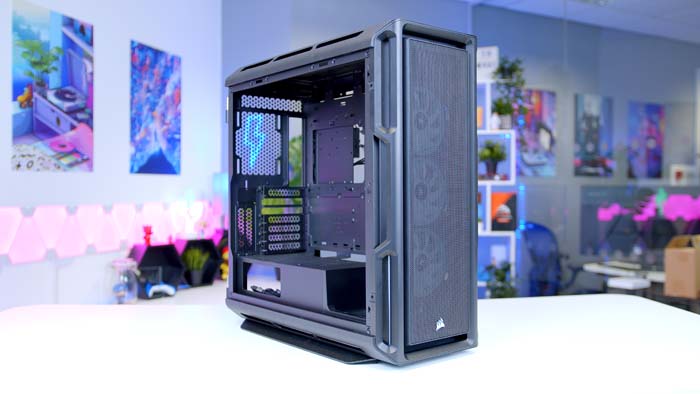 Corsair's iCUE 5000T is an incredible case that comes with a huge amount of RGB. If you're looking for a case with a great aesthetic, then this 5000T will be right for you. Supporting all consumer motherboard sizes, 360mm radiator and fans on the front, top and sides. It also comes with this awesome angular chassis and as much RGB as you can imagine!
---