Introduction
AMD has announced FidelityFX Super Resolution (FSR) 2.1, the next iteration of AMD's popular temporal upscaling technology. FSR 2.1 includes updates to the algorithm that improve image quality in games while reducing artifacts such as ghosting and shimmering. 
FSR 2.1 Arrives to Boost Performance
Following on from the release of FSR 2.0 in May, and the celebration of FSR's first anniversary in June, AMD has revealed the all-new FSR 2.1 update. Now, available as a free download for game developers on GPUOpen.com, FSR 2.1 support has been added in the latest update for Farming Simulator 22 as well as an upcoming update for Hitman 3. Additionally, AMD's FSR 2 plugin for Unreal Engine 4.26/4.27 and Unreal Engine 5 has been updated to support FSR 2.1 along with some additional improvements.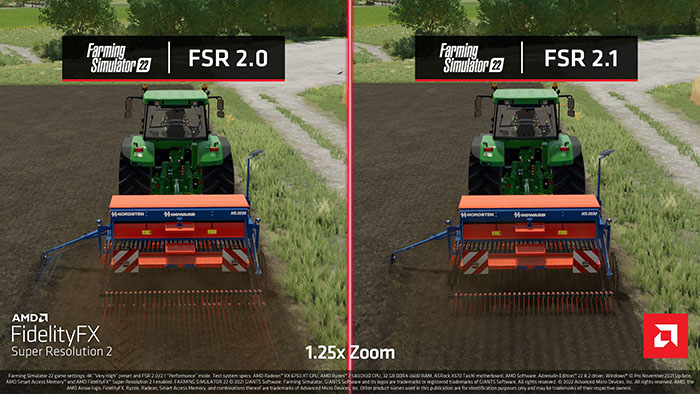 FidelityFX Super Resolution is AMD's cutting-edge temporal upscaling technology, designed to boost framerates in supported games while delivering outstanding image quality. Like FSR 1 and FSR 2, FSR 2.1 is fully open source and will work on a wide range of hardware, including competitors' products.
Some of the improvements that FSR 2.1 will provide include added motion vector divergence, improved disocclusion logic, improved upscaled output, and many more. You can read about all these updates in more detail in this blog on GPUOpen.
More Titles Receive FSR 2.0 Support
After announcing 6 new titles at Gamescom a few weeks ago, AMD also announced 11 more games that added or are expected to add support for FSR 2.0. This brings the total number of supported titles to 45 in less than four short months since the technology was launched. The new titles include Deep Rock Galactic, Destroy All Humans! 2 – Reprobed, Ghostwire: Tokyo, Scorn and more.
20 of these titles are currently available to play with FSR 2.0 and a further 25 will be available in the near future. You can find a full list of supported titles for all versions of FSR here.
FSR 2.0 vs FSR 2.1 Comparison Video
This video shows a side-by-side comparison of the two most recent up-scaling technologies in action on Farming Simulator 22. The new FSR 2.1 is on the right of the screen and FSR 2.0 is on the left.