Introduction
A case is the largest and one of the most important components of any PC build. After you've put all of your components together outside of the case, you will need to solid chassis to hold everything together.
There are plenty of different cases currently available on the market, geared towards all types of builds. These will come with a whole host of different features. You may want to choose a case that focuses on optimising airflow, for the lowest system temps. Alternatively, you could choose a case that has a good amount of cable management for minimum cable clutter. For some, RGB and pure aesthetics will top the priority list. These are all options that should be considered when choosing a case for you, and we're here to help!
Today we're evaluating the new Corsair iCUE 5000T RGB PC case. We'll be exploring the design premise, and the kind of features this case offers compared to what else is on the market.
Buy the Corsair iCUE 5000T on:
Suggested Article: The Best PC Cases to Buy in 2022!
How To Choose a PC Case
Budget
The most important question here, is how do you go about picking a case out of what's available? There's a few things that might change your outlook on what case you eventually pick.
One of the main points to consider is your budget. Cases tend to follow suit with the rest of your components by sticking to three price brackets (budget, mid-range and high-end).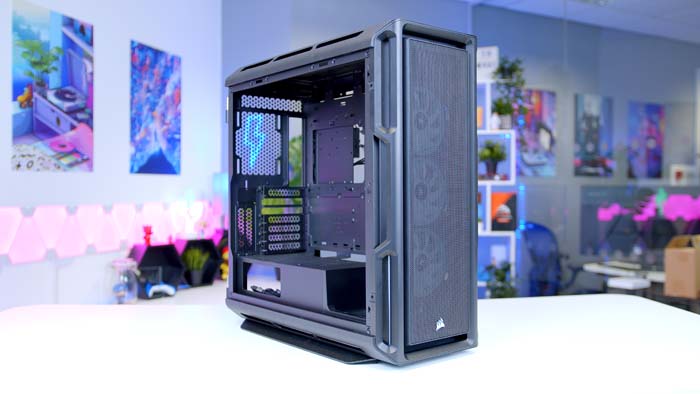 Budget cases will often lack lots of features, in favour of getting your build into a metal box at the lowest possible price. They're often smaller in size (keeping material costs down), include a limited number of fans, if any at all, and lack RGB options. Mid-range cases combine design aesthetic with performance. They often provide more choice for airflow, cable management, and will be more versatile for different form factors. High-end cases will be the best of the best, but the most expensive. Offering features like tempered glass panels on more than one side, integrated RGB controllers, quiet RGB fans and the most options for airflow and cable management.
Other Factors
Another option to consider is the size of your case. You want to factor this in beforehand, because you may not have the space for a full-tower (the biggest option) or sometimes even a mid-tower. I wouldn't say this is often the biggest issue, but if you pride yourself in having portable solutions, then a full or mid-tower will probably not be a good choice.
Case Form Factor
Size
Examples
ITX
Small
NZXT H1
Lian-Li Q58
Cooler Master NR200P
Micro ATX
Medium
Tecware Nexus M2
Cooler Master MB320L
ATX Mid Tower
Medium – Large
Corsair iCUE 4000X
Cooler Master TD500 Mesh
Antec DF600 Flux
NZXT H510
Corsair iCUE 5000T
ATX Full Tower
Large – Very Large
Cooler Master HAF700 EVO
Corsair iCUE 7000X
Lian Li O11 Dynamic XL
Different cases come in different form factor designations, each taking up progressively more space in your gaming setup.
The final point when picking a case is probably what kind of features you're looking for. If you're looking for RGB to bring some lighting and colour then you'll want to check out RGB support, and controllers. Alternatively, some cases may not offer great airflow, either because of a lack of mesh ventilation, or lack of spaces for fans and radiators to be mounted. If you're an avid enthusiast that needs good thermals for overclocking, you'll want a case without this issue, and plenty of room for fans. These are all vital considerations when looking at cases, but we're here to make that easier for you by breaking down some of the awesome features on the Corsair iCUE 5000T.
iCUE 5000T Design and Aesthetics
First off is the look and design of the Corsair iCUE 5000T. To put it simply, this is a beautiful mid-tower case. A large tempered glass side panel spans the entirety of the side, with an angular front, top and bottom design, housing plenty of mesh.
You'll also find an included power supply shield, to hide away those pesky cables, and 3 of Corsair's high-end LL fans mounted up front – a real statement feature!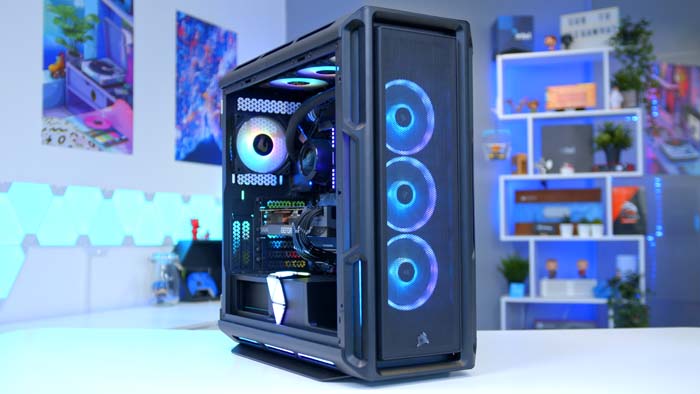 There aren't many cases that offer a similar aesthetic to the 5000T. With contours and angular accents that give it quite literally 'an edge' over other cases. The angular metal frame of the case also gives you a view into the lighting of the case. If RGB is on the priority list, you're sure to be impressed by the 5000T, which has more than pretty much any other case on the market. The lighting is viewable from every angle, and can be configured using Corsair's industry-leading iCUE software.
Features
I would argue that versatility and features are the most important consideration of any design philosophy, especially when it comes to building a great looking PC. With this in mind, we've broken down the most important features that make the Corsair iCUE 5000T an excellent case choice. Just how many of the features stand out as 'must haves' or 'nice to haves' for you, will likely determine whether or not this is the high-end chassis for you.
RGB Support
I figured I would talk about RGB first, because this is one of the biggest selling points for the 5000T. The amount of RGB available from the get-go in this case is honestly mind-blowing. You're immediately given 3 LL120 RGB fans, that have 16 individually addressable RGB LEDs in each fan. This case also comes with 160 RGB LEDs that are fitted into the front, roof and floor panels. If you wanted a crazy light show, then this case is for you!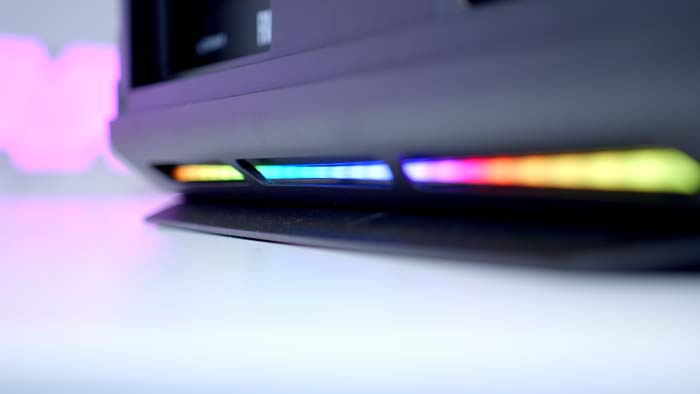 Corsair iCUE Controller
An awesome addition that makes a great case is an included RGB and fan controller. Mounted underneath the left panel is a smart controller that works in combination with Corsair's iCUE software. The smart controller provides accurate system temperatures and supports up to six PWM fans. The controller will also allow you to synchronise all other iCUE RGB products to the case lighting theme, leading to some truly stunning system designs.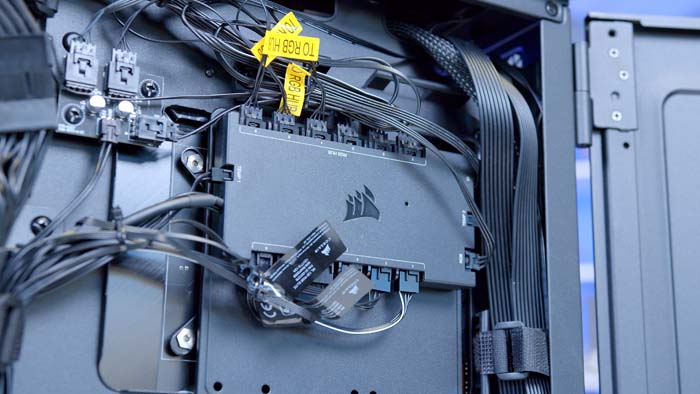 Fan and Radiator Capacity
If you didn't think the amount of RGB components available in the box was enough, wait until you read this! The 5000T supports a massive amount of fans. You have the choice of upto 3 x 120s or 2 x 140s in the front, with the same up top and on the side mount. Room for a further 120mm fan at the back, and support for up to two 360mm radiators at once using a combination of the top, side and front mounts surely ticks a lot of boxes.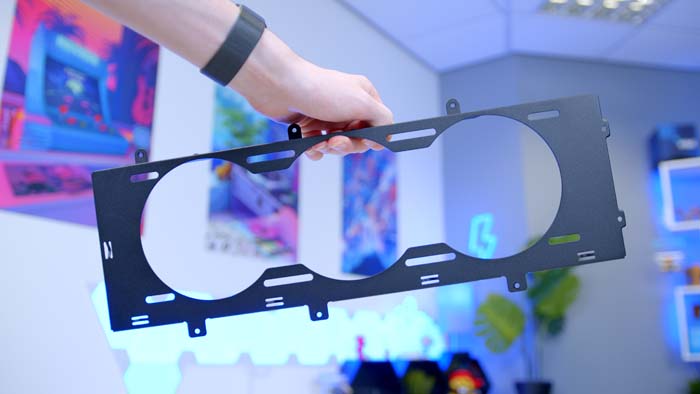 Cable Management
The 5000T boasts Corsair's 'rapidroute' cable management system. The case comes with an included set of Velcro cable ties that make cable management a breeze! You've got 30mm of space behind the motherboard, so this should be plenty of room to make your cables look nice and tidy. Failing this, the rear panel is a steel design, so cram in your cables and forget about them!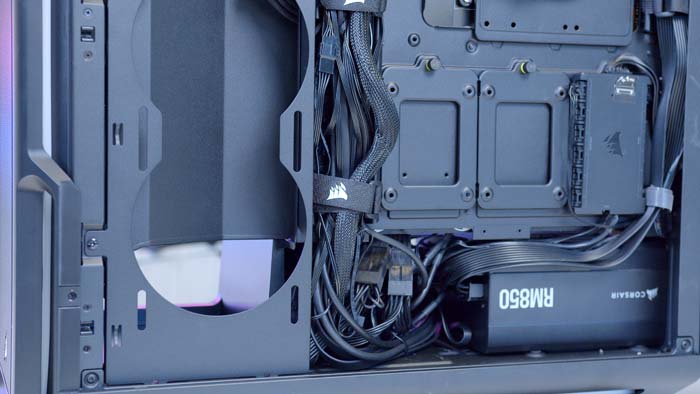 Versatile Motherboard Support
There's nothing worse than finding a case that you like, but later realising it doesn't support your motherboard, GPU or CPU cooler of choice. Well, with the 5000T, Corsair has you covered! This case supports the 3 major motherboard form factors (Mini-ITX, Micro ATX, and ATX). It unfortunately doesn't support E-ATX boards, but unless you're really pushing out the boat with your spending, you probably won't need to worry about buying an E-ATX board. It should also support all heights of air coolers, and the very longest GPUs on the market.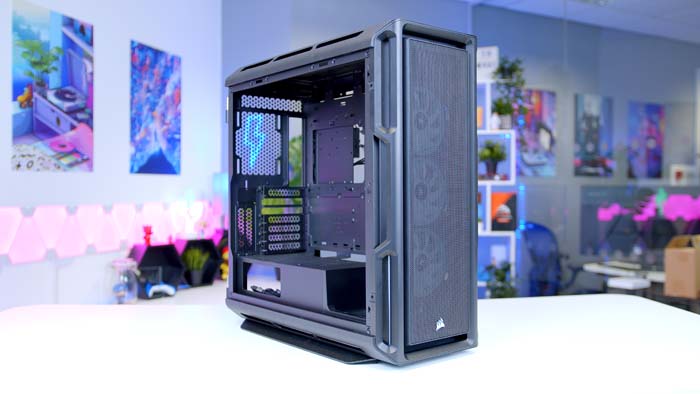 Other Features
The Corsair iCUE 5000T also comes with 2 combo drive trays and 3 SSD mounts, ideal for lots of storage. The airflow panels and mesh front panel are also removable for quick and easy maintenance. You're also given a nice amount of IO, including a USB 3.1 Type-C port, 4 USB 3.0 ports, and a combo audio/mic jack. This is the perfect IO layout in 2022, and I wish more brands will follow Corsair's lead on the split of great IO choices.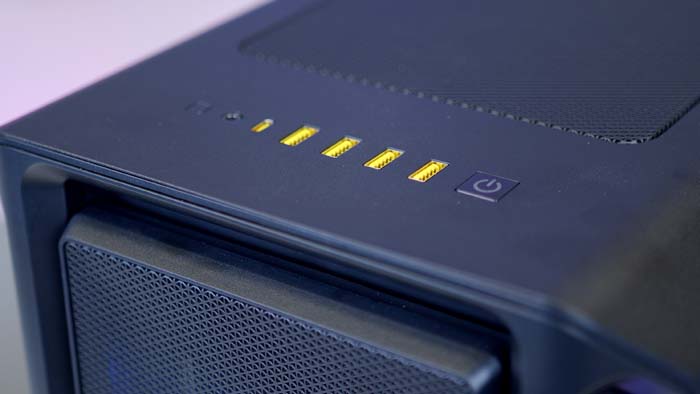 Conclusion
Corsair iCUE 5000T RGB
Product Name: iCUE 5000T RGB
Brand: Corsair
Features

Design

Versatility

Value for Money
Summary
The Corsair iCUE 5000T RGB is an absolutely astonishing case. If you want a feature rich option then this case is definitely for you, sporting as much RGB as you can imagine, loads of support for varying types of cooling, and a whole host of other options. Combine this with Corsair's iCUE software and you'll be able to have a disco in your room that is synchronised with all of your other Corsair components. The only downside to this, is the case definitely is not a cheap option, so the market for this case is pointed towards high-end builds. However, if it was cheaper then this would probably be the best case of 2022!
Pros
✅ RGB, RGB and some more RGB!
✅ Versatile fan support.
✅ Aesthetically beautiful.
Cons
❌ Very expensive.
❌ Doesn't support E-ATX motherboards.
❌ Poor vertical GPU mounting options.