Suggested Article: AMD Ryzen 9 7900X Review – Architecture, Performance & Benchmarks
Our Recommendation: MSI MEG X670E ACE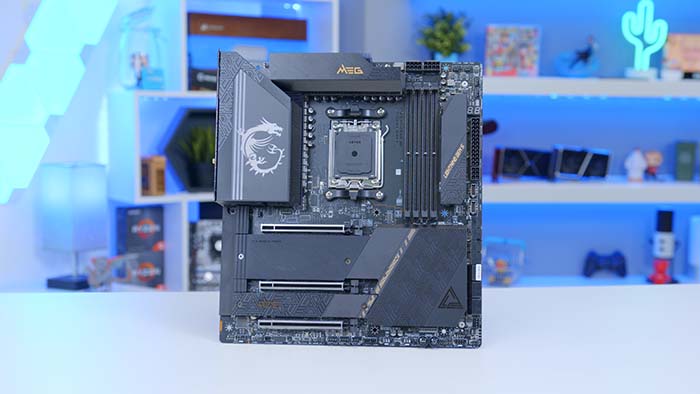 From all the AM5 motherboards tested to go alongside the Ryzen 9 7900X3D is MSI's MEG X670E ACE. This X670E motherboard is jam-packed with the latest and greatest features, such as incredible support for overclocked DDR5 memory, along with multiple PCI-E 5.0 slots for both graphics cards and SSDs. To top it all off, the X670E ACE comes with a luxurious black and gold appearance that is perfect for a high-end gaming PC.
Best Motherboards for the Ryzen 9 7900X3D
1. ASUS ROG STRIX X670E-E Gaming WiFi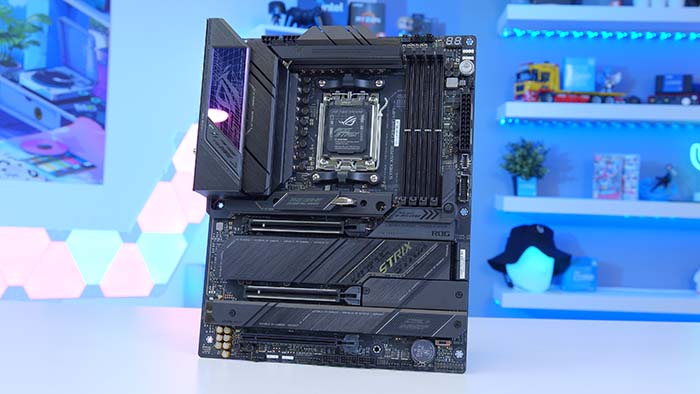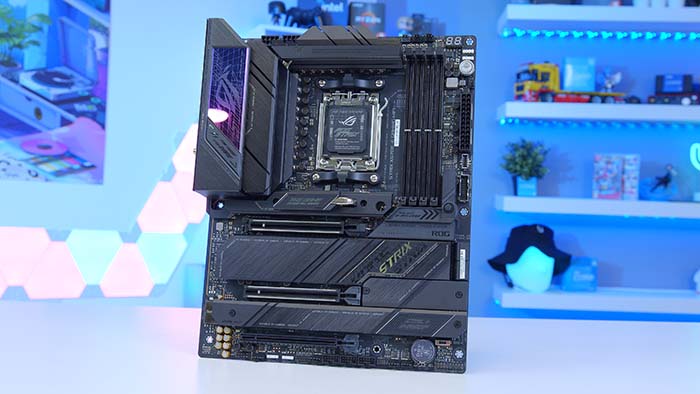 The ASUS ROG STRIX X670E-E Gaming WiFi features a design similar to that of the Dark Hero boards we saw from the previous generation of Ryzen CPUs. The all-black aesthetic on the heatsinks looks very sleek, and the RGB provides some extra flair and customisation for those that enjoy creating their own lighting effects. The overall design of the motherboard will blend in very well with a multitude of different build styles, based on the black coating we can see all across the board.
In terms of features, the ROG STRIX X670E-E offers Gen5 compatibility for both SSDs and GPUs. This provides some upgradeability for those that plan on picking up higher bandwidth components in the future. This board also offers a Gen4 M.2 slots, allowing users to connect a Gen4 SSDs which still provide insanely fast read and write speeds. Looking at the rear IO, the ROG STRIX X670E-F has a ridiculous amount of ports, with the vast majority offering 10Gbps speeds.
In terms of networking consumers also have access to 2.5 Gigabit LAN, and WiFi 6E, which is ideal for those that prefer minimal cable management. Overall, this is an excellent board at a fairly reasonable price point considering the amount of features you get access to.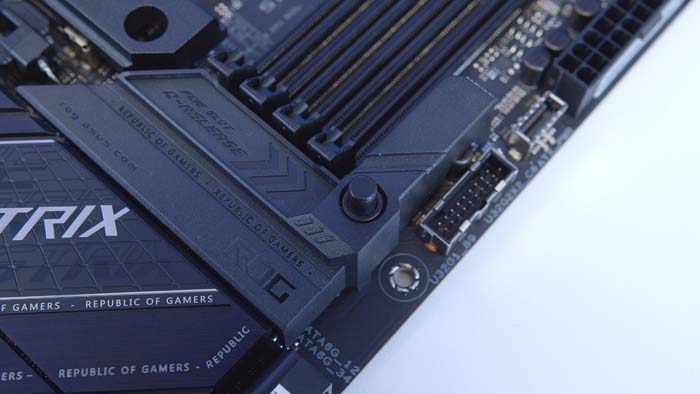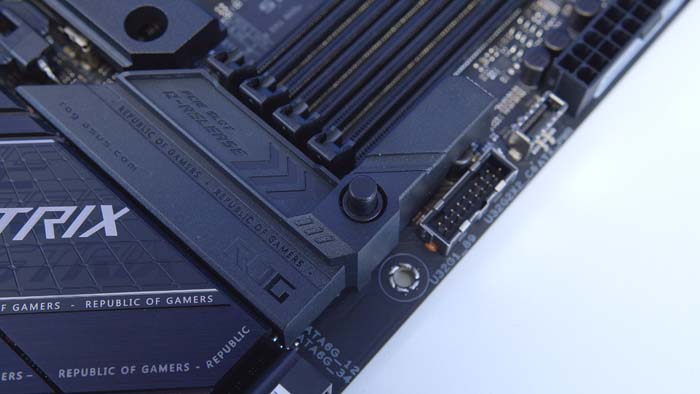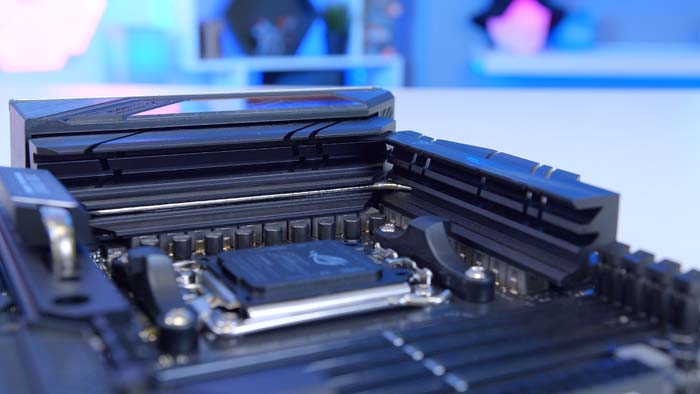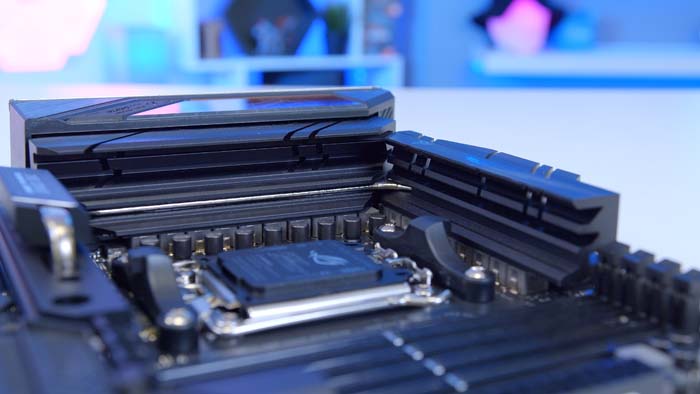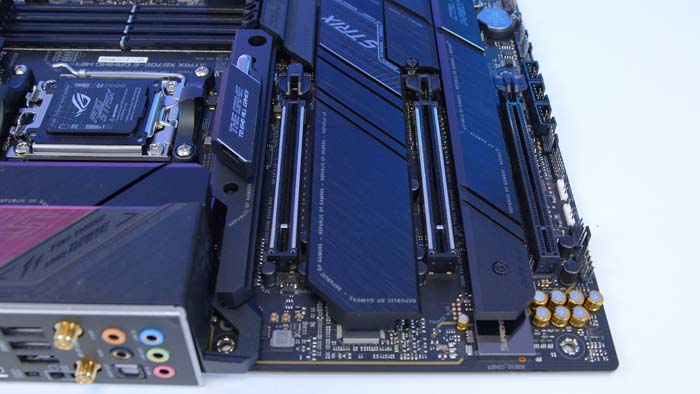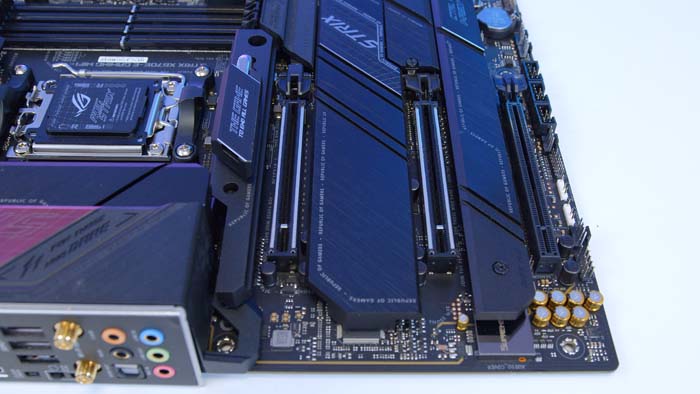 One of the cool new features of Ryzen 7000 motherboards are USB4 ports. However, it seems these are reserved for the most top-end options on the X670E chipset. This is fairly disappointing when you consider the amount that consumers will have to part ways with to pick up this X670E motherboard.
Where to Buy
Buy the ASUS ROG STRIX X670E-E Gaming WiFi on:
2. Gigabyte X670E AORUS Master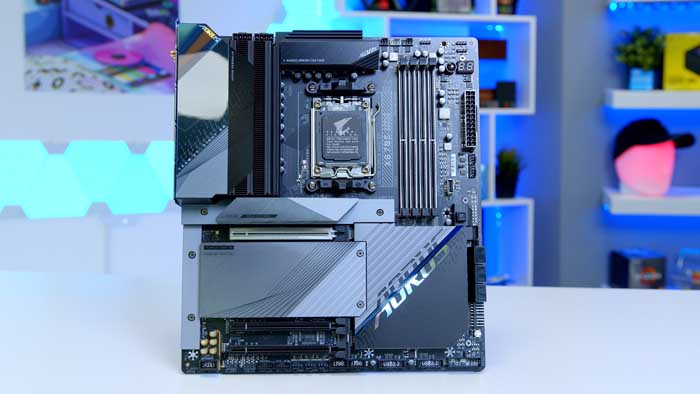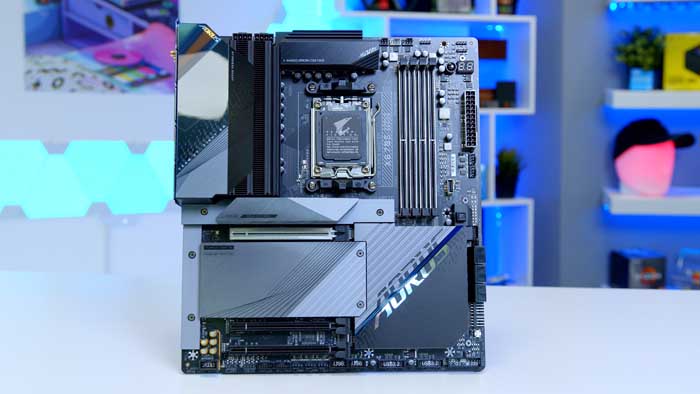 Next up is the AORUS Master from Gigabyte. This is a motherboard that we've reviewed in full, and overall we were pretty impressed with this design. The AORUS Master offers a slightly cheaper gateway into the X670E range, whilst still offering a myriad of features. This board will be rather expensive compared to other chipset options, but arguably you get what you pay for here.
The design of the AORUS Master is simple, but effective. The gunmetal finish on the heatsinks looks awesome, and the RGB located on the rear IO heatsink is vibrant and fully customisable. Moving onto the features, the rear IO is very strong here. With a total of 12 ports, the majority of which are offering 5Gbps speeds or above, users should have more than enough ways to connect their high-end gaming peripherals.
Consumers also have access to more PCI-E x16 slots, which makes this board ideal for users with multiple GPUs, or for those using x4-based SSDs. Memory overclocking has also received a slight boost here, with speeds that can reach up to 6666MHz and beyond. The AORUS Master is an excellent choice for those that prefer bigger motherboards with plenty of slots.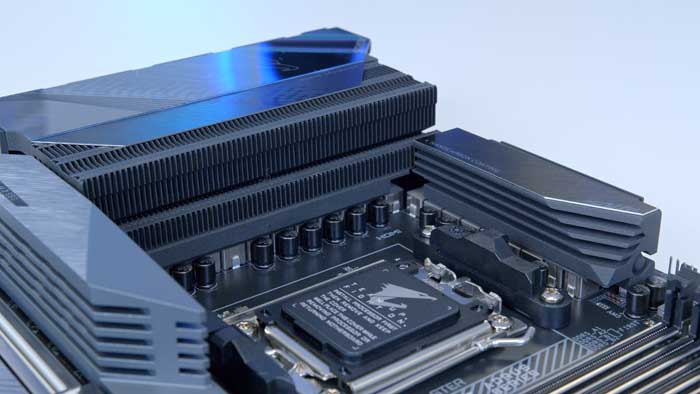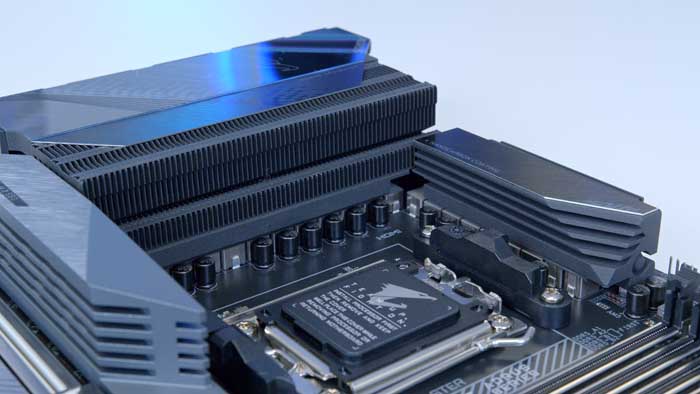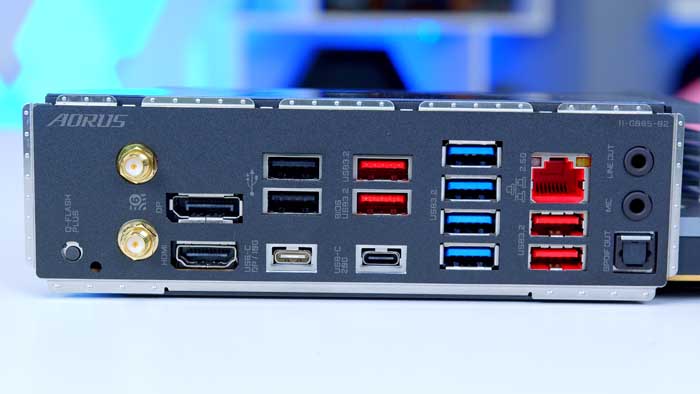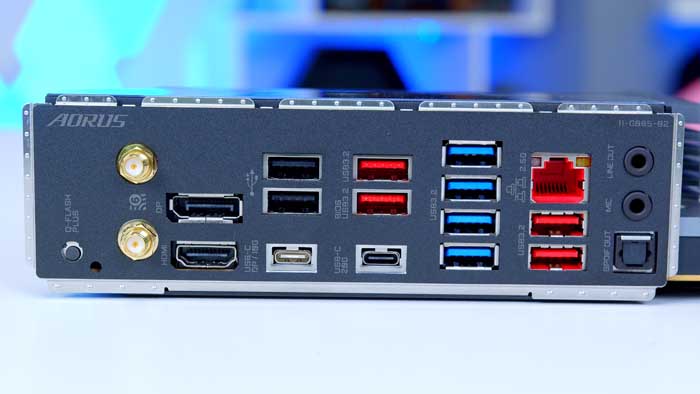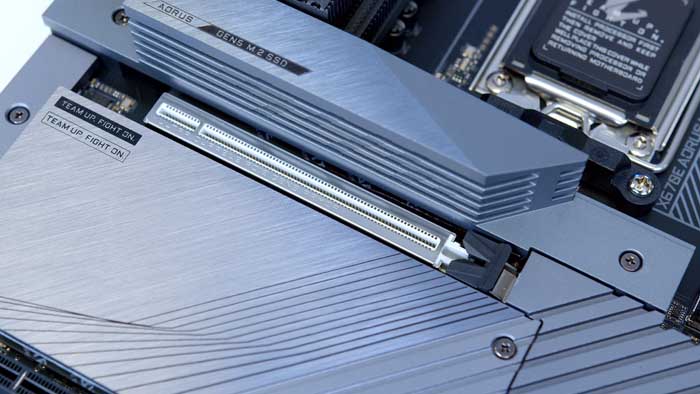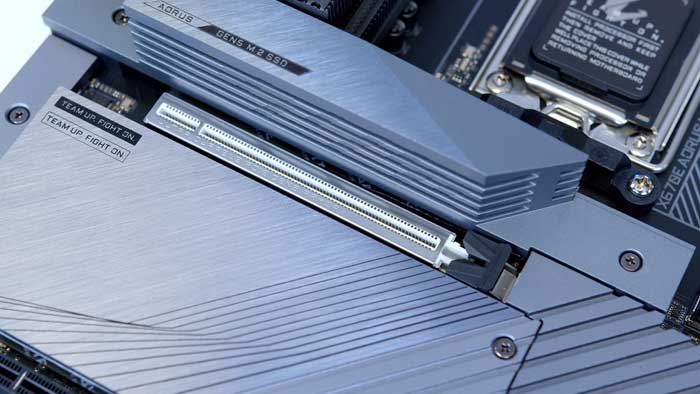 Though we regard the AORUS Master line as one of the top-end SKUs, this board is lacking one of the more important rear IO options in the form of networking. If you're looking to move high capacity files around a fair amount, this board won't be ideal due to the lack of a 10 Gigabit port. In addition, this E-ATX motherboards definitely sits on the expensive side, which means it is reserved for the more luxurious PC builds.
Where to Buy
Buy the Gigabyte X670E AORUS Master on:
3. MSI MEG X670E ACE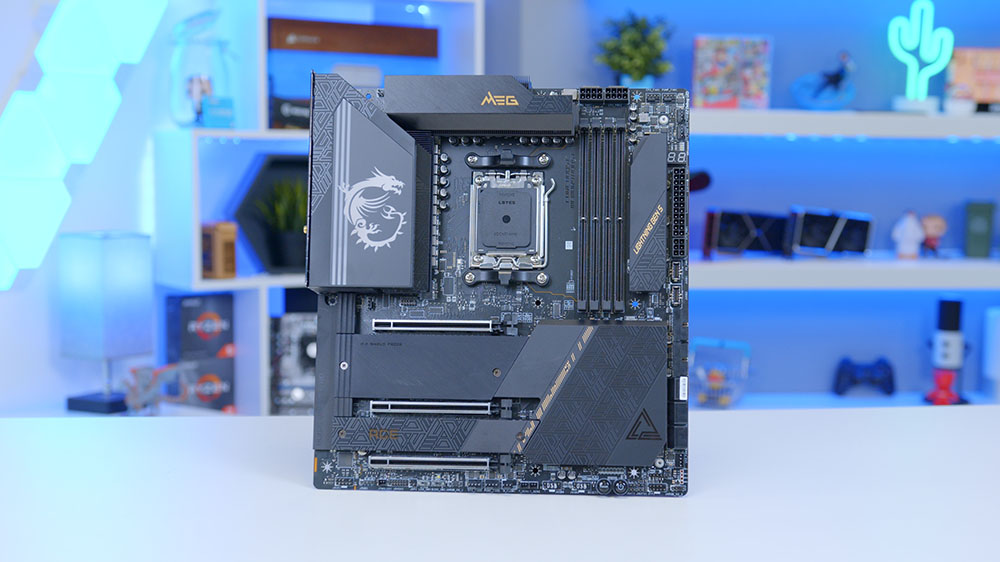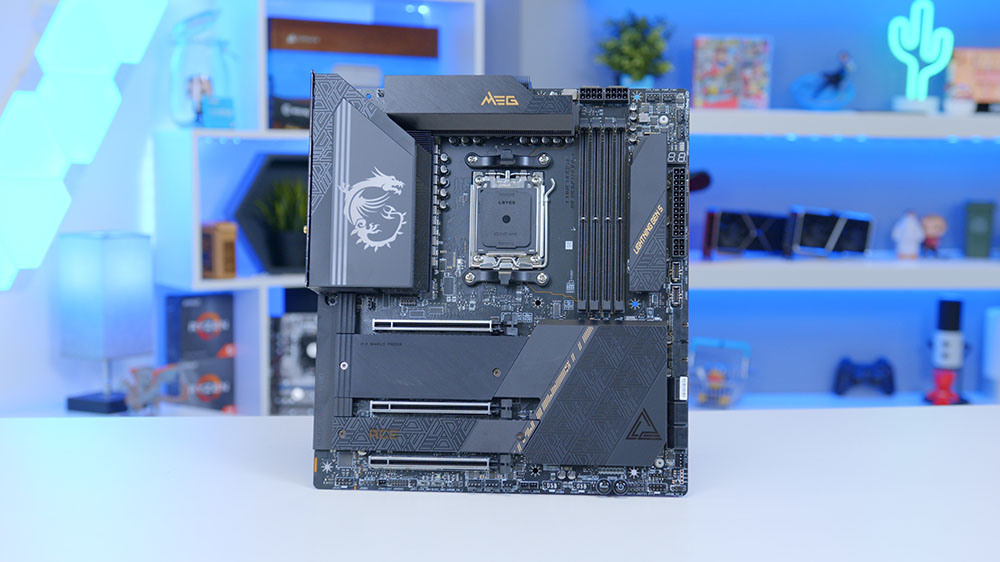 MSI's MEG X670E ACE sports an all black design with gold accents across the heatsinks. MSI tend to be somewhat more minimal when it comes to RGB, but the dragon logo on the IO heatsink features customisable lighting, adding some flair to your build.
In terms of features, the Carbon WiFi has comes with dual PCI-E 5.0 slots, making it ideal for users that plan on picking up two top-tier graphics cards. Looking at the rear IO, consumers have access to predominantly high speed ports, with USB 3.2 Gen2 making up most of the available options. These ports are rated up to 10Gbps speeds, and are perfect for those that transfer files between external drives often.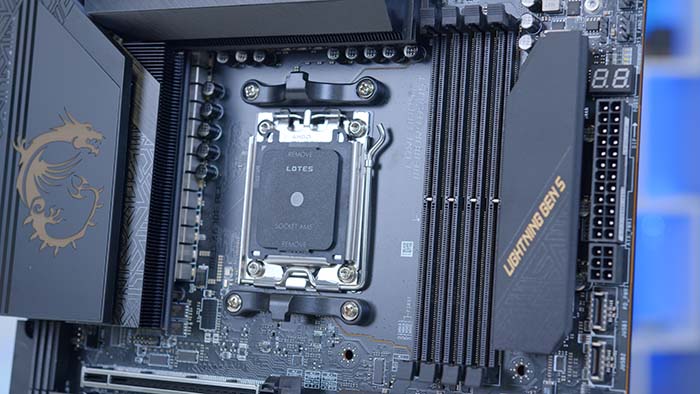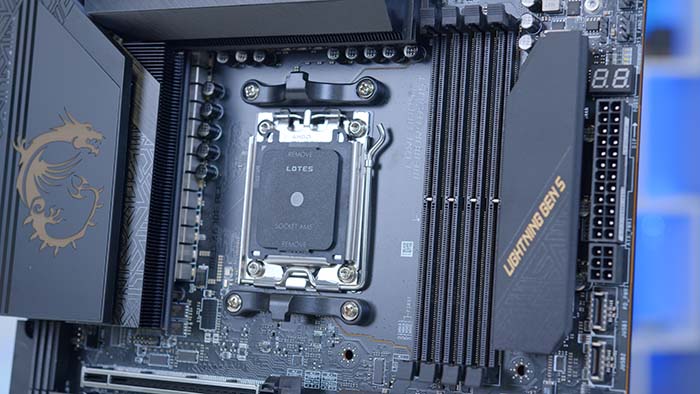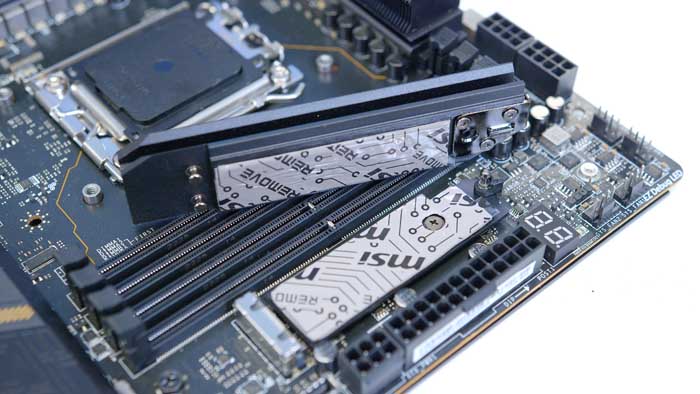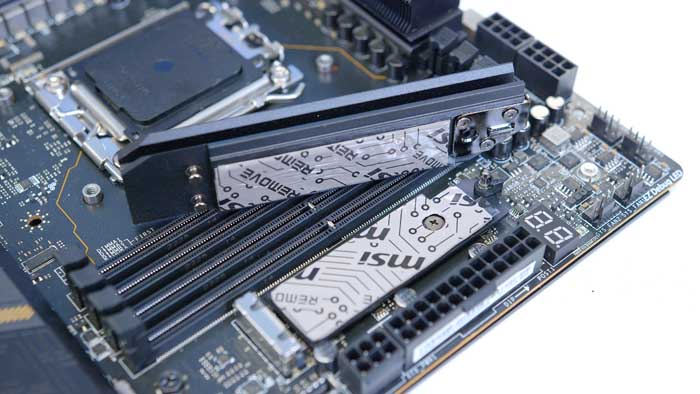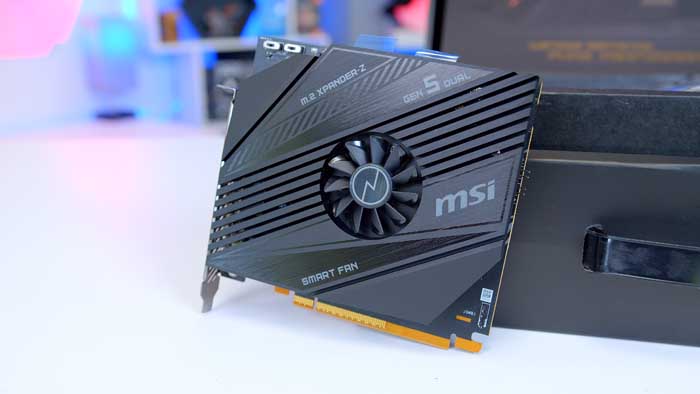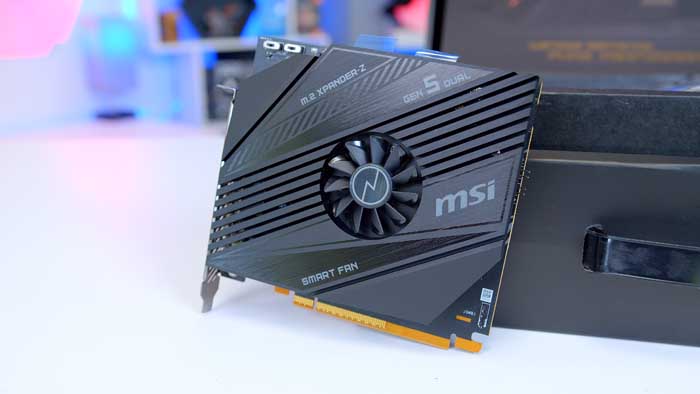 Like many of the other motherboards we've tested for the 7900X3D, the main weakness of the X670E ACE is the price point. However, the price of this particular motherboard is ludicrous compared to the rest of the market. Because of this, we'd only suggest this design for PC enthusiasts that have plenty of funding. Despite the hefty price tag, this motherboard still lacks Thinderbolt4 compatibility, which always feels like a missed opportunity.
Where to Buy
Buy the MSI MEG X670E ACE on:
4. ASUS ROG Crosshair X670E Gene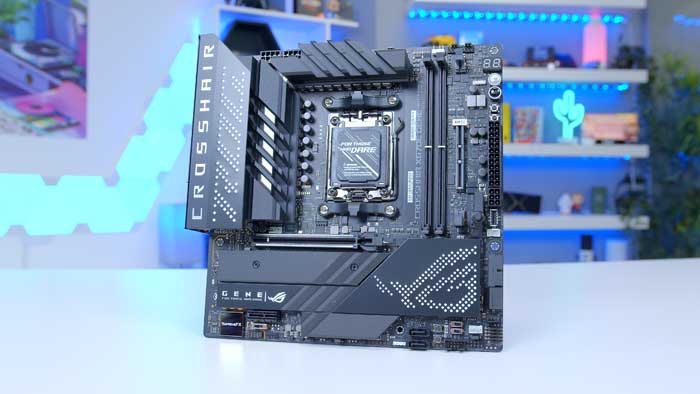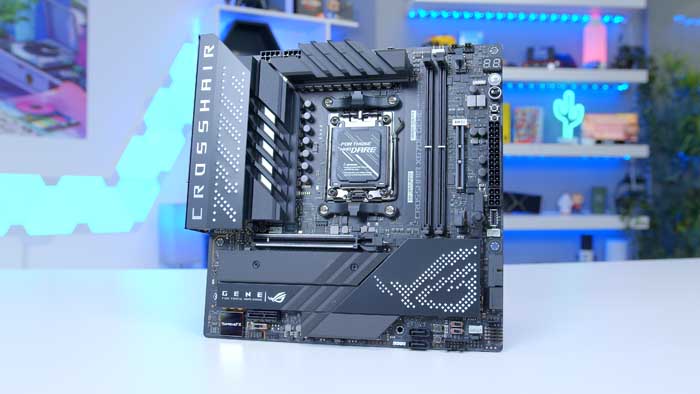 The ROG Crosshair X670E Gene is a rather unique offering from ASUS . This is another motherboard that we've reviewed in full, and we also got an in-depth look during Gamescom of 2022. In short, the X670E Gene is an awesome motherboard.
Despite being a compact Micro-ATX board, ASUS have crammed it full of features, making it ideal for users building a more portable style of build. ASUS have also covered up this board with various heatsinks, which will improve thermals add to the aesthetic.
The biggest selling point of this board, is the proprietary Gen-Z.2 card that comes in the box, adding two M.2 slots to this design. This is an awesome feature, and it adds a lot of value to this board as a whole. On top of the additional M.2 slots, consumers also get access to USB4 ports, which offer blazing-fast transfer speeds. The rear IO of this board is also mainly made up of USB 3.2 Gen2 slots, making it ideal for users that need high bandwidth ports, and plenty of them!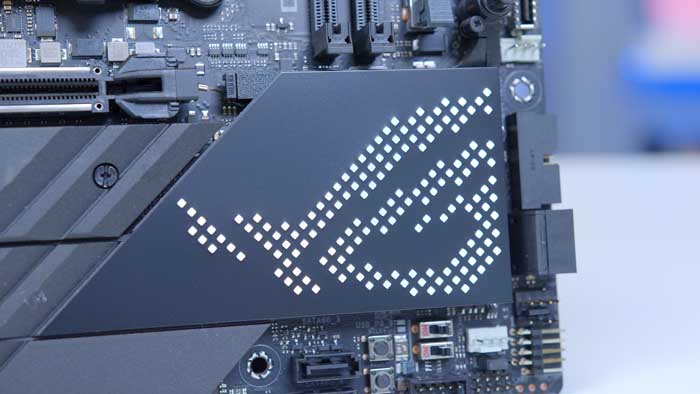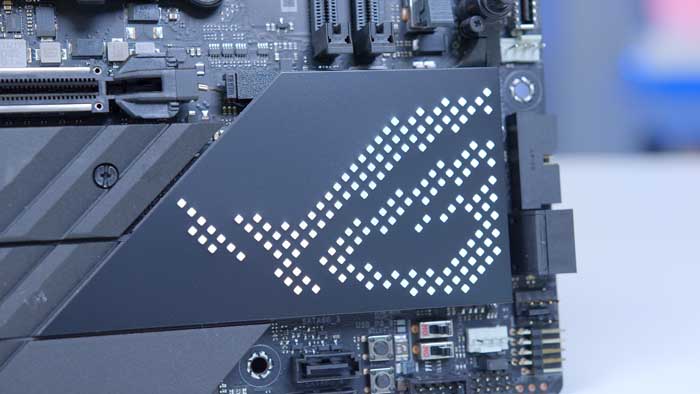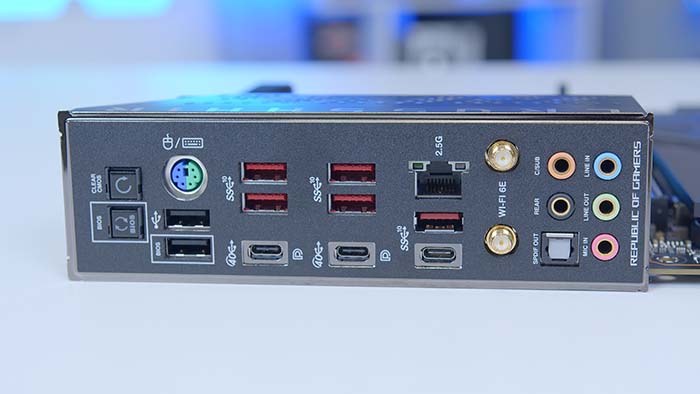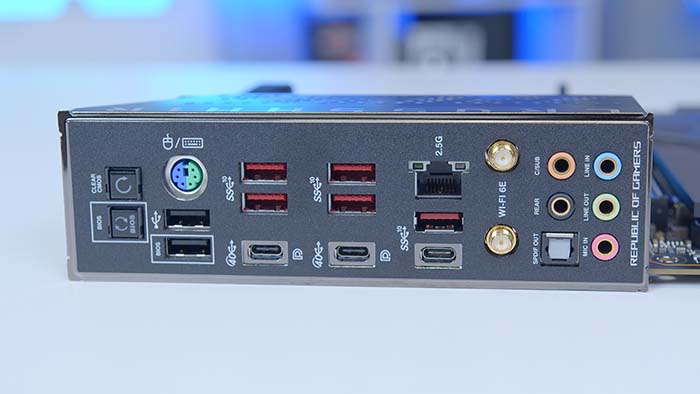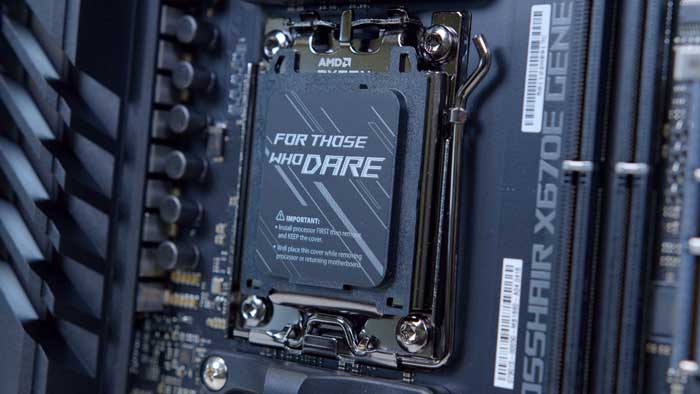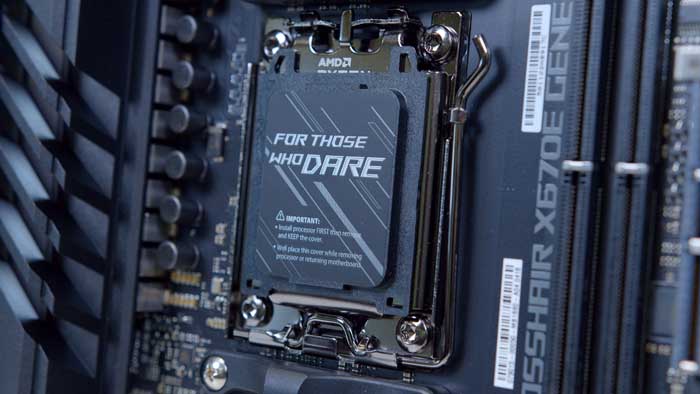 The ROG Crosshair is an awesome board this has to be said, but because of its various features, this is one of the more expensive options utilising the X670E chipset. Also, due to the Micro-ATX form factor, the amount of RAM DIMM slots has been trimmed down a bit, with the ROG Crosshair only offering two slots. This means consumers can only install a maximum of 64GB of RAM in total, which won't be enough to satisfy some gaming enthusiasts.
Where to Buy
Buy the ASUS ROG Crosshair X670E Gene on:
How We Tested the Best Ryzen 9 7900X3D Motherboards
When testing a range of motherboards that are able to house the Ryzen 7 7900X3D processor, there are a number of factors we consider. These factors include:
Compatibility
Performance
Form Factor
Connectivity
Value for Money
Frequently Asked Questions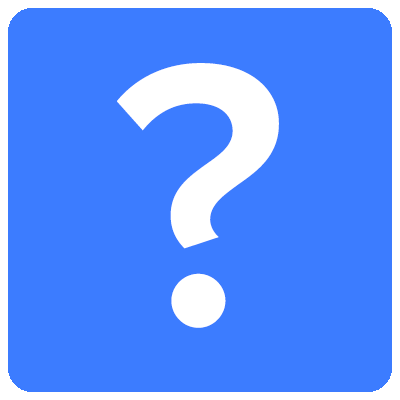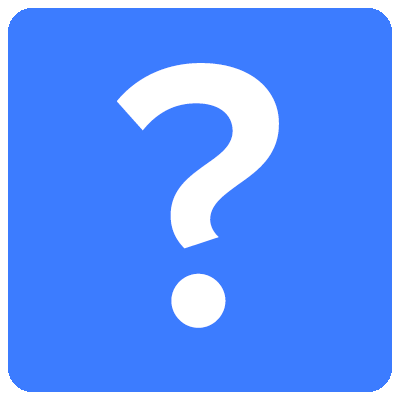 Can I Overclock My Ryzen 3D Processor?
To discuss this briefly – no. Due to the temperature limitations of the 3D V-Cache, core multiplier overclocking is disabled. If you're looking for an overclockable SKU, you'll want to pick up the 7900X standalone CPU instead.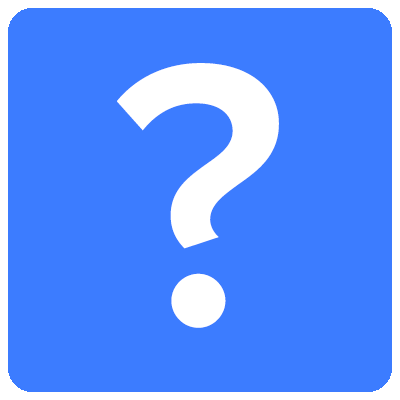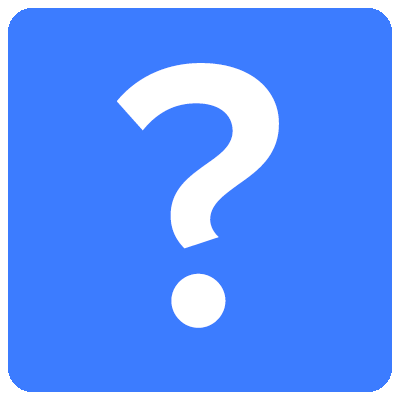 Can I Still Overclock My RAM?
Yes you can! Although CPU overclocking isn't an option here, consumers can still overclock their RAM up to the capability of your motherboard. This is also made much easier with the onboard AMD EXPO profiles.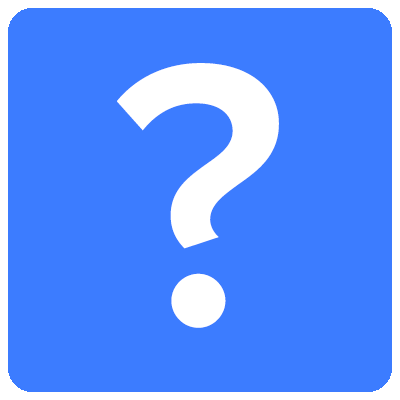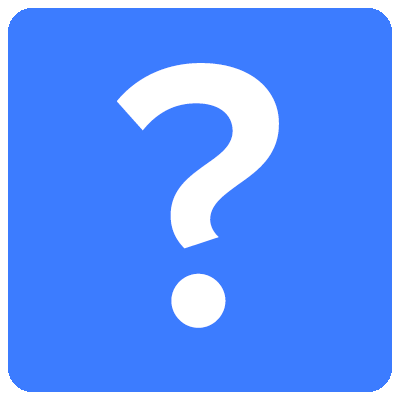 Do I Need PCI-E 5.0?
As of the time of writing, unfortunately not. PCI Express always follows a recurrent theme of releasing around two years earlier than the actual components. We will seen Gen5 components enter the market within the next year, but for the time being, the higher bandwidth slots aren't useful.
Conclusion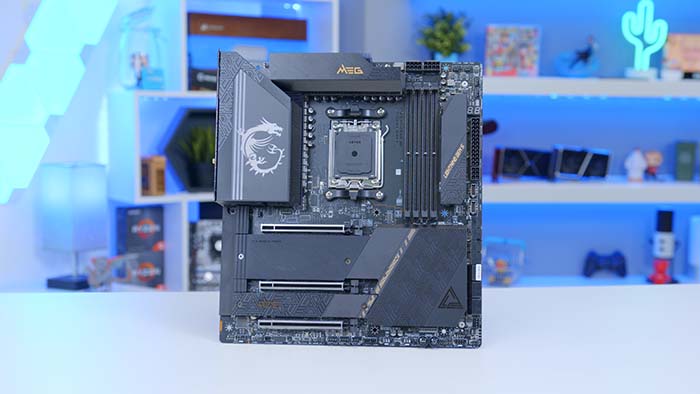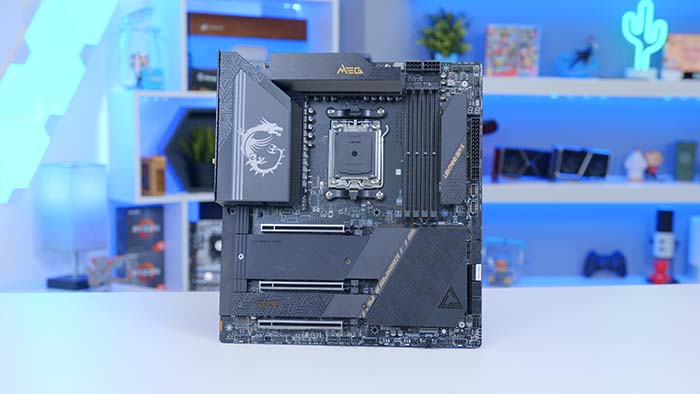 Best Overall Motherboard for the Ryzen 9 7900X3D: MSI MPG X670E ACE
After analysing a variety of AMD compatible motherboards, our number one pick for a board to house the Ryzen 9 7900X3D is the MSI X670E ACE. This board offers a range of high quality features, including triple PCI-E 5.0 x16 slots, support for the best DDR5 memory available, and an aesthetic that looks awesome in a modern gaming PC. As a result, it seems like the best motherboard to pair alongside the 7900X3D in a high-end gaming PC.