Introduction
With the release of Ryzen 7000 CPUs finally upon us, we've been given access to a plethora of motherboards on the new X670E chipset. These new boards offer plenty of next generation features, like PCI-E 5.0, higher power phases for overclocking, Gen5 SSD support, and much more.
Today we're taking a look at one of Gigabyte's somewhat cheaper designs using the X670E chipset, the Gigabyte X670E AORUS Master. A more subtle design that has a great feature-set, but still gives consumers the chance to spend a little bit less whilst being able to unlock high performance levels.
Buy the Gigabyte X670E AORUS Master on:
Suggested Article: Gigabyte X670E AORUS XTREME Motherboard Review – Features, Design & BIOS
The X670E Chipset
The X670E AORUS Master is one of the many motherboards sitting on the X670E chipset being given full accessibility to the newest features. These motherboards tend to take a 'no sacrifices' approach, giving consumers the ability to maximise performance with top-end components whilst offering plenty of stability and features.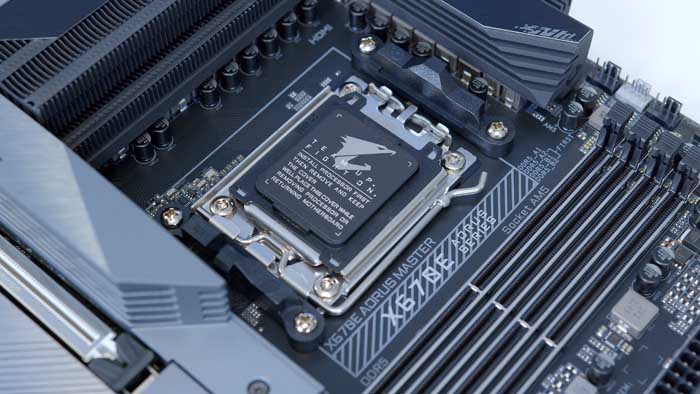 However, the X670E chipset hasn't always been a traditional offering from AMD when it comes to motherboards. With the first iteration of Ryzen CPUs, you had the choice of two chipsets ('B#50', and 'X#70') which would offer a range of different options from budget and mid-range to high-end. This new 'E' suffix at the end is designated to boards that are truly designed for enthusiasts and overclockers alike that want to use the best performing components money can buy.
This means that X670E boards will have access to more of the newest generation of features, like PCI-E 5.0 for SSDs and GPUs, along with more stability and power phases for overclocking, and higher DDR5 memory speed capability. So if you're wanting to pick up one of the latest graphics cards from AMD or Nvidia when they release, the X670E chipset may be best suited in terms of support and performance.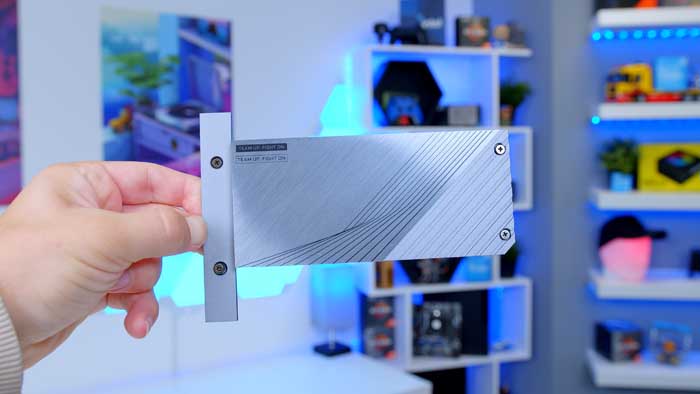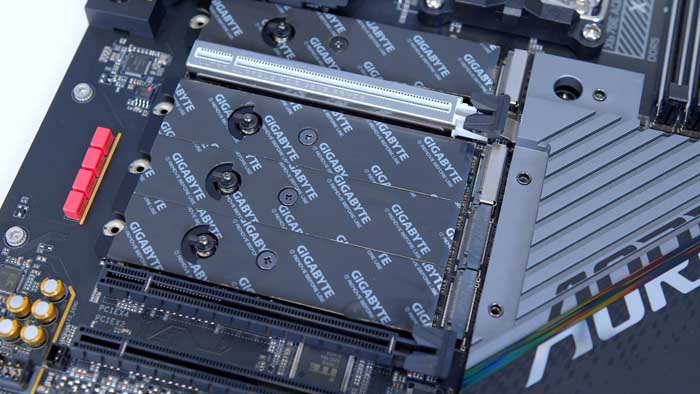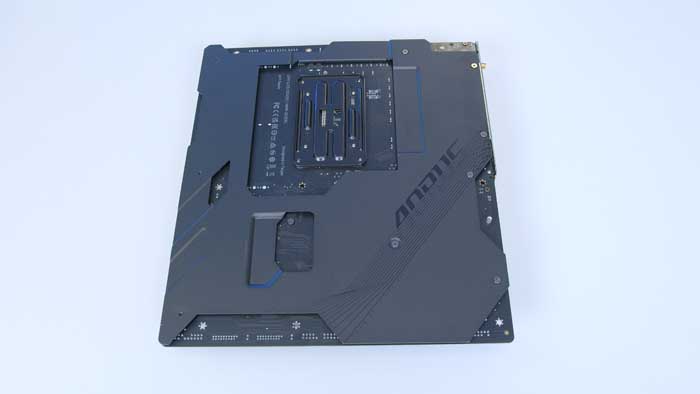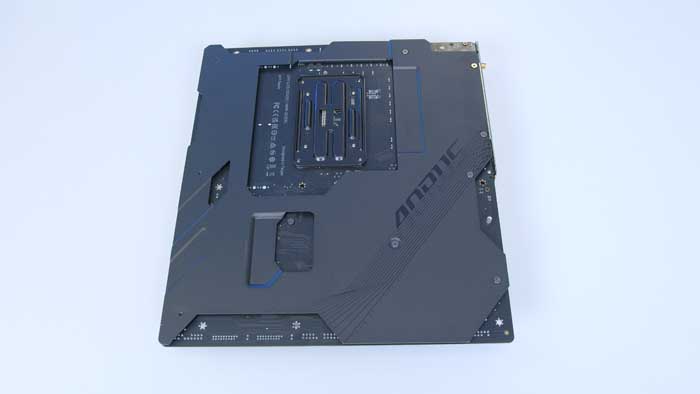 Table of Differences
To give some context on the kind of feature differences between chipsets, we've created a table below comparing the motherboard in today's review alongside a motherboard on the standard X670 chipset. We'll take a look at the different features between them, with a breakdown of the kind of sacrifices you could be making choosing one chipset over another.
Features
Gigabyte X670E AORUS Master
MSI Pro X670-P WiFi
CPU Overclocking Support
Yes
Yes
VRM Power Phases
16+2+2
14+2+1
PCI-E 5.0 Slots
1 x16 PCI-E 5.0 Slot
3 x4 PCI-E 5.0 Slots
1 x4 PCI-E 5.0 Slot
PCI-E 4.0 Slots
1 x16 PCI-E 4.0 Slot
1 x4 PCI-E 4.0 Slot
2x x16 PCI-E 4.0 Slots
3x x4 PCI-E 4.0 Slots
USB Connections (Rear)
1x USB 3.2 Gen2 Type-C
2x USB 3.2 Gen2
4x USB 3.2 Gen1
1x USB 3.2 Gen2x2 Type-C
4x USB 3.2 Gen1
2x USB 3.2 Gen2
1x USB 3.2 Gen2 Type-C
1x USB 3.2 Gen2x2 Type-C
USB Connections (Front)
1x USB 3.2 Gen2x2 Type-C
4x USB 3.2 Gen1
1x USB 3.2 Gen2 Type-C
4x USB 3.2 Gen1
LAN Type
2.5 Gigabit LAN
2.5 Gigabit LAN
WiFi Module
WiFi 6E
WiFi 6E
Estimated MSRP
$600?
$500?
Comparison of Features
Taking a look at the features, we can see that the X670E AORUS Master comes out on top at a brief glance. Generally speaking you've got access to more of everything, but MSI's Pro X670-P motherboard still holds up relatively well overall. The main part you'll notice is of course PCI-E 5.0. X670E boards have widespread PCI-E 5.0 with numerous slots providing compatibility with the new standard. When compared to the X670 chipset you'll see that only one slot is Gen5 compatible, and this is the x4 M.2 slot for SSDs. This further demonstrates that X670E will be best positioned with regards to upgrading to the latest GPUs.
On the overclocking front, the MSI X670-P is only missing out on 3 power phases compared to the X670E AORUS Master. This can ultimately be the difference in a a few megahertz for overclocking purposes, but X670 still stands to be perfectly suitable for overclocking the new Ryzen 7000 CPUs. This opens up the possibility for consumers to spend a little less in order to secure a motherboard that can overclock well enough.
Looking at the rear and front IO, there are no differences in terms of high speed USB ports. Both the Gigabyte and MSI board are offering the exact same amount of USB ports on differing chipsets, which gives consumers more options in terms of budgeting. And finally, taking a look at networking again there are no visible differences. Both of these boards are slightly cheaper than the top-end options and share many similarities in terms of features, apart from the specificity of modules used like a manufacturer may use an Intel WiFi 6E module instead of an AMD one.
Gigabyte X670E AORUS Master Design & Aesthetics
Taking a look at the board, Gigabyte have opted for a slightly more subtle design compared to their top specced option – the AORUS XTREME. On the rear IO instead of a standout RGB LCD display we've instead got RGB lighting that isn't as crazy which can be fully customised with the RGB Fusion software. This gives you some personalisation options while keeping costs down.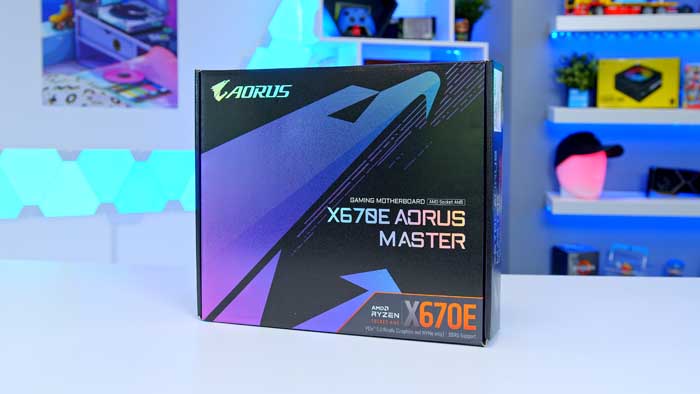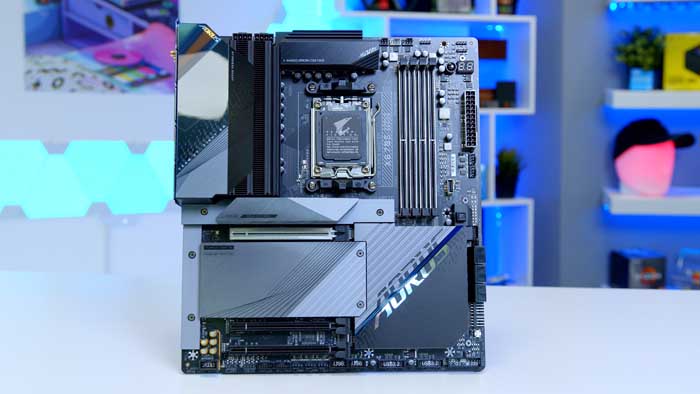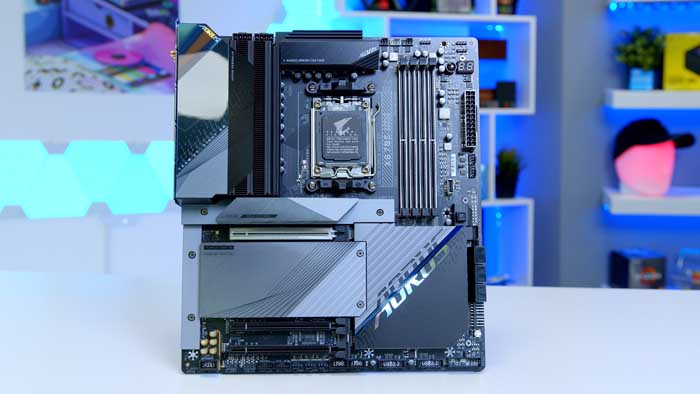 Looking at the rest of the board, we can see more of the extended heatsink design providing some additional flair but also keeping the surface of the motherboard along with any SSDs nice and cool. This can also be seen on the top of the motherboard where you'll be able to spot a huge array of fins to keep the VRMs cool (but more on that later). Otherwise the design choices for the X670E AORUS Master are somewhat simplistic but not lacking in flair. This motherboard will be suited in many black themed builds, and the minimalist style will bring costs down somewhat bringing the budget level down slightly.
Features
Now for the main section you've all been waiting for – the features. All of the X670E motherboards are absolutely crammed with features and this motherboard follows suit, so we'll be breaking down all of the standout ones below!
PCI-E 5.0 Compatibility
The top x16 slot and numerous x4 slots are fully compatible with the latest standard of PCI Express 5.0. This means that if you're looking to buy one of the latest graphics cards utilising this standard, the X670E AORUS Master will be well suited. When we get some new SSDs in the market, you'll also be able to install the latest Gen5 drives with blazing fast read and write speeds.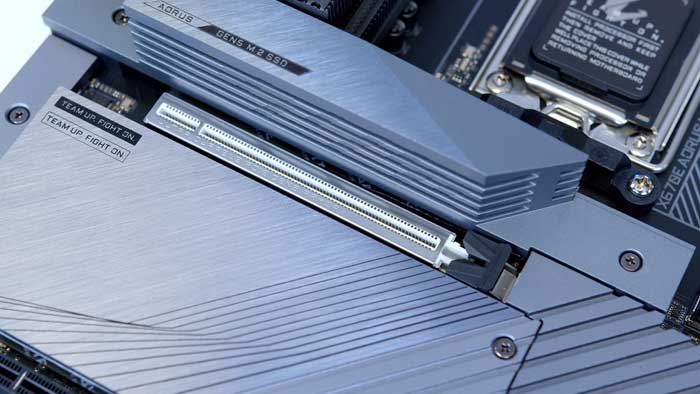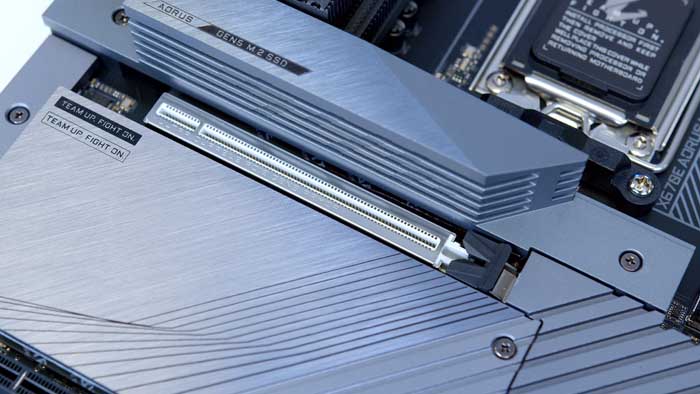 VRM Cooling & Overclocking
The X670E chipset is designed perfectly to overclock AMD's latest Ryzen 7000 CPUs, and hopefully we'll see users push these processors over the 6GHz boundary. The X670E AORUS Master sports a 16+2+2 digital VRM design giving you capability to push your CPU past its rated boost clock.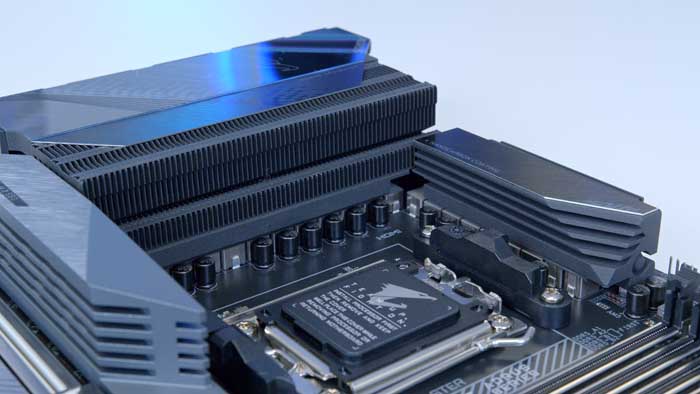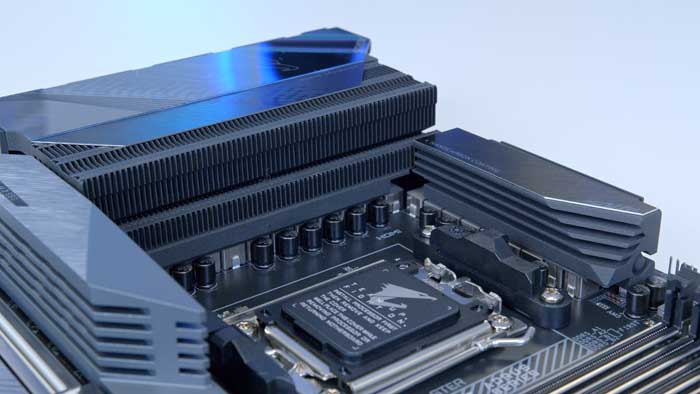 On the cooling front, underneath the rear IO plate is a stacked fin array designed for optimised heat exchange. Gigabyte have also fit the board with an 8mm mega-heatpipe which is able to transfer massive amounts of heat away from your VRMs for better stability.
Rear & Front High Speed USBs
Although this board doesn't have USB4, you've got plenty of options in terms of high speed USBs both on the front and rear IO. The X670E AORUS Master has eight USB 3.2 ports on the rear with access to five on your front panel. This should be more than enough for most users, but if you've run out there's also two USB 2.0 ports on the rear as well!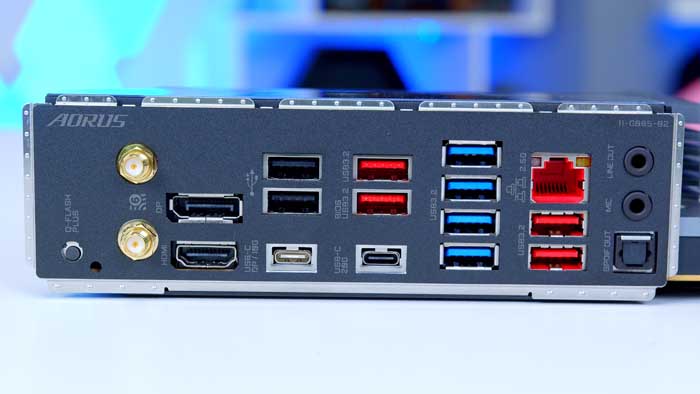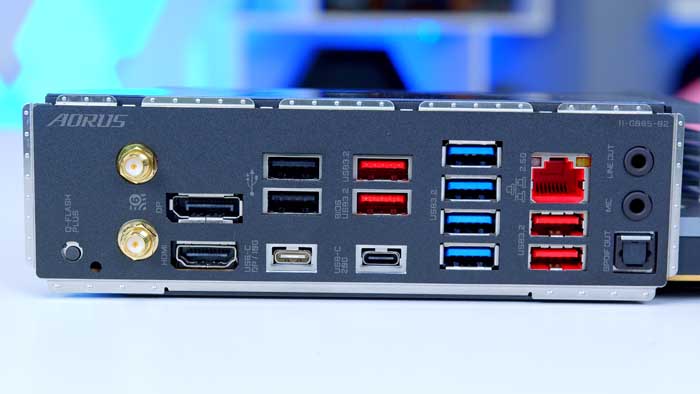 Usability and Diagnosis Features
Gigabyte's X670E AORUS Master comes with loads of quality of life features that make building and troubleshooting much easier, which we're a big fan of. If you don't have a 'teeny tiny' screwdriver, you can use the M.2 EZ latch to install your SSD without any tools. The main PCI-E 5.0 slot also has a quick release latch that allows you to easily remove your graphics card without having to cram your fingers into a small gap.
On the diagnosis front, the AORUS Master has a Q-Code LED which will show your POST codes when the PC boots, allowing you to quickly diagnose your PC by looking at the displayed code. If your board is having some issues, you can clear the CMOS with a simple button located on the rear IO or use the Q-Flash plus button to install a new BIOS.
What's In The Box?
The top-end motherboards on the X670E chipset have a plethora of extras that come in the box including thermistor cables, cable ties and more! We've broken down all of the individual items that come in the box below:
Front Panel Q-Connector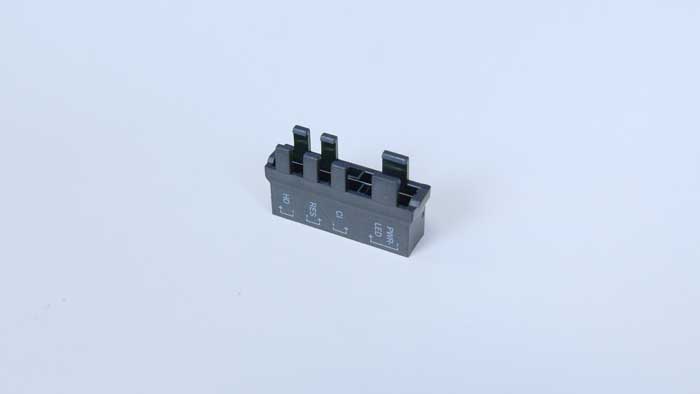 RGB Extension Cables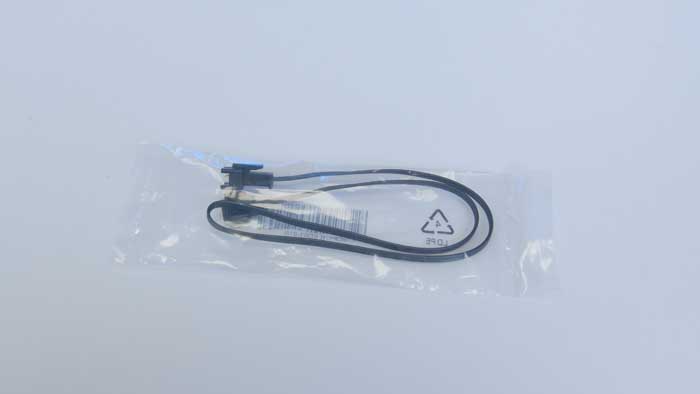 SATA Cables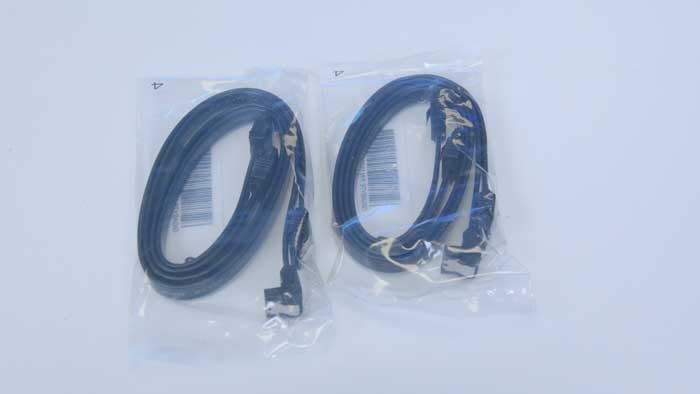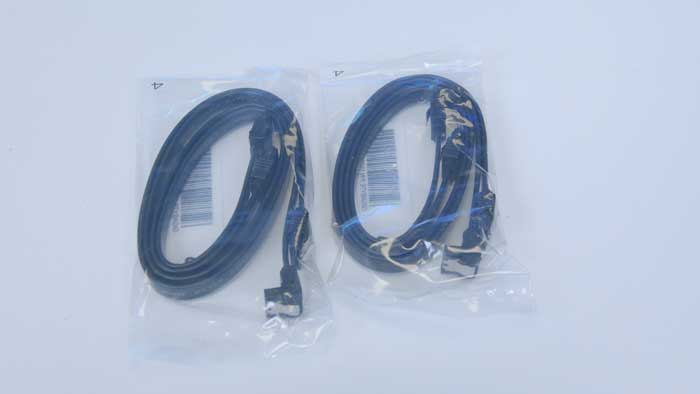 WiFi Dongle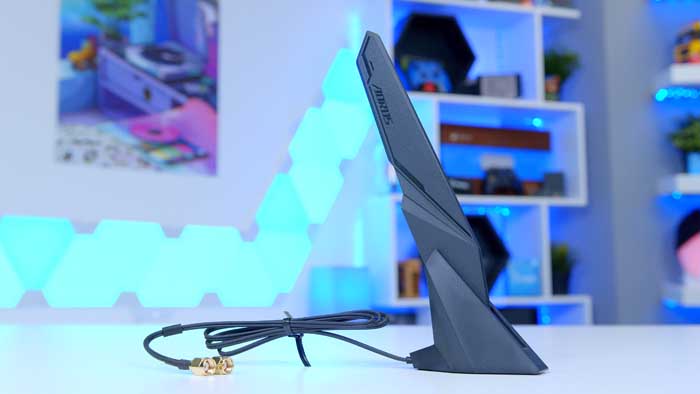 Thermistor Cables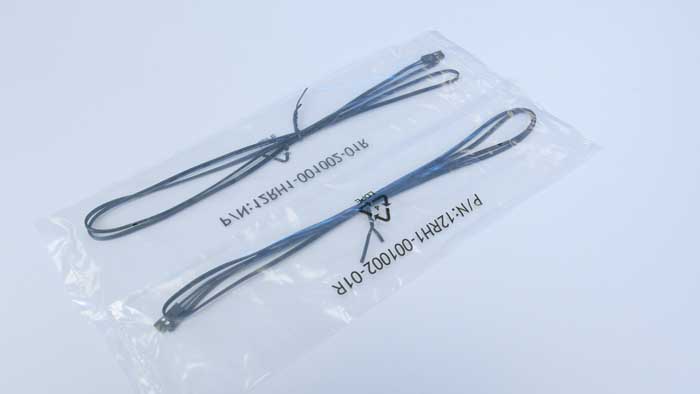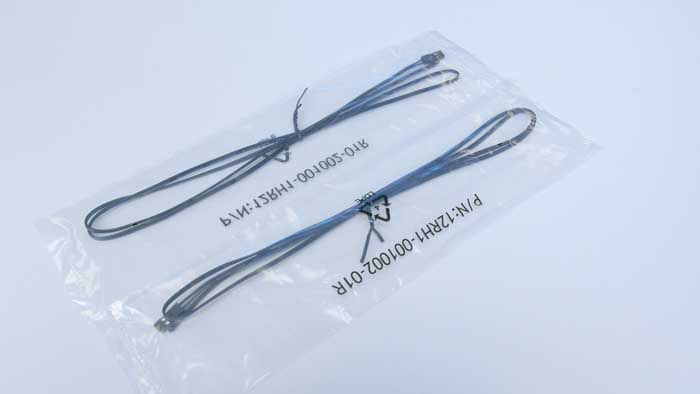 Velcro Cable Ties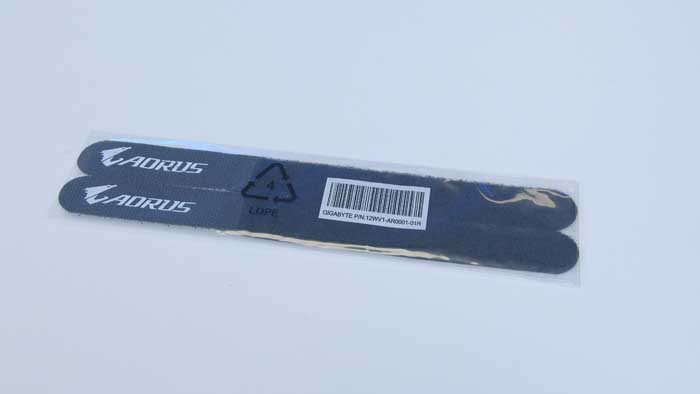 Compatible Processors
All of the Ryzen 7000 CPUs are compatible with all of the available motherboard chipsets on the AM5 platform. However, choosing the right motherboard with your CPU ensures that you'll get the best value for money and performance with your build. With the X670E AORUS Master, this board is best suited for the highest performing processors on the newest Ryzen range of CPUs. You'll be able to get the best out of overclocking, coupled with the myriad of features on this motherboard.
| | | |
| --- | --- | --- |
| CPU Name | Compatibility | Do We Recommend? |
| Ryzen 9 7950X | ✅ | ✅ |
| Ryzen 9 7900X | ✅ | ✅ |
| Ryzen 7 7800X? | ✅ | ✅ |
| Ryzen 7 7700X | ✅ | ✅ |
| Ryzen 5 7600X | ✅ | ❌ |
| Ryzen 5 7500? | ✅ | ❌ |
Alternatives
The X670E AORUS Master is an excellent board needless to say, but its always worth knowing your options and considering alternatives to get the best performing option within your budget. We've provided some other options on the X670E chipset below.
ASUS ROG Crosshair X670E Hero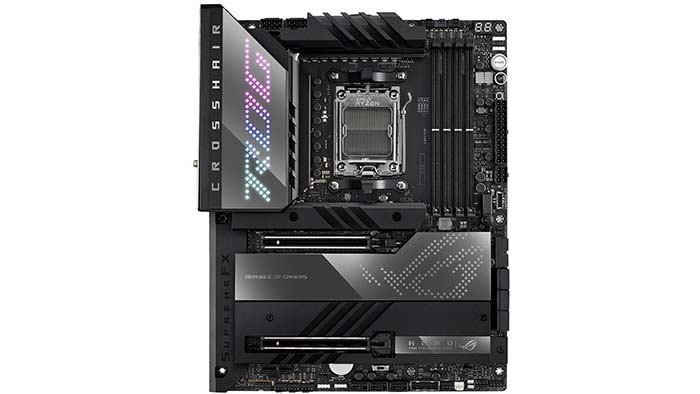 The ASUS ROG Crosshair X670E Hero is an excellent RGB motherboard with widespread PCI-E 5.0 support for both GPUs and SSDs, giving you the ability to upgrade when these new components release. Overclocking support is also great, with an 18+2 power phase design and lots of cooling on the VRMs. This board comes with a quad DAC, providing crystal clear audio quality for the audiophiles out there, along with dual USB4 ports on the rear providing blazing fast connectivity.
Buy the ASUS ROG Crosshair X670 Hero on:
MSI MPG X670E Carbon WiFi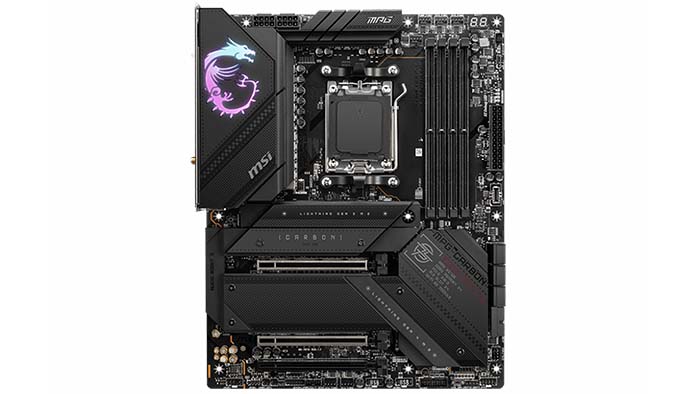 MSI's MPG Carbon WiFi X670E motherboard is a sleek matte black design offering a great aesthetic combined with a range of features, giving users plenty of options. On the PCI-E front there are three Gen5 slots, two of which are x4 M.2 slots, and the other is designed to withstand the power of next-gen graphics cards. The networking of this board supports WiFi 6E and Bluetooth 5.2, perfect for wireless peripherals, or you can use the 2.5 Gigabit LAN port for a more stability.
Buy the MSI MPG Carbon WiFi X670E on:
ASRock X670E Pro RS RGB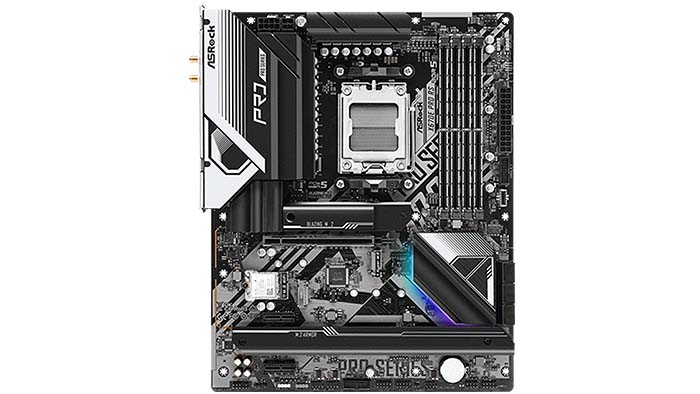 The final board we've picked out is ASRock's X670E Pro RS RGB motherboard. The Pro RS range is generally geared towards more budget oriented builds but despite the price, this motherboard has a massive range of features, many of which are next generation options. In terms of power, the Pro RS has a 17 phase power design great for overclocking a Ryzen 7 CPU. You've also got access to two Gen5 PCI-E slots opening up your upgrade paths for the latest generation of components.
Buy the ASRock X670E Pro RS RGB on:
Conclusion
Gigabyte X670E AORUS Master
Product Name: X670E AORUS Master
Brand: Gigabyte
Features

Design

Performance

Value For Money
Summary
Gigabyte's X670E AORUS Master is a subtly designed board offering consumers a gateway into the X670E range of motherboards, without having to spend an extortionate price. The AORUS Master comes with plenty of features many of which are the latest generation. However, despite having a vast amount of features, there seems to be less of them compared to some of the top-end options on the X670E chipset. We're not necessarily disheartened by this, but if you're paying in excess for a motherboard anyway it makes sense to me to spend a little bit more to secure the best option available, as opposed to skimping out on features. Either way, if you're looking to pick up an X670E motherboard, the AORUS Master might be your entry ticket!
Pros
✅ RGB is subtle but provides nice customisation.
✅ Usability features makes building much easier.
✅ Plenty of PCI-E 5.0 slots.
Cons
❌ No USB4 ports.
❌ Still expensive compared to other chipsets.
❌ DDR5 memory overclocking capability isn't very high.