Introduction
Prebuilt gaming PCs have surged in popularity within the past couple of years due to increasingly competitive pricing, strong component choices and the hassle free approach when compared to building your own gaming PC. But not all prebuilt gaming PCs are built equal, and the Acer Predator Orion X, today's review focus, is a prime example of that.
The Predator Orion X is a tiny powerhouse that combines a top-end RTX 4090 graphics card and top-tier 13900Ks processor into a super compact form factor. In fact, this powerhouse of a prebuilt is one of the most well thought out systems that we've tested in quite some time, bringing something very different to other options on the market. Our review will take a deep dive into the design, features, and performance of this system to see whether it's unique form factor, and top-end components justify the fairly hefty price tag.
Buy the Acer Predator Orion X on:
Suggested Article: Best Prebuilt Gaming PCs to Buy Under $3000
Support and Packaging
Upon ordering any prebuilt, the first thing that you'll want to do, is checkout the packaging and support in the box, and inside the prebuilt itself. This is good practice because if the prebuilt hasn't been packaged correctly, you risk damage to the system or its internal components. The Predator Orion X comes within a unique box, with custom air pocket packaging on the top and bottom of the system.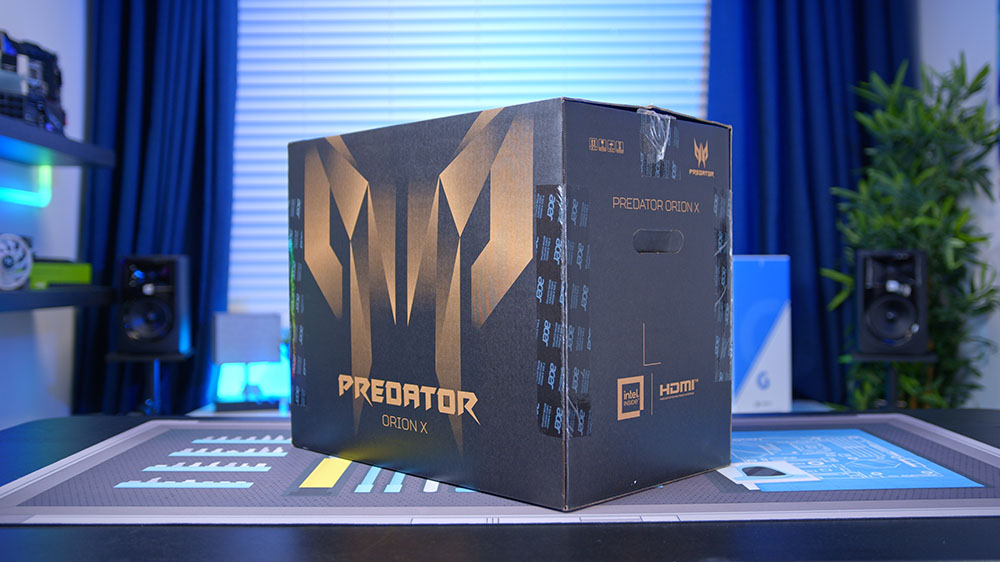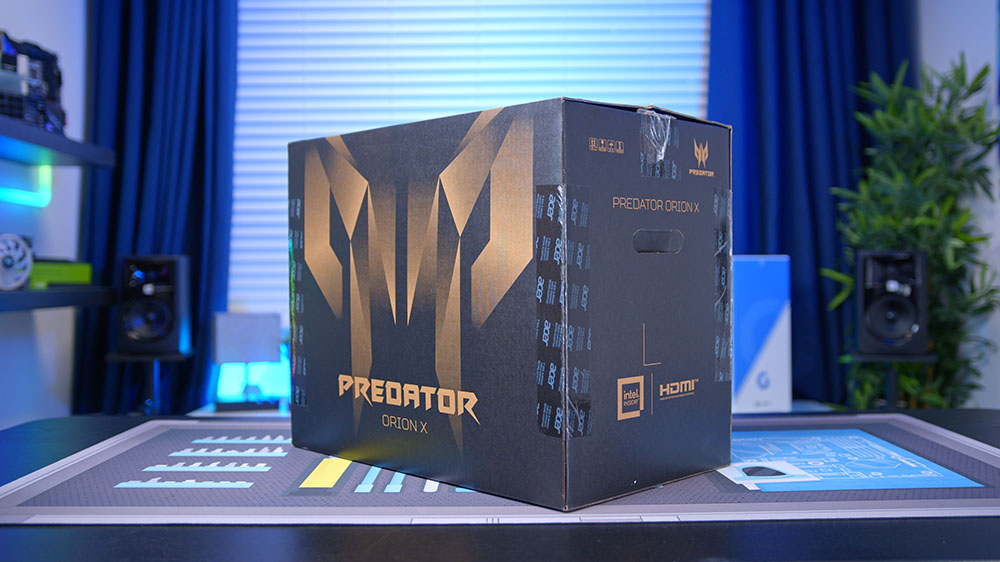 There is nothing within the system itself, something often see to help support the weight of GPUs or coolers in shipping, but the bespoke nature of the chassis and layout would make this fairly redundant anyway in our eyes. Our system arrived with no issues, and the design that adorns the inside of the box made for a treat of an unboxing experience.
Predator Orion X Design & Aesthetic
In terms of design, it can be described as no less than a gorgeous futuristic-looking compact prebuilt. The Orion X has a similar style to the Intel NUC systems, but it is noticeably bigger. The chassis of the Orion X is a custom design that sports a black design around the entire case. Admittedly, the sides and rear of the chassis aren't that interesting to look at, but the front panel is a spectacle, especially when the system is turned on. Acer have highlighted each of the mechanisms that open the side panels and top of the case, all of which have an industrial yellow and black set of chevrons beneath them.
Some may assert that Acer have gone a little too heavy on the industrial gaming accents, but we think it looks cool and isn't too over the top.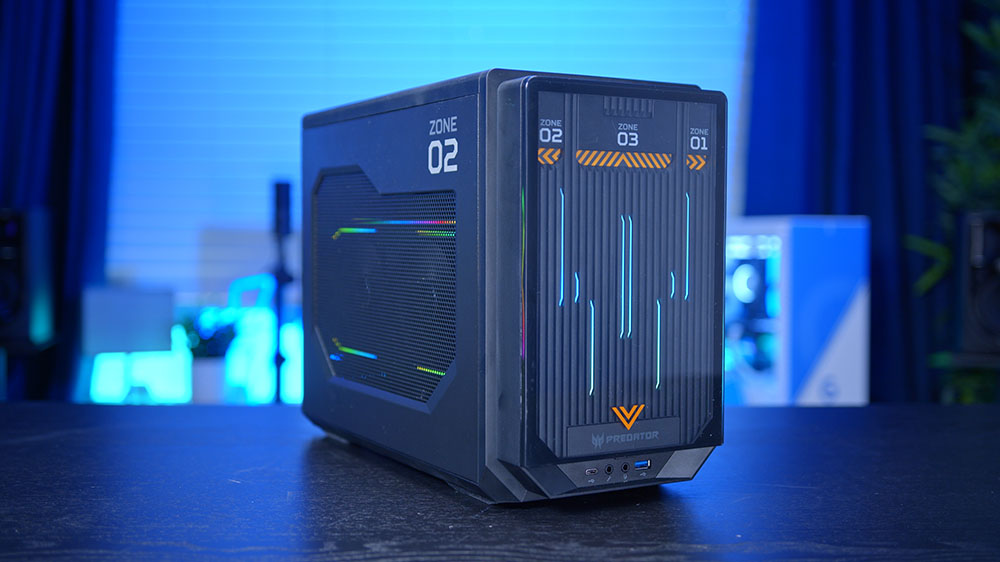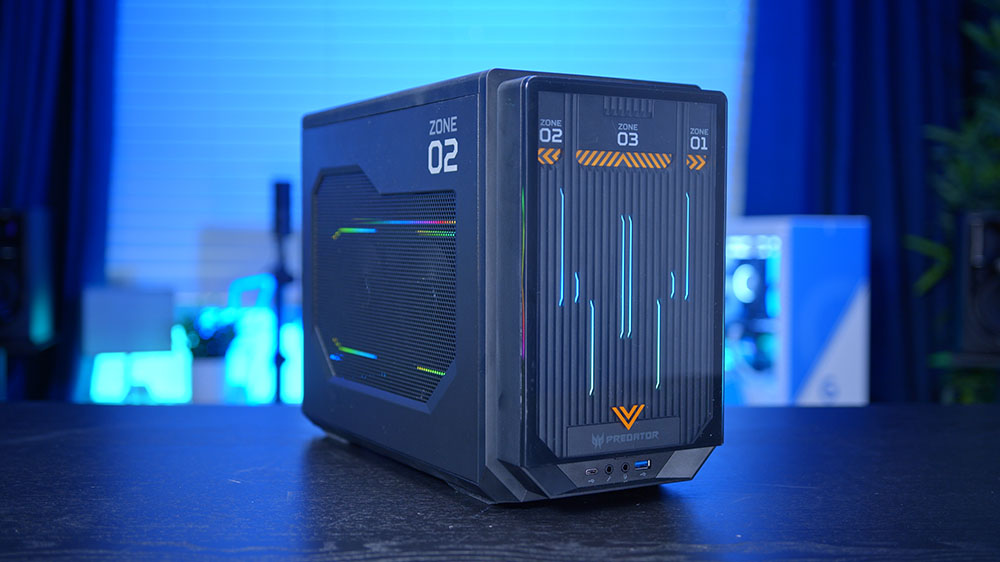 The front panel has a magnetic plastic cover that nicely covers the mesh and ventilation on the front. I wasn't a massive fan of this cover because it seems to be a bit of a fingerprint magnet, and will only reduce airflow. But despite this, it does provide some additional flair and dust protection. The lighting on the front panel looks awesome, the light strips are more minimalist, but I think that's the main aesthetic that Acer seems to be going for here which is great.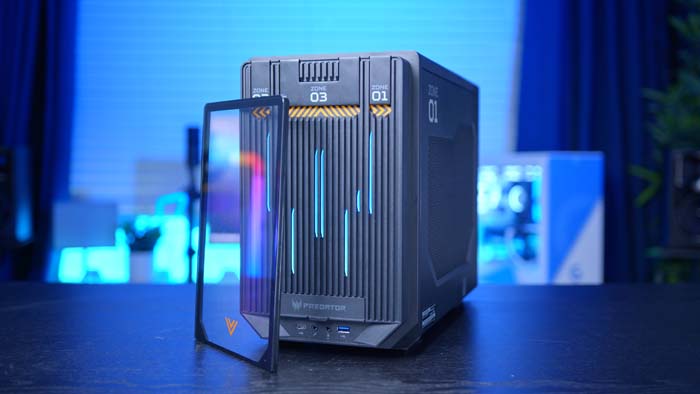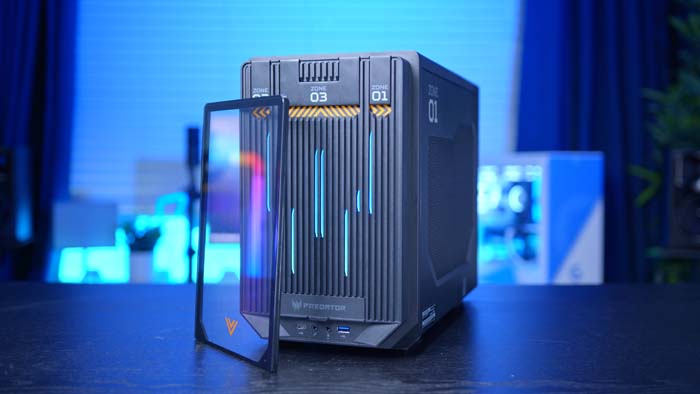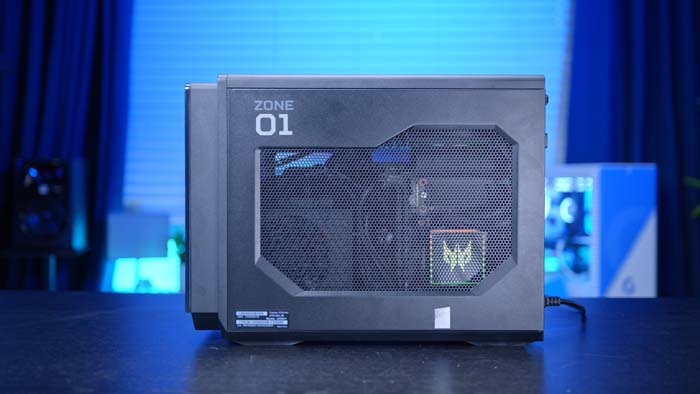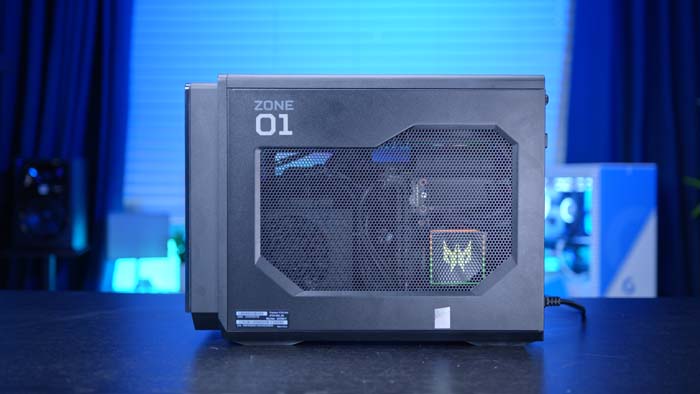 The side panels of the Predator Orion X offer plenty of ventilation, but also act as a perforated window for you to see some of the components shining through. I think that the ventilated panel is a far better choice in comparison to glass, just because of how compact this system. The perforated panels should help with airflow ensuring that everything stays cool, even if there is a slight visual trade off.
In fact, the perforated panels are crucial to the thermal performance of this system. A dual chamber design, which separates the GPU on one side, with the PSU and motherboard on the other, lends to more reliance on side panels for airflow. Sometimes, function really is better than form!
Otherwise, there isn't much else to highlight when it comes to the design of this prebuilt. I like that the Orion X isn't insanely flashy, but I can also understand at the same time that some consumers may feel ripped off not having loads of RGB considering how much this system is. But I think it keeps in line with the industrial style that the Orion X offers, which I'm all for.
Component Specs
In the section below we'll be taking a look at all of the specs that the Predator Orion X is rocking. We've provided an in-depth discussion of each area to provide you with some insight on our thoughts.
Specifications
Acer Predator Orion X
CPU
Intel Core i9-13900KS
CPU Cooler
240mm Custom AIO
Motherboard
POX 905 Custom
RAM
32GB DDR5 6000MHz CL44
Storage
2x 1TB Gen4 SSDs
2x 1TB HDDs
Graphics Card
Acer Custom Liquid Cooled RTX 4090
Case
Custom Acer Case
Power Supply
850W?
Case Fans
Top: 2x 120mm fan
Rear: ?
Front: ?
From an immediate glance of the specs there's two things that I was able to figure out. One, is that this prebuilt is a very powerful system, and secondly, that it is going to be a very expensive system. The graphics card and CPU combination are geared towards the top-end, with the Orion X sporting a Core i9-13900KS (Intel's most powerful CPU within the 13th-Gen range). The GPU is an RTX 4090, a card which boasts insane performance in games and workstation applications alike, providing some multifaceted usage to this system. It is also worth noting the use of liquid cooling here, something which should ensure thermals are controlled, even under high loads.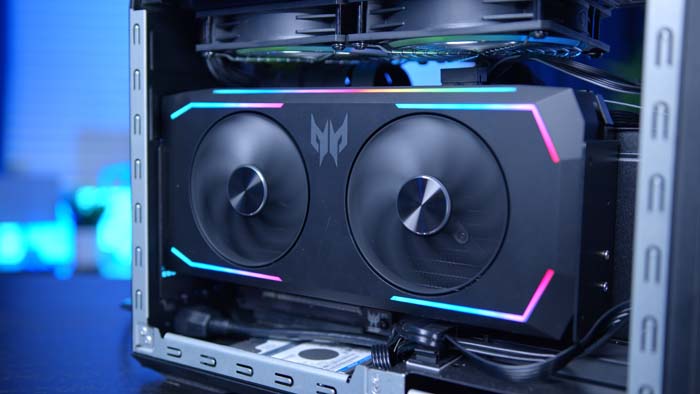 Moving onto the RAM, and this is where I became a little bit disappointed. Unfortunately, the Orion X only sports 32GB of DDR5 memory, with a CL44 latency. Because DDR5 is so volatile due to its megatransfer speed, it needs a lower CAS latency to handle instructions quicker. However, CL44 is on the weaker end that you're going to see for most desktop machines. This kit is probably the weakest point of the build, and something I would like to see Acer address at the arliest opportunity. A higher capacity kit would also help to open this system up for more workstation use, but the latency is my main gripe here.
RAM aside, the rest of this system is very well specced out. Consumers can leverage 4TB of total storage, of which two of the total terabytes are Gen4 NVMe SSDs. As I've alluded to, cooling and ventilation is pretty solid, so we're not concerned from that point of view – something our thermal testing only reassured. And you've got a more than adequate power supply, which should be able to handle the CPU and GPU at high load levels. Acer have clearly prioritised performance here, that is clear, but the RAM choice definitely needs some work. As far as I know, the DIMMs in this system are standard DDR5 desktop DIMMs, so you should be able to upgrade to 64GB or higher without any major issues.
Features We Like
Acer's Predator Orion X is a pretty well-rounded system, and there's some extra features worth talking about. Below we've discussed the things that we like and don't like about this prebuilt.
Zoned Access
The first thing that you'll immediately notice about the Predator Orion X that there are three zones highlighted on the front panel of the case. The Orion X has been split into these zones to provide easy access for specific components. For example, Zone 1 allows you to take a look at your CPU cooler and RAM DIMMs, where as Zone 2 is dedicated to your hard drives, and graphics card.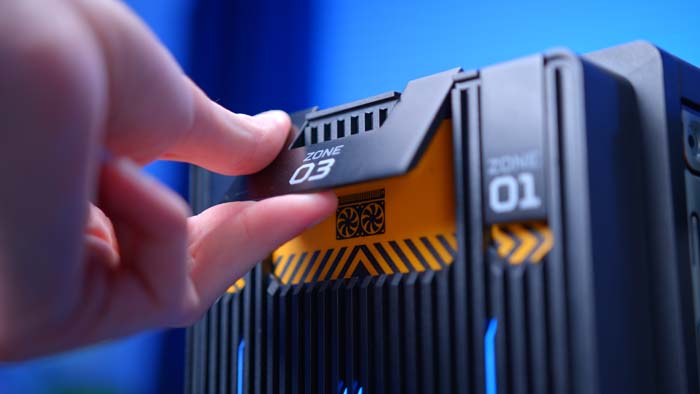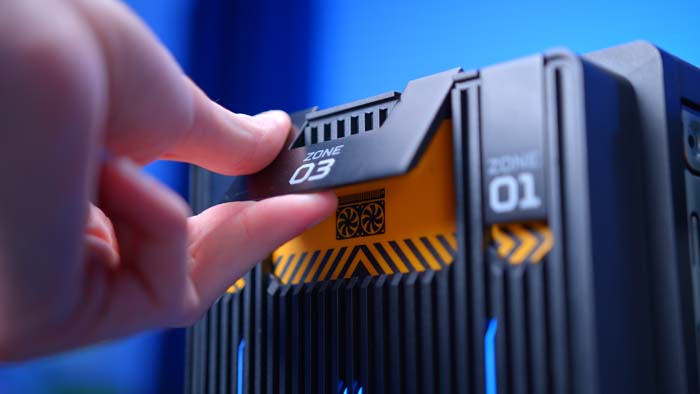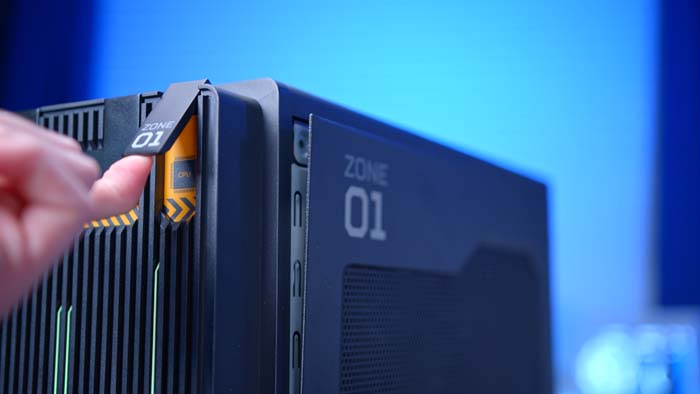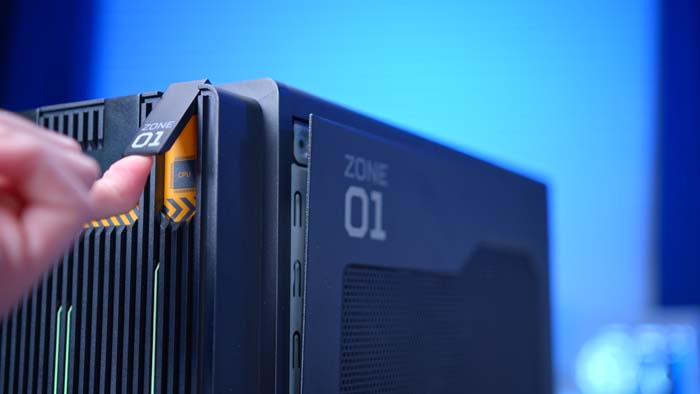 Each of these zones can be easily accessed by using the hinged release levers on the front of the case. These levers will pop open each of the side panels, and the top, which provides further access to cooling and the other internals. I'm a big fan of the hinged release levers, as it just minimises the amount of tooling or screws requires to get your case open.
Hot-Swappable M.2 Bay
One of the unique features of the Orion X is the hot-swappable M.2 bay. For those wanting extra storage space, you can take out this drive bay, and simple plug it in, as of, and when you want. It has its own storage controller, so it almost acts as a USB drive, which is very impressive.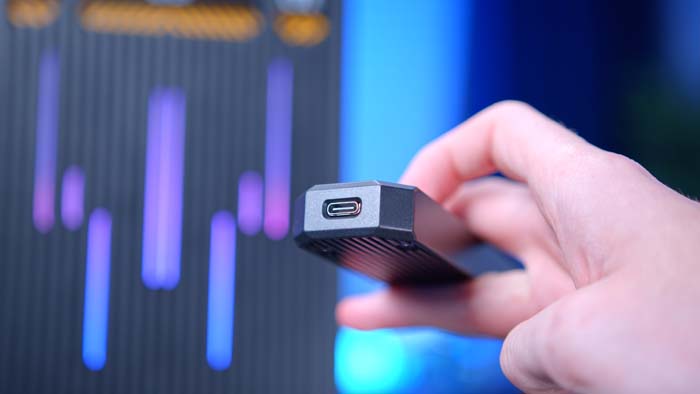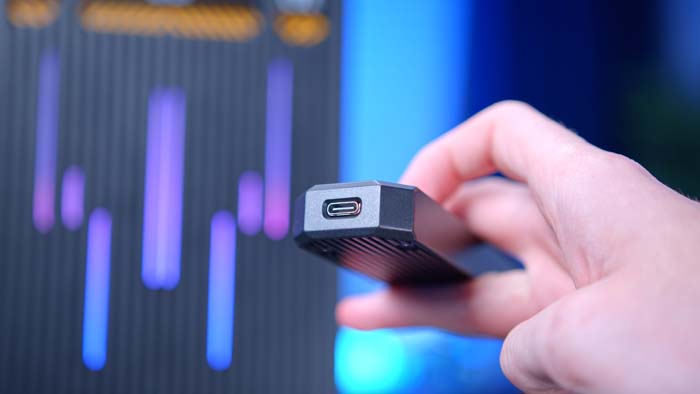 Liquid-Cooled GPU
I touched upon this briefly in the specs section of this article, but I think Acer made a great choice by liquid cooling the graphics card. Compact small form factor builds often suffer from weaker thermals, so providing liquid cooling for one of the hottest components was a smart choice.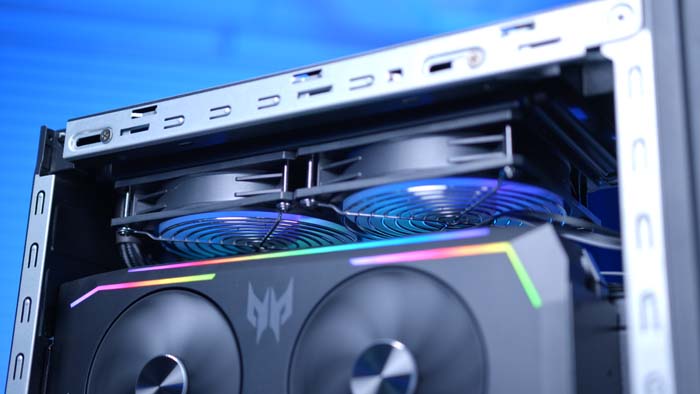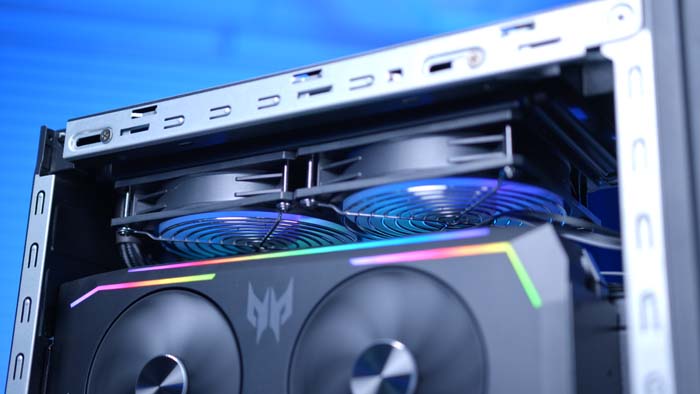 Features We Don't Like
An Inherent Lack of IO
One part of this prebuilt that I'm not a huge fan of, is the IO options. Whilst I do think Acer have tried their best, on account of the custom motherboard and chassis, its just not enough. Those picking up this system to use as a workstation plainly need more USB ports, so the two USB 2.0 ports on the back, alongside four high speed options, just won't make do.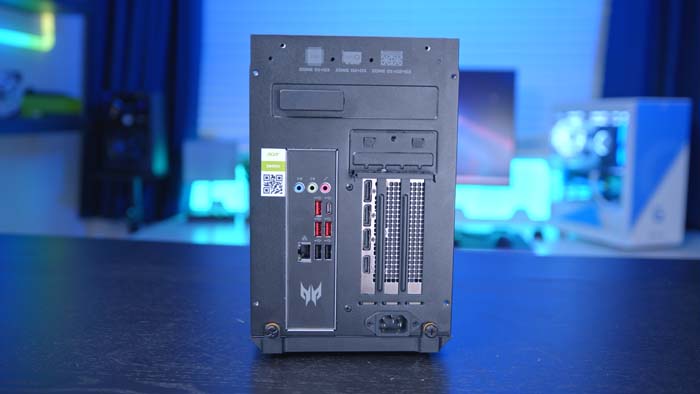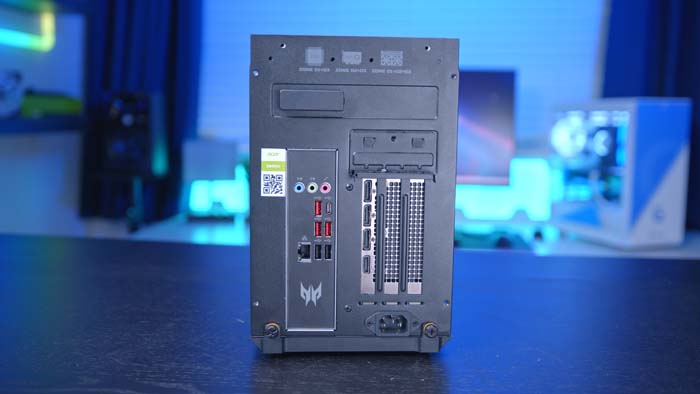 Hard Drives Instead of SSDs
This is a smaller point to touch upon, but I do feel it is relevant. Acer provide two Gen4 SSDs, and two hard drives. While I do think the additional storage is nice, considering how much you're paying for this system, it feels cheap to use hard drives. I would rather have an extra Gen3, even if it was a terabyte than hard drives, because it isn't likely I'd use the storage space for anything due to the speed.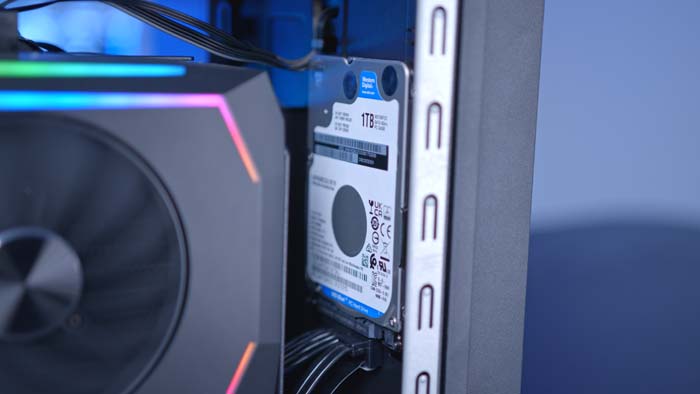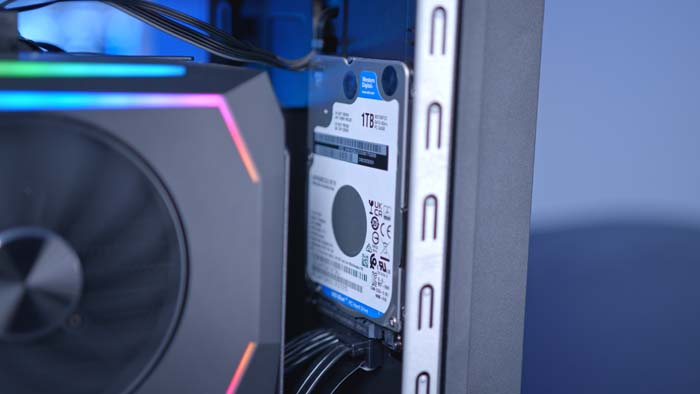 Gaming Performance
Now is the section that I'm the most excited to talk about – performance. So far I've been very impressed with the design and the features of the Predator Orion X, but the proof is in the pudding, so we'll need to see how the Orion X performs before I make my final verdict.
Starfield
Starfield is Bethesda's brand new space-shooter RPG, so what better way to test out how the Orion X runs, by playing this games at 4K max settings. As expected, the Orion X pushed through despite the horrendous optimisation problems with this game. We saw an average of around 80-85FPS in buildings, with a slight drop to 70-75FPS when we got out into the open world.
Thermals did get a bit toasty here, but not to any level that would be a cause for concern. The GPU sat around 70 degrees during the majority of this benchmark, with the 13900KS sitting at 68 or so at 22% utilisation. This game is very GPU heavy, but the RTX 4090 really showed how capable it is, and this system showed how optimised it is. Definitely a win for Acer in this game.
Cyberpunk 2077
In Cyberpunk 2077 we ran three different benchmarks to test out the intensity of different game configurations. We ran the game with maxed out settings, including Ray-Tracing, but turned on DLSS Frame Generation. We ran a second benchmark with the settings at high but with DLSS enabled. We also tested the Orion X with the settings at high, but with DLSS off.
To briefly summarise these three benchmarks, consumers can expect to play Cyberpunk 2077 without any issues. Although NVIDIA have had a lot of input to integrate Ray-Tracing and DLSS effectively in this game, even with these turned off, we still saw more than reasonable framerates with the Predator Orion X pumping out close to 90FPS at times. It is likely that performance would drop with the settings dialled up to ultra, but because of how powerful this system is, the performance disparity isn't likely to be huge.
Thermals were also pretty great here, with the RTX 4090 not really surpassing 60 degrees. The Core i9-13900KS was definitely toastier this time around due to the higher utilisation, but again, the 70 degrees average
Baldur's Gate 3
In Baldur's Gate 3, we cranked everything up to max, and as expected, performance was excellent across the board. Framerates generally sat around 156FPS, with some spikes up towards the 180FPS mark. Baldur's Gate 3 isn't the most intense game, so it was relatively easy for the RTX 4090, 13900KS combo to hit some solid frames. But regardless, it was still great to see good performance at 4K.
Thermals held strong during this test, with the RTX 4090 sitting around 70 degrees on average, and the 13900KS jumped up to 85 or so. Baldur's Gate 3 is generally more CPU intensive, which is why we're seeing higher thermals here. But again, there isn't any cause for concern, as the higher temperatures tend to drop back down pretty quickly.
Workstation Performance
Next up, we'll be taking a look at the workstation performance of the Predator Orion X. We've ran three different benchmarks, all to test out the productivity capability across the system.
3D Mark TimeSpy
3D Mark's TimeSpy is a productivity benchmark that gives us an idea of how performance should fare at 4K with 3D rendering. The end result of this benchmark saw a score of 31180, which is pretty high. However, this isn't the strongest score that you can get in TimeSpy, and there is definitely some disparities here that are going to be caused by component choice and general performance. We imagine the DDR5 RAM megatransfer speed and CAS latency will be the biggest hit here, resulting in a weaker overall score.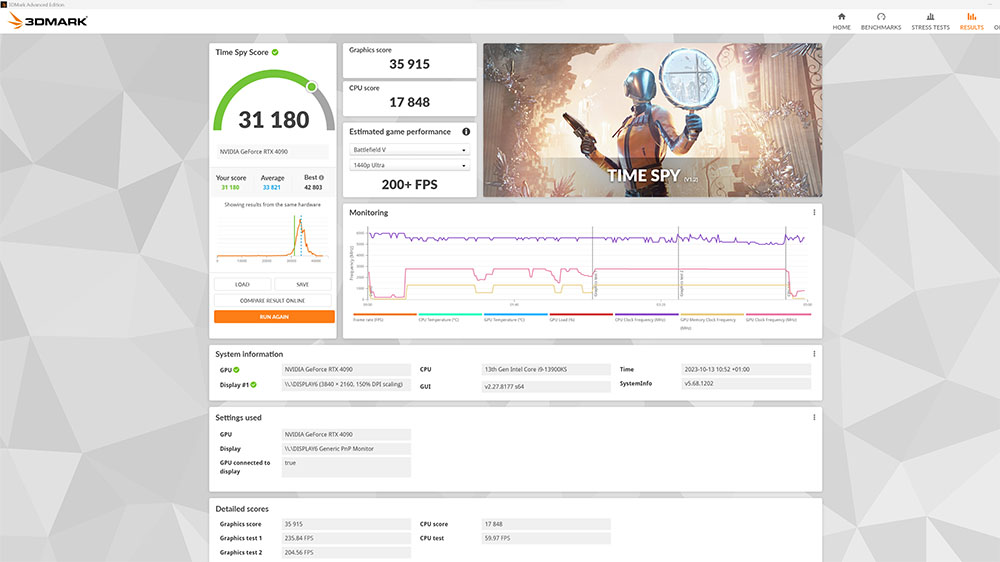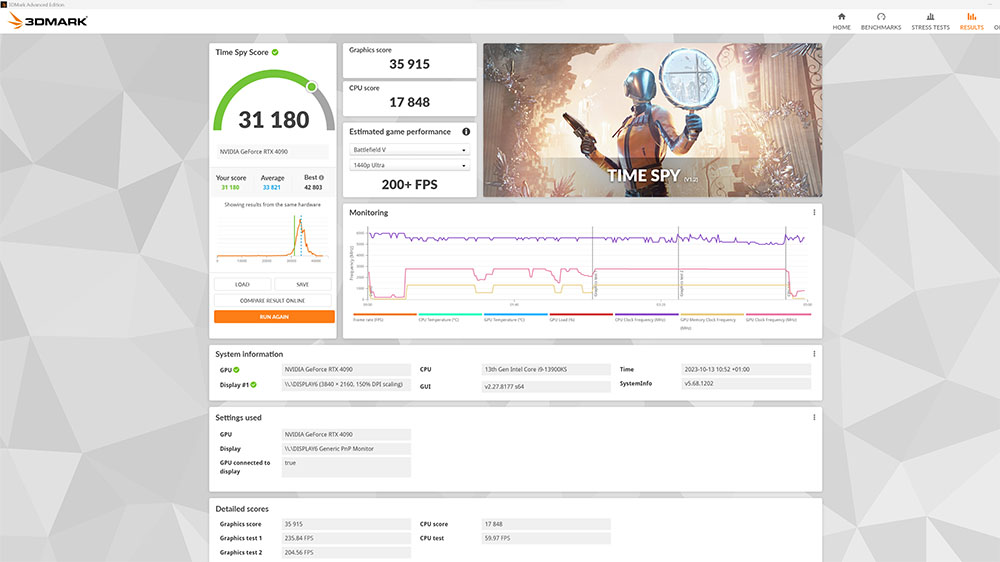 3D Mark FireStrike
In FireStrike (which dials the resolution down a bit by running things at 1080p), our score did increase significantly, offering up a result of 41636, which again, is a pretty high score, but it could be better. The resulting score doesn't compare extremely well to the 3D Mark leaderboards, and this is likely going to be because of the component choice, which we'd assume the RAM is the main cause of this.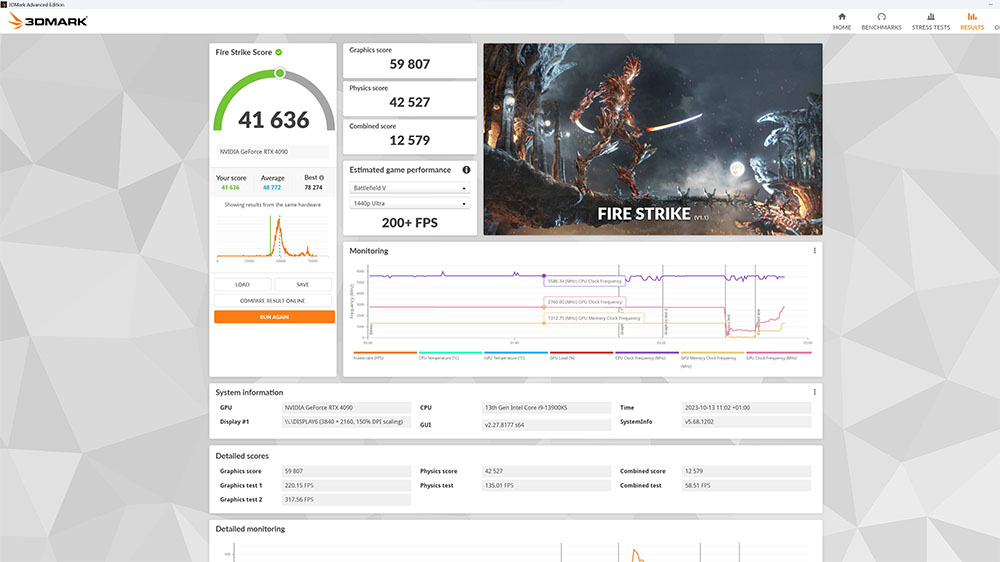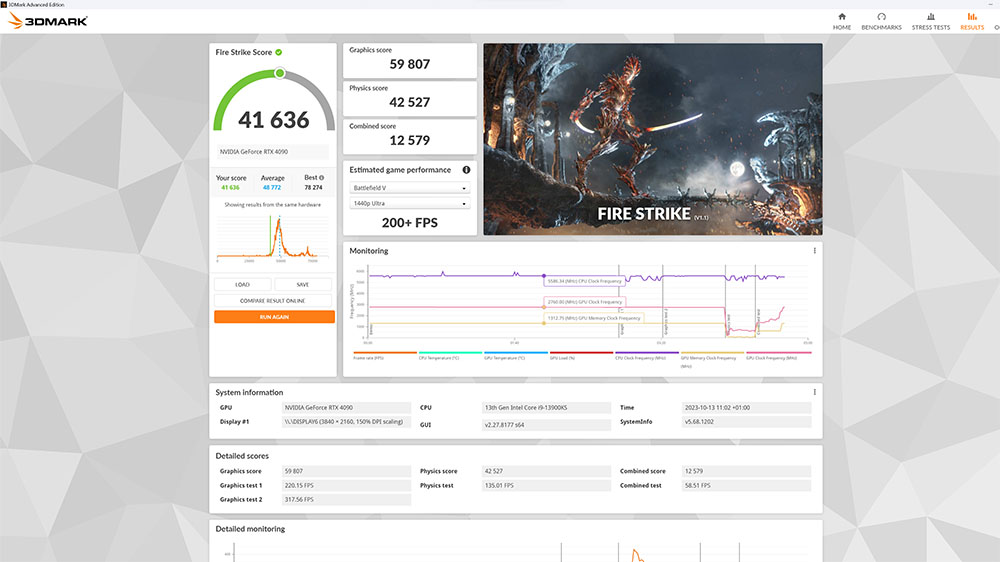 Cinebench Multi-Core
During this test, we ran Cinebench's Multi-Core benchmark, which renders a high resolution image with all of the cores that the CPU has. During this benchmark we measured temperatures, and recorded a final score of 34467. The score compares pretty well with other multi-core runs with different CPUs, and temperatures were perfectly fine too during this run. We saw a maximum of around 94 degrees, which isn't ideal, but expected of the 13900KS with all cores maxed out. Once the benchmark was finished we saw an immediate drop to around 34 degrees which seems to be the idling temperature of this particular system.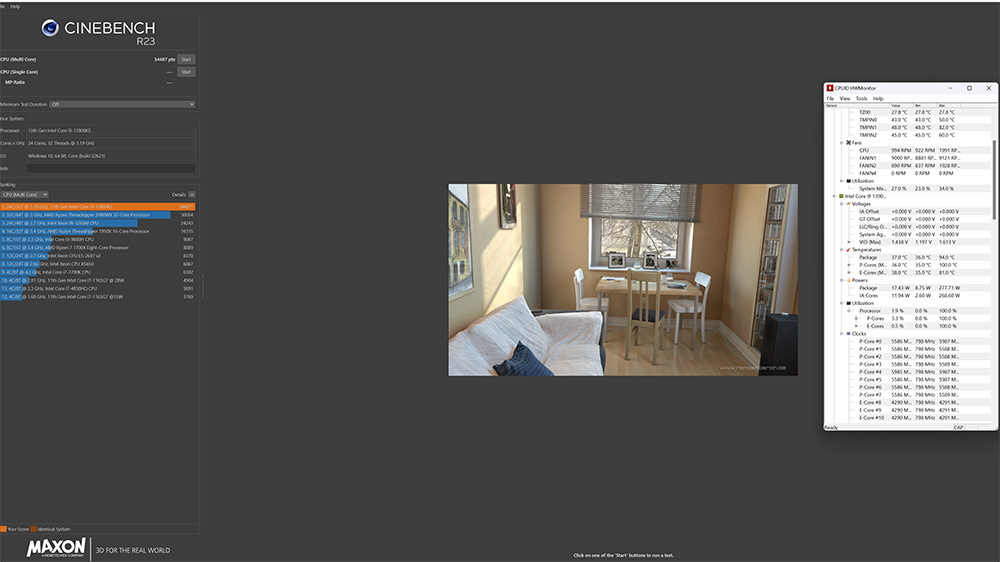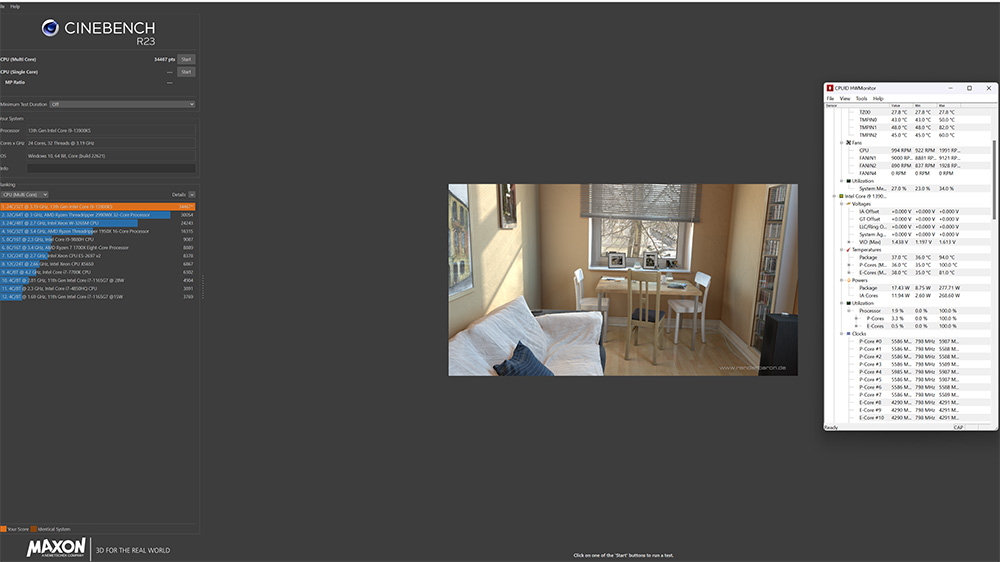 Gallery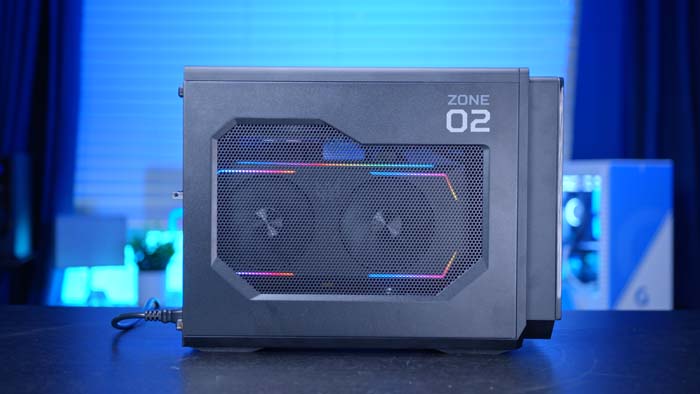 Conclusion
Acer Predator Orion X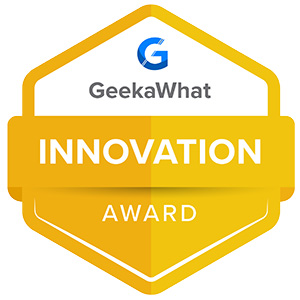 Product Name: Predator Orion X
Brand: Acer
Features

Design

Performance

Value For Money
Summary
Acer's Predator Orion X prebuilt is one of the strongest systems that we've ever looked at. Straight out of the box you can immediately notice that the Predator Orion X has had plenty of thought and time that's gone into the design, which has resulted in a well-rounded small form factor system. This prebuilt performs great in modern triple A titles, even when everything is dialled up to max, and it offered a pretty fair run during workstation benchmarks too. Temperatures were excellent across the board, and the innovative design I would argue is unrivalled, especially for a compact prebuilt.
However, there are two major caveats to consider before picking up this prebuilt. Firstly is the cost. The target demographic for this prebuilt is the kind of consumer that needs a no hassle, but also no holds barred system that can handle pretty much everything. And for this reason, the Orion X is expensive coming in close to the $5000 mark. The second caveat is the RAM choice and capability. There's only 32GB of DDR5 here, and although this is more than ample for gaming, for workstation applications it just isn't, especially based on the fact that this is a high latency kit. So if you plan on running a plethora of workstation applications, you may either need to upgrade the RAM DIMMs that this system offers, or choose another prebuilt.
To summarise, if you are the kind of consumer that needs the best of the best, especially for gaming – the Acer Predator Orion X will not disappoint. But if you're on a budget, or need something that's more capable of handling complex workstation loads, the Orion X is not the best choice.
Pros
✅ Excellent gaming performance even with maxed out settings.
✅ Awesome futuristic design.
✅ Solid usability features.
Cons
❌ Workstation capability is a mixed bag.
❌ RAM choice could have been faster.
❌ Comes with two hard drives.