Introduction
Over the past few years we've seen the performance for modern components increase exponentially. With this sudden surge of performance gains, the demand for more wattage and power has followed suit. The market has readied itself for the highest power consumption we've seen as of yet, with ATX 3.0 slowly becoming the new standard, and insane wattage PSUs cropping up from various manufacturers.
This raises concerns as to what kind of wattage we should expect for AMD's new graphics cards. The answer to Nvidia's RTX 4000 range are expected to be equally powerful, so will their power draw follow the same design? We'll be answering this very question in a GeekaWhat roundup of the best power supplies to buy for one of AMD's newest graphics cards, the Radeon RX 7900XT.
Suggested Article: Best CPUs for the AMD Radeon RX 7900XT
Top 3 Power Supply Units
Before we jump into the full set of recommendations we've given three of our favourite power supplies an award based on aesthetics, features and budget. We've also provided a list of pros and cons for each product to give you a full overview.
Best 750W PSU: Corsair CX750F RGB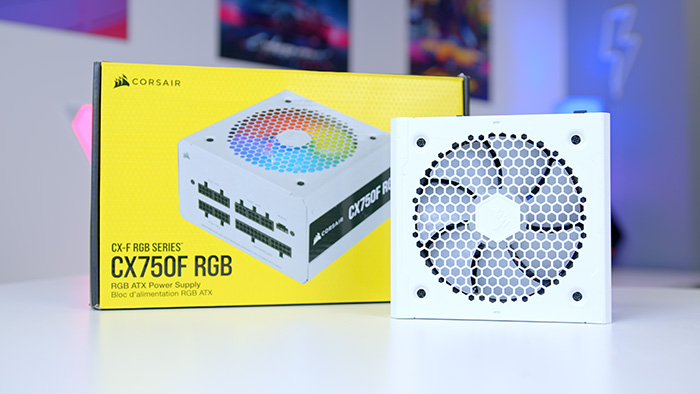 Pros
✅ Comes in both black and white.
✅ Customisable RGB fan.
✅ Fully modular.
Cons
❌ 80 Plus Bronze efficiency.
Check the price on:
Best 850W PSU: ASUS ROG Thor 850W Platinum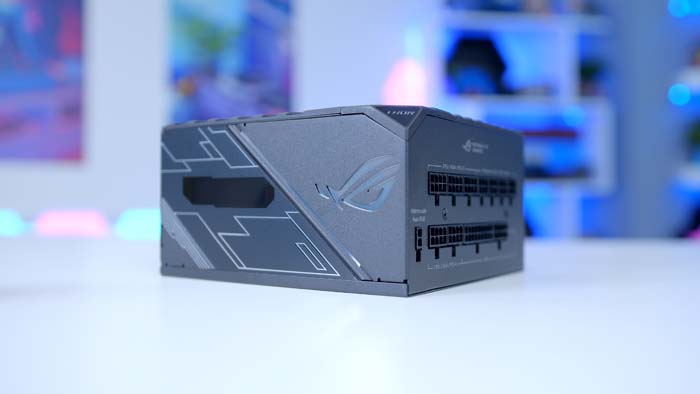 Pros
✅ An excellent looking PSU.
✅ Ideal for a high-end build.
✅ Platinum efficiency rating.
Cons
❌ Very expensive.
Check the price on:
Best 1000W PSU: Deepcool PQ1000M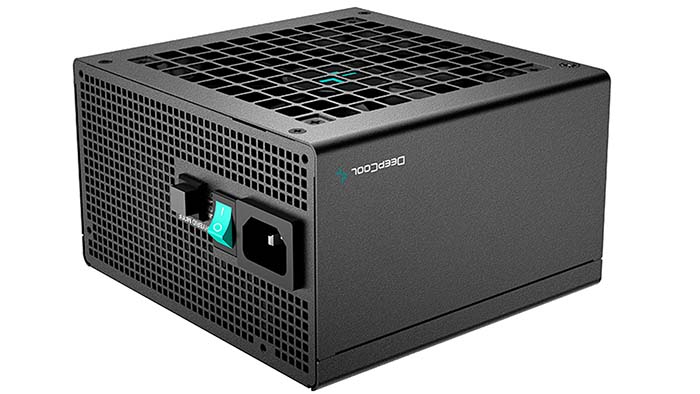 Pros
✅ Zero-fan mode.
✅ 80+ Gold efficiency.
✅ Plethora of power connectors and cables.
Cons
❌ No Cybenetics rating.
Check the price on:
Our Recommendations
1. Corsair CX750F RGB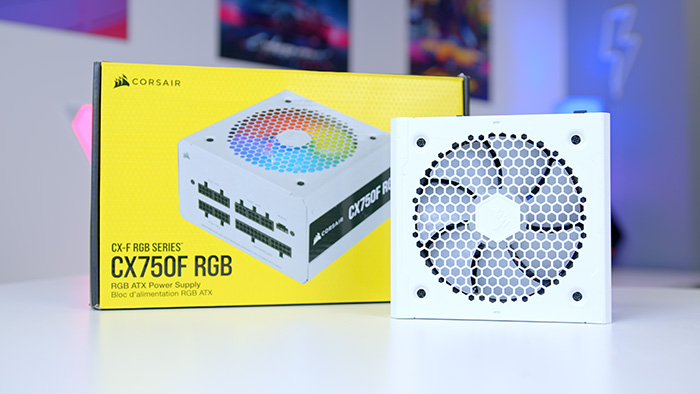 At the start of our recommendations we've chosen Corsair's CX 750F RGB. Despite offering RGB lighting, this PSU is surprisingly deceptive when it comes to features (in a good way). The CX750F features a fully customisable RGB fan which can be turned off with the click of a button and configured within Corsair's industry leading iCUE software. You can also amend fan curve settings within the iCUE software to ensure your system remains quiet.
Key Specs: Form Factor: ATX // Efficiency Rating: 80+ Bronze // Cybenetics ETA Rating: Gold // Modular: Fully // RGB: Yes
The CX750F has an 80+ Bronze rating according to their website, but Cybenetics has rated this as Gold, which means Corsair may have undersold themselves when it comes to the efficiency rating. Regardless, if you're looking for a cheaper but aesthetically pleasing power supply to pair with AMD's latest 7900XT, the Corsair CX750F definitely won't disappoint.
Buy the Corsair CX750F RGB on:
2. Cooler Master V750 SFX Gold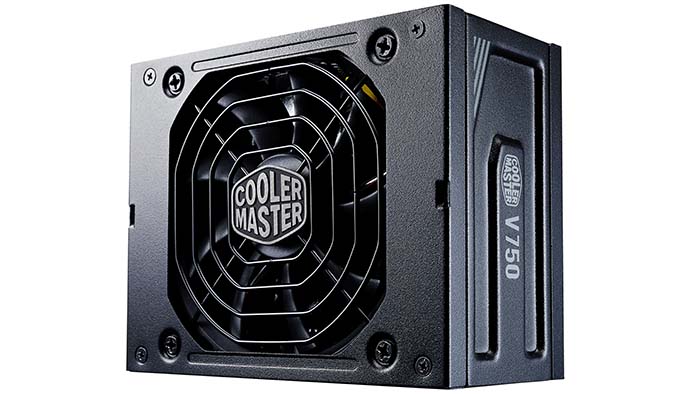 Cooler Master's V750 SFX Gold is an ideal power supply for users looking to build a slightly more compact system, but still want to make use of modern graphics cards. The tight and compact design gives consumers the opportunity to install a high wattage unit into a Mini-ITX compatible case with full modularity. This gives you the ability to choose exactly which cables you want making your build look clean and tidy. With the included SFX-to-ATX bracket you can also install this PSU into a larger build too.
Key Specs: Form Factor: SFX // Efficiency Rating: 80+ Gold // Cybenetics ETA Rating: Gold // Modular: Fully // RGB: No
Alongside the support for a range of different build sizes, the V750 also sports a Gold Cybenetics ETA and 80+ efficiency rating. This ensures that your power supply will remain at 90% efficiency at a 50% load, minimising any electricity that could be lost as heat or noise making your smaller build both efficient and near-silent in its operation.
Buy the Cooler Master V750 SFX Gold on:
3. EVGA SuperNOVA 850 G6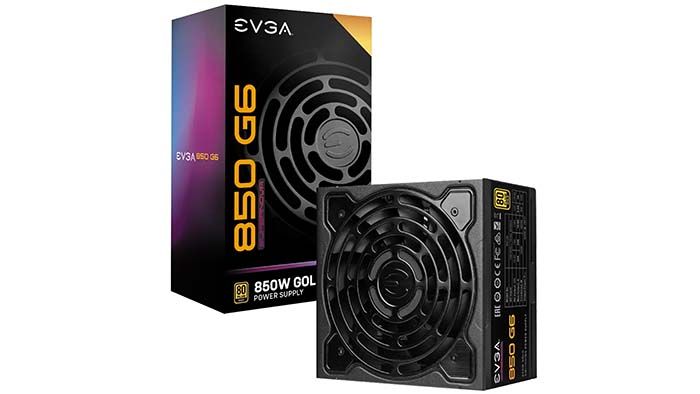 EVGA's SuperNOVA 850 G6 is a well-built 850W unit that has plenty of protection mechanisms designed to trip the power if the power output exceeds a certain threshold. The G6 has relatively strong load regulation on the 12V rail, maintaining consistent voltage under varying loads. Efficiency is much stronger at lighter loads, and the protection features will reduce the possibility of damaging components.
Key Specs: Form Factor: ATX // Efficiency Rating: 80+ Gold // Cybenetics ETA Rating: Gold // Modular: Fully // RGB: No
The SuperNOVA G6 is fully modular giving you the option to customise your cable choices at will, perfect for building a clean and tidy PC. Although we're not seeing a hardware switch for a low or zero-fan mode, the G6 has an ECO mode that will reduce noise levels at low to medium loads. This PSU stays close to the competition, and is ideal for a high-end build with top performing components.
Buy EVGA SuperNOVA 850 G6 on:
4. ASUS ROG Thor 850W Platinum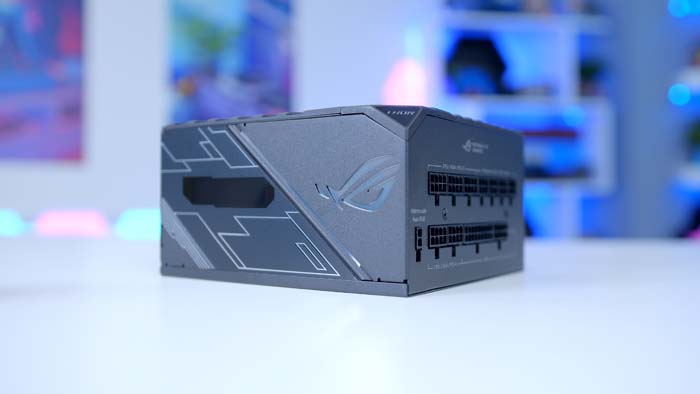 We've recommended the ROG Thor Platinum in a number of other buyers guides because this PSU strikes a fine balance between aesthetic and performance. The ROG Thor is the peak of customisation giving consumers a huge amount of options in terms of design and monitoring. You've got plenty of RGB lighting which isn't particularly common on power supplies, all of which can be configured with the ASUS AuraSync software alongside the LCD display to monitor your power draw.
Key Specs: Form Factor: ATX // Efficiency Rating: 80+ Platinum // Cybenetics ETA Rating: Platinum // Modular: Fully // RGB: Yes
The ASUS ROG Thor has an excellent efficiency rating minimising any power lost as heat or noise, this also makes it ideal to maintain consistent wattage with minimal ripple. Cybenetics has also certified the ROG Thor with a Platinum rating, along with an A+ noise rating which makes it perfect for those that want to build a quieter system even when your PC is under significant load.
Buy the ASUS ROG Thor on:
5. Deepcool PQ1000M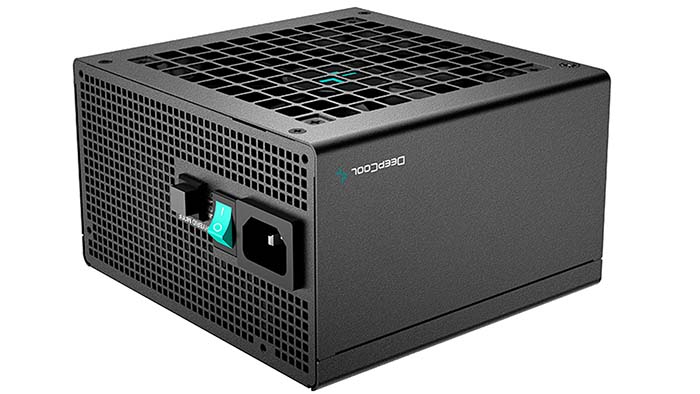 For our final power supply pick, we've chosen Deepcool's PQ1000M power supply. The PQ1000M sports an 80+ Gold rating achieving 90% efficiency at 50% system load, making this PSU ideal for gaming. The fully modular design allows you to customise your power connectors without any hassle, aiding the ability to build a cleaner system.
Key Specs: Form Factor: ATX // Efficiency Rating: 80+ Gold // Cybenetics ETA Rating: No // Modular: Full // RGB: No
The fine-tuned fan curve helps create a fine balance between optimal cooling to keep temperatures low, alongside minimal noise levels. The Hybrid mode switch located next to the power will also turn off your fan when your system reaches a low power draw further ensuring that your PC remains near-silent when idle or at a low usage level.
Buy the Deepcool PQ1000M on:
Do You Need an ATX 3.0 Power Supply?
One of the elephants to address is whether AMD has decided to take a page out of Nvidia's book, by utilising the new Gen5 standard for power draw. Although we may see this standard become more common in the future, for the time being AMD have decided to stick to the well known six and eight pin PCI-E power connectors.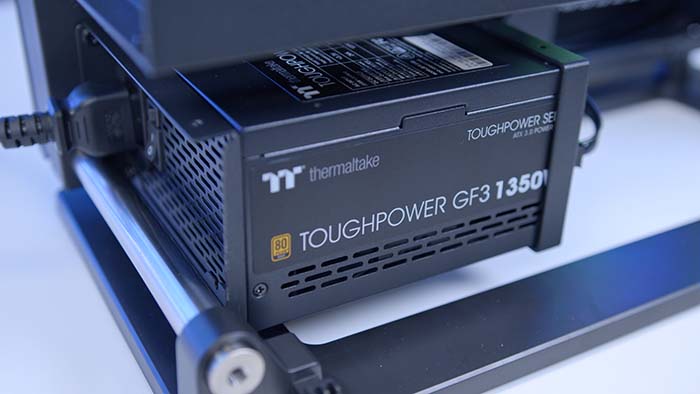 This means you won't have to deal with any pesky (and potentially dangerous) power adapters, and it also opens up power supply options for a vast number of users. Although these cards do draw more power than your average mid-range graphics card it is likely, you don't need to buy into a proprietary power connector for the sake of one component. This gives you a wider set of options to choose from, and will ultimately save you some money when making your final decision.
As a small point to note though, AMD may not have decided to jump on the proverbial ATX 3.0 bandwagon for now, but they may do in the relatively near future. The new standard for drawing power allows manufacturers to pipe up to 600W through one cable, which leads many to believe that we could see a significant jump in power draw in the next few years. We've already seen this come into effect to some extent with Nvidia's most recent GPUs, with the RTX 4090 drawing 450W. Although we won't be including any ATX 3.0 power supplies in this roundup, it could be worth picking a PSU with the new 16-pin connection for the sake of future proofing.
How Many Watts Do You Need?
Buying any component for a PC build requires a bit of a balancing act. You don't want to buy more than what you need, but you also won't want to buy poor performing components that result in you needing to get an upgrade anyway. Alongside this there are other factors to consider such as your budget, use-case, longevity and upgradeability that can influence the decision making process.
When it comes to power supplies, I'd argue that the best way to approach picking up a PSU is by picking out a wattage. You can use various different configurators that will give you an idea of how much power your system will draw, and from there it becomes much easier to make a decision. The Radeon RX 7900XT has a TBP (typical board power) of 300W, and according to the product page on AMD's website, the minimum PSU recommendation is 750W. Ultimately, whether you adhere to the minimum recommendation will be entirely dependent on the other components that you've picked out.
For those building a top-end PC with higher wattage components you'll likely want to bump your wattage up to 850W, or 1000W if you're future proofing for more powerful components later down the line. To provide more context on the wattage that you'll need for the Radeon RX 7900XT we've put together a table of recommended wattages that you should stick to.
| | |
| --- | --- |
| PSU Wattage | Do We Recommend? |
| 500W | ❌ |
| 550W | ❌ |
| 600W | ❌ |
| 650W | ❌ |
| 700W | ❌ |
| 750W | ✅ |
| 800W | ✅ |
| 850W | ✅ |
| 1000W+ | ✅ |
As you can see from the table above, you should only ever stick to the minimum requirements and move up from there. Any lower than what AMD recommend and you could face shorts, or at worst damage your components. If you're looking at building a PC with higher specs, such as the top-end SKUs from Intel and AMD for your CPU, then it is likely you'll need to bump up your wattage to 800W or 850W. Although it isn't likely a top-end PC will require 1000W if you plan on upgrading in the future to more powerful components, then it can be worth spending slightly more to future proof your system.
80+ Certifications vs Cybenetics
Before we jump into our power supply recommendations its worth discussing the difference and importance between 80+ Efficiency and Cybenetics. Many consumers tend to choose a power supply based on its wattage and its 80+ rating. And although 80+ is important, it only measures efficiency. It doesn't take into account voltage ripple, safety mechanisms, or even universal regulations.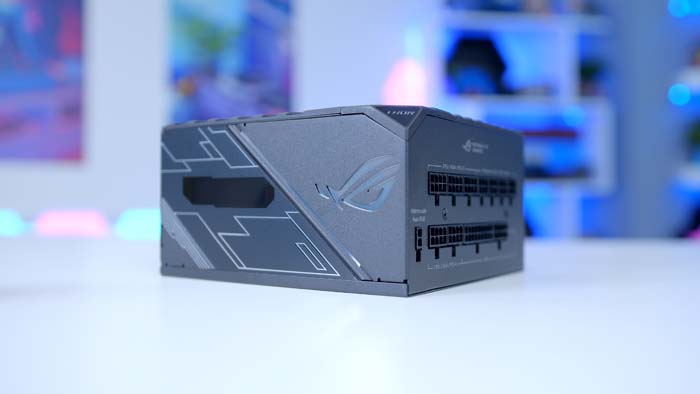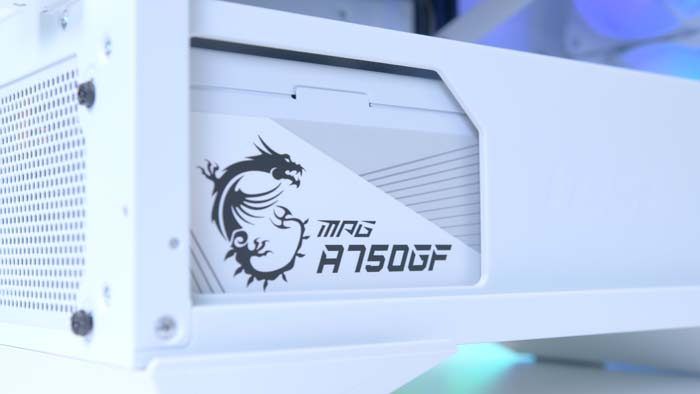 Looking at the efficiency rating isn't necessarily good practice, as this doesn't account for how safe your power supply is, and sometimes 80+ ratings are falsified. We're not saying that your favourite brands aren't telling the truth, but off-brand or third parties have been found to either make up ratings, or not actually have their PSUs certified. It is always worth double checking if your PSU has been certified so that you're getting what you pay for.
Another way to ensure that your PSU efficiency rating is accurate is checking if it has a Cybenetics certification. Cybenetics is an independent company that tests PSUs for their efficiency rating, noise rating, phantom power (power consumption at idle), and they all must comply with the EU No 617/2013 regulation. This covers more factors right off the bat, giving you a more well rounded view of the actual efficiency rating of your chosen PSU. Many manufacturers are starting to shows Cybenetics ratings on their product pages, but if you can't find one, we recommend checking out the Cybenetics website to see if your PSU has been certified.