Introduction
If you're looking for a motherboard to pair up with an AMD Ryzen 7000 series processor, consumers can select from a range of designs that utilise the AM5 platform. Whilst the list of compatible motherboards feels slightly restricted compared to their Intel 13th and 14th Gen counterparts, there are plenty of AM5 motherboards on the market, all of which cater to specific demands and budgets of builders looking to put together the PC of their dreams.
But which AM5 motherboard is right for you? And which motherboards are the best choice for the CPU you've picked to slot into your next PC? For this buyers guide, we've tested a range of the best AM5 motherboards currently on the market, analysing their versatility, features, and appearance to determine whether they are a worthy addition to your build.
Best AM5 Motherboard: ASUS TUF Gaming X670E-Plus WiFi
After testing a range of AM5 motherboards, we've concluded that the ASUS TUF Gaming X670E-Plus WiFi is the best option for most consumers. As one of the cheapest X670E motherboards available, the X670E-Plus WiFi offers a healthy balance of connectivity and pricing, making it suitable for most budgets.
Despite the lower price point, this motherboards brings enough to the table to compete with more lucrative offerings on the market. For example, the Gen5 PCI-E slots offers plenty of upgradability, whilst the multitude of USB-C ports are beneficial when connecting gaming peripherals and external storage.
Suggested Article: Best Motherboards for the Ryzen 7 7800X3D
All Motherboards in Our Testing Roundup
ASUS TUF Gaming X670E-Plus WiFi
The Best AM5 Motherboards
1. MSI MAG B650M Mortar WiFi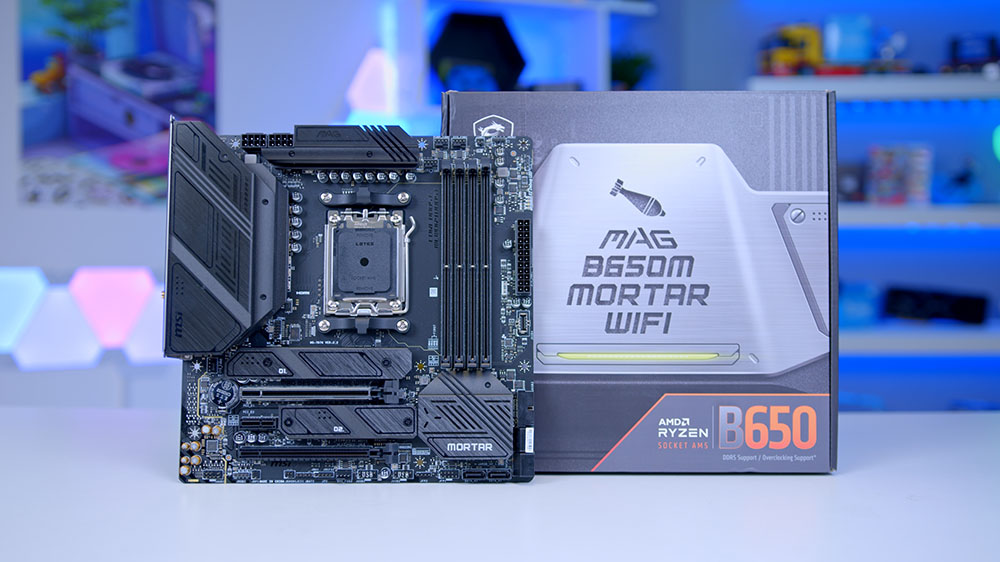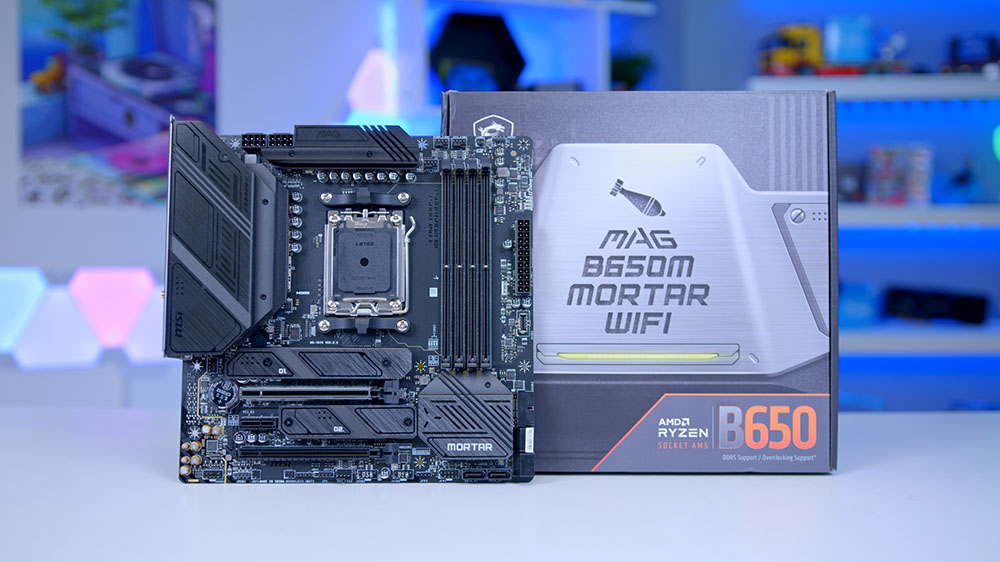 On the budget-friendly side of the scale, MSI's MAG B650M Mortar WiFi is an excellent choice for those looking to keep the size of their PC and budget as small as possible. As a Micro-ATX board, the Mortar WiFi will easily fit into almost every PC case, making it an ideal choice for anyone looking to build a compact system that packs a punch.
Despite its smaller stature, this AM5 motherboard includes plenty of connectivity options, offering enough to support a budget-oriented PC featuring a Ryzen 5 CPU at the very least. Featuring two Gen4 PCI-E x16 slots for graphics cards and a further two Gen4 PCI-E x4 slots for M.2 storage, this board has no issues supporting the AMD and NVIDIA's current-gen GPUs, as well as high-speed SSDs that can be used to store a handful of games without hindering performance.
As for the rest of the design, the rear IO includes plenty of USB ports, including a USB Type-C connection for fast-charging and improving the performance of high-end gaming peripherals. Additionally, as indicated in the name, the Mortar WiFi comes with a WiFi 6E Module, giving consumers the chance to play games online or access their browser without having to rely on an Ethernet cable, but a 2.5Gb LAN port is still included for those that prefer a wired connection.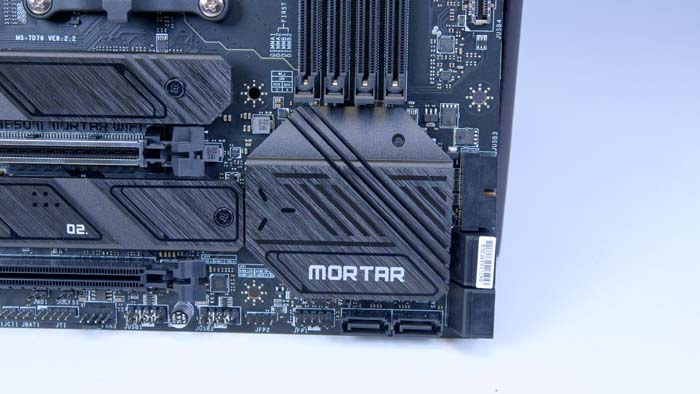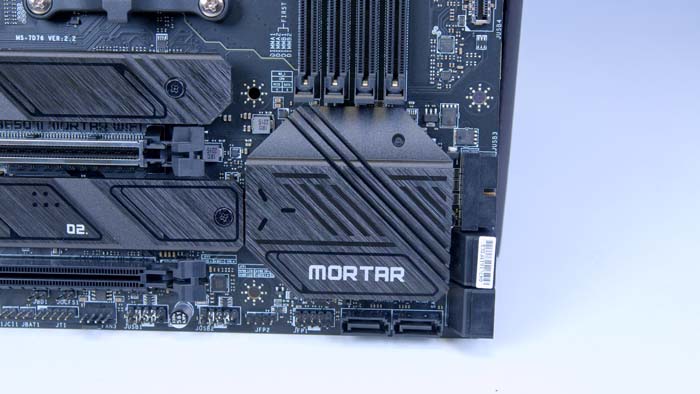 Unfortunately, the restricted form factor and budget-oriented B650 chipset used in this design do lead to some major limitations compared to other AM5 motherboards. The main downside is that the lack of PCI-E 5.0 slots means this isn't the best choice for consumers looking to make a long-term investment. With a number of Gen5 SSDs already hitting the market, and Gen5 GPUs expected at some point in the near future, this motherboard lacks to capacity to support an upgrade to these Gen5 components. Plus, this motherboard isn't the most aesthetically pleasing, especially if you slot it into a larger PC case.
Buy the MSI MAG B650M Mortar WiFi on:
2. Gigabyte B650 Gaming X AX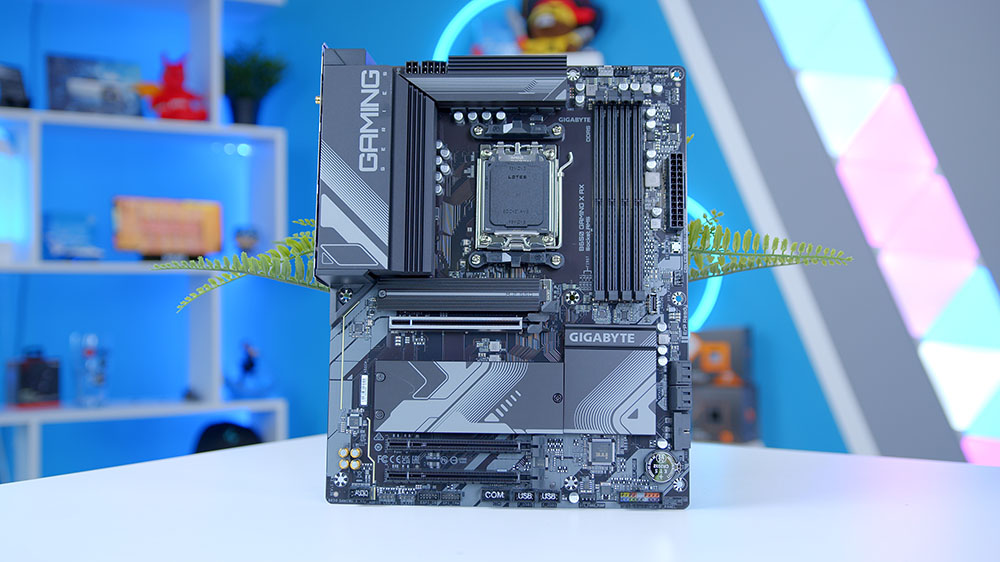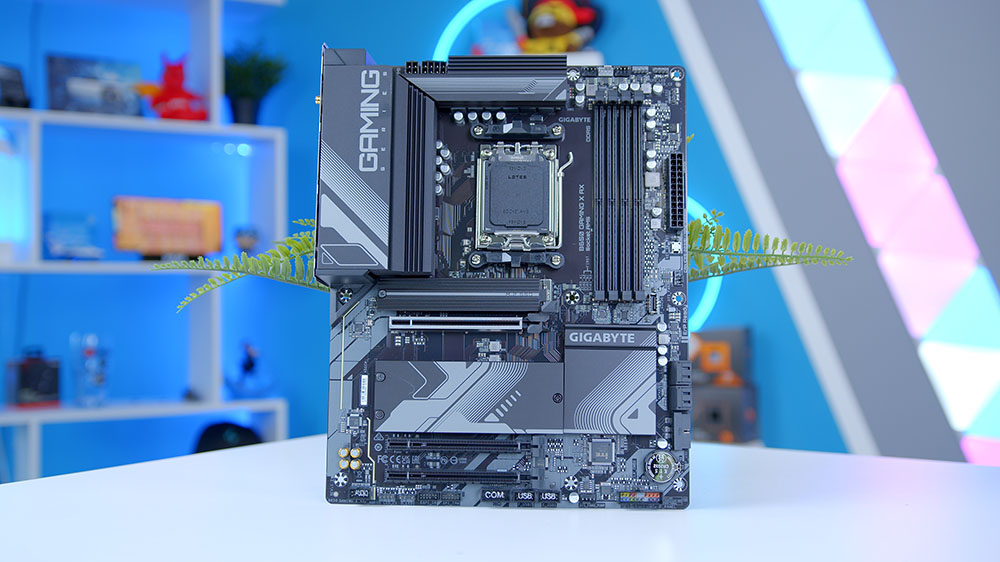 If you are looking for one of the best motherboards equipped with a B650 chipset, then Gigabyte's B650 Gaming X AX is the design we'd choose for a budget-friendly PC build. When it comes to AM5 motherboards, it's hard to find a design that is better value for money than Gigabyte's offering.
As one of the cheapest B650 motherboards on the market, this Gaming X AX provides an affordable way to support AMD's Ryzen 7000 CPUs. Whilst there are some limitations that come with the lower price point, this motherboard isn't light on features. With a range of Gen4 PCI-E slots to hold multiple graphics cards and SSDs, consumers will be able to pack their system with plenty of firepower to run the latest and greatest games with ease. On top of this, the Gaming X AX can support up to 192GB of DDR5 memory, which can be overclocked to reach transfer speeds of up to 8000MHz. This is more than enough to keep games running smoothly, keeping loading errors to a minimum.
Connectivity-wise, the B650 Gaming X AX offers a range of USB ports and networking options, especially when compared to what other B650 motherboards bring to the table. The highlight is the inclusion of WiFi 6E, allowing users to experience the same wireless online connectivity found on more expensive designs. However, the USB ports on the rear IO are slightly less versatile, with a heavy reliance on slower USB 2.0 to fill out the connectivity options available.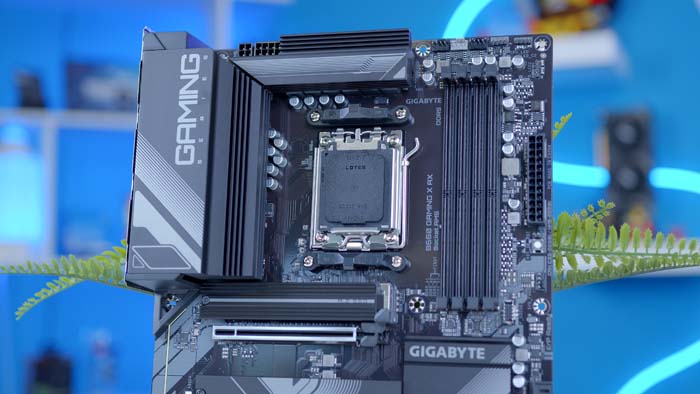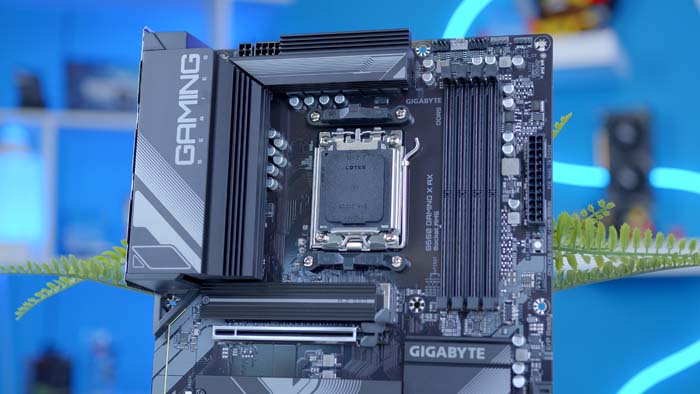 Some other major concerns with this motherboard includes its appearance, as the grey and black colour-scheme, along with the heavily exposed PCB are bound to deter some consumers away. On top of this, the lack of PCI-E 5.0 support throughout the board restricts its capabilities, making this less than ideal for those looking to build a more powerful gaming PC, or develop their build over time.
Buy the Gigabyte B650 Gaming X AX on:
3. ASUS TUF Gaming X670E-Plus WiFi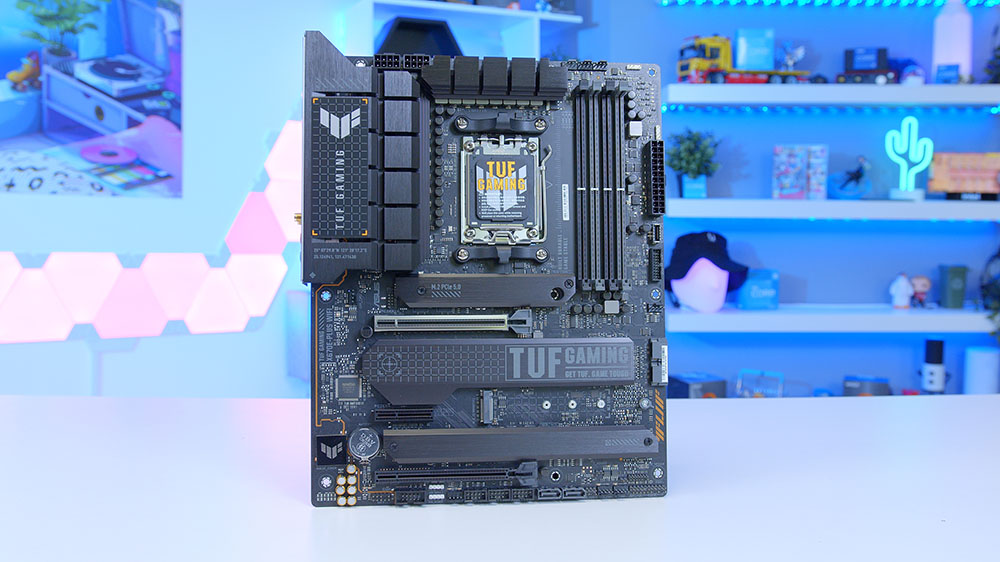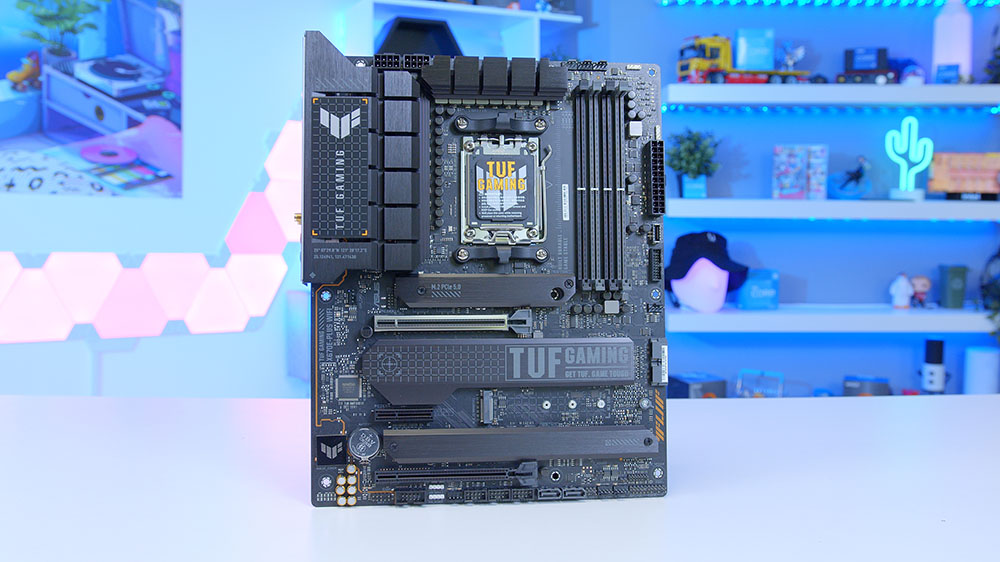 For those with some more cash to spend on their PC parts, a powerful X670E motherboard like the ASUS TUF Gaming X670E-Plus WiFi will be worth the extra investment. The X670E chipset expands the connectivity options and bolsters the VRM power phases, making it a better option to pair alongside high-end Ryzen 7000 processors like the 7800X3D or 7900.
As the first motherboard within our testing roundup to include support for Gen5 components, the TUF Gaming X670E-Plus WiFi is the superior choice for builders that are looking to improve the performance of their system over time. With PCI-E 5.0 slots for both the graphics cards and storage, this motherboard will be able to support the latest components for years to come, allowing it to withstand at least one cycle of upgrades.
The stellar connectivity continues throughout the rest of the design, with the rear IO including multiple USB Type-C ports and high-sped USB 3.0 ports to optimise the performance of high-end gaming peripherals and other external devices. Additionally, the choice of wired or wireless networking options provides flexibility for online connectivity. Considering this is one of the cheaper X670E motherboards available, ASUS haven't taken many shortcuts to keep this design as cost-effective as possible.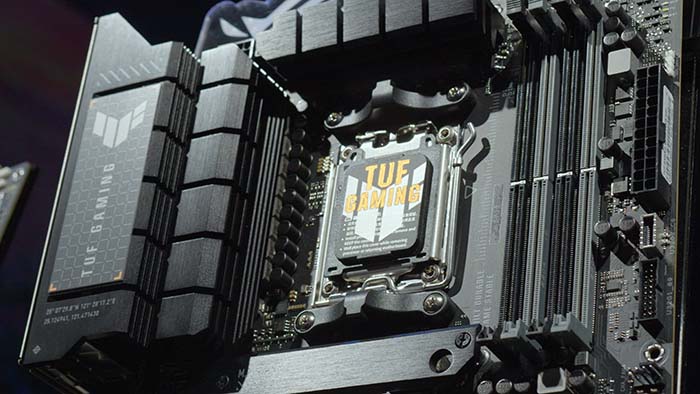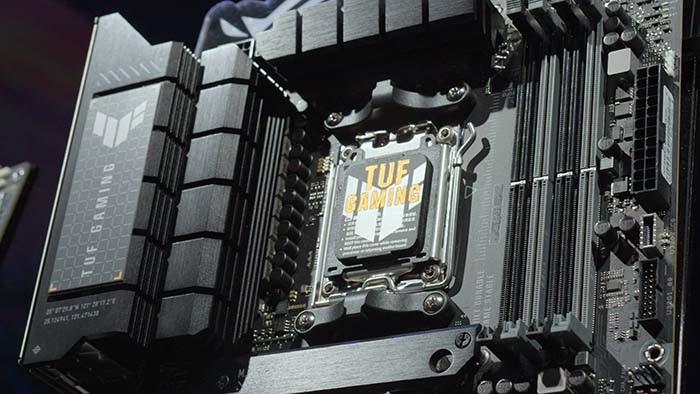 That being said, there are a few noteworthy exclusions that prevent this board from being the best choice to maximise your PC build's performance. For example, the ATX form factor is ideal for case compatibility, but restricts the amount of space available for additional PCI-E slots compared to X670E motherboards that adopt an E-ATX design. And whilst we like the aesthetic of the ASUS TUF motherboards, it is fairly simplistic compared to other premium AM5 boards, which will make it less appealing to enthusiasts.
Buy the ASUS TUF Gaming X670E-Plus WiFi on:
4. MSI MEG X670E ACE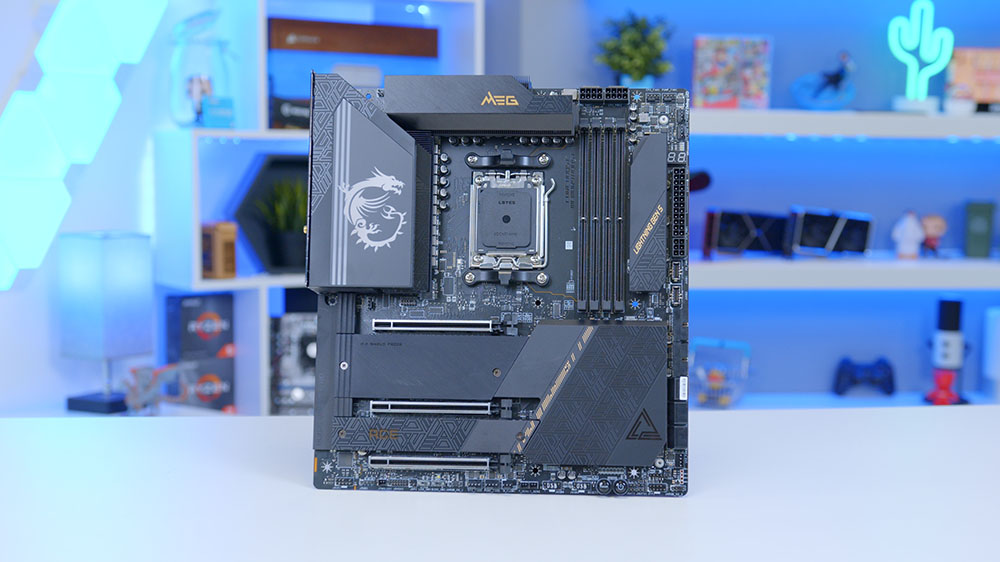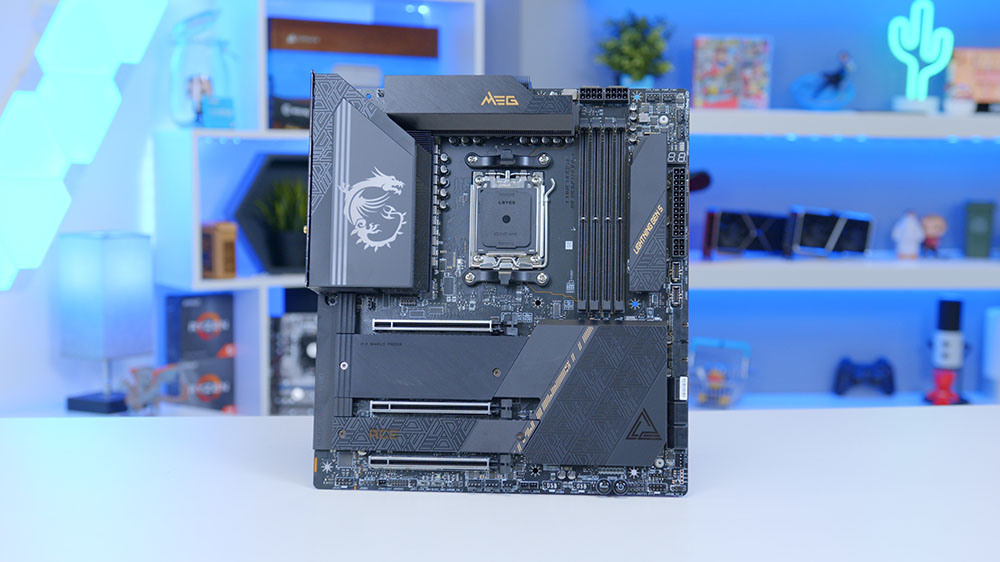 If you're simply looking for the AM5 motherboard that offers the best combination of performance, versatility, and aesthetic, then look no further than the MSI MEG X670E ACE. This E-ATX motherboard offers an abundance of connectivity, allowing it to accommodate the most powerful AMD Ryzen 7000 series configurations possible.
With a whopping three PCI-E Gen5 slots for graphics cards and four PCI-E slots for M.2 drives, the X670E ACE should provide enough storage and performance capacity to satisfy the needs of even the most enthusiastic builders. This trend continues on the rear IO, as this motherboard includes a plethora of high-speed USB and USB-C ports to support the best peripherals on the market. However, the highlight is the 10Gb LAN port, which offers ultra-fast and reliable network connectivity.
In terms of design, the black and gold aesthetic is a great way to add a luxurious feel to a high-end PC build, as this motherboard includes plenty of detailing on the heatsink to accentuate its quality and prestige. However, this focus on providing for the elite can be seen as a blessing and a curse. Whilst it is great for the select audience that aren't concerned with money, the X670E ACE will considered too pricey for most consumers. This means the X670E ACE is only suitable for those rocking a PC packed with a Ryzen 9 processor and a high-end graphics card.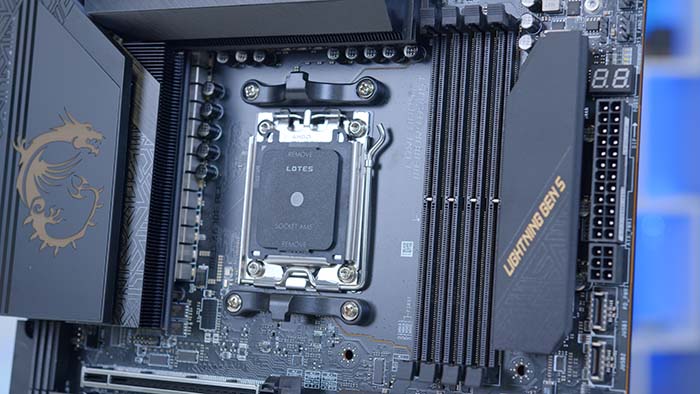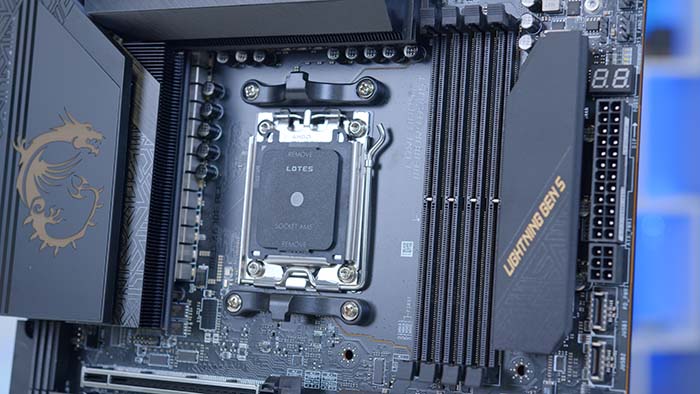 Buy the MSI MEG X670E ACE on:
How We Tested the Best AM5 Motherboards
To determine which AM5 motherboards are worth considering, we put a variety of products through a series of tests and analysis. During the evaluation process, there are a plethora of considerations that are taken into account, including:
Support for Components
VRM Power Phases
Form Factor
Front & Rear IO
Quality of Life Features
Aesthetic
Pricing
Frequently Asked Questions
What Chipsets Do AM5 Motherboards Use?
AM5 motherboards are compatible with A620, B650, B650E, X670, and X670E chipsets. Each chipset varies in their performance and capacity, but all AM5 chipsets support Ryzen 7000 series processors.
Does AM5 Support DDR4 Memory?
No. AM5 motherboards only support DDR5 RAM. Luckily, this is less of an issue than at launch due to the decreasing price of DDR5 kits.
Are Ryzen 5000 CPUs Supported on AM5 Motherboards?
No. Only Ryzen 7000 series CPUs are supported on the AM5 platform, meaning Ryzen 5000 users will have to upgrade their motherboard alongside their CPU.