Introduction
The time has finally come. AMD Ryzen 7000 is here, and if one thing is for sure, the motherboards are crazy! We've seen four confirmed chipsets on the new AM5 platform, with B650 at the budget end, and X670E at the top-end. MSI is well known in the motherboard space for providing a vast amount of features coupled with board designs that look awesome.
Here we'll be taking a look at one of MSI's flagship motherboards, the MEG X670E ACE. This board encapsulates what it means to build a high-end PC, with a wide feature-set and strong overclocking support. With black and gold embellishes, widespread PCI-E 5.0 support, and a huge amount of power phases for overclocking, the MEG X670E ACE has it all. We'll be breaking down the core features, design, connectivity and the BIOS to cover all bases
Buy the MSI MEG X670E ACE on:
Suggested Article: AMD Ryzen 9 7900X Review
Chipset
The MSI MEG X670E ACE utilises the top-end X670E chipset, allowing you to take full advantage of the next gen features on AMD's AM5 platform. One of the biggest inclusions on this chipset is the support for widespread PCI-E 5.0, along with AMD's latest EXPO memory overclocking technology. X670E boards are said to have the most amount of PCI-E 5.0 slots, both in terms of graphics cards and SSDs. These boards will also be best designed for overclocking due to VRM stability and power phases.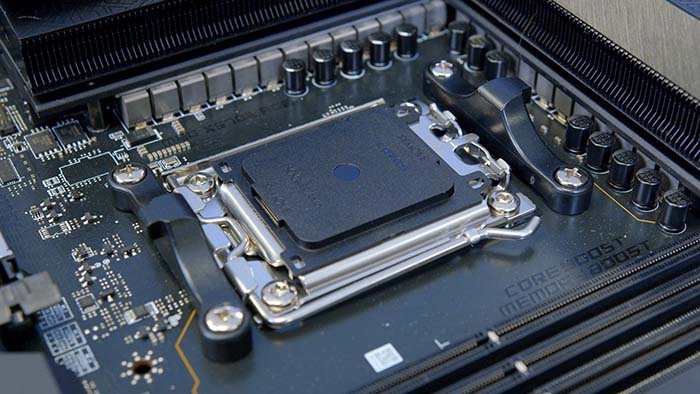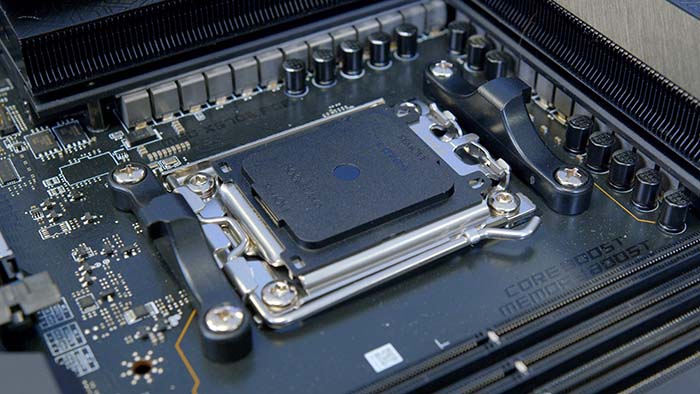 X670E boards will be perfect for consumers that want to maximise their features for a high-end gaming PC or workstation. 'X#70' boards have always been at the top-end for AMD, but the new inclusion of the 'E' suffix (standing for extreme) has thrown a little twist into the chipset range, providing users with a way to maximise everything they can from the new Ryzen 7000 CPUs.
The biggest upgrade that we've seen with the new Ryzen 7000 motherboards is the high frequency of PCI-E 5.0 compatible slots. Intel's 12th Gen motherboards gave us a flavour of this, but AMD have pushed out the boat when it comes to preparing for the next generation graphics cards and SSDs. This means that AMD motherboards may be better positioned for those that want to picked up one of Nvidia's new RTX 4090 or 4080 GPUs, or one of AMD's upcoming RDNA 3 cards.
Another significant feature we've seen is the new DDR5 EXPO memory technology. DDR5 memory tech is still somewhat in its infancy and due to this, we're not seeing much in terms of performance gains compared to DDR4. But with AMD's EXPO technology, I feel this may be about to change. AMD's 'one-click' EXPO profiles increase the clock speed while enhancing the latency on your DDR5 DIMMs for a performance boost. Arguably, the latency is the main feature to be holding DDR5 memory back, so a decrease in latency should see significant performance improvements. All AM5 motherboards will have access to this technology too, which is very consumer friendly.
A final point to touch upon is the 'extreme' overclocking capability of X670E motherboards. AMD announced that these motherboards will be best geared towards those building a top-end, high performing system with overclocking power like we've never seen before. And as you'll see later on in this review, the MSI MEG X670E ACE is definitely fit to handle some very high clock speeds.
Table of Differences
To provide some context, we've put a table of comparison together to demonstrate the major differences between the MSI MEG X670E motherboard we're taking a look at today versus a similar board on the X670 chipset. This will give you an idea of the kind of features available between motherboards, and what you might be sacrificing based on how much you're willing to spend.
Features
MSI MEG X670E ACE
Gigabyte X670 AORUS Elite AX
CPU Overclocking Support
Yes
Yes
VRM Power Phases
22+2+1
16+2+2
PCI-E 5.0 Slots
3x x16 PCI-E 5.0 Slots
1x x4 PCI-E 5.0 Slot
2x x4 PCI-E 5.0 Slots with Xpander-Z Gen5 Dual
1x x4 PCI-E 5.0 Slot
PCI-E 4.0 Slots
3x x4 PCI-E 4.0 Slots
2x x16 PCI-E 4.0 Slot
3x x4 PCI-E 4.0 Slots
USB Connections (Rear)
8x USB 3.2 Gen2
1x USB 3.2 Gen2 Type-C
2x USB 3.2 Gen2x2 Type-C
2x USB 3.2 Gen2
2x USB 3.2 Gen1
4x USB 2.0
USB Connections (Front)
4x USB 2.0
4x USB 3.2 Gen1
1x USB 3.2 Gen2 Type-C
1x USB 3.2 Gen2x2 Type-C
1x USB 3.2 Gen2x2 Type-C
4x USB 3.2 Gen1
4x USB 2.0
LAN Type
10 Gigabit LAN
2.5 Gigabit LAN
WiFi Module
WiFi 6E
WiFi 6E
Estimated MSRP
TBC
TBC
Comparison of Features
There's a lot to breakdown here so we'll try to keep it brief. From a quick glance we can see that Gigabyte's X670 AORUS Elite AX compares relatively well against the MSI MEG X670E ACE, but there are some smaller sacrifices on this slightly cheaper option. The primary difference we're seeing is the amount of PCI-E 5.0 support. On the MSI MEG ACE board, we've got access to widespread Gen5 slots for both GPUs and storage. By contrast, the X670 AORUS motherboard only has one PCI-E 5.0 slot for SSDs across the entirety of the board. This is a rather significant loss of next generation PCI-E slots on the X670 chipset.
Another key area is the amount of USB ports between each board. Firstly, you'll notice that neither of these boards have USB 4 ports. I'm actually somewhat disappointed that MSI's flagship board (aside from a future Godlike design) doesn't have a singular USB 4.0 port on either the rear or the front, and the same goes for Gigabyte's X670 board. We're looking at around eight overall on the Gigabyte X670 AORUS board, and 11 on the MSI X670E ACE motherboard with the 'E' chipset derivative gaining us some connectivity here.
A final point to note is the overclocking capability on both of the boards. The MSI MEG X670E ACE motherboard has a massive amount of power phases at 25, compared to the Gigabyte AORUS X670 board which only has 20. This isn't to say that the Gigabyte board will be bad for overclocking as this is an ample amount of power phases, but it does demonstrate the performance upside of X670E vs X670.
MSI MEG X670E ACE Aesthetics & Design
Design is always subjective, but in my book the X670E ace looks incredible. The the black and gold finish across the entire board looks fantastic, providing a premium look a feel. I'm a big fan of the golden MSI dragon located on the rear IO plate, which is also RGB. It gives the board a nice touch with a more minimalist aesthetic. MSI have opted for an extended heatsink design, which is something we tend to see on more expensive motherboard options. This means that much less of the actual PCB is visible apart from the various power connectors and headers.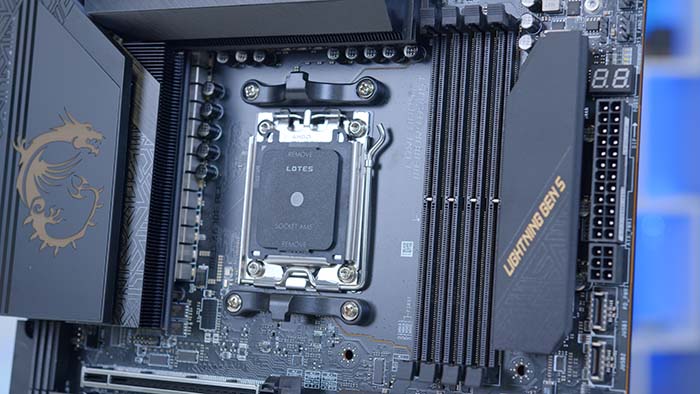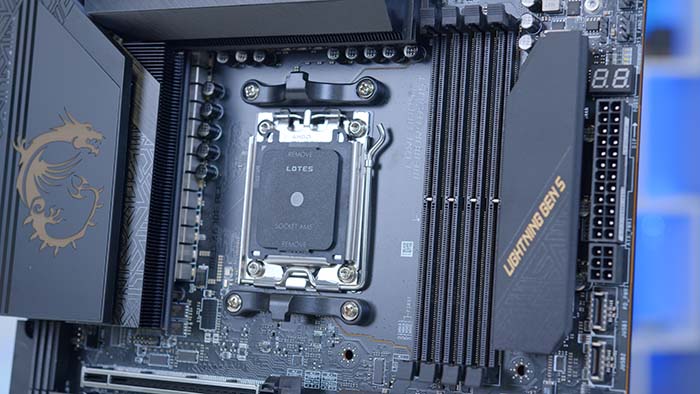 Moving around to the back of the board, the MSI MEG X670E ACE has a backplate that covers the majority of the PCB. Although you won't really see the backplate when its installed in a case, I like the backplate in terms of being more consumer friendly. I often find myself getting poked by various sharp pieces of metal located on the back of a motherboard, so having this plate is just a nice a usability feature.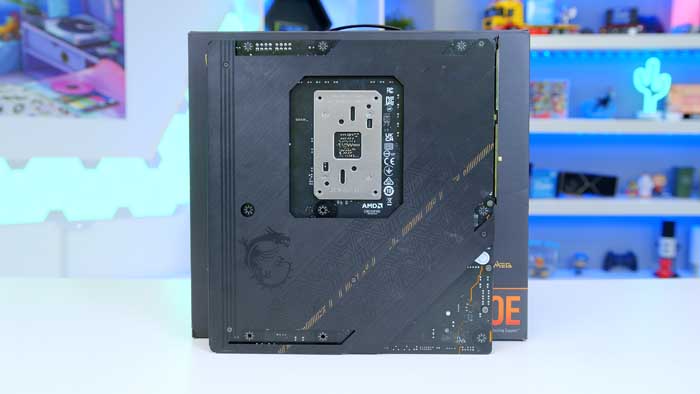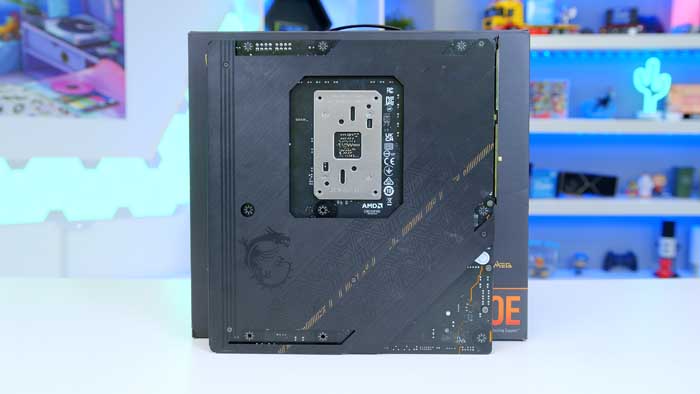 Otherwise, the X670E ACE bears a relatively simplistic and minimalist design. MSI have absolutely hit the nail on the head when it comes to the contrasting black and gold colours. The geometric design on top of the rear IO plate also looks awesome. Although you might be expecting lots of RGB on a motherboard this expensive, I'm actually in favour of the 'less-is-more' design philosophy that MSI have taken here. By offering a simpler design, it makes hues of colour standout more and provides an eye-catching aesthetic.
Features
Now the main part that I'm sure you've been waiting for – the features. With this board being one of the top-end options on the most feature-rich chipset, there is a vast amount on offer for any PC build with the MSI MEG X670E ACE. We've detailed all of the major features of this motherboard below:
Overclocking Support & Cooling
As alluded to above, the MSI MEG X670E ACE is well equipped to handle extreme overclocking. For power, you've got access to a 22+2+1 phase design, setting this board up to break world overclocking records. Ryzen 7000 CPUs are easy to clock up to 6GHz, and it'll be interesting to see what the enthusiast overclockers do with a board like the X670E ACE.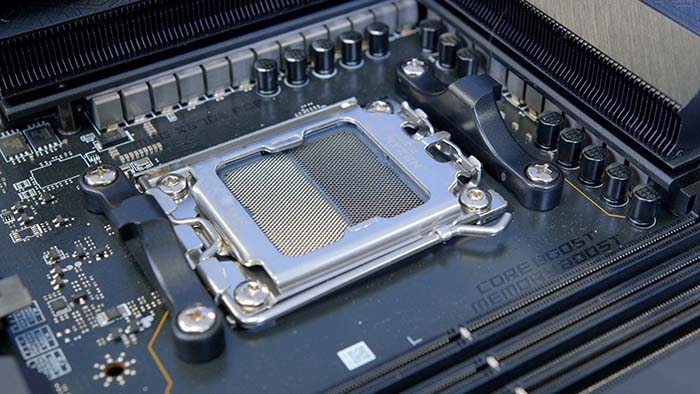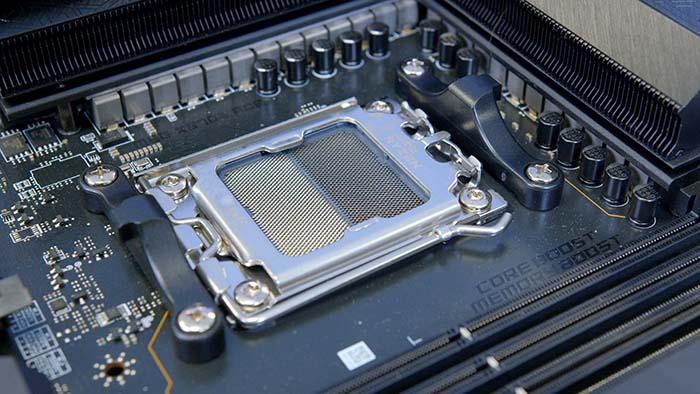 In terms of stability and cooling, at the top of the board you'll immediately see a larger heatsink design which covers a stacked fin array, along with a large heatpipe which spans the entire set of VRMs. This design is to ensure that all cores can run at high performance whilst still being able to move heat away efficiently from the VRMs, creating plenty of stability and great thermal performance.
PCI-E 5.0 Support
Next up is Gen5 PCI-E slots. On this motherboard you've got a whopping three x16 slots, fully compatible with PCI-E 5.0 technology. The X670E ACE is well equipped to handle the latest and greatest graphics cards when they release, helping to future proof your Ryzen 7000 PC build. These slots are equipped with MSI's Steel armour, designed to support the mighty heft and weight that the new generation of graphics cards bring with them.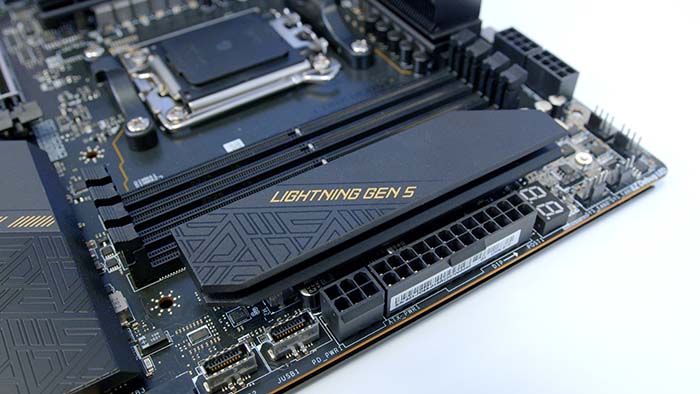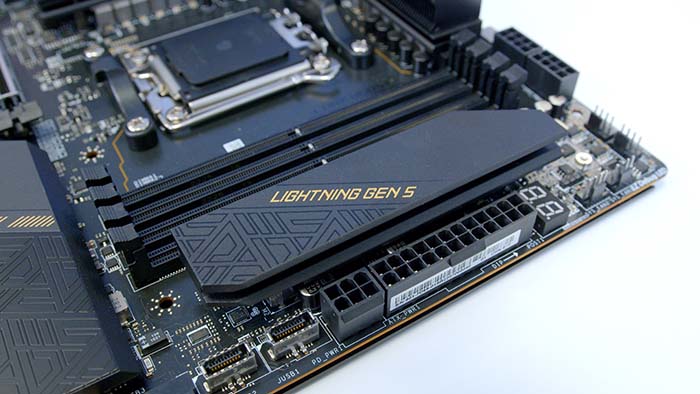 Moving over to SSD support, the X670E ACE has a singular Gen5 x4 M.2 slot, ready for when we get access to blazing fast PCI-E 5.0 SSDs. This motherboard also comes with a M.2 XPANDER-Z Gen5 Dual card that comes equipped with a further two PCI-E 5.0 M.2 slots if you are happy to sacrifice one of the x16 slots. This is great to see, especially for those ready to pack a build out with next-gen storage.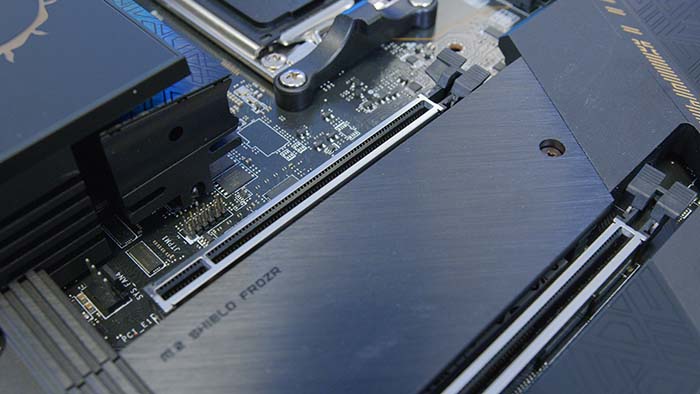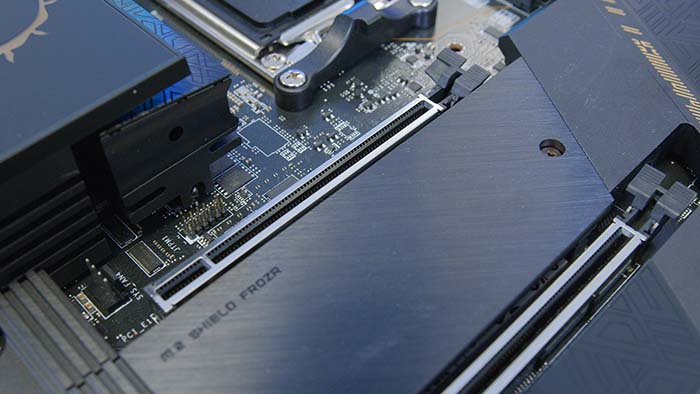 Rear IO
In terms of rear IO, the MEG X670E ACE is absolutely loaded up with USB ports and other IO. You won't run out of options for peripherals with this board, as it has a whopping 11 USB ports. Nine of them are USB 3.2 Gen2, with one of these being a Type-C port. You've also got dual USB 3.2 Gen2x2 20GB/s Type-C ports for super fast file transfer speed.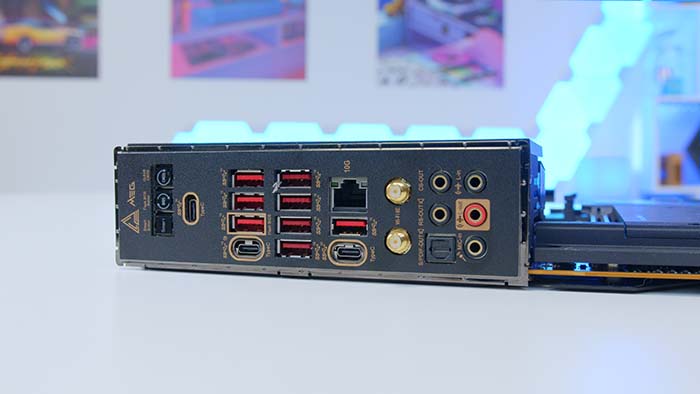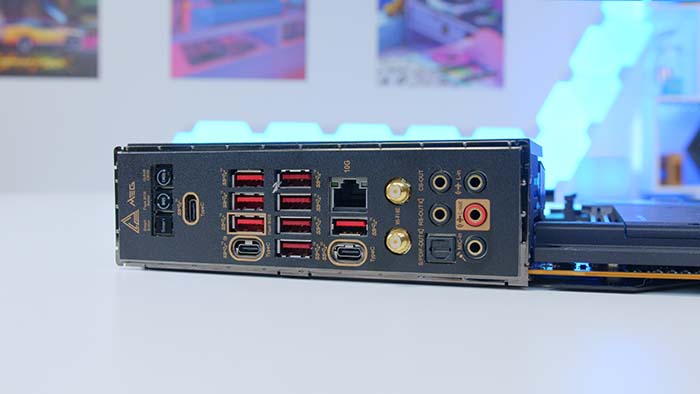 For networking, this board comes with a WiFi 6E module and Bluetooth 5.2, along with extremely fast 10 Gigabit LAN. There's also a full audio suite with S/PDIF for those of you with surround sound systems, Clear CMOS, BIOS Flash, and a Smart Button which can be configured to do various actions within your BIOS.
Screwless M.2 Installation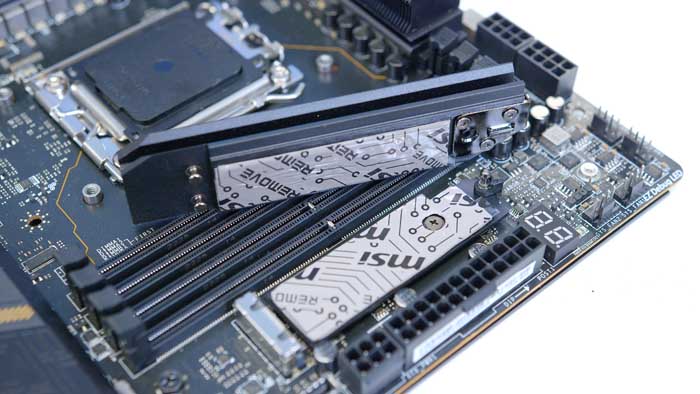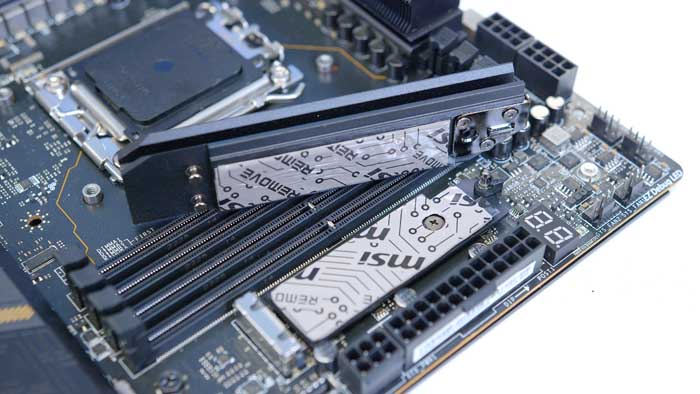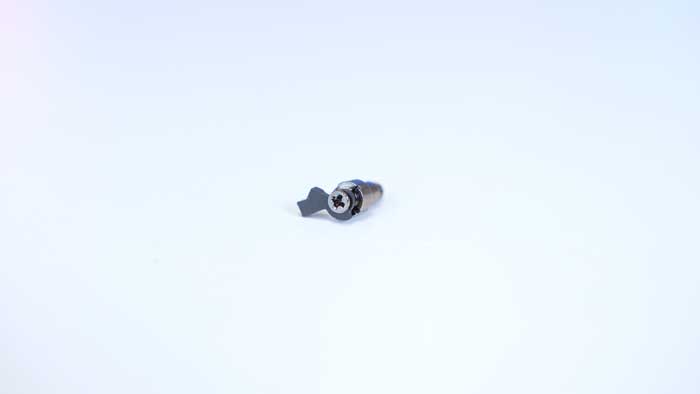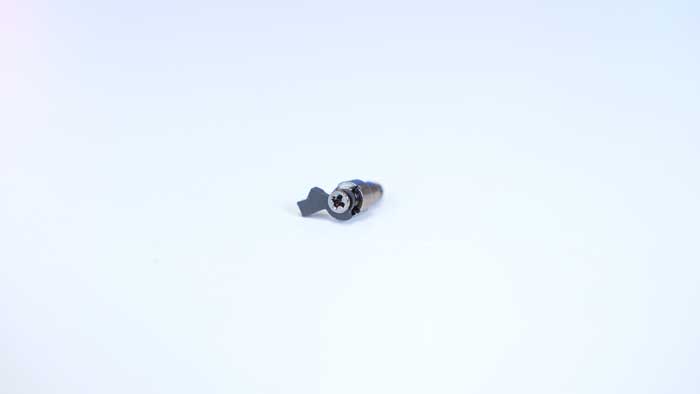 One of the most frustrating parts of any PC build is having fiddly screws and small parts that can get lost easily. One of these in particular are M.2 screws. These tiny screws can get lost with ease, but with the X670E ACE motherboard, this will happen no more! Included in the box are MSI's EZ M.2 clips that let you secure the M.2 SSD down with no screwdriver required. The Gen5 SSD slot is also a latch design, meaning it requires no screwdriver to remove the heatsink or secure it. This makes installing your drives extremely simple.
EZ Debug LED & Post Codes
Another included usability feature is the EZ Debug LED. MSI's renowned debugging lights give you the ability to quickly decipher any issues or problems during the boot process. Combining this with the Post Code display located at the top of the board and the problem solving process is a simple one.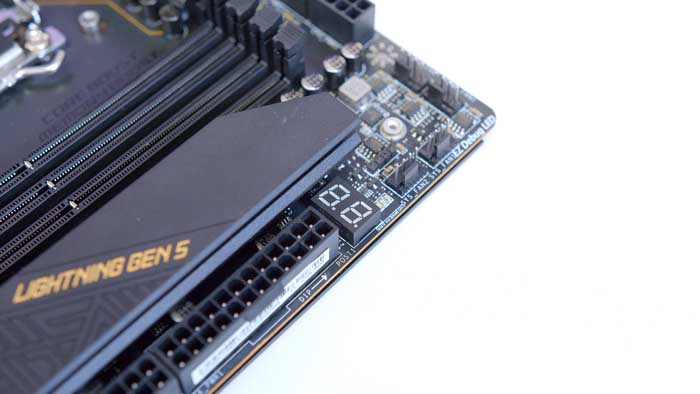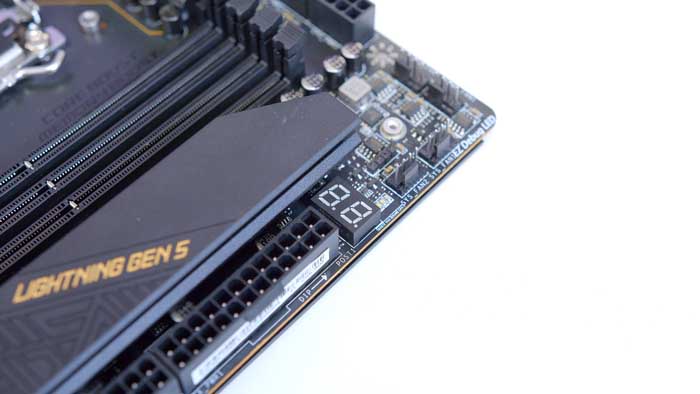 What's In The Box?
As MSI MEG X670E ACE is one of the best options you can buy on the X670E chipset, there's a lot of extra stuff in the box. We've noted down all of the things that you get when buying this motherboard.
M.2 XPANDER Gen5 DUAL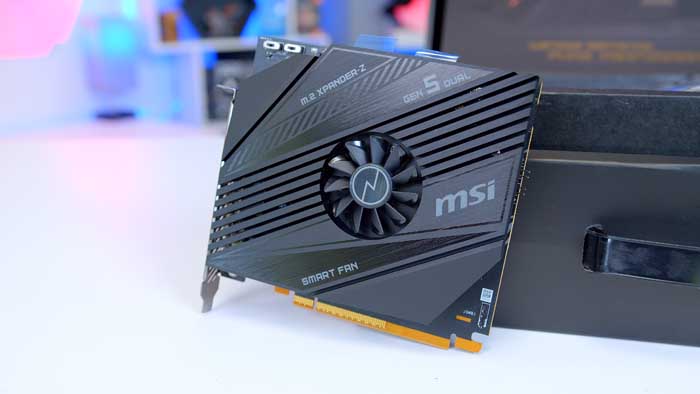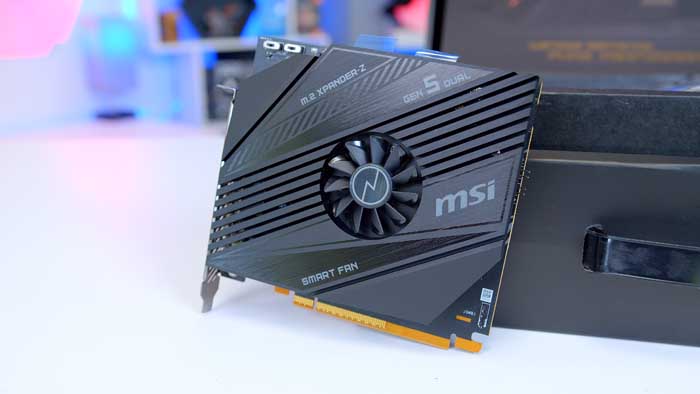 WiFi 6E & Bluetooth Antenna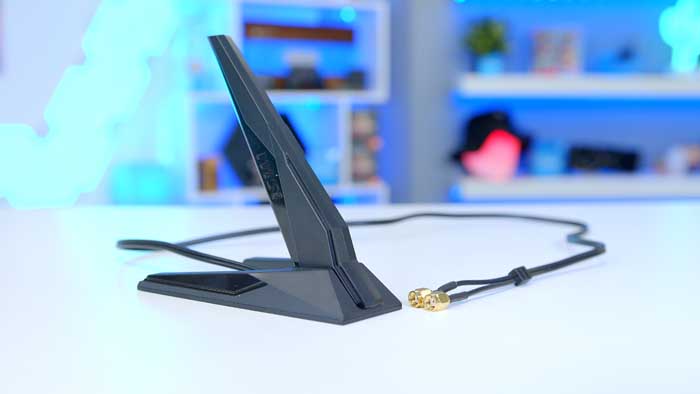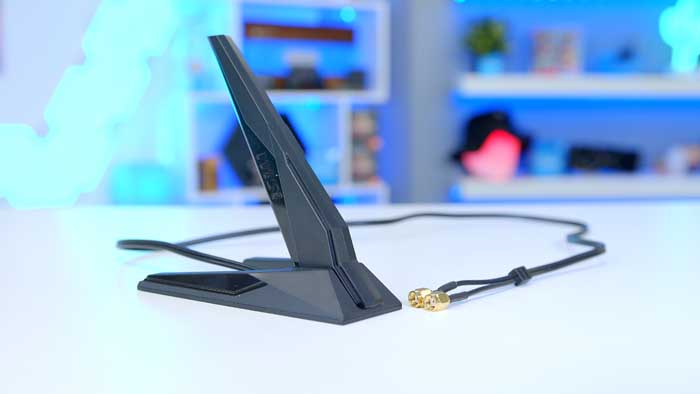 MSI BIOS USB Drive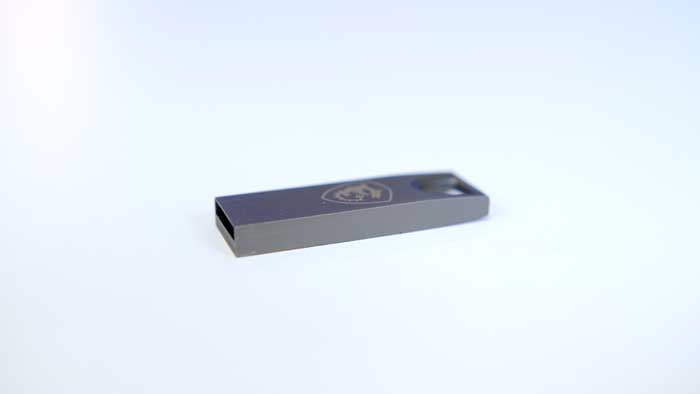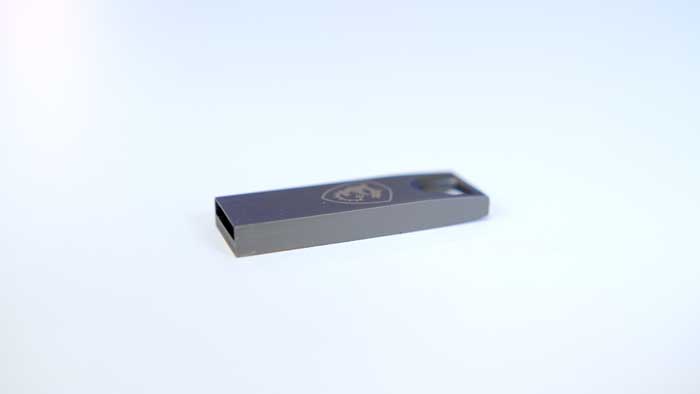 EZ M.2 Clips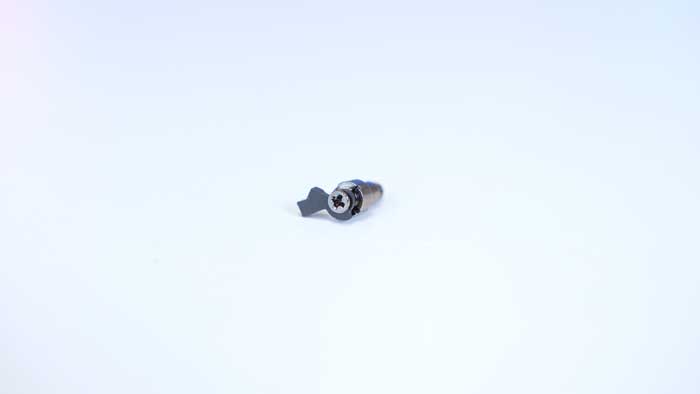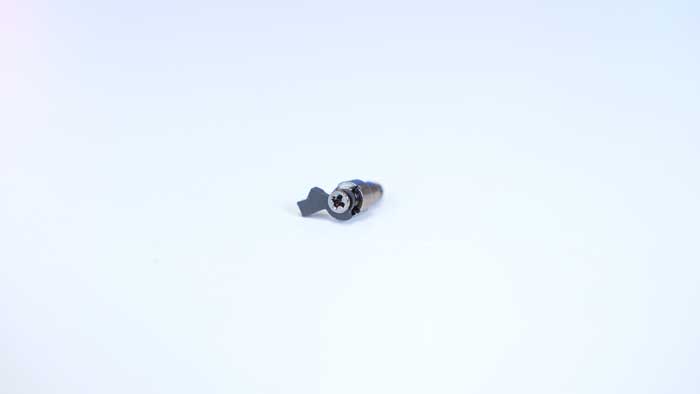 RGB Extension Cables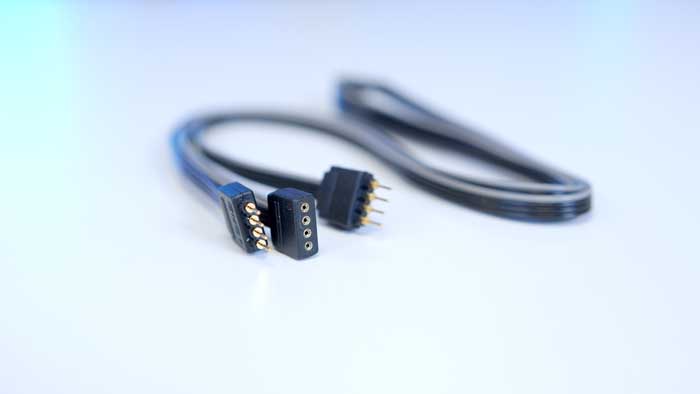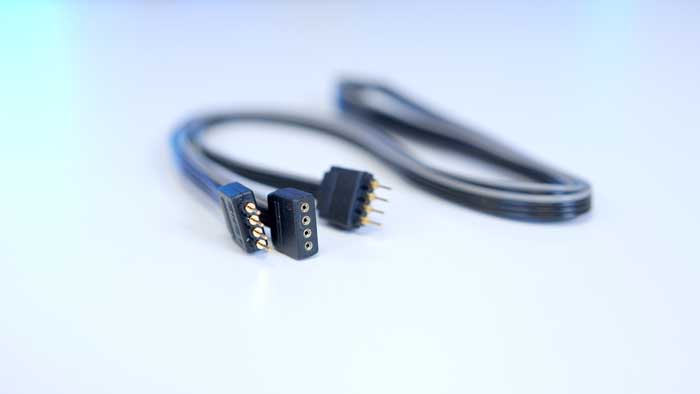 SATA Cables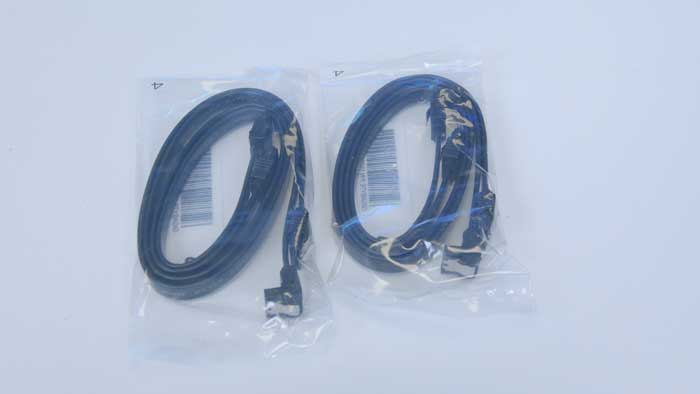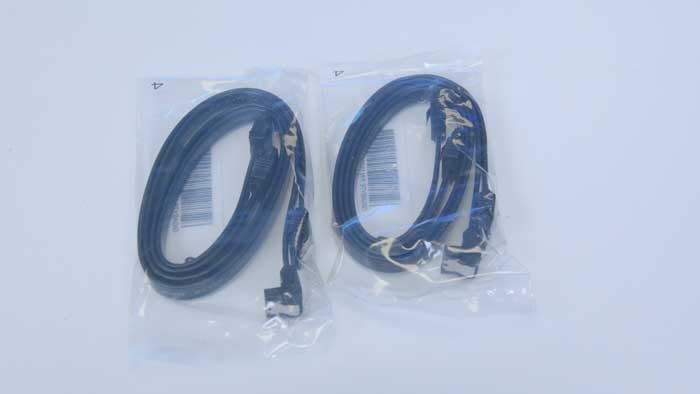 Thermistor Cables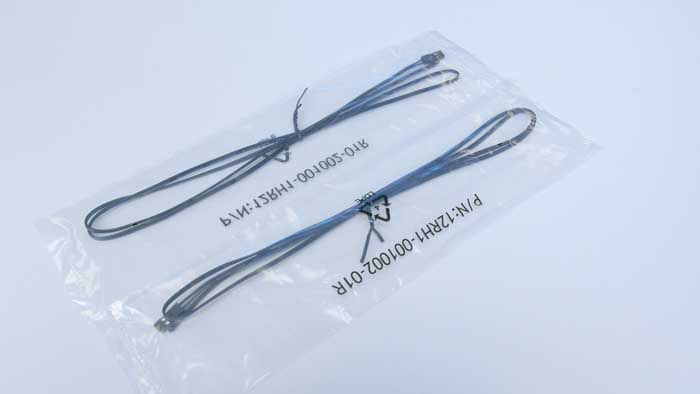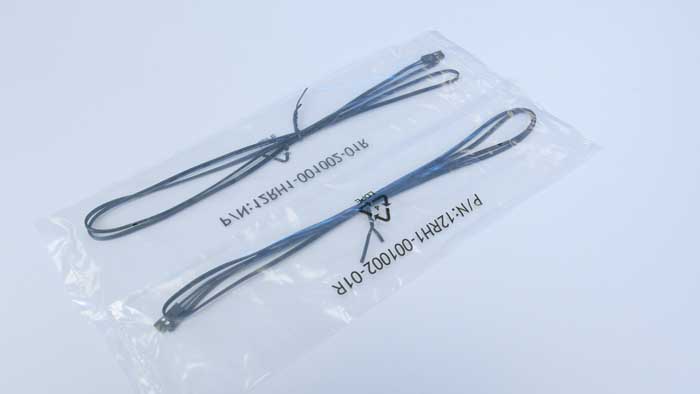 BIOS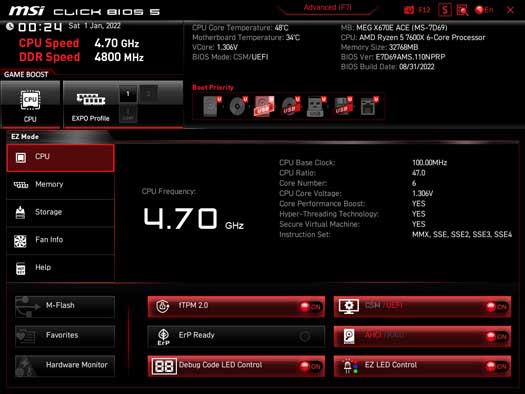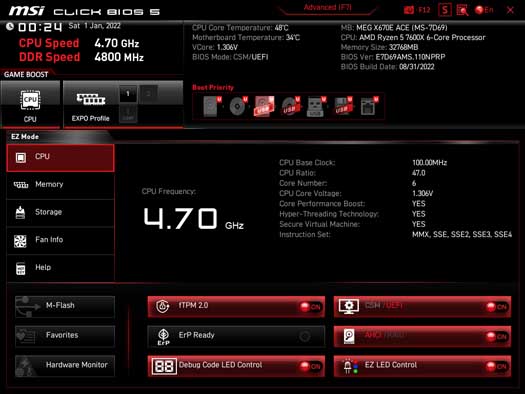 Main BIOS Screen
MSI'S EZ Mode BIOS allows you to make quick changes to your system, like memory speed, and boot priorities.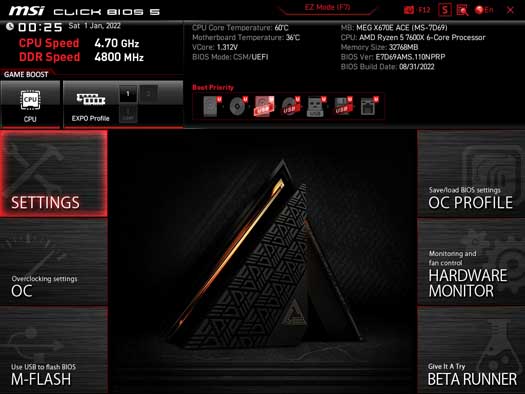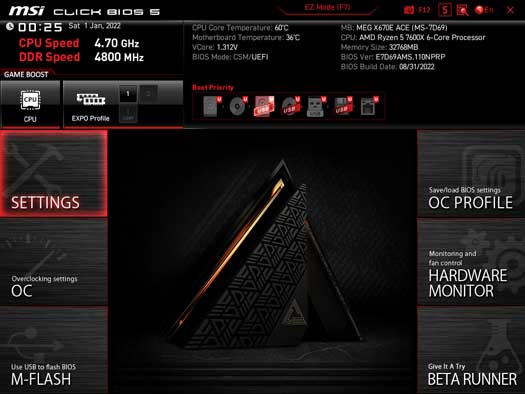 Advanced Mode – Home Screen
Clicking F7 takes you to the advanced mode. You'll need to come here to amend any major settings to customise your PC fully.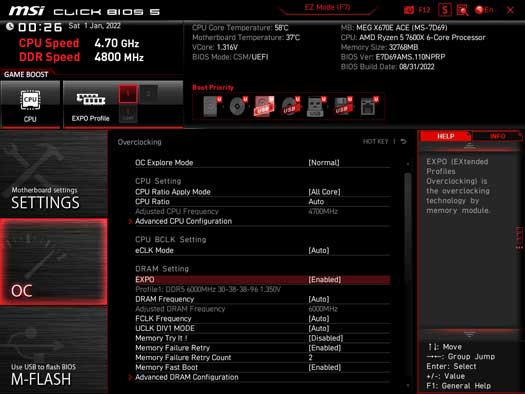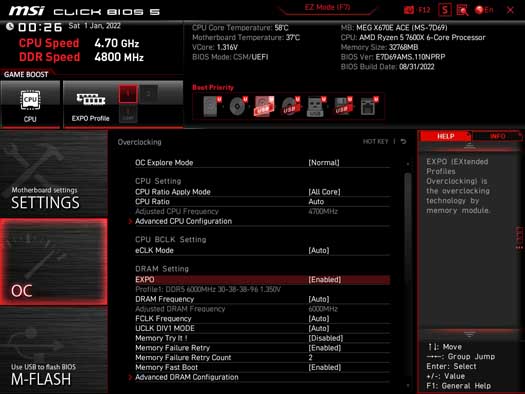 Advanced Mode – RAM Overclocking
You can also amend EXPO memory profiles here allowing you to get more performance from your RAM.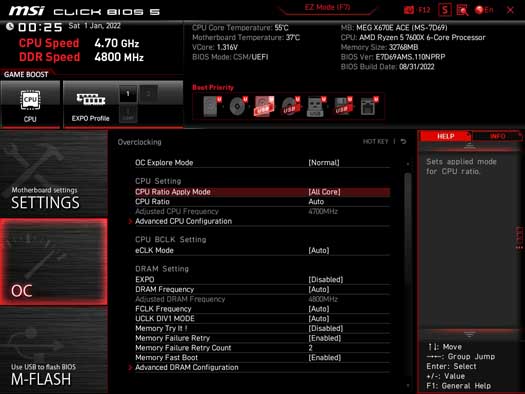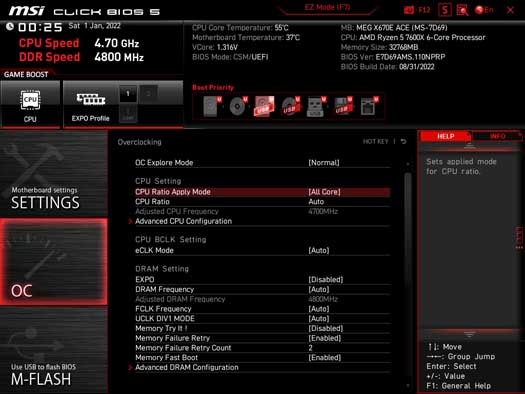 Advanced Mode – CPU Overclocking
The OC window allows you to overclock your CPU to the extreme to get the best performance money can buy.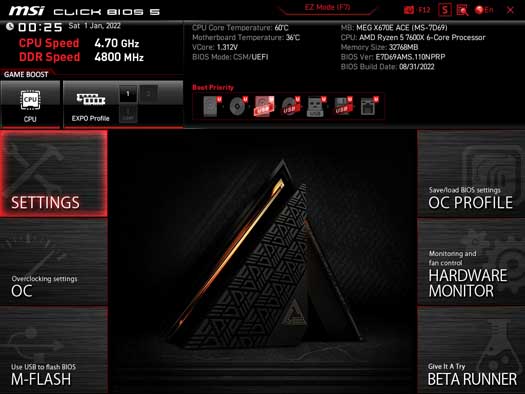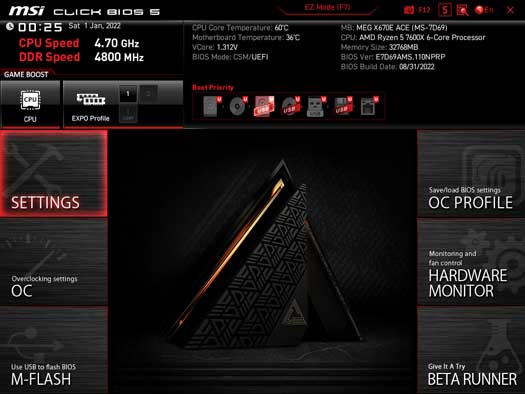 Advanced Mode – Boot Priorities
Boot priorities can also be fully customised in the settings window allow you to set many different boot options.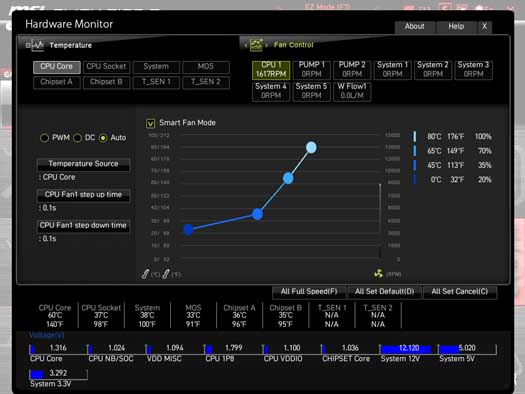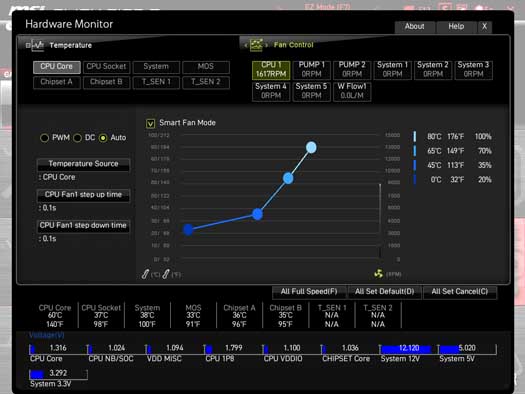 Advanced Mode – Fan Curves
MSI's Fan Curve settings give you the option of changing RPMs and setting profiles to get the best thermals in your PC.
Compatible Processors
Despite the MSI MEG X670E ACE boasting compatibility with all of the known processors on the AM5 platform, we would recommend sticking to the Ryzen 7 and Ryzen 9 ranges. This motherboard is utilising the top-end chipset designed for extreme overclocking and high performance chips. Any CPU under the performance level of Ryzen 7 CPUs will be rather underpowered, and for that reason you would be better off picking a different motherboard on perhaps the upcoming B650E chipset. Choosing the best CPU and motherboard combo is crucial to getting the best value for money for your PC build.
| | | |
| --- | --- | --- |
| CPU Name | Compatibility | Do We Recommend? |
| Ryzen 9 7950X | ✅ | ✅ |
| Ryzen 9 7900X | ✅ | ✅ |
| Ryzen 7 7800X? | ✅ | ✅ |
| Ryzen 7 7700X | ✅ | ✅ |
| Ryzen 5 7600X? | ✅ | ❌ |
| Ryzen 5 7500? | ✅ | ❌ |
Conclusion
MSI MEG X670E ACE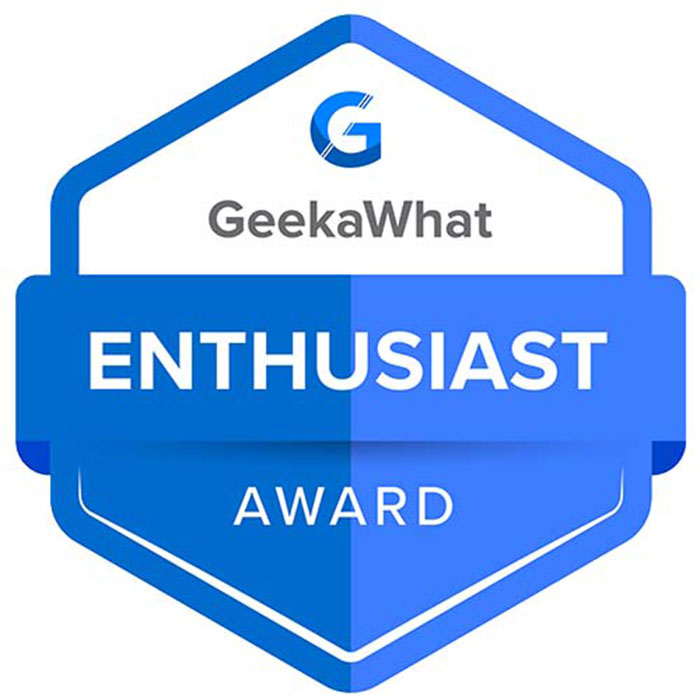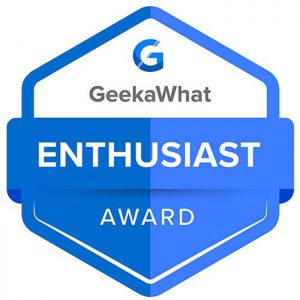 Product Name: MEG X670E ACE
Brand: MSI
Features

Design

Performance

Value For Money
Summary
MSI's MEG X670E ACE is one of the first boards to launch on the AM5 platform, and so far we're onto a smashing start. With widespread PCI-E 5.0 support, more USB ports than you can dream of, and a crazy amount of power phases for overclocking, this board is incredible. The minimalist black and gold design offers excellent contrast while appealing to those that want a more simplistic looking motherboard. MSI's BIOS is also incredibly easy to use, and combined with the excess of usability features, installation should be a piece of cake for most users. Needless to say MSI have done an awesome job and set the bar pretty high. We're very excited to see what MSI and other manufacturers have in store for the X670E chipset line-up.
Pros
✅ Vast PCI-E 5.0 support and latest generation features.
✅ Black and gold design is stellar.
✅ Power phases for overclocking are insane.
Cons
❌ Very expensive.
❌ No USB4 ports.
❌ E-ATX form factor will limit case choices.