Suggested Article: Ryzen 9 7900X Review – Architecture, Performance & Benchmarks
What is the X670E Chipset?
As we've done so many reviews on the new X670E motherboards, I don't want to keep hammering on about the same thing, so we'll keep our overview of the X670E chipset a little briefer than usual!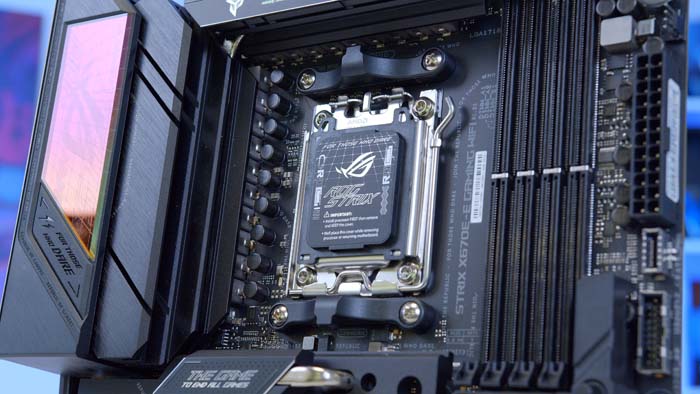 The X670E chipset is the most premium and feature-rich chipset available out of the entire Ryzen 7000 range. Designed for extreme overclocking, coupled with support for widespread PCI-E 5.0, these new motherboards are set up to provide the best of the best for performance and connectivity. With PCI-E Gen 5 support for SSDs and GPUs, compared to SSD-only support on cheaper boards, the X670E chipset is destined to be paired with the highest end hardware.
You also get strong front and rear-IO connectivity on the X670E chipset, with a huge amount of high speed USB 3.2 ports, support for USB 3.2 Gen2x2, and USB4 ports on select boards. Needless to say, this chipset is ideal for those that have lots of peripherals and accessories.
With concerns to overclocking on the new X670E motherboards, your mileage will vary. Ultimately overclocking will be limited to manufacturer decisions and unfortunately pricing. More expensive motherboards will have more power phases and therefore better cooling and overclocking capability. Cheaper boards may still offer decent overclocking support, but your power phases will be less, and thus you won't be able to push your CPU as hard. Overall, X670E motherboards are the best positioned for those that want to upgrade, and for enthusiasts that want to build a high-end system.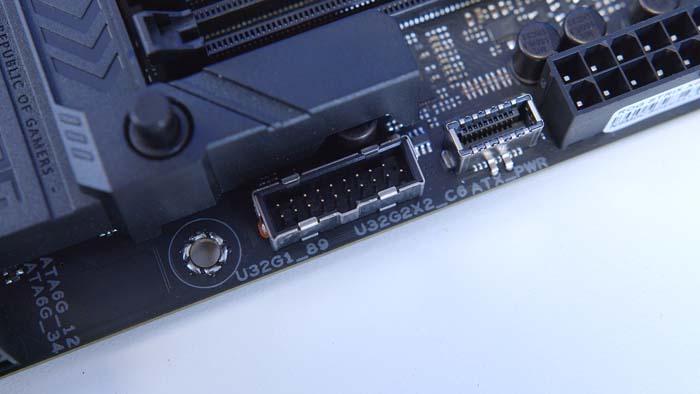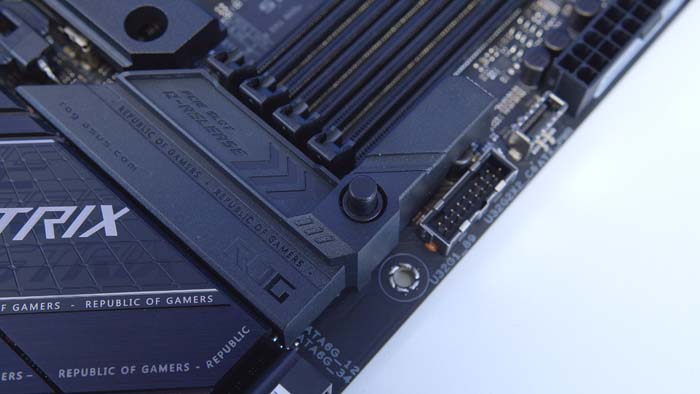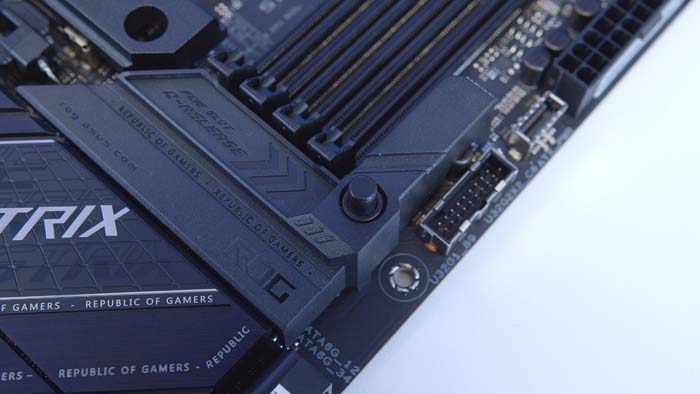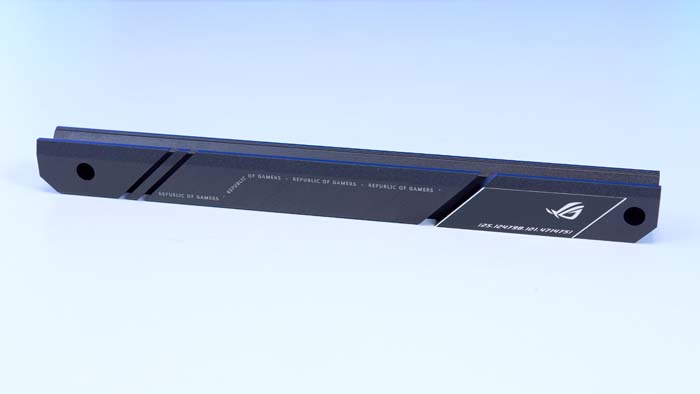 Differences Between Motherboard Chipsets
The table below highlights the key differences between a motherboard on the X670 chipset, versus the board in today's review. We've done this to provide some context on the kind of sacrifices you may be making when deciding on a chipset.
Features
ASUS ROG STRIX X670E-E Gaming WiFi
MSI Pro X670-P WiFi
CPU Overclocking Support
Yes
Yes
VRM Power Phases
18+2
14+2+1
PCI-E 5.0 Slots
2 x16 PCI-E 5.0 Slot
3 x4 PCI-E 5.0 Slots
1 x4 PCI-E 5.0 Slot
PCI-E 4.0 Slots
1 x4 PCI-E 4.0 Slot
2x x16 PCI-E 4.0 Slots
3x x4 PCI-E 4.0 Slots
USB Connections (Rear)
1x USB 3.2 Gen2x2 Type-C
2x USB 3.2 Gen2 Type-C
10x USB 3.2 Gen2
4x USB 3.2 Gen1
2x USB 3.2 Gen2
1x USB 3.2 Gen2 Type-C
1x USB 3.2 Gen2x2 Type-C
USB Connections (Front)
1x USB 3.2 Gen2x2 Type-C
2x USB 3.2 Gen1
1x USB 3.2 Gen2 Type-C
4x USB 3.2 Gen1
LAN Type
2.5 Gigabit LAN
2.5 Gigabit LAN
WiFi Module
WiFi 6E
WiFi 6E
Estimated MSRP
Check on Amazon
Check on Amazon
Comparison of Differences
To quickly break down the differences, you'll immediately notice a stark contrast between X670E and X670 motherboards. Power phases, PCI-E 5.0 slots, and USB ports have absolutely been maxed out on X670E motherboards, and I'm not surprised considering the price of these boards. X670 still holds up relatively well when it comes to USB ports with the inclusion of multiple USB 3.2 ports, but the ASUS ROG STRIX comes out on top when it comes to the number of these available.
PCI-E 5.0 connectivity for graphics cards are unfortunately locked behind the 'E' chipsets. The ROG STRIX board has 5 compatible slots, whereas the MSI X670 Pro only has one slot for an M.2 SSD. This is a restriction imposed by AMD, and not something the board partners can affect change with. ASUS have opted to offer no X670 non-'E' designs at present, presumably for this reason.
Overclocking is refreshingly similar between chipsets. Comparing both of these boards side-by-side, you're only getting three extra power phases on the higher-end ASUS design. This could be the difference in a 100MHz clock speed increase, or a better score on Cinebench, but the difference in mileage won't be huge.
ASUS ROG STRIX X670E-E Gaming WiFi Design & Aesthetics
There are mixed feelings within the GeekaWhat office around the design of this motherboard. Some of the team think that ASUS could have gone a little more 'bold' with their design choices on this board, bringing something a little more fitting of its top-end price point. Personally, I think it is an inoffensive, if a little plain, but looks good overall. The all-black colour scheme is stealthy in many ways, and very versatile in terms of matching up with your preferred build colour scheme.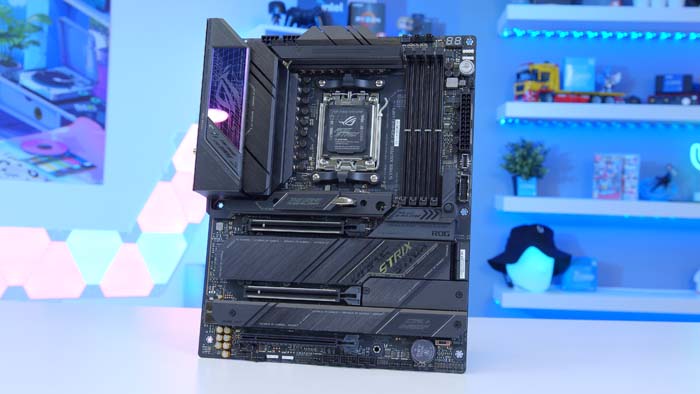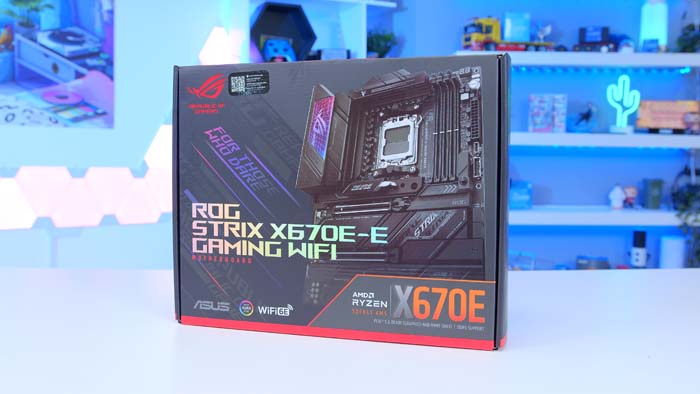 ASUS have covered the board in heatsinks which ultimately does improve thermal performance, but means you get less of the signature RGB designs that come with older ROG STRIX boards. The rear IO panel does have a nice bit of RGB that can be customised with AuraSync, but otherwise there isn't much fun to be had in terms of customisation.
Features
Now for the most important section – the features. As we've alluded to before, the X670E-E Gaming WiFi has been crammed with a tonne of features offering users plenty of usability to improve your building experience alongside loads of next-gen options that come with the new platform upgrade.
PCI-E 5.0 Slots
I was actually quite impressed with the number of PCI-E 5.0 compatible slots on this board. From the get-go you'll be able to see two PCI-E 5.0 ready x16 slots designed to house the latest GPUs. So if you plan on buying two Nvidia RTX 4090s, this board supports it. For those looking to pick up a brand new Gen5 SSD, you've also got access to two x4 slots for M.2 allowing you to make use of the blazing-fast speeds that come with the generational upgrade.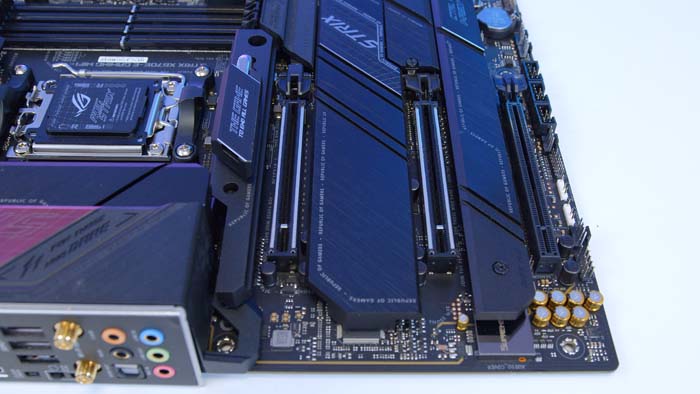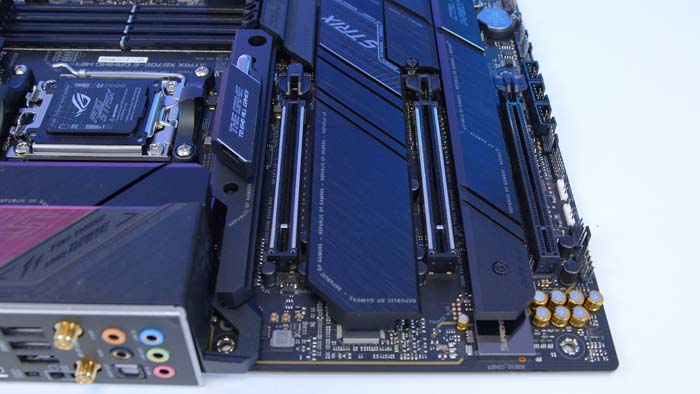 VRM Power Phases & Cooling
As the X670E chipset is designed to support the best overclocking possible, many of the new boards have an insane amount of VRMs, and this ROG STRIX option follows suit. You've got 18+2 power phases equipped to rapidly respond to changes while offering stability. The thermal design of the dual heatsink array provides ample surface area to handle the high power needs and thermal output of the VRMs, ensuring your motherboard is nice and cool.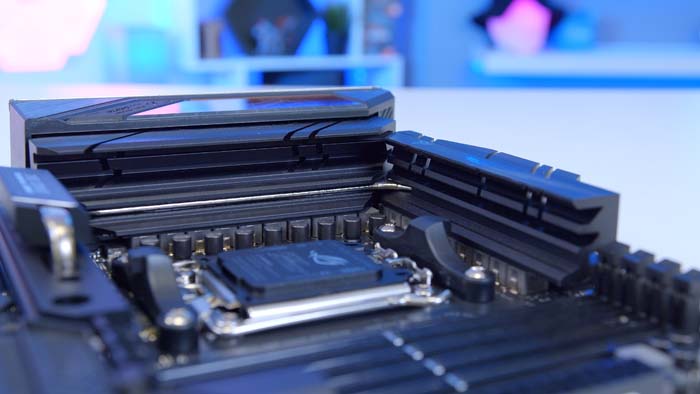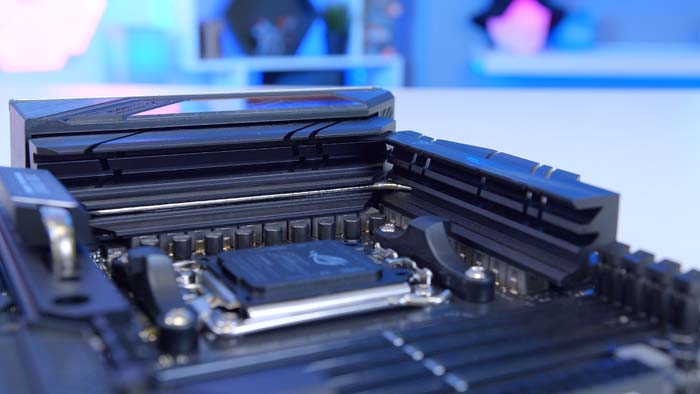 High Speed USB Ports
Unfortunately we aren't seeing any of the new USB4 ports on this motherboard, but what we are seeing is a gargantuan amount of rear and front IO allowing you to plug in as many peripherals and accessories as you desire. The rear IO houses 13 ports in total with all of them being USB 3.2 compatible. The front USB headers can also support up to nine ports in total with a few inclusions being compatible with USB 3.2 Gen2x2 and 3.2 Gen1. Overall, if you need USB ports, this should be your go-to board choice.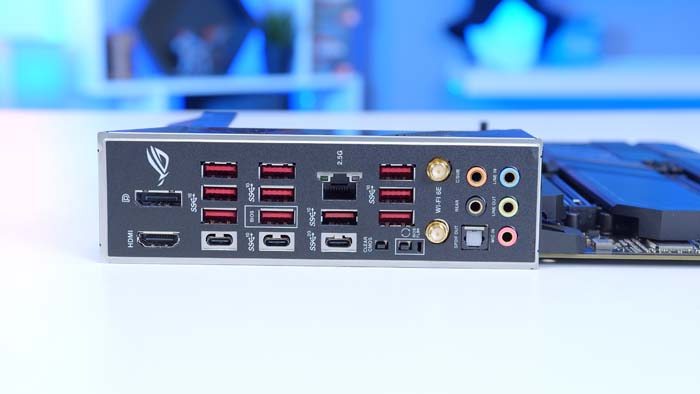 Usability and Troubleshooting
With any new platform, especially one as fresh as Ryzen 7000 architecturally, there can be a fair share of problems, but ASUS has made building with the ROG STRIX X670E-E board much easier. The main PCI-E slot houses a Q-Release latch that allows you to easily remove your GPU to save your cramming your fingers in between components. The M.2 slots also have a similar latch approach that fastens your SSDs in place with ease.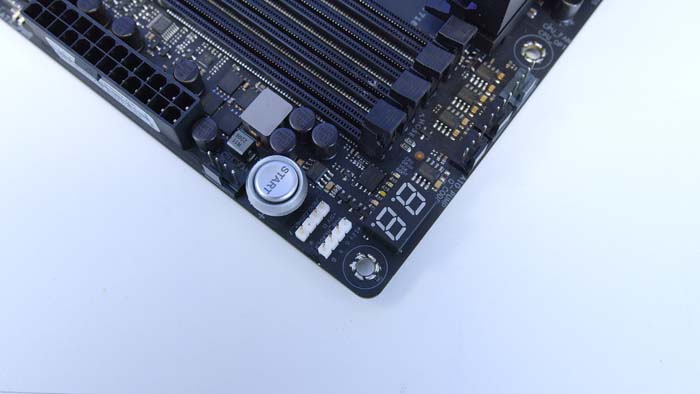 For diagnosis and troubleshooting, on the rear IO you can utilise the Clear CMOS and BIOS Flashback buttons to make any quick changes to your board. The included Q-Code LED also makes troubleshooting much easier when trying to figure out why your PC isn't booting.
What's In The Box?
All of the various top-end motherboards on the X670E chipset offer plenty of little extras in the box that make building your PC much easier, and can save you some money in the long run. We've listed all of the extra that come in the box below:
M.2 Q-Latch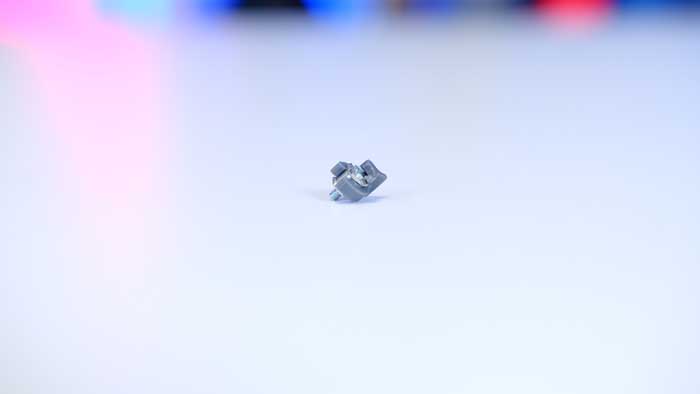 WiFi Antenna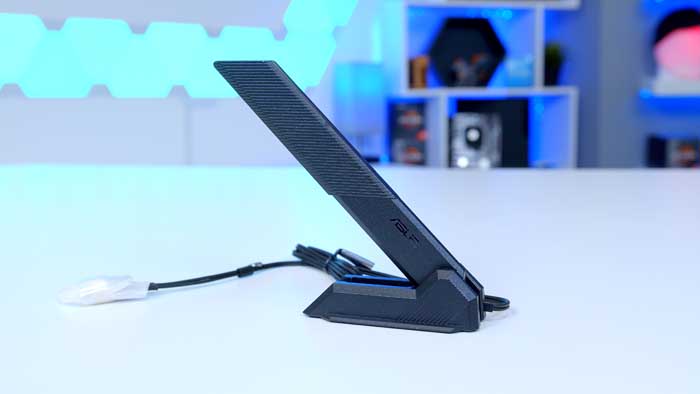 ROG GPU Holder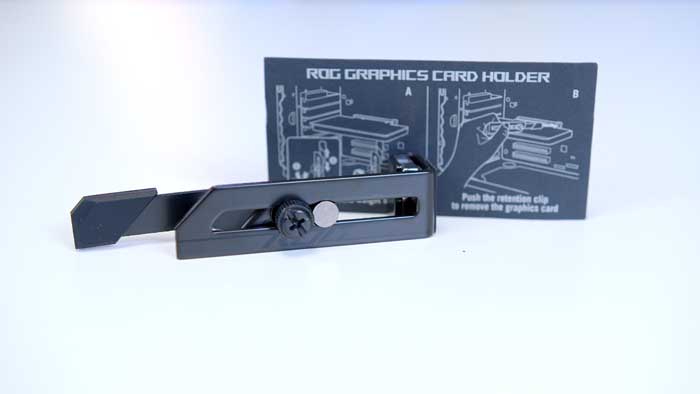 SATA Cables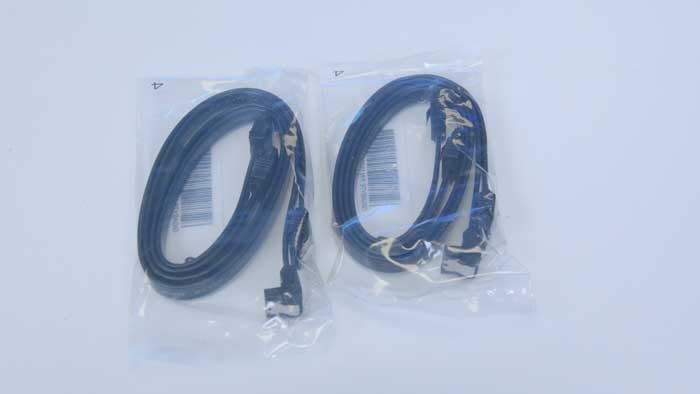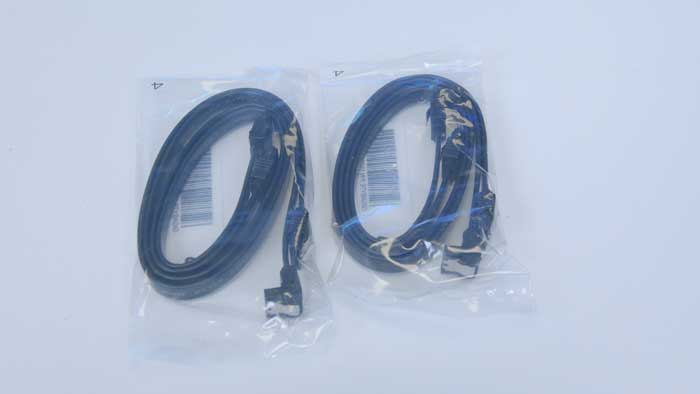 Cable Ties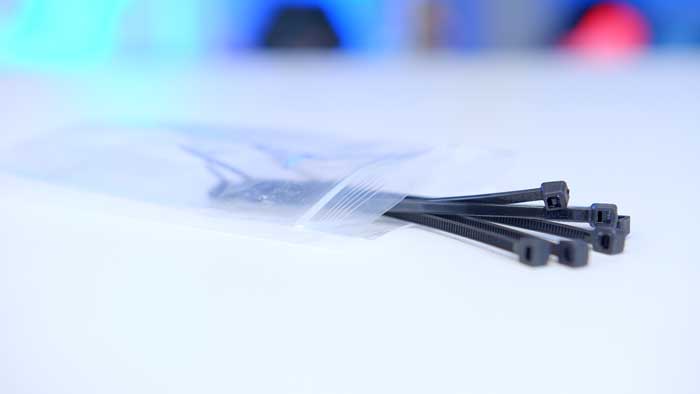 Compatible Processors
All of the brand new Ryzen 7000 CPUs aren't locked behind any particular chipset, so all of the options within the available range are compatible with all motherboards on the AM5 platform. However, as much as you could pair a Ryzen 5 7600X with this motherboard, we wouldn't recommend it. Getting the best value for money and performance out of your system involves choosing the right components for your build, so for this reason we'd recommend sticking to the Ryzen 9 range of CPUs and Ryzen 7, as these are the best performing CPUs that you can buy.
| | | |
| --- | --- | --- |
| CPU Name | Compatibility | Do We Recommend? |
| Ryzen 9 7950X | ✅ | ✅ |
| Ryzen 9 7900X | ✅ | ✅ |
| Ryzen 7 7800X? | ✅ | ✅ |
| Ryzen 7 7700X | ✅ | ✅ |
| Ryzen 5 7600X | ✅ | ❌ |
| Ryzen 5 7500? | ✅ | ❌ |
BIOS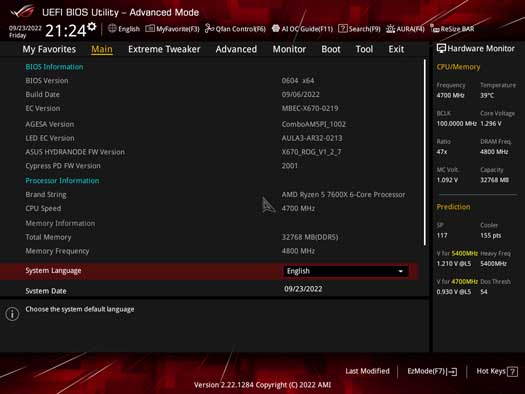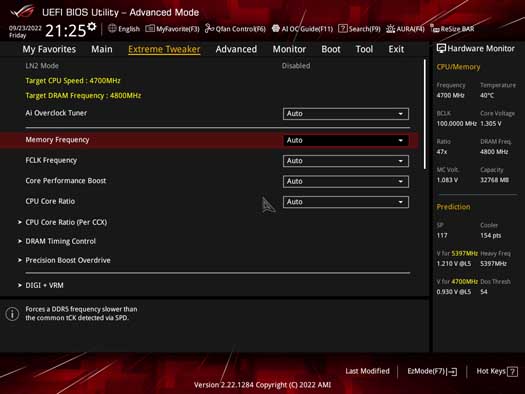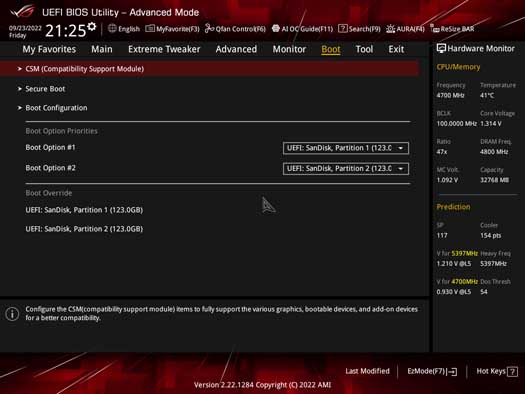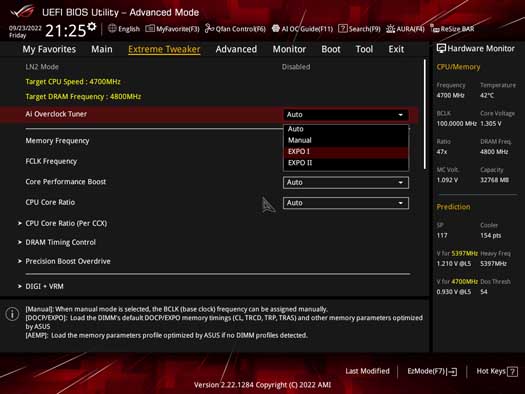 Conclusion
ASUS ROG STRIX X670E-E Gaming WiFi
Product Name: ROG STRIX X670E-E Gaming WiFi
Brand: ASUS
Features

Design

Performance

Value For Money
Summary
Despite the ASUS ROG STRIX X670E-E Gaming WiFi having a not-so catchy name, this board has caught my attention. Although the design of this motherboard isn't particularly impressive, I think ASUS' vast list of features that they've crammed into this board is awesome. Looking at the motherboard, I couldn't quite believe how many USB ports there were, and the utilisation of PCI-E 5.0 ports across the majority of this board is definitely a big selling point. However, I do have some major points of contention. First is of course the price. This motherboard is not cheap in any way shape or form, and we would only recommend it high-end enthusiast builds. This board is not needed for gaming and is definitely overkill. My second point is the overclocking capability. Although the 18+2 power phases is definitely great for overclocking, there are other motherboards coming in at a similar price that have better power phases and similar cooling capability. For a chipset that is 'designed' for extreme overclocking, I feel considering the price, this could be a little better. For substance over style, wide-ranging connectivity and ASUS' famed reliability, look no further than the STRIX X670-E.
Pros
✅ Plenty of PCI-E 5.0 support for GPUs and SSDs.
✅ Usability features make building much easier.
✅ Lots of heatsinks to keep components cool.
Cons
❌ Very expensive.
❌ Overall aesthetic is a little plain.
❌ More VRM power phases on other comparatively-priced options.