Introduction
Over the past decade or so, gaming laptops have established themselves as a staple part of the games industry. These devices offer PC gamers a way to play their favourite titles on the go without having to sacrifice too much in terms of gaming performance.
However, recent developments of PC gaming handhelds like the Steam Deck and ASUS ROG Ally has put gaming laptops in a position of jeopardy. As a result, modern gaming laptop manufacturers have had to put their best foot forward in order to assert their dominance as the best portable solution for gamers.
Suggested Article: Best RTX 4000 Gaming Laptops to Buy in 2023
ASUS ROG are a prime example of this, as they have released an abundance of high-end gaming laptops that offer gaming performance that can compete with some of the best gaming desktops. In this specific case, we'll be taking a closer look at the Zephyrus M16, which is a high-end laptop filled with a Core i9 processor and RTX 4080 GPU.
Buy the ASUS ROG Zephyrus M16 (2023) on:
Gaming Laptops – Best Portable Device for Gamers?
When it comes to gaming on the go, there has been somewhat of a resurgence in recent times. With handheld devices becoming powerful enough to play a myriad of titles with performance reminiscent of a traditional desktop, portable gaming has become a lot more accessible for PC gamers. Due to the decreased size and price point, handheld devices like the Steam Deck and the ASUS ROG Ally provide some much-needed variety and competition to the portable gaming market.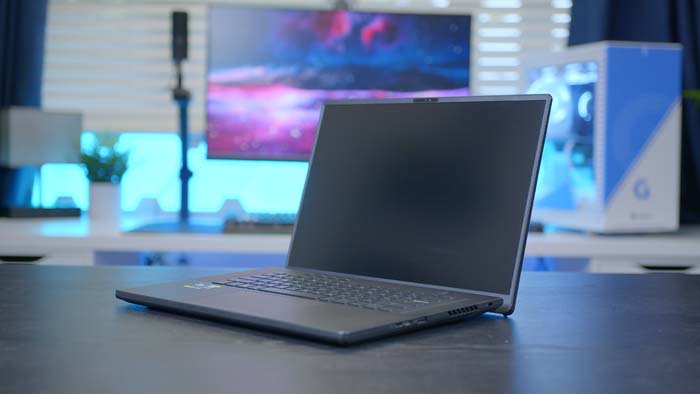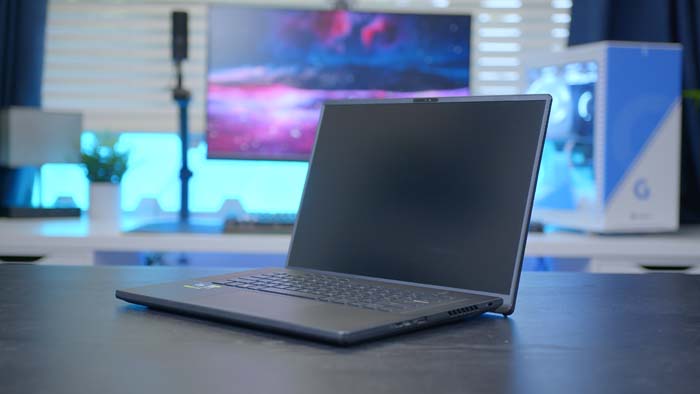 However, there are still a few reasons why gamers would want to pick up a gaming laptop instead of a handheld. First of all, most gaming laptops pack more of a punch than gaming handhelds, resulting in better performance and the ability to jump to higher resolutions. With most handhelds being restricted to 1080p and a max refresh rate of 120Hz, laptops are the better choice for those wanting premium visual fidelity or gaming performance.
Another benefit to a gaming laptop is the larger screen real-estate, allowing for a better FOV for a more immersive gaming experience. Instead of squinting to see the action or holding the screen of a handheld very close to your face, gamers can enjoy a moderately-size screen that doesn't take up too much luggage space. Plus, laptops can easily be plugged into an eternal display for a better image, without having to rely on a proprietary dock or connector.
Overall, both these devices have their advantages over one another, meaning each having a rightful place in the market. Whilst PC gaming handhelds will appeal to price conscious buyers or those looking for a secondary device to go alongside a desktop PC, gaming laptops are a better fit for gaming enthusiasts or anyone looking for a portable alternative to a traditional gaming PC.
Zephyrus M16 Design & Aesthetic
After going over the benefits and setbacks of a gaming laptop, it's time to take a closer look at the ASUS ROG Zephyrus M16. The particular model that was sent over to us is one of the higher-end models, which meant expectations were pretty high for this gaming laptop. In terms of design, the Zephyrus M16 boasts a very clean look all the way around, with the matte black finish being a constant presence.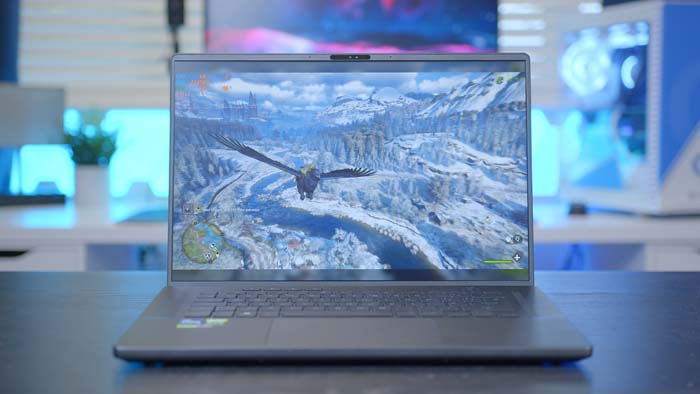 At first glance, the Zephyrus M16 looks fairly stealthy and simplistic. But the design quickly comes to life when powered on, as the AniMe Matrix LED display showcases custom animations behind the top panel. Whilst this is a nice touch, it does seem like a waste to put this feature in a place where most users won't be able to see it, but at least it will grab the attention of anyone around you! As for the interior, the Zephyrus M16 includes a large trackpad and spaced out chicklet keys to make gaming feel comfortable, despite the reduced form factor.
However, perhaps the best part of this laptop is the overall size and weight. Even though this laptop features a large 16″ screen, this design remains slim and lightweight compared to other gaming laptops. On top of this, the rounded shape helps to make this design look even smaller while keeping to the stealthy aesthetic. These elements combine to create a gaming laptop that looks and feels premium, whilst also boasting a design that will be suitable for most environments.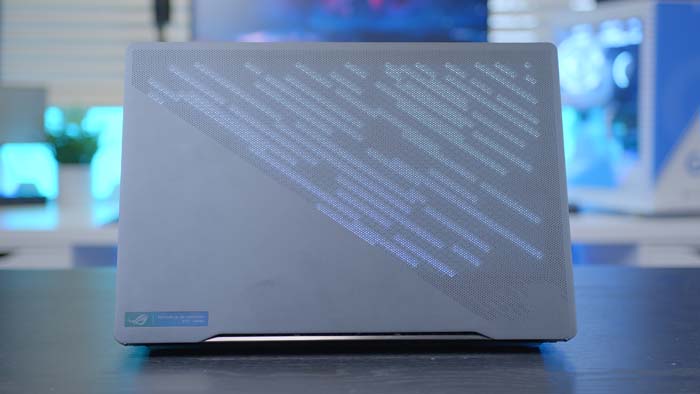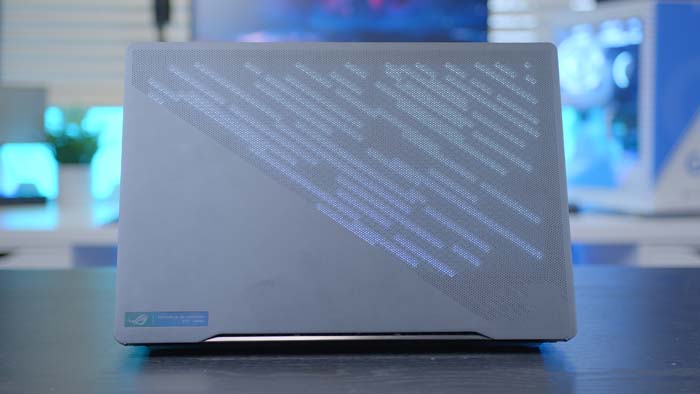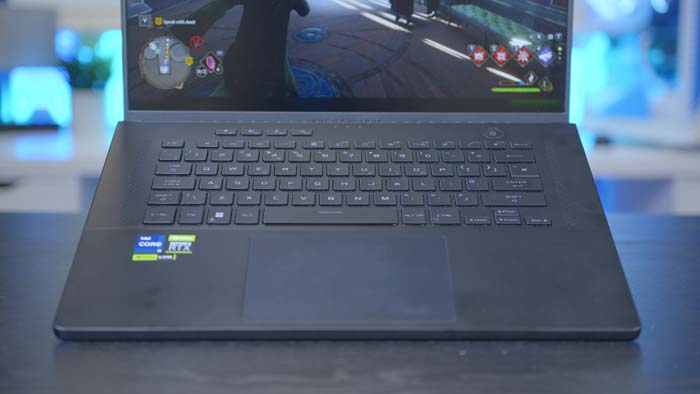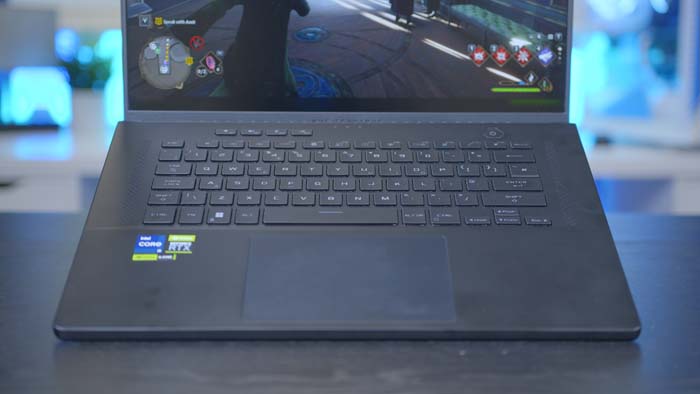 Zephyrus M16 Specs & Performance
Taking a look under the hood, the Zephyrus M16 is a powerful gaming laptop on paper. Packed with an Intel Core i9 processor and a RTX 4080 Laptop GPU, this combination should lead to competitive framerates at 1440p, allowing users to take full advantage of the 240Hz display. To support these components, the Zephyrus M16 comes equipped with 32GB of DDR5 memory, which should allow this device to remain quick and responsive during demanding workloads.
In terms of visual quality, the 16″ 1440p display utilises miniLEDs to create a bright and colourful image that holds up well against most 1440p gaming monitors. On top of this, the 240Hz refresh rate and 3ms response time gives this laptop all the tools needed to support elite gaming performance in a range of competitive titles. This results in one of the best balance of visuals and performance that gamers can ask for from a portable device, but will still be a noticeable downgrade from the high-end 4K gaming possible on PC builds of a similar price.
| Specifications | ASUS ROG Zephyrus M16 (2023) |
| --- | --- |
| CPU | Intel Core i9 13900H |
| Graphics Card | Nvidia GeForce RTX 4080 |
| RAM | 32GB DDR5 4800MHz |
| Storage | 1TB Gen4 NVMe SSD |
| IO Ports | 1x Thunderbolt4, 1x USB 3.2 Gen 2 Type-C, 2x USB 3.2 Gen 2, 1x HDMI 2.1, 1x 3.5mm Combo Audio Jack |
| Display | 16″ QHD 2560 x 1600 240Hz |
| WiFi | WiFi 6E |
| Operating System | Windows 11 |
| Battery | 90Wh |
When it comes to connectivity, this laptop includes Thunderbolt 4 with DisplayPort 1.4 and power delivery, along with USB-C with DisplayPort 1.4 and power delivery for multiple ways to connect to external displays. On top of this, the HDMI 2.1 and two USB 3.2 ports allow users to hook up to a TV and connect multiple wireless gaming peripherals at once. Finally, the 3.5mm audio jack is perfect for a wired gaming headset to block out any distractions while travelling, making this laptop well-equipped to support your gaming needs.
Zephyrus M16 Features
My initial thoughts on the Zephyrus M16 is that this gaming laptop certainly puts a focus on finding the ideal balance between portability and performance. And so far, it hasn't really put a foot wrong. However, as I started to put the Zephyrus M16 through its paces, some cracks started to appear. Here are a list of features that stood out during my time with the Zephyrus M16, followed by some that tainted the experience for myself and other members of the GeekaWhat team.
Features We Like
Built-in 240Hz 1440p Display
One of the best aspects of this laptop is the performance, which is why were happy to see a high-end display to match its power. As a 1440p display with a 240Hz refresh rate and a 3ms response time, Zephyrus M16 users won't have any issues when attempting to remain competitive in the most popular online multiplayers. On top of this, the QHD miniLED panel covers 100% of the DCI-P3 colour gamut, resulting in stellar colour accuracy for plenty of vibrancy when playing the biggest blockbuster titles.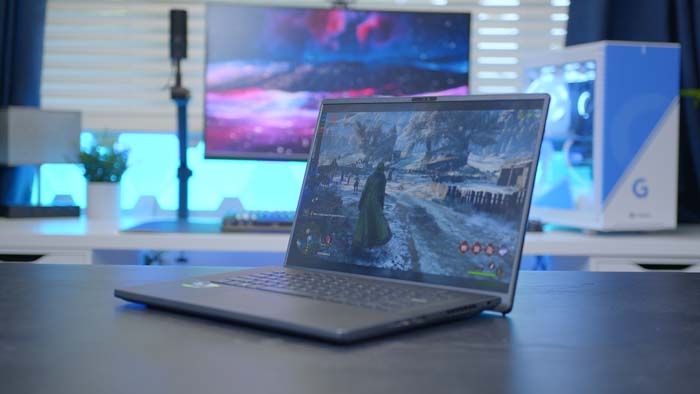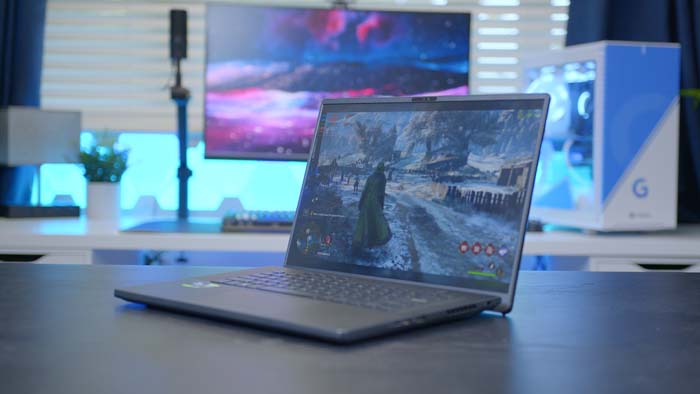 Lightweight & Comfortable Design
From the most important to the most surprising aspect of this laptop now, as the Zephyrus M16 is shockingly lightweight for such a powerful system. Compared to other high-end gaming laptops we've tried recently, the different in size and weight is night and day, as the Zephyrus M16 feels very easy to pick up and take with you. Additionally, there are plenty of design choices that make this laptop feel very comfortable. For example, the soft touch matte finish on the exterior feels comfy to carry around and the reasonable spacing between inputs makes it easy to avoid mistakes in the heat of the moment.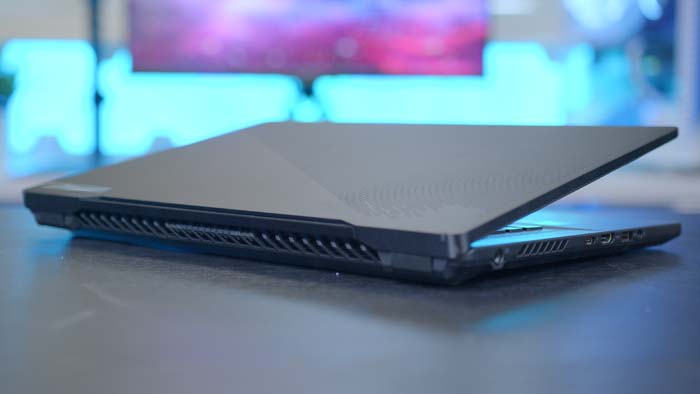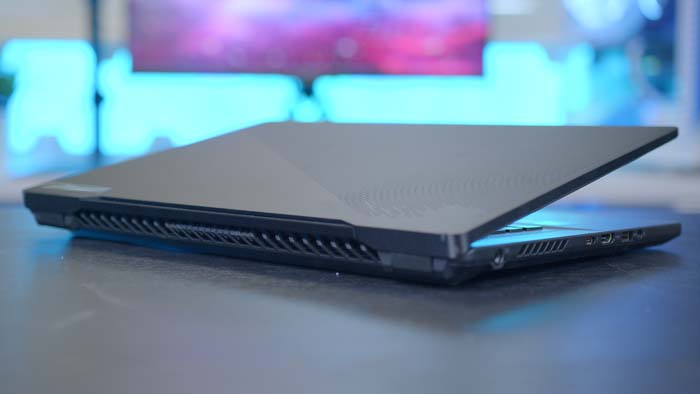 Rear IO & Connectivity
The final positive is the sheer amount of ways to connect external devices, which can be a great way to make the most of an otherwise restricted setup. With multiple methods to connect to larger displays, as well as plenty of room to hook up a gaming mouse and headset, the Zephyrus M16 has an extensive range of connections to optimise your portable gaming sessions. What makes it even better is that the Zephyrus M16 manages it all while maintaining a slim shape for easy transportation.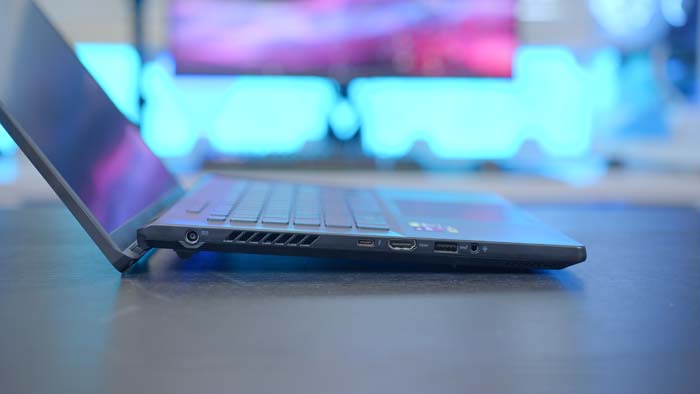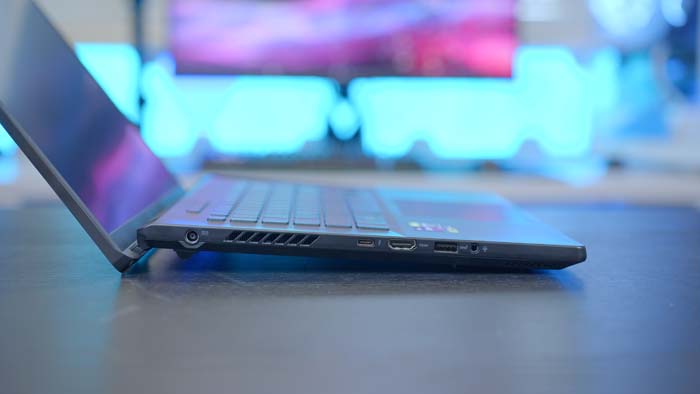 Features We Don't Like
ASUS Armoury Crate Software
Moving onto the negatives, which are mainly to do with the software pre-installed on this laptop. First of all, the ASUS Armoury Crate software isn't the most intuitive platform, so the heavy reliance on it for this device makes customisation more difficult than it needs to be. The plethora of settings and customisation options does put this software ahead of some lacklustre offerings from other manufacturers. However, the confusing layout and unnecessary add-ons makes the customising this laptop quite the challenge.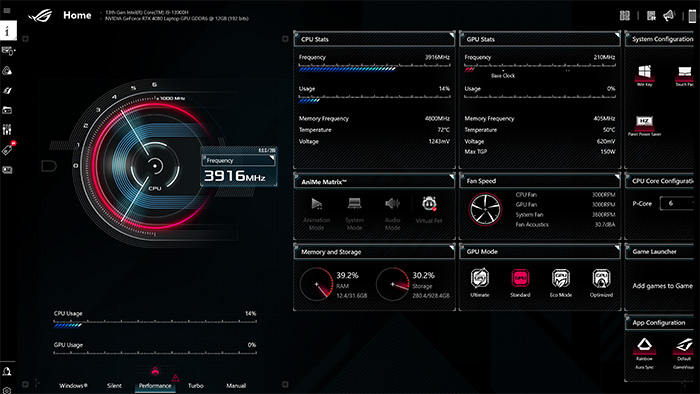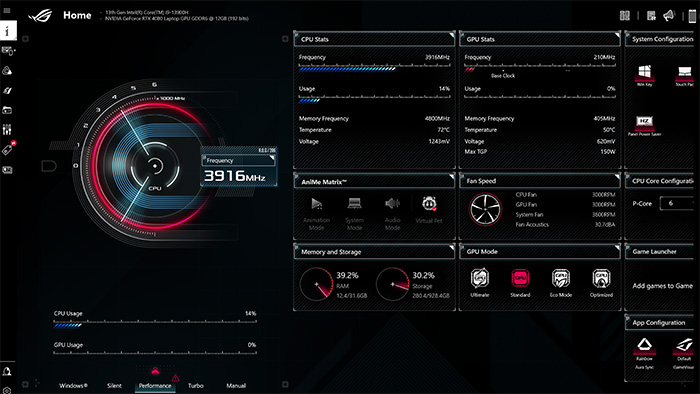 AniMe Matrix LEDs
Whilst the AniMe Matrix integration on this device is a fun gimmick that allows this monitor to stand out, it's not very useful for anyone actually using the Zephyrus M16. Considering this is one of the major selling points of this gaming laptop, it would be nice for some of the effects to be visible when the laptop is in use, possibly next to the trackpad or alongside the integrated speakers.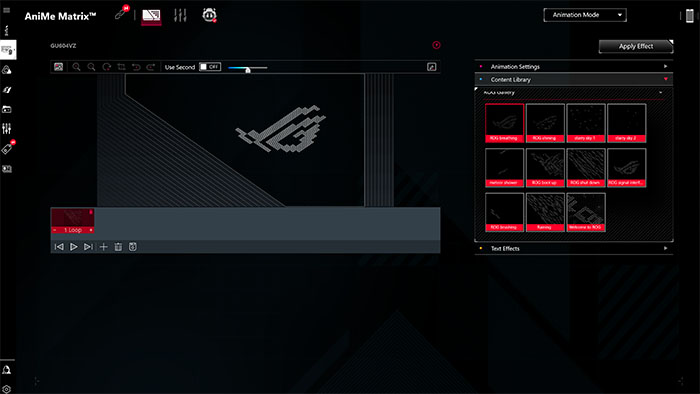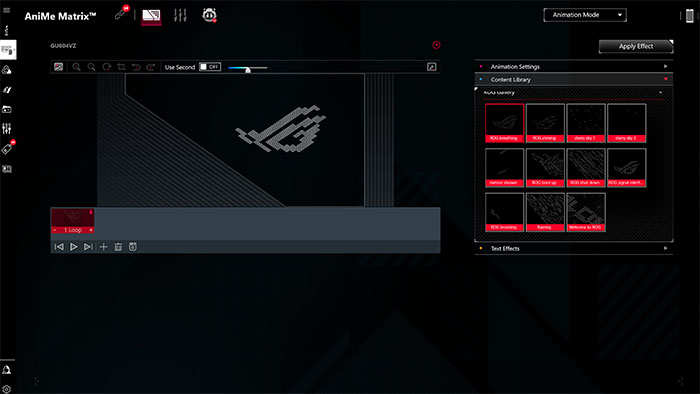 And that's before trying to get it to work properly, as we had to jump through a lot of hoops to get this feature to work as intended. This included re-installing Armoury Crate and following a support thread that detailed how to activate AniMe Matrix without experiencing more technical woes.
Gaming Benchmarks
Time for the all-important gaming benchmarks now, which will act as the determining factor as to whether the Zephyrus M16 is worth picking up for your next road trip. We tested this gaming laptop in a number of titles at 1440p high settings, including Bethesda's latest RPG, Starfield.
Starfield – 1440p High
Whilst the demands of Bethesda's latest triple-A blockbuster does come with performance limitations across the board, it does act as a great way of seeing how a system performs when pushed to its limits. In one of the busiest areas in the game, New Atlantis, performance would drastically vary depending on the events on-screen. But for the most part, framerates managed to stay above 50FPS, which is a significant boost compared to the 30FPS limit on Xbox consoles.
Apex Legends – 1440p High
In Apex Legends, the Zephyrus M16 was given a better chance to show what it could offer at 1440p high settings. This gaming laptop didn't disappoint, offering an average of 140FPS in the midst of battle, with performance dialling up towards the 200FPS in the quieter moments. This suggest that the Zephyrus M16 has the capacity to perform well in other competitive titles, even when visuals remain a high priority.
Fortnite – 1440p High & 1080p Competitive
We tested Fortnite in two different settings to see how this laptop would handle various settings for the same game. At 1440p high settings, the M16 struggled to offer the desired framerates to compete in this battle royale, with an average that sat just above the 60FPS mark. However, our benchmarking run at 1080p competitive settings was much more successful, providing plenty of moments where we were taking full advantage of the 240Hz display.
Alternatives
For those not fully convinced on the Zephyrus M16 and looking to find better luck elsewhere, here are a couple of gaming laptops that share a lot of similarities with this gaming laptops, but offer a few key distinctions that could make them the better choice for your daily needs.
ASUS ROG Strix Scar 17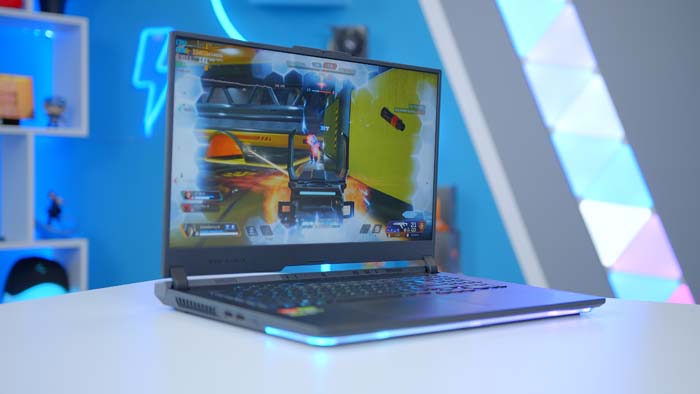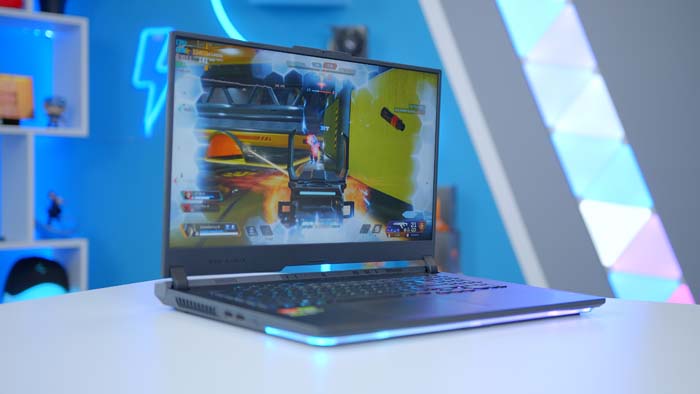 Our first alternative is one of ASUS ROG's very own, the STRIX Scar 17. This gaming laptop leans more into the gaming side of things, offering a substantial performance boost at the expense of portability. Equipped with an RTX 4090 and a Ryzen 9 processor, this design is top of its class when it comes to gaming performance. Plus, it comes with a distinct RGB light bar that you can see while the laptop is in use.
Buy the ASUS ROG Strix Scar 17 on:
Gigabyte AORUS 15 BSF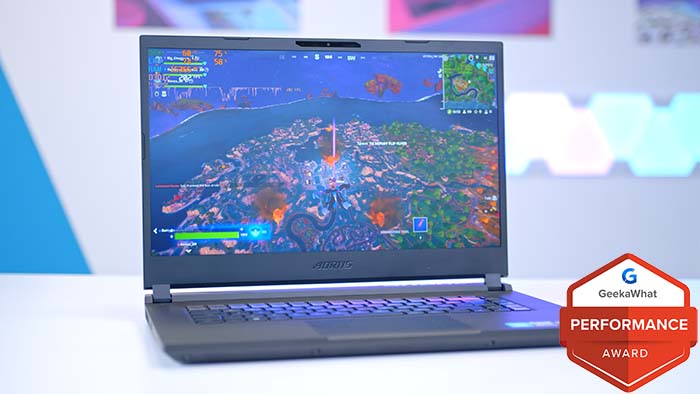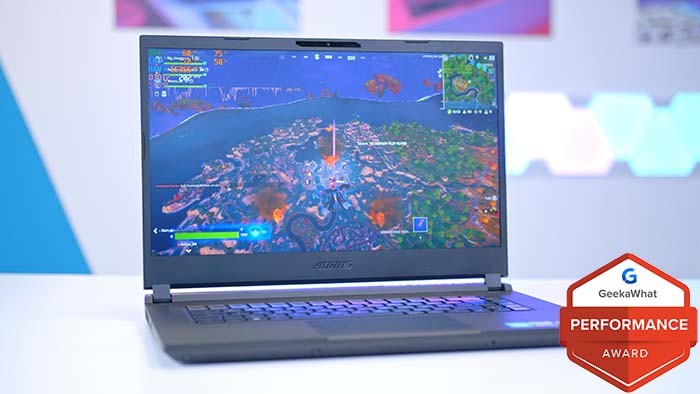 For anyone that wants to focus on portability, the Gigabyte AORUS 15 BSF is a compact gaming laptop that packs a punch. With a slightly smaller screen than the Zephyrus M16, this portable gaming solution is also slender and lightweight. Though this laptop lacks the power to keep up with the performance of the Zephyrus in most cases, the RTX 4070 still provides solid 1440p gameplay at a significantly lower price.
Buy the Gigabyte AORUS 15 BSF on:
Conclusion
ASUS ROG Zephyrus M16
Product Name: Zephyrus M16
Brand: ASUS
Features

Design

Performance

Value For Money
Summary
Overall, for every step the ASUS ROG Zephyrus M16 takes in the right direction, there seems to be another element holding it back. This is a solid design that provides one of the best combinations of performance and comfort we've seen in a gaming laptop. However, there are multiple key problems holding it back from being consider an elite solution for gaming on the go.
In terms of gaming performance, the Zephyrus M16 has no problems running a plethora of games at 1440p with ease, but it lacks the firepower needed to distinguish itself from the other high-end gaming laptops on the market. It's a similar story for the design, as the lightweight and compact nature, along with the stealthy appearance makes this laptop look like a tantalising prospect for gamers. However, the standout AniMe Matrix display seems like a wasted opportunity and the frustrations with the Armoury Crate software doesn't seem worth the hassle.
That being said, the main issue this gaming laptop has is pricing, as the Zephyrus M16 is competing with high-end options that provide better performance and more eye-catching design. Fortunately, its lightweight design and subtle aesthetic will be enough to entice an audience gamers, but I can't help but feel this design is a few tweaks away from greatness.
Pros
✅ Lightweight design.
✅ Performs well at 1440p.
✅ MiniLED panel looks great.
Cons
❌ AniMe Matrix seems like wasted potential.
❌ Software is difficult to control.
❌ Not great value for money.