Introduction
Over the past couple of years we've started to see a number of new compact Mini-Tower designs hit the market, revitalising the 'portable PC' space. These chassis' look to offer more space for modern graphics cards, offer ample airflow to ensure your PC doesn't turn into a portable oven, and are reshaping the way in which PCs are built.
Thermaltake is one of these manufacturers, offering a vast range of new cases that focus on airflow, internal space, but also versatility. We saw quite a few of these new options at Computex, and Thermaltake look to be one of the few brands actually shaking up the case market a fair bit.
In today's review, we're going to be taking a look at one of these cases in detail – The Tower 200. We've taken a look at the first revision quite a few times in the past, so we're looking forward to getting down to brass tacks with the second, and supposedly 'refined' version of this chassis.
Buy the Thermaltake Tower 200 on:
Suggested Article: Be Quiet! Shadow Base 800 FX Review – Expensive but Flashy!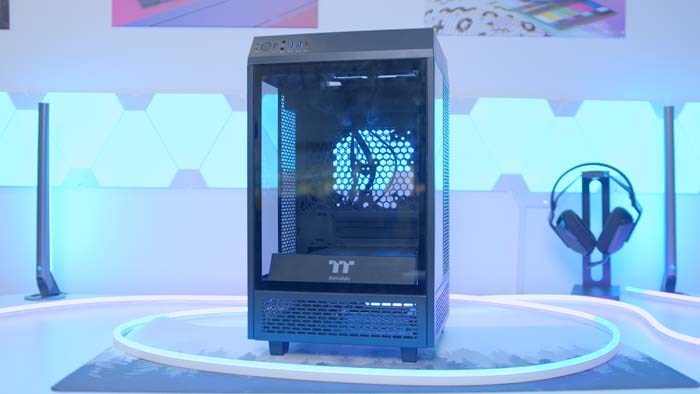 But more recently, Thermaltake have started to provide some pretty awesome cases that look to compete with other major brands. This means that there's more variety on the market when it comes to compact Mini Tower systems, but are they worth purchasing?
In today's market, if it fits your use-case, and you've got the money for it, Mini Towers are extremely compelling. We've taken a look at a number of compact systems within the past year or so, and these new options are pretty solid for those that need a compact system. There's been a major focus on airflow recently, with the majority of brands employing some sort of mesh design with their new cases, which means that even smaller PCs that have more components crammed together are thermally capable.
I'd say, if you're looking to secure a Mini Tower system, there are a number of great cases available right now, but I also wouldn't be surprised if we get some further improved options within the next year or so that address airflow and clearance issues. But it is worth keeping in mind that if you do end up building a compact PC, there's generally more of a learning curve when it comes to assembly, and these cases are normally more expensive than their ATX counterparts.
Thermaltake Tower 200 Design & Aesthetic
Upon opening the box of the Tower 200 box, you're greeted with a small, but relatively tall vertical tower, with a dedicated tempered glass panel at the front, and three perforated mesh panels that surround the sides and back too. The front glass panel which acts as a window into your build uses push-latches, so you can easily remove it by simply pushing the top of the panel and it should come out at an angle. The other panels are entirely tool-less as well which is a nice plus, saving you from screwing anything in. The top panel that covers the IO will have to be removed, but once this is taken off, all of the other panels come off very easily.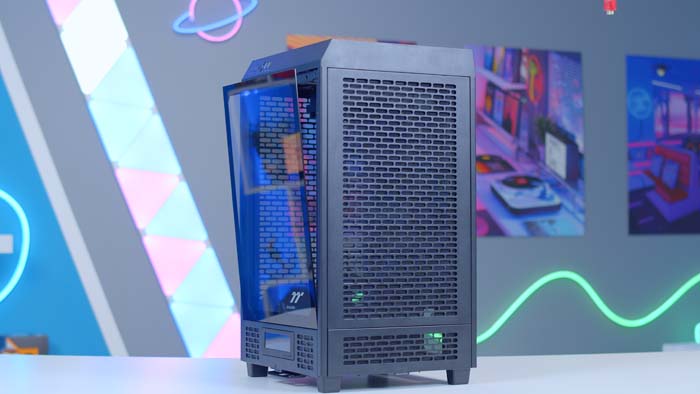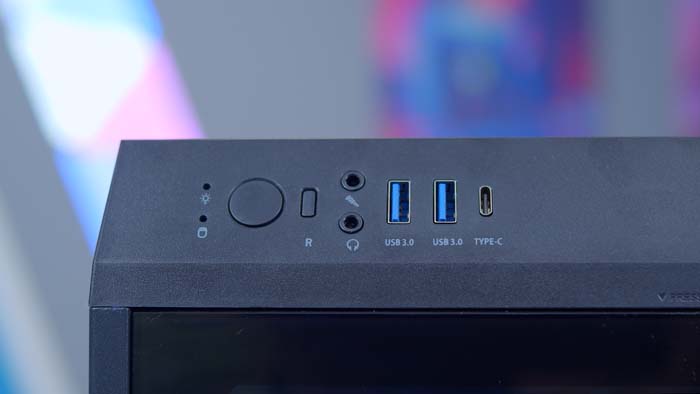 It is worth noting that Thermaltake have gone the extra mile when it comes to disassembly, as the majority of the case can be dismantled in some way, leaving you with a frame that will give you access to all of your individual components easily enough. Looking inside, you'll find two CT140 (140mm) fans mounted at the top and the rear of the case. Although we'd recommend a couple more fans, you'll get these when you purchase a cooler, so we don't have any issues with the fact that there are only two that come with the case.
I'm a big fan of the effort that has gone into ventilation and airflow here. Besides the glass panel at the front, pretty much the entirety of the Tower 200 is covered in some sort of ventilation, providing a number of ways to keep your system nice and cool. This tends to be a big problem for compact cases, with the majority of them sacrificing airflow in some way or another, so I've got to say I'm impressed.
I'm also a massive fan of all of the alternative colours of the Tower 200. This was one of the things I loved about the original Tower 100, so its great to see that Thermaltake have still maintained the awesome colourways, and provided an extra, which is the Matcha Green version. Overall, I think the Tower 200 is really robust when it comes to the design. There's clearly been some priorities put into the versatility department, but I think the bigger focus on airflow is excellent. This case is clearly developing on the weaker areas of the Tower 100, which shows that Thermaltake have really put some thought into this revision.
Features We Like
In this section, we'll be highlighting the major features of this case that we like. The Tower 200 is looking to be a pretty solid option, so there's plenty of great stuff to cover here. Following this, we'll also be taking a look at the features we're not a huge fan of too, giving you a full overview of the pros and cons of this chassis.
Tool-Less Dismantlable Design
One of the big focuses of this case is versatility, which I believe manufacturers deserve high praise for. Thermaltake have ensured that this entire chassis is dismantlable, down to just the metal frame. This allows you to easily access all of your components, making the building process much easier. The majority of this case also doesn't require the use of any tools either, which is great to see.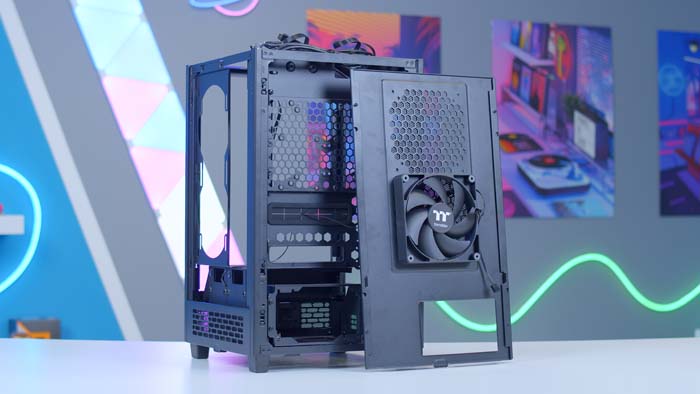 Supports a Full-Sized RTX 4090
Clearance tends to be a big problem with smaller compact cases, but Thermaltake have really maximised the internal space of the Tower 200. In terms of clearance, you've got a full 380mm accessible to you when the PSU cover is removed, allowing you to install the biggest RTX 4090. You've also got a fair bit of extra room for a radiator too!
Space for a 280mm Radiator
One of the big improvements versus the original revision is that instead of support for a 120mm AIO, consumers can install a whopping 280mm option. We were pretty impressed with this, because the Tower 200 has only gained about 3 inches in height, which isn't a lot in the grand scheme of things. The Tower 200 has clearly had some modifications to the internal spacing in order to accommodate a larger radiator, which goes to show how much they've improved this version.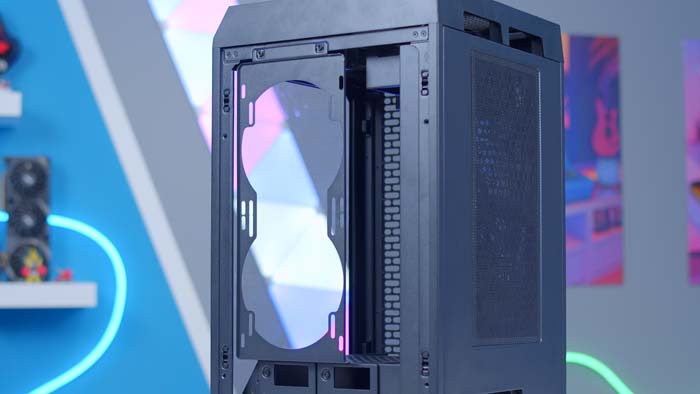 Features We Don't Like
LCD Panel Isn't Included
Towards the bottom of the Tower 200, you'll find a small plastic panel that can be replaced with an LCD display, but here's the catch – its not included with the case. I understand offering it as an additional accessory on a separate product page, but it feels a bit cheap to showcase the case with it, but not include it. Thermaltake were kind enough to send us the LCD panel kit with our Tower 200, but I would advise against picking one up.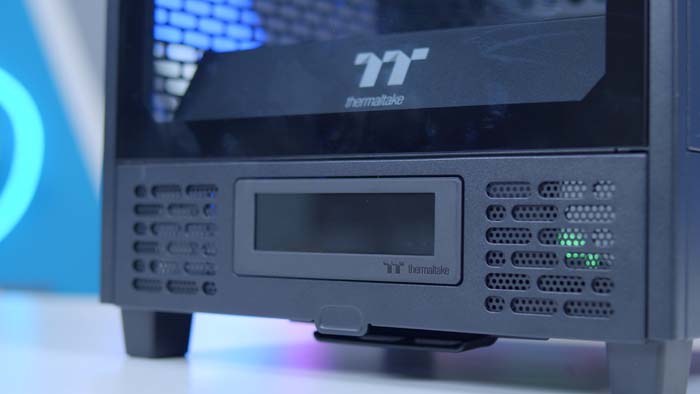 The kit comes in at about $100 dependent on the vendor you've chosen to buy it from, and the bonus is that you can display some information, or a GIF. This feels like a pretty cheap way to leverage cash out of the average consumer, and I'm not a fan of it. If you've bought the Tower 200, don't bother with the panel kit, its way too expensive.
GPU Bracket Doesn't Support Large Cards
The reason why we didn't mention the included GPU bracket earlier, is because we actually had to remove it when we filmed a build with this case. While I admire what Thermaltake have tried to do here, the execution of the bracket hasn't quite gone that well. When we were installing the ASUS TUF 4090 into the Tower 200, the back part of the GPU bracket was coming into contact with the bottom of the card.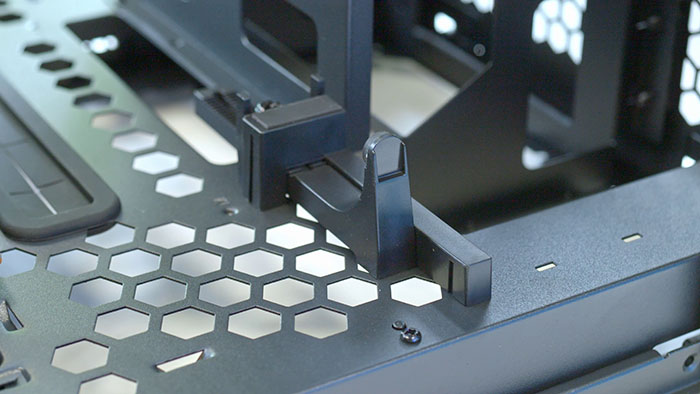 This meant that when we went to push the GPU down into the PCI-E slot, it wouldn't go all the way in, forcing us to remove it. This does seem like a bit of a design oversight which is unfortunate, but we also think this is down to the fact that the new top-end GPUs are just massive. If the bracket was mounted slightly further back and extended a bit more, this would probably fix the issue. Regardless, if you're installing a big GPU in this case, you may find yourself having to remove the bracket to get your card installed in the first place.
Conclusion
Thermaltake The Tower 200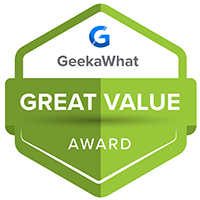 Product Name: The Tower 200
Brand: Thermaltake
Features

Design

Versatility

Value For Money
Summary
Thermaltake's Tower 200 is a one of a kind Mini Tower case that has successfully developed upon the original features of the Tower 100, which is the first revision of this chassis. This case massively focuses on airflow, providing much more ventilation and mesh, designed to keep your system nice and cool. The Tower 200 is also extremely versatile in its design, making the building process much simpler by maximising tool-less parts, and minimising the amount of stuff that you'll need to screw in. Thermaltake have clearly listened to the concerns and criticisms the the original model faced, resulting in a stronger chassis that has very little competition. It also comes in at a very reasonable price tag too, which is pretty impressive.
While I do love this case, it is worth noting that the LCD panel kit does not come included at all and is not worth buying, unless you've got $100 extra to shell out for a glorified hardware monitor. And on top of this, the included GPU bracket, while it could be useful, does fall a bit short on execution with larger graphics cards. But despite these more minimal criticisms, I have to commend Thermaltake on their design team here, as this case is top notch, and is well worth considering if you're building a compact Mini-ITX system.
Pros
✅ Comes in at a very reasonable price point.
✅ Massive focus on versatility and airflow.
✅ Supports large graphics cards and 280mm radiators.
Cons
❌ LCD panel kit is not included with the case.
❌ GPU bracket doesn't seem to support larger cards.
❌ Compares to ATX options in terms of height.