Introduction
For gamers that are constantly travelling and moving from one place to the other, it can be hard to justify spending thousands of dollars on a desktop gaming PC. Luckily, there are a few alternatives ways to play your favourite titles while on the move. Whilst portable consoles and gaming PC handhelds like the Steam Deck are slowly catching up to the performance demands of PC gamers, laptops are still the closest you'll get to a desktop gaming experience.
Like any piece of gaming hardware, there are a range of gaming laptops on the market, all of which vary in the amount performance and functionality they offer to consumers. But with so many options available, which gaming laptops will provide the best performance in all the latest games? And what key features are required to give you the ultimate portable gaming experience?
Suggested Article: Best RTX Gaming Laptops to Buy in 2023
One gaming laptop looking to act as the simple solution is the ASUS ROG STRIX Scar 17, an incredibly powerful option filled with the latest hardware, including an Nvidia GeForce RTX 4090 Laptop GPU and an AMD Ryzen 9 7945HX processor. In this review, we'll be looking at the design, specs, features, and performance of this high-end RTX 4000 series gaming laptop to see whether it is worth considering over a traditional desktop.
Buy the ASUS ROG STRIX Scar 17 on:
Are Gaming Laptops Worth It?
As mentioned in the introduction, gaming laptops are the best performing portable gaming devices by quite some margin, being the only solution that really comes close to the performance of a desktop gaming PC. However, this doesn't automatically make them the best option for gamers on the go, as there are multiple factors that work against gaming laptops.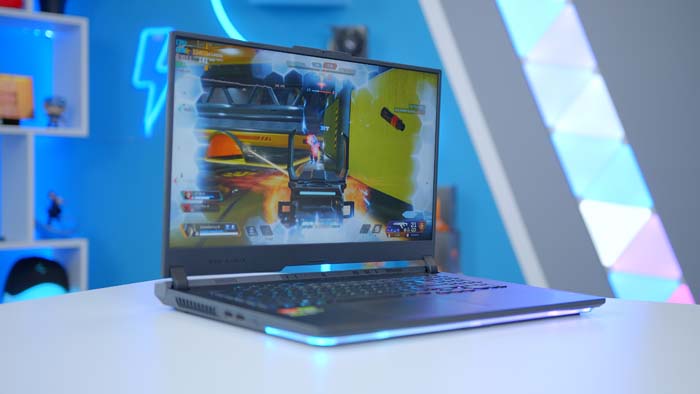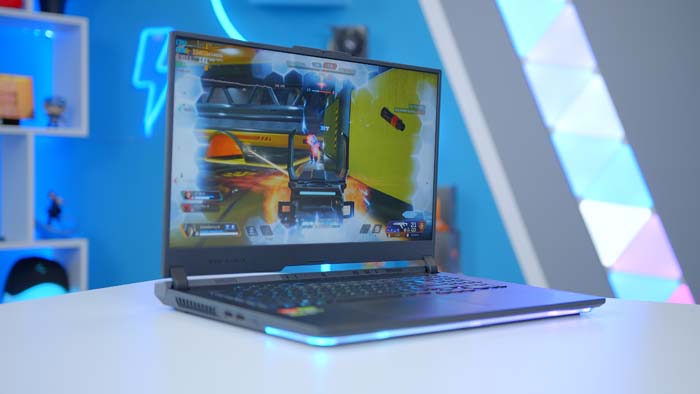 The most obvious downfall is the pricing, as they can be very expensive. For gamers that are less interested in framerates and high-end performance, it doesn't make sense to pay so much for a gaming laptop when gaming handhelds can be picked up for a fraction of the price. Another weakness is the sheer size of most gaming laptops, which seems quite counterproductive. Whilst these designs are still small enough to be considered portable, handheld devices will be much easier to fit into a backpack or pocket.
Therefore, PC gamers looking to replace their desktop for a more portable solution should definitely consider a gaming laptop, as there are plenty of options that can replicate the performance of a gaming PC. However, the steep price tags and restricted portability makes them less than ideal as a secondary gaming device. In this case, gamers are better off picking up a gaming handheld such as the Steam Deck or ROG Ally.
ASUS ROG STRIX Scar 17 Design & Aesthetic
If the idea of a gaming laptop is appealing to you, then allow us to introduce the ASUS ROG STRIX Scar 17, a premium gaming laptop that aims to provide a luxurious gaming experience at anytime, anywhere. As soon as this laptop arrived at the GeekaWhat offices, the first thing that stood out was the size. Thanks to a 17″ display and lots of cooling, this is an absolute behemoth of a design!
As a result, it was no surprise to found out this laptop is rather bulky and heavy. Weighing in at 3Kg, you can definitely feel the heftiness of this laptop when lifting it up and carrying it around. But on the bright side, it's an easy way to keep up with weight training! However, this additional bulk is somewhat excepted on a high-end gaming laptop, so long as it has the features and performance to back it up.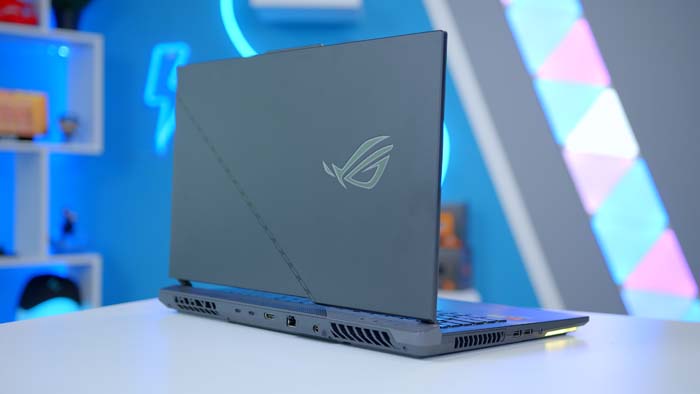 In terms of visual appeal, ASUS have done well to hide the Scar 17's bulkier form factor with some strategically placed detailing throughout the design. For example, the display is much thinner than the base, which makes it much easier to open up. Along with covering the chunky speakers and cooling system at the back of the design, the hinges provide plenty of support to the display, keeping it sturdy and durable.
This sturdiness continues onto the inside, where the chicklet-style full-sized keyboard and trackpad reside. Both the keyboard and trackpad feel comfortable and sturdy, with plenty of spacing to keep the users from pressing the wrong keys or feeling cramped when using the trackpad to navigate. On top of this, the keys are all individually backlit, giving users millions of plenty of ways to customise their setup.
As for the overall look, most of the design sticks to a matte black finish, with hints of RGB and ASUS ROG insignia scattered throughout. However, the most eye-catching aspect is the RGB lightbar underneath the front of the keyboard, which adds a vibrant glow to the base and helps create the illusion of this laptop being less bulky than it really is.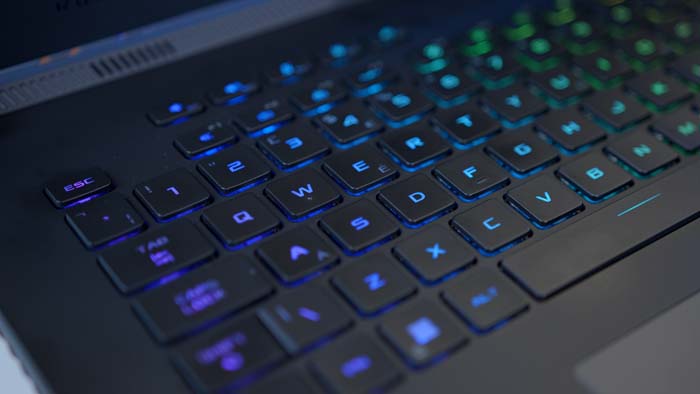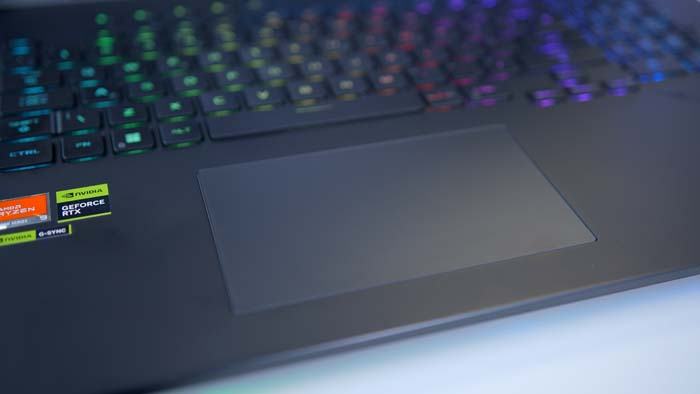 ASUS ROG STRIX Scar 17 Specs
Whilst the design of this system shows gamers that this laptop means business, the performance specs are what makes this system stand out from the competition. The ROG STRIX Scar 17 comes in multiple variations, with the 2023 models being based around either a RTX 4080 or RTX 4090 graphics card. In addition, the RAM capacity seems to also vary between 16GB, 32GB, 64GB of DDR5 memory.
The laptop we received included a RTX 4090 with 32GB RAM, putting it towards the higher-end of the performance scale. Because of this, we went into the benchmarking with high hopes, eager to see what the Scar 17 could do at 1440p. To support such a powerful pairing, this gaming laptop includes a Ryzen 9 7945HX, which is one of the best processors on the market for portable systems. This means the ROG STRIX Scar 17 is well-equipped to run demanding productivity-related tasks alongside its strong gaming performance.
Key Specs
ASUS ROG STRIX Scar 17
CPU
AMD Ryzen 9 7945HX
Graphics Card
NVIDIA GeForce RTX 4090
RAM
32GB DDR5 4800MHz
Storage
2TB Gen4 NVMe SSD
IO Ports
Left Side: 2x USB 3.2 Gen1, 3.5mm Audio Combo Jack
Rear Side: USB 3.2 Gen 2 Type-C support DisplayPort, USB 3.2 Gen 2 Type-C, HDMI 2.1, 2.5Gb Ethernet, DC in
Display
WQHD 2560×1440 240Hz
WiFi
WiFi 6E
Operating System
Windows 11
Battery
90Wh
ASUS ROG STRIX Scar 17 specs (Based on sample model, specs may vary.)
When it comes to general usage, the 90Wh battery life should let this laptop last for a few hours of gaming on a full charge, with the USB-C charging bringing it back up to 50% in 30 minutes. As for operating software, this laptop comes with Windows 11 enabled out of the box,
Overall, the specs included on this gaming laptop are pretty outstanding. Hopefully, this will lead to some stellar gaming performance at 1440p that is much better than what you can find on PC gaming handhelds, whilst putting it close to the performance of mid-range gaming PCs.
Features
The design and specs suggest the ASUS ROG STRIX Scar 17 is a worthy candidate for gamers wanting a luxurious portable device. But in order to reach these heights, this laptop needs to includes some impressive selling points. Here are a few of the key features we thought were taking note of.
1440p 240Hz Display
When it comes to gaming laptops, the screen plays a big role in dictating the performance. Luckily, the Scar 17 utilises a 240Hz 1440p IPS display, which allows the GPU and CPU to stretch their legs in competitive titles while offering a bump in visual fidelity. Due to the smaller screen on laptops compared to the standard gaming monitor, 4K displays are often considered overkill, as 1440p should provide a sharp and vibrant image that lets gamers see all the important on-screen details with ease.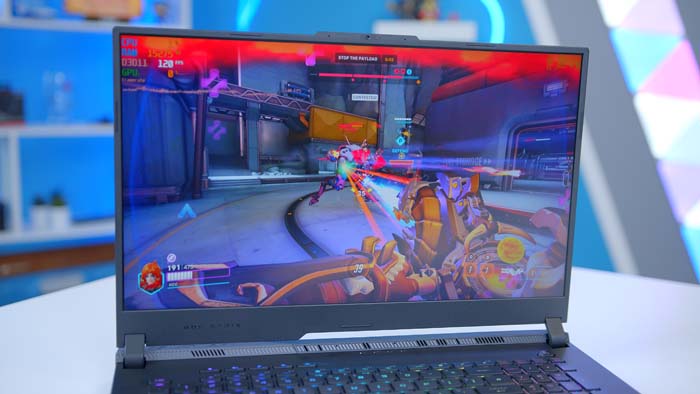 RGB Lightbar
As mentioned earlier, the most striking part of this laptop's design comes from the RGB lightbar located underneath the trackpad. When using the Scar 17, this lightbar provides a soothing radiant glow around the base, a small touch that will be appreciated by RGB lovers. This lighting is also fully customisable in the ASUS Aura Sync software, alongside the keyboard, allowing you to alter the lighting to suit your environment or personal taste.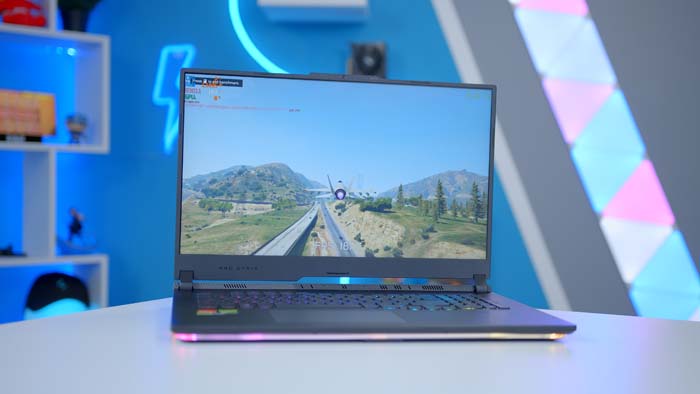 ROG Intelligent Cooling
One of the biggest concerns with gaming laptops often revolves around cooling, as they can have a tendency to run hot and overheat. This can often lead to performance limitations, and in the worst cases, result in long-term damage. To combat this, ASUS have equipped the ROG STRIX Scar 17 with an elaborate cooling system. Featuring Thermal Grizzly's conductonaut metal liquid and 4 exhaust fans, ASUS claim this cooling system should keep the GPU and CPU up to 15 degrees cooler.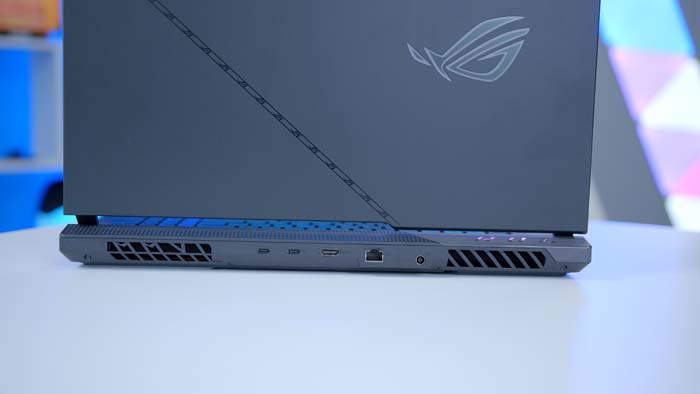 But during our testing, this cooling solution didn't seem to have much of an effect on the temperatures, as the ROG STRIX Scar 17 exuded a lot of heat when running the latest titles.
Armoury Crate Software
When it comes to customisation, the ASUS Armoury Crate software allows Scar 17 users to monitor and adjust numerous performance and design settings. The performance monitoring is rather detailed, allowing you to track usage and speeds of each component, along with a couple of other key stats. In addition, the pre-set profiles makes it easier for gamers with less technical to tweak the performance of this gaming laptop to suit their specific use-case.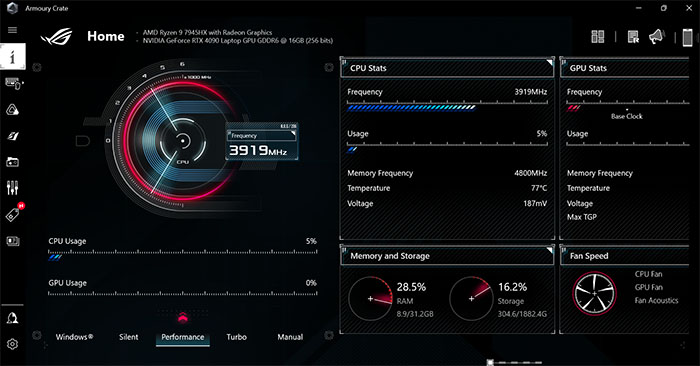 As for the changes to aesthetics, Amoury Crate includes an extensive list of RGB lighting effects, along with ways to adjust the display and add a custom wallpaper. Some other nice inclusions include a games library that lets you access all of your games in one place, as well as the ability to record macros for the integrated keyboard.
Ports & Connectivity
In terms of connectivity, this laptop offers numerous ways to hook up your favourite gaming peripherals, as well as expand the screen real-estate with an external display. With two USB ports and a 3.5mm audio on the left-hand side, users have enough ports to connect a gaming mouse, keyboard, and headset simultaneously. On top of this, the back of the laptop includes two USB-C ports, a HDMI 2.1 port, and 2.5Gb LAN, all of which can be used to link this laptop to external displays, apart from the 2.5Gb which is used to provide a more stable internet connection.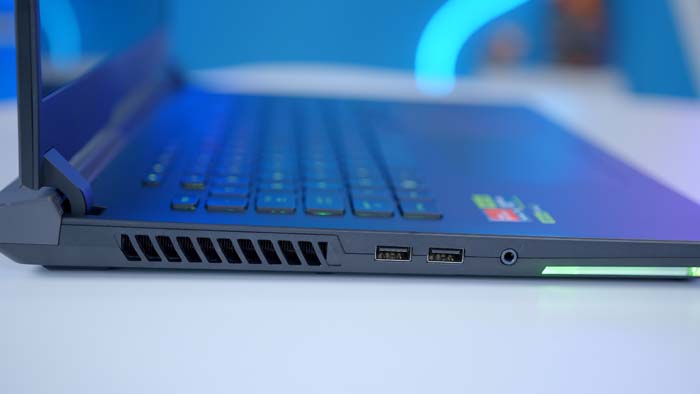 Gaming Performance Benchmarks
Time for the moment you've all been waiting for, the gaming benchmarks! To test the gaming performance of the ROG STRIX Scar 17, we tested it at 1440p in a number of titles, including Apex Legends, Hogwarts Legacy, and Fortnite. All of our gaming benchmarks for the ASUS ROG STRIX Scar 17, along with other PC components and builds can be found on our dedicated testing YouTube channel – Benched!
Apex Legends
Starting off with Apex Legends, where we tested the Scar 17 at 1440p high settings. On the whole, the performance was very impressive, averaging around 165 frames-per-second throughout our testing. In some instances, this laptop managed to hit framerates above 200FPS. This will be more than enough for users to enjoy an smooth experience on this popular battle royale, offering the performance needed to compete with most desktop PCs.
Hogwarts Legacy
Unsurprisingly, the framerates at 1440p took a dip when moving over to Hogwarts Legacy. However, with DLSS on and frame generation disabled, the Scar 17 was frequently in and around the 100FPS mark. During more demanding sections, performance averaged out at 80 to 85FPS, with one or two frame drops. For such a demanding title, this level of performance is enough to provide an immersive experience when running around the grounds of Hogwarts.
Fortnite
Last but not least, we have one of the most popular competitive titles on the planet, Fortnite. For this title, we decided to conduct two tests, one at 1080p with a focus on performance and one at 1440p with higher visual fidelity.
At 1440p, the performance was fairly inconsistent, with frames dropping on multiple occasions. On average, this laptop maintained around 80FPS during our run, which isn't really enough to provide the levels needed to compete in this titles. Because of this, dropping down to 1080p for this title will be the better option.
In the more traditional 1080p competitive settings, the ROG STRIX Scar 17 provided exceptional gaming performance, allowing us to take full advantage of its 240Hz display. With an average framerate of around 250FPS, gameplay felt incredibly responsive and consistent. Therefore, this gaming laptop will let you compete at a professional level whilst on your travels.
Alternative Choice
Gigabyte AORUS 15 BSF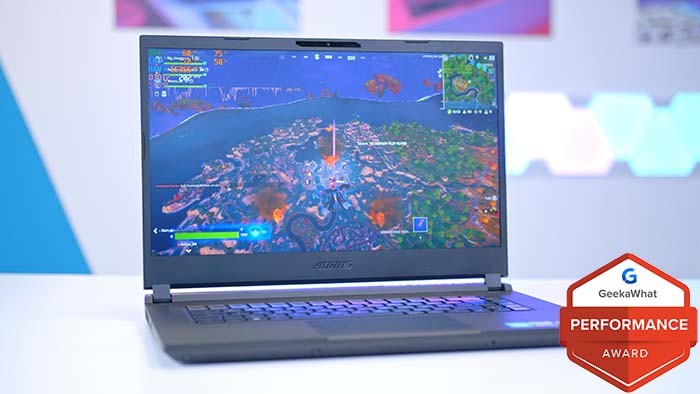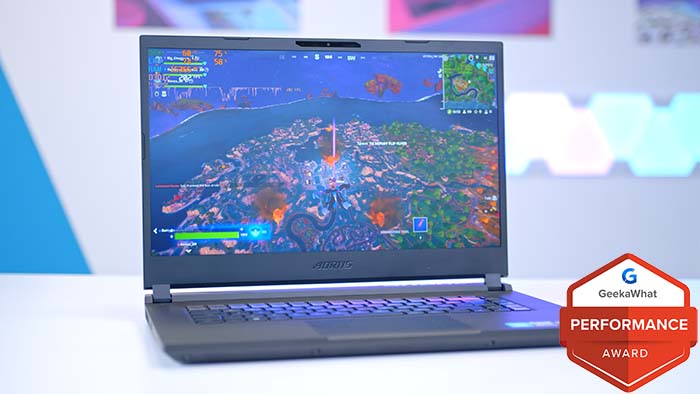 If the ASUS ROG STRIX Scar 17 sounds intriguing, but has one or two aspects that don't match your criteria for a gaming laptop, then the Gigabyte AORUS 15 BSF could be the ideal alternative. With a slightly smaller 15″ display and a thinner body, this laptop is more compact than the Scar 17, making it a better choice for those with limited space in their bag. On top of this, the AORUS 15 BSF is significantly cheaper sue to its being filled with less powerful components such as an RTX 4070.
Despite the significant difference in price point, this laptop still manages to perform well at 1440p, offering an output that would give the more powerful Scar 17 a run for its money. Because of this, we gave the AORUS 15 BSF a GeekaWhat performance award when we covered it in our review.
Buy the Gigabyte AORUS 15 BSF on:
Conclusion
ASUS ROG STRIX Scar 17
Product Name: ROG STRIX Scar 17
Brand: ASUS
Features

Design

Performance

Value For Money
Summary
When it comes to performance, those looking for the best portable gaming experience possible while travelling should look no further than the ASUS ROG STRIX Scar 17, as it is simply one of the best options available. The combination of a RTX 4090 GPU and Ryzen 9 processor leads to exceptional gaming performance at 1440p in a range of titles, putting this laptop in a position to compete with mid-range and high-end gaming desktops. The 240Hz 1440p display is a significant level up from most gaming handhelds and laptops, which means gamers are less restricted in the way they play, especially in competitive titles.  
There are a few weak-spots that could be improved, but most of these issues can be considered a disadvantage of gaming laptops as a whole, making it hard to say this design should take all of the blame. For example, the Scar 17 runs very hot, making venerable to overheating. However, cooling is a common problem that plagues most gaming laptops due to their limited space for powerful components.
Design-wise, the bulkier size could cause issues when carrying this laptop around with you, but it's not too ridiculous for a gaming-oriented design. The design choices help cover the larger design when in use while providing a system that looks and feels premium. The chicklet style keyboard feels fairly tactile and the RGB lightbar adds a nice glow to the base of the design.
On the whole, the ASUS ROG STRIX Scar 17 is a powerful and premium gaming laptop that is arguably the closest you can get to a traditional PC gaming experience on a portable device. Whilst the price tag and bulkier size will be a hard pill to swallow for most, those willing to splash out on a device that will greatly enhance their portable gaming experience will not be left disappointed.  
Pros
✅ Excellent 1440p performance
✅ 240Hz IPS display
✅ Great use of RGB lighting
Cons
❌ Prone to running hot
❌ Very expensive
❌ Large form factor