Introduction
For PC gamers, a controller isn't usually at the top of the shortlist for gaming peripherals. Instead, most prefer to take advantage of a lightweight and responsive gaming mouse, along with the extensive inputs available on a mechanical keyboard. However, recent years has seen controllers evolve, with the likes of Xbox and PlayStation develop 'professional' designs that offer a better balance of comfort and versatility, which is bound to make them more appealing to PC gamers.
SCUF have taken this one step further and created the Envision Pro, a professional grade design that is tailor-made for PC gaming. Whilst SCUF are by no means new to the world of enhanced controllers, this is their first venture into a distinct design, rather than adapting the designs of established console controllers.
But what does this innovative design bring to the table? And is it truly a viable alternative to a mouse and keyboard combo, or even other pro controllers already on the market? To find out, we'll be evaluating the Envision Pro on the design, performance, and features to determine our verdict on whether this controller is worth picking up for your gaming PC build.
Buy the SCUF Envision Pro on:
Are Controllers Good for PC Gaming?
Controllers are typically associated with casual gaming on a console, while a mouse and keyboard is considered a more advanced option for PC gaming. The additional inputs and shortcuts available on mouse and keyboard allows for greater range of actions, making it the ideal choice for games with a extensive control system, such as strategy games and RPGs.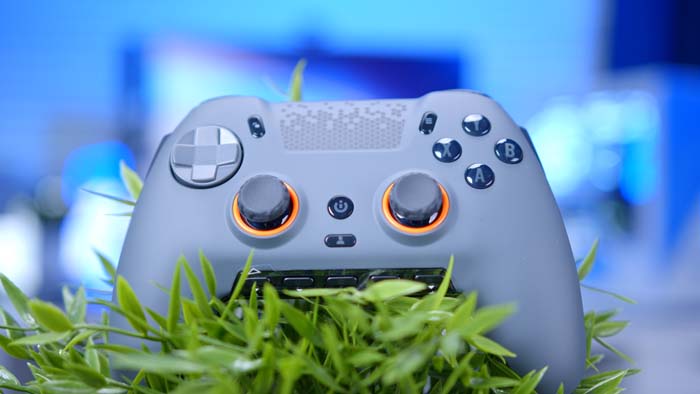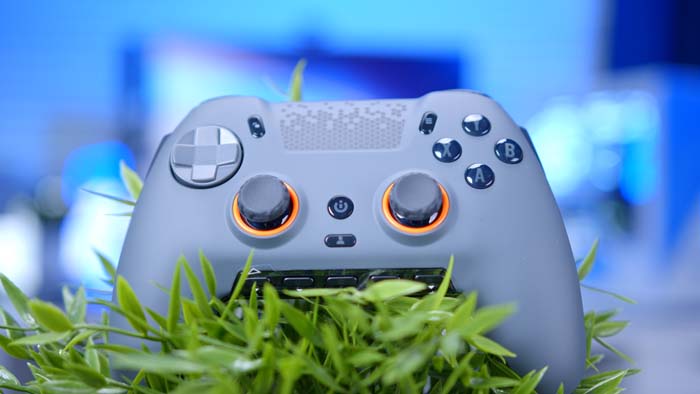 However, the main advantage that a controller has is comfort. With all the necessary inputs being in the palm of your hands, controllers let gamers navigate through a level or match with minimal effort. On top of this, the inclusion of more advanced controls such as joysticks and triggers provide an easier way to control movements and actions that require greater precision.
Because of this, a controller would make a valued addition to any PC gaming setups, acting as a solid alternative that is perfect for those days when you might just want to sit back and relax with a low-intensity action-adventure. And with the rise of controllers targeted professional gaming such as SCUF's latest addition, these designs are getting closer to replicating the versatility and vast range of inputs found on the traditional mouse and keyboard.
SCUF Envision Pro Design & Aesthetic
As someone who uses a Xbox Elite Series 2 controller on an almost daily basis, I was very excited when the Envision Pro arrived at GeekaWhat HQ. Immediately, the bright orange accents across the packaging caught my eye, with the overall unboxing experience setting the precedent for the quality to expect from the controller itself. Opening the box, the controller and USB receiver are on full-display, with some padding and a seal ensuring that the controller remains safe during transit, which is always a nice touch. Hidden underneath the controller in the box is a number of accessories such as a USB cable, additional joysticks, and some tools used to disable the paddles and side action buttons.
On first glance, the aesthetics looked fairly simplistic for a premium controller, with SCUF's signature steel gray colourway covering the front, and a modest black across the back. However, there are a number of details that provide some character when compared to other third-party controller. For example, the orange rings around the thumbsticks add some vibrancy to the design, with the digital camo patterns dotted across the design adding some variety to this controller's appearance. Not to mention, the Envision Pro also comes with a RGB lighting – like any good PC gaming peripheral should!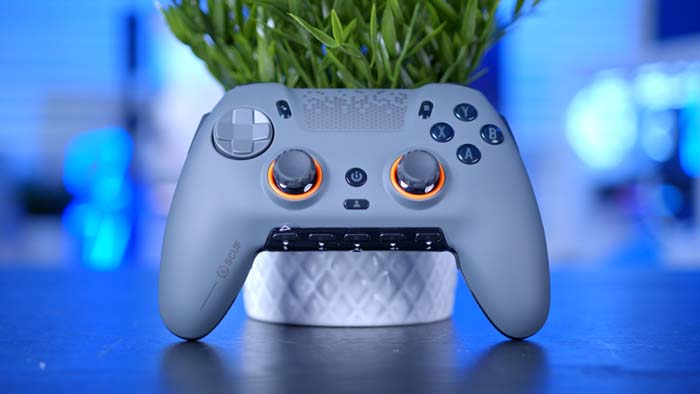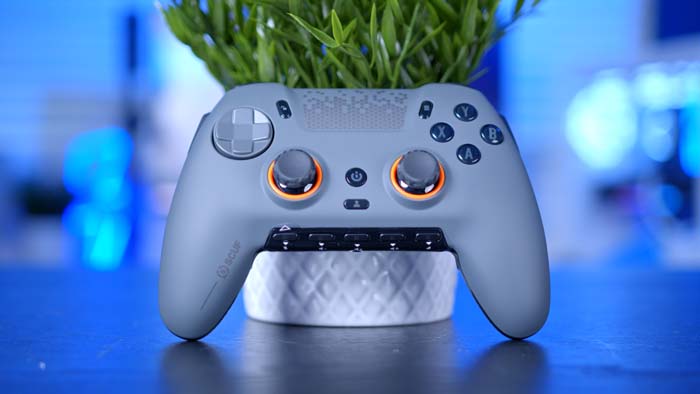 In terms of ergonomics, the overall shape of the Envision Pro feels like an amalgamation of a DualShock and Xbox series controller. It features the width and weight of a Xbox controller, but is also thinner and has longer handles like a traditional PlayStation controller. This creates a design that feels incredibly comfortable in the hand, providing users with the best of both worlds. To support this, the Envision Pro offers a combination of soft-touch plastic on the faceplate and rubberised grips on the handles, leading to a grip that feels great during longer sessions.
However, the element that surprised me the most with this design is the how good each of the buttons felt. Most of the inputs adopt a mechanical feel, which will provide a sense of familiarity to gamers used to a mouse and keyboard. The clicky nature of these buttons sounds and feel rather satisfying, with the shorter actuations feeling great on the face buttons in particular.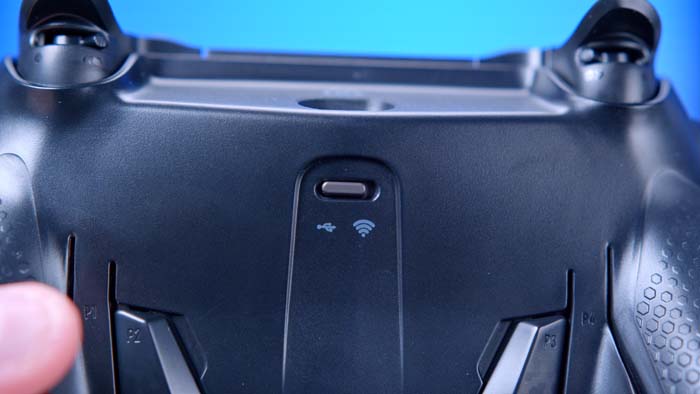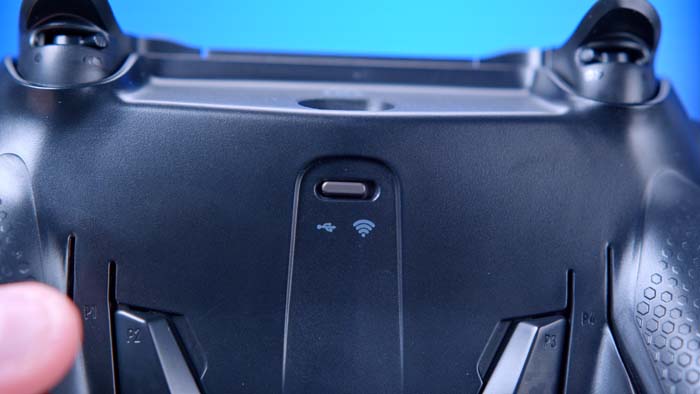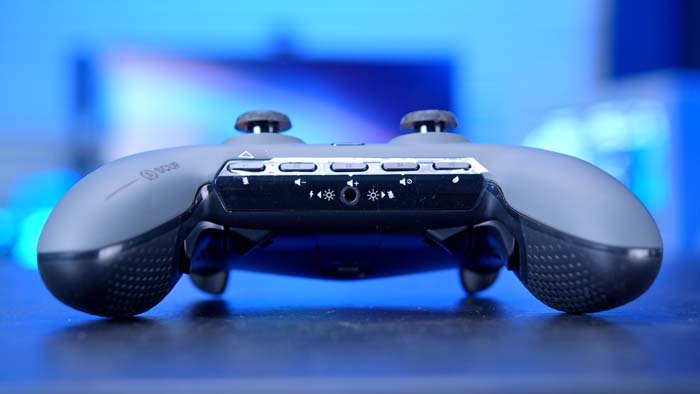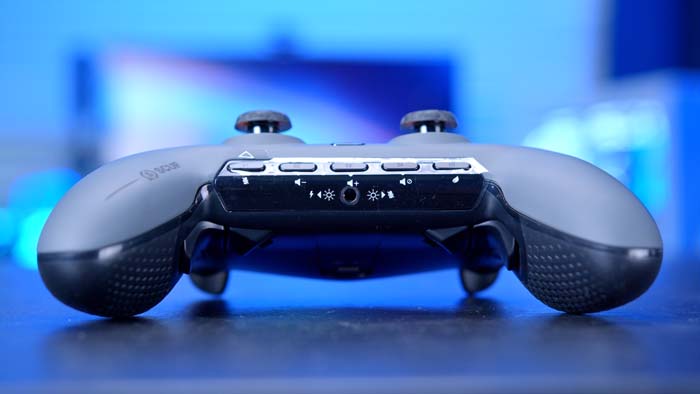 One element that could be improved is the materials, as many of the the switches feel cheap, which weakens the otherwise ergonomic and responsive inputs. For example, the bumpers and triggers could be improved by replacing the solid plastic with a metallic design, which would offer a distinct look from the rest of the buttons while making them feel more premium. But on the whole, SCUF have done well to blend the best parts of other controllers to forge an extremely ergonomic design.
Features We Like
2.4GHz Wireless Connectivity
Moving onto the features, and the 2.4GHz is the main connection for the Envision Pro, offering low-latency wireless gaming that is similar to those found on wireless gaming mice and keyboards. As SCUF are owned by Corsair, the Envision Pro uses their Slipstream wireless technology to ensure connections remain stable and responsive. From our experiences, Slipstream has been a reliable way to connect wireless peripherals to any gaming PC, but this controller can be hooked up with a wired USB cable for those wanting a more trusted method.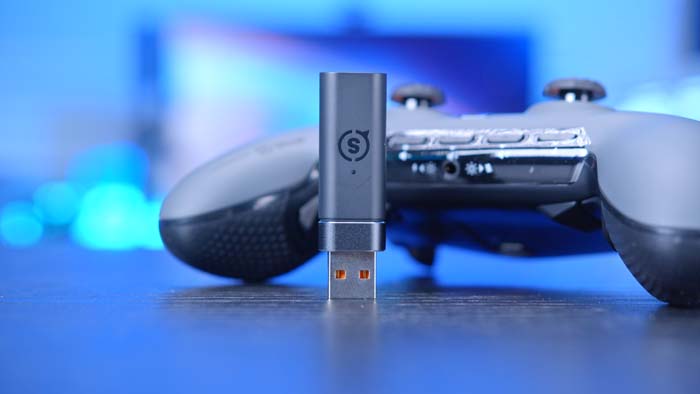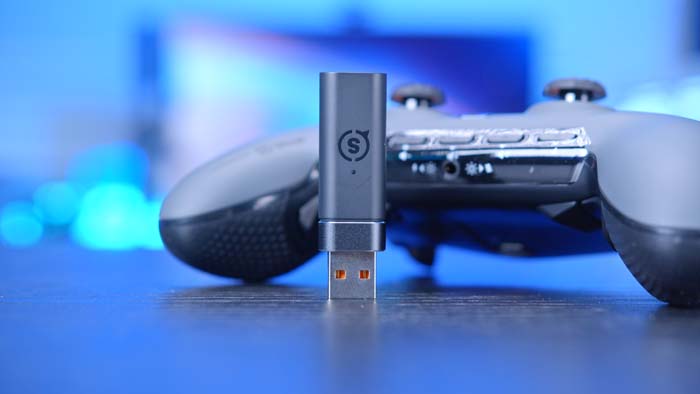 Lots of Programmable Buttons
As a luxurious controller designed with PC gaming in mind, the Envision Pro had to put programmable buttons at the top of the priority list. Luckily, this controller comes with a whopping 11 programmable buttons, on top of the traditional inputs found on most modern controllers. Made up of four rear paddles, five G-Keys, and two side-mounted SAX buttons, there are plenty of ways to optimise your gaming experience with shortcuts and an ergonomic layout.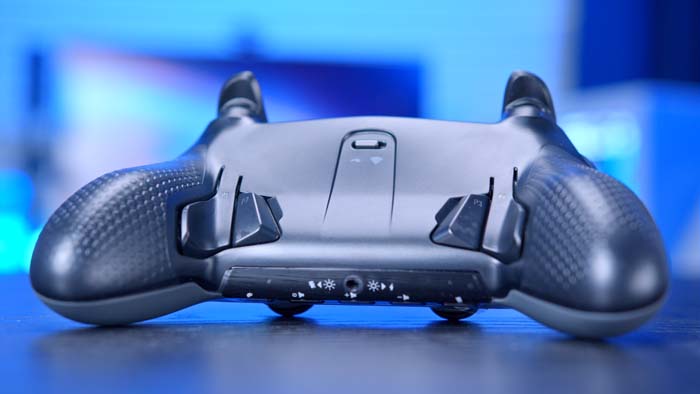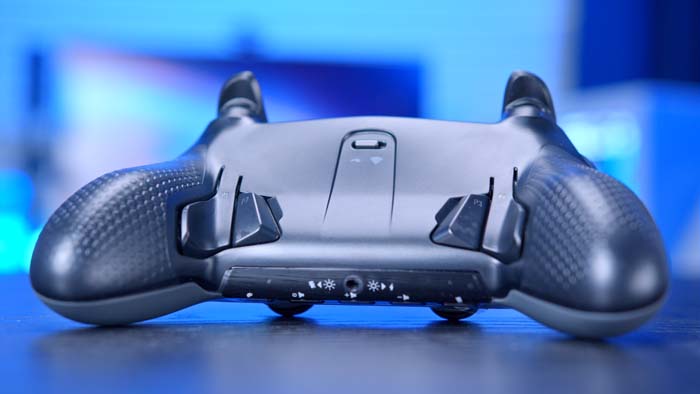 Most of these additional buttons are incredibly useful, the SAX can be quite obstructive, leaving you prone to accidental clicks. Luckily, these buttons can be disabled and replaced with blanking plates.
Corsair iCUE Support
Like most products from Corsair, or their associated brands in this case, the SCUF Envision Pro is compatible with their iCUE software. At GeekaWhat, we're big fans of iCUE, mainly due to its ability to offer an extensive list of customisation options, but in a way that feels accessible and easy to navigate. It is no different here, as there are plenty of ways to tailor this controller to suit your needs.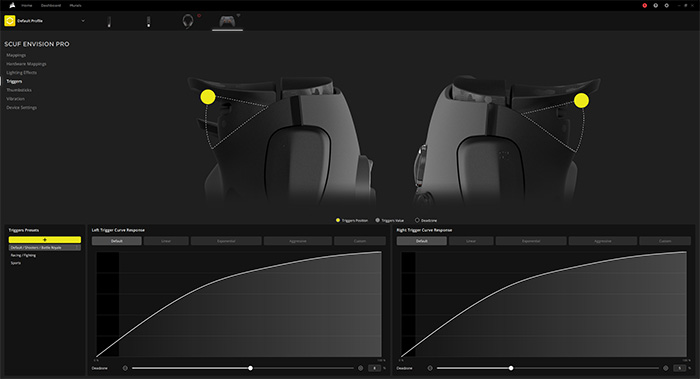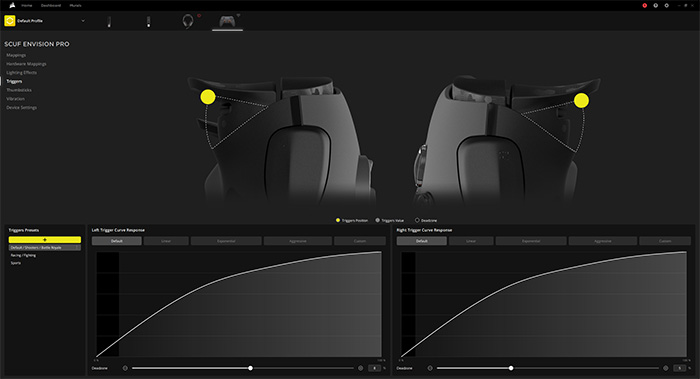 Whether its assigning shortcuts to the remappable buttons, or controlling the colour effects of the RGB, iCUE provides plenty of ways to ensure you're getting the best experience possible with this controller.
Features We Don't Like
Adjustable Triggers
Onto the negatives, the one aspect of this controller that I really didn't like is the triggers. The light and thin plastic used on makes these triggers feel cheaper than the ones found on most regular first-party controllers. On top of this, the switch used to adjust between a full-pull and mouse-click response is located on the trigger itself, putting it in an awkward position to reach.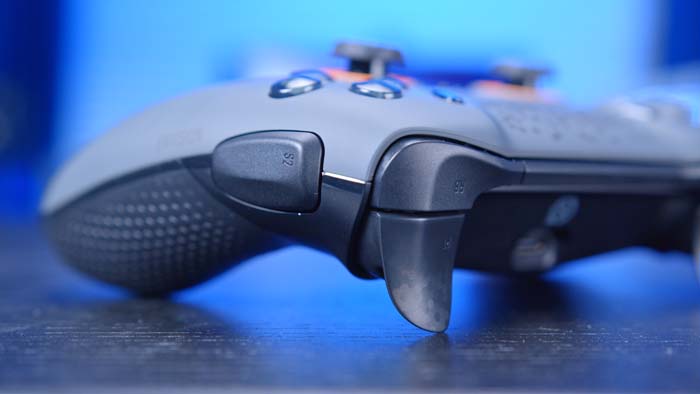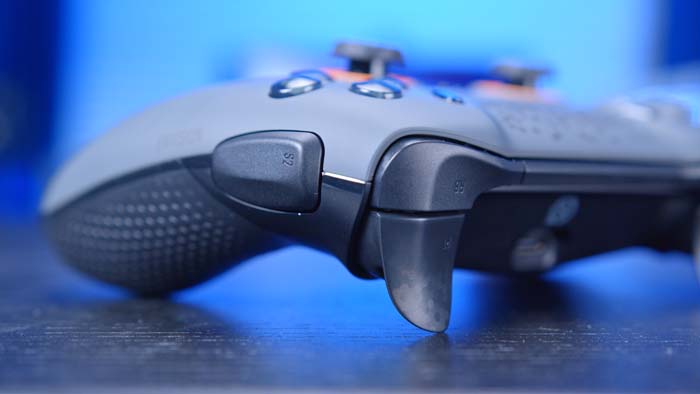 Instead, I would have preferred SCUF to have stuck to keeping the switch on the side of the triggers. Also, an extra level of adjustability like the Elite Series 2 would allow for more precise amounts of pressure in combat scenarios.
No Bluetooth Connectivity
Given that a controller is a lot easier to carry around than a mouse and keyboard, most PC gamers will find controllers most beneficial when playing games on the go, in an environment where they don't have access to their usual setup. That's why the lack of Bluetooth on the Envision Pro is quite disappointing, as users have to take the USB dongle or cable with them, which could easily be misplaced.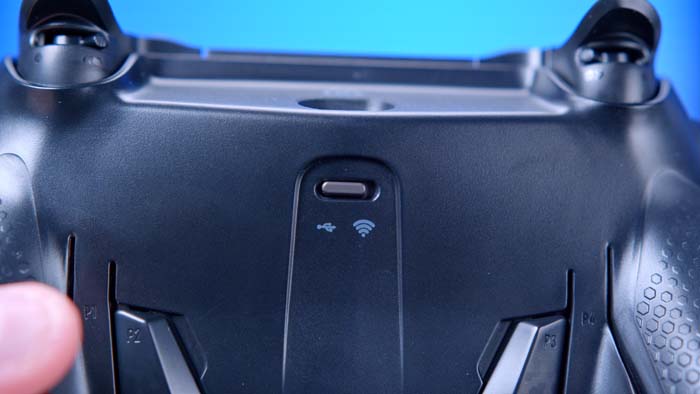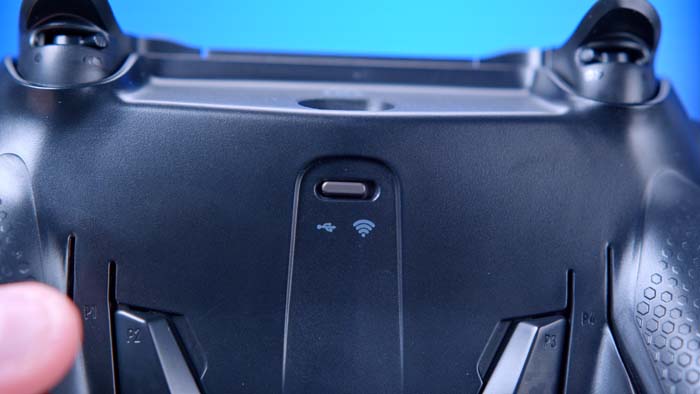 Whilst the 2.4GHz and wired connectivity options provide better performance than Bluetooth, the hassle-free nature is more important when travelling, as gamers are more likely to be playing casual games whilst away from home.
Alternative Option
Xbox Series 2 Elite Controller
If the idea of a pro controller is appealing to you, but you're perhaps looking for an option that can be used on PC and console. In this case, the Xbox Elite Series 2 is a strong alternative to the Envision Pro. This first-party controller is designed to enhance your performance and dexterity on Xbox consoles, but this device can also be easily connected to windows via Bluetooth, making it an ideal way to play casual games on PC. Whilst the Elite Series 2 lacks the amount of buttons found on the Envision Pro, the overall build quality feels more like a premium controller, and Xbox Design Lab allows consumers to design a unique colour-scheme at no extra cost.
As the Elite Series 2 is available for a similar price to SCUF's latest addition, it is more than viable alternative that arguably offers great versatility and value to those looking to play games on more than just a gaming PC.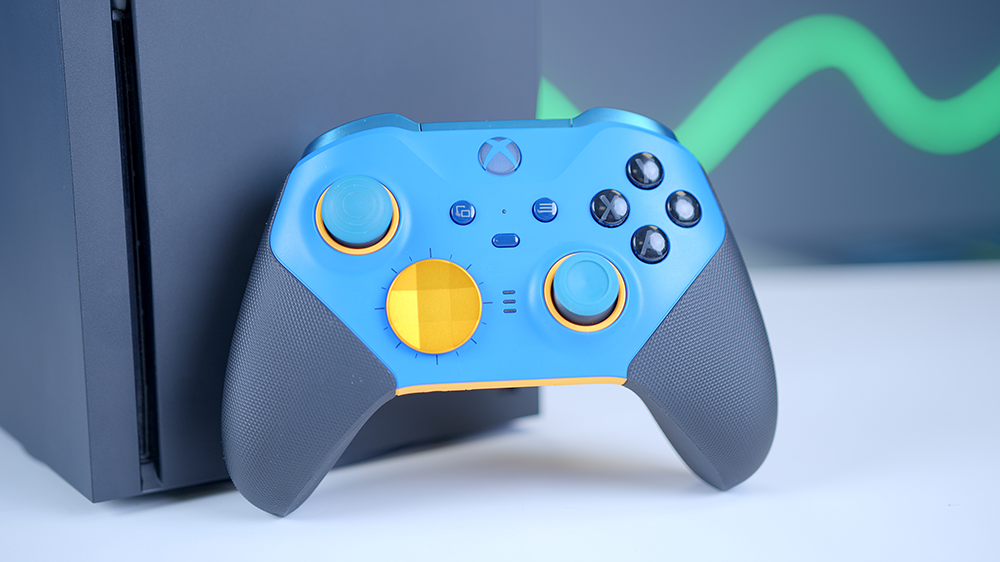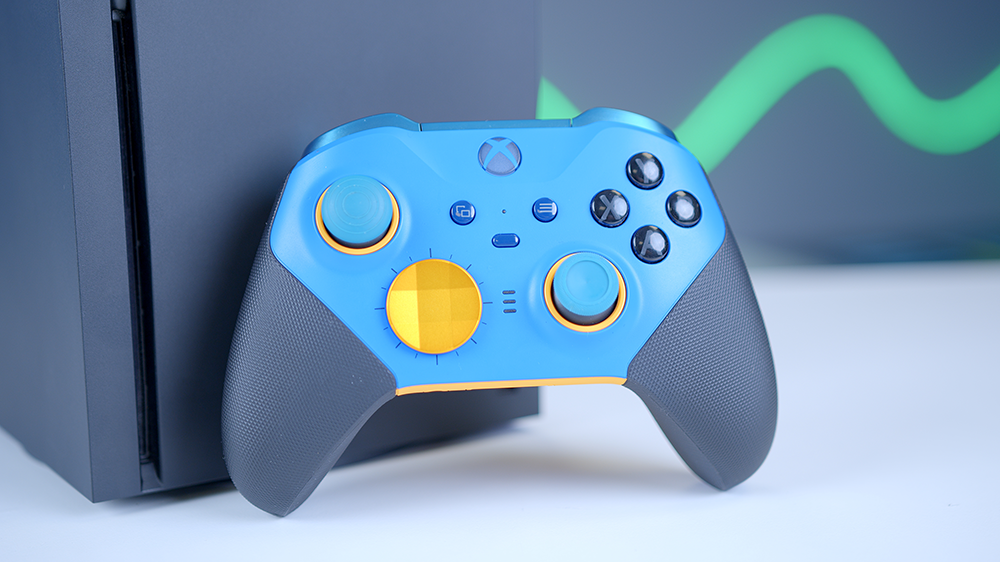 Buy the Xbox Elite Series 2 on:
Conclusion
SCUF Envision Pro
Product Name: Envision Pro
Brand: SCUF
Features

Design

Performance

Value For Money
Summary
Overall, SCUF's Envision Pro is a solid entry that into the controller market, offering a solid blend of ergonomics and performance while addressing a lot of the issues that controllers designed for console have when used on PC. Featuring Slipstream low-latency wireless connectivity, an abundance of hardware and software customisation, as well as a comfortable grip for gaming marathons, the Envision Pro is a great choice for enthusiasts wanting a casual gaming experience or PC gaming newcomers looking to ease the transition from a console.
However, the hefty price tag of this controller most PC gamers won't be able to justify picking this controller up, especially when you consider consumers will still need to pick up a mouse and keyboard for daily tasks. Whilst this gamepad from SCUF is innovative thanks to the unrivalled number of remappable buttons, there are plenty of controllers available for a similar price or cheaper, most of which will come with a more luxurious design. 
On a personal note, SCUF's latest design has done more than enough to convince me that it is worth considering over my Elite Series 2 for PC gaming. But on a wider scale, there are a few tweaks that need to be made before I decide to pick this gamepad up every time I hop onto a game.
Pros
✅ Ergonomic design with a strong layout.
✅ iCUE compatibility is excellent.
✅ Programmable buttons are very practical.
Cons
❌ Design does feel cheap compared to competition.
❌ Lack of Bluetooth restricts portability.
❌ Too expensive to justify purchase for most PC gamers.