Introduction
NVIDIA's brand new RTX 4060 Ti has officially launched, consumers can get their hands on both the Founders Edition and AIB models, of which there are a plethora available. NVIDIA is slowly cycling through their various SKUs, and we've finally started to reach the graphics cards that are geared towards the budget and mid-range demographics.
So far the RTX 4060 Ti is a solid performing option in both the 1080p and 1440p spaces, with this card thriving more at the lower-end. And with a much lower price point contrasting to the majority of the RTX 4000 line-up, this card might be a more tantalising offer for those building a brand new gaming PC. Alongside the RTX 4070, this card is one of the first 4000 series cards to truly compete with the previous generation options that we all hold so dearly.
But does the RTX 4060 Ti offer a solid value proposition? To figure this out, we'll be pitting this new card against the previous performance titan that released back in April of this year, the RTX 4070. We'll be comparing them side by side in a GPU versus battle to see which card comes out on top by looking at design, architecture, gaming performance and value for money.
Suggested Article: NVIDIA GeForce RTX 4060 Ti Founders Edition Review
GPU Versus Battle
NVIDIA GeForce RTX 4060 Ti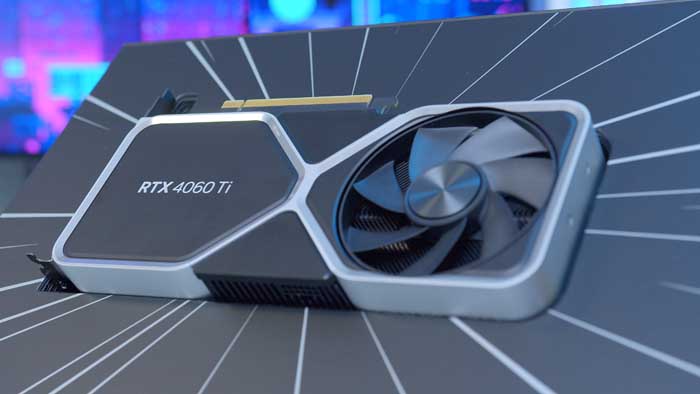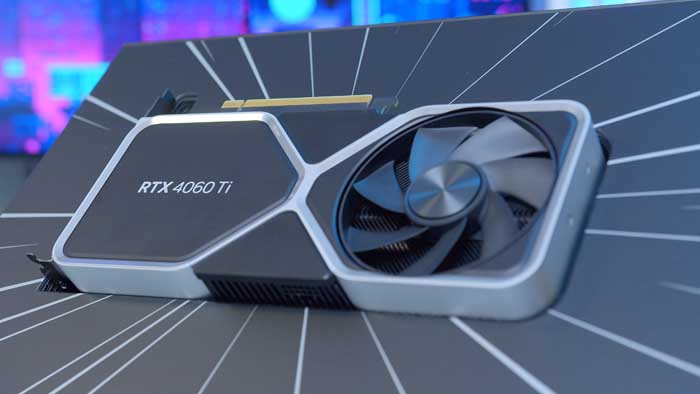 | | |
| --- | --- |
| Memory Capacity | 8GB GDDR6 |
| Boost Clock Speed | 2.54GHz |
| RT Cores | 34 |
| CUDA Cores | 4864 |
| TDP | 160W |
| Release Date | May 2023 |
| Price | Check Price on Amazon |
The RTX 4060 Ti is one of the first graphics cards within the RTX 4000 launch that we feel will appeal to the mass market. With the somewhat underwhelming launch of the RTX 4070 it seems that the majority of consumers are holding out for a card that comes in at a more reasonable price comparative to the RTX 3000 series. And based on the fact that the 4060 Ti is launching with the same MSRP as the original 'value king' (the RTX 3060 Ti), we feel this will be a much better value proposition, provided the performance holds up.
This card varies a fair amount contrasting to the previous entries on the Ada Lovelace architecture, that will benefit most consumers. Not only is this card a much cheaper option compared to the RTX 4070 upwards, it is also reasonably sized. Much of the previous RTX 4000 entrants were absolutely gigantic, and consumers were forced to pick up expensive and larger cases in order to avoid any clearance or airflow issues. However, the RTX 4060 Ti sits at a size that aligns more with the previous generation designs, so this shouldn't restrict case options as much as the RTX 4080 and 4090 card would.
Aside from the sizing, specs on paper look pretty strong, which is down to the massive improvements that have been cemented with the Ada Lovelace architecture. Building upon the popular Ampere hardware, Lovelace brings better clock speeds, more CUDA, Tensor, and RT Cores, and a mass of software improvements. Generationally, Lovelace is one of the biggest architectures to shape the gaming hardware industry, and other manufacturers have some massive competition ahead of them. Technologies such as Frame Generation and DLSS 3 are exactly the kind of thing that budget and mid-range gamers are looking for, especially when it concerns playing games at a higher resolution. Cards like the RTX 4060 Ti are more likely to make use of these in order to reduce performance overhead.
Overall, the RTX 4060 Ti looks to be a competitive option. We do have big concerns about the 8GB of VRAM when it comes to longevity. But as you'll see later on in our performance section of this article, the VRAM capacity doesn't seem to be an issue for the current generation of games, but this is very likely to change in the future.
NVIDIA GeForce RTX 4070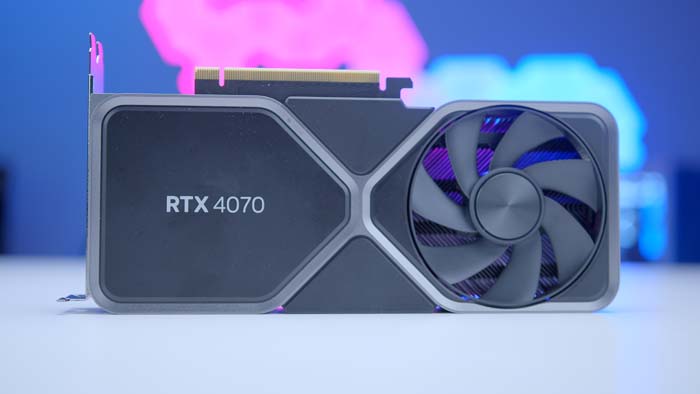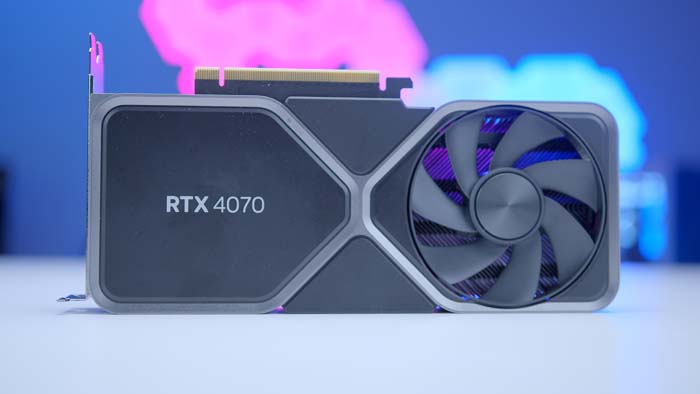 | | |
| --- | --- |
| Memory Capacity | 12GB GDDR6X |
| Boost Clock Speed | 2.4GHz |
| RT Cores | 46 |
| CUDA Cores | 5888 |
| TDP | 200W |
| Release Date | April 2023 |
| Price | Check Price on Amazon |
NVIDIA's RTX 4070 was a card that we were pretty confident about during the launch. Performance is very strong at both 1440p and 4K, with this card even being able to cope with some Ray-Traced titles. However, NVIDIA have had some massive issues shifting these cards, and this is likely down to the MSRP of this performance beast. Despite being a very capable GPU, this card was priced at $500 at launch, and hasn't really dropped much in price since then, which is out of reach for the vast majority of consumers.
Much like the RTX 4060 Ti, this card differs quite significantly from the vast majority of cards within the RTX 4000 range. This GPU was the first to usher in a relatively reasonable price point considering the performance metrics, alongside being much smaller in size. Although the Founders Edition model was slightly larger in comparison to the RTX 4060 Ti, it still sits at a mostly normal size that this shouldn't limit your case choices. We're happy that NVIDIA made the choice to make these cards much smaller as the massive cards were becoming a problem in terms of clearance.
Specs are also very strong for the RTX 4070. This card comes equipped with a 192-bit memory bus, 12GB of GDDR6X VRAM, and a mass of cores that aid with Ray-Tracing and DLSS. The 4070 also offers a boost clock speed of 2.47GHz that will only improve with alternative AIB models. The RTX 4070 can also massively benefit from NVIDIA's pillar technologies, with Frame Generation bolstering framerates in intensive titles such as Cyberpunk 2077. The RTX 4070 also doesn't have to rely as heavily on this technology either, due to the hardware being much better. So raw performance is generally much stronger on this card at its target resolutions compared to the 4060 Ti. Regardless, we recommend turning on DLSS or Frame Generation where available, as free frames are free frames, its relatively difficult to argue with.
As we've alluded to above, the RTX 4070 looked to be a pretty competitive option in the 1440p and 4K spaces, but this card was just priced way too high. NVIDIA has a very strong architecture that they can build upon, but keep making silly mistakes when it comes to specs and pricing, which is why this card is in a similar boat to the RTX 4060 Ti.
Lovelace Architecture – What is it?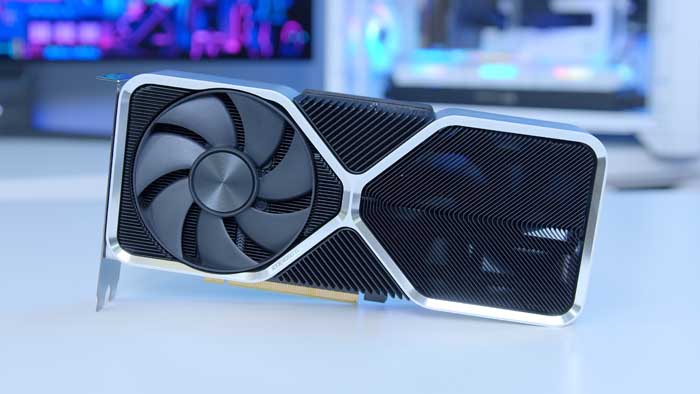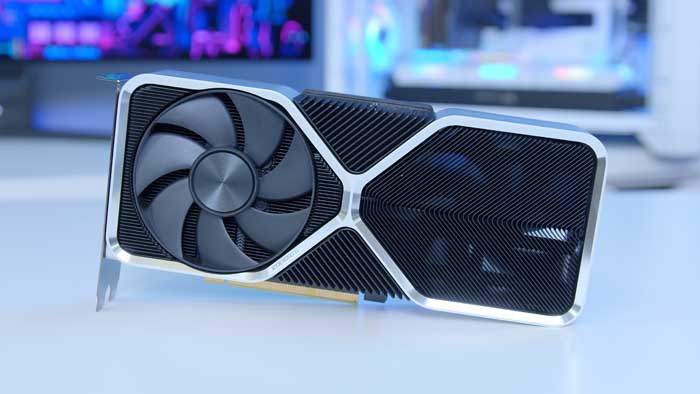 Alongside the hardware improvements, NVIDIA has also brought in some new changes to their AI-backed upscaling technology DLSS. With Ada Lovelace comes DLSS 3 which improves framerates at higher resolutions. Alongside this, NVIDIA also launched their brand new Frame Generation tech, which works alongside DLSS 3. Frame Generation redraws entire frames as opposed to pixels, which can bolster your framerates even more. This reduces performance overhead on your CPU and GPU allowing you to enjoy games that could be performance intensive on your hardware.
Our Favourite RTX 4060 Ti GPUs
1. NVIDIA GeForce RTX 4060 Ti Founders Edition
👑The best overall option.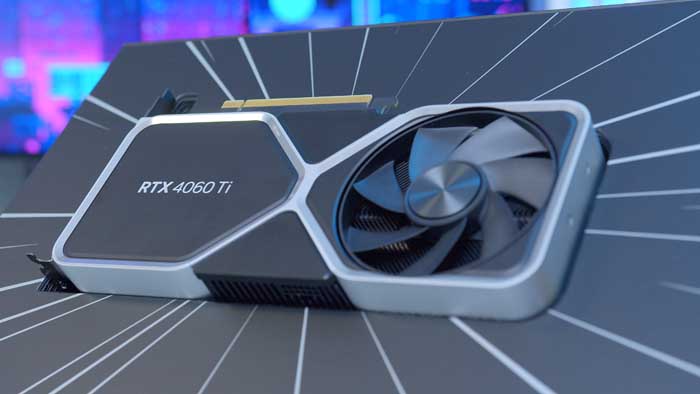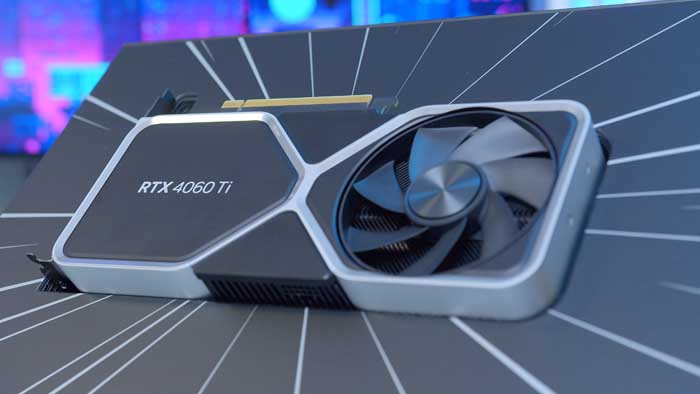 Introduction
NVIDIA's RTX 4060 Ti Founders Edition is generally the cheapest option at launch as this card sits at MSRP. This is one of the few cards that you can pickup for the initial launch price, as the majority of the AIBs will be priced significantly higher due to improved cooling, aesthetic, and sometimes a slight overclock. Whilst these alternative models are often better, NVIDIA themselves are quite competitive, so the Founders Edition cards are solid GPUs if you're willing to throw aesthetic aside.
This particular model is incredibly small, sitting at 250mm which aligns with some of the Founders Edition cards that we saw with the RTX 3000 range. This should open up quite a few options when it comes to case choices, as you're not having to worry about airflow and clearance as much. In terms of thermals, the Founders Edition is pretty decent. This design doesn't quite compare to the RTX 4090 and 4080 Founders cards, but the shrouding and fan design still help keep this card nice and cool. Temperatures didn't surpass the 65 degrees mark on average, which is pretty decent considering how small this card is.
Key Specs
| Key Specs | NVIDIA GeForce RTX 4060 Ti Founders Edition 8GB |
| --- | --- |
| Video Memory | 8GB GDDR6 |
| Memory Bus | 128 bit |
| Base Clock Speed | 2.3GHz |
| Boost Clock Speed | 2.53GHz |
| CUDA Cores | 4352 |
| Power Consumption | 160W |
| RT Cores | 34 |
| PCI-E Generation | PCI-E 4.0 |
| GPU Length | 250mm |
| Fans | 2 |
| RGB | No |
Things We Like
MSRP price tag: As we've mentioned above, the 4060 Ti Founders Edition is one of the few options to actually sit at MSRP. If you're a price conscious buyer this will be the best card to pick up contrasting to the rest of the available options.
Incredibly small: This card has a length of 250mm which is the smallest RTX 4000 card to release so far. This opens up plenty of options when it comes to case choices, as you shouldn't have any clearance problems or airflow issues.
Things We Don't Like
Better thermals available with AIBs: Although the thermals of this card are pretty decent overall, there are alternative AIB options that will be better if you're looking to keep your GPU temperatures at a much lower level.
Doesn't offer much for aesthetic: The Founders Edition model is one of the more plain cards on the market. Whilst I do quite like the Founders design, if you're the kind of consumer looking for some extra flair or RGB, this card won't be a great choice.
Summary
NVIDIA's RTX 4060 Ti Founders Edition is one of the cheapest and smallest options that you can pick up right now. Whilst this card could do with some more VRAM, it is a super strong competitor at 1080p and 1440p, and is worth a consideration if you're on a budget. Keep in mind, that there are better cards on the market that offer similar value, but I'd argue that this is a pretty solid choice for those looking to build a cheaper PC.
Features: 4/5
Design: 3.9/5
Performance: 4.2/5
Value for Money: 4/5
Pros
Available at MSRP.
Size won't restrict case choices.
Solid 1080p and 1440p performance.
Cons
Weaker aesthetic and design choices.
AIBs offer better thermals.
Where to Buy
Buy the NVIDIA GeForce RTX 4060 Ti Founders Edition:
[adrotate banner="9″]
Our Favourite RTX 4070 GPU
2. MSI Gaming X Trio RTX 4070
👑The best looking option.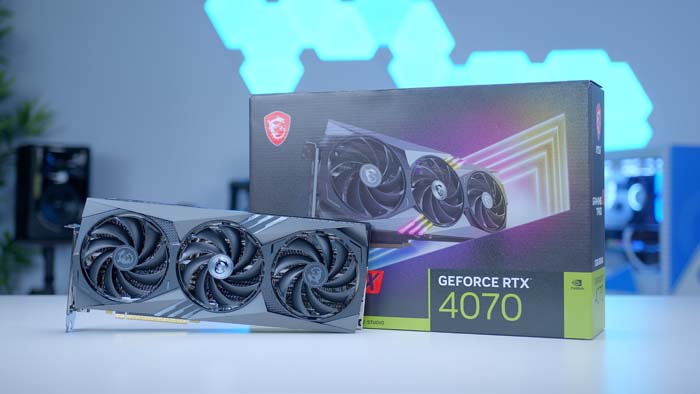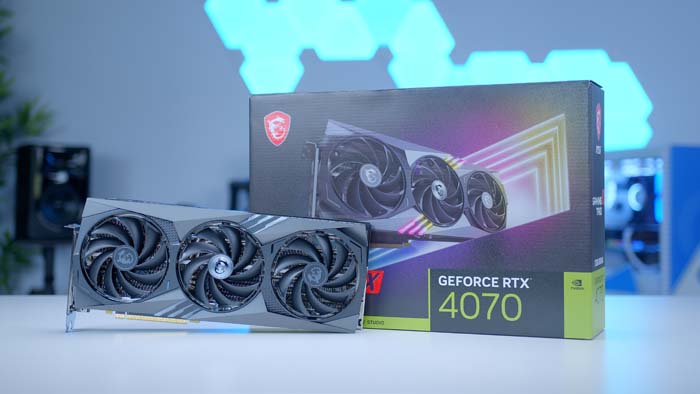 Introduction
For our favourite RTX 4070 we've picked out MSI's Gaming X Trio, which is a solid AIB model that released back in April. The RTX 4070 card is a solid performer at 1440p and 4K, is definitely worth a consideration for those building a mid-range or high-end system. The MSI Gaming X Trio model in particular sports a design that we're all familiar with, and I'm honestly a big fan of. MSI always hit the nail on the head when it comes to the Gaming X Trio cards, which is why they generally get a feature in our articles.
This card offers a triple-fan design keeping the card nice and cool even under load. MSI haven't gone insane in terms of the RGB, where consumers will see a diagonal strip spanning across the middle fan. The top logo of the card is also RGB and this can be customised within MSI's Mystic Light RGB software, allowing you to change lighting options and colours. This card also features a relatively modest overclock as well, which will improve performance in certain titles and productivity applications.
Key Specs
| Key Specs | MSI Gaming X Trio RTX 4070 |
| --- | --- |
| Video Memory | 12GB GDDR6X |
| Memory Bus | 192 bit |
| Base Clock Speed | 1.92GHz |
| Boost Clock Speed | 2.62GHz |
| CUDA Cores | 5888 |
| Power Consumption | 200W |
| RT Cores | 46 |
| PCI-E Generation | PCI-E 4.0 |
| GPU Length | 338mm |
| Fans | 3 |
| RGB | Yes |
Things We Like
Awesome design: MSI never fails to hit the mark when it comes to the aesthetic of their graphics cards. The Gaming X Trio isn't too heavy on the RGB which I'm a big fan of, and the angular accents of the design give this card some extra depth.
Decent overclock: The Gaming X Trio RTX 4070 features a pretty solid overclock that should unlock some extra performance. The boost clock of this card puts it on par with the 4070 Ti Founders Edition.
Things We Don't Like
Card is massive: Unfortunately, looking at AIB models tends to put us in the realm of 'gigantic cards', and the Gaming X Trio is no exception. This card sits at 338mm in length, which could cause clearance issues in smaller cases.
Rather expensive: AIB cards are generally more expensive than the Founders Edition card, hence the higher price point on the Gaming X Trio. Needless to say, if you're on a budget, you'll want to avoid this card.
Summary
MSI's Gaming X Trio RTX 4070 is an awesome card that offers a strong overclock, with a solid aesthetic. MSI have offered some RGB on this card, which provides consumers with some customisable flair for their build. The triple-fan design should also keep this GPU nice and cool as well, whilst maintaining relatively low noise levels too.
Features: 4/5
Design: 4.3/5
Performance: 4.5/5
Value for Money: 4/5
Pros
Excellent overclock.
Great design.
Offers some additional flair.
Cons
Card is rather expensive.
Massive in terms of length.
Buy the MSI Gaming X Trio RTX 4070 on:
How We Tested the RTX 4060 Ti and RTX 4070
At the GeekaWhat HQ we have a multitude of components come through our doors each month from a plethora of manufacturers and brands. Because of this, we've had to devise and consolidate a number of testing and evaluation procedures, to ensure all components perform as expected. Our standardised benchmarking procedure involves firing up a variety of triple A and modern Esports games, whilst recording all of our in-game settings.
Once we're ready to record, we use MSI Afterburner in combination with NVIDIA's Frameview to take not of framerates, utilisation and thermals. We use two pieces of software to ensure that the data is consistent across applications and to provide an average across the board. Our full benchmarking suite consists of a myriad of popular games such as Star Wars Jedi Survivor, Hogwarts Legacy, Apex Legends, Fortnite, and more. We always keep up with the most recent titles to make sure our audience can find performance data in their favourite games.
Both the RTX 4060 Ti and RTX 4070 have been put through the wringer in all of our tests, alongside productivity benchmarks to get a well-rounded idea of how these graphics cards would handle well in a multifaceted system. You can find more information about our testing procedures in the reviews we've provided below. All of the full benchmarking runs can be found on our YouTube channel – Benched!
Gaming Benchmarks
In this section of the article, we'll be delving into some gaming benchmarks. Here we've provided a range of comparative graphs so you can see the performance metrics between current and older graphics cards. As always, our full benchmarking runs can be found on the Benched YouTube channel, where we've tested a plethora of components in a massive range of games!
Spiderman Miles Morales GPU Winner – RTX 4070
First off in our set of benchmarks, we tested Spiderman Miles Morales at 1440p with DLSS enabled. In this particular benchmark the RTX 4070 was the clear winner, leading performance with an average framerate of 117FPS without DLSS, and 139FPS with DLSS. This was pretty solid performance at 1440p, although we'd love to see this card reach the 144Hz sweet spot, you'll likely need to dumb down a few of your settings in order to reach a crisp refresh rate.
The RTX 4060 Ti wasn't particularly far behind in this game, with this card outputting an average framerate of 114FPS without DLSS, and 127FPS with DLSS turned on. It is clear that the 4060 Ti is the weaker card, but not by a whole lot, as the raw performance was extremely close, with the 4060 Ti losing out only by three frames. Gameplay was very smooth with both of these cards, which we were happy to see. Either of these cards seems to be a decent bet for current 1440p games.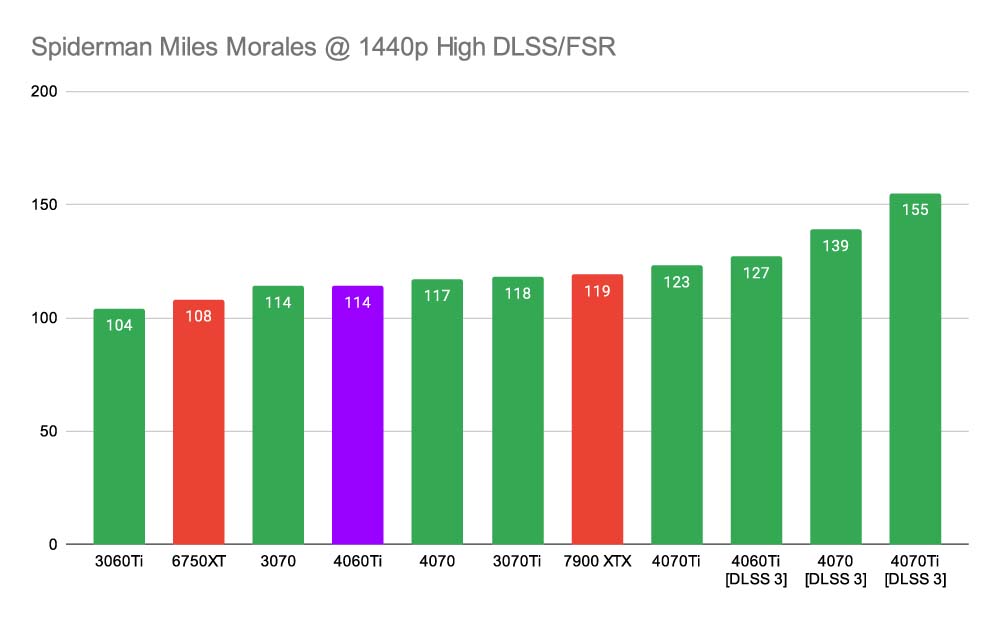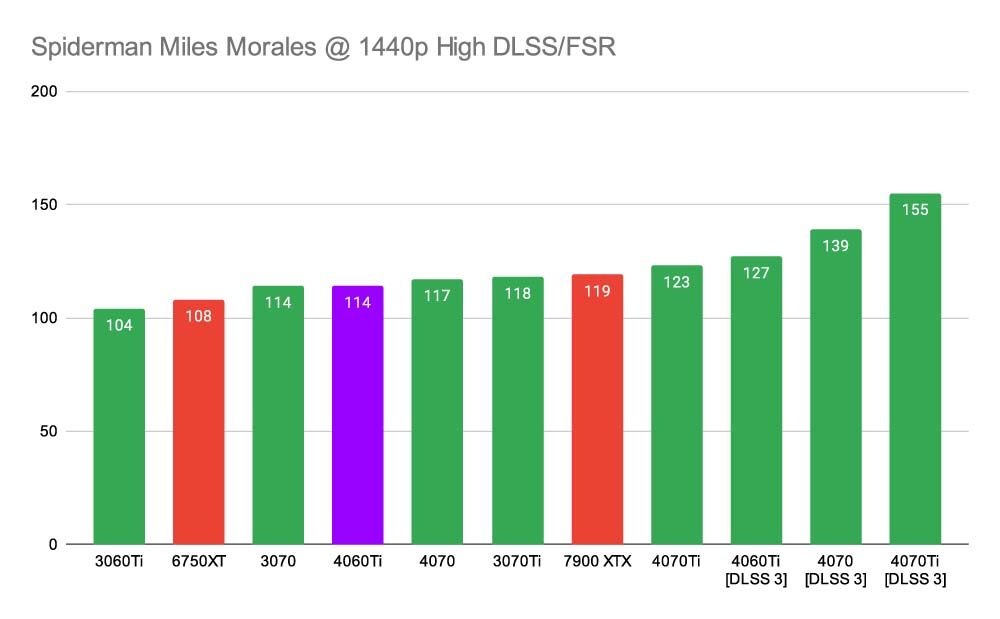 [adrotate banner="8″]
Apex Legends GPU Winner – RTX 4070
Next up, we tested Apex Legends at 1440p, and in this benchmark the winner again was the RTX 4070, but not by much. Both of these cards were able to output solid framerates, with the 4070 leading the fore with 179FPS. This was more than enough for us to enjoy a buttery smooth visual experience as the RTX 4070 was easily able to surpass the 144Hz mark.
The RTX 4060 Ti wasn't extremely far behind, losing out to the RTX 4070 by about 12 frames in total, which won't be massively noticeable at this level. Again, gameplay was extremely smooth, and we were pretty impressed with the performance at 1440p. Framerates were very close overall, which goes to show how strong both of these cards are, at this resolution.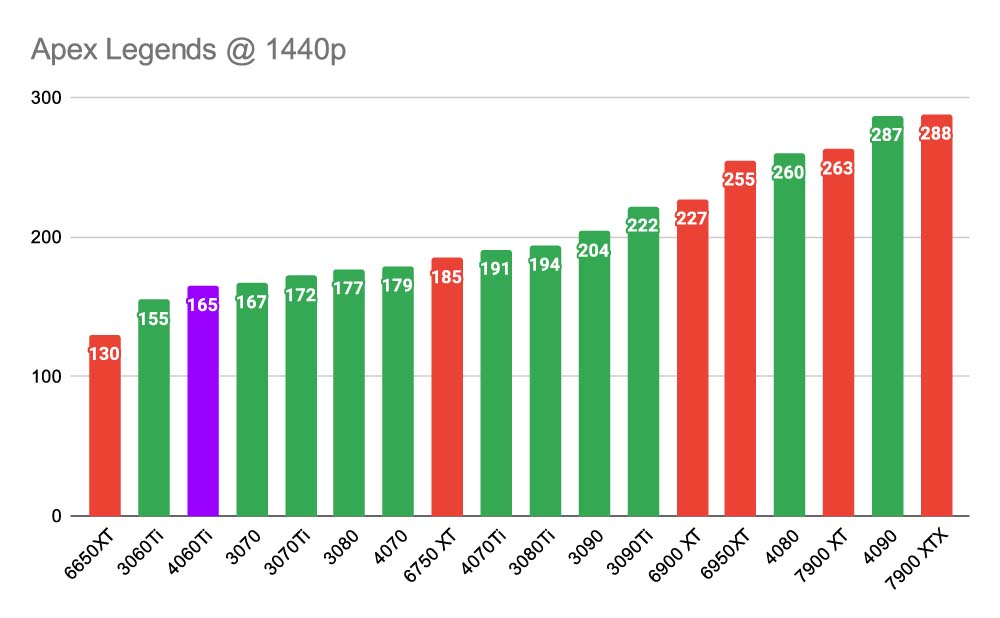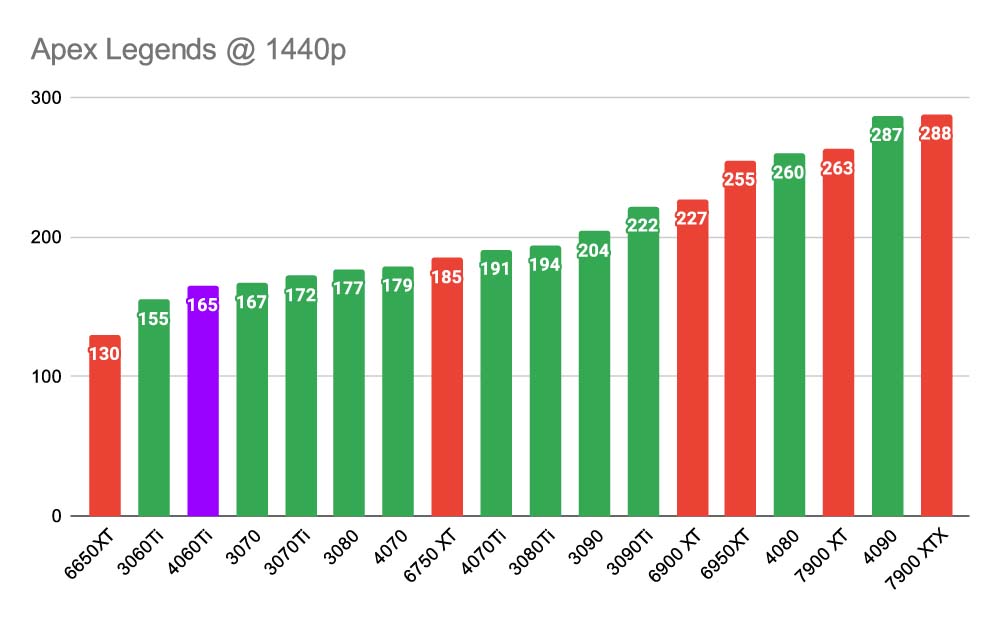 Battlefield 2042 GPU Winner – RTX 4070
In Battlefield 2042, unsurprisingly the winner of this benchmark was the RTX 4070 again, but framerates here were still very close. The 4070 was able to output around 127FPS on average which was pretty decent, but we were expecting better results. Battlefield 2042 can be quite an intense title in terms of gameplay, so gaining the advantage with a smooth refresh rate would be beneficial here.
The RTX 4060 Ti wasn't far behind, losing out to the RTX 4070 by around seven frames, which wouldn't really be noticeable to the human eye. Again, we were hoping to see a high refresh rate, but the 4060 Ti couldn't quite make the cut. We won't hold it against either of these cards too much, as Battlefield 2042 can be quite unoptimised which means higher framerates can be difficult to reach at times.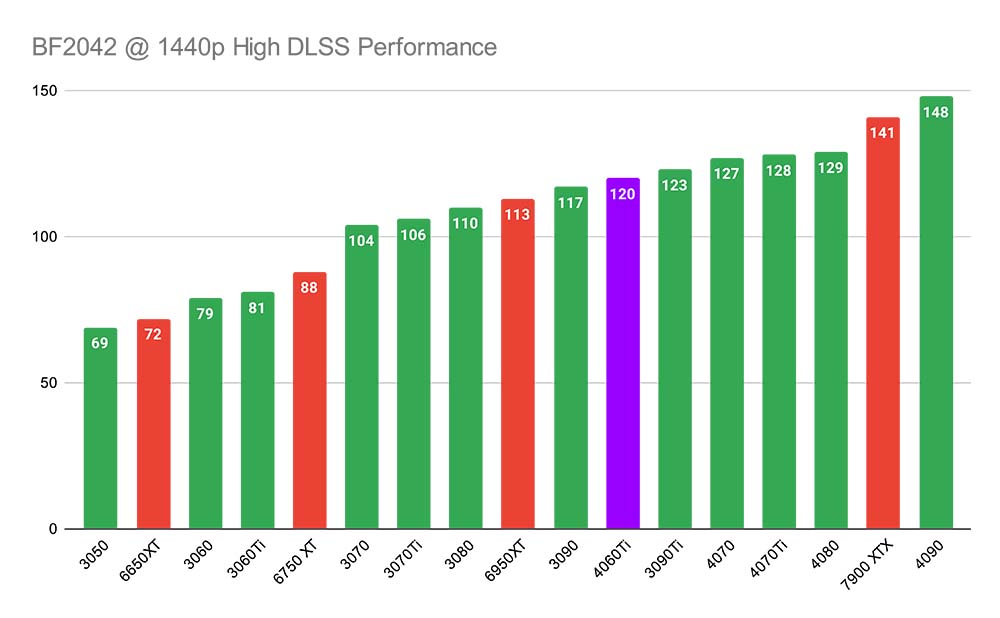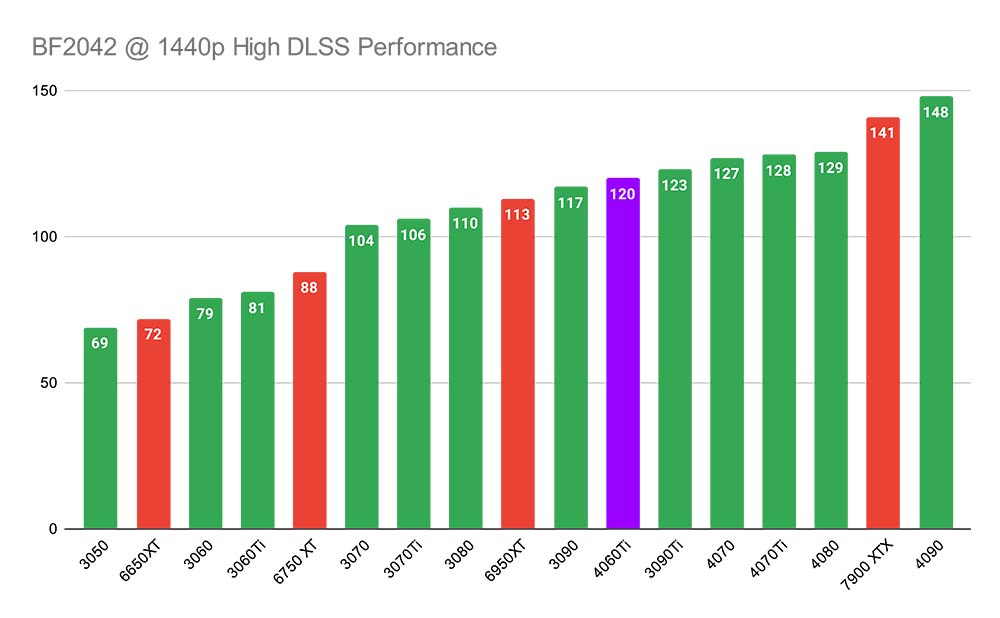 COD MW2 GPU Winner – RTX 4070
For our final benchmark we decided to play COD MW2 at 1440p high settings. Yet again, the RTX 4070 was the winner of this particular run, but framerates were very close when comparing against all of the mid-range options. The RTX 4070 was able to output a framerate of around 137FPS which is extremely close to the 144Hz sweet spot. We imagine messing around with some settings will allow you to enjoy a crisp visual experience, complimenting gameplay.
The RTX 4060 Ti unfortunately lost out to the RTX 4070 by about 10 frames in total, which I'd argue would be relatively negligible for the most part. Gameplay was relatively smooth here, and we were happy with the performance at this resolution. Ultimately, performance could be better, but COD MW2 is another title that isn't always super optimised, so performance can suffer in certain areas of the game.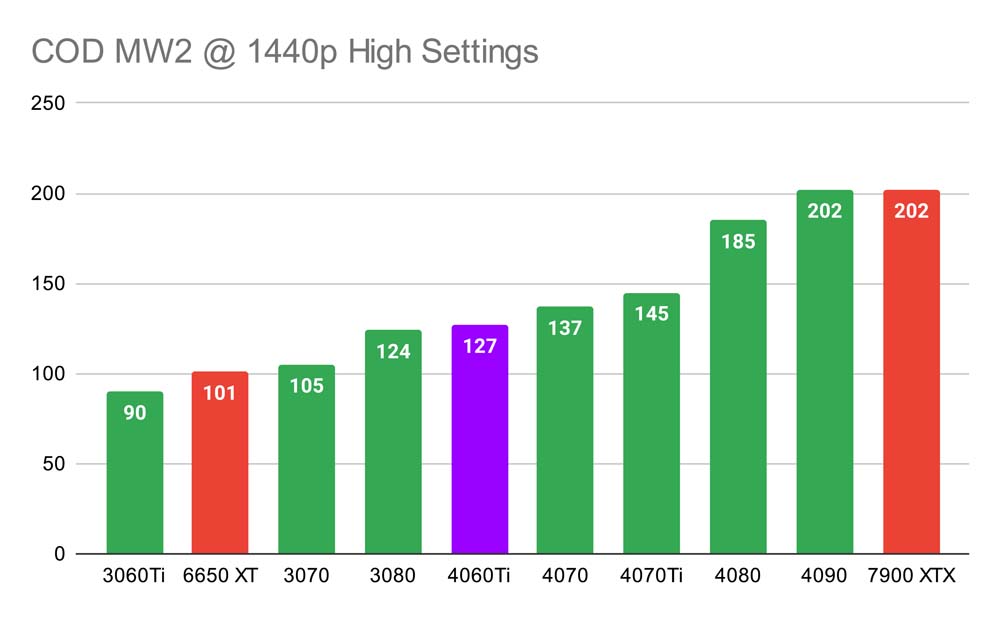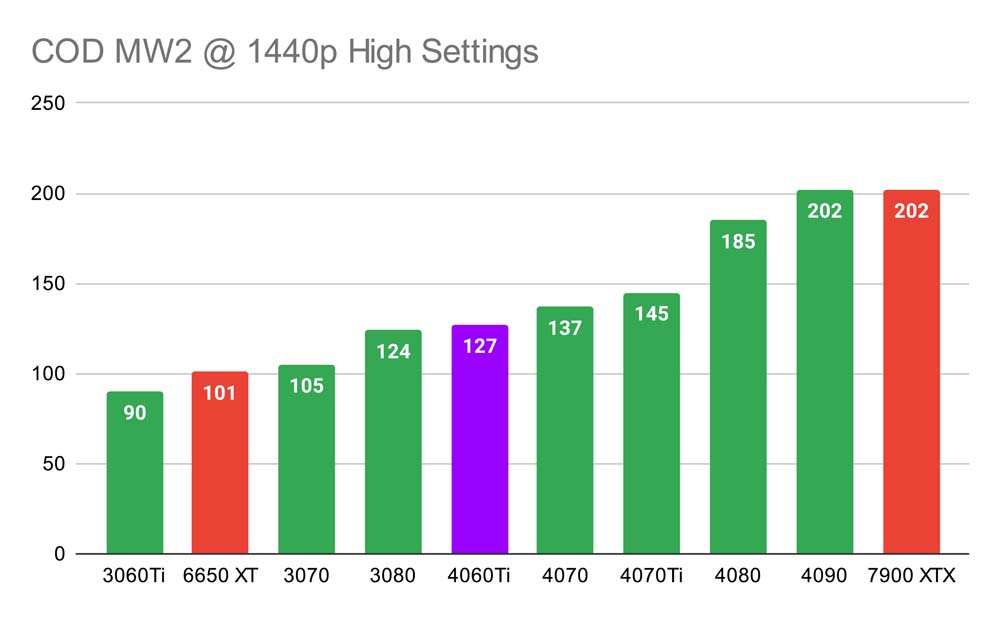 Conclusion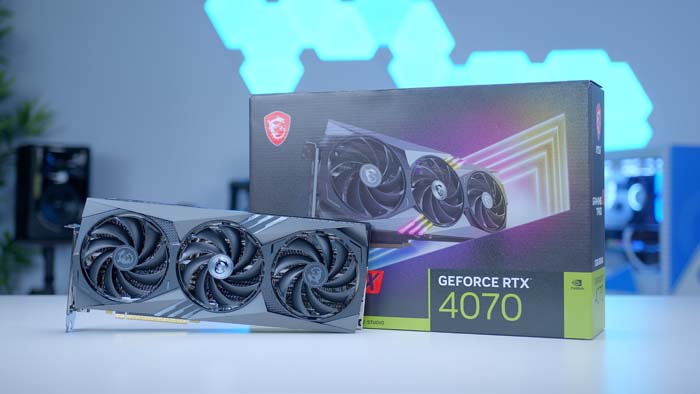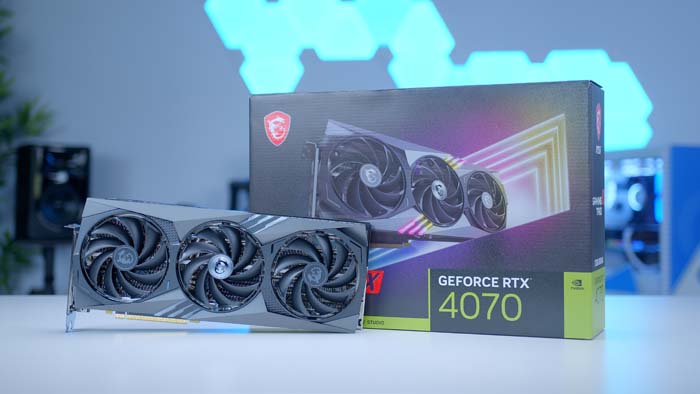 GPU Versus Winner – NVIDIA RTX 4070
So, which GPU is the winner of this Versus Battle? I'm honestly not sure to be quite frank. If we look at straight performance, the RTX 4070 is the obvious choice based on it's stronger framerates in all of the titles. But if we compare the rest of the market against these two cards, and look at pricing, both of these cards are pretty bad. The RTX 4070 is a strong performer but is priced too high, and the RTX 4060 Ti is likely to be deprecated very quickly due to the performance demand of modern titles.
Both of these cards have been under so much fire, due to NVIDIA's poor marketing and decision making that it is difficult to wholeheartedly recommend them. The best way to look at this, is going to be based on your use-case. If you want a 4K capable GPU that doesn't cost a fortune and offers relatively decent performance with Ray-Tracing too, the RTX 4070 is a good solution, but keep in mind, it isn't cheap. The RTX 4060 Ti on the other hand is a better choice for consumers that only play Esports games, as the 8GB of VRAM is a massive issue for modern titles, and likely won't be enough within the next year or so.
To summarise, I think both of these cards have very specific strengths and weaknesses that make them standout, but also make them a poor option versus the competition. As always, we recommend considering the longevity of these cards, whilst taking a look at your budget and use-case.