Introduction
The wait is finally over! Nvidia's RTX 4090 is here at long (long) last, and a GPU worth the wait it certainly is. The much anticipated next generation of Nvidia has kicked off in a similar fashion to RTX 3000 series, with the top-of-the-range cards (RTX #090 & #080) releasing first, with other models expected to launch later this year or in early 2023.
Here at the GeekaWhat office we're kicking off our testing with Nvidia's own GeForce RTX 4090 Founders Edition to evaluate just how well this new ADA Lovelace GPU performs. The first thing to note about this card is just how big it is. I tested the MSI Suprim X RTX 3090Ti not too long ago, and was blown away by the size of that at the time, yet the RTX 4090 dwarfs it by comparison. It is also worth noting that the Founders Edition is one of the smaller 4090 designs (seriously), and that AIB cards will only get bigger. But does bigger always mean better? Let's take a look.
With an expected MSRP of $1600 (£1599 in the UK) the RTX 4090 actually comes in nearly $600 cheaper than the aforementioned Suprim X RTX 3090Ti at launch, which seems like a step in the right direction. With RTX 3090Ti's now selling in the region of more like $1100 though, the 4090 has some tough competition from Nvidia themselves. It also worth noting other upgrades that prospective consumers may need to make to their existing builds, with many current generation Power Supplies (PSUs) simply lacking enough wattage to accommodate the significant GPU upgrade. You will also find the physical size of the card (specifically, the length) will restrict case support, and that these GPUs are now so powerful, a CPU bottleneck is almost inevitable with anything but a Ryzen 7000 or recently announced Intel's 13th gen processor.
Buy the Nvidia RTX 4090 Founders Edition on:
Suggested Article: Nvidia RTX 4090 vs Nvidia RTX 3090Ti – Worth the Upgrade!
[adrotate banner="7″]
Architecture
Powered by Nvidia's ADA Lovelace architecture and featuring DLSS 3.0 at the forefront, this GPU looks to offer double the performance of DLSS 2.0, thanks to Nvidia's new 'Frame Generation' tech, but more on that later. This all leads Nvidia on a path of being continually impressive in the high-end GPU category.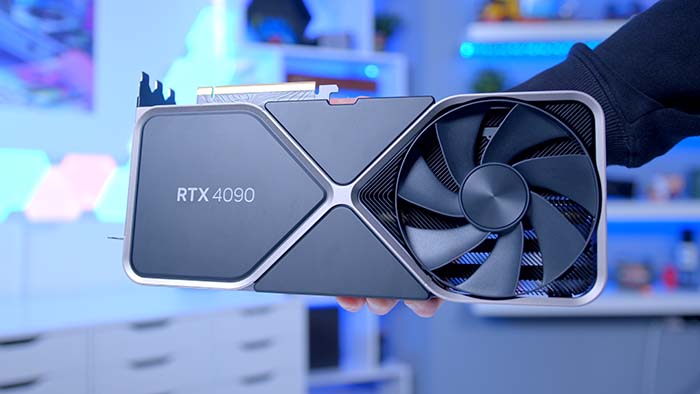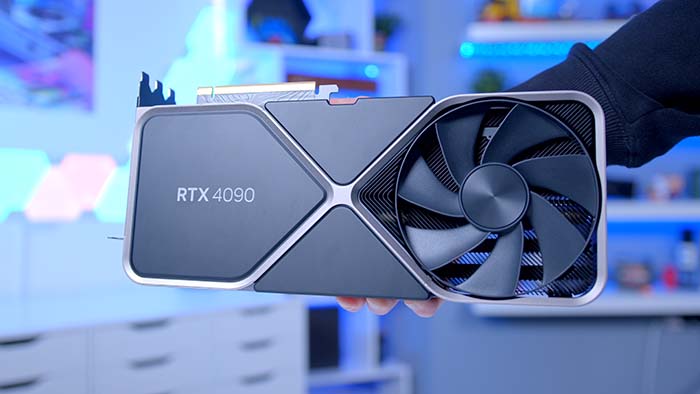 The ADA Lovelace architecture significantly improves upon all three of the current RTX Processors – Programmable Shader, RT Cores and Tensor Cores. The RT and Tensor core upgrades specifically add a big boost to performance, with both now somewhat out of their infancy, on their 3rd and 4th major generation designs respectively.
The RT cores (Ray Tracing cores) perform raytriangle intersections used to test calculations that are critical to accelerating the speed of ray tracing. Nvidia claims that the 3rd Gen RT Cores perform these calculations twice as fast as the previous Ampere Architecture design, and whilst testing at the GeekaWhat offices we found promising early signs that this is true. The Founders RTX 4090 dealt with Ray-Tracing in a way that we hadn't seen previously before, the days of struggling to achieve 60FPS with Ray-Tracing maxed out are seemingly over.
It's a similar story when looking at the 4th generation Tensor Cores, again Nvidia says their newest design boasts more than double both the Tensor Core and AI processing power to that of the last generation RTX 3090 Ti.
Packaged up with the new generation of processors is Nvidia's latest AI endeavour, Frame Generation, and the results speak for themselves. We found DLSS 3.0 here at Geeka HQ to be a significant improvement upon DLSS 2.0. We tested a multitude of games and found consistent improvements of 30% upwards across the board with DLSS 3.0 enabled.
Frame Generation uses Nvidia's AI technologies to render entirely new frames rather than just pixels. DLSS 3.0 has four main components: An Optical Flow Accelerator, game engine motion vectors, a convolutional autoencoder AI frame generator, and a Reflex upper-low-latency pipeline. These four components work to identify the direction and velocity of pixels on a frame-by-frame basis. Pairs of frames are then taken from the game and fed through their neural network before generating frames. DLSS 3.0 does all of this without getting the game itself to do any grunt work to the benefit of both your CPU and GPU.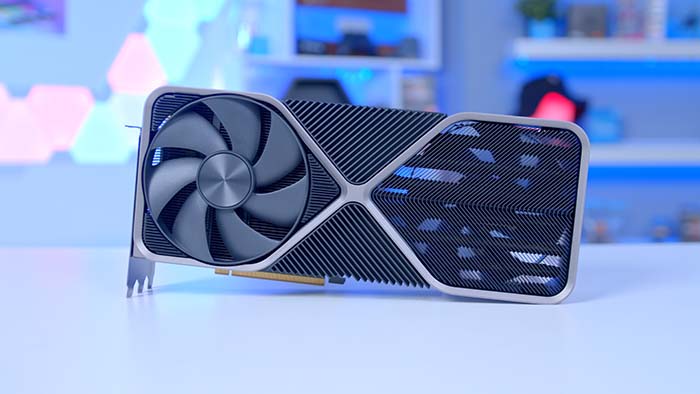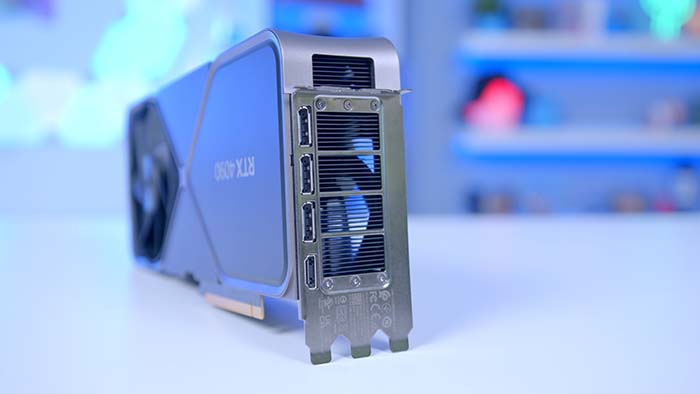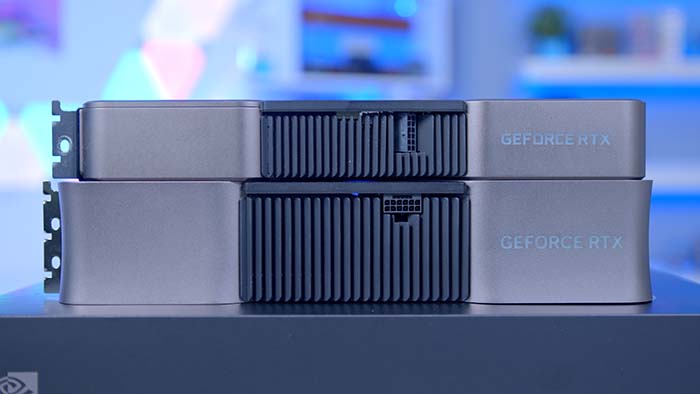 [adrotate banner="7″]
Specifications
The RTX 4090 boasts an impressive spec sheet, with clock speeds in excess of 2.5GHz on the boost clock and more than 16,000 CUDA cores.
Spec
RTX 4090
RTX 3090Ti
RTX 3090
RTX 3080Ti
Video Memory
24GB GDDR6X
24GB GDDR6X
24GB GDDR6X
12GB GDDR6X
Memory Bus
384-bit
384-bit
384-bit
384-bit
Core Clock Speed
2.23GHz
1.86GHz
1.7GHz
1.37GHz
Boost Clock Speed
2.52GHz
1.67GHz
1.4GHz
1.67Hz
CUDA Cores
16384
10752
10496
10240
Power Consumption
450W
(Founders Edition)
450W
(Founders Edition)
350W
(Founders Edition)
350W
(Founders Edition)
RT Cores
3rd Generation
2nd Generation
2nd Generation
2nd Generation
Tensor Cores
4th Generation
3rd Generation
3rd Generation
3rd Generation
PCI-E Generation
PCI-E Gen 4
PCI-E Gen 4
PCI-E Gen 4
PCI-E Gen 4
Design
I must admit, I myself am actually slightly disappointed with the design of the Founders RTX 4090 for no reason other than it seemingly being a 30 series V2. Aside from being (a lot) bigger and coming equipped with a more powerful fan, on the base, it seems that not much else has changed. A little bit safe on Nvidia's part, but it comes back to that old adage if it isn't broke, don't fix it.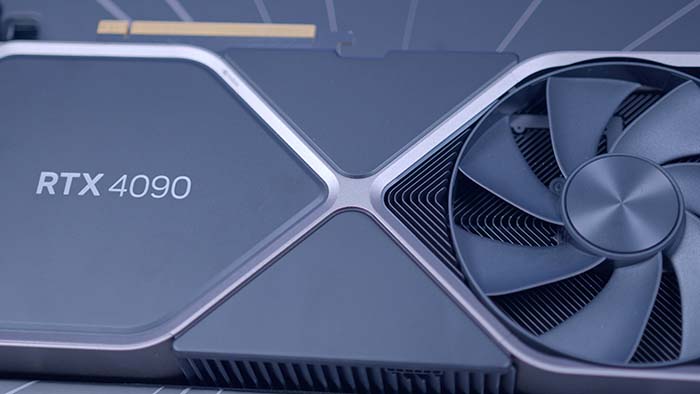 The RTX 4090 card itself sports largely the same shrouding as the previous generation founders cards with the now somewhat iconic minimalist design. The typical black base layer with 'silvery' grey accenting works well and the additional white lighting to both the GeForce text and fan are nice touches, yet I find myself wanting something more. My desire for a new design aside however and the card itself is a good-looking GPU with a design that many have come to love over the last few years.
We've also seen the inclusion of the PCI-E 5.0 connector pop up again which can be cable managed nicely with the new generation of PSUs, such as Thermaltake's GF3 1350W, or Corsair's HX1000i. The cooler does perform very well, and looks far nicer than some of AMD's equivalent in house designs, making these complaints a little pedantic from my end. Temperatures and acoustics are good, it's well built, and the materials used are very premium indeed.
[adrotate banner="7″]
The RTX 4090 does however impress when it comes to the specs. Packed with 24GB of DDR6X memory, a base clock of 2.23GHz with a boost clock of 2.52GHz there are sizable improvements over the last generations RTX 3090 and 3090 Ti. Pair these with up with the new DLSS 3.0 and the RTX 4090 is leaps and bounds ahead of the competition.
Performance
Now, time for the good part. Performance. I had the absolute pleasure of putting the Founders RTX 4090 through the wringer and seeing the results. Needless to say, I was impressed – very, very impressed. I benchmark all of the GPUs that come through our doors, but never before has a card we received performed so well… or for that fact, costed so much!
Nvidia can definitely talk the talk, but with the release of the RTX 4090, they proved that they walk the walk in this instance. To put it lightly, the RTX 4090 wiped the proverbial floor with the likes of the last generation RTX 3090 AND 3090 Ti offering an extra 100+ FPS in titles such as F1 2022, Blizzard's new but not so new Overwatch 2, and Valorant. We paired Our RTX 4090 with AMD's new Ryzen 9 7900X as well as 32GB of Corsair Vengeance EXPO RAM, allowing us to push every frame out of our system possible. I was mightily impressed with performance across the board of the last year's latest and greatest games.
For more detailed benchmark runs of this system, check out our benchmarking channel – 'Benched'. We upload all of our benchmarking runs here for you, the people at home!
[adrotate banner="7″]
Apex Legends
In Apex Legends the 4090 outshined all of the other GPUs that we've tested as you can see with the graph that we've provided. The 6950XT from AMD was able to reach just under 157FPS, whereas the 4090 skyrocketed up to 190 frames on average proving how high this card can fly when it comes to 4K gameplay.
Battlefield 2042
Battlefield 2042 tends to be a relatively intense game for your GPU. With the various explosions in combination with the destructible environment, older and less powerful GPUs definitely can struggle with this game. However, the 4090 had no challenge overcoming the graphical fidelity of Battlefield 2042 offering over 140 frames consistently without hindrances.
Valorant
Although Valorant doesn't tend to pose an issue to most GPUs at 4K, the 4090 yet again proved how capable it is. In this title the Founders Edition card was able to reach over 500 frames on average, which is the first GPU that we have in the office that was able to consistently maintain this.
Fortnite
In our final gameplay run of Fortnite, we dialled the settings back to 1080P with everything cranked to low. These settings are known as competitive and provide an advantage against the other players in your game which is why we benchmark Fortnite at this level. Frame rates were consistently very good, brining in an impressive
[adrotate banner="7″]
Cyberpunk 2077
The most impressive results though were in that of the recently revived Cyberpunk 2077 bringing in a resounding 140+ FPS with DLSS 3.0 and Ray Tracing set to Ultra. This is a stark contrast to the last generation where I struggled to reach anywhere near 100FPS with dumbed-down Ray Tracing settings. The new frame generation has drastically improved the performance of Cyberpunk, and we're all for it!
Overwatch 2
In Overwatch 2 we were able to reach an exceedingly high 456 frames on average. At 4K this was exceptional, and demonstrated the sheer capability of this card. The gameplay was buttery smooth with minimal frame drops throughout.
Marvel's Spiderman Remastered
In Spiderman, we experienced similar performance with DLSS set to performance and RTX on very high. Our average frames sat around 110FPS which was more than enough to have a smooth gameplay with incredible visual fidelity giving us the opportunity to enjoy the sights while swinging through the city.
F1 2022
In F1 2022 we were hugely impressed with the performance of the Founders Edition 4090. F1 2022 is quite a graphically intense game, so at 4K many other cards tend to struggle. But the 4090 stretched its legs here showing how capable this card really is with Nvidia's new generation of cores and their AI powered software. With RTX set to high and DLSS enabled in performance mode, the 4090 was able to reach an impressive 157FPS on average which beat out all other cards that we've tested in this new title!
[adrotate banner="7″]
RTX 4090 Founders Edition – Alternatives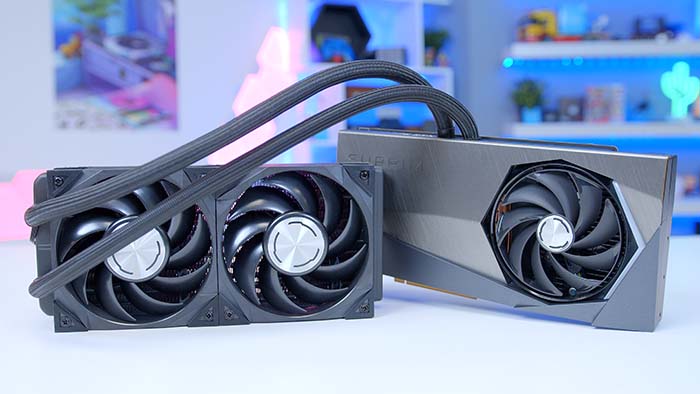 MSI RTX 4090 Suprim Liquid X
MSI's RTX 4090 Suprim Liquid X is a card designed to bring incredible thermal performance reducing thermal throttling and increasing frames. This is one of the best performing RTX 4090 GPUs, and if you're putting together a liquid cooled system, this card will be perfect. The sleek design and RGB chevron located on the front of the card also provides awesome looks to any build!
Buy the MSI RTX 4090 Suprim X Liquid on: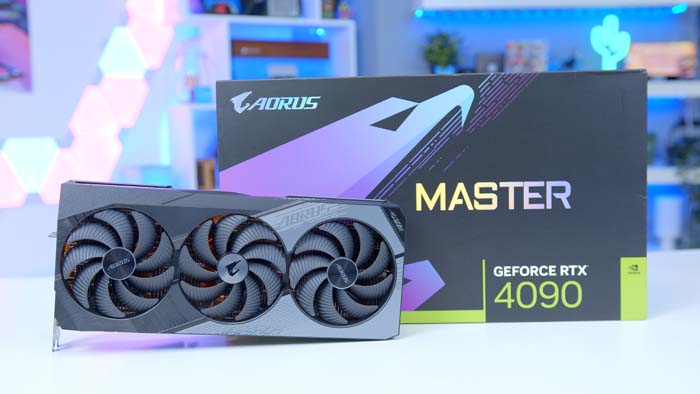 Gigabyte RTX 4090 AORUS Master
Gigabyte's RTX 4090 AORUS Master is an excellent AIB card sporting the same hardware as the Founders Edition but with a slightly higher clock speed giving it the ability to out perform any other gaming GPU. The AORUS Master also has a minimalist yet sleek design that has some extra RGB giving you the option to further customise your build with different lighting animations and colours.
Buy the Gigabyte RTX 4090 AORUS Master on: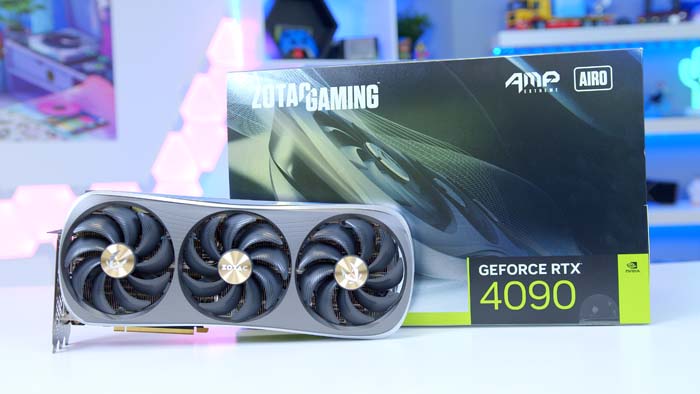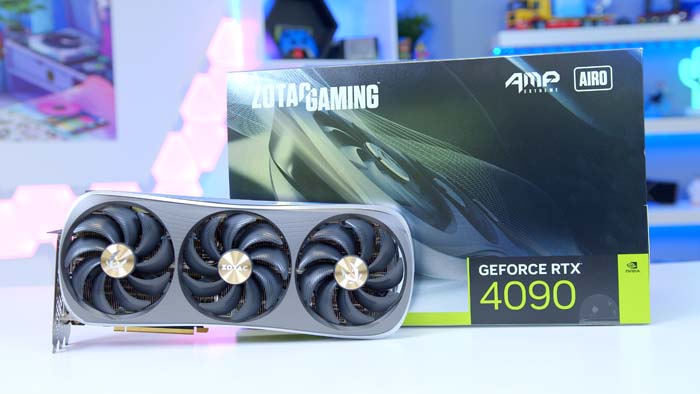 Zotac RTX 4090 AMP Extreme AIRO
The triple fan design of the Zotac AMP 4090 keeps your GPU nice and cool, allowing you to reach excellent heights of performance without the card thermal throttling. Noise performance is also very well optimised with the improved airflow dynamics of this GPU. This Zotac GPU is excellent if you're looking for great thermal output coupled with high a performance card designed for 4K gaming
Buy the Zotac RTX 4090 AMP Extreme AIRO on:
Conclusion
Nvidia RTX 4090 Founders Edition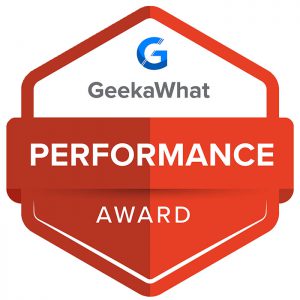 Product Name: RTX 4090 Founders Edition
Brand: Nvidia
Features

Design

Performance

Value For Money
Summary
The RTX 4090 definitely lives up to its expectations in my book, providing a sizable generational increase in performance. Now to be clear this card is not for the majority of people let alone gamers but if sheer performance is what you're after you won't be finding anything better for the foreseeable future. For the creatives out there, whilst costing a significant amount, the additional second encoder debuted on this card may be worth a look at. We found our rendering times cut in half whilst using the RTX 4090, making light work of transitions and graphics alike. Not to forget the gamers out there, whilst yes this GPU will be overkill or out of budget in most scenarios, I can't help but sing its praises from a pure performance standpoint. Yes the card itself it's ginormous and yes it requires a lot more power and yes it costs a lot of money but the results speak for themselves, quite simply the card is ground-breaking. In a world where every frame seemingly matters, the RTX 4090 is hands down the best and it's not close, not even slightly. Bigger does in fact mean better in this case.
Pros
✅ Excellent performance at 4K.
✅ Rendering times cut in half with dual encoders.
✅ Currently the highest performing card on the market.
Cons
❌ Very expensive.
❌ Overkill in most instances.
❌ Card size will limit case options.