Introduction
We're back at it again with yet another graphics card launch. NVIDIA is pumping out an endless slew of products, and we're always ready and raring to talk about the latest offering. Meet the RTX 4060 Ti- a 1080p and 1440p capable card at a somewhat more bearable MSRP of $399 at launch.
This card comes in at an identical price to the previous generation's RTX 3060 Ti, which was one of the best cards (in terms of value), during the original RTX 3000 launch. The 60 and 60 Ti series has always been a bit of a golden standard of cards, with the vast majority of consumers playing games on Steam utilising a GTX 1060, RTX 2060, RTX 3060, or 3060 Ti. NVIDIA themselves have set the bar pretty high, so we're curious to see where this card places itself versus the other four cards that consumers regularly use for 1080p, and some 1440p gaming.
Regardless, in this review we'll be taking a look at Gigabyte's Gaming OC variant of the RTX 4060 Ti. This particular card offers a triple-fan design, sports a modest overclock, and features a cool and sleek aesthetic that we're all familiar with. We'll be delving into the RTX 4000 architecture, along with the design choices Gigabyte has made, and of course – performance!
Buy the Gigabyte Gaming OC RTX 4060 Ti on:
Suggested Article: NVIDIA GeForce RTX 4060Ti Review (Founders Edition Benchmarks)
Architecture
NVIDIA's RTX 4000 series of GPUs utilises the most recent, and most powerful architecture, known to everyone as 'Ada Lovelace'. All of the new cards reap the benefits of this new architecture with NVIDIA providing upgraded hardware, such as 3rd-Gen RT cores, 4th-Gen Tensor cores, and an entirely new streaming multiprocessor. The 4060 Ti has seen some pretty nice enhancements to the core clock speed, with the base speed sitting at 2.31GHz, and then boosting to 2.54GHz.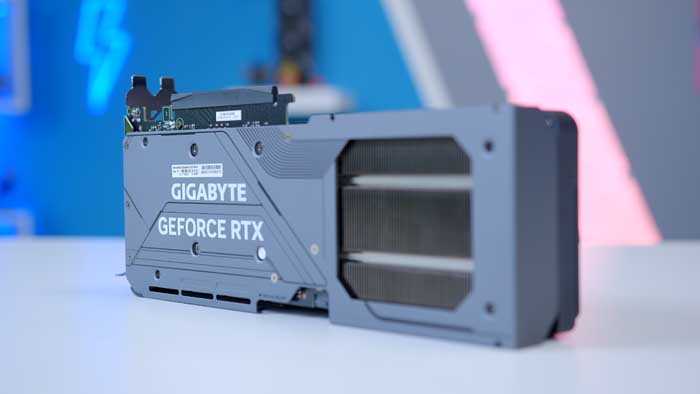 Combined with all of the new software improvements, it seems NVIDIA are off to a very strong start versus the competition. Speaking of software improvements, NVIDIA's pillar technology (DLSS 3) has received huge reworks and uplifts. The new Tensor cores massively boost framerates when DLSS 3 is enabled, reducing the performance overhead on your graphics card, whilst maintaining visual fidelity as close to the original image as possible. Whilst there are increases in latency, I feel this won't be high enough for many consumers to notice.
We've also seen a brand new add-on to DLSS 3 in the form of Frame Generation. By generating frames artificially using AI, this further reduces GPU and CPU overhead, allowing your PC to push framerates even higher than before. Frame Generation can take a game that sits at 60FPS to over a hundred in certain titles by generating entire frames, rather than pixels. This frees up the CPU and GPU, allowing your graphics card to render games at excellent frame rates. I will add that Frame Generation does also add to latency as well, but we imagine this will improve over time.
Whilst much of the RTX 4000 series cards have released with questionable value thus far, but NVIDIA's Ada Lovelace architecture has significantly furthered the industry in regards to AI technology and upscaling. NVIDIA have always been pioneers of new technology, and the RTX 4000 architecture is, if anything, case and point. Frame Generation, DLSS, and Ray-Tracing are all huge leaps in technology, making it a tough market for competitors. The Ada Lovelace architecture is pretty huge in terms of performance, and the RTX 4060 Ti is the one of the cards where all of these new technologies will make the biggest difference.
Hardware Specs
On paper, the 4060 Ti stacks up very well against it's RTX 3000 counterparts from NVIDIA, and from older AMD options too. This card sports a solid boost clock with a mild overclock which should unlock some better performance. Power draw is pretty low, which allows consumers to pick out a relatively low cost and wattage power supply. The weakest area of this card is unfortunately VRAM and Memory Bus. We were expecting a generational improvement to both of these which would significantly aid bandwidth and give this GPU more of a chance at outlasting modern games.
We've created a small table below that outlines the major differences between the RTX 4060 Ti and other cards that we've taken a look at on both the RTX 3000 and RTX 4000 architectures.
Spec
RTX 3060Ti
RTX 4060Ti
RTX 4070
RTX 4070Ti
Video Memory
8GB GDDR6/GDDR6X
8GB GDDR6
12GB GDDR6X
12GB GDDR6X
Memory Bus
256-bit
128-bit
192-bit
192-bit
Core Clock Speed
1.67GHz
2.31GHz
1.92GHz
TBC
Boost Clock Speed
1.41GHz
2.54GHz
2.47GHz
2.61GHz
CUDA Cores
4864
4352
5888
7680
Power Consumption
200W
(Founders Edition)
160W/ 165W
(Founders Edition)
200W
(Founders Edition)
285W
(Reference Design)
RT Cores
2nd Generation
3rd Generation
3rd Generation
3rd Generation
Tensor Cores
3rd Generation
4th Generation
4th Generation
4th Generation
PCI-E Generation
PCI-E Gen 4
PCI-E Gen 4
PCI-E Gen 4
PCI-E Gen 4
All clock speeds and memory specifications are based off Reference designs or Founders Edition cards where available. Clock speeds for cards like this Gigabyte design are often higher.
Design and Aesthetic
The Gigabyte Gaming OC model is a rather familiar design that we've seen a plethora of times in the past. I'd say that overall, I am a little bored of this design. The grey shrouding seen around the entirety of the card is quite plain looking, and I think it wouldn't hurt Gigabyte to add a little bit of colour here. If you're the kind of consumer that prefers a minimalist style setup, then this card will be perfect. But if you're not, this card is just quite boring to look at overall. There's no RGB on the fans, or on the back of the card, there a tiny bit of lighting through the Gigabyte text located on the top of the GPU which is just disappointing.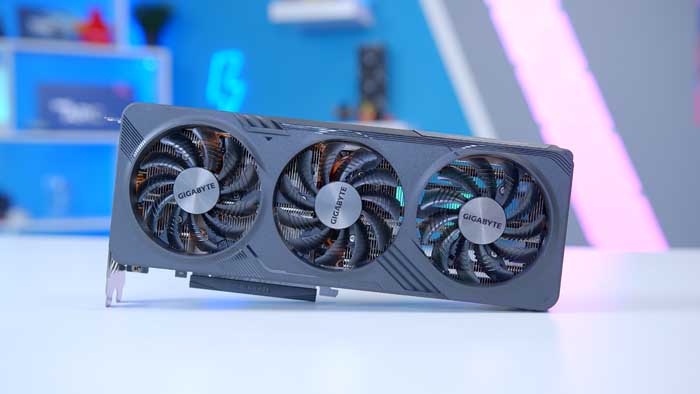 Personally, I much prefer the Founder's Edition design compared to the Gaming OC. Although NVIDIA do try to keep the Founders cards more minimalist, the contrasting silver and black aesthetic that we see on the heatsink and fans looks awesome. But Gigabyte seem to have gone for an all-grey look here which is just boring to look at. Ultimately, this card isn't that much more expensive compared to MSRP, which makes it a solid offering compared to many of the other AIB cards. However, I dislike that you have to pay a significant amount to secure a good looking card. I don't think it would hurt Gigabyte to offer a well-rounded design that has some more colour.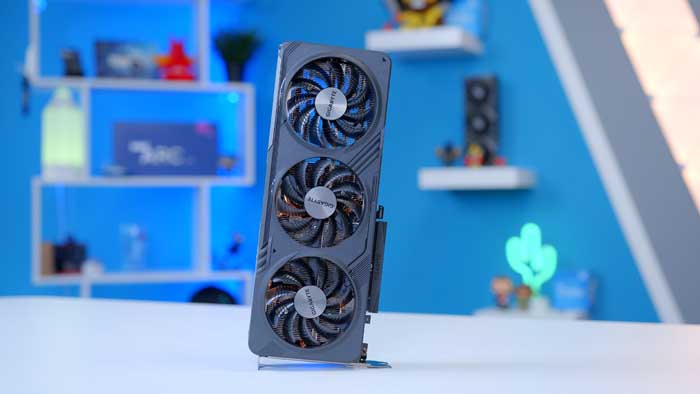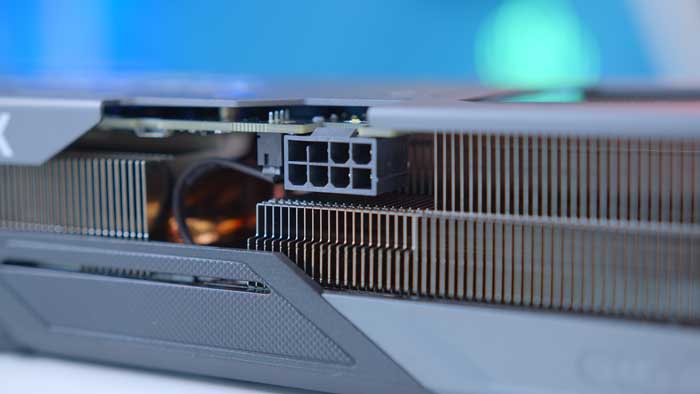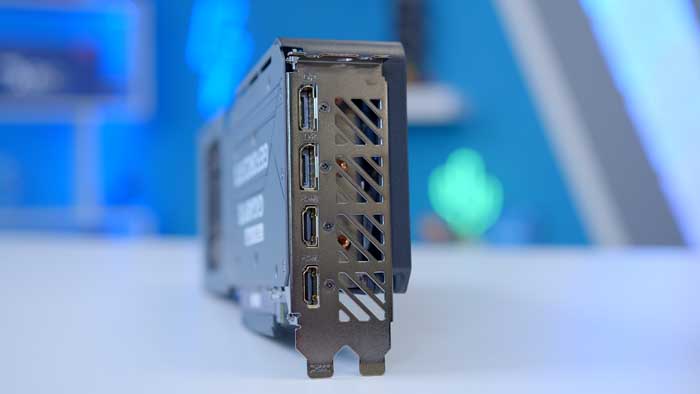 Moving on from the aesthetic, the Gaming OC model is somewhat reasonably sized contrasting to some of the other RTX 4000 SKUs that we've covered in the past year or so. This particular card sits at 281mm, which is somewhat large, but it shouldn't hinder your case choices by much. Even small form factor ITX cases are highly likely to support 300mm graphics cards out of the box, so this shouldn't impose any clearance issues. If you are struggling to find case options, we've written a buyers guide on the best case options to pair up with the RTX 4060 Ti.
The new-ish ATX 3.0 16-pin power connector has also made a return again with the RTX 4000 series of cards. This new connector can pipe up to 600W through one cable, which cuts out the need for multiple 8-pin or 6-pin power connectors in one card. This will require consumers to purchase an ATX 3.0 capable power supply, but this could be worth it if you value cable management. We've also put together a guide on the best power supplies to pair up with the RTX 4060 Ti too.
[adrotate banner="8″]
Performance
Now we're getting into the most important section of this article, performance metrics. As we've alluded to above, the RTX 4060 Ti has some major competition to beat, especially when comparing it against the RTX 3060 Ti 'value king'. This was and still is one of our favourite cards at the GeekaWhat offices, so we're hoping that the RTX 4060 Ti is able to live up to the expectations of it's older sibling.
In terms of performance, we've provided a number of graphs below that highlight the performance of the RTX 4060 Ti in a number of popular Esports titles, and some of the latest triple A games. We've covered a massive range of cards from some of the lower-end RTX 3000 options, along with AMD RX 6000 GPUs to provide points of comparison, so you can see how it fares against your current system. All of the full benchmarking videos can also be found on our YouTube channel – Benched, where you'll find all of our component benchmarking videos!
Hogwarts Legacy
Kicking things off with the wonderful world of Harry Potter, we played Hogwarts Legacy at 1080p High settings. In this benchmark, performance started off pretty strong. We saw an average framerate of around 100FPS, which was very smooth overall. Hogwarts Legacy is a rather GPU intensive title, so we were impressed when we saw framerates this high. It is abundantly clear from this first benchmark that the RTX 4060 Ti is extremely strong at 1080p, which we're not surprised about. But it will be interesting to see how this card holds up at a 1440p resolution (which we'll be covering later on).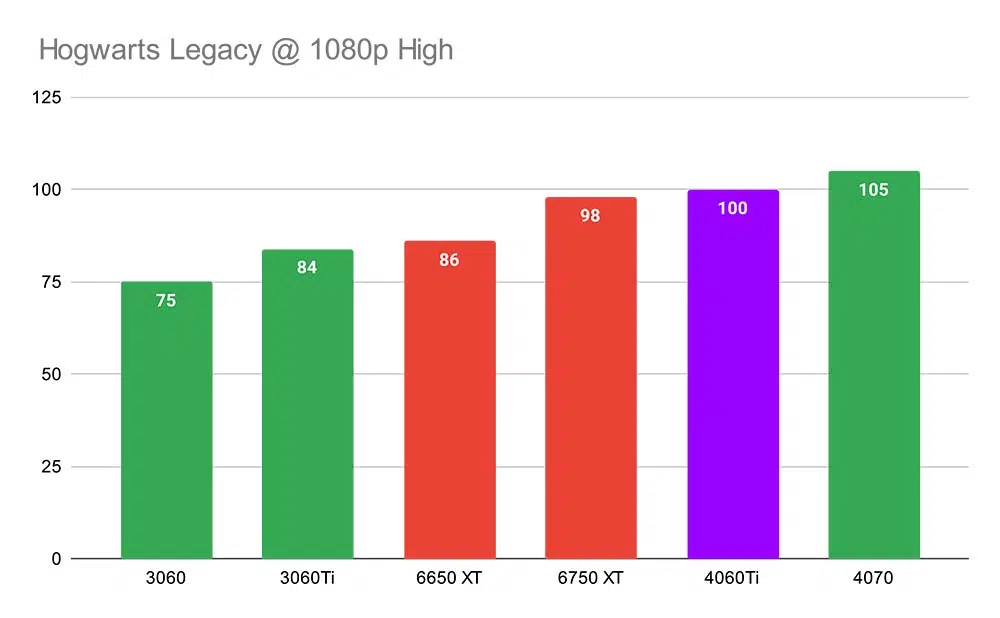 Fortnite
Next up is the hit Battle Royale title Fortnite, where we dialled the settings back to Competitive (which is everything turned down to low). In this game the RTX 4060 Ti put out an average framerate of 285FPS, which is honestly ridiculous. We saw very smooth gameplay overall, and this high framerate is perfect for consumers with high refresh rate displays. There's not really much point in comparing this card against other options in this benchmark, just because you won't really notice visual differences at framerates this high. However, we are at this point starting to see consistency with the 4060 Ti comparing well to the 6750 XT.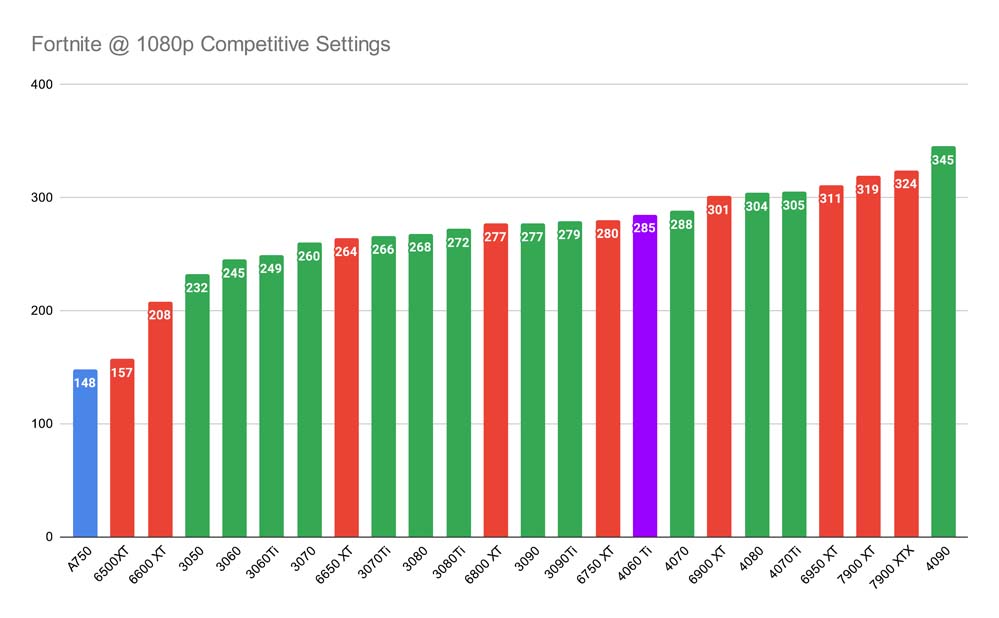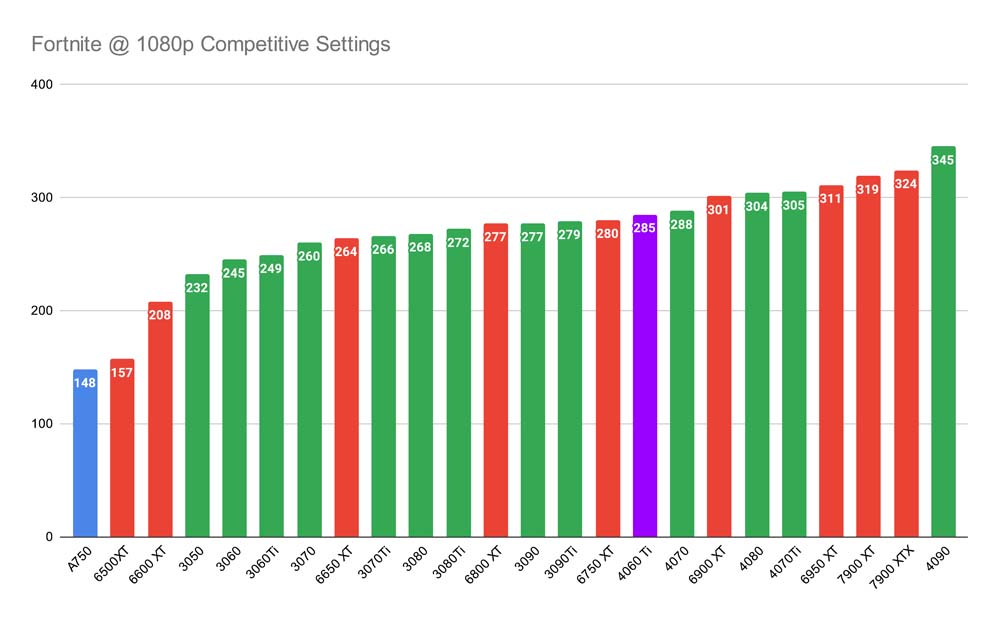 Overwatch 2
In Overwatch 2 at 1080p Ultra settings, the RTX 4060 Ti was our top performing graphics card in this particular benchmarking reaching a high of 278 frames, which is pretty insane. Much like Fortnite, the framerates that we saw in Overwatch 2 were good enough for consumers with high refresh rate displays to enjoy a crisp and buttery smooth visual experience. It is very clear from this benchmarks that the RTX 4060 Ti is an excellent eSports GPU. 1080p seems to be the resolution that this graphics card absolutely thrives.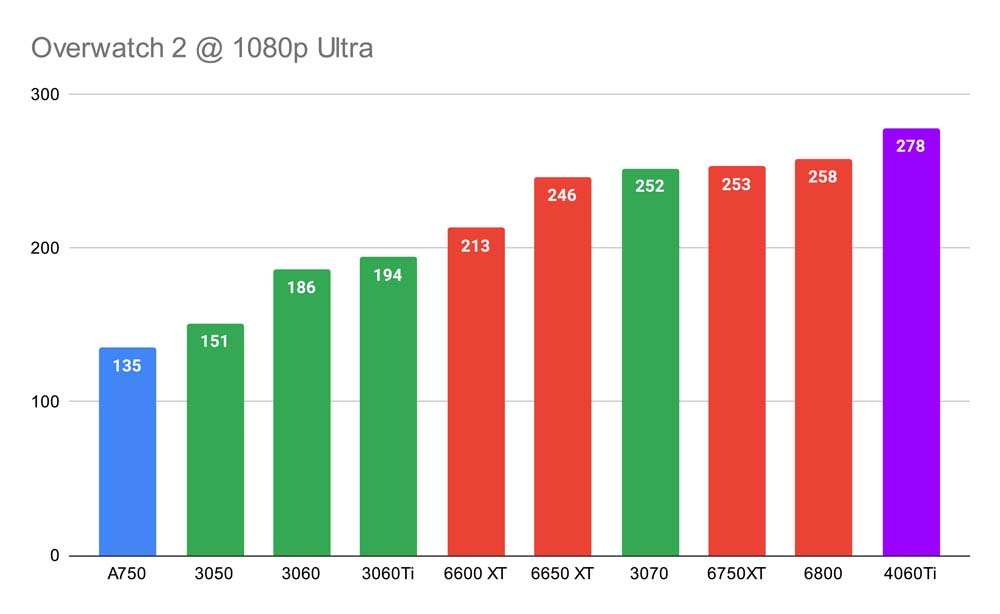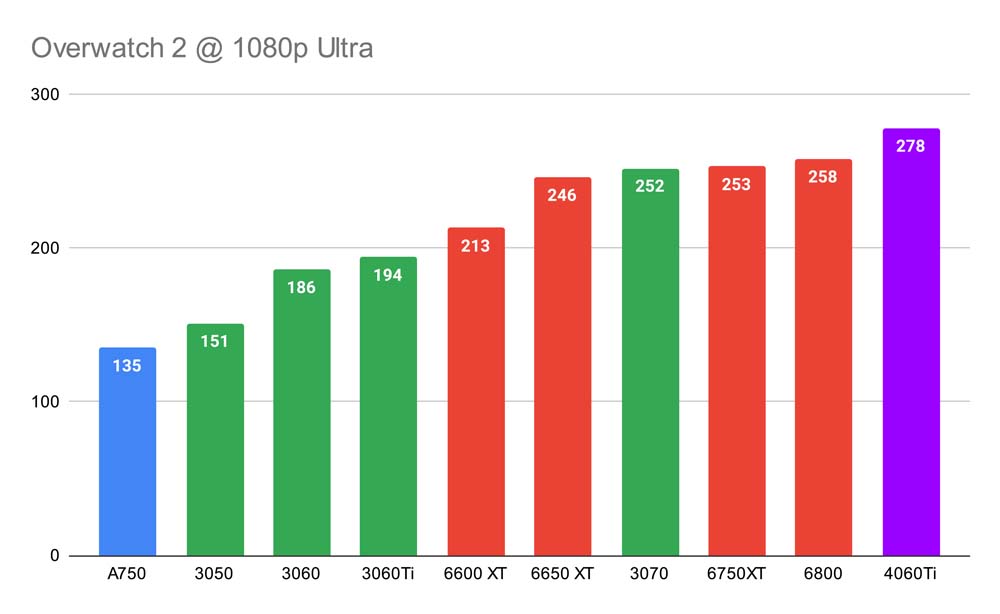 Battlefield 2042
Next up is Battlefield 2042. We bumped up the resolution to 1440p and turned on DLSS. In this benchmark we saw solid performance from the 4060 Ti offering up an average framerate of 120FPS. This puts the 4060 Ti on par with an RTX 3090/RTX 3090 Ti. We were hoping to see the 4060 Ti reach the 144Hz sweet spot, as this game can be quite intense in terms of gameplay. However, I'd argue that 120FPS is more than enough for a smooth gameplay experience. Although DLSS is definitely making up some of the performance here, at the end of the day if you've got access to it, why not use it.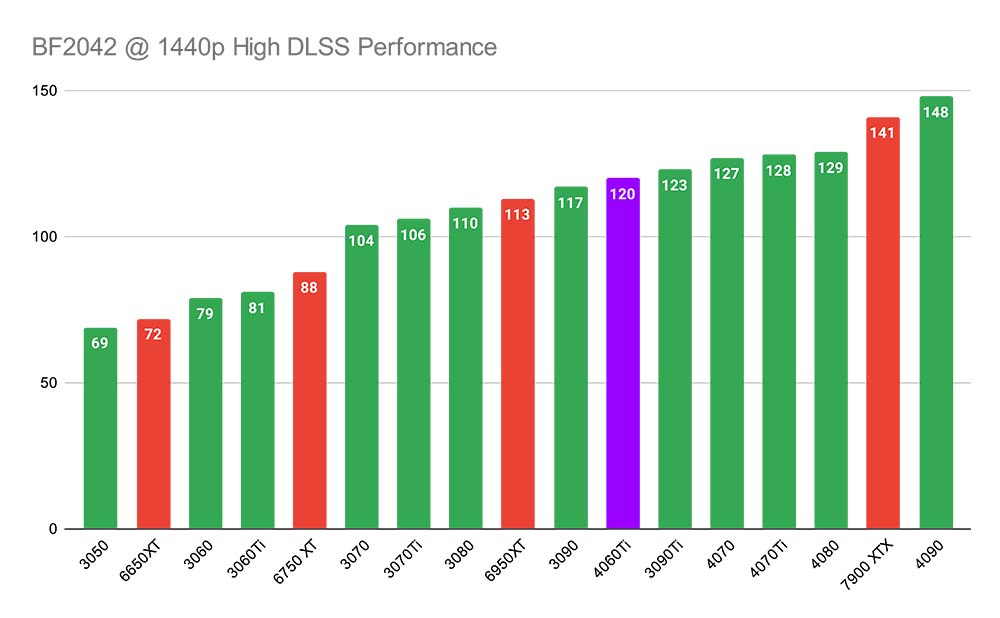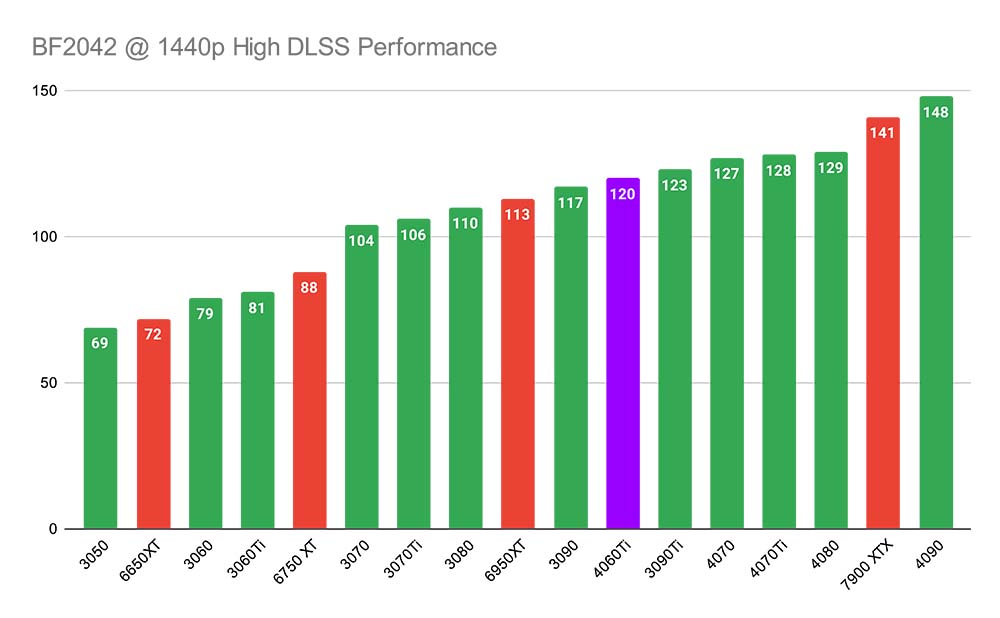 Spiderman Miles Morales
In Spiderman Miles Morales we saw similar levels of performance, with the RTX 4060 Ti offering up around 114 frames on average. Spiderman is a very visually intense game at times, so we were impressed to see the 4060 Ti hold up so well in this benchmark. Again, performance is being pushed up by DLSS in this title, but it makes sense to use it at this resolution, as visual quality is effectively the same. NVIDIA have demonstrated how capable they are when it comes to AI technology here, and hopefully the RTX 4060 will reap the benefits of this software too.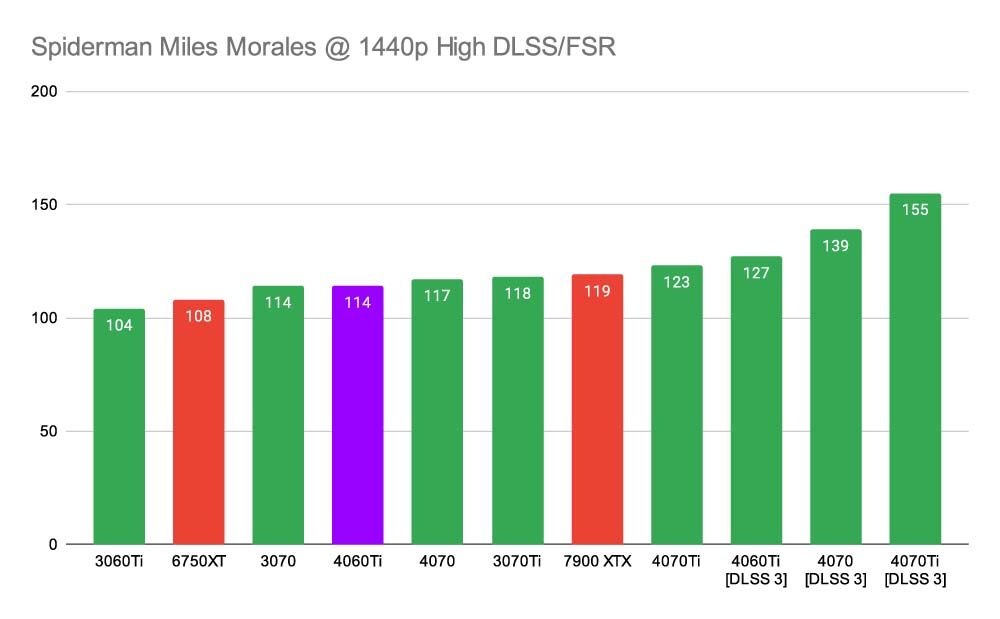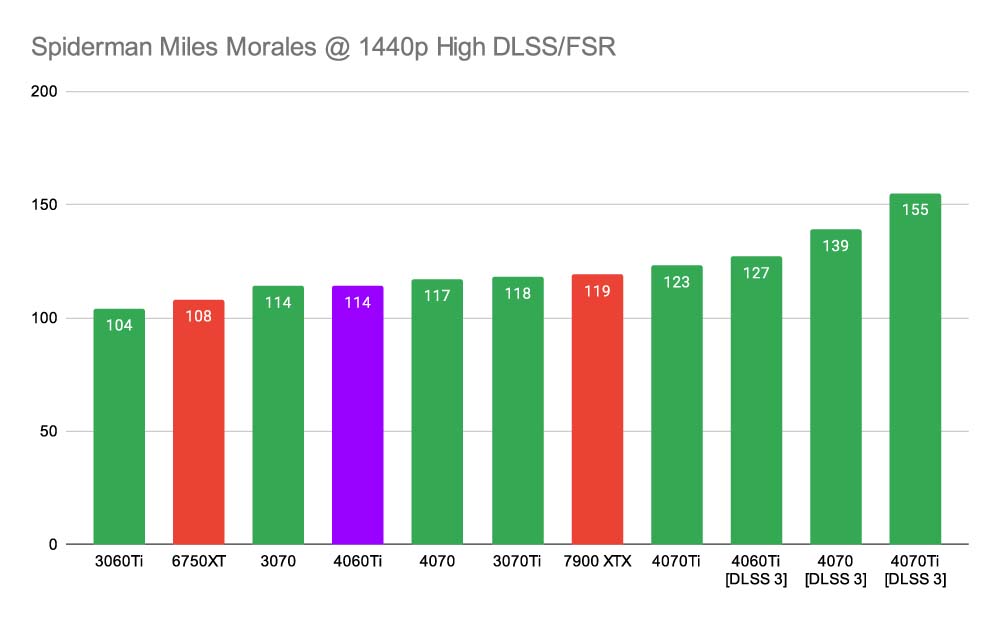 COD Warzone 2
In COD Warzone 2, we ran the game at 1440p with DLSS enabled again. Much like the other 1440p benchmarks, the RTX 4060 Ti offers solid framerates in this title, with an average of 124FPS, which puts it on par with the previous generation's RTX 3080. Again, we were hoping for the 144Hz sweet spot in this title, as gameplay can be rather intense, but the 4060 Ti was just short of this unfortunately. We imagine if you dumb down some in-game settings you should be able to reach the 144Hz mark relatively easy.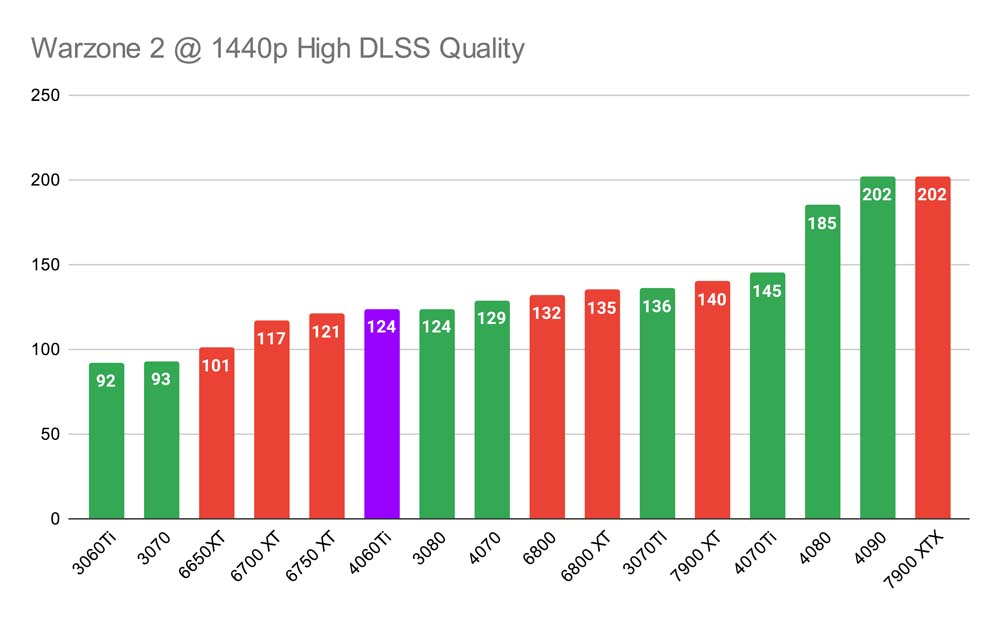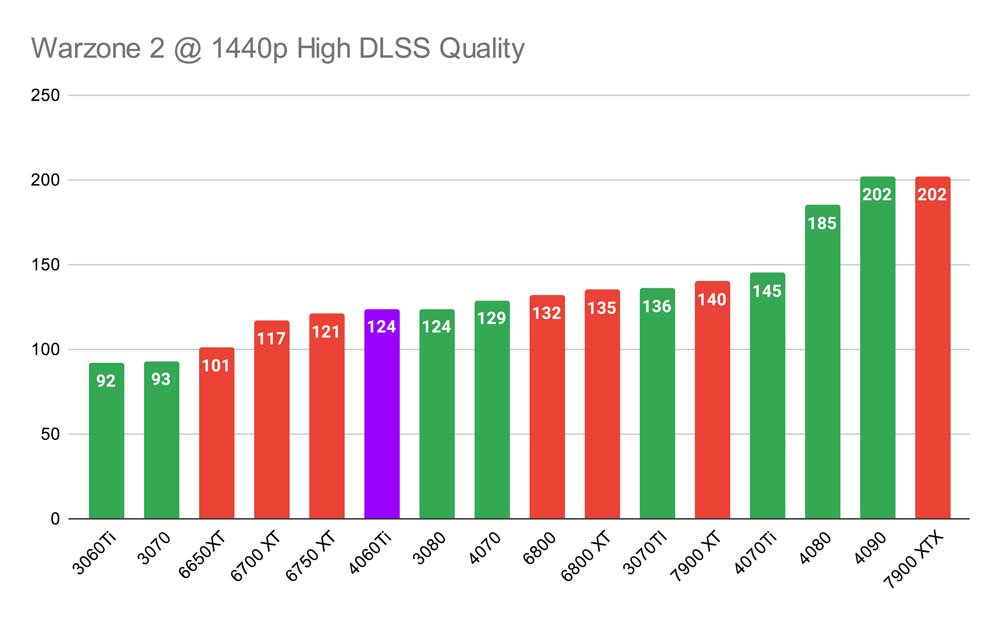 [adrotate banner="12″]
GTA V
Next up, we tested GTA V at 1440p, with the in-game settings dialled up to high. In this particular benchmark we saw very strong performance yet again from the 4060 Ti. Frames were much higher in this game, which is likely down to the age of GTA V. Although this game is still very popular, GTA V is nearly 10 years old, and running on a fairly old engine. This is also why some of the benchmarks are very close together in terms of framerates, which is down to the limitations of the engine. Ultimately we're happy with the performance in this title, and this demonstrates how capable this card is at 1440p.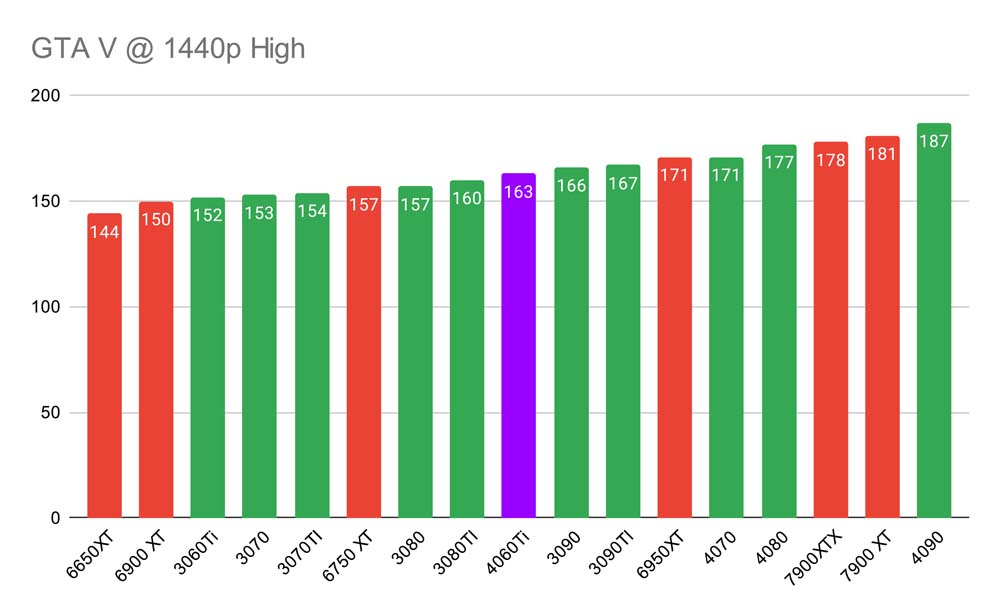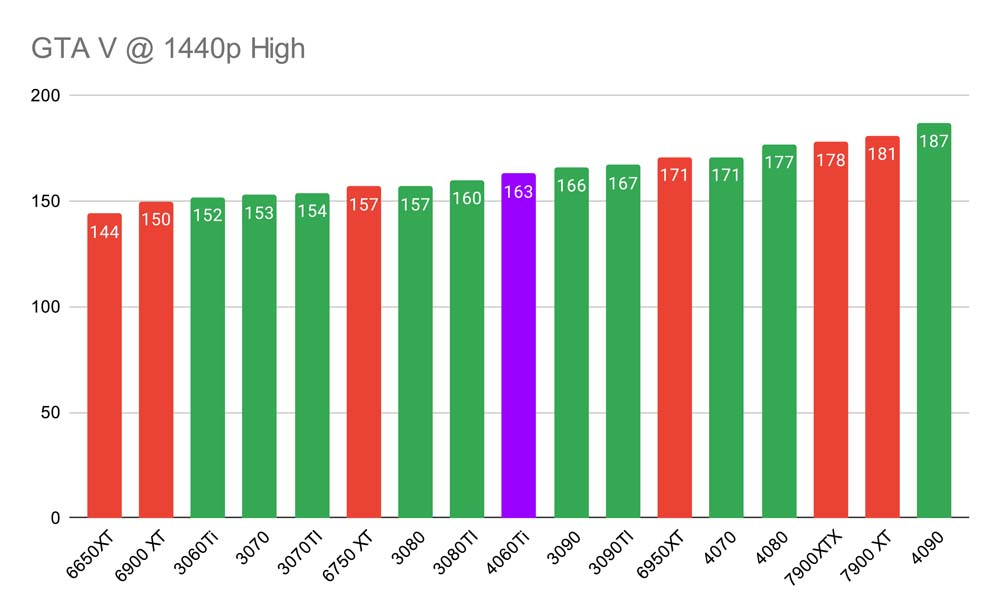 F1 2022
For our final benchmark we fired up F1 2022, tuned the resolution down to 1080p, and turned on DLSS. The RTX 4060 Ti was one of the strongest cards in this benchmark offering up an average of around 258FPS, which is honestly ridiculous. F1 2022 is the kind of game where making split-second decisions is vital in ensuring you can win the race. So at framerates, players should be able to easily make these decisions without any major frame drops, allowing them to enjoy butter smooth gameplay. Overall, the RTX 4060 Ti is an absolute winner in 1080p and 1440p, and holds up very well to the RTX 3060 Ti.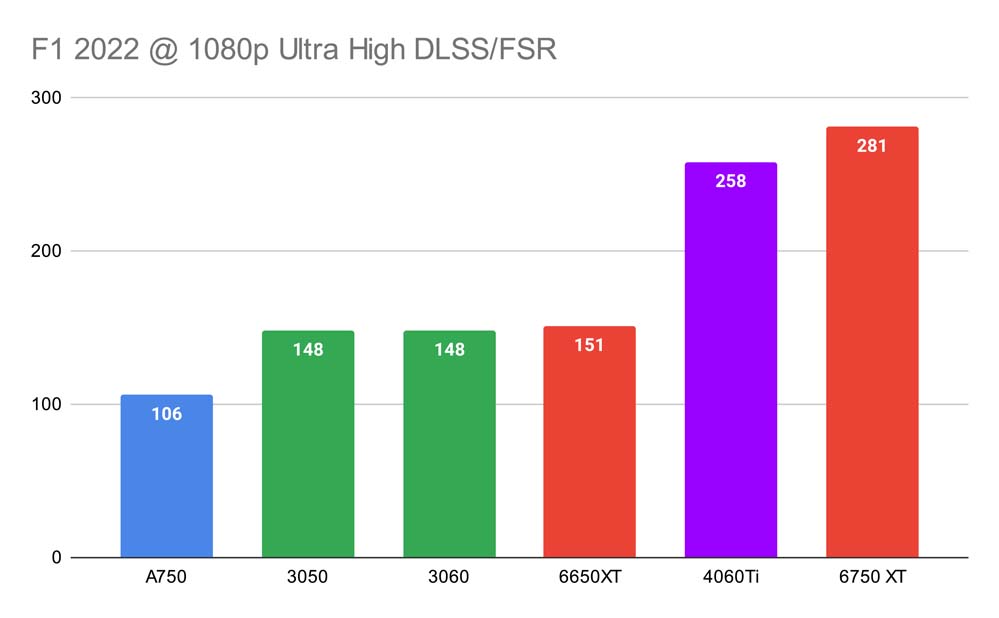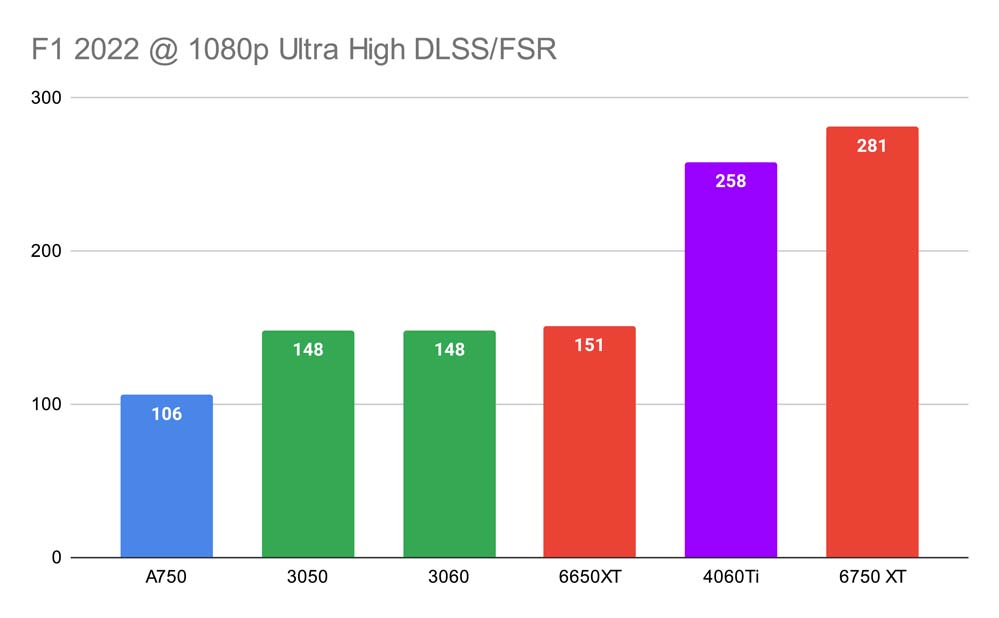 Conclusion
Gigabyte Gaming OC RTX 4060 Ti
Product Name: RTX 4060 Ti
Brand: Gigabyte
Features

Design

Performance

Value For Money
Summary
The RTX 4060 Ti is an awesome graphics card that holds up pretty well to the value king that is the RTX 3060 Ti. This card can handle 1080p and 1440p with ease, making it perfect for a budget or a mid-range system. The Gigabyte Gaming OC model in particular is not my favourite option that we've seen. Thermals are very strong on this GPU, and the very slight overclock does help performance in certain instances, and all of this can be secured for a price tag that is very close to MSRP. Pros aside, I am really not a fan of the overall aesthetic of this card. Gigabyte could have added some more colour where available, or provide some extra RGB to spice up the design, but what we're left with is effectively a grey-scale block. Gigabyte, you can definitely do better, and I'm hoping that the RTX 4060 SKU has some improved options when it comes to design. Moving away from Gigabyte specifically, NVIDIA have done a poor job with this GPU when it comes to VRAM. We are looking at a future where 8GB of VRAM is not enough to play games at reasonable framerates, and with the consistent failures in optimising games, or developers releasing unfinished titles, this future is very close, and very frightening. Although this card is a strong competitor right now, how long this will last I don't know. The one thing I recommend to all consumers before picking up this GPU or any other RTX 4060 Ti card, is consider how often you play brand new games on release. If your answer is 'often', then you might want to consider a more powerful option with more VRAM.
Pros
✅ Excellent 1080p and 1440p performance.
✅ Card is pretty reasonably sized.
✅ Solid thermal capability due to triple-fan design.
Cons
❌ Can't always reach 144Hz sweet spot at 1440p.
❌ Gigabyte Gaming OC design is very weak.
❌ Needs more VRAM.