Introduction
We've had the Gigabyte RTX 3060Ti Eagle OC here at GeekaWhat HQ since launch, and it might just be our favourite 3060Ti yet for a few very simple reasons.
The 3060Ti slots nicely into the Nvidia line-up, more powerful than the newer 3060 and slightly less powerful than the RTX 3070, launched back in September of 2020. In fact, the 3060Ti falls very close the more pricey 3070 in some titles, making it a great value option for the avid 1440p gamer, and while current pricing and stock is tricky, at MSRP the 3060Ti is a tantalising prospect.
In fact, this Gigabyte 3060Ti takes things up a notch, with a factory overclock for some extra performance, despite a modest RRP that doesn't stray far from the reference 3060 board. With a core clock speed of 1695MHz, 30MHz more than the reference design, you will see some modest performance gains, building nicely on the 60Ti's already solid base.
As you'll see in our testing, the 3060Ti does have some legs at 4K too, especially in titles where 60FPS is the goal, rather than 100+. We think this card is best positioned to the 1440p gamer, though, with of course great high FPS performance at 1080p.
The 3060Ti does have a rival on the horizon – in the form of the AMD RX 5700XT. This card looks to come in at a similar MSRP to the 3060Ti, with an equivalent amount of video memory and some impressive on paper specs. The reality on the AMD side, even more so than with Nvidia, appears to be that stock will be virtually impossible to get hands on with, but keep your eyes peeled for our review of that card.
Buy the Gigabyte Eagle OC RTX 3060Ti on:
Suggested Article: Best GPUs to Buy in 2022!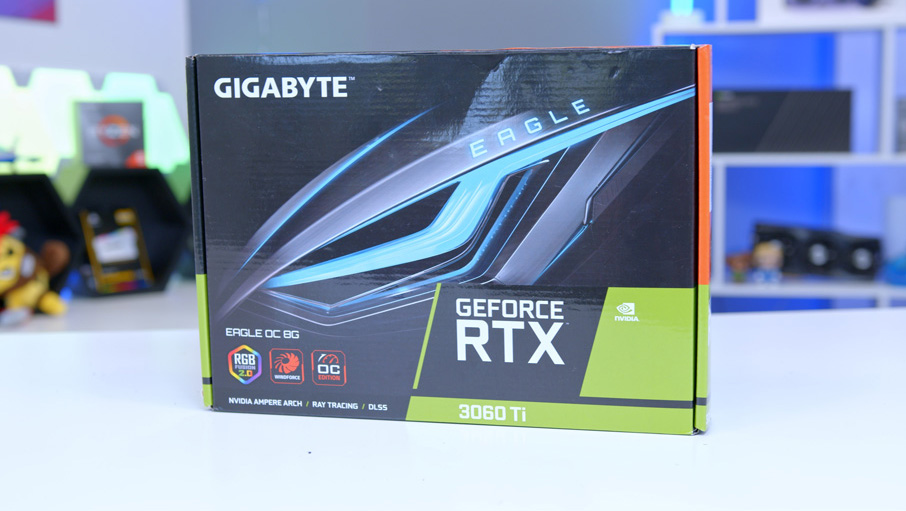 Architecture
We've talked a lot about Nvidia's latest and greatest Ampere architecture, in our recent RTX 3060 review. Essentially it brings the latest features, including DLSS 2.0, 2nd generation, much improved RT cores, for Ray Tracing as well as support for the latest Nvidia broadcast tech.
We really like the Ampere architecture, and the 3060Ti is no exception to that rule. Providing a step change in performance, at solid value MSRPs is a huge win – at least once stock becomes more widely available.
That has been the largest sticking point of Ampere – stock and pricing. With resellers galore, GPU launches look more like limited edition sneakers by the day. To be clear, Nvidia and AIBs, like Gigabyte, are making and selling more GPUs than ever before – but huge demand from miners and raised gaming demand is causing huge issues.
That is one of the most respectable part of Gigabyte's approach here, though. As a board partner, they could have favoured the more expensive coolers for media sampling and retail, the ones with a larger margin and more profit. Gigabyte and other AIBs know whatever cards they produce will sell, and do so almost immediately.
Design
As alluded to earlier, this card uses the Gigabyte 2 fan Eagle cooler design, and is equipped with a modest, but noticeable factory overclock out of the box. It is safe to label the cooler as a fairly no frills design, with exposed copper heatpipes, a largely plastic construction and 2 fans. RGB is no where to be seen, with a grey design that won't be to everyone's tastes.
It is however extraordinary value and performs very well. Temperatures were lower than the Founders Edition card we tested, while audibly the card was very quiet. It will look a little out of place in a large ATX tower, but is perfectly suited to a modest Ryzen 5/i5, Micro ATX system. For more RGB and slightly lower temps, Gigabyte and other board partners have more expensive 3060Ti designs – but if you can get hold of this one, we think it's an awesome value proposition.
Gigabyte have opted to stick to a standard 8 pin GPU power connector, rather than Nvidia's new compact 12 pin style, which I would say is a little more consumer friendly at least in the short term. I'm actually a huge fan of the no frills approach here from Gigabyte, it brings the 3060Ti performance to more people, without using some poorly designed, loud cooler. It does what it says on the tin, for a great price and with good execution.
Performance
Performance on this card has to be the standout feature – we witnessed a modest 5-7FPS increase over the Founders Card we tested. The 3060Ti is the best positioned 30 series card yet. Close to the 3070, at a great MSRP price point.
Not only is the card solid for straight rasterisation titles, the likes of Doom Eternal, Apex Legends & Rainbow Six Siege, but it also has plenty of muscles when you throw Ray Tracing into the mix.
DLSS is also another noteworthy feature that really helps in the FPS department and puts the 3060Ti ahead of the 3070 in DLSS off mode. This AI-driven, resolution scaling tech has proven to be really effective, and is an area where AMD currently struggle to compete with these Nvidia cards. AMD do have a DLSS equivalent on the horizon, though, so this landscape could change a little.
The 3060ti is the best positioned 30 series card yet. Close to the 3070, at a great MSRP price point
When it comes to Ray Tracing, 1440p gaming is certainly doable, but 1080p might be the better bet when it comes to consistently high frame rates across the board. Games like Cyberpunk 2077 are always going to be far more difficult to run in this regard, than something like Fortnite – due to game optimisations and abundance of lighting in the sci-fi world the game sits in.
Here at GeekaWhat HQ, we post all of our complete benchmark runs our our 'Benched' YouTube channel, so feel free to check out the full recorded runs for all of the titles tested below. Games benchmarked include Apex Legends, COD Warzone & Cold War, Fortnite, Cyberpunk 2077, Control RTX, Death Stranding, Overwatch & more!
You can also check out an RTX On /Off comparison below, using this exact 3060Ti graphics card, to see the visual difference:
Conclusion
Gigabyte 3060Ti Eagle OC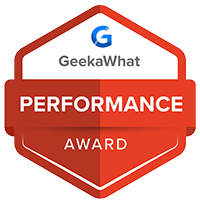 Product Name: 3060Ti Eagle OC
Brand: Gigabyte
Features

Design

Performance

Value For Money
Summary
The 3060Ti is the best card in the line-up for gamers looking for next generation performance, at a great value price point. Gigabyte have done a superb job of releasing a card which gets really close to MSRP, while providing a modest performance edge. If RGB is what you're after, this might not be the one for you, but as far as great value 3060Ti's get, it doesn't get much better than this. Nice one Gigabyte!
Pros
✅ Great 1440p Performance
✅ Very affordable 
✅ Outperforms the 6600XT
Cons
❌ Simple design
❌ Will take some time for production and sales to ramp
❌ 12-pin power connector is frustrating