Introduction
Nvidia's RTX 4070 is finally here! The latest addition to the RTX 4000 series lineup has been highly anticipated since the release of the RTX 4070Ti a few months back. Despite currently being the least powerful 40 series card to release as of yet, the RTX 4070 appears to be the best value offering from the lineup by some way.
On top of the reduced pricing, the RTX 4070 is the first 40 series GPU to come with a significant size reduction. This is great news for gamers, as it means more PC cases will be able to house the RTX 4070, leading to a wider variety of builds.
But which PC cases should gamers pick up for their shiny new RTX 4070 graphics card? And what factors need to be considered? In this buyers guide, we'll break down the best PC cases for the RTX 4070, as well as offer our advice on how to size up a case for Nvidia's latest release.
Suggested Article: NVIDIA GeForce RTX 4070 Review (Founders Edition Benchmarks)
The Best Case for the RTX 4070
Due to the increased number of PC cases which support the RTX 4070 compared to the other 40 series cards, picking out appropriate cases turned into a more complicated challenge. As a result, we have tried to include a wider range of case sizes and designs to cover as many bases as possible.
However, we have also approached this list with caution due to the varying sizes that 4070 SKUs may possess. Because of this, our roundup consists of predominantly mid-tower cases, as they provide enough room for adequate airflow while accommodating for the space that will be taken up by other components within the build.
1. Corsair 4000D Airflow
👑The best RTX 4070 case for first-time builders.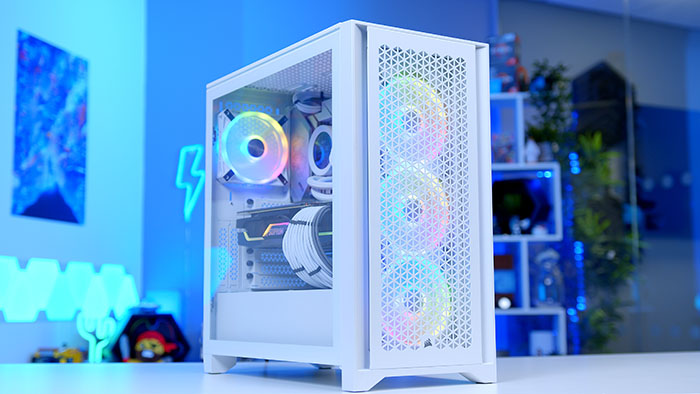 Introduction
Starting off our list is Corsair's 4000D Airflow, a mid-tower case that is designed to make PC building and maintenance easier than ever. As the name suggests, this case puts a heavy focus on providing enough ventilation to give even the most demanding systems the airflow needed to run as cool as possible. On top of the airflow optimisation, the 4000D Airflow is well equipped to house upgrades to your build, including external storage expansions and a vertically mounted GPU.
Pairing this case up with other Corsair compatible products is also worth considering, as this opens up the possibility of synchronising lighting effects using Corsair's iCUE software, which is arguably one of the best ways to customise a gaming PC.
Key Specs
| Key Specs | Corsair 4000D Airflow |
| --- | --- |
| Form Factor | Mid-Tower |
| Max GPU Length | 360mm |
| Motherboard Support | Mini-ITX, Micro-ATX, ATX |
| CPU Cooler Height Clearance | 170mm |
| PSU Support | ATX |
Things We Like
Lots of Airflow: The combination of steel, tempered glass, and plastic creates a unique look for this case that feels more premium than other airflow options available. The triangular front panel is the main standout in this design, offering an illusive glow when RGB fans are placed behind it.
Strong Cable Management– Perhaps the best feature in this case is the integrated RapidRoute cable management system, as this makes it incredibly easy to secure cables into place and neaten up the back of a system. This is particularly ideal for less experienced builders, as routing cables can often be one of the trickiest steps when building a PC.
Things We Don't Like
Lack of E-ATX support– Whilst the 4000D Airflow offers support for ATX, micro-ATX, and mini-ITX motherboards, it is too small to offer support for E-ATX motherboards. This won't be too much of an issue for most RTX 4070 users, but is worth noting for those planning on grabbing a high-end motherboard.
Only comes with 2 fans– What comes as quite the surprise for a case with optimal airflow in mind is that it is only packaged with two included fans. This means consumers will have to pay for at least one extra fan on top of a CPU cooler in order to make the most of the ventilation provided in this case.
Summary
Overall, the Corsair 4000D Airflow combines the best of both worlds to provide a beginner-friendly design that looks premium and offers high-end cooling. Despite the main focus being on providing optimal airflow, the additional design choices makes this a great choice for less experienced builders looking to make the building process less stressful. Available at a reasonable price, the 400D Airflow is a great option for RTX 4070 gamers looking for a premium case that makes the building process a breeze.
Features: 3.8/5
Design: 4/5
Versatility: 4/5
Value for Money: 4/5
Pros
Great for novice builders
Provides lots of airflow
Corsair iCUE compatibility
Cons
Lacks E-ATX support
Only includes 2 fans
Where to Buy
Buy the Corsair 4000D Airflow on:
2. MSI MAG Vampiric 100R
👑The best budget RTX 4070 case.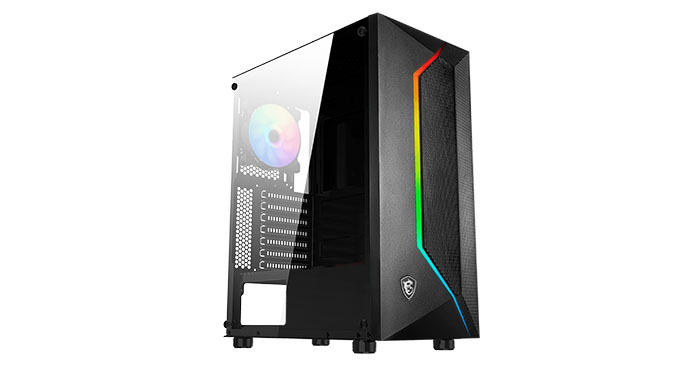 Introduction
Next up, we have the MSI MAG Vampiric 100R. Despite the name, this case won't suck the life out of the PC gaming experience and actually includes a number of nifty features. As one of the slightly smaller cases on this list, the Vampiric 100R is an ideal pick for those wanting to keep their build nice and compact, whilst providing the space required for sufficient airflow. And for further ventilation, this case has mesh panels scattered throughout, including a portion of mesh on the front panel to ensure that the tightly-packed components remain nice and cool.
The front IO on this case is also fairly extensive, with 3 USB ports and an insta-light loop button that allows users to change the colours and lighting effects of the fans without having to access external software. To top it all off, this case is very budget-friendly, making it an ideal pick for those looking to spend their cash elsewhere.
Key Specs
| Key Specs | Corsair 4000D Airflow |
| --- | --- |
| Form Factor | Mid-Tower |
| Max GPU Length | 300mm |
| Motherboard Support | Mini-ITX, Micro-ATX, ATX |
| CPU Cooler Height Clearance | 160mm |
| PSU Support | ATX |
Things We Like
Compact form factor: The smaller size of this case makes it an ideal choice for those with limited desk space. Plus, the limited size doesn't put too many restrictions on components such as motherboards or fans.
RGB front panel: As the front panel is the section of the case that you probably see the most of, it's always nice for it to stand out. This case achieves just that with the combination of mesh and solid metal which is separated by a distinct RGB partition.
Things We Don't Like
Lack of 360mm cooler support: Whilst the Vampiric 100R includes support for up to 6 x 120mm fans, it can't support 360mm radiators in any fashion. This means that gamers will be limited to a smaller CPU cooler for their system, which could lead to weaker thermals on a powerful card like the 4070.
Tight fit for larger SKUs: The 300mm clearance space on this case provides just enough space to house a founders edition 4070 with some room for airflow. However, the variants from other manufacturers tend to be larger than Nvidia's card, so it will be a tight squeeze to fit them in.
Summary
As one of the cheapest cases on the market that will be able to support the RTX 4070, the MSI MAG Vampiric 100R 4070 is a solid choice for gamers looking to put most of their funds towards Nvidia's latest graphics card. Despite the compact nature, this case is still able to house enough components for a strong mid-range performance, and the mesh panels offer strong airflow within the tight space. Whilst those with the space and money for a more comfortable fit may want to consider another option, this case is an affordable option for those with little room for luxuries.
Features: 4.5/5
Design: 4.5/5
Versatility: 5/5
Value for Money: 4.5/5
Pros
Compact design
Very affordable
RGB on front panel
Cons
Doesn't support 360mm coolers
Will struggle with larger SKUs
Where to Buy
Buy the MSI MAG Vampiric 100R on:
3. HYTE Y40
👑The best high-end case.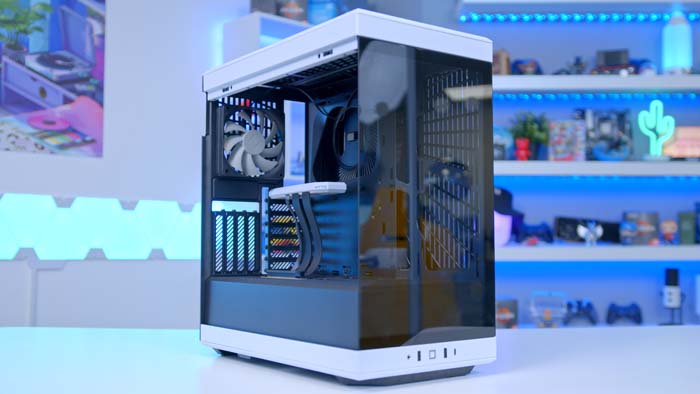 Introduction
For those gamers looking for a PC case that is a little more upmarket, then let us introduce you to the HYTE Y40. As the more concise version of the infamous HYTE Y60, the wrap-around glass panels featured on this design acts as a display piece for all of the components within your build, allowing gamers to show off every aspect of the gaming PC that has undoubtedly taken up a lot of time and money.
To help put the components of a build on full display, this case comes with a riser cable that lets you mount the RTX 4070 vertically and orients any front fans to face outwards. This opens up the components and lets the RGB lighting effects shine through while ensuring that airflow remains optimal. In addition, the vertical orientation allows for greater clearance on even the larger RTX 40 series cards, meaning there will be no issues fitting a 4070 into this case.
Key Specs
| Key Specs | HYTE Y40 |
| --- | --- |
| Form Factor | Mid-Tower |
| Max GPU Length | 422mm |
| Motherboard Support | Mini-ITX, Micro-ATX, ATX |
| CPU Cooler Height Clearance | 183mm |
| PSU Support | ATX |
Things We Like
Stunning design: The main reason that anyone will pick up this case is due to the glass panels which provides a trophy cabinet look for shiny new components. However, the clean frame that borders the glass panels also plays a key role in the overall aesthetic. Available in black, white, or red, the choice of colour can provide a nice accent that brings the look of a build together.
Lots of clearance: Thanks to the smaller frame used on this design and the vertical mounting requirements, this case has plenty of room for large components, including all the latest graphics cards. This means that all RTX 4070 cards should have no issues fitting into this case, and offers some more freedom when picking where to place components.
Things We Don't Like
Only includes 2 fans: The abundance of glass naturally raises concerns about airflow and the fact that only two fans are packaged with the HYTE Y40 adds to this. To ensure that the components placed inside this case are being regulated appropriately, users will need to pick up a strong cooling system or purchase additional fans.
Fairly expensive: It may come as no surprise to see that such a premium design comes with an increased price tag. Though this case is by no means the more expensive option on the market, it is well above the average price point which means gamers should be willing to pay more than expected.
Summary
The HYTE Y40 is one of the most aesthetically pleasing PC cases on the market that allows gamers to show off their components in style. This iteration of the incredibly popular Y60 provides a lot of the same features and design choices, but scales them down to create a more compact offering. However, there is still plenty of space to fit all the latest graphics cards with ease. These features do come with a premium price tag, making this case a better option for gamers building a high-end system that have the money to spare on a case.
Features: 4.4/5
Design: 5/5
Versatility: 4.5/5
Value for Money: 4.3/5
Pros
Stunning glass design
Plenty of space for GPU
Strong front IO connectivity
Cons
Expensive design
Comes with 2 fans
Where to Buy
Buy the HYTE Y40 on:
4. Fractal Pop Air
👑The best overall case.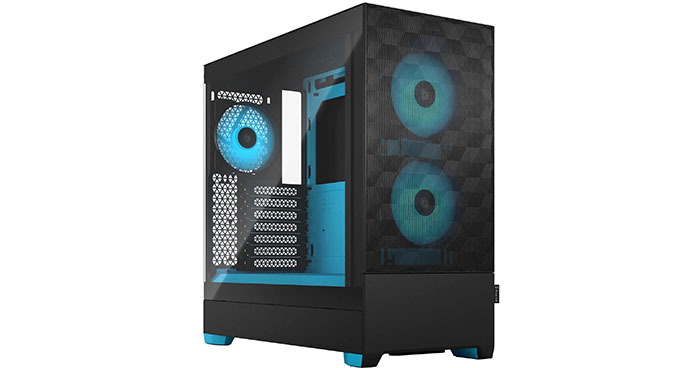 Introduction
Anyone looking to spice up their gaming PC with a case that is bound to turn heads should look no further than the Fractal Pop Air. Fractal Designs have become notorious for thinking outside the box with their PC cases, which has caused their offerings to surge in popularity. As one of the most popular Fractal cases, the Pop Air is an intuitive design that helps to elevate the aesthetics and airflow of a build.
Featuring an entirely mesh front panel, the honeycomb pattern offers a sophisticated look whilst allowing more air to flow through the case without collecting too much dust. Also, the hidden compartments for external storage and cables keeps the build looking neat and tidy. However, the biggest feature is the vast range of colour options available, as they provide a splash of colour to really make your gaming PC 'pop'.
Key Specs
| Key Specs | Fractal Design Pop Air |
| --- | --- |
| Form Factor | Mid-Tower |
| Max GPU Length | 405mm |
| Motherboard Support | Mini-ITX, Micro-ATX, ATX |
| CPU Cooler Height Clearance | 170mm |
| PSU Support | ATX |
Things We Like
Colour options: Along with the traditional black and white colourways, the Pop Air is available with orange, green, magenta, and cyan accents, which is a great way to make a PC stand out and integrate it into the rest of your setup. This is something that we've been begging to see more of with PC cases, so it's great to see someone step up to offer something a little different.
Affordable price point: Compared to other cases which support the latest generation of graphics card, the Fractal Pop Air is one of the cheaper options available. This is fairly surprising given the distinct look these cases provide, making this design great value for money.
Things We Don't Like
Lack of E-ATX support: Like the other options featured in this roundup, this case does not offer support for E-ATX motherboards. Whilst this shouldn't be an issue for most gamers utilising an RTX 4070 in their system, anyone looking to use a larger motherboard in their build will need a bigger case to house it.
Limited fan capacity: Even though the more compact nature of the Pop Air has no effect on the amount of clearance for GPUs and coolers, it does limit the amount of fan slots to 5 x 120mm. As a result, the maximum radiator size for CPU coolers is 280mm, which may effect temperatures on more demanding systems.
Summary
Providing some much needed colour diversity to the PC case market, the Fractal Pop Air is a choice which is hard for most gamers to overlook. The wide range of colours available for this case breaks the traditional two-tone mould that most manufacturers stick to, enhancing the overall look of a build in one simple step. But the unique colours is not the only reason to pick up this case, as the Pop Air also provides solid airflow and convenient storage solutions at an affordable price. However, the smaller size does offer some limitations with fans and motherboards specifically.
Features: 4.3/5
Design: 4.8/5
Versatility: 4.3/5
Value for Money: 4.5/5
Pros
Lots of colour options
Great airflow
Affordable pricing
Cons
Doesn't support E-ATX motherboards
Limited fan and CPU cooler support
Where to Buy
Buy the Fractal Pop Air on:
RTX 4070 Size Comparison
When Nvidia released the RTX 4090 back in October 2022, the main concerns for a lot of gamers was with the size. Compared to other cards seen at the time, the 4090 was an absolute behemoth, and had many builders worried about how it would fit into most cases.
Unfortunately, the answer was simply that this card was too big to fit into a lot of cases on the market, meaning gamers had to buy a brand-new PC case to go alongside the RTX 4090. We have fallen victim to this clearance issue ourselves on a few occasions when trying to fit this card into more compact gaming PCs, so we know exactly how frustrating the gargantuan nature of these cards can be.
Things only got worse with the subsequent RTX 4080 and RTX 4070Ti releases, as both of these cards were pretty much identical to the 4090. This caused concerns to grow, as worries that all the latest cards would be enormous started to creep.
Fortunately, the RTX 4070 has squashed these concerns, as the latest release has been shrunk down significantly. The 250mm size of the 4070 is more reminiscent of the RTX 3000 series cards, which makes this card a solid option for those looking to upgrade their pre-existing 30 series systems.
Whilst there are some disparities between the size of the 30 series cards and the 4070, these changes in size are typically not enough for the majority of PC cases on the market. For example, the difference between the GPU length of the RTX 4070 founders edition and RTX 3070 founders edition is 8mm, with the 3070 being slightly smaller.
For a full comparison of Nvidia's GPU sizes, take a look at the table below:
GPU
Dimensions
Nvidia RTX 4090 Founders Edition
Length: 304mm
Width: 137mm
Nvidia RTX 4080 Founders Edition
Length: 304mm
Width:137mm
AMD Radeon RX 7900 XTX
Length: 287mm
Width: 110mm
AMD Radeon RX 7900 XT
Length: 276mm
Width: 110mm
Nvidia RTX 4070 Founders Edition
Length: 250mm
Width: 112mm
Nvidia RTX 3090Ti Founders Edition
Length: 336mm
Width: 140mm
Nvidia RTX 3070 Founders Edition
Length: 242mm
Width: 112mm
What Size Case Do I Need?
Whilst the reduced size of the 4070 opens up the possibilities for smaller PC builds, it doesn't necessarily mean you should squeeze it into the smallest case possible. It's fairly easy to see the maximum GPU length support on a PC case and take it as gospel. However, these measurements often fail to account for the space required for additional fans or radiators, along with the gaps needed for efficient airflow. Therefore, it is always advised to chop off at least a few centimetres worth to account for these factors.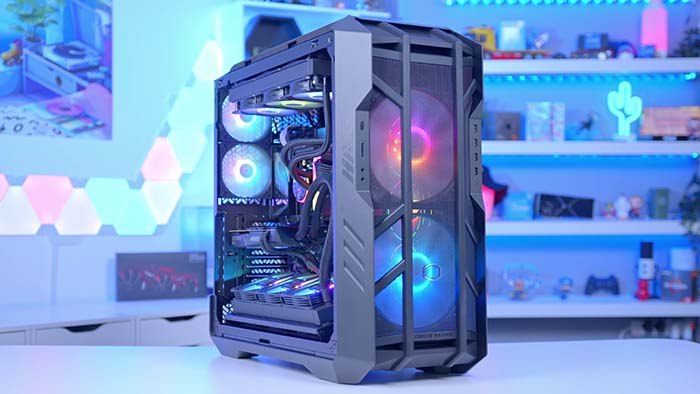 With the 4070 founders edition bringing the GPU length back down to a size that is comparable with the previous generation, most mid-tower and full-tower cases will have plenty of room to accommodate Nvidia's new card, making these cases a fairly safe option. But bear in mind that most SKUs tend to include much larger form factors due to the additional design features and enhanced cooling systems, so it is important to check the exact size of the model you have picked up.
Additionally, it is worth taking note of the size of any radiators or mounting add-ons that are going to be placed alongside the graphics card, as this could cause the clearance requirements of the case to be skewed.
Read our roundup of the best power supplies to pair up with the RTX 4070
Why You Can Trust Us
Our team at GeekaWhat is filled with PC and hardware enthusiasts that love testing all of the latest gaming products, as well as helping out with any tech-related needs. With various PC components and gaming peripherals coming through our doors each week, our editing team are constantly analysing the latest to make sure our audience gets the best insight into the quality and value of each product.
If you would like to learn more about the members of our team, or want more information on our editorial promise, head over to the about us section.
How We Picked the Best Cases for RTX 4070
When we are evaluating any gaming product, our first instinct is to build a PC that revolves around that particular product. This usually provides us with performance parameters for the product in question, along with general insight into the building and gaming experience that gamers can expect.
With PC cases however, there is not much to gain from running performance-based benchmarks, unless there is a major flaw with the design. Therefore, we tend to put our focus on the building process itself, keeping a close eye on key design features that improve the experience for consumers. The main factors we take into consideration are form factor, component support, design innovations, ease of use, and aesthetics.
For more of a deep-dive into our testing methods, check out our reviews on various PC cases below:
Conclusion
If we had to select only one PC cases out of all the options that have been discussed in this roundup to accommodate the RTX 4070, our top pick would be the Fractal Pop Air. This case provides a distinct look that can be customised to suit the rest of your components and setup, whilst also providing efficient airflow to ensure that the components inside the case remain nice and cool. But most importantly, these features are all wrapped up into an affordable package, allowing all RTX 4070 users to access the benefits this case offers.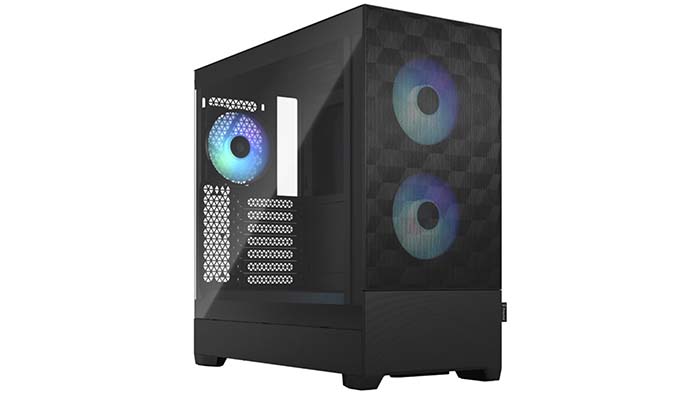 But for anyone looking for a more premium PC case that shows off the components inside it, the HYTE Y40 is a strong alternative. The glass panels and vertical orientation also makes this case a strong choice for anyone picking up a larger 4070 SKU, as it will be able to accommodate them with no issues.
Frequently Asked Questions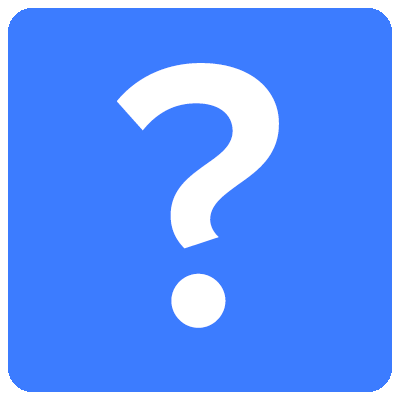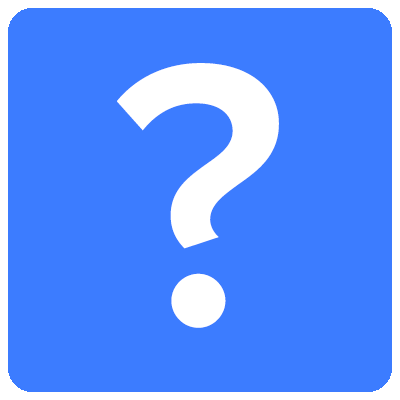 How Long is the RTX 4070?
The length of your RTX 4070 depends on the exact model. The Founders Edition measures in at a modest 250mm, which should be pretty easy to accommodate in most modern PC cases.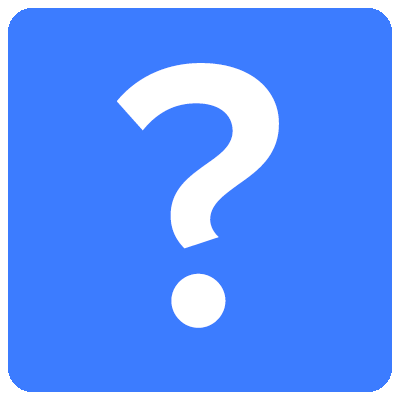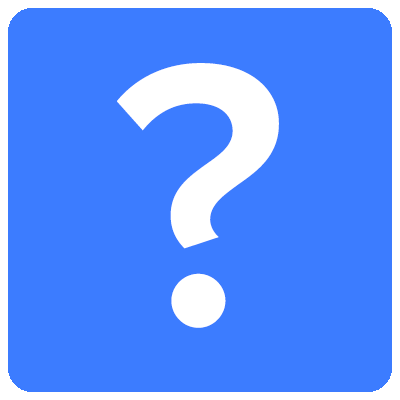 How Much Clearance Do You Need for the RTX 4070?
As a general rule of thumb, we recommend opting for a chassis that offers 50mm of clearance or more beyond your GPU length, meaning that RTX 4070 users will need roughly 300mm of space in their PC, depending on the exact RTX 4070 model.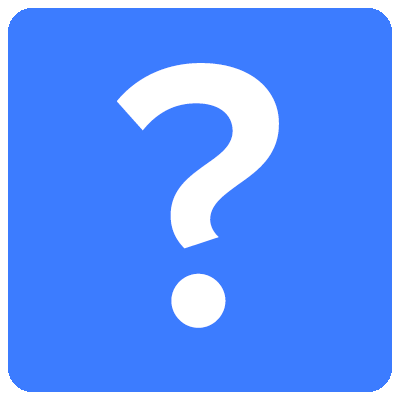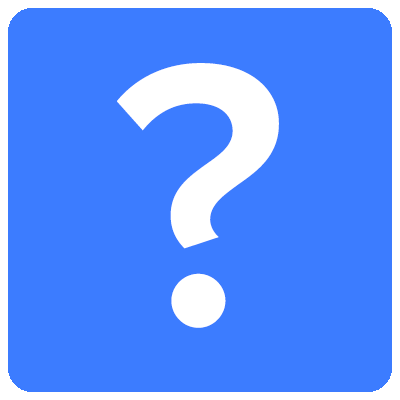 Do I Need a Case with High Airflow for the RTX 4070?
The RTX 4070 isn't a particularly warm running GPU, but a case with strong airflow is always a good bet. Better airflow allows for lower temperatures, higher clock speeds and more longevity in the lifespan of the GPU.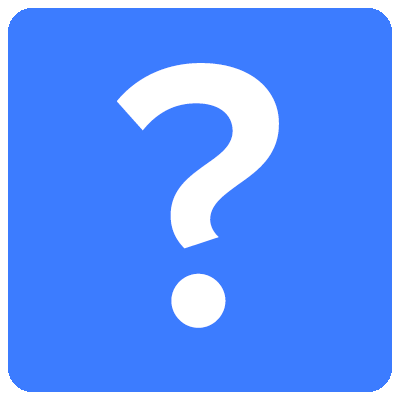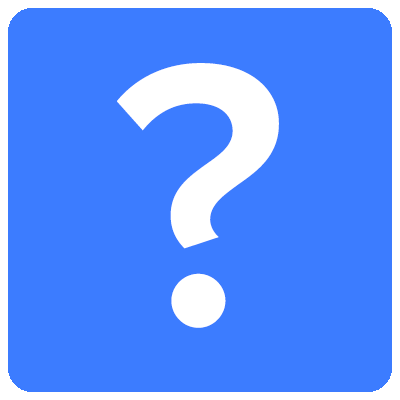 Which Size PC Case is Best for the RTX 4070?
Generally speaking, a mid-tower PC case is the safest bet for anyone picking up an RTX 4070, as most of these cases will support this GPU without taking up too much space. Whilst smaller PC cases such as mini-ITX offerings will have enough space for the RTX 4070, you will need to check the amount of clearance they provide before picking one up and ensure airflow is adequate.