Introduction
Nvidia's latest offering, the brand new RTX 4060Ti has arrived and could it be just the card everyone has been looking for? If last generations RTX 3060Ti is anything to go by, we should have a price to performance monster on our hands!
Coming in at an MSRP price of $399 – a launch price identical to the aforementioned 3060Ti's – the RTX 4060Ti has the potential to follow suit and become a great option for those looking to reach ultra-high framerates at both 1080p and 1440p without breaking the bank. Built using the new Ada Lovelace architecture and compatible with DLSS 3.0, the 4060Ti could blow the competition out of the water, thanks to Nvidia's shiny new resolution tech. The 4060Ti may once again sit as the best-placed GPU in the Nvidia line-up market-wise, if the 8GB VRAM doesn't hold it back too much, stay tuned to find out just how well it performs later on.
The 8GB VRAM on launch is a contentious point amongst the industry and for good reason, games chew through VRAM like nobody's business nowadays, with 10GB or even 12GB seeming a much better option long term. Nvidia have seemingly heard our cries and announced a 16GB 4060Ti to follow in the coming months however, yet it does seem like an additional launch that could have been easily avoided.
Buy the Founders RTX 4060Ti on:
Suggested Article: Best CPUs to Buy for the RTX 4060 Ti 8GB
Architecture
Once again built using Nvidia's late and greatest 'Ada Lovelace' architecture, the 4060Ti reaps the benefits. The RTX 4060Ti, like all RTX 4000 series GPUs, has experienced hefty upgrades in a number of key departments. Featuring 3rd generation RT cores, 4th generation Tensor cores, a new streaming multiprocessor and the new DLSS 3.0 , the 4060Ti architecture looks great on paper.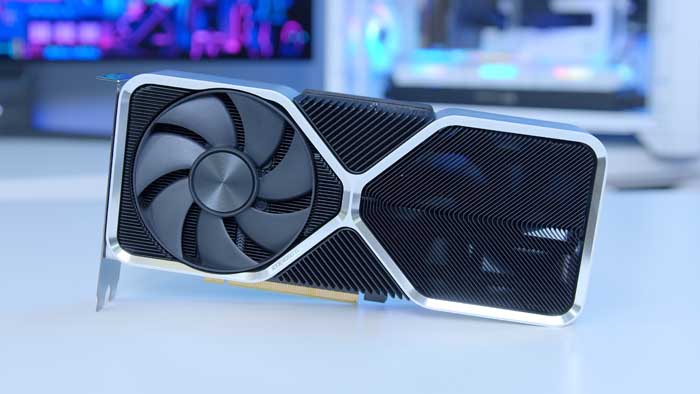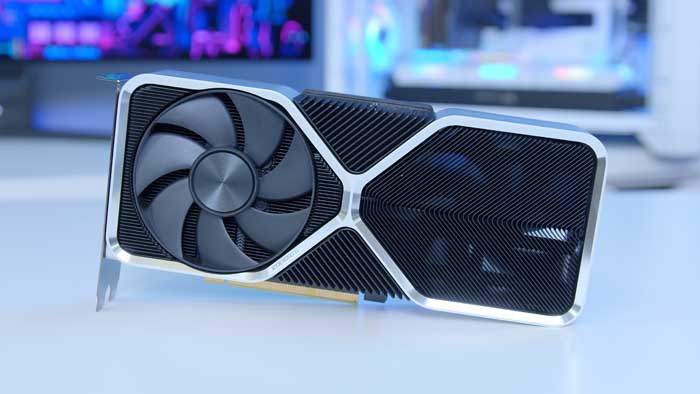 DLSS 3.0 is a huge inclusion for a 'lower' end card, thanks to the technology it brings with itself. Frame Generation, the standout feature of DLSS 3.0, enables the RTX 4060Ti to push past the hardware-limited performance boundaries and gain significant performance uplift. By generating the next frames artificially, without the game in question having to do any intense work itself, loads on both the CPU and GPU can be managed further and used to deal with what they do best.
Whole frames are now able to be generated rather than just pixels thanks to the new Frame Generation Tech and boy does it make a difference. By taking a pair of frames and feeding them through Nvidia's Neural Network, RTX 4000 series GPUs are able to have frames generated ahead of time, minimising stress on the GPU. Doing so frees up both the GPU and CPU, allowing for the GPU to render the games at considerably higher frame rates thanks to the grunt work essentially already being done.
Nvidia's ADA Lovelace architecture does a great job of furthering the industry regarding AI technology. Nvidia's architectures' have always led the way in the GPU industry at least, and their latest is no different. Bringing great advancements to both software and hardware, most notably the new Frame Generation technology, Nvidia's competitors will have a tough task in answering back. The ADA Lovelace architecture was impressive enough on the high-end GPUs, but its on the GPUs like the RTX 4060Ti where it makes the biggest difference.
Specifications
On paper, the RTX 4060Ti stacks up fairly well against its counterparts from Nvidia but no know means spectacularly. Healthy base and boost clocks and lowest overall power draw being the standout points. The RTX 4060Ti looks weaker however when looking at the VRAM total, Cuda core count and Memory bus and loses out to the very card its replacing both Video Memory and Memory bus.
We've created a table below that highlights the key hardware differences between the 4060Ti and other cards on both the RTX 4000 and RTX 3000 architectures.
Spec
RTX 3060Ti
RTX 4060Ti
RTX 4070
RTX 4070Ti
Video Memory
8GB GDDR6/GDDR6X
8GB GDDR6
12GB GDDR6X
12GB GDDR6X
Memory Bus
256-bit
128-bit
192-bit
192-bit
Core Clock Speed
1.67GHz
2.31GHz
1.92GHz
TBC
Boost Clock Speed
1.41GHz
2.54GHz
2.47GHz
2.61GHz
CUDA Cores
4864
4352
5888
7680
Power Consumption
200W
(Founders Edition)
160W/ 165W
(Founders Edition)
200W
(Founders Edition)
285W
(Reference Design)
RT Cores
2nd Generation
3rd Generation
3rd Generation
3rd Generation
Tensor Cores
3rd Generation
4th Generation
4th Generation
4th Generation
PCI-E Generation
PCI-E Gen 4
PCI-E Gen 4
PCI-E Gen 4
PCI-E Gen 4
All clock speeds and memory specifications are based off Reference designs or Founders Edition cards where available. Clock speeds for are often higher on AIB models.
[adrotate banner="8″]
Design
The RTX 4060Ti is my favourite looking RTX 4000 series GPU to date. Whilst I know I have been critical of the design of the 4000 series line-up previously, the RTX 4060Ti does just enough to freshen the design up once more. GPU size is also once again of no issue and follows on from the recent RTX 4070 sizing, making the RTX 4060Ti all the more hot-swappable.
The RTX 4060Ti sports a sleeker silver tone finish to the chassis as opposed to the gun metal grey featured on previous models. Coupled with a machine finished bezel on the outline of both the top and bottom plate and the RTX 4060Ti glimmers. The changes may seem small in writing but both make a huge difference to the GPU in person and help the RTX 4060Ti to stand out.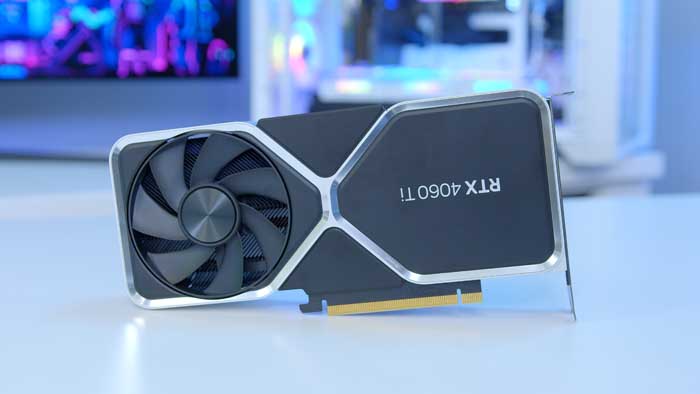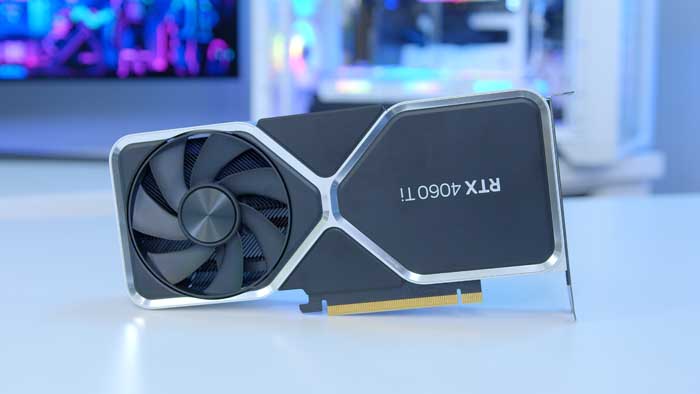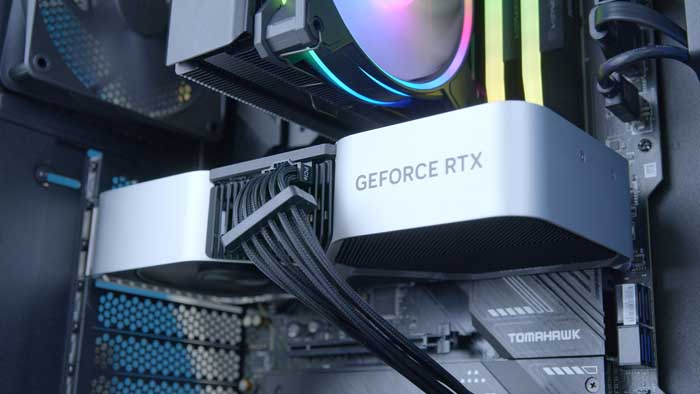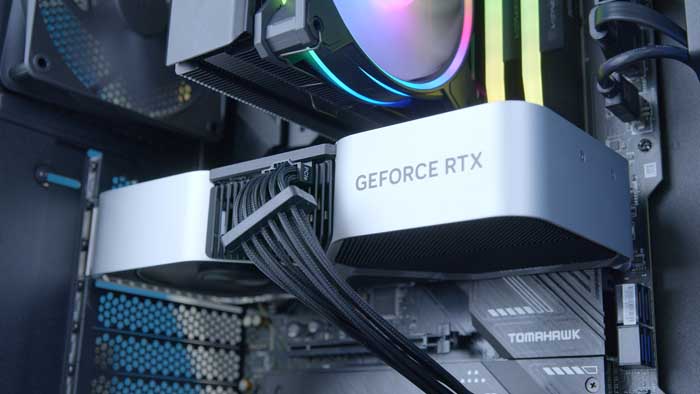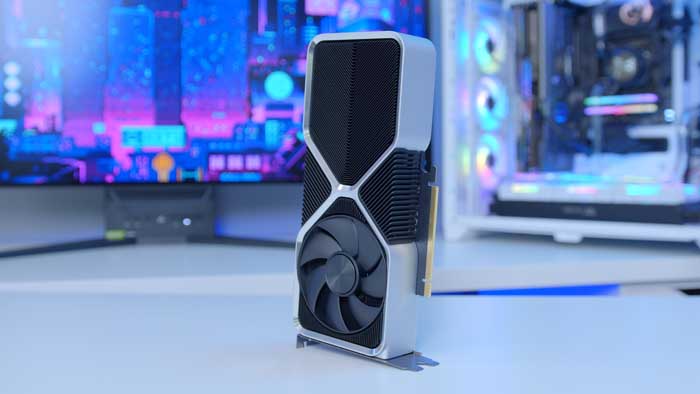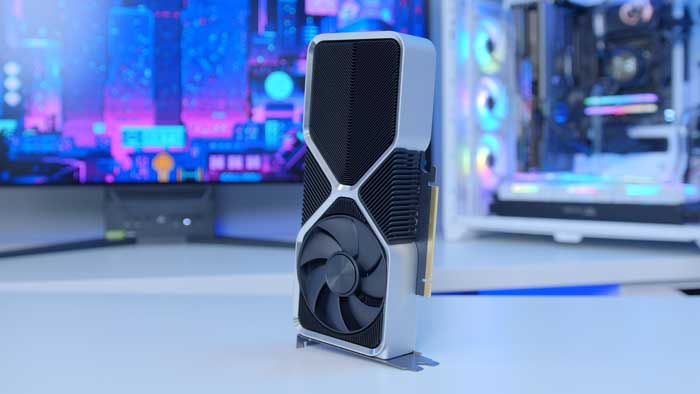 Elsewhere the now somewhat standardised PCIe 5.0 is again in use, albeit in tandem with the ever-present Nvidia adapter cable. Paired with the lowest total power consumption we've to see yet and great design choices have been made on the power front. A once contentious point with the RTX 4000 series cards in the sizing of the cards is once again eradicated and a good thing too. As we get more and more budget releases the need for budget casing options once again arises and given the now smaller GPU sizing, many older budget cases will be more than fit to house the RTX 4060Ti.
The RTX 4060Ti and Nvidia specifically have done a solid job refreshing what is now a saturated GPU design. The RTX 4060Ti has finally started to win me back over to the design of the Nvidia Founders GPUs that we have seen for the previous two generations. Whilst yes, I will likely experience more Nvidia Founders design fatigue in the coming months, for now at least the RTX 4060Ti feels like a breath of fresh air.
Performance
Now, down to the performance and wow does the RTX 4060Ti have some shoes to fill! Last generations RTX 3060Ti was our pound-for-pound king at the GeekaWhat offices and a household favourite so we are expecting big things from the new kid on the block. Will it live up to the expectations? We hope so!
Below we've provided a number of graphs from our benchmarking runs, comparing metrics from both current and previous-generation cards. From RTX 3000 to AMD's RX 6000 range we've got you covered. All of the full benchmarking gameplay can be found on our very own YouTube channel – Benched, where you'll find all of the components that we've tested in a myriad of games!
Fortnite
Kicking things off in style with the king of battle-royale's and well, gaming in general.. Fortnite!
Early signs were very promising from Nvidia's latest release, with the RTX 4060Ti slotting in right behind its bigger brother the RTX 4070. Beating out all of last generations RTX 3000 series line-up, including both the RTX 3090 and RTX 3090Ti is nothing short of incredible from a card intended to be for budget oriented builds. Pulling 285 FPS on average puts the RTX 4060Ti within touching distance of the RTX 4070 at just 3 FPS higher, whilst not being a million miles away from the 4080 at 304 FPS either. Promising showings early doors for the RTX 4060Ti, on to the next!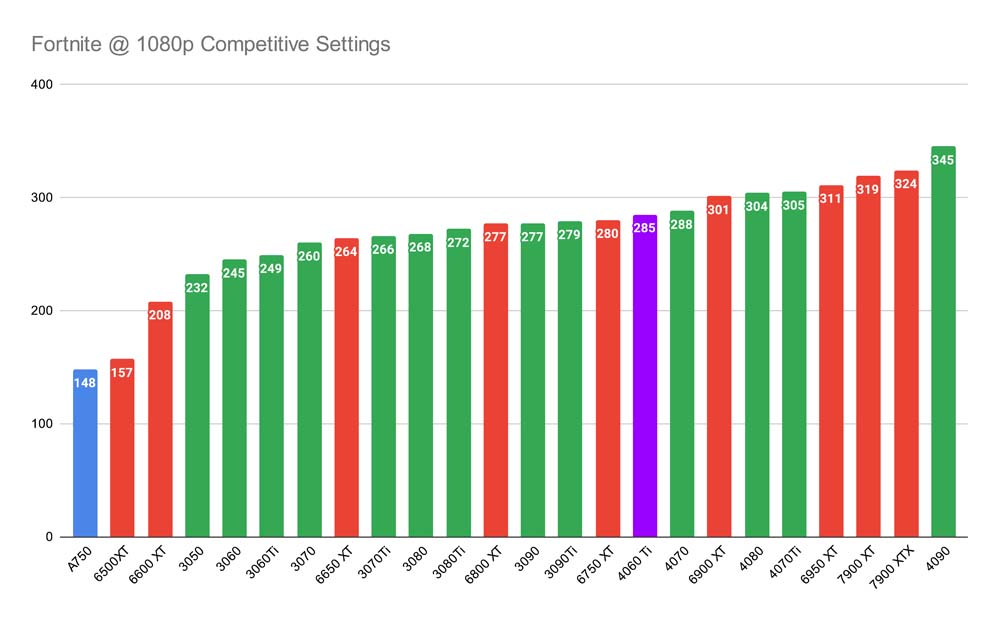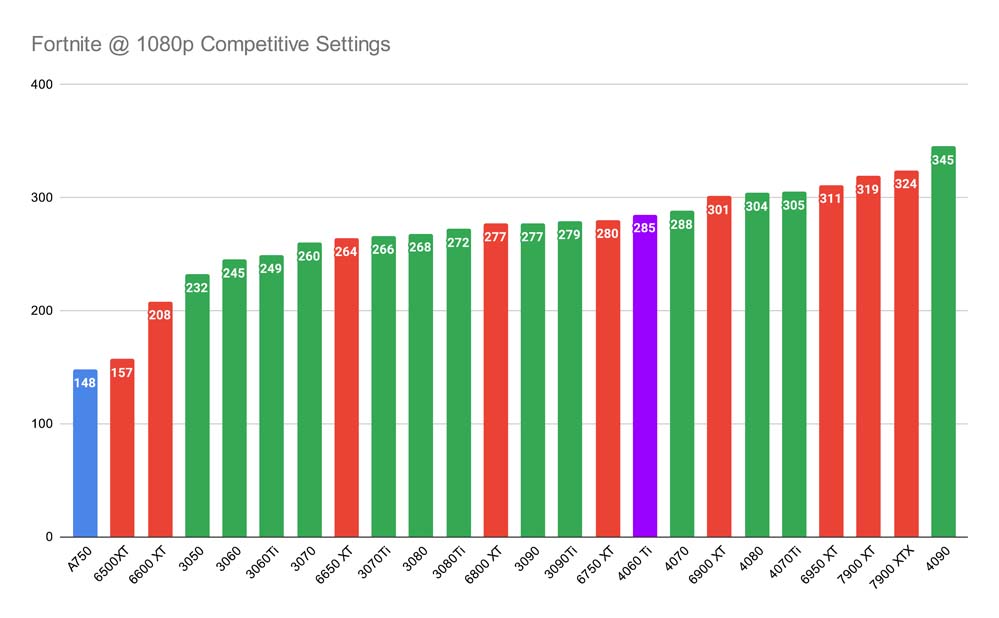 Hogwarts Legacy
One of the newer additions to our benchmarking list, is Hogwarts Legacy. The RTX 4060Ti continued to follow on from its success in Fortnite with a similar story in the wizarding world. Sitting just 5 FPS behind the RTX 4070 and beating out the RX 6750 XT (just) at 100FPS on average is again a solid showing from the RTX 4060Ti. Admittedly Hogwarts Legacy is one of the harder games to run currently, even at 1080p but 100 FPS is more than playable in a single player title. For those still looking for ultra smooth gameplay at 144Hz, Frame Generation will be a necessity in this title but even without the RTX 4060Ti proves it more than up top the task.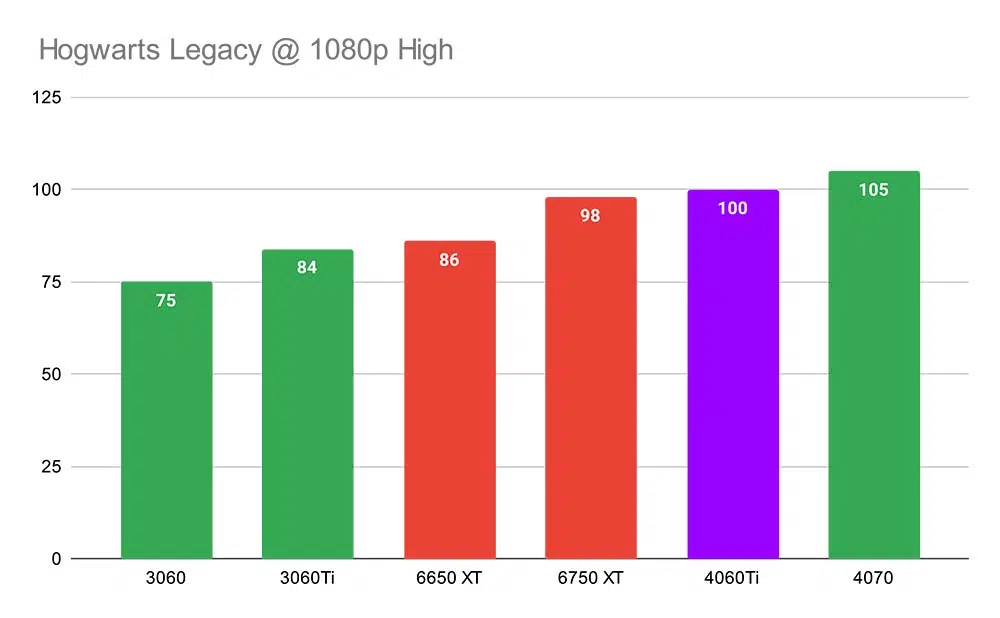 Apex Legends
Apex Legends is next up and a game we decided to test at both 1080p and 1440p. Starting with 1080p High settings, the RTX 4060Ti averaged roughly 195 FPS falling just shy of the 200 FPS mark. Healthy improvements were made over last generations RTX 3060Ti, pulling an extra 18 FPS on average as well as beating out both of the last generation offerings from AMD in the form of the RX 6650 XT and RX 6750 XT.
The RTX 4060Ti did lose out fairly considerably to the RTX 3070 however by roughly 14 FPS and whilst it would have been nice to see this gap slightly smaller, the RTX 4060Ti still sits roughly where we'd expect.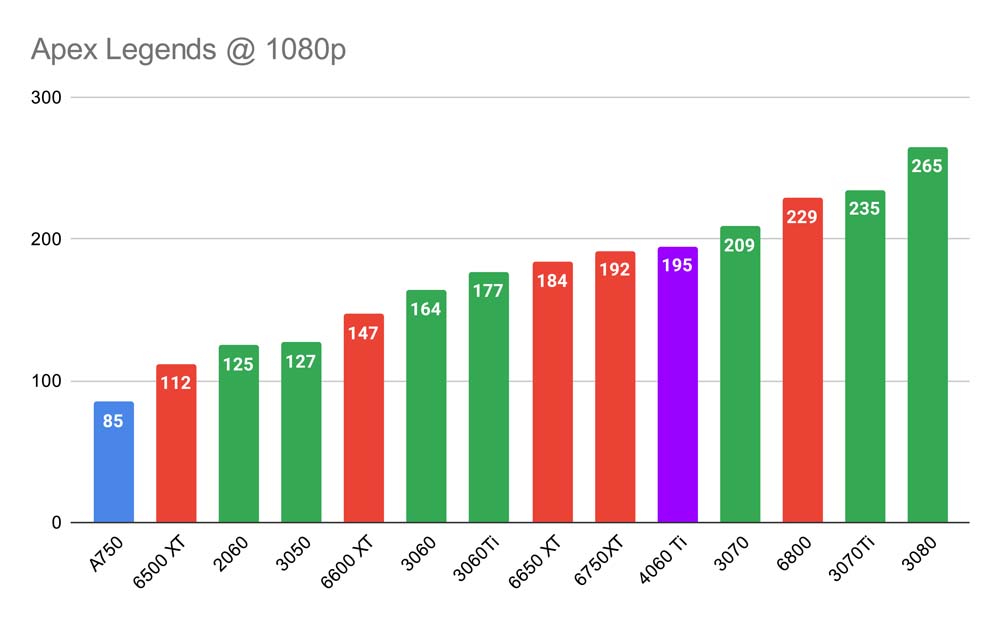 1440p was a similar story for the RTX 4060Ti. Once again hitting frames in excess of 144 FPS, making the sweet spot combination of 144 FPS and 144Hz possible for those looking to experience that ultra smooth gameplay. The RTX 4060Ti was once again beaten out by last generations RTX 3070, but this time by just the 2 FPS making it much closer to what we'd expect.
AMDs RX 6750 XT skyrocketed away and comfortably beat out then RTX 4060Ti and a number of other Nvidia GPUs and could be the better option for those looking to play Apex Legends at 1440p as a focus title. We tend to find here at GeekaHQ that the AMD cards do tend to perform better than their Nvidia counterparts in Apex. Its worth noting that to play Apex Legends at a frame rate higher than 144 FPS, FPS needs to be uncapped in the launch settings of either Steam or Origin.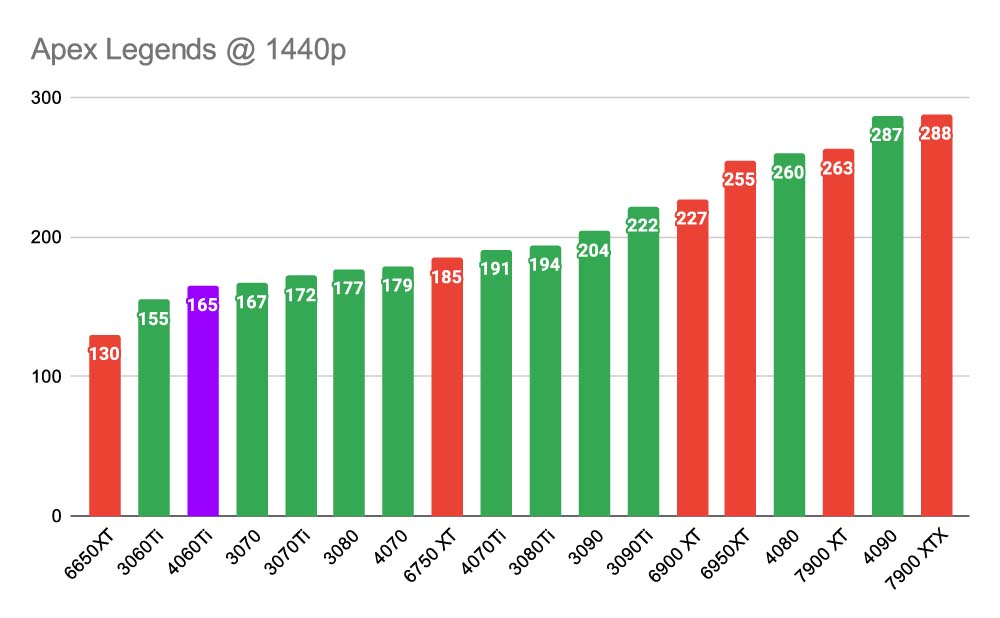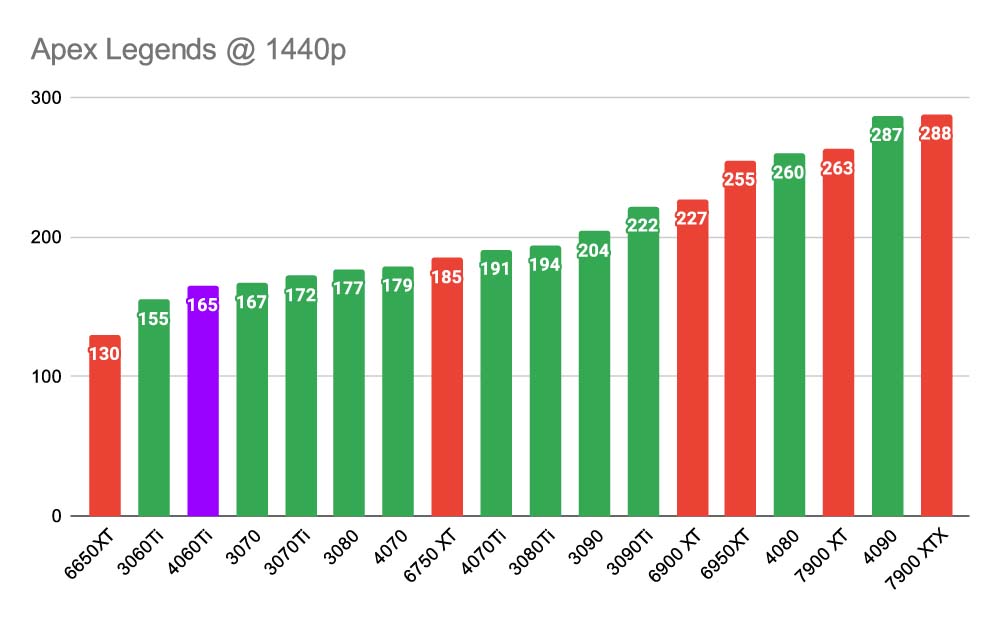 Overwatch 2
Another of the First Person Shooter titles in our benchmark suite is Overwatch 2, a game capable of reaching some ludicrously high frame rates.
At 1080p Ultra settings, the RTX 4060Ti did not disappoint and wiped the floor with the competition, averaging 20 FPS more than any of the other cards we test at 1080p. Beating out the likes of the RTX 3060Ti and 3070, as well as the RX 6750 XT and RX 6800 and by a good margin too puts the RTX 4060Ti in a great spot. For the aspiring Esports gamers out there , ultra smooth 240Hz gaming is easily possible and we imagine with settings tweaked down to competitive settings, the RTX 4060Ti may just be able to hit the 360 FPS 360Hz mark.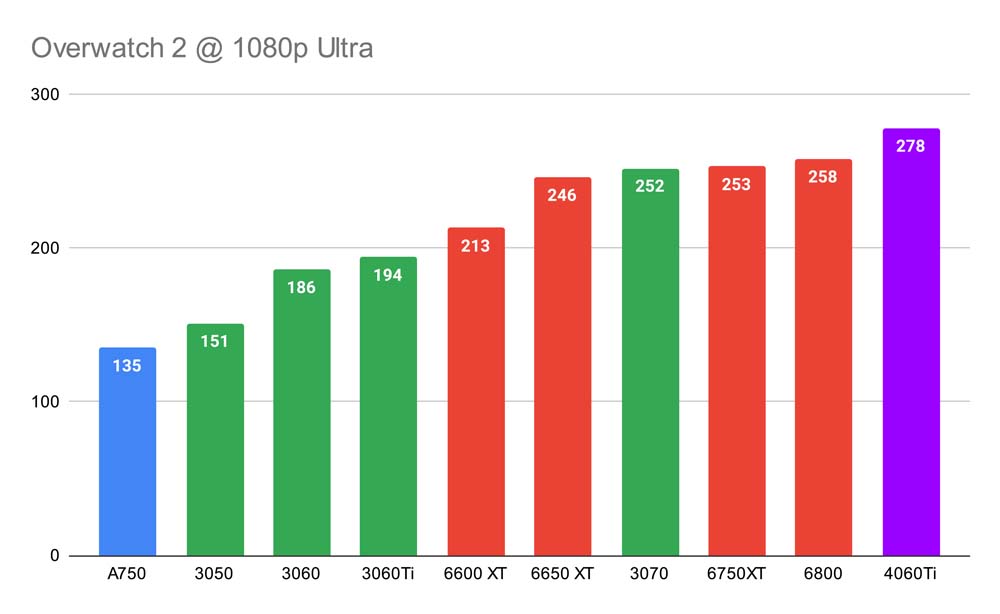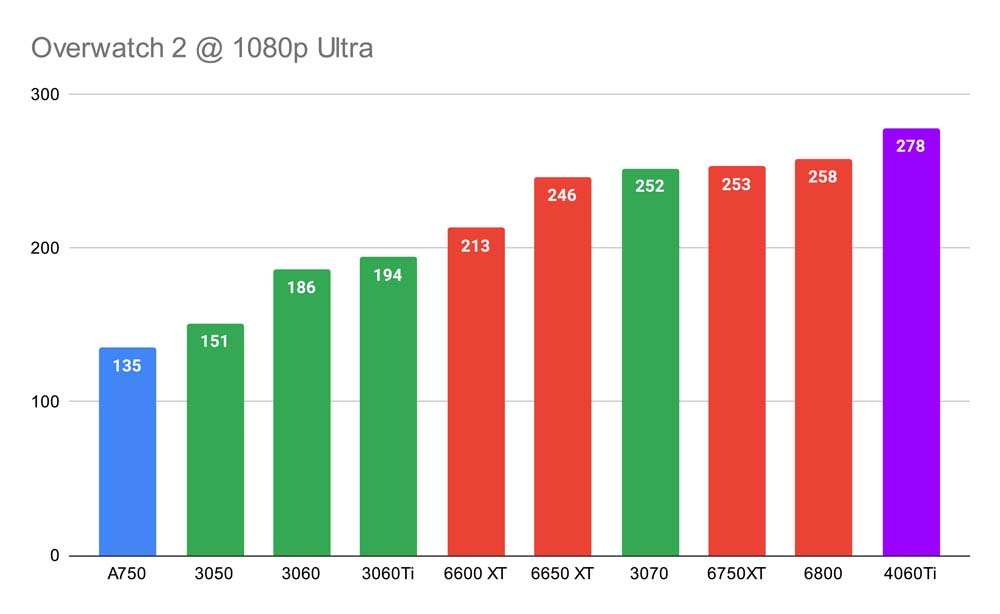 [adrotate banner="12″]
At 1440p things were slightly less positive but by no means negative, more it was a tighter ran race. Averaging 228 FPS on average at 1440p Ultra settings placed the RTX 4060Ti just behind the RX 6750 XT sitting at 230 FPS. Again the RTX 4060Ti beat out last generations RTX 3060Ti and RTX 3070, fairly comfortably but not quite to the same extent as at 1080p. The RTX 4060Ti isn't a million miles away from the RTX 4070 either sitting just 10 FPS behind it in terms of performance and for a considerably cheaper price point.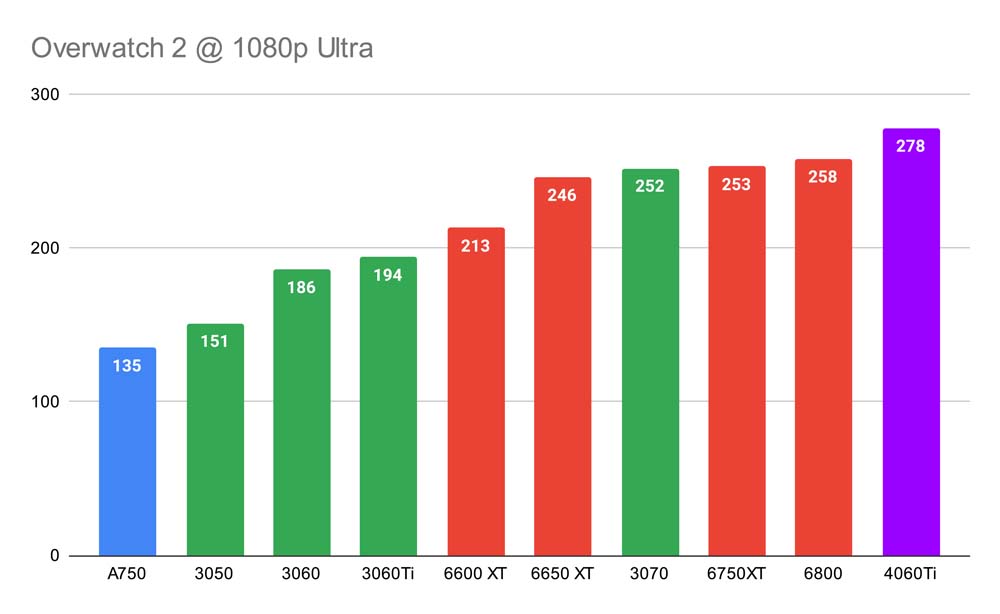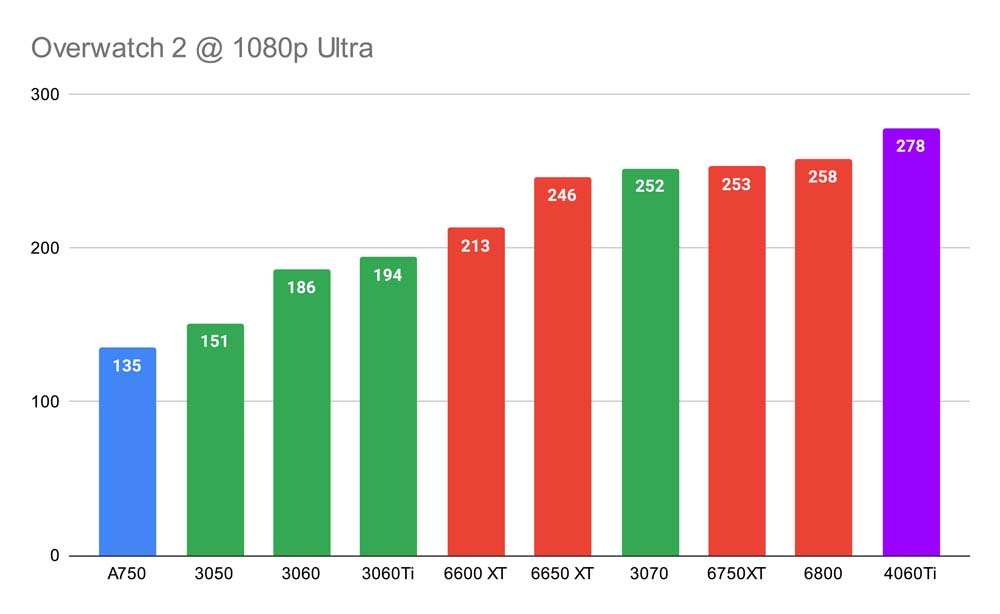 [adrotate banner="9″]
F1 2022
The RTX 4060Ti put in a lights out performance in F1 2022, leaving all of the competition in its rear-view mirror… almost. Losing out only to AMDs RX 6750 XT, (which seems to be a recurring theme here) the RTX 4060Ti does a stellar job of separating from the pack and frontrunning the race.
Pulling in excess of 100 FPS more on average when compared to all of the other cards we tested bar the RX 6750 XT. Admittedly the RTX 3060Ti and RTX 3070 are missing from the list but nevertheless, averaging 100 FPS more than both the RTX 3060 and RX 6650 XT is no easy feat. The RTX 4060Ti clearly has the legs the run at higher resolutions in F1 2022 with 100 FPS plus not as essential in racing titles. Raytracing becomes an enticing prospect, with the RTX 4060Ti likely still clearing the 100 FPS mark with ease thanks to a little help from Frame Generation.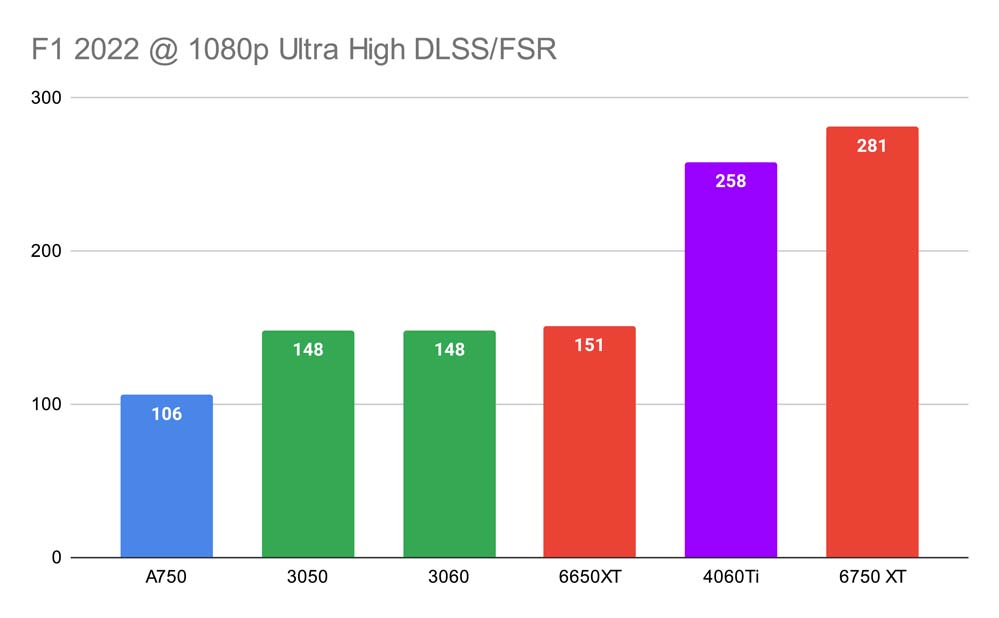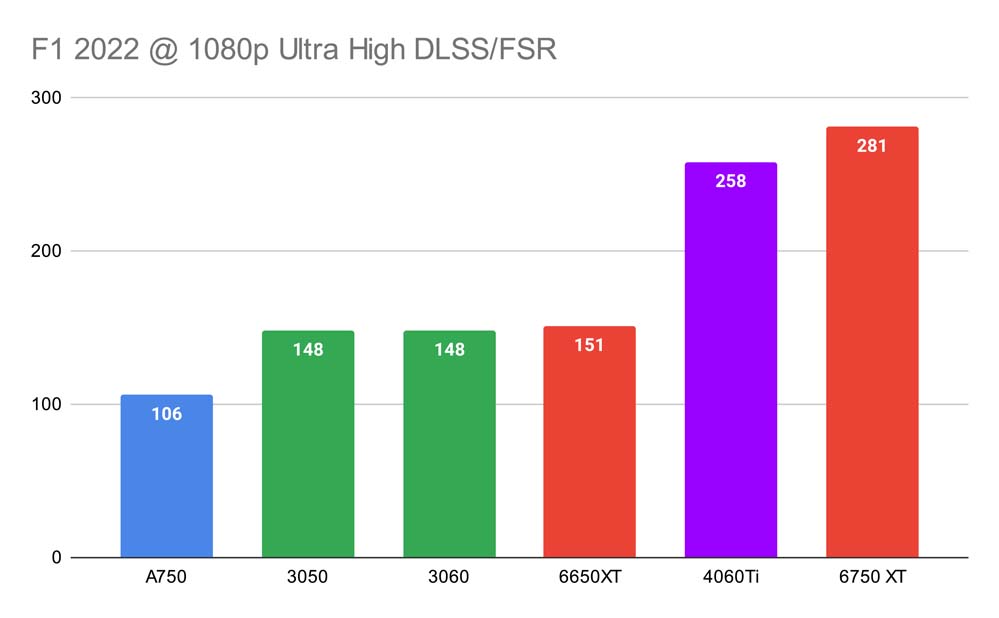 Cranking the settings up to 1440p High saw the RTX 4060Ti's average FPS take a significant hit, 100 FPS precisely to be exact and yet it still beats out last generations RTX 3070. Even after taking such a performance hit when changing resolutions, the RTX 4060Ti still averages 158 FPS, still in excess of the 144FPS 144Hz sweet spot. Again, Raytracing is a possibility for those comfortable playing at frame rates closer to the 60 FPS mark, settings can of course be tweaked to play at high or medium for those looking to comfortably play with Raytracing enabled.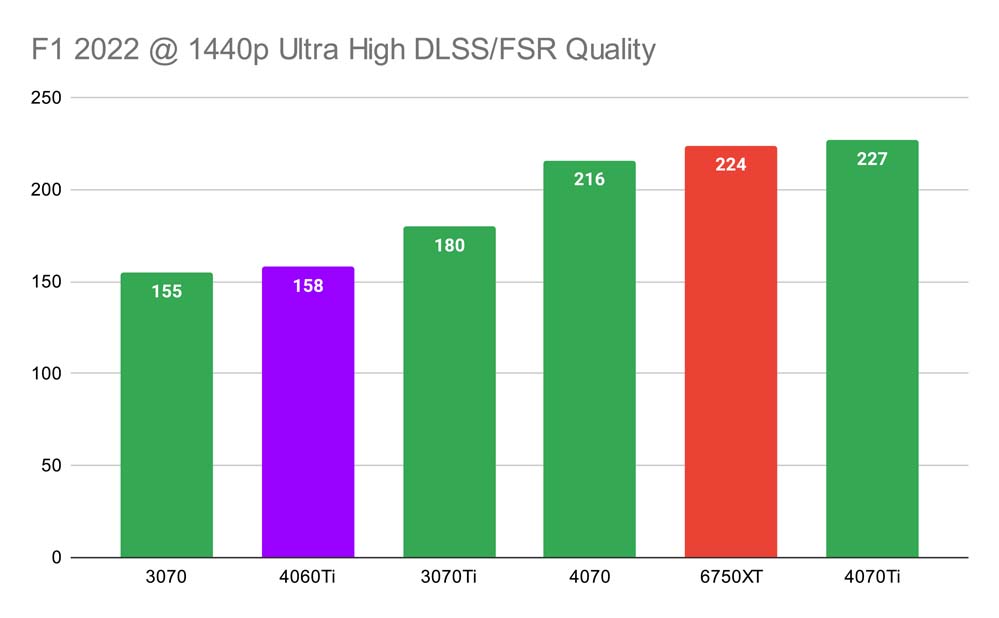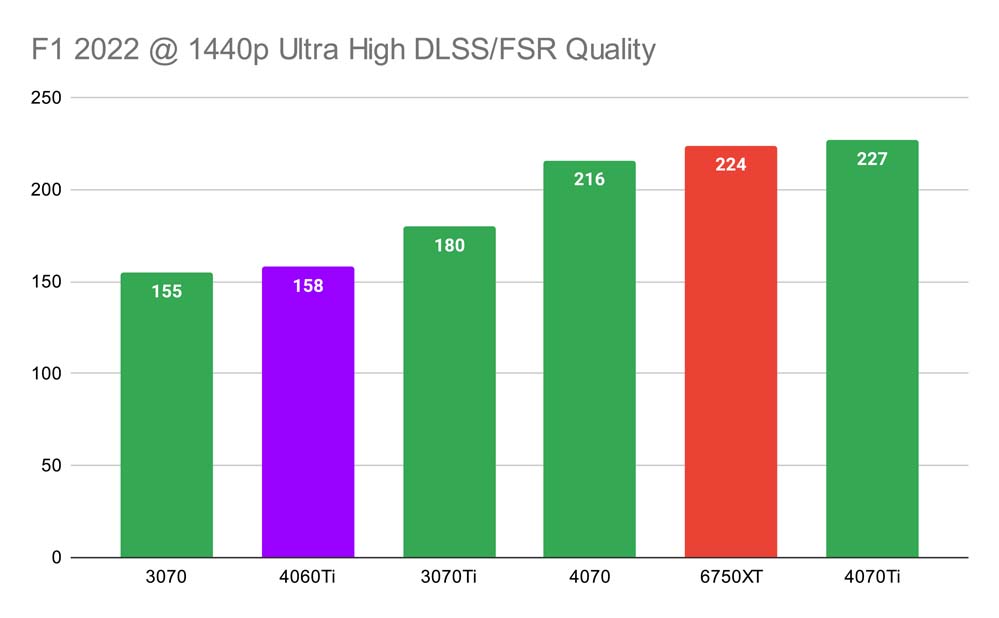 Warzone 2.0
Rounding off our trio of Battle Royale titles, Warzone 2.0. Currently going through a tough time with community feedback but, nevertheless, a worthy inclusion, especially now Warzones ranked mode is out.
The toughest of the battle royale titles to run in our benchmarking list and yet the RTX 4060Ti made lightwork of Warzone 2 at 1080p High settings, with help from Nvidia's DLSS of course. Beating out nearly all of the competition with the exception being the RX 6800, the RTX 4060Ti falls just short of the victory royale but solidifies itself as a 1080p monster. The generational gap between the RTX 3060Ti and RTX 4060Ti isn't huge in Warzone 2.0 at 1080p sitting at just the 8 FPS difference but is something that's rectified at 1440p.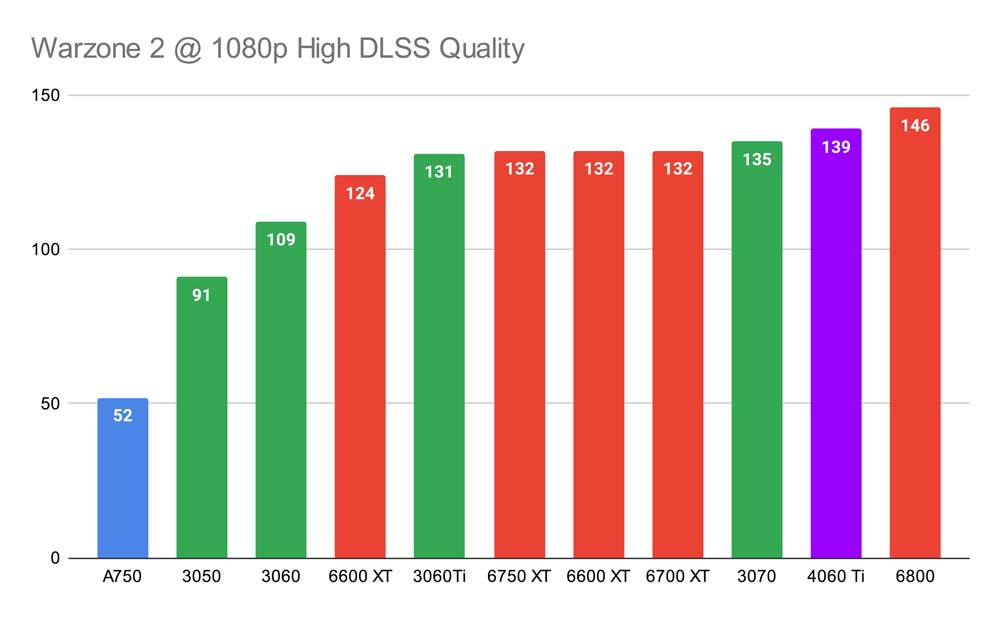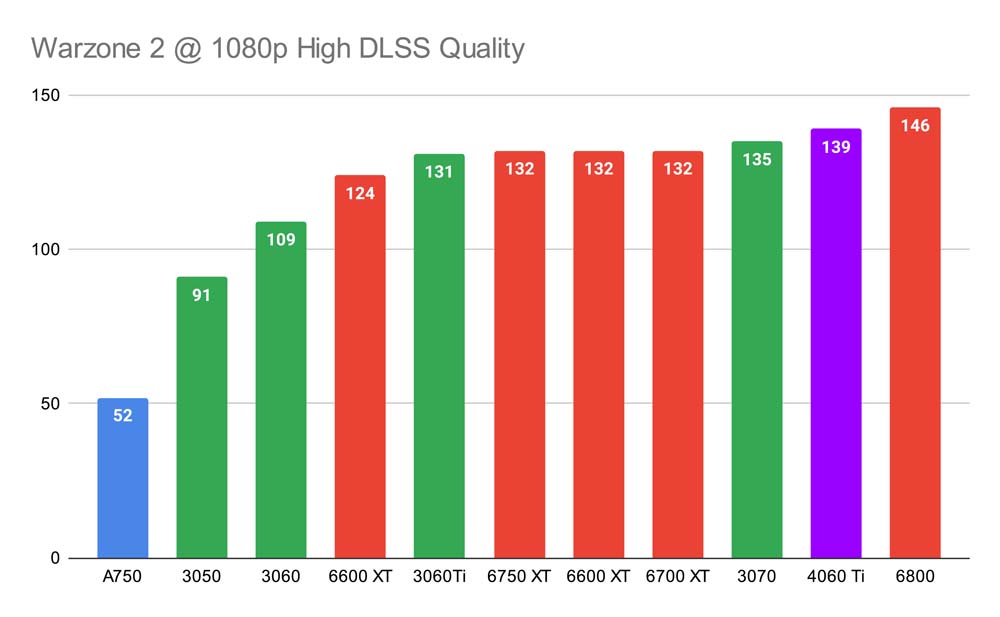 1440p offers more positive reading for the RTX 4060Ti. Sitting within touching distance of the RTX 4070 and equalling last generations RTX 3080 FPS average is impressive performance for a budget oriented card. Sitting just ahead of the RX 6750 XT at 124 FPS as opposed to 121 FPS, the two cards stirred up quite the rivalry during our testing, impressive given the RX 6750 XT is supposedly a higher level SKU. We found gameplay in Warzone at 1440p to be visually clear even with the introduction of DLSS, whilst experiencing very few issues with stuttering or frame drops, even with the optimisation of the game not being the best. The RTX 4060Ti keeps racking up them wins in the performance department.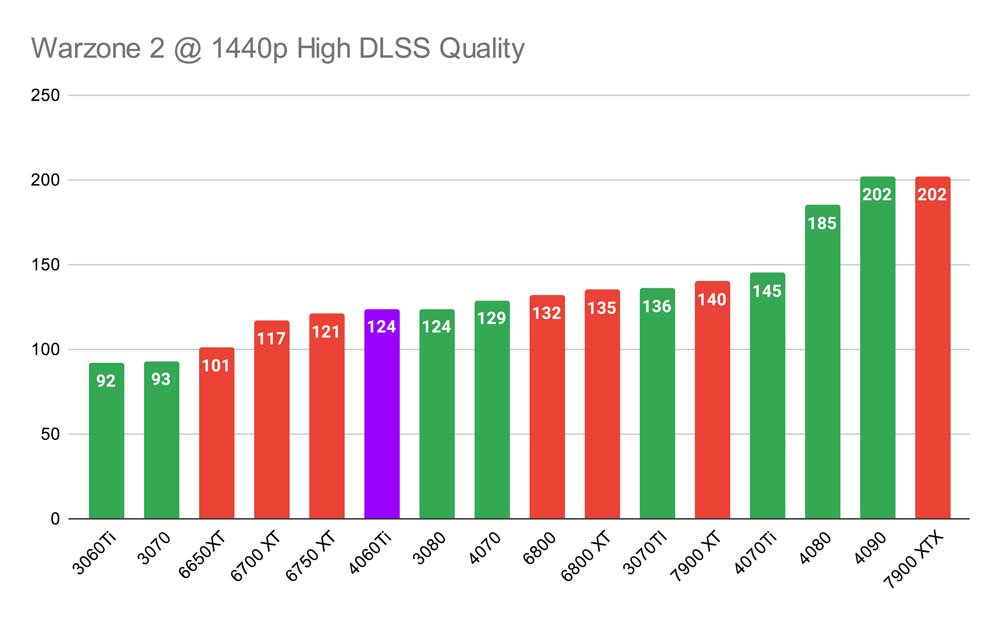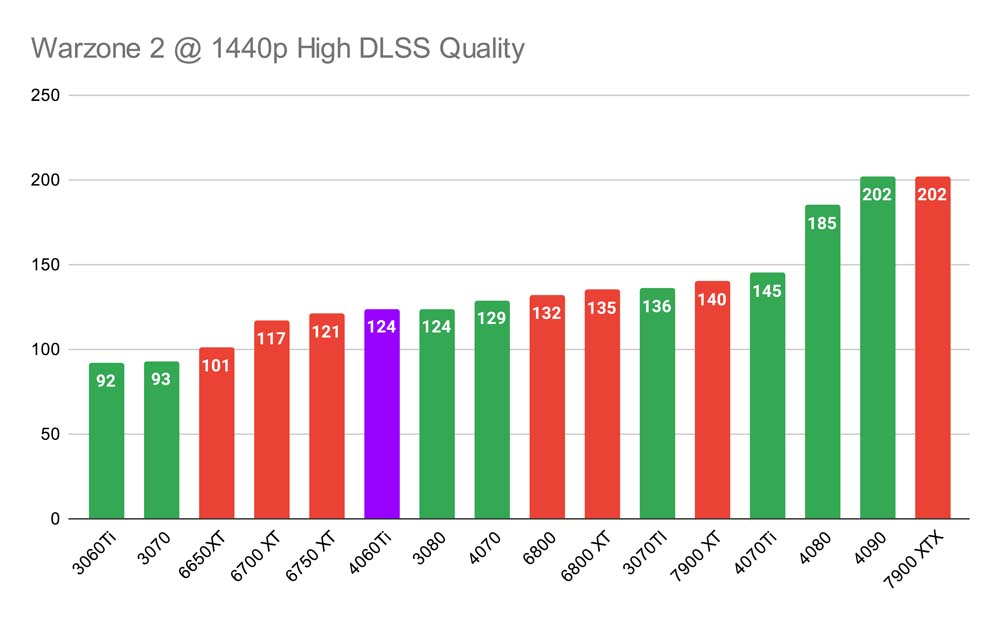 Spiderman Miles Morales
A DLSS 3.0 compatible title in Spiderman Miles Morales gives us a great opportunity to test out just how much DLSS 3.0 performance improves over standard DLSS/FSR. Performance in Miles Morales was a tale of two halves for the RTX 4060Ti. With standard DLSS 2.0 enabled, the RTX 4060Ti sits in the middle of the pack at 114 FPS, enable DLSS 3.0 however, and the RTX 4060Ti rockets to the top end of the graph, losing out only to its two bigger brothers the RTX 4070 and 4070Ti and averaging 127 FPS. With DLSS 3.0 enabled the RTX 4060Ti even manages to best the AMD line-up leading RX 7900 XTX and fairly comfortably too!
With standard DLSS enabled the RTX 4060Ti sits roughly where we'd expect to in the line-up. DLSS 3.0 allows cards to punch above their weight class with it showcased perfectly here and shocked us hugely. Never did we think a budget oriented SKU would beat out a top of the range GPU offering and yet with DLSS 3.0 its possible.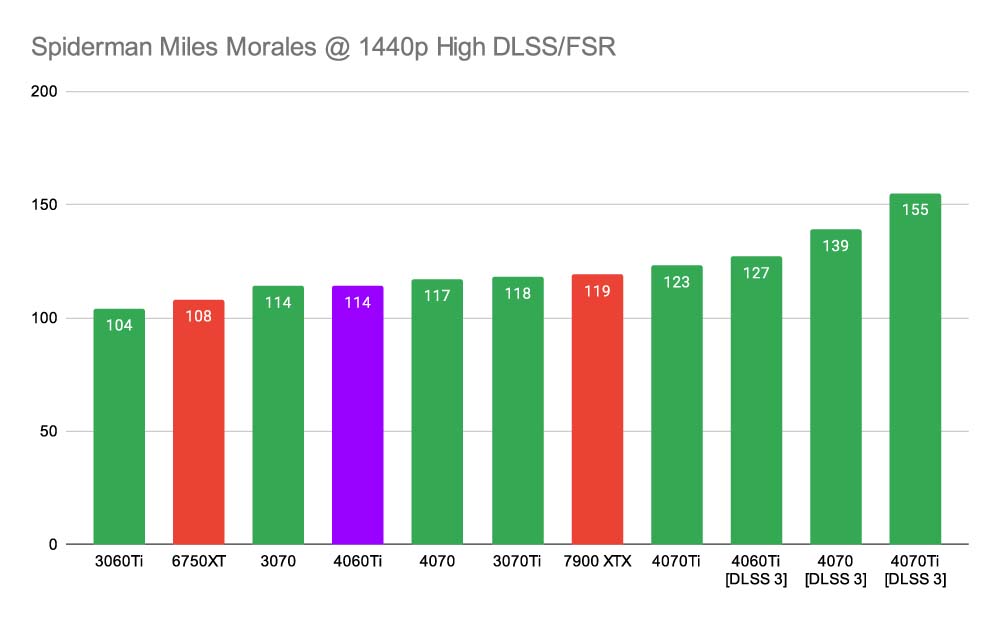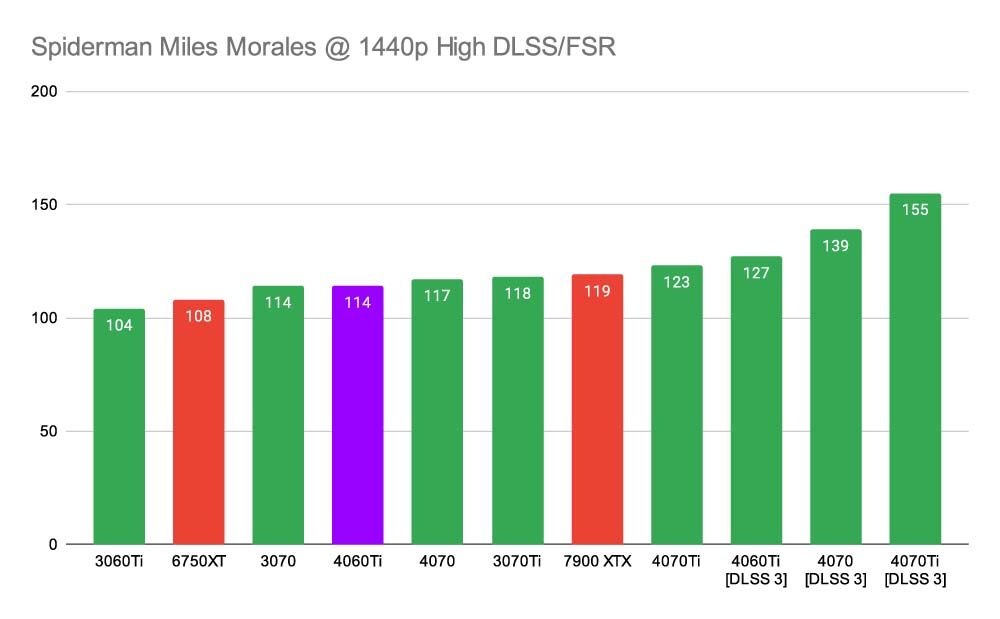 GTA V
What better way to round out our benchmarking, than old faithful, GTA V. The longest standing title in our benchmarking suite and a title that still holds up fairly well today to. The RTX 4060Ti did a stellar job in the performance department again, placing itself right amongst the heavy hitters of last generation.
Sitting comfortably between the RTX 3080Ti and RTX 3090 at 1440p is mightily impressive from a card deemed to be on the lower end. The RTX 4060Ti isn't too distant from it current generation counterparts either, both the RTX 4070 and RTX 4080 sit within 15 FPS difference of the 4060Ti and prove that to reach the ultra high end frame rates the highest end GPUs aren't always needed.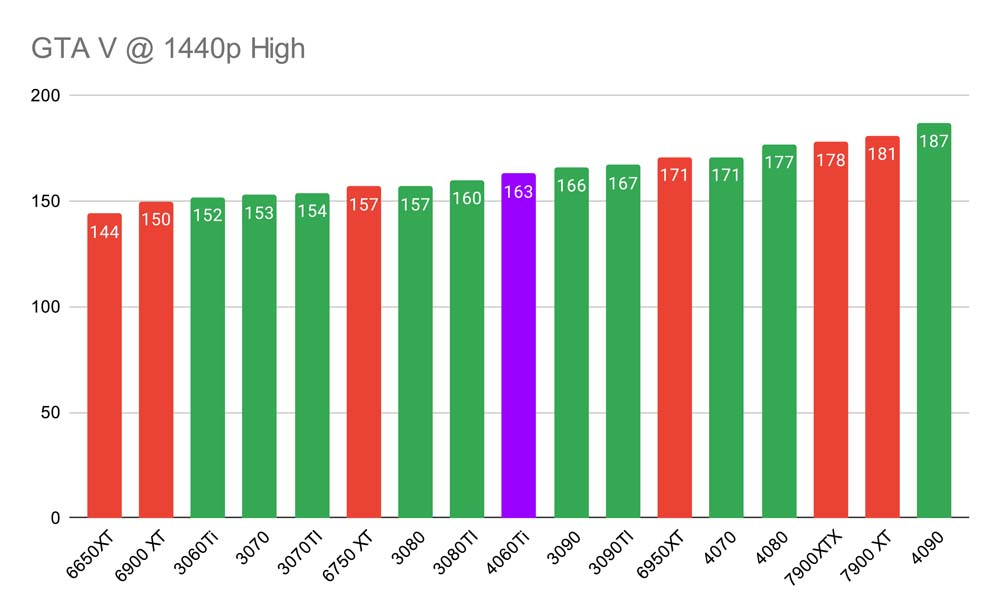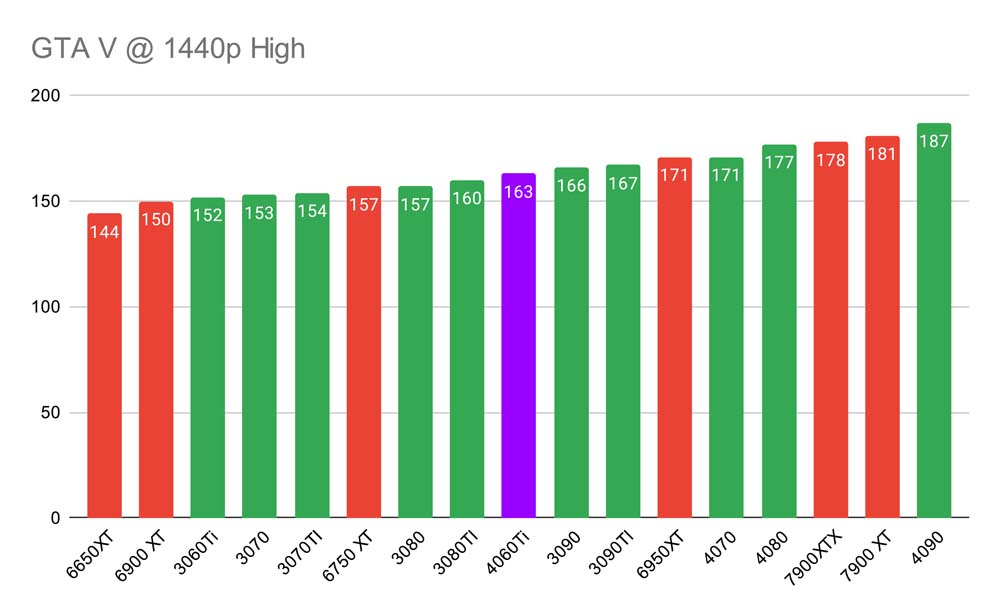 [adrotate banner="12″]
Conclusion
Nvidia RTX 4060Ti Founders Edition Review
Product Name: RTX 4060Ti
Brand: Nvidia
Features

Design

Performance

Value For Money
Summary
With big shoes to fill, after the last generations, RTX 3060Ti, the RTX 4060Ti combines an identical MSRP with huge improvements to architecture. DLSS 3.0 is a huge success in my books and makes any of the RTX 4000 series cards worthy options when pitted up against AMD counterparts but in particular the RTX 4060Ti. Having access to industry-leading tech – in 'Frame Generation' – for an affordable price point is a big win for the consumer and allows for all the more price-to-performance gains to be made. 
Yet, despite all this, I too am still not completely sold on the RTX 3060Ti replacement. It may be that I set my expectations too high after the success of the RTX 3060Ti, (a personal favourite of mine) but the RTX 4060Ti feels less impressive, even whilst boasting the more impressive features. Even in the performance department, the RTX 3060Ti was a trusty do it all GPU, yet this time round the RTX 4060Ti feels like more of a 1080p monster as opposed to multiple resolution all-rounder. 
A somewhat fatigued topic is the 8GB VRAM but for good reason, it really should have been more. AMD offer last-generation cards like the RX 6750 XT with 12GB VRAM as standard for a now similar price point and as we saw in testing it matters. The RX 6750 XT regularly beat out the RTX 4060Ti thanks to having that extra horsepower and makes me question whether I think the RTX 4060Ti is worth it after all. Whilst yes, Nvidia have confirmed a 16GB model to be released in the coming months, it comes at a price that is not so reminiscent of the budget price point. Had the RTX 4060Ti launched with 12GB of VRAM as standard there'd be no need for the secondary launch and if the backlash they received for initially having two RTX 4080 models is anything to go by, I'm not so sure the community wants a secondary model either. 
Pros
✅ Excellent 1080p performance.
✅ Smaller GPU size.
✅ DLSS 3.0 compatible.
Cons
❌ Not always able to reach the 144Hz sweet spot.
❌ 8GB VRAM
❌ Suffers 1440p performance hits