Introduction
The time has finally come, we're back again with yet another product launch right at the start of the new year from Nvidia. After plenty of controversy and much delay, we've finally got our hands on Nvidia's rebranded RTX 4080 12GB card with a more appropriate name. The RTX 4070Ti offers quite impressive specs and will be an ideal card for those building a mid-range gaming system, but how does it compare against other options on the market?
Nvidia has been known to struggle with significant generational improvements in the past, so its worth comparing the new range of GPUs against much of the RTX 3000 series to see how much of a difference is on offer. In this article, we'll be putting the RTX 4070Ti up against the RTX 3080 (a popular high-end card from the previous generation) to see where performance lies between them.
Suggested Article: Palit GameRock Premium Edition GeForce RTX 4070Ti Review
Versus Battle
Nvidia GeForce RTX 4070Ti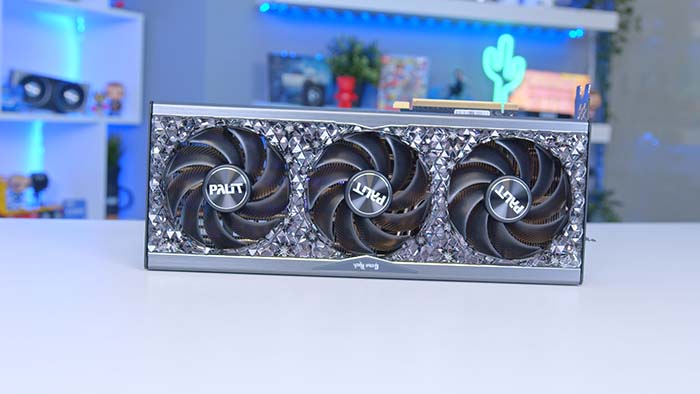 | | |
| --- | --- |
| Memory Capacity | 12GB GDDR6X |
| Boost Clock Speed | 2.7GHz |
| RT Cores | N/A |
| CUDA Cores | 7680 |
| TDP | 290W |
| Release Date | January 2023 |
| Price | Check Price on Amazon |
Nvidia RTX 4070Ti Specs
Nvidia's RTX 4070Ti is a somewhat controversial entrant in the market, as Nvidia were going to release this card as a variant of the 4080 SKU. After landing themselves in plenty of hot water due to this card using a weaker die, Nvidia decided to 'unlaunch' the card and come back to it at a later date with a rebrand. Today is the day that Nvidia are striking back with a new card that has a more appropriate name based on its hardware specs and performance.
Speaking of performance, the RTX 4070Ti sits where we expected it to, which is between the RTX 3090Ti and RTX 4080. This means the 4070Ti is more capable of 4K performance with consistently high framerates. Unfortunately, this GPU does fall somewhat flat when Ray-Tracing is enabled, but arguably the '70' cards haven't ever been geared towards such a high performance overhead. However, framerates can be improved when DLSS is enabled, at the small cost of increased latency alongside potentially reduced image quality. Nvidia's Frame Generation technology will also significantly improve framerates, but this technology isn't as widely available within games.
Moving onto pricing, after the official announcement at CES, Nvidia have attached a price tag of $799 to the 4070Ti, putting the value-proposition into question. We would only recommend paying around $600-$700 at maximum for this GPU. As AMD have proven, 'Moore's Law is not dead', and consumers shouldn't expect to pay a significant premium for a mid-range graphics card. Although we don't imagine Nvidia will lower the prices anytime soon, we might see Nvidia be more competitive in the current market after landing themselves in hot water. But if the RTX 4080 is anything to go by, Nvidia might struggle to makes sales on this new GPU without a lower price tag.
Buy the Nvidia GeForce RTX 4070Ti on:
Nvidia GeForce RTX 3080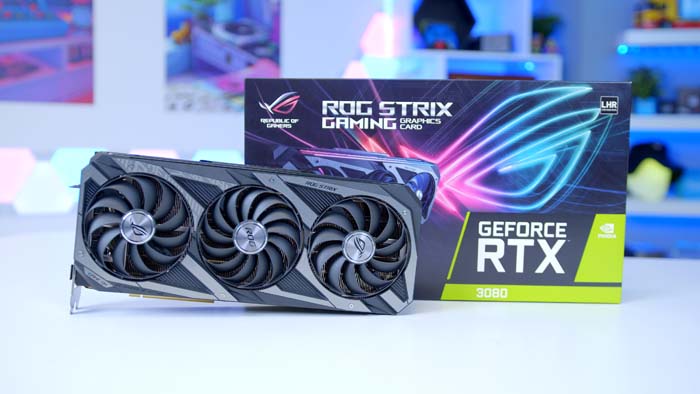 | | |
| --- | --- |
| Memory Capacity | 10GB GDDR6X/12GB GDDR6X |
| Boost Clock Speed | 1.71GHz |
| RT Cores | 70 |
| CUDA Cores | 8704/8960 |
| TDP | 320W/350W |
| Release Date | September 2020/January 2022 |
| Price | Check Price on Amazon |
Nvidia RTX 3080 Specs
Nvidia's RTX 3080 was the very first graphics card to launch within the RTX 3000 range. The new set of cards were advertised as heavy hitters in terms of performance and Nvidia definitely did not disappoint. Though there were concerns that early adopters may be losing out on performance, all of the RTX 3000 SKUs impressed the masses, and Nvidia's Ampere architecture would prove to be very popular in the current market.
Looking at performance, consumers can expect to have no trouble with games running at a 4K or 1440P resolution. The RTX 3080 is more capable of Ray-Tracing due to its increased RT core count, but framerates are dependent on how optimised the game is and whether DLSS is enabled. The RTX 3080 is also an excellent workstation graphics card, significantly reducing render or export times in a multitude of applications. DLSS will also improve framerates at higher resolution, especially as DLSS 3 becomes more widely available in a number of titles. Overall, the RTX 3080 is an absolute performance beast and consumers won't be disappointed with performance.
With concerns to pricing, the RTX 3080 is undoubtedly an expensive graphics card, and this is to be expected as per all of the '80' SKUs. However, we're expecting the price of this GPU to drop over time as the RTX 4080 becomes more saturated within the market. I'd argue that at it's current price, the 3080 offers a great value-proposition, providing consumers the ability to enjoy high framerates at 4K with minimal hindrances. As the price drops, the value of this card will drastically increase, and we imagine many consumers will jump at the option to pick up this card. Whether this GPU offers more value compared to the 4070Ti will depend on Nvidia's final price for their newest card.
Buy the Nvidia GeForce RTX 3080 on:
Our Testing Methodology
To ensure that components are tested fairly, we've devised a rigorous and repeatable testing methodology. This involves using balanced components in our testing systems, minimising any bottlenecks that could impact our final results. The second part of this methodology is sticking to our editorial promise which ensures impartiality and candidness throughout all of our articles. To achieve this, articles will only ever be edited by our in-house team and are not subject to any external review by brands or manufacturers.
Benchmarking Performance
As per all of our articles, the graphs that feature below have been put together from data that we've compiled during benchmarking runs. All of the full gaming runs can be easily located on our YouTube channel 'Benched', where we test a variety of components using popular triple A titles and Esports games.
Battlefield 2042
Starting with Battlefield 2042 at 4K, both the RTX 3080 and 4070Ti offered very reasonable framerates throughout our gameplay runs. As you can see from the graph, there wasn't a huge amount of difference in FPS at 4K. Although the 4070Ti definitely leads when it comes to the numbers, users won't really be able to notice a 12 frame gap. However, this is more than enough to enjoy a smooth gameplay experience.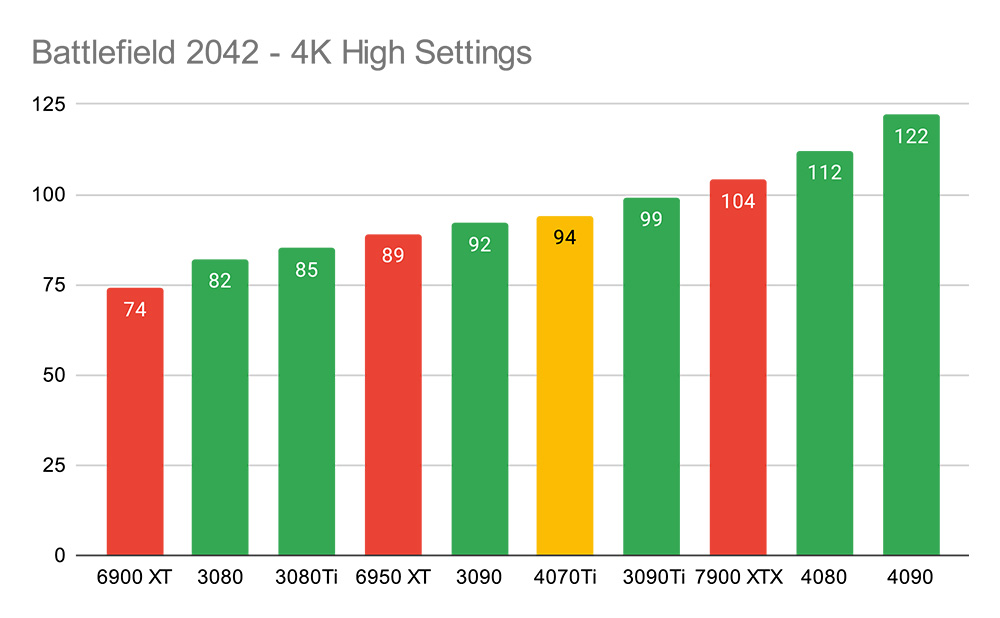 Apex Legends
In Apex Legends, we saw framerates significantly improve, as both of these GPUs were able to surpass the 100FPS mark. The 4070Ti led the fore here with 145FPS, which is just above the 144Hz sweet spot, ideal for Apex as the gameplay is very fast-paced. Although the RTX 3080 wasn't quite able to reach the same level of performance, 119FPS is very reasonable to enjoy a game with minimal dips.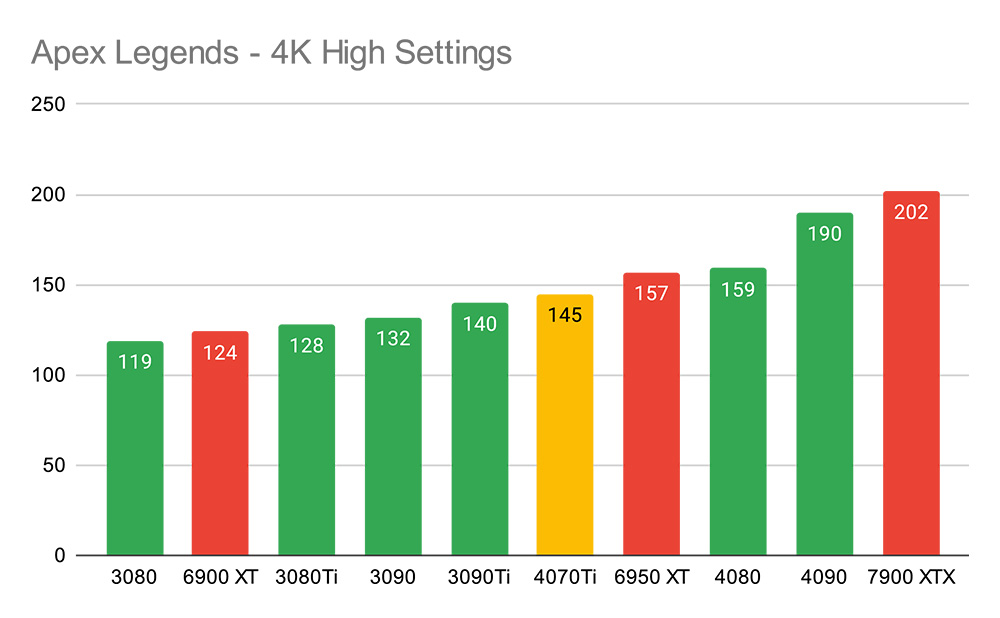 GTA V
IN GTA V, both the 3080 and 4070Ti offered very similar framerates overall, with the 4070Ti leading in terms of performance. The RTX 3080 was able to output around 145FPS on average, which is more than enough to enjoy smooth gameplay even in intense areas.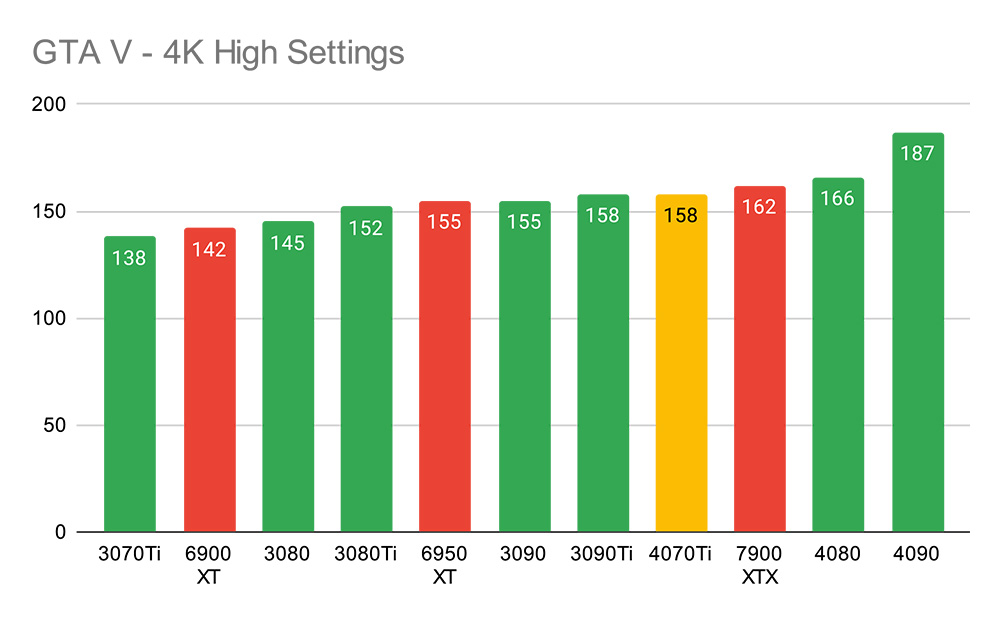 Fortnite
For our final game, we tested Fortnite at 1080P competitive settings to see how high framerates would fly. The 4070Ti sits at the front in terms of performance, with an average framerate of 295. The RTX 3080 wasn't too far behind with a framerate of 265 on average. Both of these framerates are more than enough to enjoy a high refresh rate with minimal frame drops and secure a Victory Royale.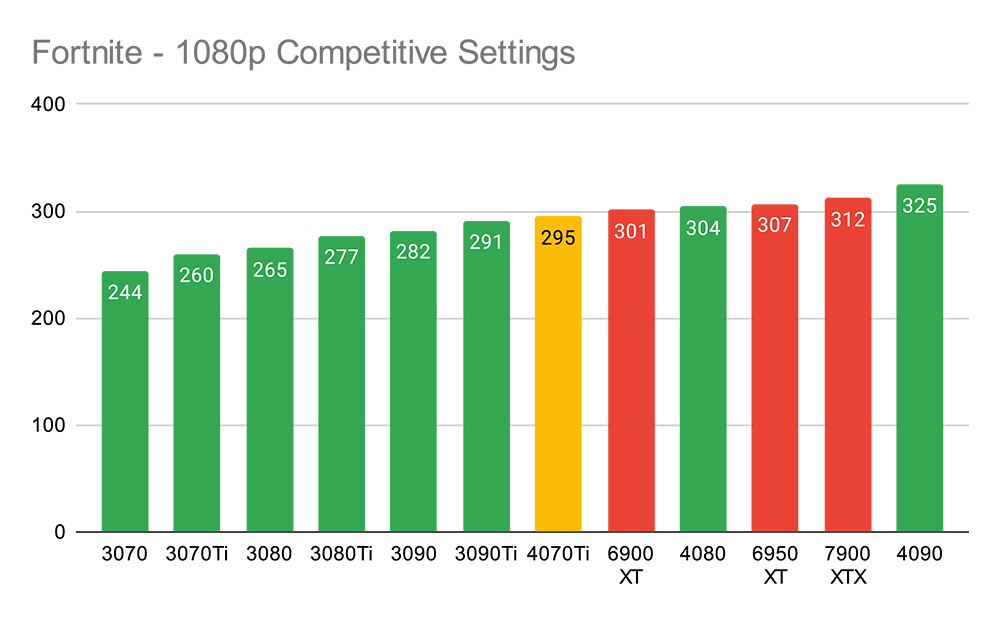 Conclusions
So where do these graphics cards stand when it comes to performance and value? Is Nvidia's latest 4070Ti a worthwhile purchase to ensure the best performance money can buy? Or does the 'old but gold' RTX 3080 offer better value? So far, we're leaning towards the RTX 3080. Although the RTX 4070Ti is definitely a leader when it comes to performance, it's value will ultimately be determined by the price. And based on Nvidia's track record, there isn't anything to suggest they will price this card much lower than what was planned for the original RTX 4080 12GB card.
This puts the 4070Ti in a precarious position (much like the 4080 16GB) whereby most consumers aren't able to afford the card, despite it being a powerful GPU. Whilst the RTX 3080 is less powerful by a small amount, it can still handle 4K with no issues, and based on its current price tag, still offers more value than the 4070Ti (dependent on the price). If Nvidia decide offer a better price tag for their new GPU, then the 4070Ti is a definitive winner, but this is entirely dependent on how competitive Nvidia want to be.