Introduction
The new RTX 4000 graphics cards are finally here, and we've had a variety of SKUs come into the GeekaWhat offices to evaluate the performance of. The TL;DR is that the RTX is just a little insane on the performance front, and the perfect shout for those looking at the absolute best of the best.
Nvidia didn't hold back when it came to RTX 3000 series, and with the launch of the 4090 they've demonstrated the capability of their hardware in both games and workstation applications. We've taken this absolute behemoth of a GPU and built around it quite possible the best Gaming PC you can actually build right now. With AMD's latest Ryzen 9 7900X, 32GB of high speed DDR5 Corsair Vengeance Memory and a 1300W PSU from MSI, this system is designed to deal with intensive workloads and won't break a sweat! Check out the breakdown of the main components below, along with some peripheral options for this build, and of course the all-important benchmarks!
Suggested Article: Nvidia GeForce RTX 4090 Review (Founders Edition Benchmarks)
Main Components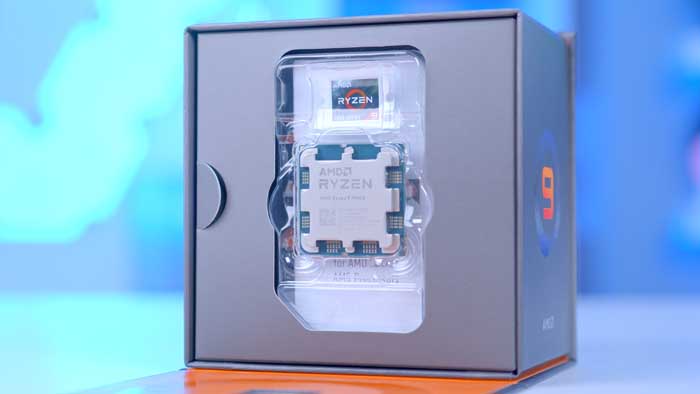 CPU: AMD Ryzen 9 7900X
Starting off with the brains of the build, our CPU of choice is the AMD Ryzen 9 7900X. As one of the best performing Ryzen 7000 CPUs, the 7900X offers a huge boost clock speed of 5.6GHz, coupled with 12 cores and 24 threads. This processor is a stellar choice for 4K gaming, whilst also being able to manage heavier workloads like 3D rendering or video editing.
Buy the AMD Ryzen 9 7900X on:
Key Facts:
Boost Clock Speed: 5.6GHz
Core Count: 12
Thread Count: 24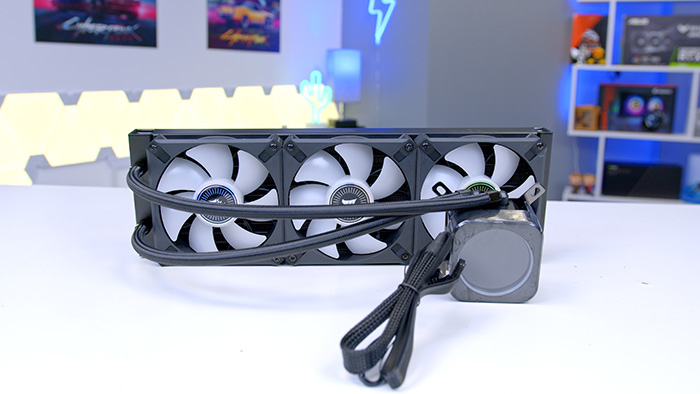 CPU Cooler: Corsair H150i Elite LCD
With such a high performance build, we need a CPU cooler that can cope with the high thermal output of AMD's new Ryzen 7000 CPUs. The H150i Elite LCD is one of Corsair's premium AIO designs, intended to keep even the most powerful builds cool and quiet. Utilising their industry leading iCUE software will allow you to unlock additional levels of customisation, such as GIFs, thermals, or even just extra RGB patterns and colours.
Buy the Corsair H150i LCD on:
Key Facts:
Radiator Size: 360mm
Included Fans: 3
RGB: Yes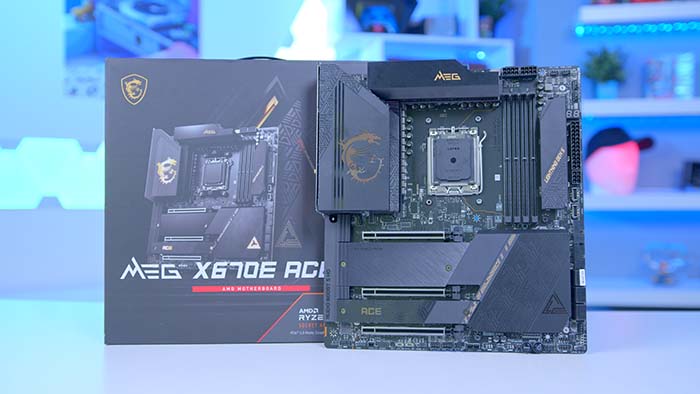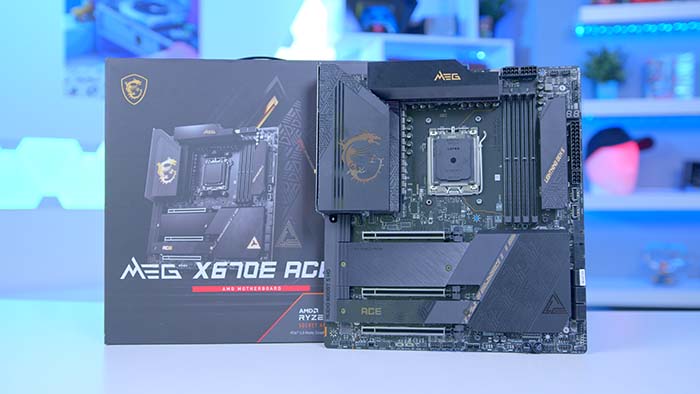 Motherboard: MSI MEG X670E ACE
To house all of our components, we've gone for the MSI MEG X670E ACE. This beast of a motherboard is packed with the latest next gen features, such as PCI-E 5.0 support, brand new EXPO memory technology, and lots of high speed USB ports for various peripherals and accessories. The minimalist RGB and futuristic design on the motherboard also adds some additional flair to our build.
Buy the MSI MEG X670E ACE on:
Key Facts:
Form Factor: E-ATX
Built-in IO Shield: Yes
Max Memory: 128GB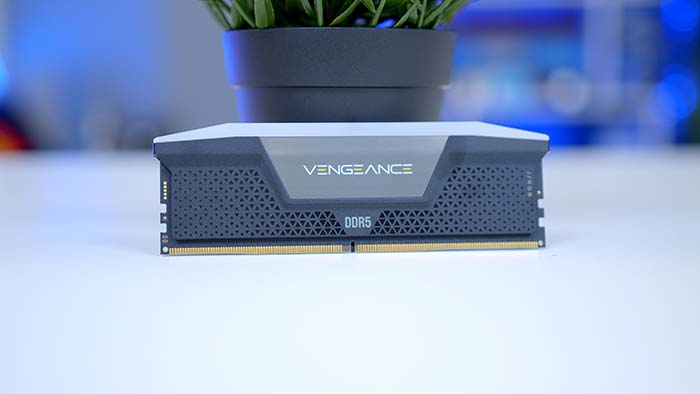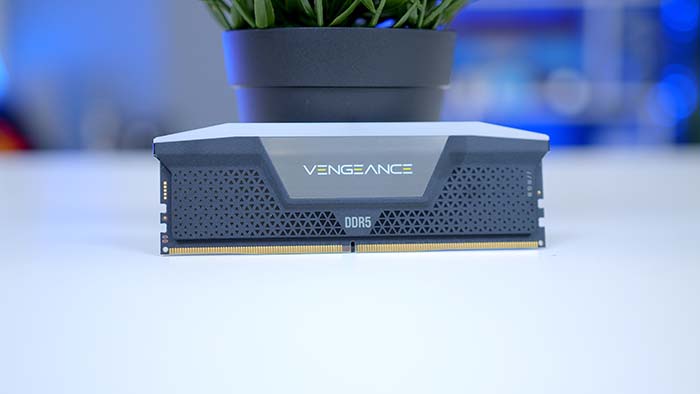 RAM: Corsair Vengeance RGB 32GB DDR5 AMD
Because this build is made for high-end performance, we've chosen a DDR5 RAM kit providing optimal speeds. Corsair's latest 32GB RGB Vengeance DDR5 DIMMs are able to provide the power we need, as well as some added flair with the iCUE RGB lighting bar.
Buy the Corsair Vengeance RGB 32GB DDR5 on:
Key Facts:
Capacity: 32GB
Clock Speed: 5600MHz
CAS Latency: 36-36-36-76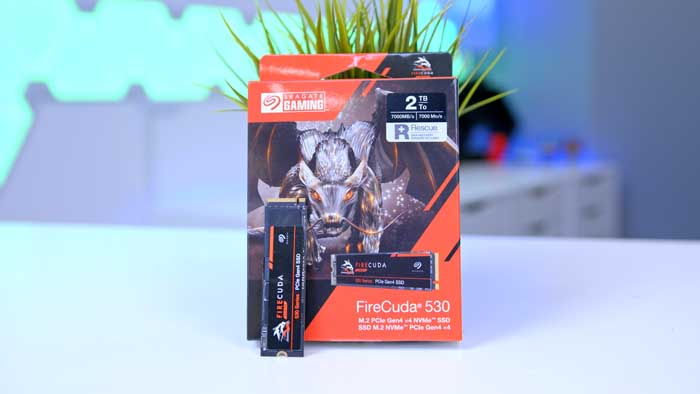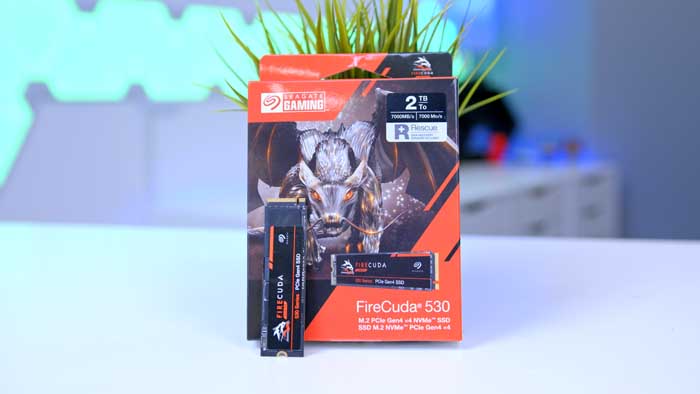 SSD: Seagate Firecuda 530 2TB
Our mission to put all the best performing components into this system continues with our SSD option. We've selected the Seagate Firecuda 530 as the high read and write speeds offer rapid load times for up to 2TBs worth of gaming goodness. Whilst this PC build will support a future Gen 5 upgrade, the FireCuda 530 is the best option right now.
Buy the Seagate Firecuda 530 2TB on:
Key Size:
Capacity: 2TB
Read Speeds: 7300MB/s
Write Speeds: 6900MB/s
Interface: PCIe Gen 4 x4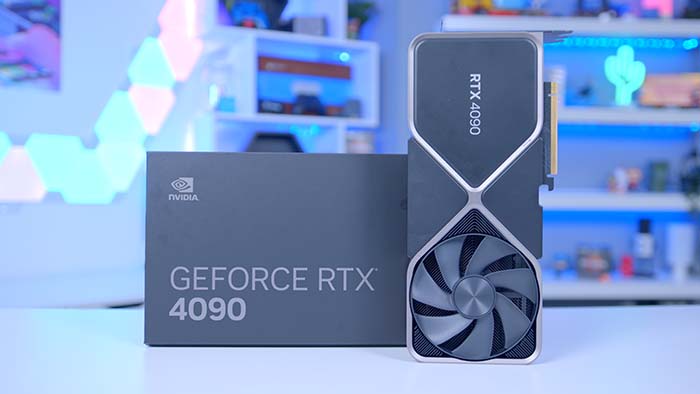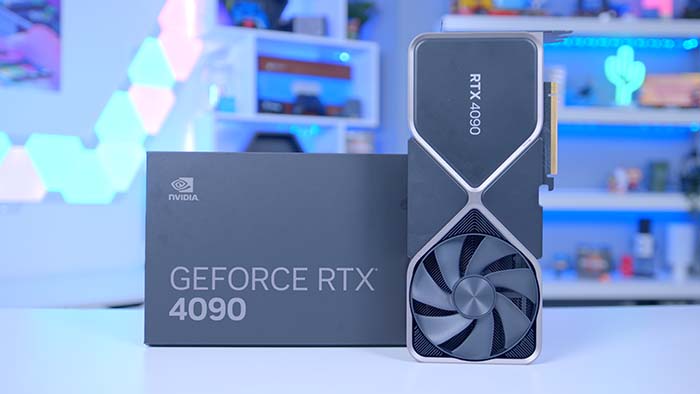 GPU: Nvidia Founders RTX 4090
The main focus of our build (as I'm sure you've seen from the title) is Nvidia's brand new RTX 4090 graphics card. We've thrown in the Founders Edition today, and oh boy this GPU is massive. Nvidia have outdone themselves in terms of performance which the 4090 offering double or even four times the improvements within games. Coupled with the new DLSS and Ray-Tracing technology, this build is ready to tackle all of the latest titles with maxed out in-game settings at 4K. We suggest checking out all of our reviews on the various 4090 SKUs (including the Founders Edition) which you can find on our homepage.
Buy the Nvidia RTX 4090 Founders Edition on:
Key Facts:
CUDA Cores: 16384
TDP: 450W
RT Cores: 191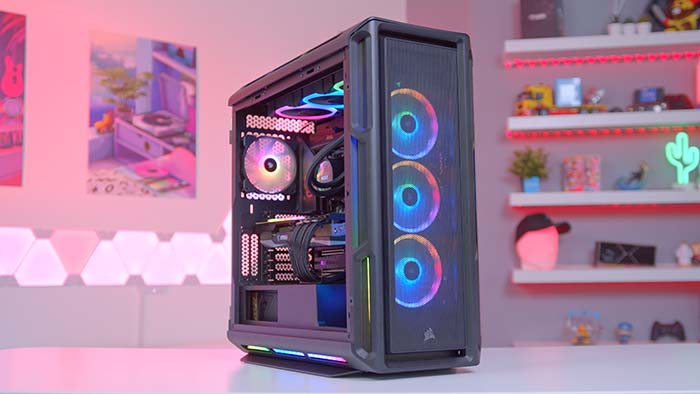 Case: Corsair iCUE 5000T
Due to the sheer size of the new 4090 graphics card, we needed a case big enough to accommodate it . Corsair's iCUE 5000T case is equipped with numerous RGB fans, a mesh front panel to increase airflow, loads of RGB strips and plenty of space to fit the newest flagship GPU, along with additional accessories or coolers needed to support it.
Buy the Corsair iCUE 5000T on:
Key Facts:
Form Factor: Mid-Tower
Fan Support: 10 x 120mm
Motherboard Support: mini-ITX, micro-ATX, ATX, E-ATX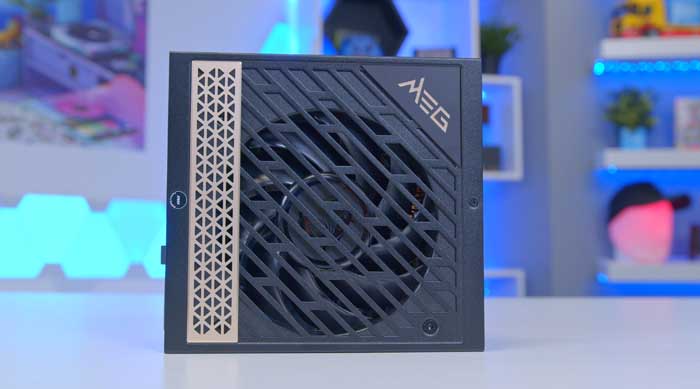 PSU: MSI MEG Ai1300P PCIE5
Last but not least is our PSU. For this build, we've picked MSI's brand new MEG Ai1300P PCIE5. This 1300W, 80+ platinum, fully modular beast has all the power needed to handle the latest GPUs. Also, the MSI Gaming Intelligence USB port lets us monitor our thermals and power draw directly from the PSU.
Buy the MSI MEG Ai1300P PCIE5 on:
Key Facts:
Wattage: 1300W
Modular: Fully
Efficiency: 80+ Platinum
High-End Peripherals
Finalising the components and accessories of our build we've picked out some awesome peripheral options to pair with this system. This top-end build deserves to be joined by some equally high performing peripherals, so we've made no sacrifices and found the best accessories that money can buy!
Razer Viper V2 Pro Wireless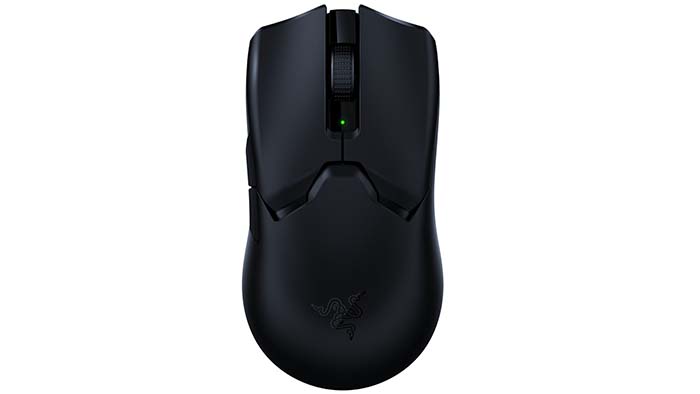 For our mouse we've picked out one of Razer's best gaming mice designed to the best pace and performance with a high 30K DPI sensor perfect for Esports titles. The lightweight design aids in gliding your cursor across the surface of a desk or a mouse mat, and the ambidextrous shape is perfect for both left and right-handed gamers. This mouse is extremely accurate and will provide a competitive edge within a variety of games.
Buy the Razer Viper V2 Pro Wireless on:
Corsair K100 RGB Keyboard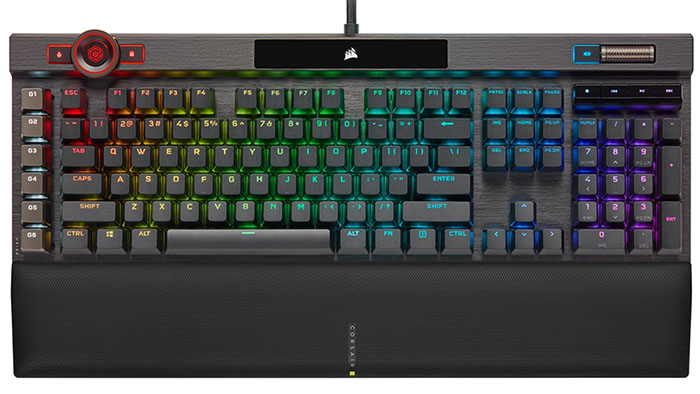 Corsair's K100 is a keyboard we've recommended quite a few times, because it sports an awesome design while offering accurate and speedy mechanical switches, along with per-key programmable RGB backlighting. The dial located on the top left of the keyboard offers a range of configurations within your PC such as application switching, lighting and volume control. Needless to say, the K100 is an incredible keyboard.
Buy the Corsair K100 RGB Keyboard on:
Logitech G Pro X Wireless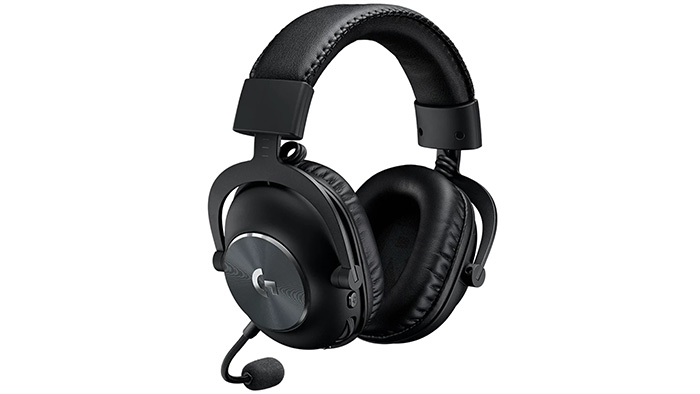 And finally, for our headset choice we've picked out another cable-free design from Logitech, their G Pro X Wireless. This headset uses Blue VO!CE microphone filters, enhancing mic quality with no performance overhead as an addition. The headset drivers offer accurate and luscious sound perfect for gameplay, music and movies. The comfortable and plush design also reduces any discomfort during a long session of gaming.
Buy the Logitech G Pro X Wireless on:
Benchmarks
Now for the most important part – benchmarks! The RTX 4090 is an incredible card and we've reviewed three of the new SKUs on our website in full with loads of benchmarks and break down of the architecture and design of each card. For our gameplay today, we've provided a benchmark of Cyberpunk 2077 a controversial title that struggled to maintain consistently high frames when settings were maxed out. But worry not! The RTX 4090 has no issues with Cyberpunk at 4K with DLSS and Ray-Tracing enabled as you'll find out below! You can also find a variety of benchmarking runs featuring a plethora of GPUs on our YouTube channel – Benched.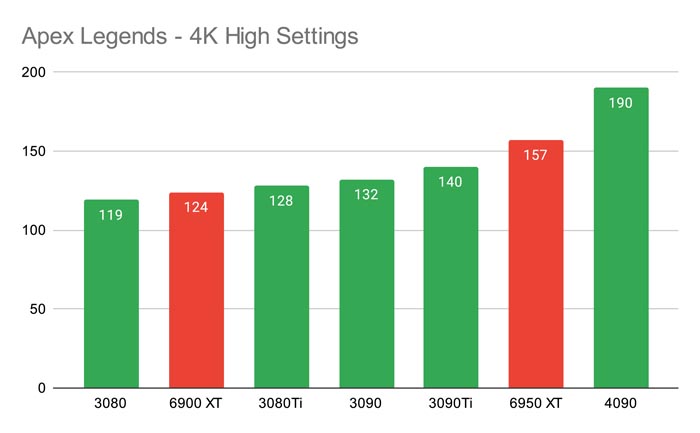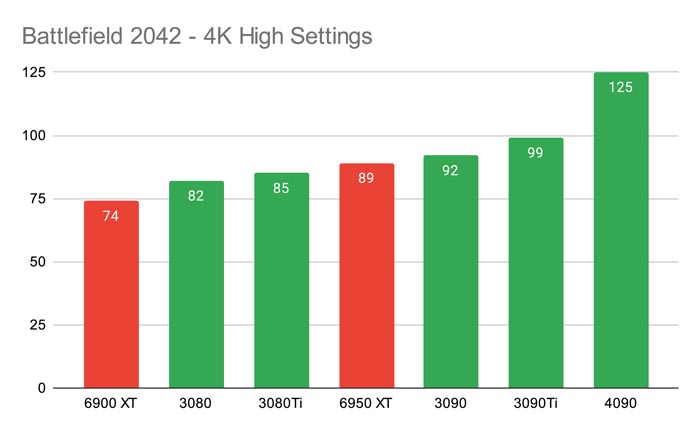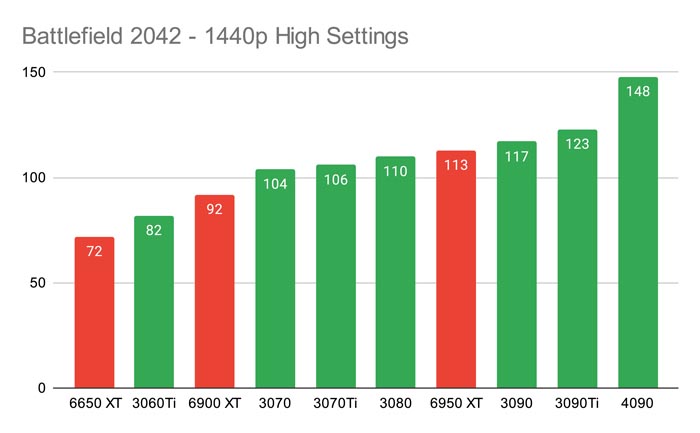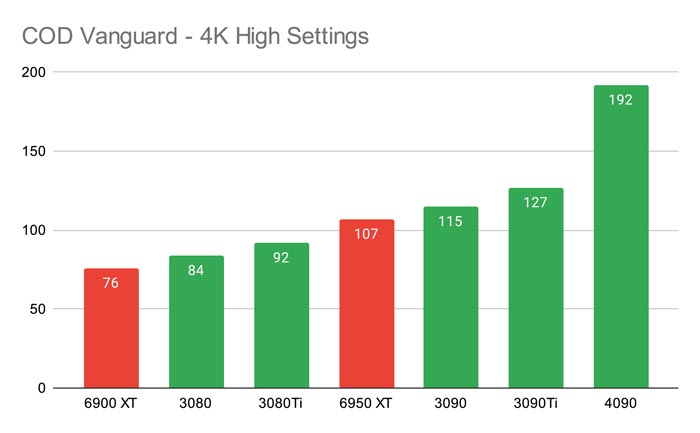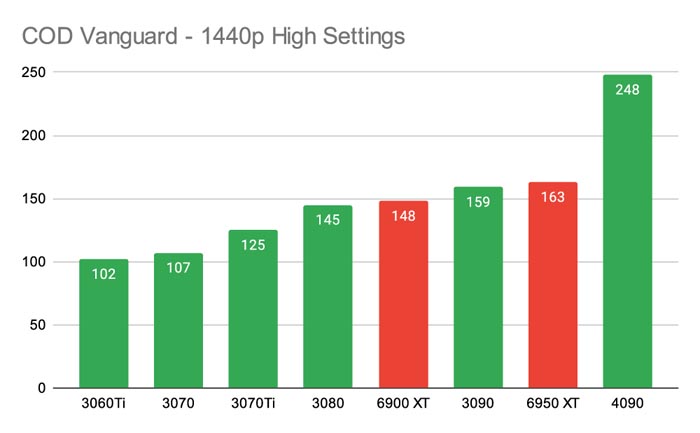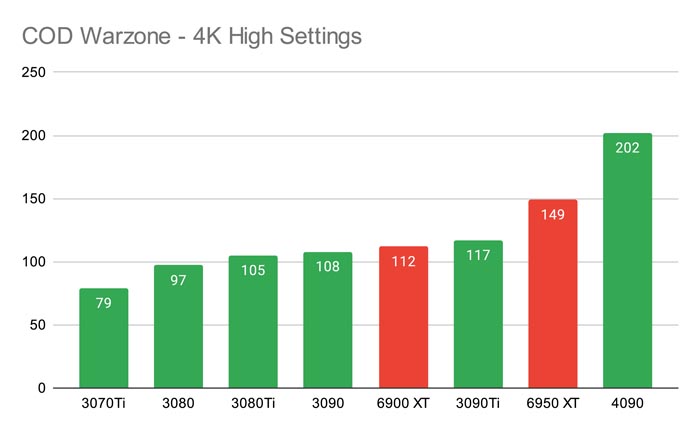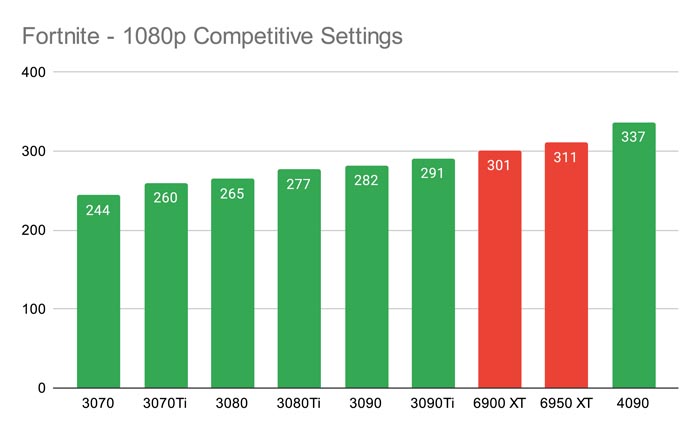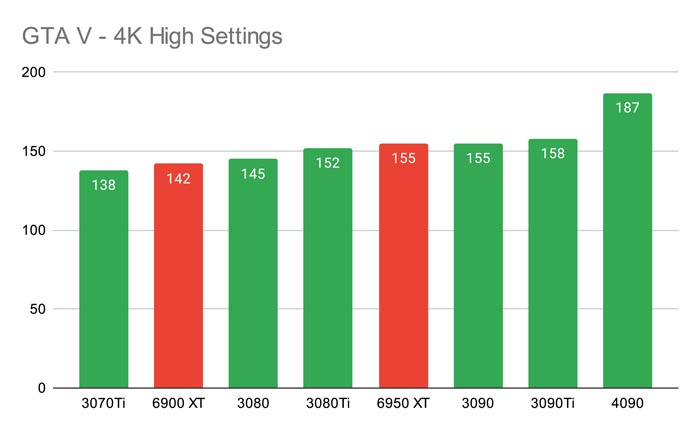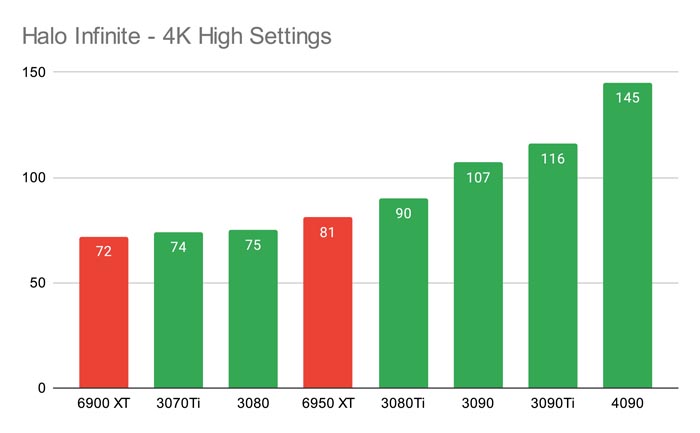 Gallery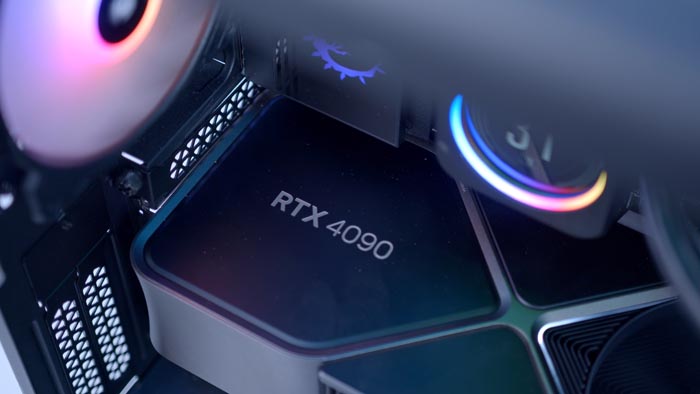 Video