Introduction
Networking is a pivotal part of any gaming or PC building experience. Once you've got your PC built, or your prebuilt has arrived, its just a case of firing up your system, connecting to your network and getting your favourite games installed. But what do you do if your network doesn't have enough reach for you to connect wirelessly? Or, what if your ISP's provided router isn't strong enough for all of your networking needs?
MSI may have provided the solution. Meet the MSI RadiX AXE6600, a tri-band router, offering three different bands including 6GHz, designed to handle high speeds for the latest devices. In this review we'll be talking about this router, the various speeds on offer, connectivity and features, and we'll be discussing some important talking points too!
Suggested Article: Best MSI Gaming Laptops to Buy in 2023
WiFi 6E – Is It Necessary?
WiFi 6E has started to become a big buzzword in the PC gaming and hardware space as of recent. With motherboard manufacturers including onboard WiFi 6E on many of their new products, on both the Intel and AMD side. If you've been fortunate enough to secure one of these new boards, you'll definitely be able to benefit from a stronger and faster WiFi signal that has much more bandwidth in comparison to the 5GHz and 2.4GHz bands. But this begs the question, which devices can actually utilise the WiFi 6E band, and is it worth securing a router for this?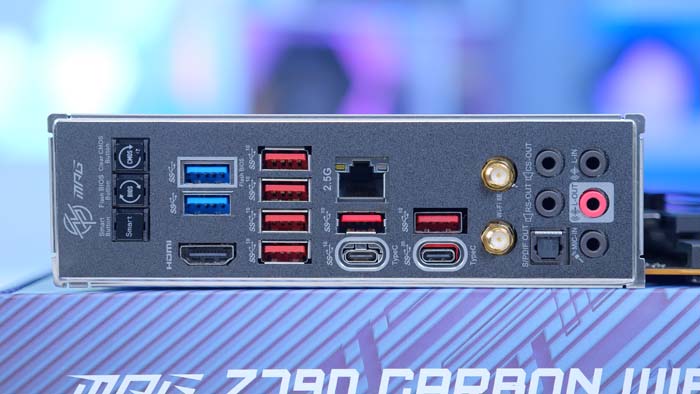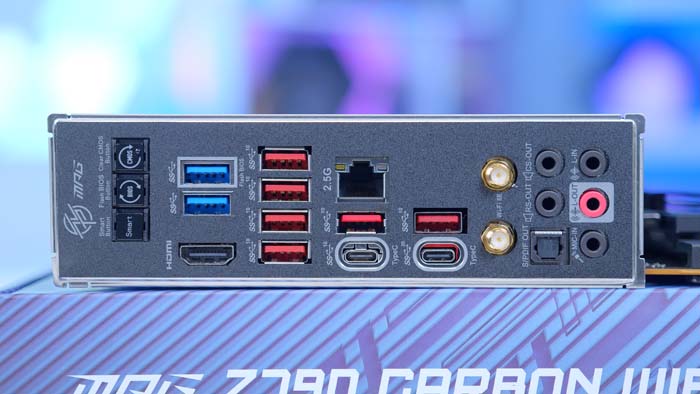 Unfortunately, WiFi 6E looks to be reserved for the elite few of the various new devices that have released this year. This means that devices that have released within the past year, so top-end flagship phones, new apple iPads, Macbooks and more should support the WiFi 6E standard. Although the list is quite extensive, this tech is mostly available in more expensive products that have released rather recently. Consumers that don't own one of these products will have to shell out even more money to secure a laptop, phone, tablet, etc., that even supports WiFi 6E.
So is it worth it? Personally, if you don't already have a WiFi 6E supported device, it is highly likely that you won't notice the difference. The cost increase isn't quite worth the upgrade if you're just performing day-to-day tasks like browsing the internet, or playing games. For workstation and productivity users, the upgrade could be worth it, but it depends on your use-case. Whilst WiFi 6E routers can be worthwhile for some, there are a number of other routers that will provide great connectivity and speeds for both WAN and LAN at a cheaper price compared to WiFi 6E routers.
MSI RadiX Design & Aesthetic
MSI's RadiX AXE6600 router offers a traditional gamer focused design, leaning into the red colouring that MSI utilise for their logo. This can be seen on the side of the antennae facing inwards, in which all of them glow and light up red when plugged in and the router is turned on. The router itself sports a glossy black finish across the entirety of the design, with ventilation located pretty much everywhere that isn't the top of the router. This should allow plenty of airflow to keep the router cool when dealing with all of your networking traffic.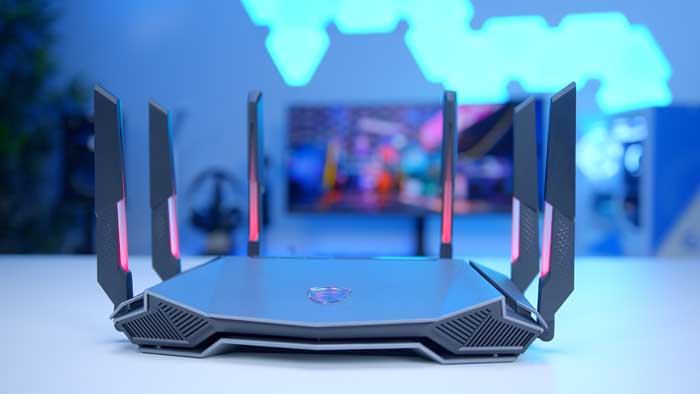 The RadiX router utilises a cuboid/trapezium design, which is one of the more traditional shapes for a router. This should allow the router to easily be placed on a flat surface without any slippages. The AXE6600 weights in at 1.13KG, so this router isn't particularly heavy, which should make it relatively easy to transport, should you prefer something more portable.
Overall, I'm pretty happy with the design of the RadiX router. MSI haven't gone crazy on flashiness, but they've still provided some customisation in the form of the RGB lighting which keeps in line with the gamer aesthetic that MSI are renowned for. I feel the vast majority of consumers will be happy with the aesthetic that this router offers, but if you're not particularly interested in gaming, it could be somewhat off-putting, especially with all of the additional lighting.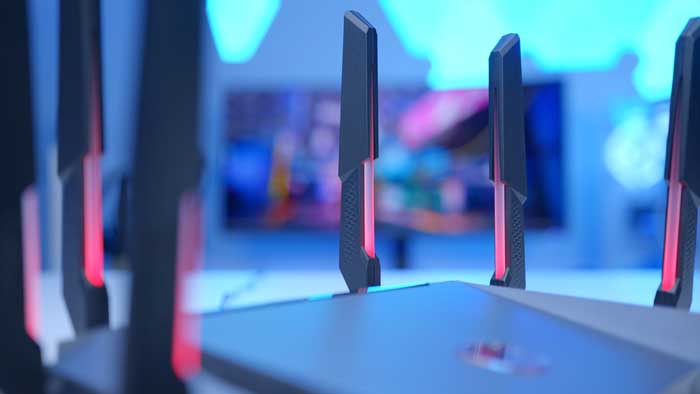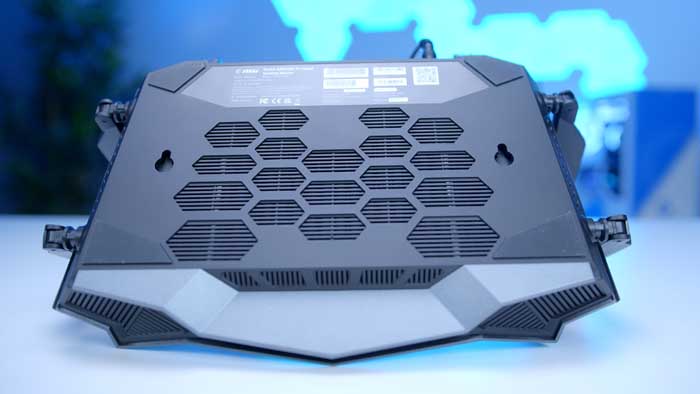 MSI RadiX Router Features
In this section we'll be taking a look at the main features of the RadiX AXE6600. This router is crammed full of awesome tech and features that make it a great option in today's market, so we'll be breaking down all of the principal ones below:
Excellent WiFi Speed
The RadiX AXE6600 is one of the most capable routers when it comes to WiFi speeds. This router supports 6600Mbps in total, with the 6GHz band offering up to 4804Mbps. Consumers also have access to 1201Mbps and 574Mbps on the 5GHz and 2.4GHz channels respectively, which is still sold bandwidth even on devices that don't support 6GHz.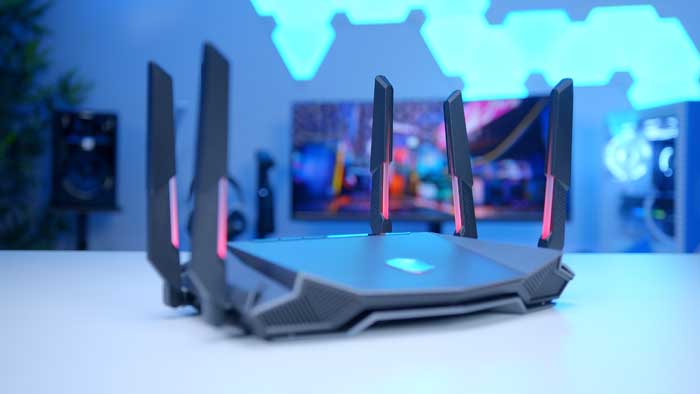 Built for Gaming
The AXE6600 offers OFDAM and MU-MIMO technology, providing more capacity for your router and efficiency. This allows you to connect multiple devices at once, while still offering suitable bandwidth for each of these devices during gaming sessions. This router also features a built-in AI engine that prioritises network traffic, allowing you to stay on top regardless of the activity that you're doing.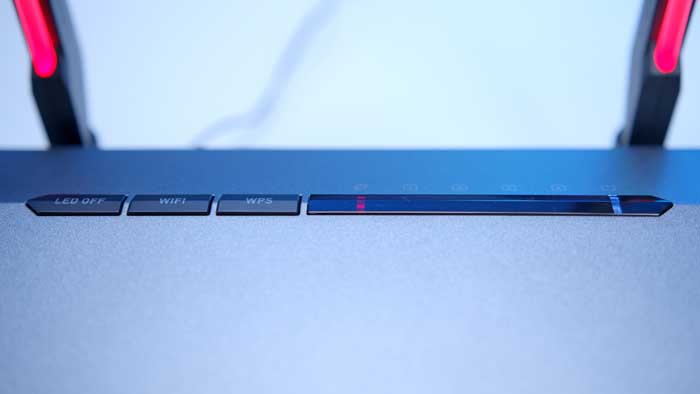 Decent IO Options
On the back of the RadiX, consumers have access to a reasonable selection of ports. This router offers four Gigabit LAN ports, with one of these providing the option for WAN or LAN, should you decide to prioritise moving files. The final RJ45 port offers 2.5 Gigabit speeds, which also features a flexible setting to change between WAN or LAN. This is useful for consumers that need to prioritise a particular type of traffic, or move a lot of files around. There's also a USB 3.0 port too, allowing you to attach a NAS or external drive.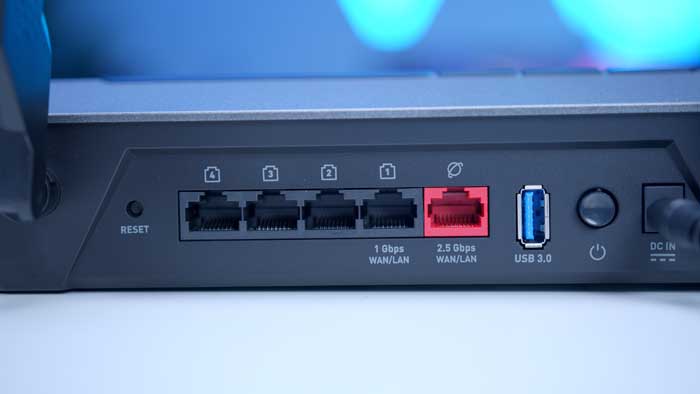 Customisable Lighting Options
We touched on this briefly in the design section, but the MSI RadiX offers customisable RGB lighting. If you're the kind of consumer that prefers to make their components their own by configuring various lighting effects and colours, this router is ideal. All of these can be changed using the MSI Centre application, and can be tailored to indicate what QoS mode is currently being used.
Alternatives
The MSI RadiX is an awesome router, but it isn't the only great WiFi 6E router on the market. We've provided a few alternatives that we like below, to give you some more options when it comes to pricing and features.
ASUS RT-AXE7800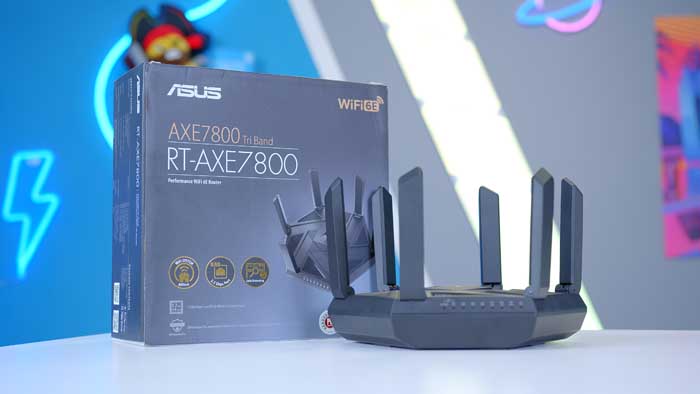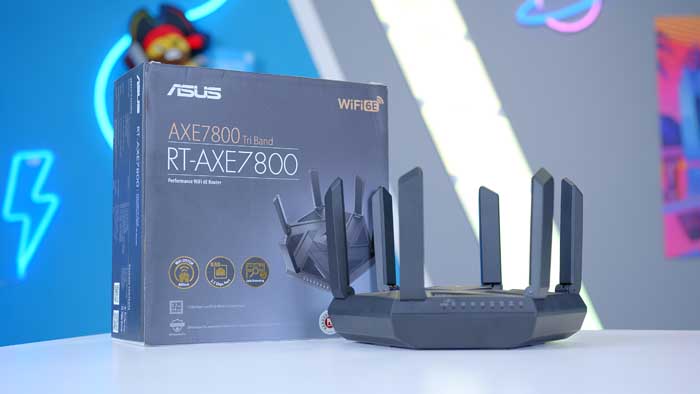 The AXE7800 from ASUS is a router that we've taken a look at before in an extendable routers buyers guide. This router is one of the best options on the market for those looking for insane speeds and a well-rounded experience. ASUS prioritises safety and user experience, which makes them a great option for those that prefer little hassle when getting their network setup. This router offers up to 7800Mbps, and provides plenty of choice for both LAN and WAN aggregation, including 2.5 Gigabit ports for those that need high speed ethernet.
Netgear Nighthawk RAXE500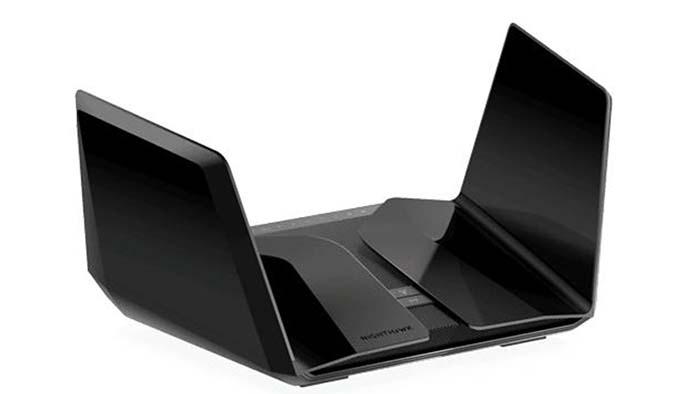 Next up is the Nighthawk RAXE500 from Netgear. This is another WiFi 6E router that offers up to 10.8Gbps speeds with coverage up to 3500 sq.ft. This router includes proprietary WiFi optimisation, positioned to deliver more capacity, alongside stronger connections so you can ensure an unhindered networking experience. Ports wise, you've got access to multi gigabit ethernet ports, allowing you to switch between WAN and LAN seamlessly, providing incredible speeds for either productivity or gaming systems.
TP-Link Archer AXE75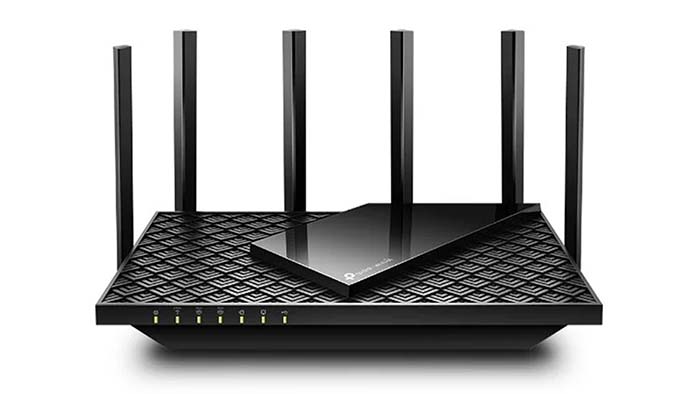 For our final alternative selection, we've picked out the Archer AXE75 from TP-Link. This manufacturer has been a mainstay in the router market for as long as I can remember, and produces a variety of different networking components for a range of use-cases and budgets. This particular router provides up to 5400Mbps speeds, utilises OFDMA technology for more capacity and efficiency. This router is also one of the more budget options coming in around the $200 mark, making it ideal for consumers looking build a price conscious mesh network.
Conclusion
MSI Radix AXE6600 Router
Product Name: Radix AXE6600
Brand: MSI
Features

Design

Performance

Value For Money
Summary
MSI's Radix AXE6600 is an awesome tri-band router, capable of offering WiFi 6E speeds, alongside a whole host of other technologies that make this router perfect for gaming, and productivity focused households. The RadiX is easy to setup using MSI's router app, and can configured to prioritise certain traffic at the click of a button. This router is definitely worth a consideration if it fits your use-case. The only major caveat is the somewhat high price point, with an MSRP of around $300 or so. This makes the RadiX one of the more expensive options on the market, especially when we consider some of the cheaper alternatives that we've taken a look at from ASUS and Netgear. We'd advise consumers look at all of the alternatives on the market before making a decision on their router of choice, as a cheaper option without 6E technology may be as competitive if you're only utilising it for general day-to-day activities.
Pros
✅ Solid networking speeds.
✅ Great WAN and LAN options.
✅ Easy to setup and configure.
Cons
❌ Expensive compared to the alternatives.
❌ MSI Centre is horrible to use.
❌ Might be overkill for most consumers.