Introduction
Corsair has always been an industry dominator when it comes to keyboards. These peripherals are some of the best options in the market, and although they're expensive, I'd argue that they are well worth the higher price point. We've got a number of Corsair keyboards in the office right now, and pretty much all of them are being used in some capacity as daily drivers for typing, or for benchmarking some of the latest gaming titles with brand new components.
Either way, we have a number of Corsair peripherals that we're quite fond of, and we use them regularly in the office. Amidst these peripherals is one of Corsair's best keyboard SKUs, the K70. The Yellow Pirates have revitalised this keyboard a number of different times, and today we're looking at their most recent version – the K70 MAX RGB. This may be one of Corsair's greatest options yet, and we're excited to take a look at it in this full review.
Buy the Corsair K70 MAX RGB on:
Suggested Article: Best TKL Mechanical Keyboards to Buy in 2023
What is an Actuation Point?
In this section we're going to briefly be discussing the importance of an actuation point. The K70 MAX has a very exciting and brand new feature that we'll be delving into later in more detail that might require some additional knowledge concerning the actuation point of your keyboard switches. But what is this? In short, an actuation point is the level of depth that the stem of your switch will reach in order to receive a response on your PC. Or in Layman's terms, how hard you have to press your keyboard switches for them to work.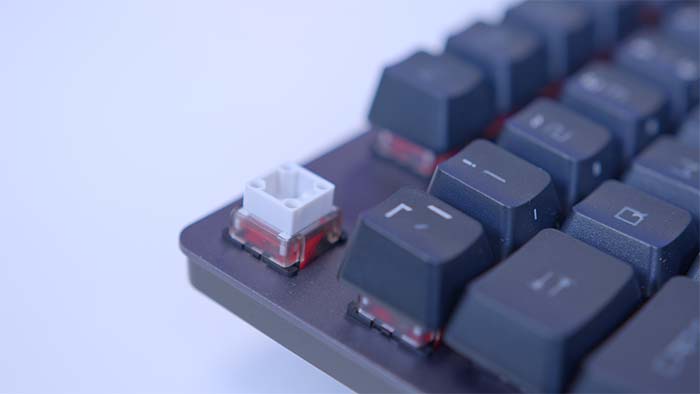 Because there are a myriad of different switches available on the market, we won't be explaining each and every one that you can pick up. However, the type of switch that your keyboard has will entirely determine the feel and responsiveness in certain activities. This can be explained by essentially assigning three different categories for varying actuation points, these are: gaming, general usage, and typing. For gaming you want a very small actuation point, which normally sits around 1mm or less. This allows you to respond quickly and utilise faster inputs in moments of intense pressure.
General usage is a bit more lenient when it comes to actuation, I'd argue that you're probably looking at 1mm to 2mm. You might prefer a quicker actuation here, but I feel this gives you more of a middle ground between accuracy and speed, which is a nice compromise. And the final category is for typing, with the actuation sitting around 3mm with some variation. This actuation point is generally geared towards typists that need high accuracy over speed, which ensures there's less accidental keypresses during a session of typing.
To summarise, actuation is entirely preferential based. You might be the kind of consumer that prefers their actuation to be somewhat heavier for gaming, or you might enjoy lighter for typing. This is up to you, but you'll want to keep in mind that you could be spending a fair amount to secure switches that you prefer. Either way, we'd definitely recommend researching actuation points of switches you like to ensure you get the most out of your keyboard.
Corsair K70 MAX Design & Aesthetic
Moving onto the design and the aesthetic of the K70 MAX, this keyboard is gorgeous. K70 keyboards have always looked great, but this particular design takes the cake when it comes to sophistication. This keyboard only comes in black, but I feel that's the more preferential option for the majority of consumers just so you can avoid any finger grease or sweat. The K70 MAX is a full-sized, 100% keyboard, which includes a numpad and extra media keys dotted around the top and right side. Because this is a not really designed for portability, it does lend itself some heft, coming in at 1.39KG, which is pretty heavy.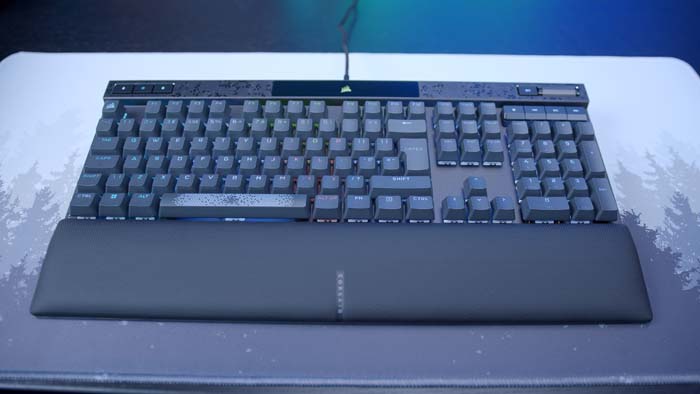 I'm assuming due to the nature of this keyboard, Corsair have probably used an aluminium backplate which does make keyboards weightier compared to using cheaper materials. The chassis of the K70 is also aluminium too, offering a space-grey brushed metal design which I'm a huge fan of. This should hide any misplaced fingerprints on the chassis, which is nice to see versus glossy designs. The aesthetic of the K70 MAX is more minimalist compared to some of their flashier options that we've reviewed in the past.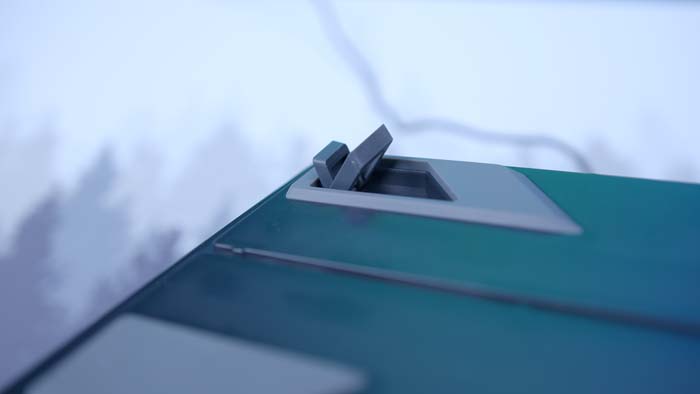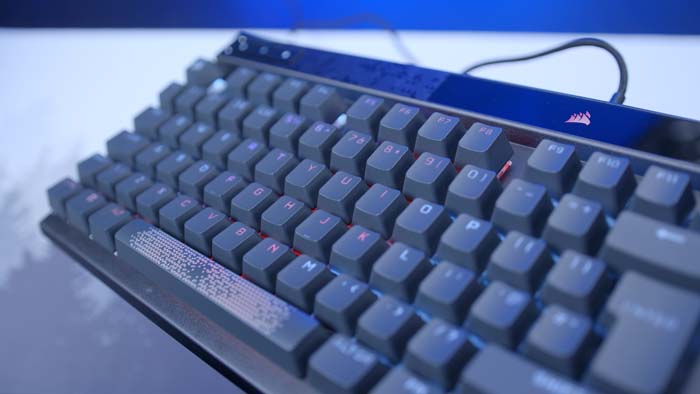 Much like every other Corsair product, this keyboard is not missing out on any RGB. Each individual key can be customised in the iCUE software, allowing you to change a variety of effects and colours at will. Corsair have also gone a step further by allowing you to rebind the actual keys themselves too, providing some further benefits for those that like to tinker with their peripherals.
I'm a huge fan of the overall design of the K70 MAX, Corsair have definitely employed the 'minimalist' aesthetic across a number of their new products recently, and this keyboard is no exception. The chassis is hefty, but looks awesome. There's a huge amount of customisation to be had with this design (and we'll touch on this further later), and I believe Corsair have yet again outdone themselves.
Corsair K70 MAX Keycaps and Switches
Moving on, the switches that Corsair are using for the K70 are double-shot PBT, which we love to see. This ensures they'll last a while, but the legend also isn't likely to fade over time either. Each keycap is backlight compatible, you can expect all of the RGB lighting on this keyboard to be shining through brightly as you type away in the dead of night. I do have a slight gripe with the keycaps, which is the texture. I'm not entirely sure why, but Corsair seem to have provided some sort of grip texture to each of the keycaps.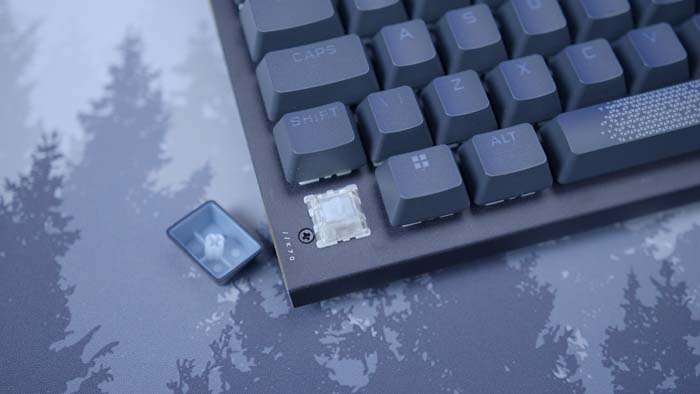 Whilst I do think many consumers will appreciate this, especially if you're gaming and your fingers get a little bit sweaty, I'm personally not a fan. The keycaps almost feel grainy, and this can be off-putting while typing. I do think this will benefit gamers, but for typists, this could be a problem. But because the keycaps themselves use a standardised Cherry-style stem, you can easily swap them out for other keycaps that you prefer. Just keep in mind that you'll have to buy more for a full-sized keyboard if you use a smaller design.
We'll discuss this more in the features section, but the K70 uses brand new Corsair MGX magnetic switches. They are linear in design, so there's no audible click, or tactile bump at the end of the actuation, but they are very unique. They offer an actuation force of 45g (so for non-keyboard enthusiast, this is quite heavy), and have about 4mm of total travel. I do like the switch choice on the K70 MAX, linear has always been a favourite of mine, but these switches do feel very smooth from the first press, all the way down to the bottom.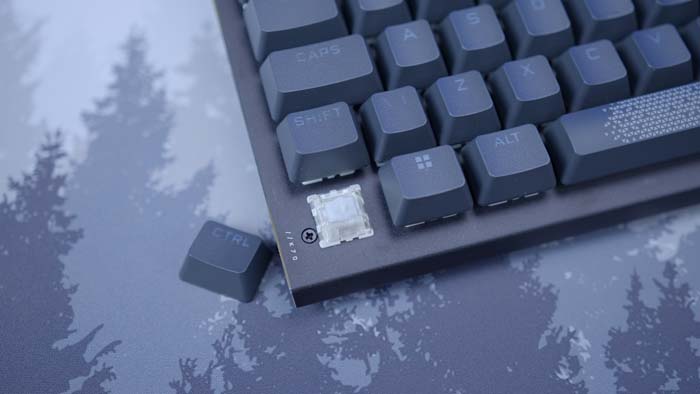 Whilst I do think the switch design is pretty solid, it is worth noting that this is a weirdly loud linear keyboard. The combination of the keycaps and switches almost make it sound like a clicky keyboard, but there is zero actuation at the bottom of the switch. After investigating this, it seems like there's some wobble in the keycaps, and not much sound dampening on the switches which is why they're so loud. Personally I'm not bothered by the noisiness, but I can fully understand that consumers looking for a full linear experience could be turned off by the noise. But if you stick some headphones on, it is barely noticeable.
K70 MAX Performance and Specs
The K70 MAX is a pretty well equipped keyboard overall when it comes to performance. Corsair are utilising their AXON technology which improves input speed and latency with faster polling. Polling is essentially the rate at which data is sent to your PC from your keyboard, so hyper-polling significantly improves this by sending more data at a faster rate. This means that if you're experiencing latency issues, you can up the polling rate in order to improve any lag.
Corsair have also employed full key rollover with anti-ghosting. So any keys that you've pressed that have been fully actuated will provide a response. If you're the kind of consumer that enjoys macro keys and customising key bindings, the K70 MAX has 8MB of onboard memory, allowing you to store up to 50 profiles and up to 20 layers of different lighting effects dependent on the complexity. To summarise, Corsair has clearly crammed their strongest technologies within this keyboard to ensure an exceptional user experience, and it definitely reflects through usage during gaming and long sessions of typing.
| Specifications | Corsair K70 MAX RGB |
| --- | --- |
| Key Switches | Corsair MGX Magnetic – Linear (45g actuation force) |
| LED Colour | RGB 16.8 Million Colours |
| Key Caps | PBT Double-Shot |
| Rollover and Ghosting | Full-key rollover, 100% anti-ghosting |
| Report Rate | Up to 8000Hz hyper-polling (Corsair AXON) |
| Onboard Memory | 8MB |
| Onboard Profiles | Up to 50 profiles, Up to 20 layers of lighting effects |
K70 MAX Features
The K70 MAX RGB is one of the most feature rich keyboards that we've had in the office in recent months. We've broken down all of the standout ones from this particular keyboard below.
Magnetic Mechanical Switches
Corsair's magnetic mechanical switches are an absolute game changer, and may be one of the coolest features that I've seen in a keyboard in quite some time. The reason why these switches are so awesome is because you can easily customise the actuation point of them on the fly. This entirely cuts out having to pick out a new set of switches for a different actuation point, instead you can adjust the travel using Corsair's iCUE software. This is also absolutely genius, because it allows you to easily customise the actuation on every key just using software, instead of having to fiddle around with hardware switches and buttons.
It is also worth noting that Corsair have included two actuation points within each switch. This essentially means that a soft press versus a hard press will do different things. You could have your first actuation set to 2.6mm which could make you walk, and then your second actuation to 3mm to make you run in your favourite games.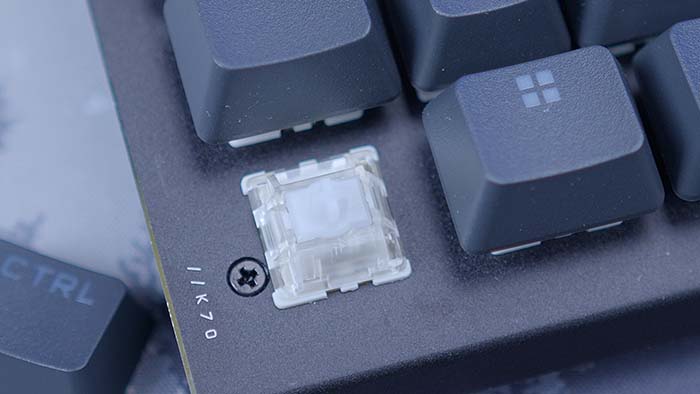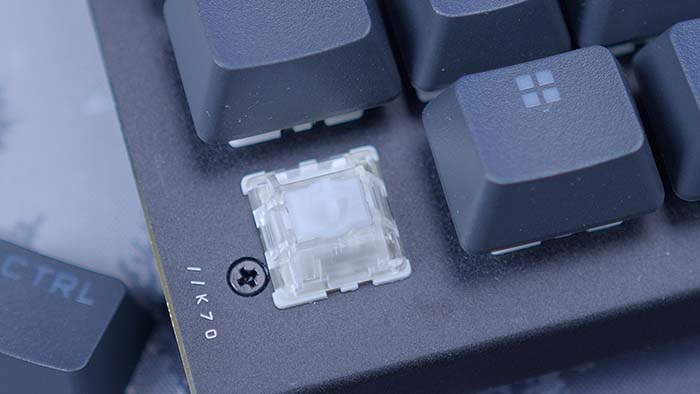 Although Corsair haven't actually revealed how this works, I imagine because the switches are magnetic, iCUE software adjusts the electrical current going to each magnet which can change the strength on the fly. I could be totally wrong of course, but this is how I imagine it works. Regardless of this, Corsair have really pushed the boat out with this design. Its awesome that you can customise the actuation point of your switches just using software, and it is very clear that the 'yellow pirates' have got consumers are the forefront of their mind for this keyboard.
Fully Customisable RGB
As is the standard with pretty much every Corsair keyboard, you can expect all of your keys to shine brightly with some RGB lighting, and the K70 MAX is no exception. Each key is fully programmable and has up to 16.8 million colour options and a number of different patterns that can be configured very easily. You can also assign a number of different profiles for each of your RGB lighting configurations too, allowing you to simply amend any settings using the iCUE software.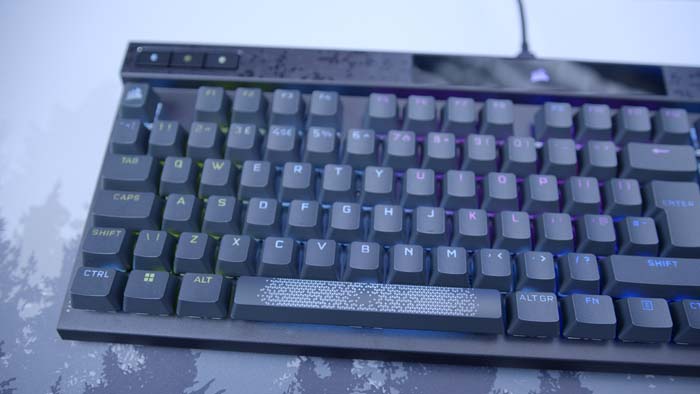 Tournament Switch
On the rear of the keyboard you'll be able to find a tournament switch, which changes some hardware and software settings very easily. This switch changes the backlight to a static colour in an attempt to reduce any distractions. It also disabled custom actions, and macros so you can't accidentally activate them. And it'll amend any key binds, setting them to default instantaneously, making it perfect for those that play Esports games at tournaments.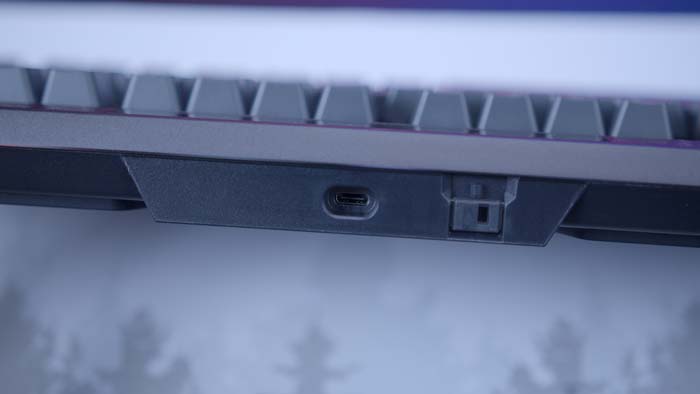 Detachable Palm Rest
I love a good wrist rest, and the one that comes with the K70 MAX is one of my favourites. It cushions your wrists quite nicely and supposedly uses memory foam which should retain the positioning of your wrists after prolonged usage. The leatherette/rubber fabric covering the wrist rest also uses a gripped texture, which should minimise any slipping if there's sweat or spillages.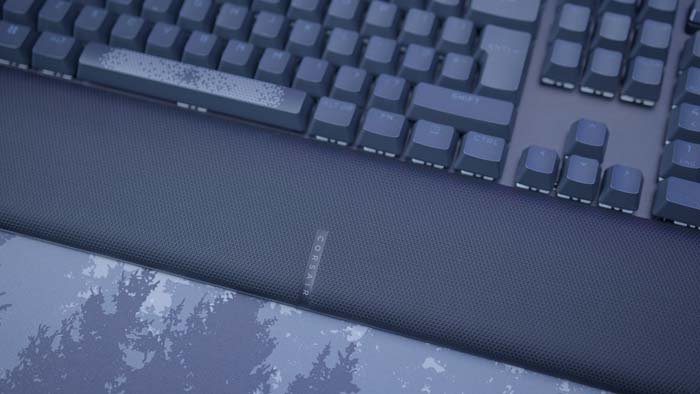 Alternative Option
After doing some research there are very few manufacturers that have actually delved into the world of magnetic switches, or as they are otherwise known as, Hall Effect switches. We did manage to one decent alternative that offers a similar level of features both in terms of software and hardware, which we'll be discussing below.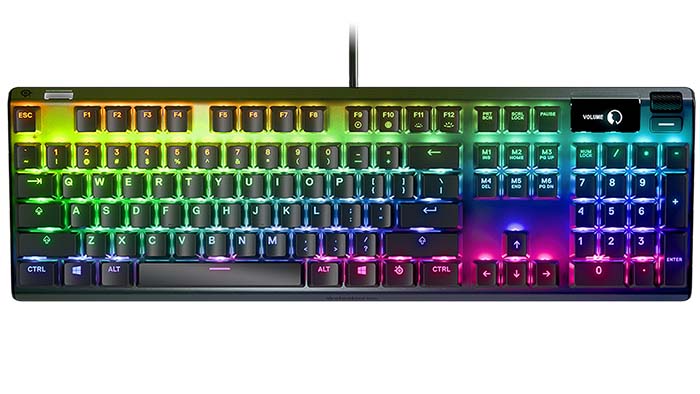 SteelSeries Apex Pro
There only seems to be one keyboard that has taken a similar approach in terms of the switch design. The SteelSeries Apex Pro is another top-end design geared towards those that enjoy tinkering and customising the feel and look of their keyboard. The Apex Pro uses linear OmniPoint 2.0 switches which have two actuation points. SteelSeries allow you to customise a multitude of elements of this keyboard using their in-house software, which also offers a way to store profiles for quick 'on the fly' changes. This keyboard is definitely worth considering if you're looking for a somewhat cheaper and alternative design.
Buy the SteelSeries Apex Pro on:
Conclusion
Corsair K70 MAX RGB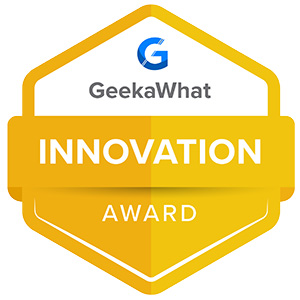 Product Name: K70 MAX RGB
Brand: Corsair
Features

Design

Versatility

Value For Money
Summary
Corsair's K70 MAX RGB is one of the best keyboards to release on the market this year. Whilst other manufacturers are too busy discovering hot-swappable switches (which have been around for years), Corsair are absolutely changing the game with this new design. Whilst they are not the first to the market with magnetic switches, I feel Corsair have immediately surpassed SteelSeries' alternative options based on the superior aesthetic, easier to use software, and overall more sophisticated approach to making a keyboard. Needless to say, this is one of the best peripherals that Corsair have released, sitting at the top of our list versus other keyboards we've looked at in the past.
Whilst I do adore this keyboard, I do have some gripes with some of the design choices of the K70 MAX. My biggest issue is the sound levels of this keyboard. Traditional linear keyboards are supposed to be pretty quiet, because there's no feedback when the switches bottom out, which results in a relatively smooth experience. However, I've found that using the K70 MAX over time, the linear switches are pretty loud. I feel if Corsair used more sound dampening on the space bar and the individual keys, there would be less noise. My two other problems are the keycap feel, and the cost. The keycaps are entirely preference, so I won't be letting this affect our scoring, but the price tag will, because this keyboard sits well over the $200 mark. Although I'd argue you get what you pay for, it is still pricey for a non-hot-swappable design. But because of the uniqueness of the actual switches and the way this keyboard performs, $200 is a somewhat reasonable asking price.
Pros
✅ Adjustable switch actuation is an absolute game-changer.
✅ Typing and gaming experience is extremely comfortable.
✅ Easily customisable using Corsair's iCUE software.
Cons
❌ Quite loud for a linear keyboard.
❌ Pretty expensive.
❌ Keycaps feel somewhat gritty.