Introduction
For quite some time, compact mechanical keyboards have been considered one of the best options for gaming. As a result, lots of gaming peripheral manufacturers have attempted to plant their flag into the 60% and 65% gaming keyboard market.
Corsair are one of many gaming companies to produce compact mechanical keyboards over the years, a venture which has proven quite successful. Their K70 Pro Mini and K65 RGB Mini have both received a lot of plaudits for their build-quality and ease of use.
Suggested Article: Best Mechanical Keyboards to Buy under $200
However, corsair are now combining these options together as they take another stab at this relatively flooded market. The K65 Pro Mini is a premium 65% gaming keyboard design which looks to provide a satisfying experience when typing or playing the latest titles. But does Corsair's latest release bring enough to the table?
In this review, we'll be looking at the K65 Pro Mini in greater detail to see whether this mechanical gaming keyboard is a worthy consideration to go alongside your gaming PC.
Buy the Corsair K65 Pro Mini on:
Are Compact Keyboards Good for Gaming?
Before we analyse the K65 Pro Mini, we wanted to explain the differences between keyboard form factors and clear up whether a compact gaming keyboard is the right choice for you. Generally, the main sizes for keyboards are 60%, 65%, Tenkeyless (TKL), and full-size. These layouts will determine the number of keys included, along with the spacing between them.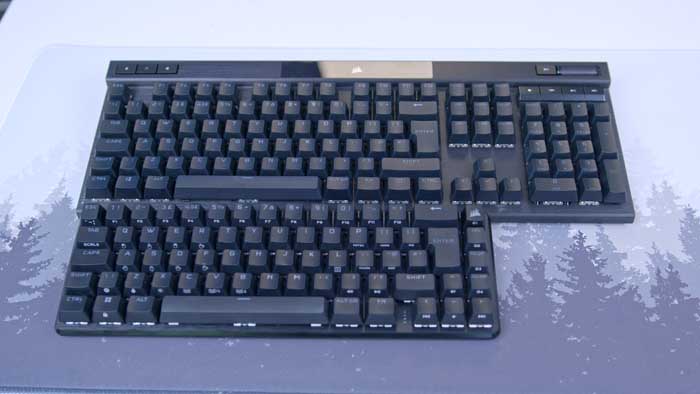 The more compact designs such as 60% and 65% layouts are often considered a strong choice for gamers, as it gets rid of unnecessary inputs reserved for productivity purposes. It may seem strange for a lack of switches to be considered a positive, but the smaller form factor clears up a lot of the desk real-estate taken up by a keyboard, allowing for greater mouse movements when gaming. Also, the compact nature makes these designs lighter and more portable, making it easier to move around a desk or to take on your travels.
However, most of the benefits of a compact mechanical keyboard relate to strictly gaming scenarios, meaning those using their PC build for more than just gaming may struggle when attempting to get work done. This is where larger keyboard layouts come into the picture, as these options are well-equipped with all the inputs required to tackle any task without complications.
Personally, I quite like the extra desk space and closer proximity of keys on a compact design, but do find myself missing the additional inputs and multimedia controls often found on larger layouts. Ultimately, the preferred layout of your keyboard will depend on how you intend yo use it, but compact 60% or 65% are a solid choice for gaming enthusiasts.
Corsair K65 Pro Mini Design & Aesthetic
Now that we've discussed the pros and cons of compact gaming keyboard, it's time to put the spotlight on Corsair's brand-new K65 Pro Mini. The first thing to note is the choice of a 65% layout over 60%. The difference is hardly noticeable to the untrained eye, but 60% keyboards tend to be missing the arrow keys and lack any spacing between each switch, making it less accessible for typing and productivity tasks. That's why we're thankful for the slightly larger design here, as it makes the K65 Pro Mini more versatile for daily use.
When it comes to the design, this keyboard shares a lot of similarities with its predecessor, the Corsair K65 RGB Mini, but with some upgrades in order to make this design feel more premium in comparison. For example, the plastic casing on the RGB Mini is replaced with an aluminium frame on the Pro Mini, resulting in a greater durability and a smarter appearance.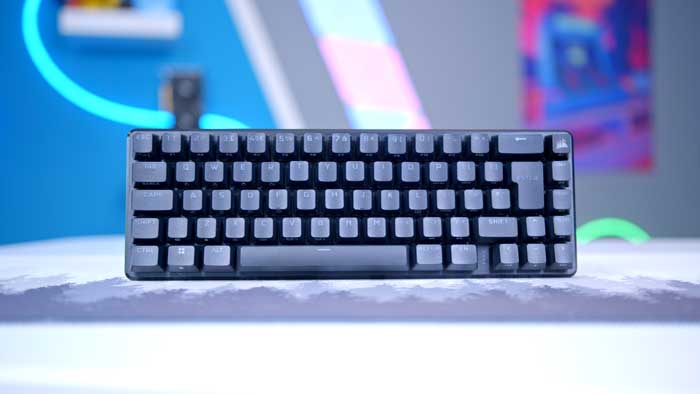 As a mechanical keyboard, each key on the K65 Pro Mini is made up of a double-shot PBT keycap and Corsair's very own OPX linear switches. This combination results in a typing experience that feels incredibly smooth, with the additional dampening layers creating a subtle sound which still possesses that satisfying thocc. To improve the ergonomics and stability when typing or playing games, the K65 Pro Mini also features a kickstand, which feel very secure and are easy to use.
Like almost every mechanical gaming keyboard on the market, Corsair's newest addition also comes with an abundance of RGB lighting, all of which can be individual addressed in their iCUE software. With a range of lighting effects to choose from, users can customise the appearance however they please, or synch up with other iCUE compatible products. For an even brighter experience, Corsair include a radiant spacebar in the box, which users can switch for the standard one if they wish.
After thorough inspection, the bulk of this design is very strong. The frame feels incredibly sturdy and durable, whilst the keycaps and switches combine to forge an smooth and satisfying typing experience. There are a few tweaks that could be made to the package, such as a more adjustable kickstand and an included wrist rest, but the K65 Pro Mini is off to a good start.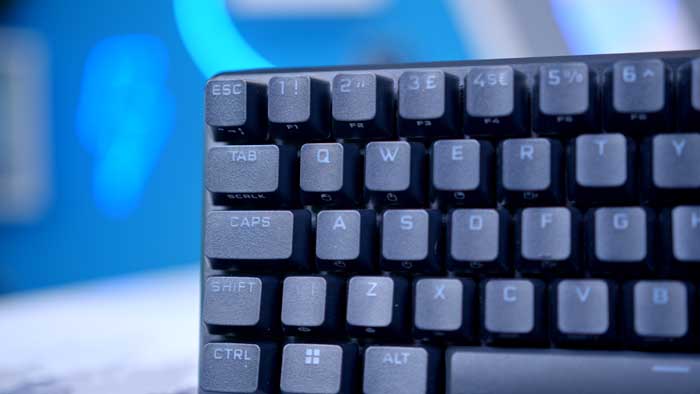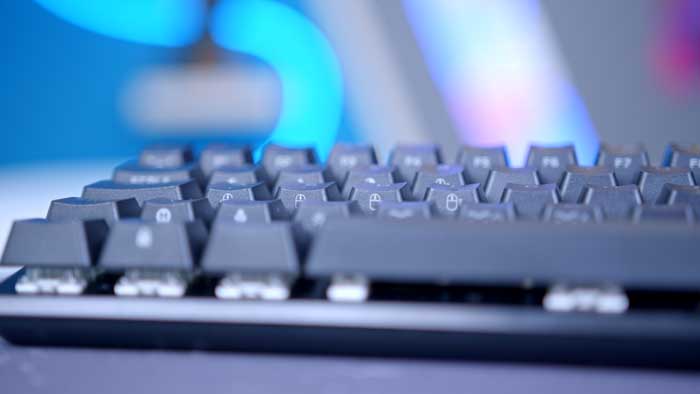 Corsair K65 Pro Mini Specs & Performance
When it comes to gaming peripherals, performance always seems to take a back seat for design and functionality. However, there are still a number of different parameters we'd expect a premium design like this one to achieve, as well as some key features to enhance the user experience.
In terms of raw performance, this keyboard is packed with Corsair's flagship technology to give consumers the most responsive and reliable input possible. For example, Corsair's AXON hyper-processing allows the K65 Pro Mini to reach a maximum polling rate of 8000Hz, which is miles above the 1000Hz found on most gaming keyboards. This means users will be able to response to the events on-screen almost instantaneously.
During our testing, this 8000Hz polling rate was too fast for my PC to handle, which caused it to frequently disconnect due to a lack of bandwidth. After reducing the polling rate in iCUE, the connectivity issues disappeared. But this could be an issue to be aware if you pick up this keyboard, especially if you plan on using it with an older system.
| Specifications | Corsair K65 Pro Mini |
| --- | --- |
| Size | 65% |
| Switch Type | Corsair OPX |
| Keycaps | PBT Double-Shot |
| Keystroke Lifespan | 150 million |
| Max Polling Rate | 8000Hz |
| Macros | Yes |
| RGB | Yes |
| Hot-Swappable | No |
| Connectivity | USB-C |
As for durability, the OPX optimal-mechanical switches are stated to have a keystroke lifespan of 150 million. This should be more than enough for each switch to last for years, even when put under prolific use. To support this, the 1.5mm PBT double-shot keycaps are pretty resilient, which means users don't need to worry about these keycaps cracking or wearing over time.
Corsair K65 Pro Mini Features
So far, the K65 Pro Mini has struck an impressed in both design and performance, meeting the expectations we set out for a premium gaming keyboard. However, what will make this keyboard a true threat to the plethora of other options available is the feature-set. Here are some of the main quality-of-life features we've noticed since getting our hand on the K65 Pro Mini.
USB-C Connectivity
With the K65 Pro Mini being a strictly wired keyboard, a USB-C connection provides minimal latency and allows for snappy responses to gameplay. Whilst having a wireless option or USB passthrough alongside the single USB-C port would help to increase portability, being able to detach the cable allows this keyboard to remain portable and lightweight. As previously mentioned, we did experience some connectivity problems at first, so be prepared to make some adjustments to performance via iCUE if needed.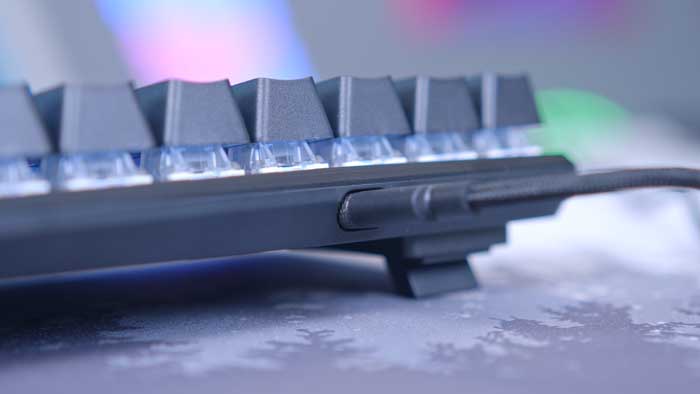 Integrated Kickstand
To enhance the ergonomics, especially when typing, this keyboard includes a kickstand attached to the base. Unlike when we reviewed Corsair's K100 Air, the kickstand on the K65 Pro Mini fells very sturdy, locking into place when raised or lower. Also, the rubber feet throughout the base keeps the keyboard in place during intense gaming sessions. Although the angle of the kickstand can't be adjusted in any way.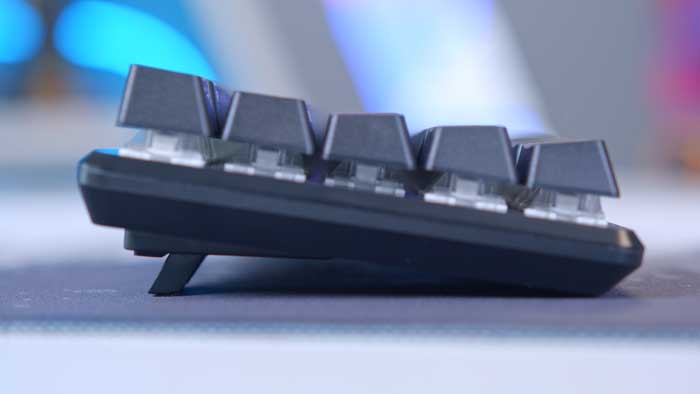 iCUE Customisation
One of the biggest benefits of picking up any Corsair product is the access to their industry-leading iCUE software, and the K65 Pro Mini isn't about to buck that trend. This software unlocks a wide range of customisation options, including an array of lighting effects, custom profiles, performance settings, and key assignments.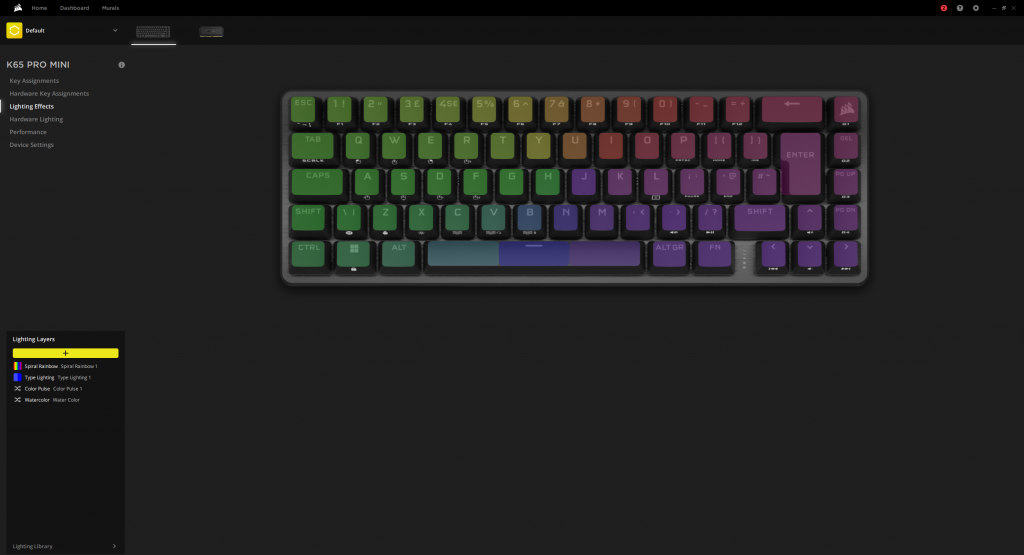 Macro Recording & Profiles
Speaking of iCUE, this software also includes support for macros and custom key assignments. This customisation is very extensive, offering gamers the ability to attach a custom input or macro for each key, which helps to remove some concerns with the lack of inputs on this 65% keyboard. These assignments can then be stored on up to 50 profiles, allowing gamers to store control-schemes for certain games or applications.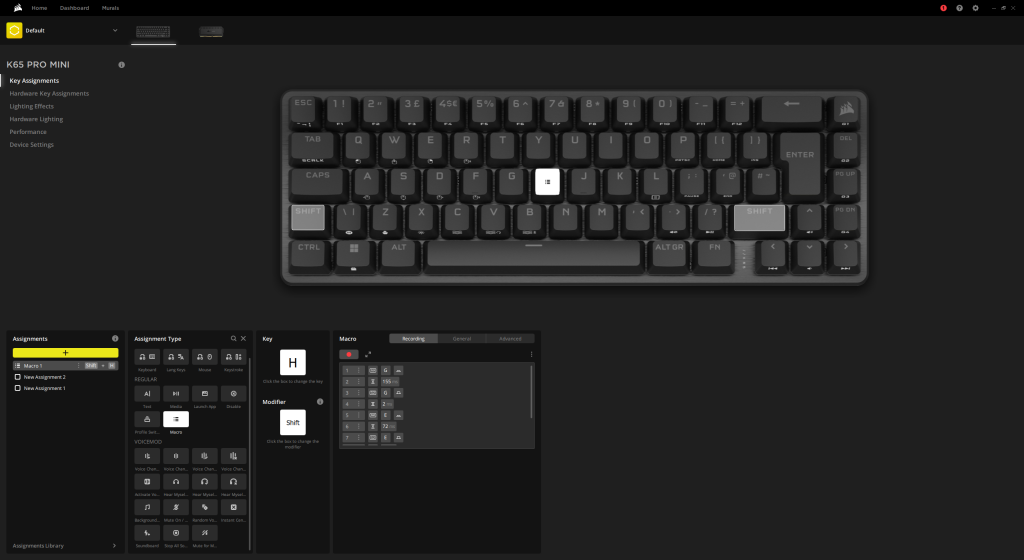 Alternatives
If the idea of a compact mechanical keyboard intrigues you, but you're not fully convinced by what the K65 Pro Mini has to offer, then it's worth looking at some alternatives. Fortunately for you, we've done a lot of the hard work already, as we've picked out a few 65% and 60% gaming keyboards that share similarities with Corsair's offering while varying in some key aspects.
ASUS ROG Falchion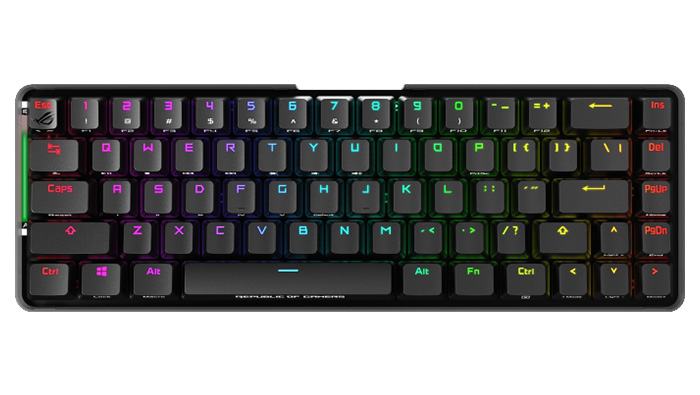 As one of the most popular 65% gaming keyboards on the market, the ASUS ROG Falchion is an extremely versatile design that is great for gaming on the go. With dual-mode connectivity, users can connect via a wired or wireless option, making it easier to switch between multiple devices. Also, the included dust cover protects the keys whilst in commute. If you're looking to game on the go, then the ROG Falchion may be the best choice to suit all of your gaming needs.
Buy the ASUS ROG Falchion on:
Surefire Kingpin M1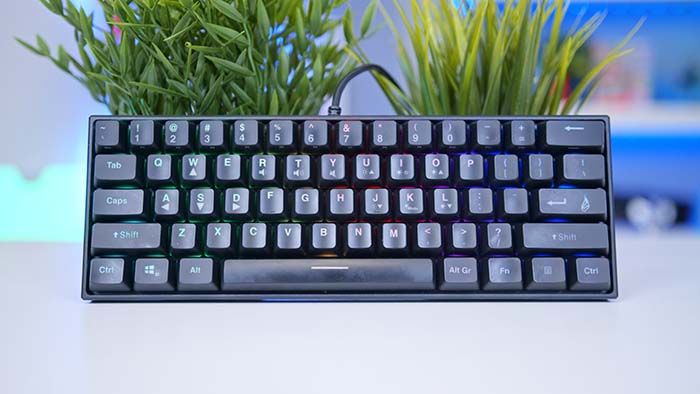 If you are looking for a solid gaming keyboard, but don't have the funds to splash out on the K65 Pro Mini, then the Surefire Kingpin M1 is a decent budget alternative. For a fraction of the price of the other options featured here, this wired keyboard feels solid and good to type on, whilst also including luxuries such as custom RGB lighting and macros.
Want to learn more? Check out our Surefire Kingpin M1 review.
Buy the Surefire Kingpin M1 on:
Ducky One 3 SF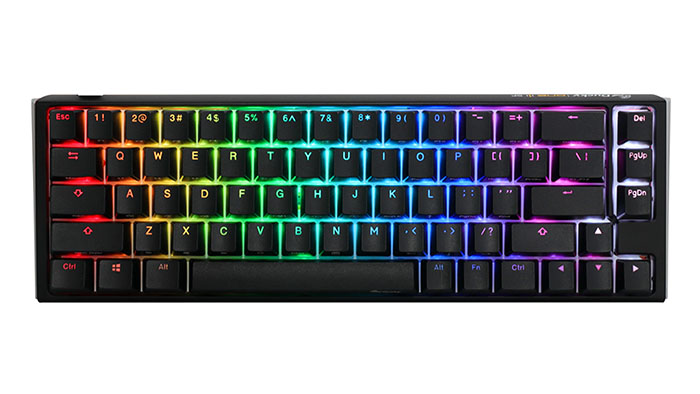 Finally, we have a fan-favourite option with the Ducky One 3 SF. As a brand dedicated to gaming peripherals, Ducky have built a reputation for providing high-quality custom gaming keyboards. The main advantage to picking up this design is the hot-swappable switches, allowing users to easily replace individual switches without having to risk affecting the rest of the board. This is great for experimenting with switches to create a typing experience tailored to your personal needs.
Buy the Ducky One 3 SF on:
Conclusion
Corsair K65 Pro Mini
Product Name: K65 Pro Mini
Brand: Corsair
Features

Design

Performance

Value For Money
Summary
On the whole, the K65 Pro Mini is an excellent 65% gaming keyboard thanks to its strong combination of build-quality and performance. As a mechanical keyboard intended to get rid of the excess inputs, it's no surprise to see the K65 Pro Mini take a streamlined approach to its design. With a compact form factor and strictly wired connectivity, this keyboard is meant to act as a mainstay within your gaming setup. Luckily, Corsair have packed the K65 Pro Mini with plenty of customisation options through the iCUE software, making it easier to use this design for general daily tasks. 
Along with full customisation over inputs and the ability to record macros for unique keyboard shortcuts, the iCUE integration also allows access to an extensive list of lighting effects, as well as the ability to tweak performance-based settings. As for the design, the aluminium frame and PBT Double-Shot keycaps makes the K65 Pro Mini extremely durable whilst offering a premium aesthetic. Plus, Corsair's OPX switches feel very smooth, resulting in a satisfying typing experience.
Whilst my time with the K65 Pro Mini has been positive for the most part, there are a few hiccups and exclusions that stop this keyboard from being a top-tier inclusion. For example, I did experience some technical issues which forced me to limit this keyboard's true potential, and the lack of a wireless connectivity feels like a missed opportunity to elevate this design. But for those looking for a compact keyboard that provides a luxurious gaming experience with lots of customisation, the K65 Pro Mini earns a spot amongst the elite.
Pros
✅ Smart & durable design
✅ Lots of customisation in iCUE
✅ 8000Hz polling rate
Cons
❌ Only includes wired connectivity
❌ Not hot-swappable
❌ Quite pricey