Introduction
While MSI may not have always been the first company many thought of when it comes to gaming monitors, the last few years have seen rapid accession to the top for the Taiwan-based component maker. In fact, MSI are now one of the most popular, and well-reviewed monitor brands globally, with a range of options for different budgets.
MSI have helped pioneer features such as, high refresh rates and curved panels in even more budget offerings. They have crafted some truly spectacular displays, from entry-level, to high-end, and thus, in this roundup, we have picked up some of MSI's most interesting offerings for those looking at a new display in 2023 and beyond.
We will be covering a vast spectrum of prices, resolutions, and other features, allowing consumers to pick from a vast set of choices, giving potential buyers plenty of different options and specifications.
Suggested Article: Best Graphics Cards to Buy for 1440p Gaming in 2023
Best MSI Gaming Monitors
1. MSI Optix G24C6
The first monitor in this roundup is already a very strong contender. The MSI Optix G24C6 is one of few budget monitors available on the market offering a curved display. The 1500R curve featured here will allow consumers to experience a new dimension of immersion and comfort at a very reasonable price.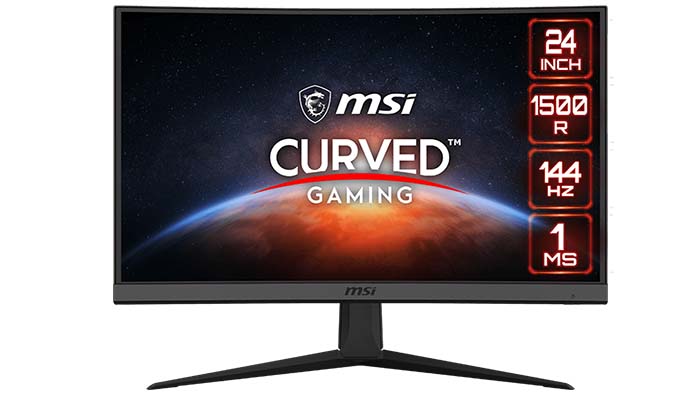 Key Specs: Screen Size: 24 inches // Resolution: 1080P // Panel Type: VA // Refresh Rate: 144Hz // VRR Technology: FreeSync Premium
The rest of the specs do generally keep up as well. The G24C6 features a 1080p, 144Hz panel, providing a smooth gaming experience, whilst keeping the resolution accessible to most. The gaming experience is further enhanced by the presence of Freesync technology, which helps eliminate tearing if combined with a compatible graphics card from AMD.
MSI have opted to use a VA panel here, which offers amazing contrast ratios. While the peak brightness at 250 nits might not satisfy some users, this display still features a great viewing experience at its price. The good colour accuracy in the sRGB and DCP-I3 spaces further help ensure that.
Pros
One of the cheapest curved monitors.
Great contrast ratio.
A very budget way to experience 144Hz gaming.
Cons
Poor peak brightness.
Inflexible stand.
Buy the MSI Optix G24C6 on:
2. MSI Optix G27C4
The MSI Optix G27C4 is a great improvement over the G24C6 in almost every area. The largest difference that most potential customers will notice straight away, is the increase in size. The 27-inch panel on the G27C4 will make for a much more pleasant and comfortable viewing experience, giving users ample space to work with.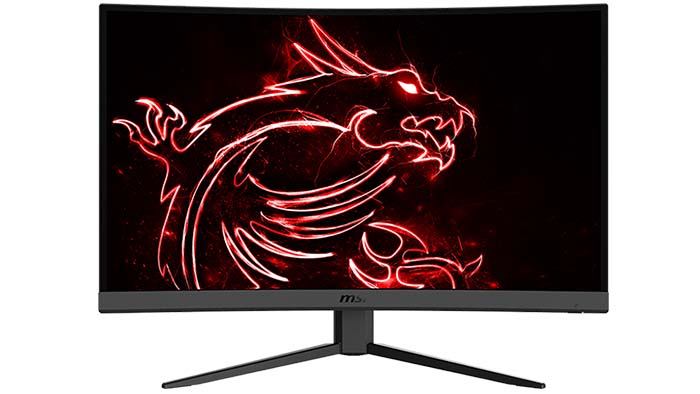 Key Specs: Screen Size: 27 inches // Resolution: 1080P // Panel Type: VA // Refresh Rate: 165Hz // VRR Technology: FreeSync Premium
While this monitor maintains the same 1500R curve, 1080p resolution, and VA panel, one feature that has changed is the refresh rate. This display increases the maximum refresh rate to 165Hz. While not a massive jump, the Optix G27C4 will still offer a smoother image to the trained eye. This is especially important in Esports titles where every stutter-less frame counts!
Other specs, such as the contrast ratio, peak brightness, and colour accuracy, are also identical to the G24C6. That means that the G27C4 is mainly intended for anyone interested in the great budget gaming and viewing experience the base G24C6 offers, but at a slightly bigger screen size. While there is a small price increase to accommodate the larger screen and higher refresh rate, it still remains a solid budget option.
Pros
Larger screen for a more comfortable experience.
A good increase in refresh rate.
Still remains well-priced, even with the improvements.
Cons
Poor peak brightness.
Inflexible stand.
Buy the MSI Optix G27C4 on:
3. MSI G272CQP
For those seeking a crisper image, the MSI G272CQP is a great step-up display in the mid-range sector. This monitor features several, very noticeable improvements compared to the previous two we have covered. The biggest is the resolution. At 1440p, this display will provide users with a much crisper and sharper image, whilst not coming with the performance penalty of 4K.
Key Specs: Screen Size: 27 inches // Resolution: 1440P // Panel Type: VA // Refresh Rate: 170Hz // VRR Technology: FreeSync Premium
That isn't the only area of improvement though, as the G272CQP also features a small but welcome increase in refresh rate, at 170Hz. This, combined with AMD Freesync will result in a spectacular gaming experience. The improvement in the visual quality doesn't just come from the increase in resolution. We see a small increase to peak brightness, up to 300 nits, is a welcome improvement. We also see some great colour accuracy in sRGB, DCP-I3, and Adobe RGB colour spaces.
Like most MSI monitors, this one still remains curved, though this time it's a 1000R, rather than a 1500R monitor. While the increase in resolution and refresh rate might make this display more difficult to drive on some PCs, the overall advantages of the MSI G272CQP are very clear. For many people, the higher resolution alone will make this a strong contender for their primary display.
Pros
Very high refresh rate.
A good increase in peak brightness.
A 1000R screen for additional immersion.
Cons
Noticeable price increase over 1080p models.
Branded as "HDR-Ready", whilst not being truly adequate for HDR content.
Buy the MSI G272CQP on:
4. MSI MPG Artymis 273CQR
The MSI MPG Artymis 273CQR at first appears to share a lot of the fundamental specs with the previously mentioned G272CQP. The 273CQR is a 27-inch, curved, 1000R display with a resolution of 2560×1440. The refresh rate, while slightly lower, still sits at 165Hz. This will be more than enough for most gamers, or for consumers that enjoy a smoother image. The change is so minimal that for most, the difference will be almost undetectable.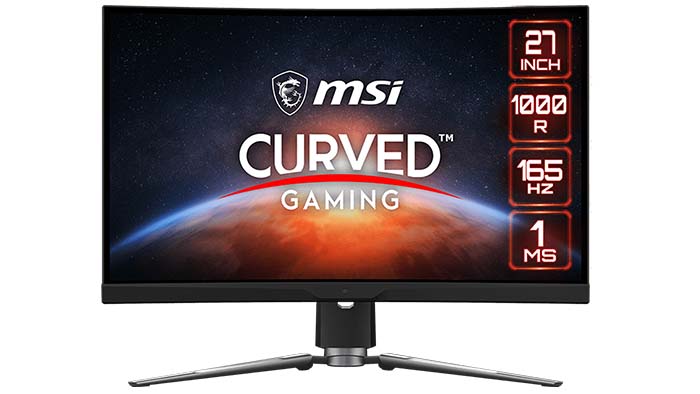 Key Specs: Screen Size: 27 inches // Resolution: 1440P // Panel Type: VA // Refresh Rate: 165Hz // VRR Technology: FreeSync Premium
The main area where the Artymis 273CQR does shine, is, ironically, the brightness. With a hefty increase in peak brightness to 550 nits, it's ready to provide a much better viewing experience, especially in brighter images. The brightness is high enough to even make this display HDR-certified. Overall, the MSI MPG Artymis 273CQR offers some great improvements. For customers interested in a display from MSI that does get a lot brighter, while still not costing too much, the 273CQR provides a great balance of features and price in the mid-range.
Pros
Screen gets much brighter.
HDR 400 rating.
A 1000R screen for additional immersion.
Cons
Few additional features over the other 1440p monitors.
Factory colour accuracy could be slightly better.
Buy the MSI MPG Artymis 273CQR on:
5. MSI Optix MAG274QRF-QD
For consumers not interested in curved displays, MSI thankfully makes some amazing monitors without any curvature, such as the Optix MAG274QRF-QD. While it does share most of the specs with the Artymis 273CQR, such as the size, resolution and refresh rate, it does so in a flat form-factor. Thus, for consumers looking for a step-up display but who wish to go with a flat panel instead, this is an excellent choice.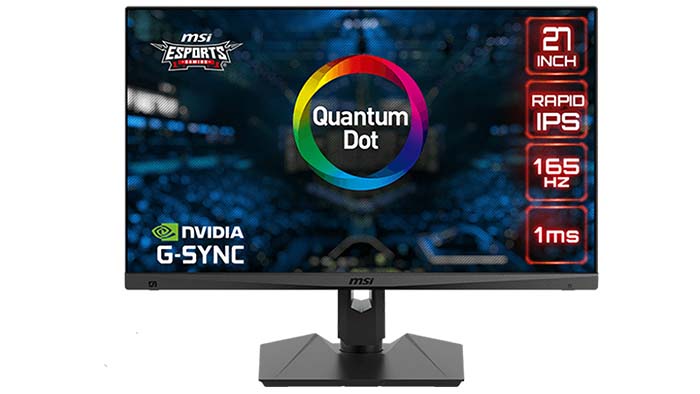 Key Specs: Screen Size: 27 inches // Resolution: 1440P // Panel Type: Rapid IPS // Refresh Rate: 165Hz // VRR Technology: NVIDIA G-Sync compatible
There is however one very large difference that makes the MAG274QRF-QD stand out from all the other displays in this roundup: quantum-dot technology. Instead of choosing a VA panel, MSI decided to utilise an IPS panel with quantum-dot technology for this model. This feature makes the MAG274QRF-QD a great monitor for gaming and media consumption, thanks to the great and vibrant colours it will offer.
While the contrast ratio isn't as impressive as on VA panels, and the peak brightness of just 300 nits could certainly be higher, it shouldn't detract from the overall experience of this display. The refresh rate still remains very high, at 165Hz, and with the additional support for Nvidia's G-Sync technology, the MAG274QRF-QD has everything that's necessary for high-level gaming. This is a fantastic mid-range option for anyone uninterested in MSI's curved offerings.
Pros
Quantum-dot panel gives way to stunning colours.
A great flat-panel alternative to curved displays.
Support for Nvidia G-Sync
Cons
Low peak brightness.
Decreased contrast ratio.
Buy the MSI Optix MAG274QRF-QD on:
6. MSI Optix MAG281URF
Finally, our most high-end offering from MSI in this roundup is the MSI Optix MAG281URF. Right off the bat, we see some great improvements in this model. Not only does the size increase to 28 inches, but this monitor also features a 4K resolution. This will offer a very large leap in immersion and clarity compared to smaller displays that are only 1440p. This will require a more powerful PC to take full advantage of, but it will be worth it for the big increase in image quality.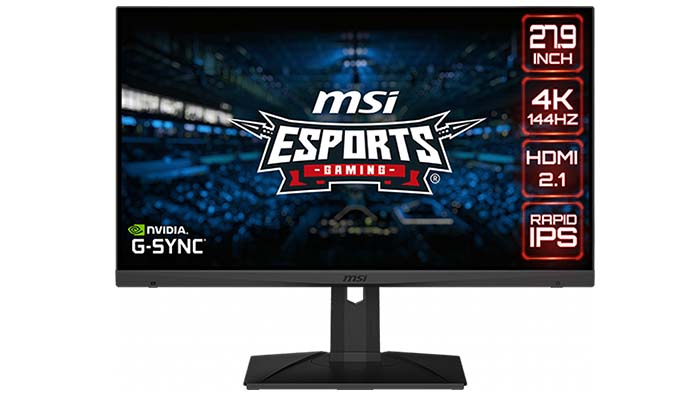 Key Specs: Screen Size: 28 inches // Resolution: 4K // Panel Type: Rapid IPS // Refresh Rate: 144Hz // VRR Technology: NVIDIA G-Sync compatible
As to be expected, the refresh rate does drop down to 144Hz. This is mainly due to both the bandwidth limitations of HDMI and DisplayPort, but also the fact that even the most high-end PCs struggle to output more frames at 4K in most modern games. The image quality will eclipse all the other displays in this roundup, but not just because of the resolution. The MAG281URF also features incredible colour accuracy. Combined with the 400 nit peak brightness, and the HDR 400 support that comes with it.
Be it for gaming, media consumption, or creative work, the MAG281URF features the specs to excel in all those areas. While these amazing specs do come with an increase in price, it will be more than worth it for customers who value that image quality.
Pros
4K resolution for stunning detail.
Amazing colour accuracy.
Support for Nvidia G-Sync.
Cons
Hefty increase in price.
Decrease in the maximum refresh rate.
Buy the MSI Optix MAG281URF on:
Comparison Table
Still not sure what monitor to buy? Check out our handy comparison table, where we've taken a look at the key differences between each of the panels:
Model
Resolution
Refresh Rate
Size
Panel Type
Peak Brightness
sRGB Coverage
Anti-Tearing
Optix G24C6
1920 x 1080
144Hz
24 inches
VA
250 nits
115%
FreeSync
Optix G27C4
1920 x 1080
165Hz
27 inches
VA
250 nitts
115%
FreeSync
G272CQP
2560 x 1440
170Hz
27 inches
VA
300 nits
114%
FreeSync
Artymis 273CQR
2560 x 1440
165Hz
27 inches
VA
550 nitrs
111%
FreeSync
Optix MAG274QRF-QD
2560 x 1440
165Hz
27 inches
IPS
(Quantum Dot)
300 nits
147%
G-SYNC
Optix MAG281URF
3840 x 2150
144Hz
28 inches
IPS
400 nitrs
124%
G-SYNC
Hardware Considerations
In this roundup we've featured a range of monitors covering both ends of the spectrum, from budget, to more high-end designs. As we start to look at displays with higher resolutions or improved refresh rates, consumers will need to consider the hardware implications. As a general rule, your graphics card is the affected component when it comes to gaming and display output. This effectively means that the more demanding a monitor is, the more powerful your GPU needs to be.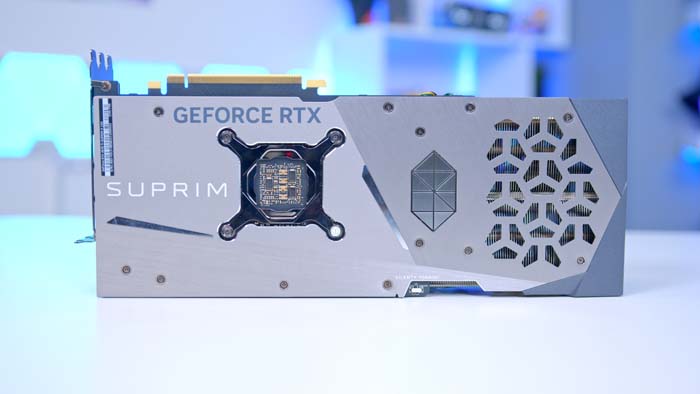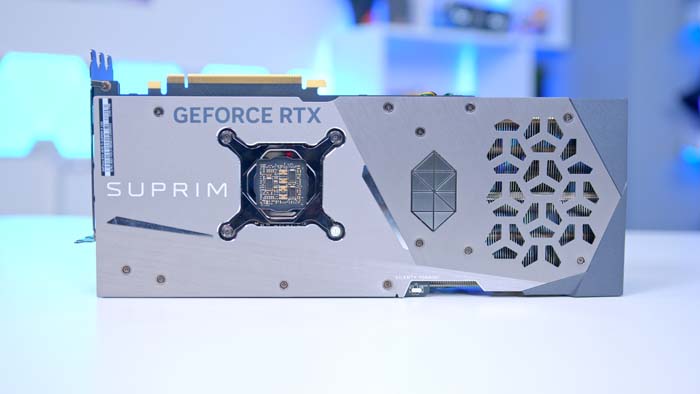 If you're looking to playing games at 1080p or 1440p, the majority of mid-range cards, and some budget options, cover this off without too many issues. If we look at 4K and increase the refresh rate, the performance overhead starts to become restrictive for cheaper GPU options. We would recommend checking out our best GPUs for 1080p, 1440p and 4K gaming, for a more concrete idea of the options available.