Introduction
Picking out a mechanical keyboard for your setup has become extremely difficult, now more than ever. A myriad of manufacturers have started to dip their toes into this space, providing consumers with incredibly versatile options that offer excellent functionality, a vast array of usability features, along with an incredibly smooth and customisable experience.
What's more, OEM keyboards, where all of the building, part sourcing, and configuration is done for you, are becoming even more competitive. These new 'prebuilt' keyboards are the main star of the show, taking away the limelight from the more exorbitant, but equally brilliant, custom mechanical keyboards that you have to build yourself.
In today's review, we'll be looking at one these competitive options from a bit of an underdog in the mechanical keyboards space – LOFREE. The keyboard in particular is their Flow model, a low-profile design that provides a major focus on aesthetic, without making any sacrifices to the functionality and overall typing and gaming experience that it offers.
Buy the LOFREE Flow on: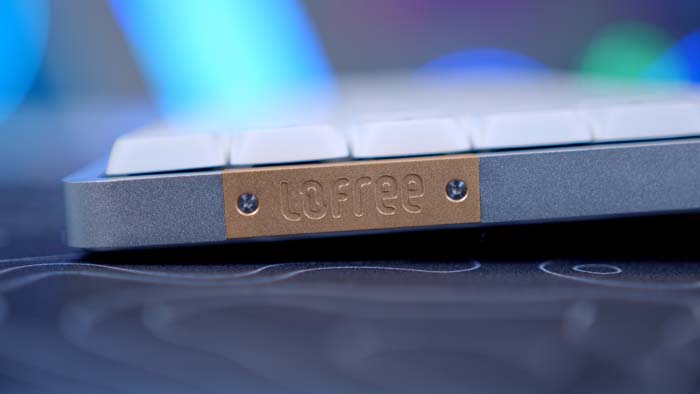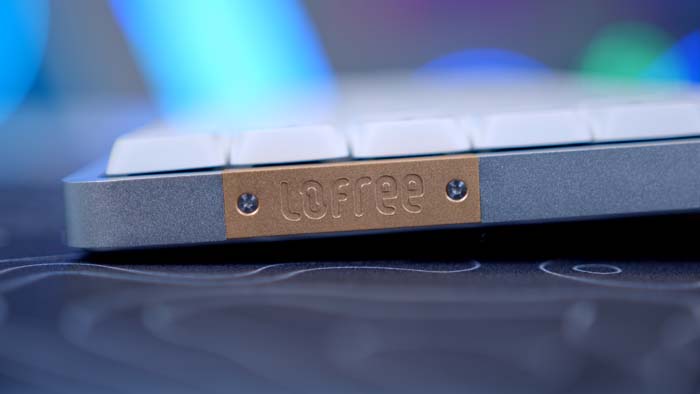 Consumers have been able to pick up some other lifestyle products, such as lamps, bags, calculators, and more. And in 2019, LOFREE established their keycaps factory, which allows them to focus on quality control, but also mass produce a huge range of keycap sets for various keyboard options. And nearing today, LOFREE has produced a plethora of different keyboards all with a big focus on aesthetic, while also minimising any sacrifices that might be made to the overall feel, robustness, and versatility.
With 2023 in sight, consumers have access to an awesome set of peripherals such as the TOUCH mouse, Block, 1%, Wanderfree, with all of them prioritising a smooth feel, while also providing an aesthetic and design suited to a variety of use-cases. And with their latest Flow keyboard that we're taking a look at today, LOFREE look to be providing some major competition to this already crowded market.
Suggested Article: MSI Vigor GK41 Gaming Keyboard Review – The Best Budget Keyboard?
LOFREE Flow Design & Aesthetic
When the parcel from LOFREE arrived at the GeekaWhat offices, I was very excited to get the box open and give the keyboard a test drive. Much like the styling of the keyboard, the box too comes in minimalist packaging, fitting in with the white theme. Taking a look at the keyboard itself. I was surprised how compact and small this particular design is. LOFREE have definitely taken some inspiration from other low-profile designs, as we're seeing a similar aesthetic to Apple's magic keyboard, which also provides consumers with a silver-grey chassis, sitting underneath white keycaps.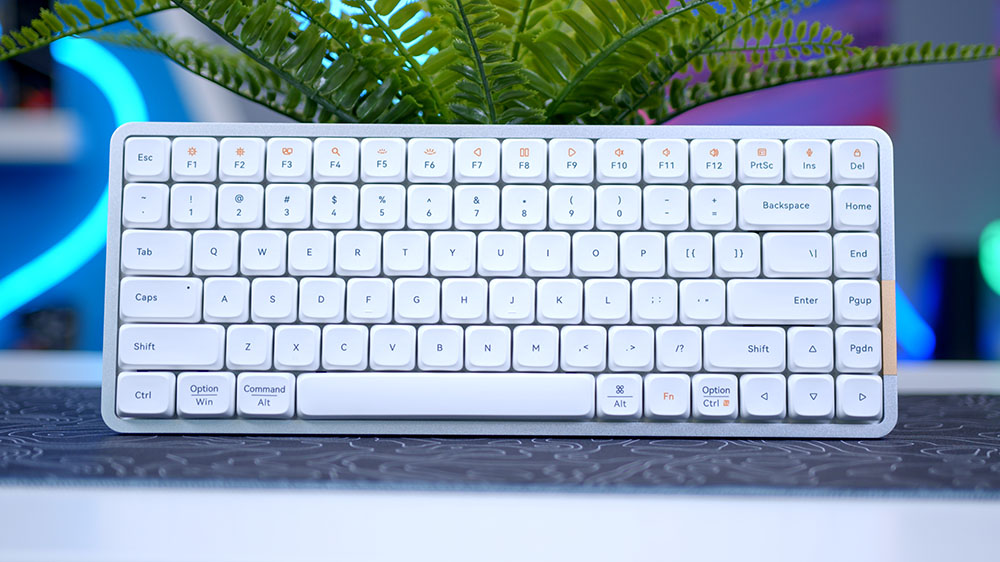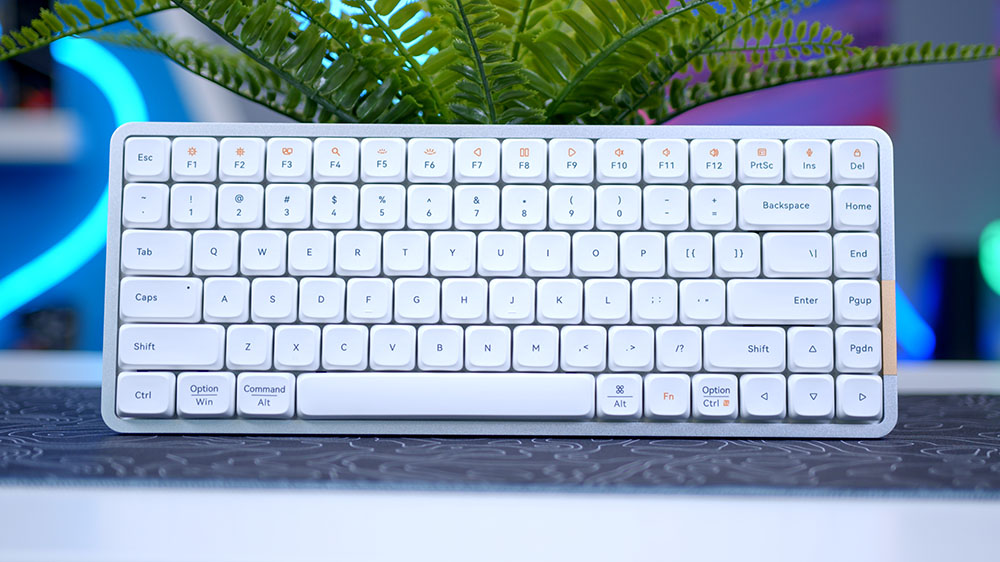 The Flow is a very compact design, with pretty much no extra chassis, besides a ring of metal which sits around the edge of the keycap space. There is a bit of heft to this keyboard, sitting at 568g in total, but this is primarily down to the premium metal casing. The appearance of this keyboard is striking, yet clean at the same time, with a set of bright white keycaps spanning the entirety of the design. There is some RGB lighting underneath the keycaps but the colour is white, which I think keeps in line with the more sleek and minimalist aesthetic that this keyboard offers. Consumers will also notice two RGB strips that sit on the underside of this model.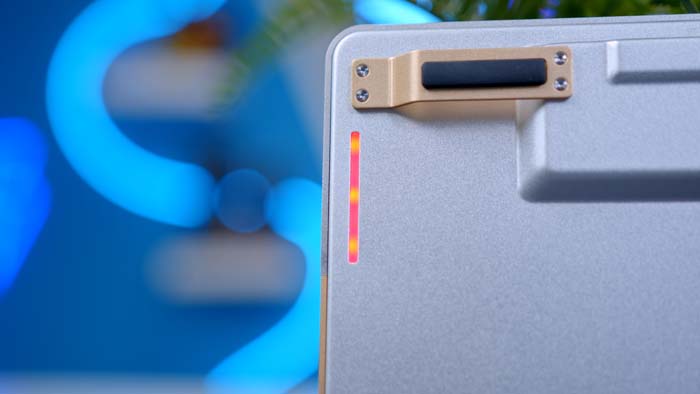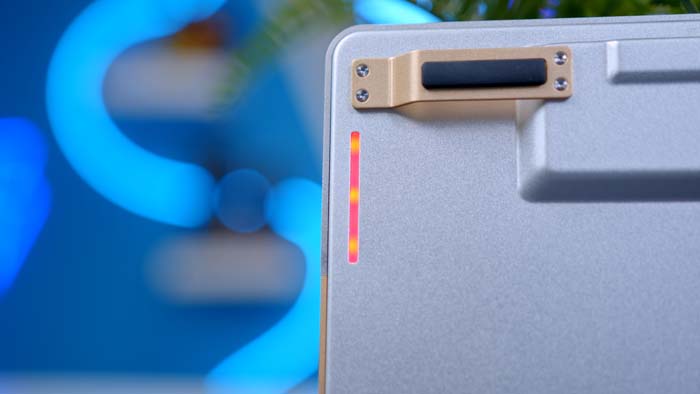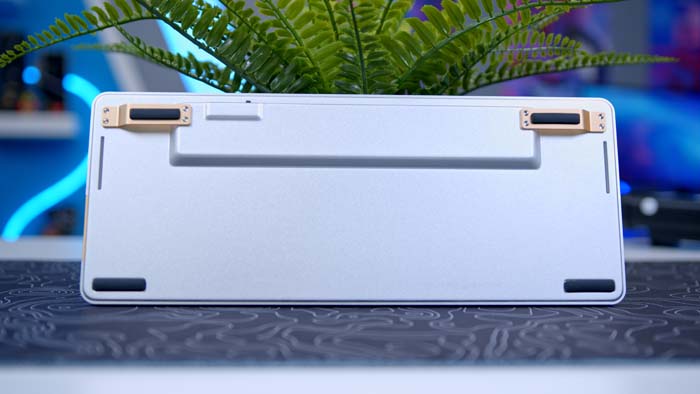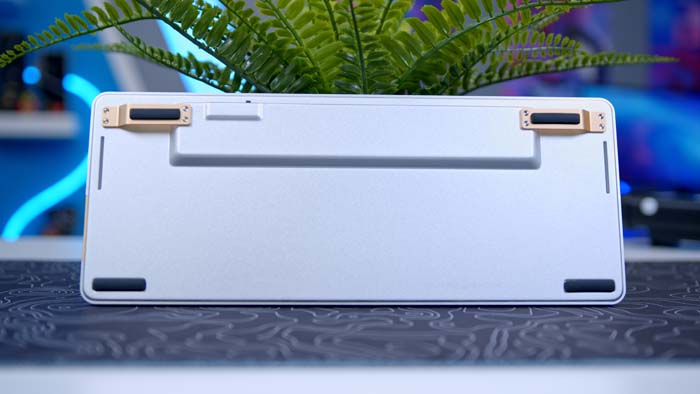 Speaking of the underside, consumers will see the silver chassis, that spans the entirety of the back of the keyboard. There are also some rubber feet here to keep your keyboard from slipping during usage. It is sad to see that there aren't any adjustable kickstands here, but based on the side of this model, there likely wasn't any room to include them.
Overall, I feel the design and aesthetic of the LOFREE Flow is geared towards those that prefer a sophisticated, yet more minimal style for their setup. The 75% layout makes this keyboard more portable, while also reducing the amount of space it takes up in a stationary setup. I do like the more clean look that the Flow offers, this keyboard is clearly a premium option, and this is significantly reflected in the clear-cut approach to the aesthetic.
LOFREE Flow Keycaps and Switches
The switches and keycaps are arguably the most notable features to touch on in this review, because they add to the overall feel during gaming and typing. I've been using the LOFREE Flow consistently for well over a week now (at the time of writing) since it arrived, and I can honestly say, this is one of the smoothest and quietest OEM keyboards on the market right now.
The Flow uses a strong combination of various hacks and practices that users might apply when building a custom keyboard of their own design, creating a creamy yet quiet typing experience minimising any loud noises during typing. We opted for the Ghost linear switches with are a Kailh design. These switches offer an actuation force of 50+- 15gf, so the overall force required to get the switches to activate is fairly minimal. Total travel sits around 2.6mm+- 0.25mm.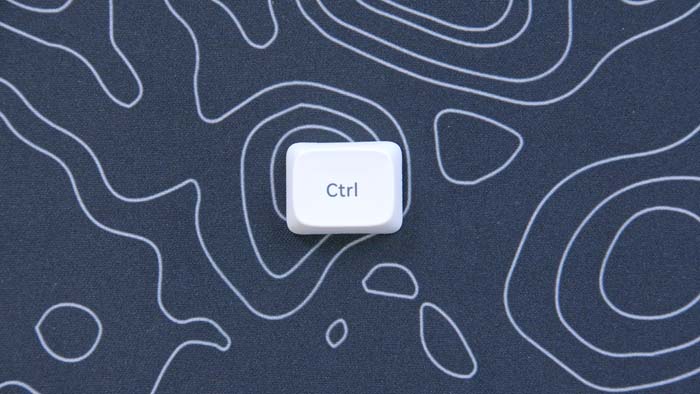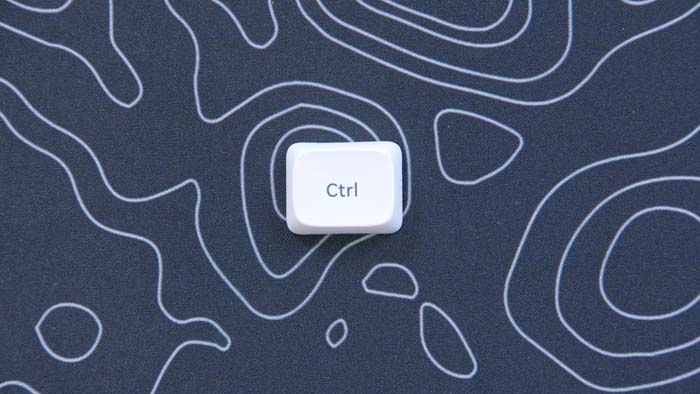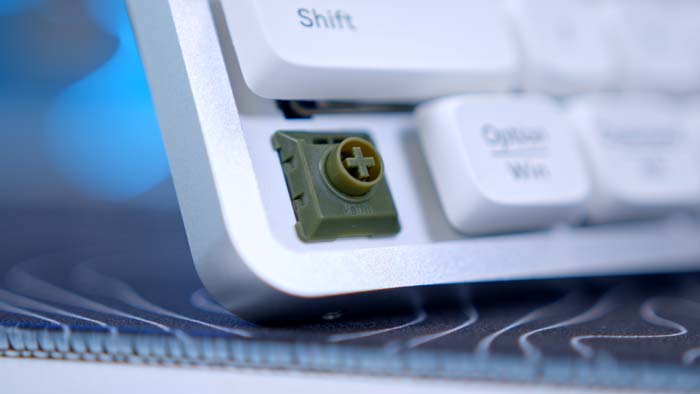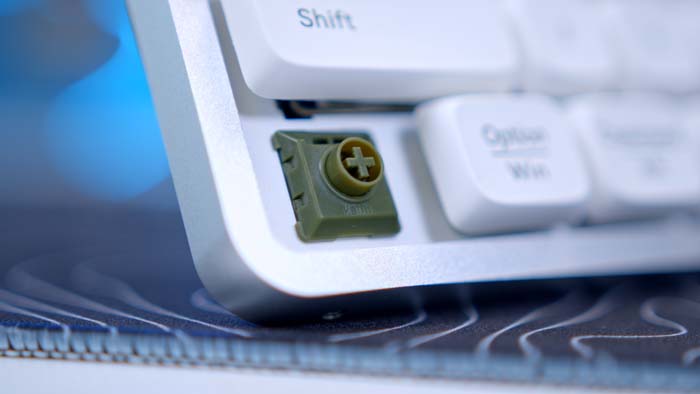 The switch housing is made from a material known as 'POM'. These are the world's first Kailh POM switches, and are incredibly special because of the way they operate. POM essentially self-lubricates over usage, so the more you use your keyboard, the smoother it becomes. Gone are the days of gritty, and scratchy switches when you can leverage a POM design. The low-friction design of the Ghost switches provides an unrivalled typing experience with keystrokes being effortless. Needless to say, if you're looking for incredibly smooth and quiet, the Flow will not disappoint.
In terms of the keycaps, LOFREE use an advanced dye sublimation process known as 'five-sided dye-sublimation'. This makes these keycaps akin to double-shot PBT, but goes a step further when it comes to durability and visual quality. The main part of this process allows the manufacturer to print an incredibly vibrant legend on the keycaps, while also maintaining smoothness across each cap. All of the keycaps have gone through rigorous quality control to ensure the quality is at its utmost highest.
The keycaps and switches of this particular model, is where LOFREE as a brand really stands out. Despite only being in this market for around six year or so, I'd argue this keyboard alone makes them look like a veteran in the industry. The combination of keycaps and switches here makes typing and gaming effortless, and I would go a step further to say that this prebuilt design is going to be extremely hard to beat, based on feel alone.
Features We Like
The LOFREE Flow is an incredibly feature-rich design, and despite being a low-profile keyboard, there's a lot on offer from this model. Below I've broken down all of the features that I loved about this keyboard, along with some of the features that I wasn't a particularly big fan of.
Gasket Mounting & Foam Padding
A point I alluded to earlier, is that LOFREE have engaged in some practices that a user might want to do, to ensure their keyboard stays quiet, but also provides a smooth typing experience. In particular, LOFREE have decided to use gasket mounting, and a fast array of foams and silicon, to ensure that the Flow is as smooth as it can possibly be.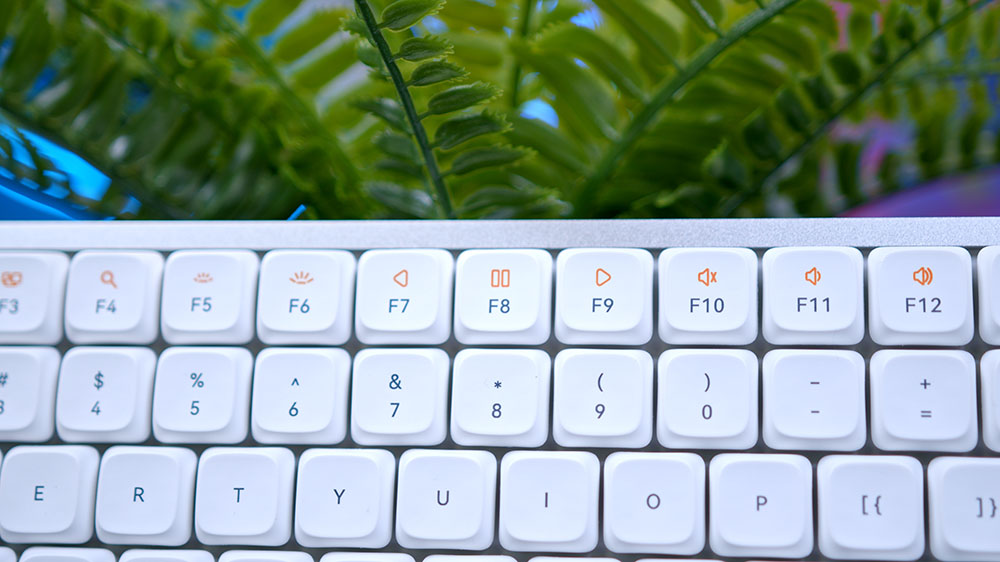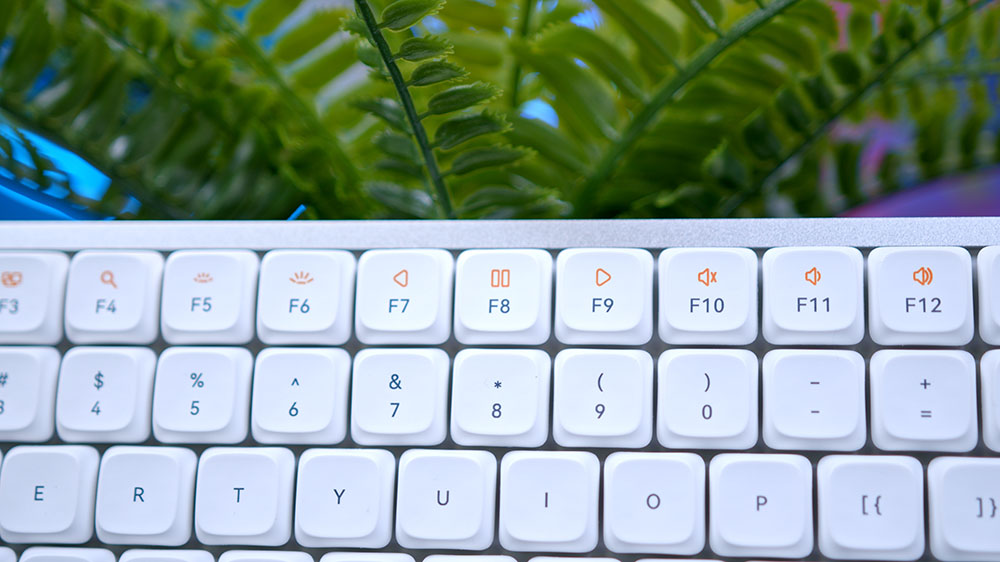 Gasket mounting is when rubberised padding is placed in between the positioning plate for the switches. Doing this reduces friction, and cushions shock during each keystroke, which in turn creates a smoother feel, and produces less noise that your keyboard makes.
The foam padding does effectively the same thing, cushioning any extra noise, but it also fills out the chassis of your keyboard a bit more. The internals of some keyboard can reverberate a bit if there's too much empty space. so adding foam can further reduce this.
Bluetooth and Wired Connectivity
On the rear of the Flow, you'll find a switch, which sits next to a USB type-C port. This switch allows you to change the connectivity mode, of which you have access to two options. Consumers can choose between Bluetooth, or wired. The Bluetooth mode connected seamlessly, with Windows 11 picking it up as the LOFREE Flow. And wired works without any issues.
There's about 40 hours of total battery life on Bluetooth with a full charge, which I'd say is more than reasonable, considering the size of this keyboard the battery isn't gigantic (2000mAh to be specific). Users can also denote the battery life using the light strip on the bottom of the keyboard.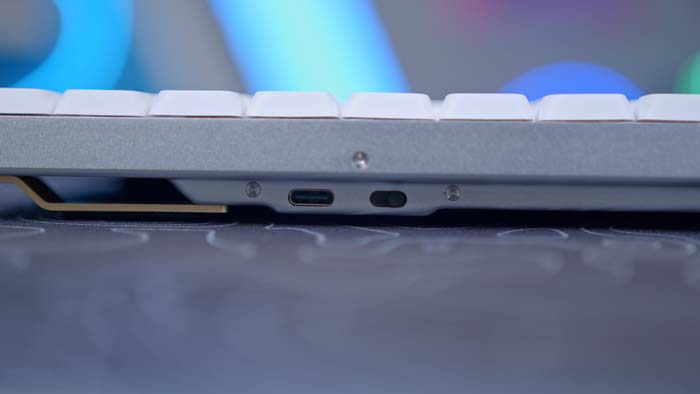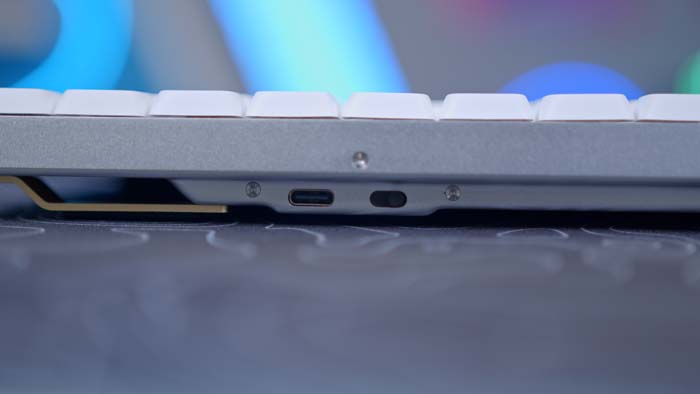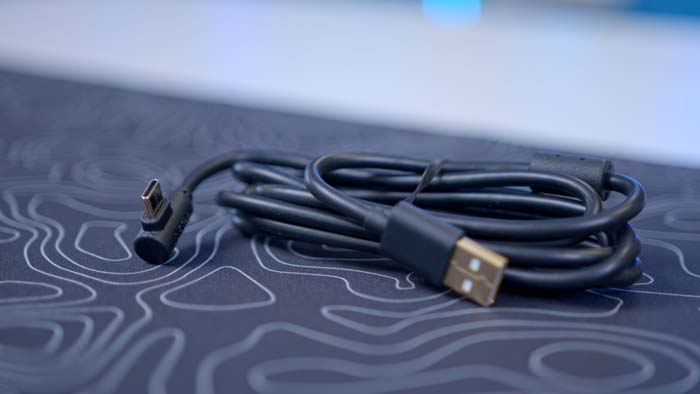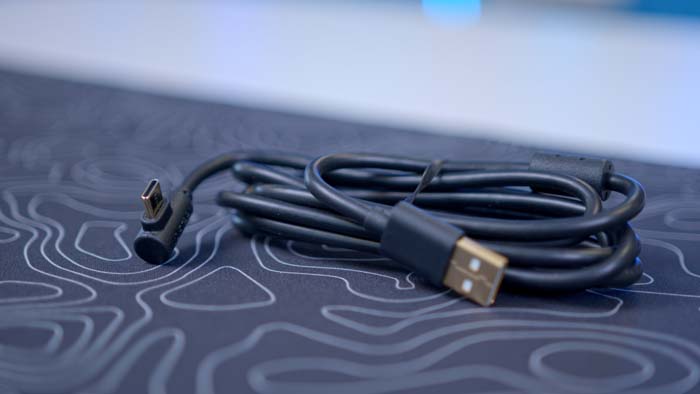 Hot-Swappable Low-Profile Switches
The PCB of the Flow is hot-swappable, allowing consumers to chop and change their switches at will. All you need to do is tug on the switch with a switch puller, and it should easily come out. It is worth noting, the the PCB is a three pin hot-swappable design, so you'll need to make sure you pick up a three pin switch as opposed to 5-pin. We're also not entirely sure if this keyboard works with switches other than low-profile options, as the website doesn't specify if this is the case.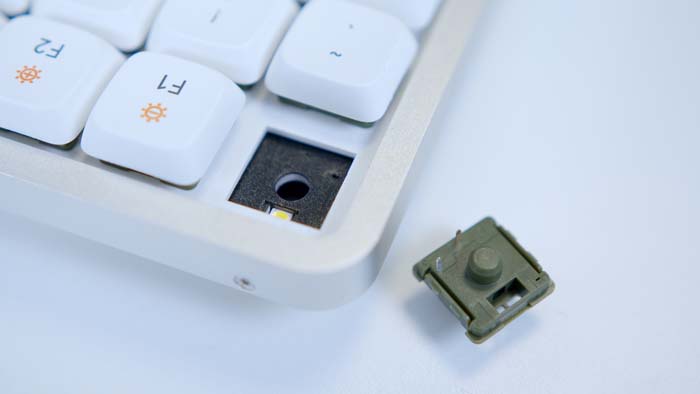 Features We Don't Like
Can't Configure Keybindings
One of the things that we love to see with mechanical keyboards is configurable and customisable bindings. The vast majority of manufacturers have some form of software allowing you to change RGB lighting, speeds, and the keybinds too. However, LOFREE doesn't offer a way to make any software changes to the Flow which is disappointing to see. I think LOFREE have missed out on some brownie points here, but possibly even some more marketing options based on the fact that the keyboard can't be configured with software.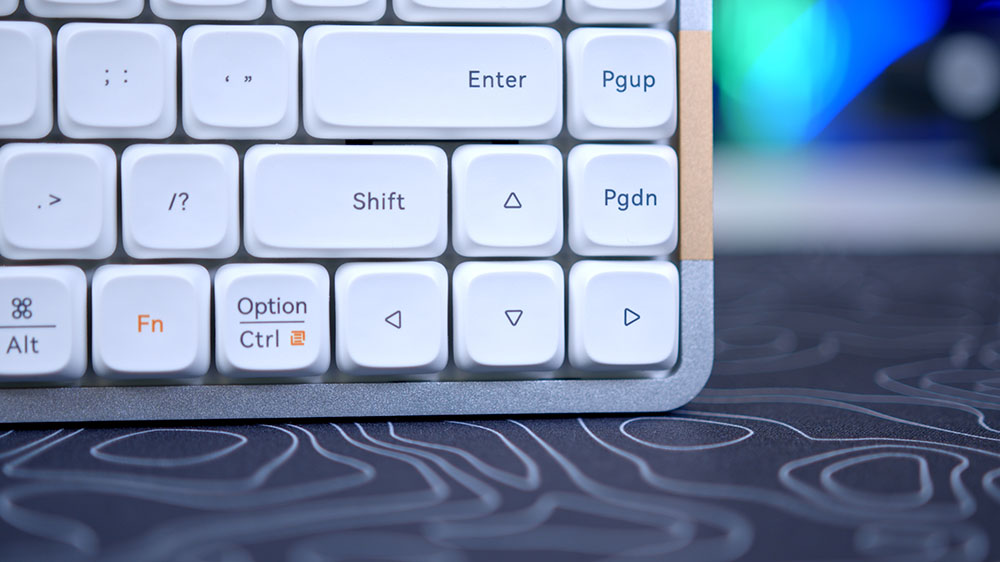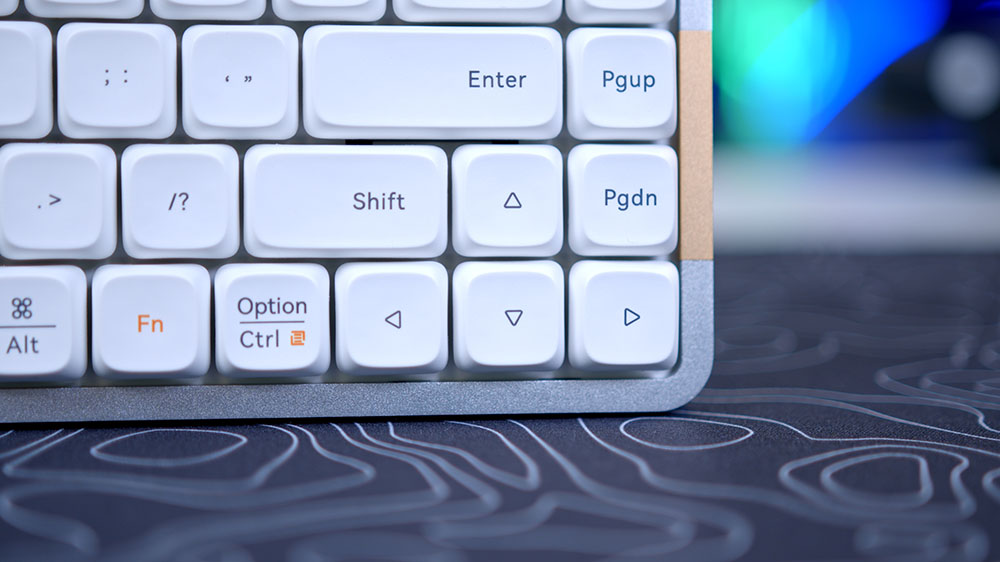 Non-Adjustable Kickstands/Doesn't Include a Wrist Rest
The feet on the bottom of the Flow provide a raised level of tilt which is supposed to help with typing. Admittedly, when I first started using this keyboard, I managed to get used to the tilt. But I found during long sessions of typing that I was having to stretch my fingers quite far, which was causing some strain. Because of this, I've had to switch to using a wrist rest from the ROG STRIX Scope.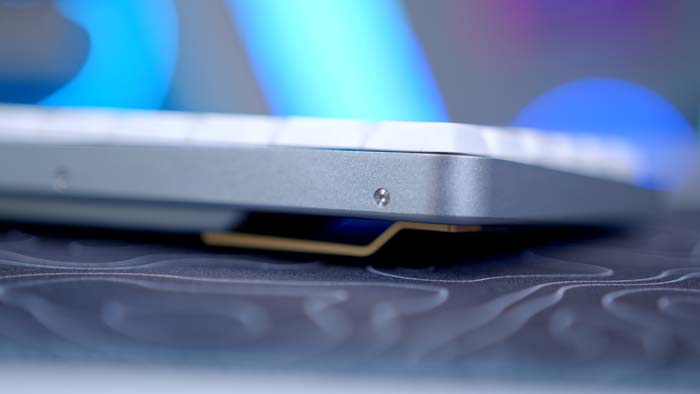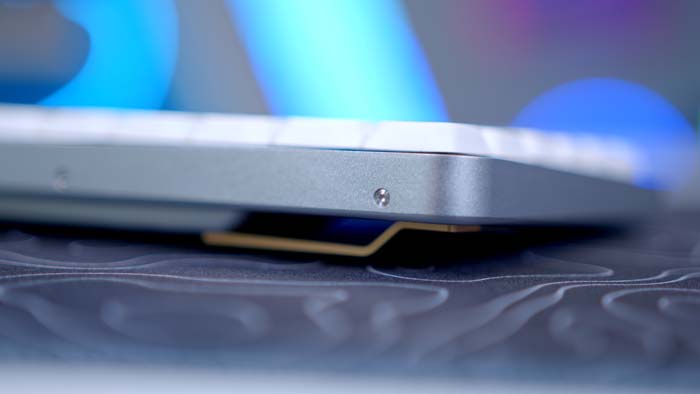 Its quite sad that the kickstands aren't adjustable, or that this keyboard doesn't include a wrist rest. I could put up with one of these features, if the other was included, but for a premium design, the lack of a wrist rest does feel a bit cheap. I don't think it could cost LOFREE a huge amount to include a magnetised design, which means I can enjoy longer sessions of typing with minimal straining.
Conclusion
LOFREE Flow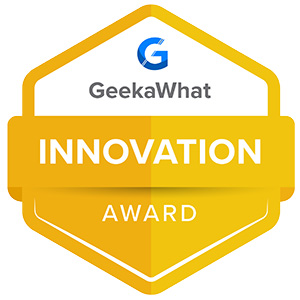 Product Name: Flow
Brand: LOFREE
Features

Design

Versatility

Value For Money
Summary
LOFREE's Flow mechanical keyboard is quite possibly one of the best designs we've ever had in the GeekaWhat office. While there are a number of other keyboards that we've reviewed in the past from a plethora of manufacturers that offer well-rounded features, or come in at a more than competitive price point, LOFREE dials this up to 11 with their Flow option. Not only is the Flow one of the smoothest options that we've ever reviewed, but it is also one of the strongest value mechanical keyboards too. 
LOFREE have managed to innovate a low-profile keyboard that comes in at a reasonable price point, makes no sacrifices on the features, and offers an incredibly sleek aesthetic. In the current market, there are effectively no products that come remotely close to the Flow at its current price. The vast majority of consumers wanting to pick up something similar will have to refer to custom designs, which come in at a price point that most won't be willing to spend. It is also extremely clear to us that LOFREE have put a significant amount of time and effort into the R&D of a low-profile mechanical option, emphasizing a major focus on user experience.
There are a couple of minor setbacks that I do feel take away from the overall design of this keyboard, which is the lack of any configurable software, alongside no included wrist rest, and no adjustable kickstands. But these are very minor caveats that consumers will have to deal with, compared to what is a very very strong mechanical keyboard in today's market.
To summarise, if you're the kind of consumer looking for a minimalist keyboard that offers a smooth typing experience, hot-swappable switches, and comes in at a pretty affordable price point, the LOFREE Flow is the definitively obvious choice. It makes very little sense to look at any other OEM options when a keyboard like this exists.
Pros
✅ One of the smoothest keyboards on the market.
✅ Hot-swappable switch and keycap design.
✅ Sophisticated, sleek, and portable chassis.
Cons
❌ Doesn't include a wrist rest.
❌ Kickstands aren't adjustable.
❌ Can't use software to configure bindings.