Introduction
When it comes to peripherals to go alongside a gaming PC, we'd consider a mechanical keyboard an essential element of any gaming setup. Not only do they provide the necessary tools to play games and complete other daily activities, but the extensive number of inputs provides access to countless shortcuts and macros.
However, a lot of mechanical keyboards can be quite expensive, with plenty of designs easily surpassing the $100 mark. But what if you're on a tight budget, or blown all of your funds on the PC build itself?
Suggested Article: Best Mechanical Keyboards to Buy Under $100
Well, MSI's Vigor GK41 is a budget-friendly keyboard which could be the ideal solution. To find out whether the GK41 is a bargain or not, we'll be testing its design, features, and specs, seeing how they compare to other keyboards within its price range.
Buy the MSI Vigor GK41 on:
Mechanical vs Membrane Keyboards – What's the Difference?
When working within the budget market for gaming keyboards, there are usually two types of designs you'll stumble across, mechanical and membrane. The main difference is that mechanical keyboards include individual switches for each input, while the switches on membrane keyboards are all connected, with each having a distinct contact point.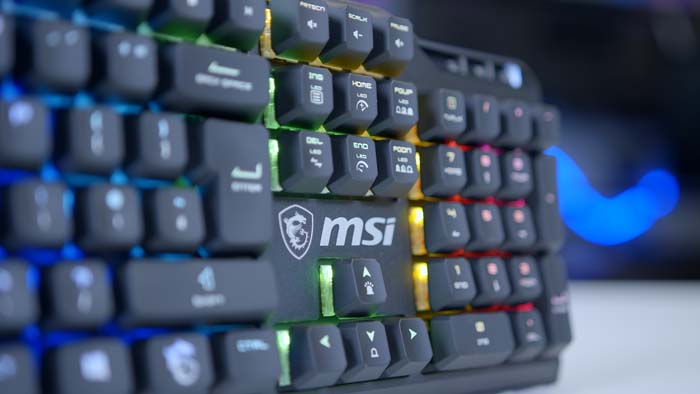 More than any other design choice for a gaming keyboard, opting for either a mechanical or membrane device can have a major impact on the overall typing experience and functionality of your keyboard. Usually, mechanical keyboards are considered the better option, thanks to the improved and fine-tuned typing experience, customisation options, and durability. However, membrane keyboards also have some advantages, such as access to multimedia controls and a softer feel that's more reminiscent of the typing experience on laptops.
MSI Vigor GK41 Design & Aesthetic
Despite the budget price point, the MSI Vigor GK41 is a full-sized mechanical keyboard that looks to provide incredible value for money to gamers. Because of this, the overall design and appearance of this keyboard is kept fairly straightforward, which allows this design to focus on the performance and typing experience.
That being said, the GK41 still boasts an aesthetic that will satisfy the needs of most gamers. The presence of RGB lighting radiating through the switches adds a strong juxtaposition to the black base and switches. Whilst our review product uses the standard colourway, this keyboard also comes in a 'Dusk' special edition, which bumps up the aesthetic with multi-coloured keycaps, featuring a combination of red, grey, and black dotted throughout the design.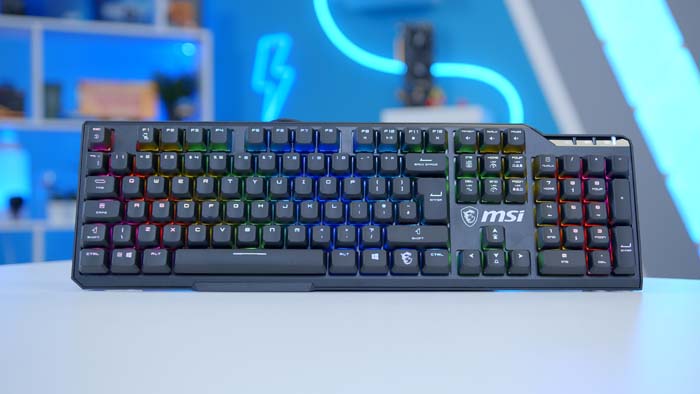 Speaking of the design, the 100% layout gives consumers access the complete range of switches, allowing gamers to take advantage of shortcuts and macros. Despite this, the Vigor GK41 is light enough to pick up and move around without too much effort. This is mainly thanks to the unibody plastic design, which makes it a lot lighter than more expensive 100% mechanical keyboards. However, this does raise some concerns with the overall durability of the GK41.
Whilst the overall design and aesthetic of the Vigor GK41 isn't going to blow gamers away, it will act as a natural addition to any gaming setup. Plus, compared to keyboards of a similar price, the GK41 is very sleek and does well to disguise itself as a more premium option.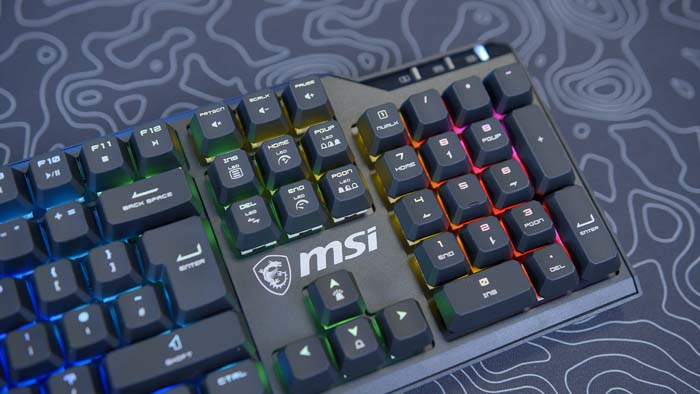 MSI Vigor GK41 Keycaps & Switches
Whilst the Vigor GK41 offers enough to look the part, it is arguably more important for this keyboard to offer a typing experience that feels premium. Thankfully, the choice of mechanical switches already gives this keyboard an advantage over other budget keyboards that opt for a membrane mechanic. Unfortunately, this keyboard lacks a choice of switches, only available with Kailh Red switches.
In theory, this is a linear key switch, which is considered as one of the best choices for gamers thanks to its larger actuation point and smoother typing experience. This leads to a quiet response with lots of feedback on each press.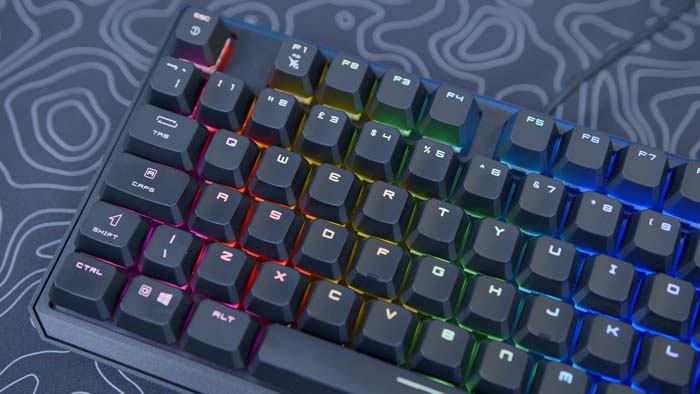 But from my experience with the GK41, this keyboard didn't provide the expected feedback from a linear device. During my time with the GK41, this keyboard would regularly bottom out, which caused the response to be a lot louder than a typical linear keyboard. Granted, this is designed for gaming instead of vigorous typing, and the switches offered plenty of resistance when typing, but the overall feel is a little shy of most linear keyboards.
Features We Like
Adjustable Kickstand
One of the best design choices on the GK41 is the three-levels on the adjustable kickstand, as this drastically enhances the overall ergonomics of this design. With the ability to adjust the feet to either a 0°, 3°, and 7° angle, gamers have multiple ways to orient this keyboard to remain comfortable over prolonged gaming sessions.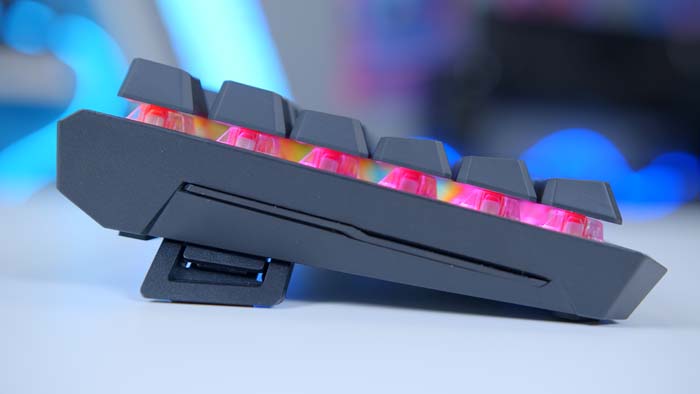 On-Board RGB Lighting Controls
Whilst the overall customisation of the RGB lighting on this keyboard is fairly limited due to budget restrictions, the lighting effects available on the GK41 are very easy to control on the fly thanks to a plethora of hotkeys throughout the design. The additional functions of each switch are clearly indicated, making it easy to adjust the brightness, speed, and effects of the RGB, as well as multimedia shortcuts.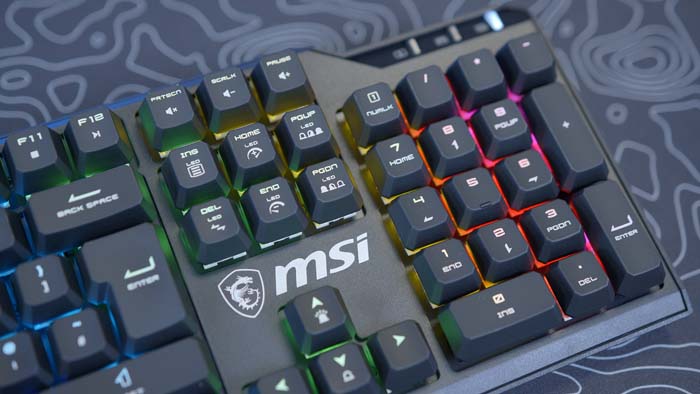 Features We Don't Like
USB 2.0 Connectivity
Due to the lower pricing of the GK41, it's not surprising to see that it lacks the wireless connectivity found on more expensive mechanical keyboards. However, this keyboard uses a USB 2.0 cable, which severely limits the speed and reliability compared the improved USB 3.0 found on most modern gaming peripherals. On top of this, the lack of a detachable cable leaves this keyboard prone to damage and reduces its portability.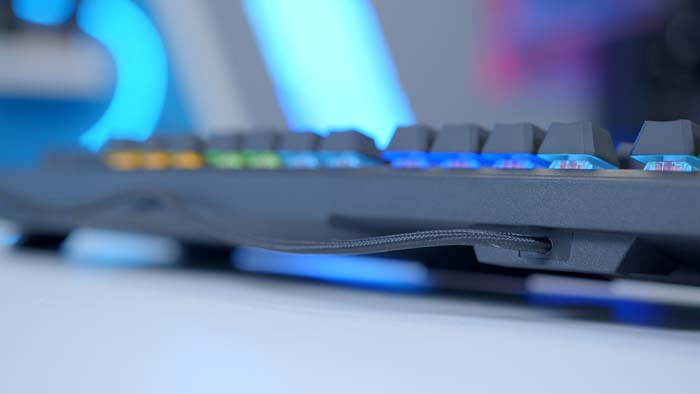 Lack of Customisation
Another major weakness of this keyboard compared to more luxurious options on the market is the lack of customisation options. The GK41 lacks the choice of switch types and hot-swappable nature found on lots of other mechanical keyboards, as well as limited lighting effects and absence of per-key lighting. Whilst the MSI Center compatibility looks to expand the customisation options, this software isn't the most reliable, and I found the on-board controls much easier to use.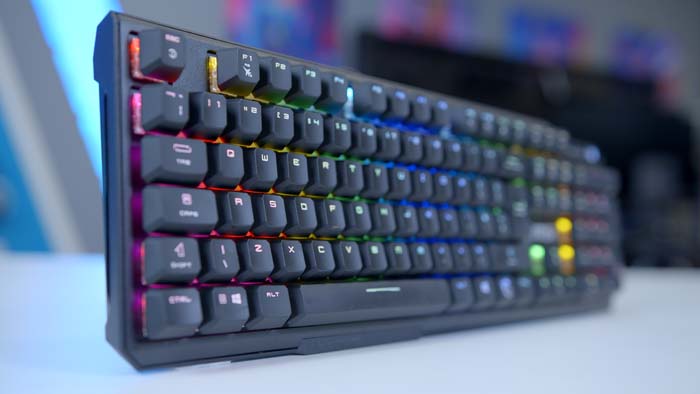 Alternatives
MSI Vigor GK50 Elite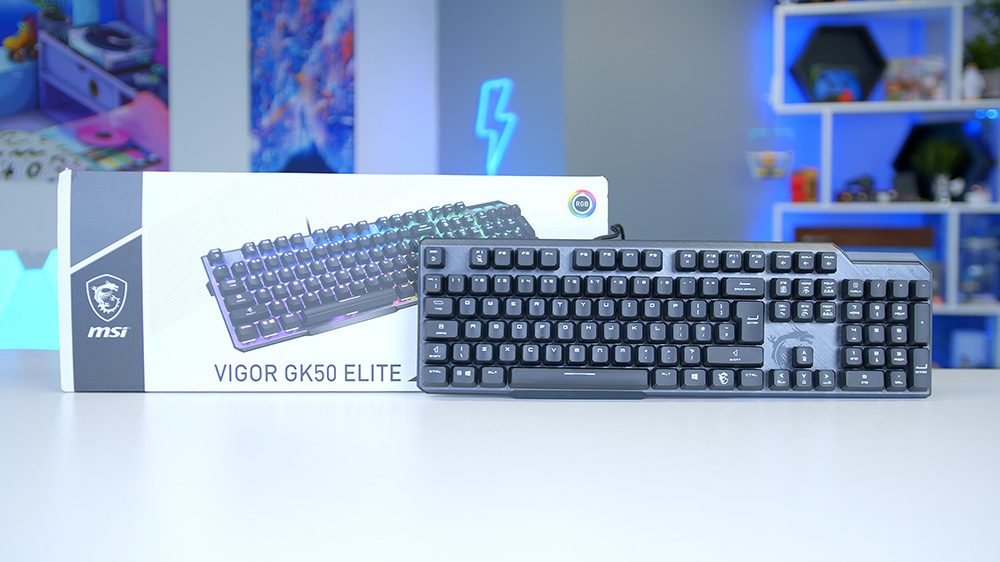 A solid budget-friendly alternative to the GK41 is another offering from MSI, the Vigor GK50 Elite. This 100% mechanical keyboard has been a very trusted option within the GeekaWhat offices, with most of the team using it as their daily driver at some point. The GK50 Elite shares a lot of similarities with the GK41, but includes a few subtle enhancements. For example, the brushed metal top plate and distinguished octagonal keycaps makes this design feel very durable and ergonomic. Whilst it is slightly pricier than MSI's latest addition, it is still one of the most valuable gaming keyboards on the market.
Buy the MSI Vigor GK50 Elite on:
Conclusion
MSI Vigor GK41 Gaming Keyboard
Product Name: Vigor GK41
Brand: MSI
Features

Design

Versatility

Value For Money
Summary
Overall, the MSI Vigor GK41 is an excellent choice for gamers on a tight budget, offering price-conscious buyers with a typing experience that resembles some of the more premium offerings on the market. With an ergonomic form factor, durable and high-quality mechanical switches, and RGB-heavy appearance, the GK41 truly looks and feels on par with a lot of other keyboards on the market.
However, there are a number of setbacks that come with the limited budget. For example, the lack of wireless connectivity through either a 2.4GHz receiver or Bluetooth hinders the portability and versatility of this keyboard. Additionally, the lack of switch types means consumers are stuck with a linear switch that is surprisingly loud and clicky.   
After using the MSI Vigor GK41, I would have no issues recommending this keyboard to those on a tight budget. However, this package just fall short to be considered a bargain alternative for those with plenty of funds to spend on their gaming peripherals.
Pros
✅ Great Value for Money.
✅ Durable & Ergonomic design.
✅ Looks great in gaming setups.
Cons
❌ Lack of switch types.
❌ No wireless connectivity.
❌ Limited customisation options.