Introduction
Gaming monitors have started to flourish in recent times, making the choice between displays more difficult than ever. Along with the likes of 4K and 1440p displays becoming more accessible, more manufacturers are experimenting to offer gamers with brand-new methods of playing their favourite titles.
One of the latest trends to emerge within the past year has been bendable monitors. These displays combine the curved and flat-screen displays, allowing gamers to adjust their viewing experience on the fly with a simple bend of the screen. Not only is this versatility great for a single monitor setup, this revolutionary technology has began a conversation into what the future of monitors will look like.
Suggested Article: Best Ultrawide Gaming Monitors to Buy in 2023
In this article, we'll taking a closer look at a pioneer within the bendable gaming monitor market, the Corsair Xeneon Flex 45WQHD240, to see whether the innovative display lives up to the hype. As always, we'll be breaking down the design, specs, and features to determine our thoughts on this gaming monitor, and whether you should consider picking one up for your gaming setup.
Buy the Corsair Xeneon Flex 45WQHD240 on:
What is A Bendable Gaming Monitor?
To put it simply, a bendable gaming monitor is a display that can switch between a flat and a curved shape without damaging the display. Most monitors will either feature a curved or flat panel. Curved panels typically provide a more immersive experience, as it provides a better match for the human eye's field-of-view. On the other hand, flat displays are better for multitasking and productivity-based tasks because it stops images and text from being skewed.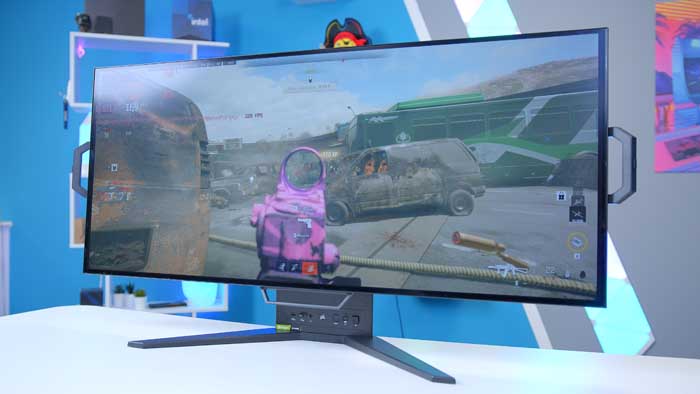 But the new bendable displays like the Xeneon Flex provide a hybrid solution that allows consumers have the best of both worlds. With a simple flex of the monitor, the screen can be changed from work to play in seconds. As a result, these displays are a perfect solution for anyone looking to utilise a single monitor for both work and gaming within their setup.
Corsair Xeneon Flex Design & Aesthetics
When Corsair first revealed their Xeneon Flex gaming monitor at Gamescom 2022, we were blown away with the concept of being able to control the curvature of the monitor with such ease. Whilst the presence of foldable phones proved that product like these were possible, seeing it on such a grand scale felt like a truly significant breakthrough, one which would revolutionise the gaming experience for those lucky enough to get their hands on it. Thankfully, Corsair sent over their trailblazing monitor for us to review!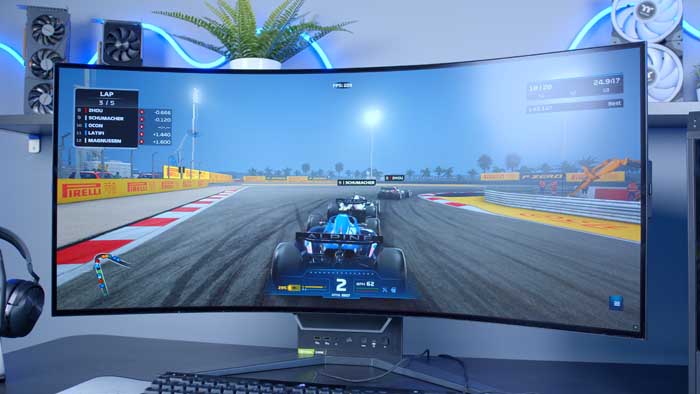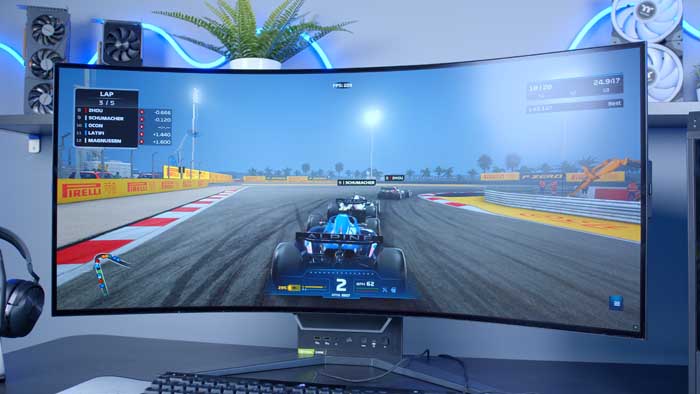 But apart from the main selling point, what does the Xeneon Flex have to offer? In terms of design, the ultrawide 45inch display is more reminiscent of a TV than typical gaming monitor, which results in a cinematic experience that is hard to find on other displays. No matter what orientation you decide to use, the OLED panel will provide a sharp image full of vivid colours.
To move the panel's position with ease, the Xeneon Flex includes a number of handles around the panel, two of which can be hidden when not in use. These handles are attached to the frame located behind the screen that makes the flexibility of this display possible. This frame is designed to match the back of the display and stand to make it less intrusive.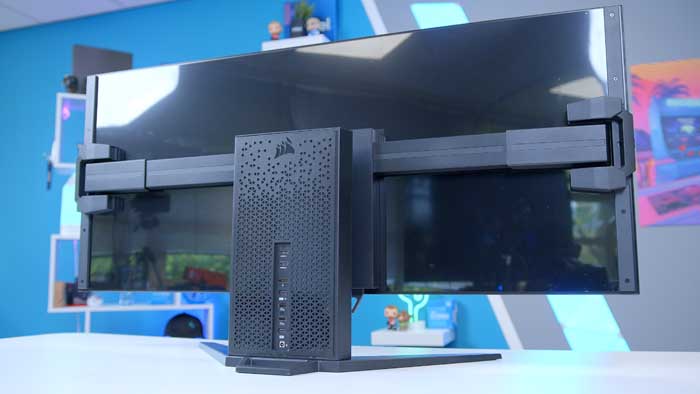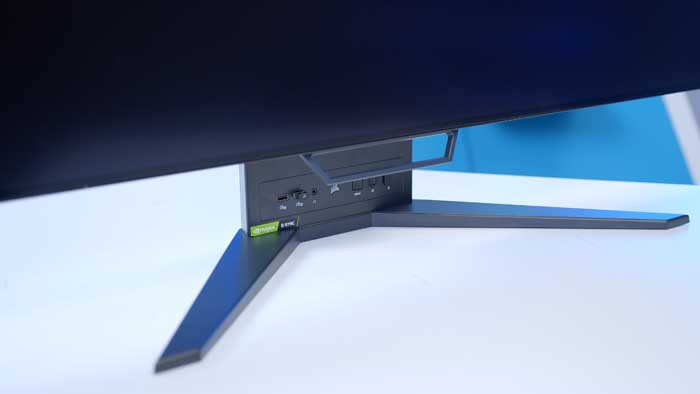 It's no surprise to see a larger stand to support the grandiose of a bendable monitor. However, the detached base and v-shaped legs ensures this display takes up the least amount of desk space possible. On top of this, the stand includes plenty of connections on the front and back that are pretty easy to access, making it incredibly simple to hook up and navigate between your gaming PC and games consoles.
Just by looking at the Xeneon Flex, it is clear to see that this premium offering is not your typical gaming monitor. Even if you don't take it's bendable nature into account, the large ultrawide display surrounded by a wide metallic frame has us prepared for a cinema-like experience.
Xeneon Flex Key Specs & Performance
We've gathered that Corsair's premium gaming monitor looks the part, but does it possess the performance needed to meet the demands of a high-end gaming rig? Below is a list of the key technical information of the Corsair Xeneon Flex.
| Key Specs | Corsair Xeneon Flex 45WQHD240 |
| --- | --- |
| Screen Size | 45″ |
| Max Resolution | 3440×1440 |
| Refresh Rate | 240Hz |
| Response Time | 0.03ms |
| Colour Gamut | 98.4% DCI-P3, 100% sRGB |
| Panel Type | OLED |
| Display Inputs | 2 x HDMI 2.1, 1 x DisplayPort 1.4, 1 x USB-C DP Alt Mode |
| Adaptive Sync | AMD FreeSync Premium, Nvidia G-Sync |
As one of the most expensive gaming monitors on the market, consumers are bound to expect top-tier gaming performance. In most aspects, the Xeneon Flex delivers on those expectations. The 240Hz refresh rate is more than enough for a smooth gaming experience, and is a rather impressive achievement on such a large display. In addition, the 0.03ms response time is lightning fast, giving gamers using this display a competitive advantage more times than not.
However, the most disappointing aspect of this display is the 1440p resolution instead of a crisp 4K visuals found on most high-end options. Whilst most ultrawide monitors struggle to balance performance and visuals and the OLED panel helps to cover up some of the lost visual fidelity, gamers shelling out the funds required to pick up this gaming monitor will be disappointed with the graphical limitations.
Xeneon Flex Features
Now that we've discussed the appearance and performance of this monitor, it's time to look at some of the unique features in greater detail. Hopefully, this will provide potential buyers with insight on what to expect from this unique design.
45inch OLED Bendable Display
The standout feature on the Xeneon Flex, and the whole reason for its existence, is the bendable 45inch display. Being able to switch between a curved and flat screen in seconds is a game-changing addition to gaming monitors, meaning this monitor is versatile enough to act as the only monitor within any gaming setup. To boot, the OLED panel allows gamers to take advantage of the larger screen with a sharp and vibrant image.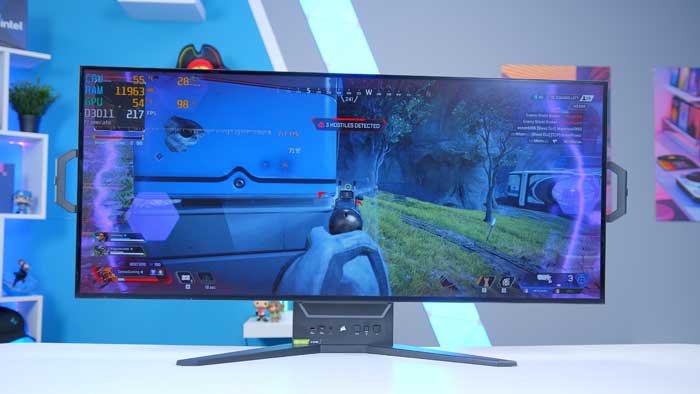 Retractable Handles
To make the transition between screen orientations as smooth as possible, as well as alter the positioning with ease, the Xeneon Flex incorporates handles into its design. These handles guide the consumer to flex the panel in a way that won't damage the monitor. In addition, the side handles are fully retractable, meaning gamers can hide them for a cleaner look that is less distracting when they're not required.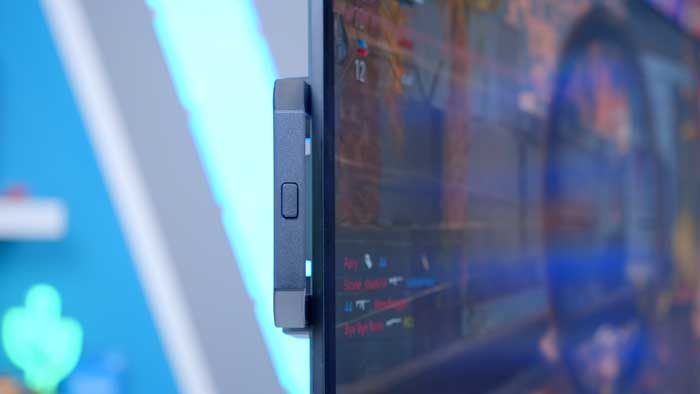 FreeSync & G-Sync Compatible
To optimise the gaming experience for all users, Corsair's Xeneon Flex is compatible with both Nvidia's G-Sync and AMD's FreeSync technology. This means that no matter what graphics card is in your system, this display will support the adaptive sync technology required to remove unnecessary instances of screen-tearing or stuttering, allowing consumers to enjoy smooth and immersive gameplay.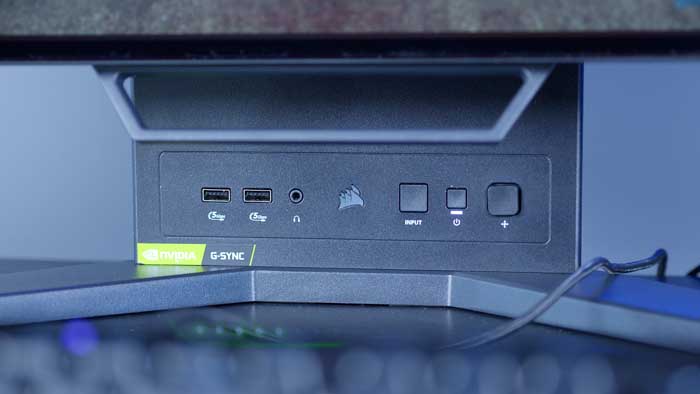 Integrated IO Stand
One of the most surprising elements to this monitor is the stand. Whilst the base is still bigger than most gaming monitors, it is less intrusive than we expected, leaving enough real-estate for peripherals and accessories. In addition, the connections are embedded within the stand, making them much easier to access and reduces the amount of cable management required.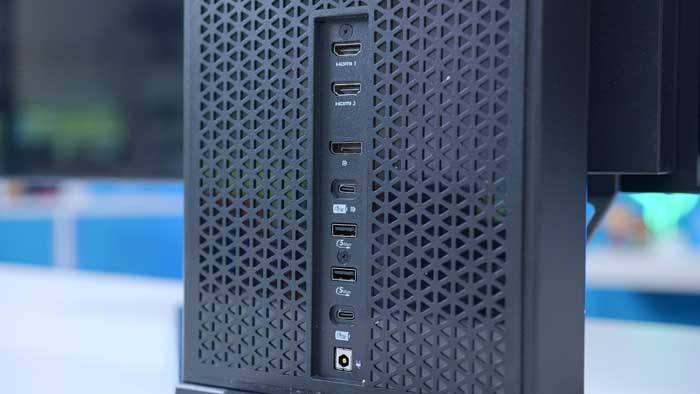 OSD & iCUE Support
At this point, it is almost guaranteed that Corsair products will be compatible with their iCUE software. For us, this can only be seen as a positive, as this gaming software is one of the easiest to navigate and provides a wide range of customisation options for each product.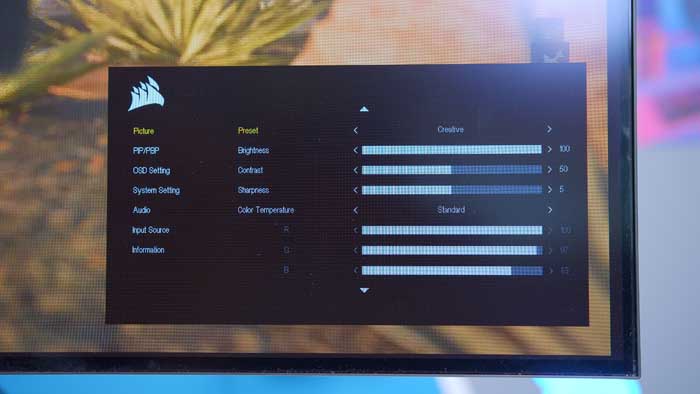 However, we experienced issues trying to connect this monitor up to the software, and it seems that other users had similar issues. We then found that Corsair mentioned in a forum that the Xeneon Flex is not yet supported by the iCUE, which is disappointing considering the iCUE logo is plastered on the product page and packaging. Luckily, the OSD is extensive enough to allow consumers to adjust a range of settings for a tailored viewing experience.
Alternatives
For anyone considering the Xeneon Flex for their gaming setup but are not yet fully convinced, or have already decided this monitor doesn't meet your demands, allow us to expand your horizons. Here are some alternative high-end gaming monitors that will offer a slightly different experience.
Corsair Xeneon 32UHD144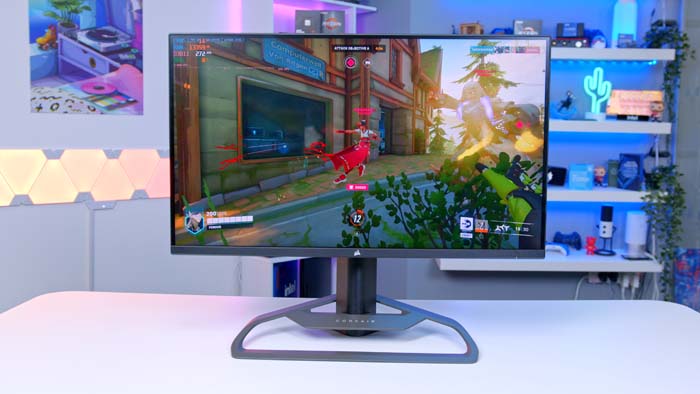 Sticking with Corsair's Xeneon range for our first alternative to the Xeneon Flex, the Xeneon 32UHD144 is a more affordable option that maintains a similar style to their flagship offering.
Whilst the reduced framerates and more straightforward design gives this design less wow-factor, the 4K visuals and reduced size will be a better option for some, especially those with a multi-monitor setup.
Want to know more? Check out our Corsair Xeneon 32UHD144 review.
Buy the Corsair Xeneon 32UHD144 on:
ASUS ROG Swift PG48UQ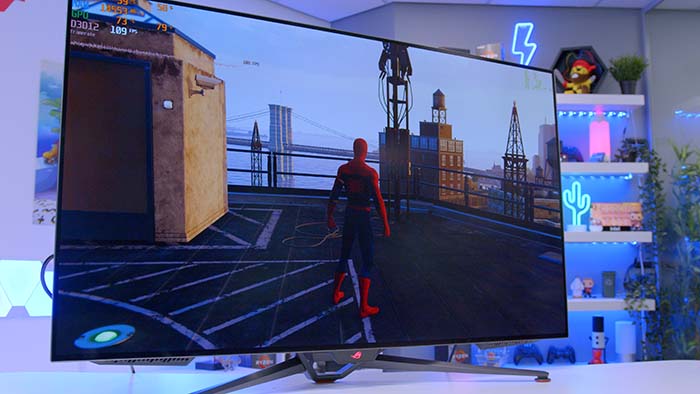 If you're looking for a large gaming monitor that offers lots of vivid details, then the ASUS ROG Swift PG48UQ is definitely worth considering before committing to the Xeneon Flex.
At the sacrifice of versatility, this flat 48″ OLED display offers 4K visuals that rivals the best TVs, but with significantly better gaming performance, at a significantly reduced price point compared to Corsair's offering.
Interested in this monitor? Read our detailed ASUS ROG Swift PG48UQ review.
Buy the ASUS ROG Swift PG48UQ on:
Alienware AW3423DW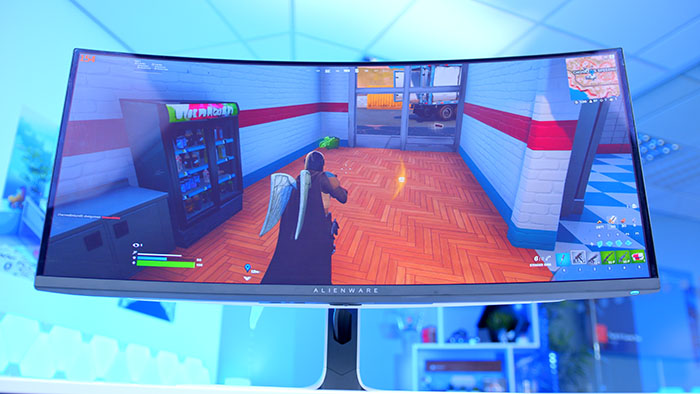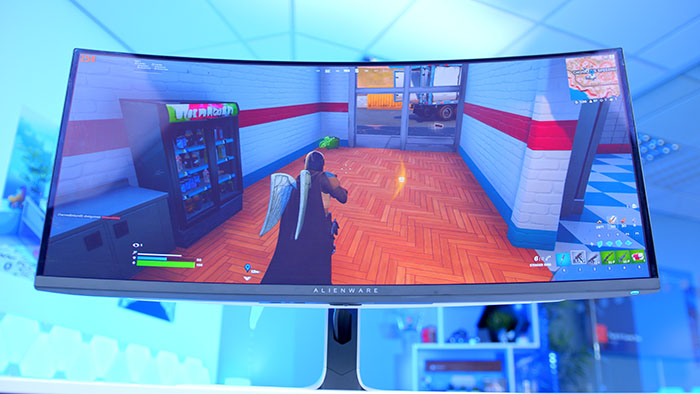 For gamers looking for an ultrawide gaming monitor to act as the sole display within their setup, the Alienware AW3423DW is difficult to overlook.
A trailblazer in its own right, Alienware's 1440p display offers a perfect balance of gaming performance and visual fidelity. On top of this, the AW3423DW possesses the extra-terrestrial aesthetic that has become synonymous with the Alienware brand.
Read our in-depth review of the Alienware AW3423DW.
Buy the Alienware AW3423DW on:
Conclusion
Corsair Xeneon Flex 45WQHD240
Features

Design

Versatility

Value for Money
Summary
Without a doubt, Corsair's revolutionary Xeneon Flex monitor offers one of the best viewing experiences for PC gamer. The flexibility -quite literally- of the display makes it a incredibly versatile option, removing the need for a multi-monitor setup. Additionally, the ability to switch between a flat and a curved panel makes this display an ideal all-in-one solution for gaming and productivity-based tasks. Even disregarding the innovative bendable design, the gigantic 45inch OLED panel provides more than enough real-estate for multi-tasking, whilst also offering top-tier gaming performance and a cinema-like experience when playing the latest AAA blockbusters. 
To match the power of this display, the robust frame takes up a lot less desk space than expected and makes connecting systems and peripherals a breeze. The retractable handles are a great inclusion too, as it makes the transitions from one position to another quick and effortless, but then can be tucked away for a cleaner and less distracting look. Combining these elements together results in a truly breath-taking gaming experience that most monitors on the market won't be able to compete with. Whilst gamers should be prepared to splash the cash, as well as some minor setbacks such as 1440p max resolution and a lack of iCUE functionality, the Xeneon Flex will make for a welcomed addition within any high-end gaming setup. 
Pros
✅ Flexible and innovative design
✅ 240Hz OLED Display
✅ Great gaming & workstation hybrid
Cons
❌ Very expensive
❌ Limited to 1440p
❌ Issues connecting to iCUE software