Introduction
When it comes to building the Ultimate Gaming Setup, we have some experience putting together pricey configs that provide the best gaming experience. Today, a new challenger in this space enters the ring. With a 34 inch, 175Hz panel, blazing-fast 0.1ms response time and Quantum Dot, OLED panel, it has a spec sheet to make your eyes water. Introducing the Alienware AW3423DW.
This 3440 x 1440, Ultrawide panel is one of the most exciting things we've had in the office this year, and looks to deliver an unparalleled gaming experience for those with a high-end PC build, powerful enough to drive it.
Buy the Alienware AW3423DW on:
Suggested Article: How to Pick the Best Gaming Monitor for your PC Build
The Importance of Choosing a Good Monitor
Picking out a decent monitor is one of the major design philosophies of any Gaming Setup, especially for those with high-end systems. It makes little sense to choose powerful components to put into your system, but then spend a minimal amount on your display. At the end of the day, if you have a good graphics card that can output great performance, you should make use of that! With games like Cyberpunk 2077 offering vibrant neon lights, Ray Tracing, and huge towering buildings, you should be able to experience the majesty of these games on a display that matches.
Understandably though, picking out a monitor that is right for you and your build can be a difficult undertaking. Displays offer different types of panels, refresh rates, sizes and aspect ratios – it can all be so confusing and is something we've spoken about in our Best Gaming Monitor guide.
Panels, OLED, and Quantum Dot
One of the first points we should cover is panel types and OLED displays. Panel types are always a big point of uncertainty for consumers, because there's a range of types that all have different advantages and disadvantages. So which panel do you choose, and what is the difference? Well, there are around 4 panel types that are quite common on the market, these are: LCD, TN, VA, and IPS. There are also 2 other types that we are starting to see a shift towards in desktop monitors, as they can offer beautiful colour potential and contrast ratio. These are known as: OLED and Quantum Dot.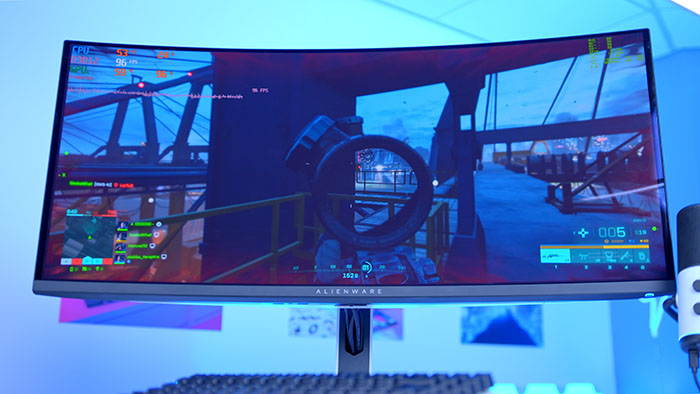 OLED and Quantum Dot displays have been on the market for a while now, but not in monitors – instead they commonly feature in TVs. Fitting all of the intricate pieces that make up an OLED or Quantum Dot display can be very difficult in smaller displays due to the amount of layers required. Hence the Alienware AW3423DW having quite a bulky stature (although there are other contributing factors on this front, which we'll come on to).
What is QD-OLED?
To briefly explain, QD-OLED is a superb combination of Quantum Dot and OLED (Organic Light Emitting Diode) into one display. The reason why QD-OLED panels are so fantastic is because of the way they synergise together. Quantum Dot panels have incredible colour potential due to using tiny particles that can create 'essentially perfect' uniform light output. OLED then brings to the table amazing contrast ratio that can produce the blackest black colours and the lightest white colours. Throw these two together and you get the 'holy grail' of image quality – totally unmatched and unrivalled.
G-Sync Ultimate
One of the burning questions I bet you have, is about the usage of G-Sync Ultimate in this Alienware monitor. You've probably heard of G-Sync before, which is another one of Nvidia's marvellous additions to the monitor market introduced back in 2013. G-Sync technology used in monitors quite simply offers a better visual experience for the user. If your monitor is connected to an Nvidia G-Sync compatible graphics card, you will have a better time fighting off screen tearing.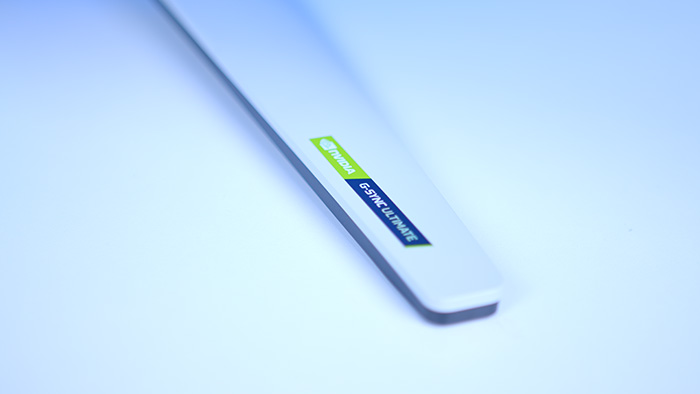 G-Sync displays offer a feature known as variable refresh rate (VRR). When you are playing a game or anything that uses a framerate, a G-Sync monitor will sync its maximum and minimum refresh rate to the framerate of your GPU. Combine this with Nvidia's DLSS, your gaming experience will be hugely improved by reducing performance overhead and minimising screen tearing.
What is G-Sync Ultimate?
So what is G-Sync Ultimate? Quite simply, G-Sync Ultimate is Nvidia's way of bringing remarkable visual fidelity to a display. Monitors that are designated G-Sync Ultimate use G-Sync processors to deliver a more well-rounded experience. You have access to lifelike HDR, amazing contrast, cinematic colour, and 'ultra-low latency gameplay'. This united with the QD-OLED display brings phenomenal visual quality to desktop monitors.
Aesthetics and Design
Now that we've covered some of the biggest selling points of the monitor, we should talk about the overall design.
First off let's look at the bezels. One thing I dislike on any monitor are thick bezels. Nowadays they tend to be less common, from time to time you can still see a thicker external frame on monitors. Personally I think having a huge bezel takes away from the display itself. Areas that could be taken up by the literal screen gets used by big bars that just look unappealing.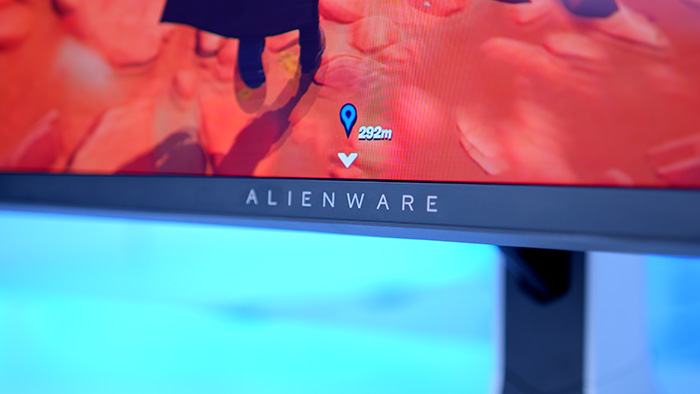 However, with the Alienware QD-OLED monitor this is not the case. The bezel design is very minimalist, almost opting for a 'zero-frame'. Towards the bottom of the display spans a larger bezel with the "Alienware" text printed on top, but this is perfectly fine. We feel it doesn't take away from the user experience of the panel, and the bottom is the best place to add a larger bezel where one is needed.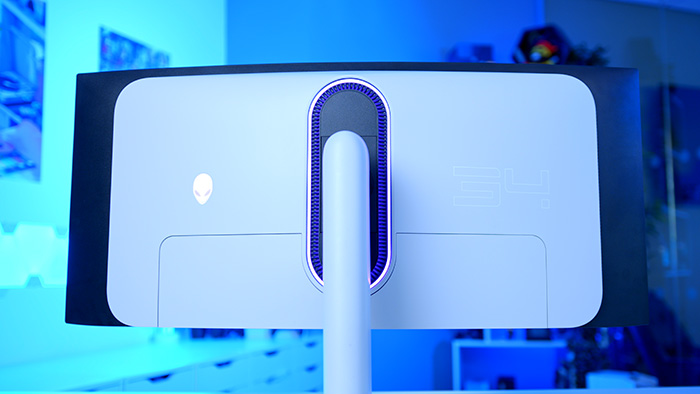 Coming to the backside of the monitor and the rear panel offers a clean look with a cable hide that will reduce your cable clutter to a minimum. Surrounding the connector for the stand, Alienware has included a ring of RGB lighting to add some ambience and customisation. Towards the left there is also the signature Alienware logo which also lights up as well adding some extra flair. All of the lighting is customisable via the monitors easy-to-use OSD, which can be accessed with a joystick underneath the panel.
Overall, the Alienware AW3423DW QD-OLED is nothing short of impeccable in terms of its aesthetic. Providing sleek looks, the all-important RGB, and an awesome minimalist looking stand – Alienware have definitely demonstrated ingenuity here!
Features
The Alienware A3423DW monitor is crammed with lots of features that provide a great usability experience and make the panel a pleasure to configure and use on a day-to day basis. In this respect, it can be said with certainty that you get what you pay for, even if this monitors price tag is fairly eye watering.
Refresh Rate & Resolution
A high refresh rate is vital when it comes to any gaming monitor. Many games use fast-moving graphics and because of the way these are processed by your PC, a higher refresh rate is needed for a smoother experience. The more frames you achieve, the earlier the action on screen appears, providing the all-important competitive edge. With the 175Hz refresh rate provided by this monitor, you'll have certainly take an edge against your competition – even if it is not as pronounced on higher refresh displays with worse-looking panels. Combine this with G-Sync Ultimate and you're set for a butter smooth gaming experience.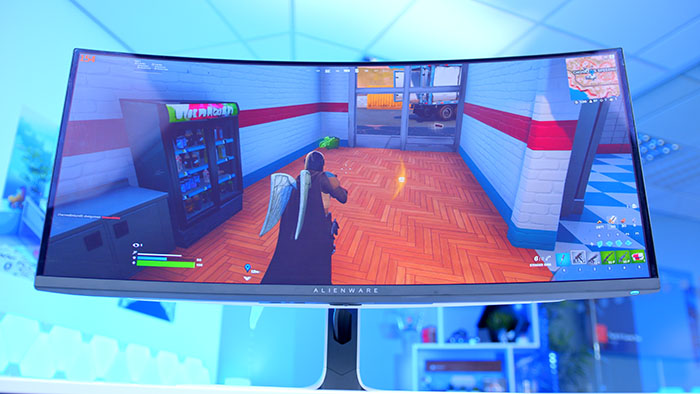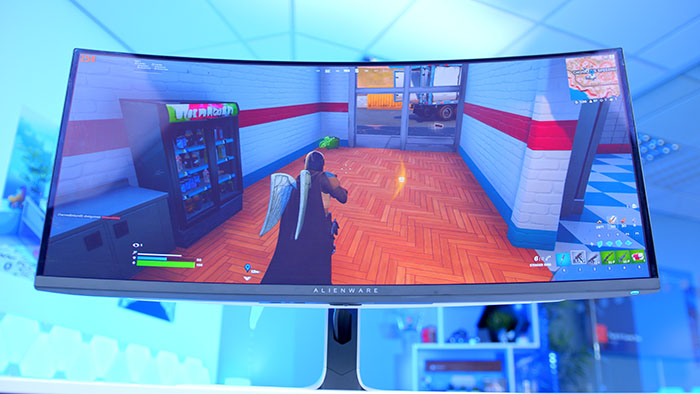 Commonly, 1440p resolution is known by the figure of 2560×1440. This is higher than 1080p and provides sharper image quality than its slightly lower HD counterpart. However, 3440×1440 (this display's resolution) is the ultrawide version of 1440p, with an aspect ratio of 21:9. There are many benefits to having a 21:9 aspect ratio, one of which is productivity. Ultrawide monitors are great to have multiple windows spread across the screen. You may be able to reduce the performance overhead of your setup (and the cost) by having one ultrawide instead of two 16:9 monitors.
The other benefit a higher aspect ratio has, is for gaming experience. The horizontal increase in pixels means you can physically see more on the screen. So for competitive gaming, your field-of-view will massively increase. On the other hand, the graphical fidelity of games will improve. 1440p resolution already provides sublime contrast and sharpness, so this on an even wider screen will undoubtedly look better.
0.1ms Response Time (Gray to Gray)
For gaming especially, having a quick response time will reduce input lag, and decrease motion blur. Activities that are fast-paced need a smoother image quality, or the overall experience can be sub-par. The Alienware AW3423DW is ideal for gameplay, but the interesting part is the Gray to Gray bit. Gray to Gray is a unit of measurement for pixel speeds. For this particular metric, it measures how long a pixel goes from one gray level to the next. This furthers how good the response time is to provide a smooth gaming experience.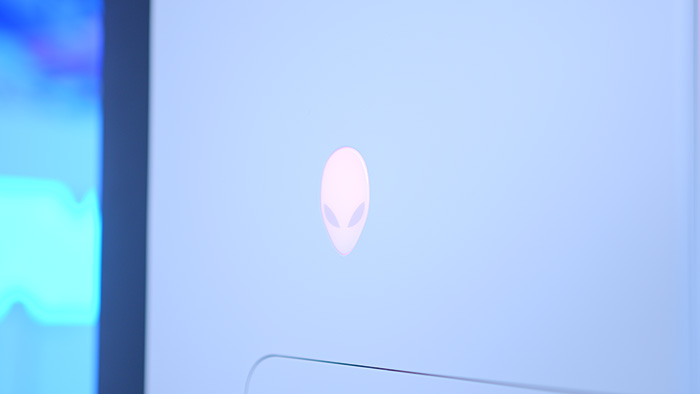 Connectivity and IO
In terms of connectivity, you are absolutely spoiled for choice. The Alienware AW3423DW sports 5 USB 3.2 Gen 1 ports, 1 of which has power charging. You also have the choice of 2 HDMI ports, or 1 DisplayPort 1.4 for GPU connectivity. Wn top of all of this (yes there's more!), you have a line-out port and a 3.5mm headphone jack. This is a huge range of options is a very generous quantity of IO for a monitor, and a well-received premium addition.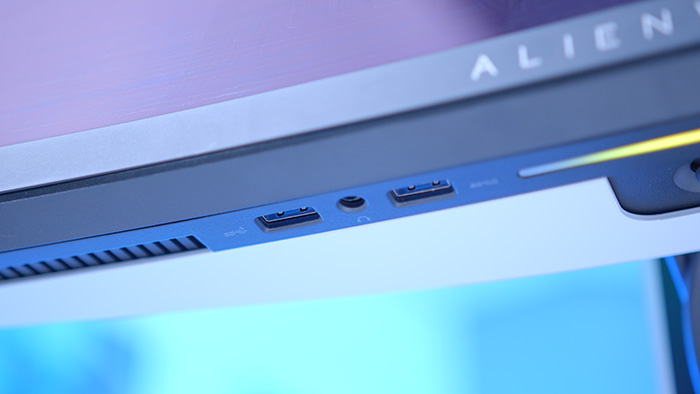 Versatile Adjustability and VESA Compatibility
Larger monitors can be quite difficult to adjust, as the sheer weight might be too much on the stand. With the Alienware A3423DW this is not an issue at all. This monitor has a great deal of possible viewing angles giving you a wider range of movement and adjustability with height, swivel and tilt options.
The display also features 100x100mm VESA mount compatibility. This is great for using a monitor arm or wall mount to take your gaming setup to the next.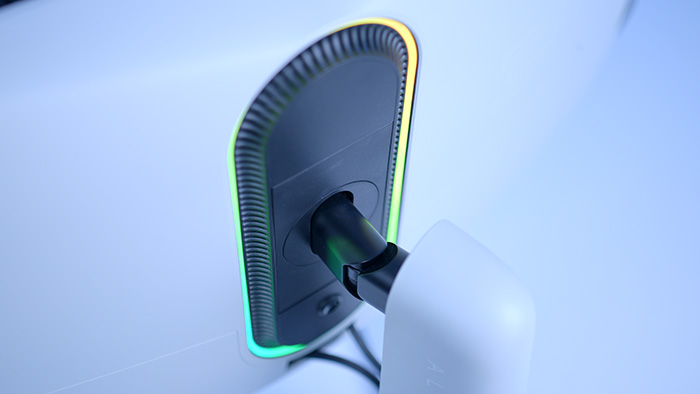 Additional Features
The Alienware AW3423DW has so much to offer in terms of features that we physically can't cover them all. The thorough OSD pairs amazingly-well with the monitor settings. This delivers a range of gamma and colour space choices, perfect for creators that want colour accuracy.
The RGB on the back panel brings a very welcome level of customisation in terms of lighting. The lights are machined to look like a stadium loop which brings a level of elegance compared to traditional LED strips.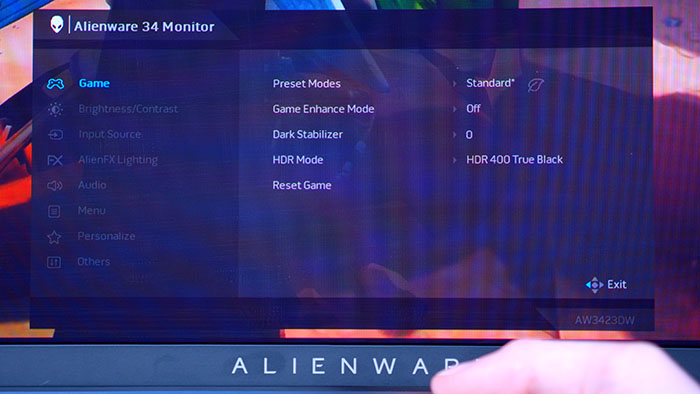 Other extra features include 360 degrees ventilation for heat dissipation, quick cable management with the cable hide, an OSD 5-axis joystick for easy menu navigation and so much more!
Benchmarks (21:9 Aspect Ratio)
To give an idea of the aspect ratio of this panel, and how this manifests itself in games, take a look at this screen recording of Battlefield 2042. The extra width really helps with immersion, and is worth the performance overhead in the latest titles.
Conclusion
Alienware AW3423DW Monitor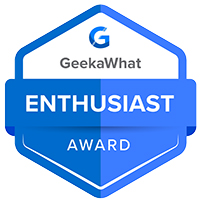 Product Name: AW3423DW Monitor
Brand: Alienware
Features

Design

Versatility

Value For Money
Summary
Alienware's AW3423DW is one of the most majestic, visually powerful, sleek monitors that we've had in the GeekaWhat office. The QD-OLED display is an incredible piece of technology that really demonstrates the raw performance that can come out of desktop monitors. Alienware has absolutely hit all the right spots with this peripheral. Although the price tag is definitely not geared towards a budget demographic, you definitely get what you pay for in the current market.
Pros
✅ Display panel is visually stunning 
✅ Absolutely loaded with features
✅ Awesome sleek design
✅ QD-OLED Panel
✅ High-refresh rate
✅ G-SYNC Ultimate
Cons
❌ Very, very expensive
❌ Recommended GPU pairing is 3070Ti or above
❌ Ultrawide monitors have high-performance overhead