Introduction
The last month has been an exciting time for the monitor market, with brand new product lines from ASUS, Corsair, and LG hitting the market. Back in August, James Cousins and Harry Coleman headed over to Gamescom in Cologne, Germany to take a look at these new products, and now, a couple of weeks later, we've got the new ASUS PG48UQ in the office for a closer look.
The ASUS ROG PG48UQ is no ordinary gaming monitor – with a spec sheet that would make any enthusiast scream with joy. From the large 48-inch form-factor (a 43-inch unit is also available), stunning OLED panel and 4K resolution this is a sight to behold. It's also a vert fast panel, with a 0.1ms grey-to-grey response time and overclockable 138Hz refresh rate. The panel is also stacked with cooling at the rear, allowing to remove the risk of panel burn in and with an IO suite larger than most motherboards! We've also done a full gaming setup with this monitor, some great peripherals, and an awesome RTX 3090 gaming PC, which you can check on our setups page!
Buy the ASUS ROG Swift PG48UQ on:
Suggested Article: Best 4K Gaming Monitors to Buy in 2022
What is OLED?
When talking about OLED, the first thing that comes to mind is televisions. This is very much where the technology started life for consumers, and it is now filtering down to gaming monitors. We first tested the technology in our review of the Alienware A3423DW, a panel that combined the tech with Quantum Dot in a bid for top-tier image quality.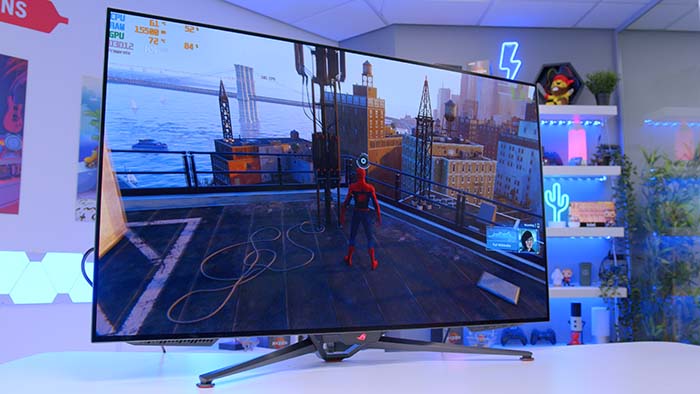 In short, OLED (standing for organic light-emitting diode) panels provide much better contrast than traditional panels, with far higher contrast ratios, deeper blacks and a removal of the traditional backlight that often causes the famed 'hotspots' on panels.
OLED designs are able to produce much clearer image quality hence, being better than non-OLED televisions. If you throw 4K into the mix, you start obtaining the holy grail of image quality, creating a fine balance between pixel lighting and a high resolution pixel density. Combined with technology like Ray Tracing, and the image quality potential from these designs is second to none. The only downside, as with all cutting-edge tech, is the cost – something we'll look at in more detail later in our review of the PG48UQ.
ASUS ROG Swift PG48UQ Aesthetics and Design
Let's start by addressing the elephant in the room here: size. This monitor is huge, at nearly 50 inches in size. It is difficult to imagine a monitor being 48 inches, as designs head ever further into TV territory. (It is worth noting that this panel does come with a TV-style remote control, but no DVR or smart features).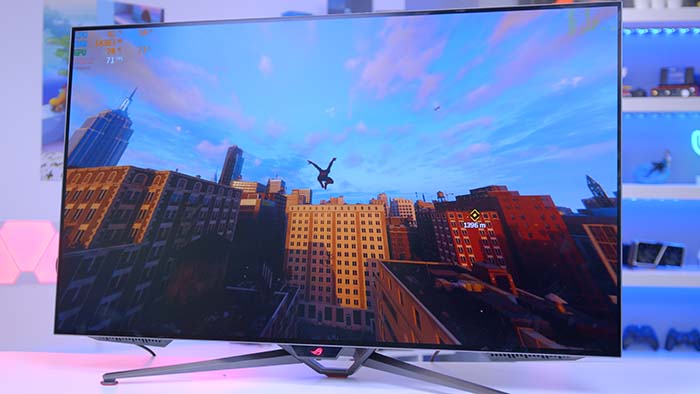 The average monitor sits in the 27 to 34 inch range, though this figure is fast-rising. The size of this design certainly won't be for everyone, and some will find the size of an ultra wide to provide a better balance for width, without the extra height.
The panel itself boasts a beautifully thin bezel, and sleek edge-to-edge design. I'm a big fan of thin designs, something which is admittedly even more important on this large panel whereby large edges are only going to make it seem larger in size.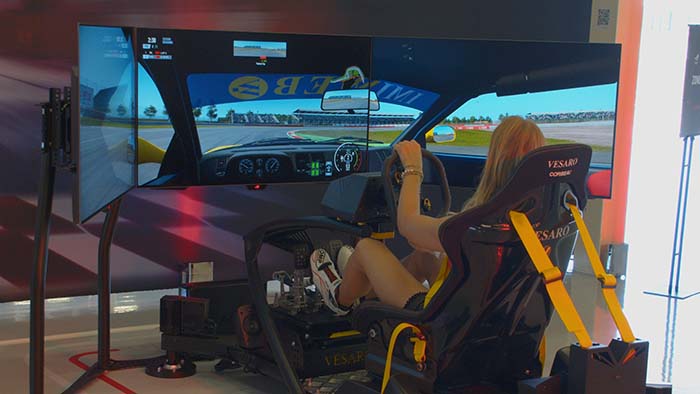 Thankfully, the monitor includes a strong, TV-style stand, that seems stable, and holds the design into place. The stand is well-built, and does a good job of stopping the panel from going anywhere. You do get a limited amount of tilt adjustment, but not much else by way of adjustment. The rear also features a VESA mount for wall mounting or use with a monitor arm (ensure the monitor arm you use can handle the size and weight of this panel).
Around the back, the monitor is chunky, to account for the extra heatsink and cooling required for a panel like this. ASUS claim this will essentially alleviate burn-in issues, and while this solution seems very feasibly, only time will really tell as to the success of this implementation. The rear also includes a large gloss black ROG logo, and grooved design that looks to break up the monotony of the size of the heatsink.
Features
The ASUS ROG Swift PG48UQ comes with a huge amount of features that provide a great user experience, making the panel very easy to configure, while also providing beautiful image quality. This monitor is undoubtedly expensive, but arguably you get what you pay for here (especially compared to the competition).
Resolution and Refresh Rate
Two of the most standout features of the ASUS PG48UQ are of course the resolution and refresh rate. This monitor sports a 4K resolution, along with a 138Hz overclocked refresh rate. As the visual fidelity of games continues to improve, the upside of 4K has never been higher from a user experience point of view. If you have a graphics card capable of driving the 4K resolution, playing on this display is incredible.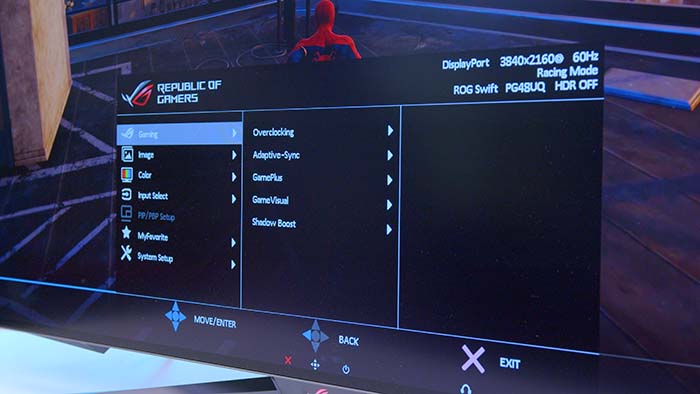 The 138Hz refresh rate is designed to immerse you within your games. Coupled with the 4K resolution, the high refresh rate will make your games buttery smooth giving you a competitive edge in fast-paced titles with incredible visual fidelity. In combination with Nvidia G-Sync compatibility, this will minimise any screen tearing or stuttering within your games.
0.1ms Response Time (Gray-to-Gray)
When 4K monitors first launched, the panels were much slower to respond, with resolution trumping refresh rate. Thankfully time has moved things along nicely, with response times dipping below 1ms. Here, the PG48UQ boasts a gray-to-gray figure at just 1/10th of a millisecond. This, alongside the 138Hz refresh rate, makes the panel a viable option for those playing competitive, first person shooter titles. A higher response time is less of an issue for racing titles, but competitive, high action games rely heavily on this metric to ensure the player isn't disadvantaged.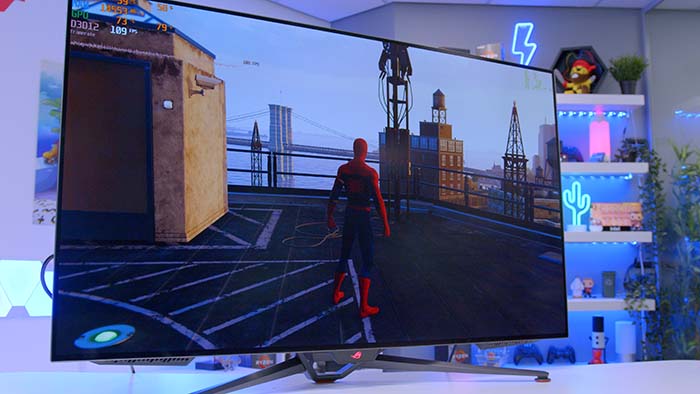 Custom Heatsink Cooling
One of the caveats to having a powerful monitor is of course the amount of heat that the panel generates (and energy it consumed). It can be difficult to cool thin panel monitors without risk of sacrificing the sleek and seamless aesthetic. However, ASUS have provided a custom heatsink design which enables up to 8% lower temperatures for better long-term performance, making your OLED panel last longer than the average and preventing the doomed panel burn in.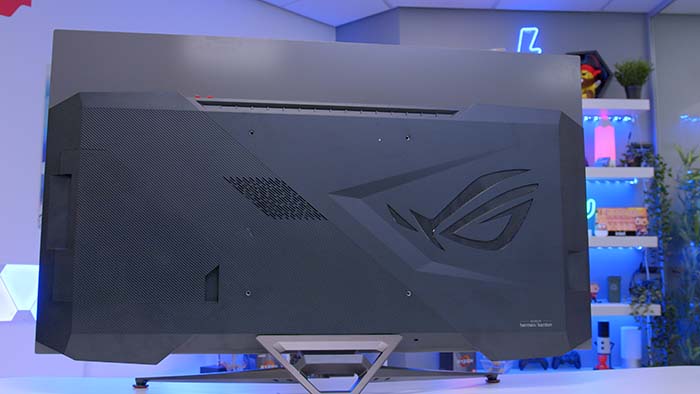 IO and Connectivity Options
In terms of your IO options, you've got plenty of choice with the PG48UQ. For the display itself you can choose from Display Port 1.4 with Display Stream Compression, along with two HDMI 2.1 port, and two HDMI 2.0 ports. ASUS has also included a USB hub with four USB 3.2 Gen1 ports, S/PDIF optical audio out, and an earphone jack. Needless to say if you've run out of USB ports for your peripherals, you can plug them in here for relative ease!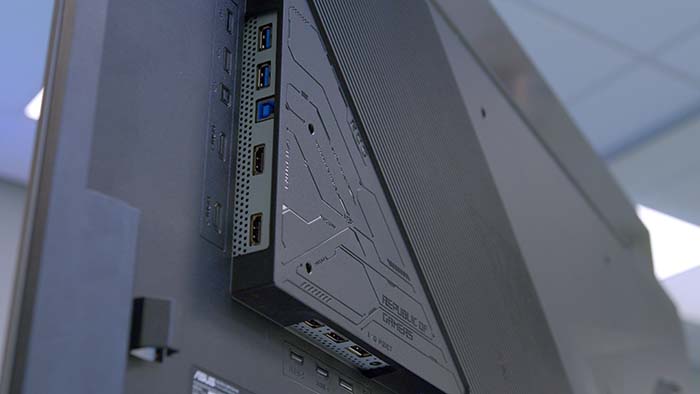 Harmon Kardon Speakers
ASUS has partnered with Harmon Kardon to create excellent quality speakers for the monitor. It isn't typical to have TV quality audio on a monitor, but ASUS have definitely delivered on this front. The audio itself can be configured within the menus, but if you decide to leave the speakers on the default settings, you'll be greeted with plenty of deep booming sounds and great bass quality. A dedicated sounder is always going to perform better, but solid stock options are nice to have, too.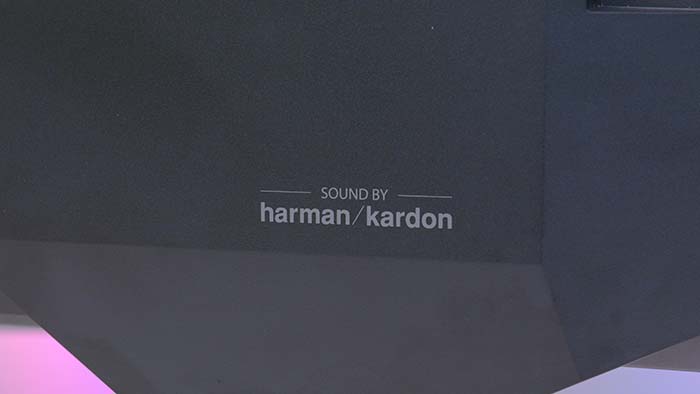 4K Benchmarking
To test out this display we decided to play the latest Marvel's Spiderman Remastered. This game is graphically beautiful, and when paired with the ASUS ROG Swift PG48UQ, you're getting an incredible experience. You can find all of our full graphics card benchmarks with fancy graphs and stats on our very own YouTube channel – 'Benched'!
Conclusion
ASUS ROG Swift PG48UQ 4K OLED Monitor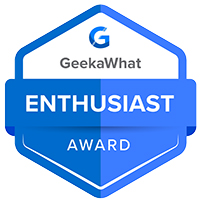 Product Name: ASUS ROG Swift PG48UQ
Brand: ASUS
Features

Design

Versatility

Value For Money
Summary
ASUS' ROG Swift PG48UQ is a breath of fresh air in the monitor market. For quite some time, we'd argue the Alienware AW3423DW has been the king of OLED displays, but now I'd say that this monitor absolutely gives it a run for its money. The 4K OLED panel provides impeccable crisp visuals that make high fidelity games an incredible experience to play. Coupled with all of the extra versatility within the configuration options, and the integrated Harmon Kardon speakers, ASUS has really hit the nail on the head when it comes to a top-end display. I'm sure your thinking that the price tag is quite high, and you'd be correct, but you definitely get what you pay for. This is effectively a TV on steroids and we're in love with the design. I'm excited to see what ASUS do next when it comes to monitors, as the PG48UQ sets a very high bar.
Pros
✅ 4K OLED panel is absolutely stellar.
✅ Plenty of versatility options in the menus.
✅ Thin bezel-less design is incredibly sleek.
Cons
❌ Very expensive.
❌ Will need a 3070Ti or above to play games well at 4K.
❌ Physical size can limit desk space.