Introduction
A PC Case is undoubtedly one of the most important elements of any build, acting as the main body in which all the components are stored. Not only does the case hold everything together and protect all those expensive PC parts, but it also has a major influence on the overall design and appearance of a system. Because of this, it is important to choose the right chassis when putting together a PC from scratch, as it could make or break your setup.
But which of the many PC cases we've tested stand out as the best options for the general consumer? And which designs are the best choice for specific budgets and priorities? In this buyers guide, we'll be showcasing our top picks out of the PC cases we've tested, detailing how each chassis could benefit or possibly hinder your next custom-built PC.
Best PC Case: Cougar DUOFACE Pro RGB
Out of all the PC cases we've tested, the Cougar DUOFACE Pro RGB takes the top spot thanks to its undisputed value. It's quite rare for a budget-friendly offering to be considered the best overall pick for a PC component, but the DUOFACE Pro RGB offers all the aspects needed within a high-quality chassis for a unrivalled price.There's plenty of space for parts, multiple design choices that make the building process easier, and a big selling point with the interchangeable front panel. 
Suggested Article: The Best Full Tower Cases to Buy in 2023
All PC Cases in Our Testing Roundup
The Best PC Cases
1. Cougar DUOFACE Pro RGB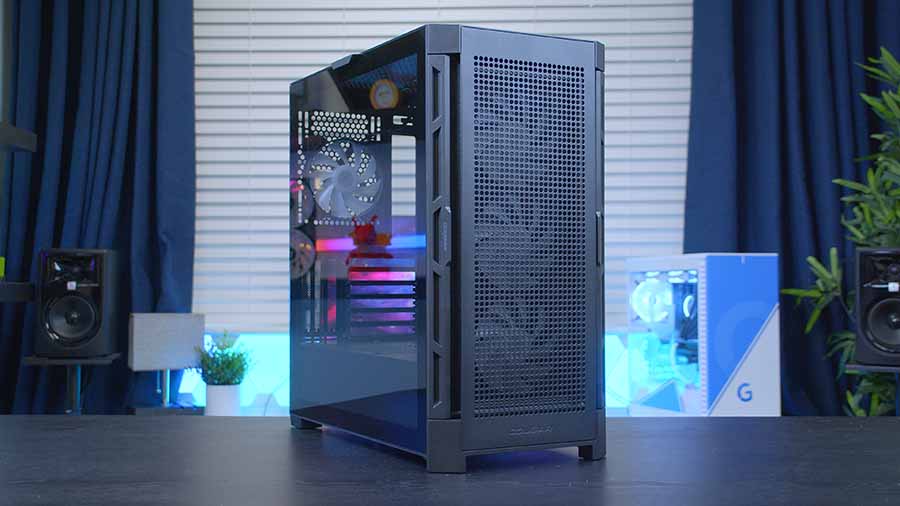 Cougar's DUOFACE RGB Pro is one of the most complete packages within the PC market, offering an ideal blend of functionality and value. As a PC case that comfortably sits below the $100 mark, this case is a great choice for builders looking to get the best bang for their buck. Despite being the cheapest case in our testing roundup, the DUOFACE Pro RGB includes a unique selling point that will appeal to consumers that are less concerned about their budget.
The distinct design choice in question is the interchangeable front panels, which allows users to effortlessly swap between a mesh and glass front panel. This feature is very innovative and surprisingly useful, as it allows you to choose whether to prioritise airflow or aesthetics depending on the circumstances, giving consumers the best of both worlds.
As for the rest of the design, the DUOFACE Pro RGB provides plenty of support for the latest components. With up to 405mm of GPU clearance, this chassis will be able to fit most high-end graphics cards without any issues, and support for up to 9 x 120mm fans allows for optimal airflow. However, this increased versatility does cause this case to be slightly bigger than most mid-tower cases, making it less than ideal for those looking to keep their PC builds compact.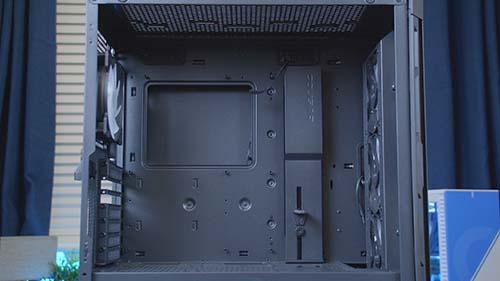 Buy the Cougar DUOFACE Pro RGB on:
2. Corsair 4000D Airflow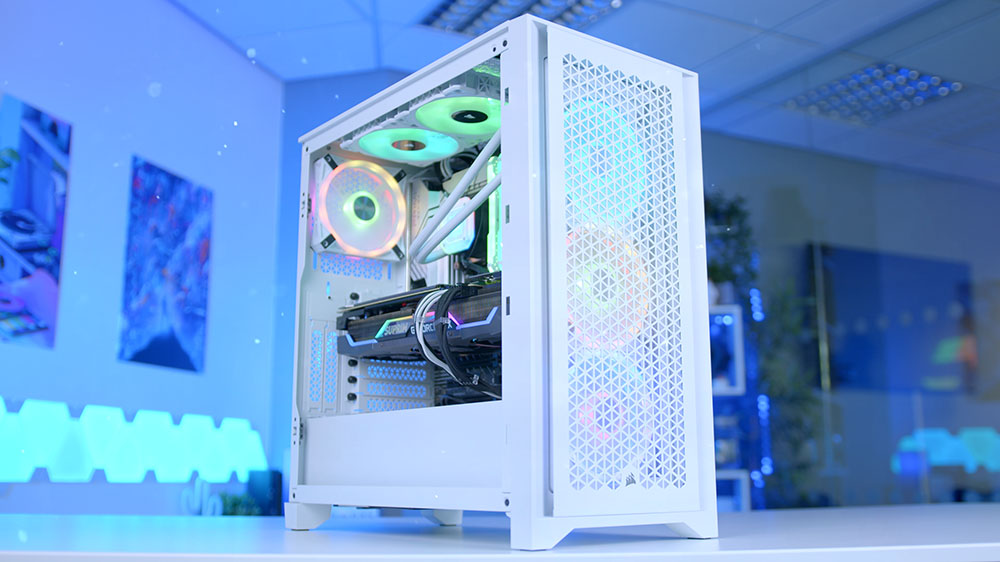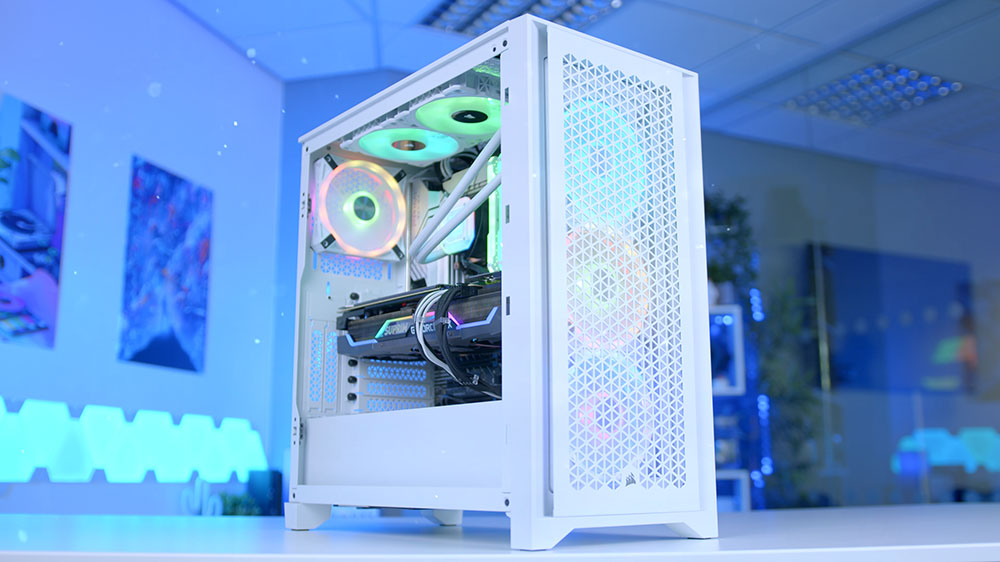 Corsair's 4000D Airflow is arguably one of the best PC cases for consumers that want the performance of their build while streamlining the building process to minimise the hassle that comes with it. This case has proven to be a reliable choice within GeekaWhat HQ, as we've had minimal issues when using the 4000D Airflow for various gaming rigs. Corsair themselves seem to agree, as most of their prebuilt gaming PCs are configured inside of the 4000D Airflow.
As the name suggests, this design puts a heavy emphasis on providing optimal airflow for any components that are placed inside of it. This is achieved by using a fully ventilated front panel, as well as support for a number of fans and large 360mm CPU Coolers. On top of this, the integrated RapidRoute cable management system makes it very easy to keep your system tidy and secure.
However, there are a few areas where this design could be improved, especially when it comes to PC case compatibility. This chassis has been around since before GPUs started to get bulk up in size, which means it could struggle with NVIDIA's RTX 4000 series cards in particular. Plus, this case does lack support for E-ATX motherboards, making it less than ideal for high-end systems.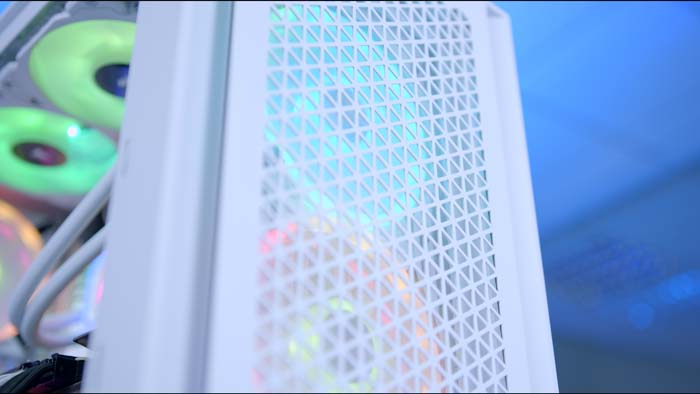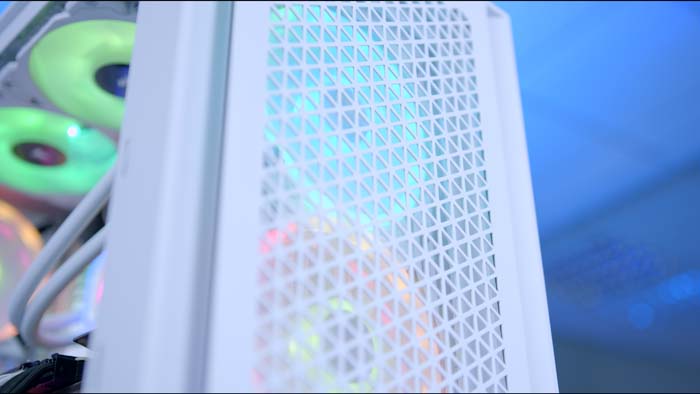 Buy the Corsair 4000D Airflow on:
3. Fractal Design North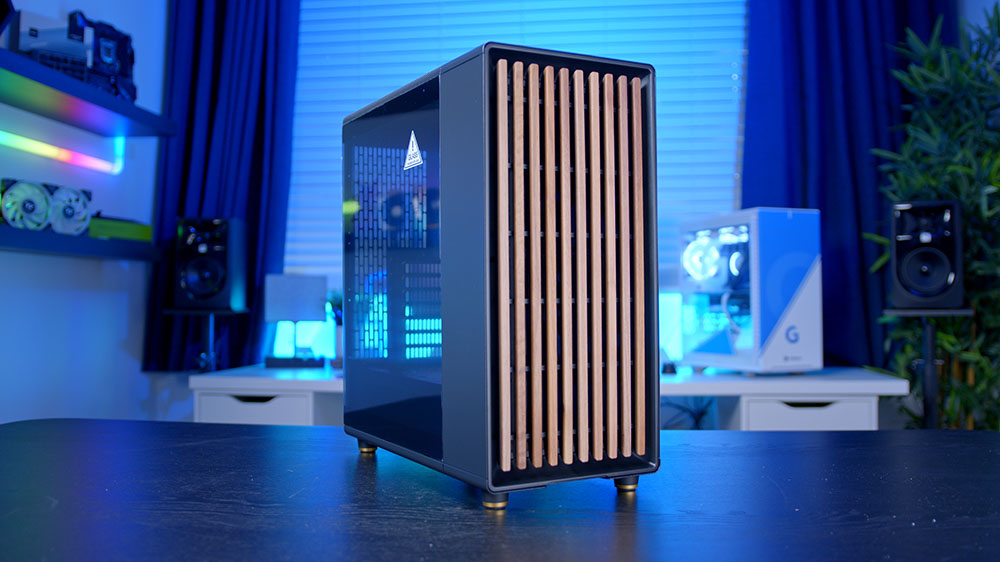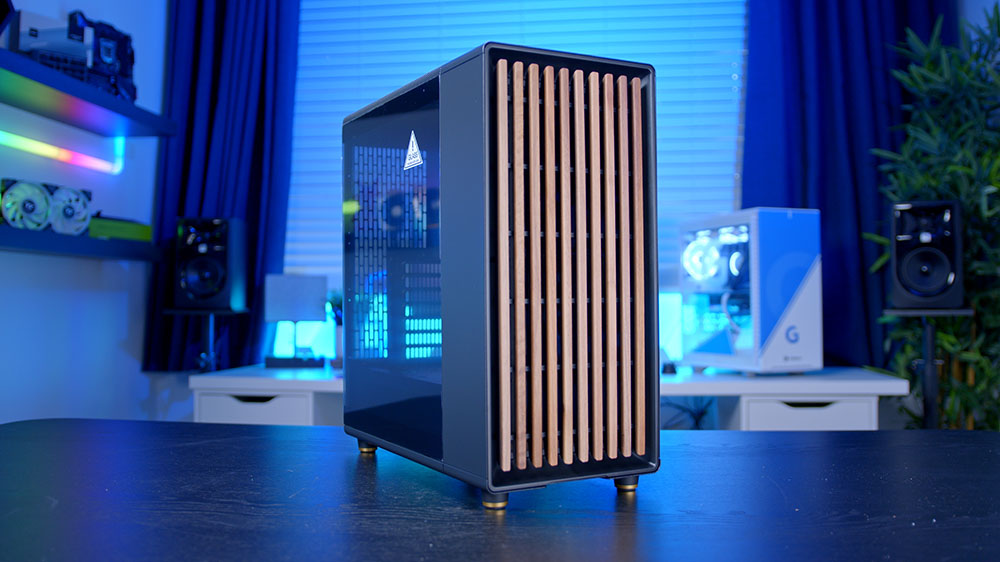 If the appearance of your PC is high on the priority list, then it is very hard to look past the Fractal Design North. This is definitely one of the most distinct PC cases we've tested, mainly thanks to the wooden panels across the front that allows technology to blend in with nature – or as much as it can at least! Fractal Design are known for their innovative and eye-catching cases, but the North is arguably the best of the bunch.
The unfamiliarity of wooden panels on a PC case may cause some consumers to be concerned with the airflow and durability of design, but from what we've experienced, there are no reasons to be concerned. Each wooden slab is separated to allow for plenty of airflow and the rest of the design is more conventional, leading to a chassis that is easy to build in and maintain.
Unfortunately, the main sacrifice that comes with this case is the limited support for the latest components, as the main chamber is significantly smaller than other ATX cases. The GPU clearance is a significant issue, with the 355mm max clearance when a radiator is installed will be problematic for those looking to build a gaming PC with a high-end graphics card.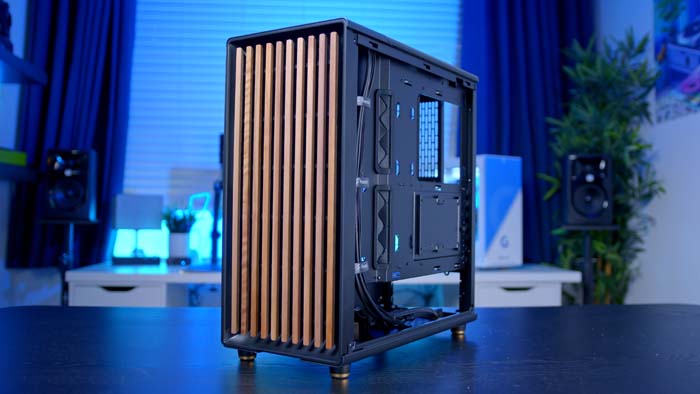 Buy the Fractal Design North on:
4. HYTE Y60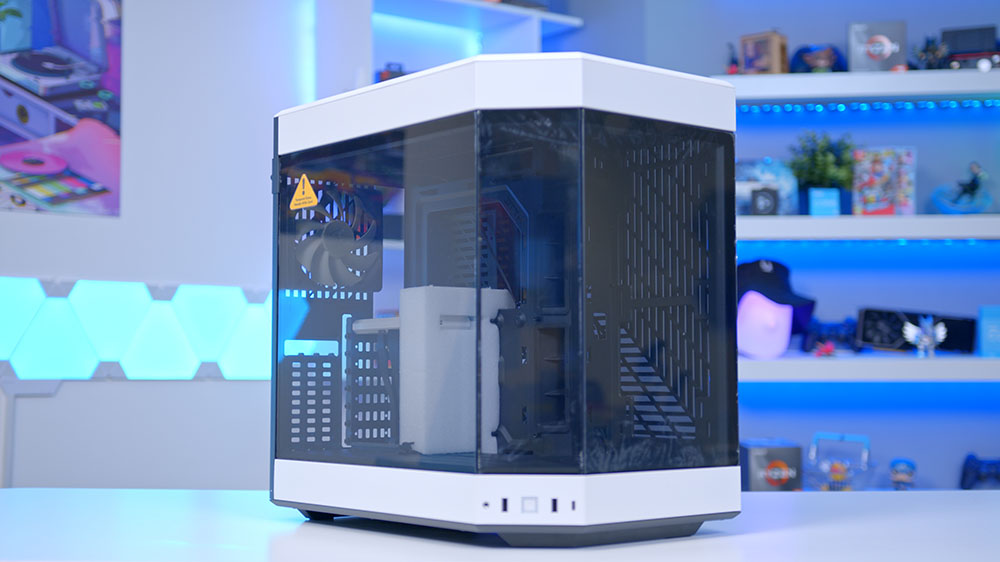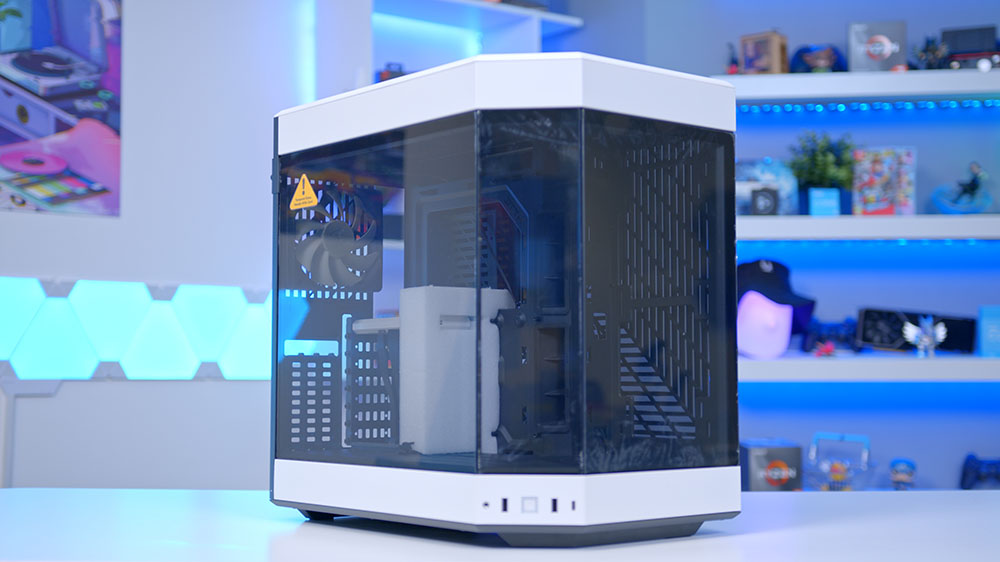 For PC building aficionados that want to put all of their premium component on full display, then the HYTE Y60 is simply the best option. This is one of the cases that is credited with starting a revolution of 'fish-tank' designs within the gaming sphere, which have now become the go-to method of housing a high-end gaming rig. Whilst lots of manufacturers have tried to replicate and develop this design further, HYTE's offering still holds the top spot in our eyes.
With a wrap-around glass panel that follows the large L-shaped chamber, this case lets users orientate their components in a way that is better at showing them off than what is available with the conventional mid-tower form factor. However, this case also manages to maximise airflow, thanks to plenty of ventilation along the top, back, and bottom panels.
Whilst the dual-chamber design and features such as the tool-less panels makes it fairly easy to build a system inside of this case, the exposed nature of this design and the emphasis on aesthetics means that less experienced builders could struggle to achieve the clean look that is required to make the most of this configuration. Plus, the hefty price tag means that most builders won't be able to spend the cash needed to pick up this chassis, restricting this design for enthusiasts willing to splash out on a PC case.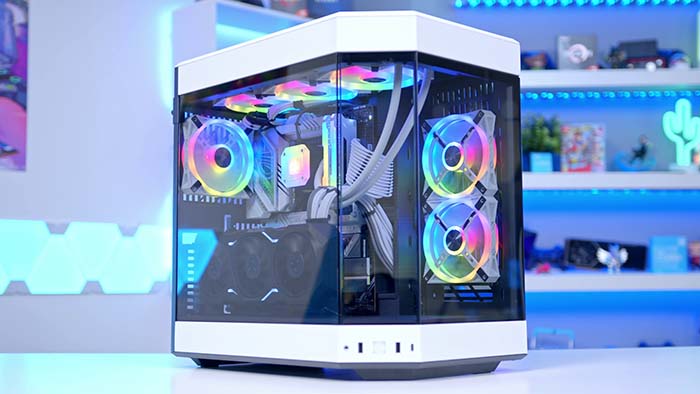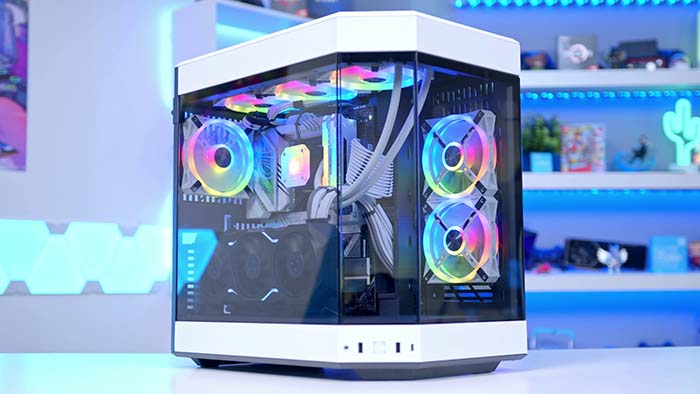 Buy the HYTE Y60 on:
How We Tested the Best PC Cases
Our team of hardware experts are building gaming PCs on a daily basis, using an array of different cases each time we assemble a system. During our building within a particular chassis, we conduct a number of testing and evaluation procedures to determine how it performs compared to other PC cases on the market. For each PC case that we test, the main factors we take into consideration are as follows:
Design
Versatility
Airflow
Building difficulty
Aesthetic
Compatibility
Pricing
Frequently Asked Questions
What Size PC Case Should I Buy?
Generally, we'd always recommend a mid-tower PC case, as it provides the best balance of compactness and component compatibility. However, E-ATX cases are better for high-end builds and mini-ITX cases are ideal for compact systems.
Is Airflow Important for a PC Case?
Yes. A PC case needs sufficient airflow to prevent components from overheating and to combat potential build-ups of dust and dirt.
How Much Should I Spend on a PC Case?
Some PC cases can be found for as little as $50, but we'd recommend looking at a chassis that sits in the $100-$150 range.