Introduction
One of the most important purchases of any setup is the monitor. The monitor market is saturated with a multitude of options giving you plenty to choose from for a variety of use cases. Whether you're looking for a gaming-oriented display, a colour-accurate design, or something more general, brand like Philips hope to have you covered.
But where do you look if you want more screen real-estate? If you're looking to maximise your work productivity in the day, and a big strategy game player in the evening, like me, having an ultrawide can be a perfect option. It's also a route which consolidates the need for two monitors into one, ideal for those looking to create a sleek, refined setup for work and play. Meet the Philips 34E1C56, a cheaper ultrawide display that has plenty of features on offer, and is great for those looking to max out their field of vision on one screen. We'll be taking a look at this monitor in full detail with coverage on the design, features, it's (limited) gaming credentials, and some alternatives to also consider.
Buy the Philips 34E1C56 Monitor on:
Is Ultrawide Better?
Ultrawide displays have started to become more of a commonality within the market, as the demand for larger displays keeps growing, but the want for multiple monitors decreases. Generally, the most common monitor display sizes are 27 inches, and 32 inches, but we've consistently seen monitor dimensions increase as the years have gone by. Some questions still stand concerning ultrawide displays, specifically what the benefits are, and how they differ from generic monitors.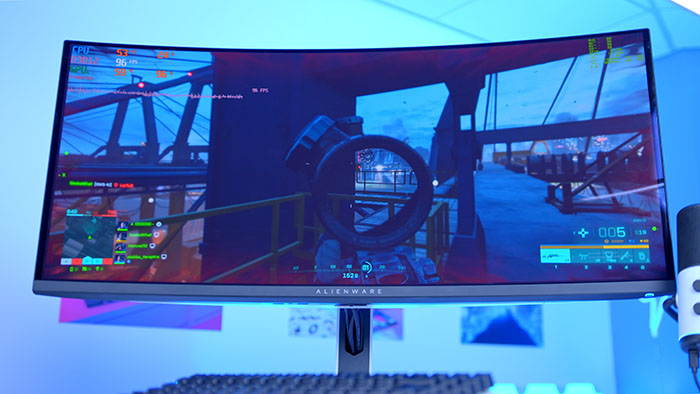 In terms of differences, the only major difference between an ultrawide and a regular monitor is that the resolution and aspect ratios change. A 1440P ultrawide monitor comes in with a resolution of 3440×1440, whereas a standard 16:9 1440P display clocks in at 2560×1440. As you can see, the number of vertical pixels doesn't change, but the number of horizontally laid pixels increases by 900. It's these extra pixels which provide the width for a wider aspect ratio, in turn providing more screen real-estate, and creating an 'ultrawide' panel.
The benefits to an ultrawide are entirely subjective. While I'm personally not a fan of ultrawide designs for gaming, due to the changes sometimes found in the FOV, I can see the numerous benefits for day to day productivity use cases.
Pixel Density vs Display Size
While discussing the benefits of ultrawide panels, it is also worth touching on pixel density – a key metric which will determine how 'sharp' any monitor looks. As displays sizes get larger, the pixels become more spread out, reducing the pixel density. This can lead to reduced sharpness, and highlights the need for higher resolutions in larger form factor displays.
This metric is worth considering as it goes a long way to highlight that resolution alone is not everything, and that you should consider other factors like form factor, aspect ratio and size when weighing up the sharpness a display will offer.
Philips 34E1C56 Design & Aesthetics
The Philips 34E1C56 is a relatively simple looking display, where Philips seem to have opted for a design that prioritises function over form. There is nothing entirely wrong with this approach, but it does lead to a more plain and boring display to look at. Surrounding the panel is a relatively thin bezel which helps to maximise your screen real-estate and keep things sleek.
Located at the bottom of the panel is the signature Philips logo, and towards the bottom right of the display you'll find a tiny white power light indicating whether the display is on or off. The chin, as it is referred to, is a little larger on this monitor than on rival designs, which is worth bearing in mind when comparing this to the competition.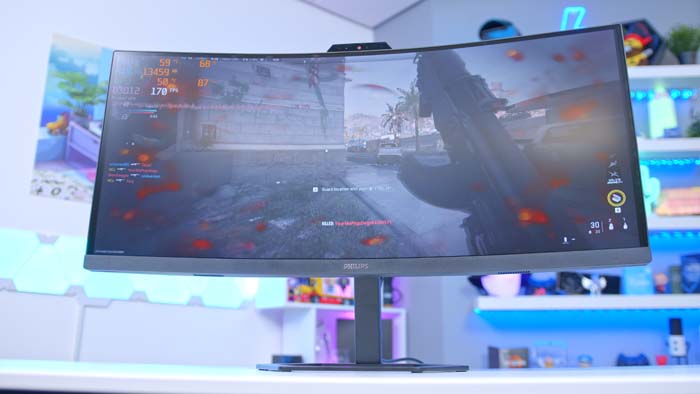 The back of the monitor doesn't offer much to look at, besides a textured black finish which covers the entirety of the plastic panel. The stand very easily attaches to the monitor and can be removed with the click of a button. The stand itself is again simplistic, but very sturdy and strong. You need a robust stand to hold up an ultrawide display, so its good to know that Philips haven't opted to use an overly cheaper design here.
The only criticism of the stands would be that it lacks any rotation ability, something other designs around this price point do offer.
Overall, I think the design is representative of the overall approach that Philips have taken, which is to offer plenty of functionality above an aesthetically pleasing product. Although this monitor isn't particularly special to look at from a design point of view, it blends in very well with darker setups due to its black finish, and most consumers will be very happy with the look if you're building a minimalist setup. It is also undoubtedly going to fit in better in the corporate environment for which many of these panels will inevitably live.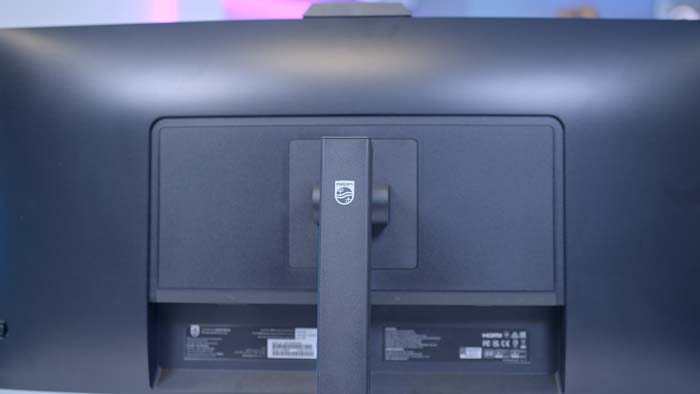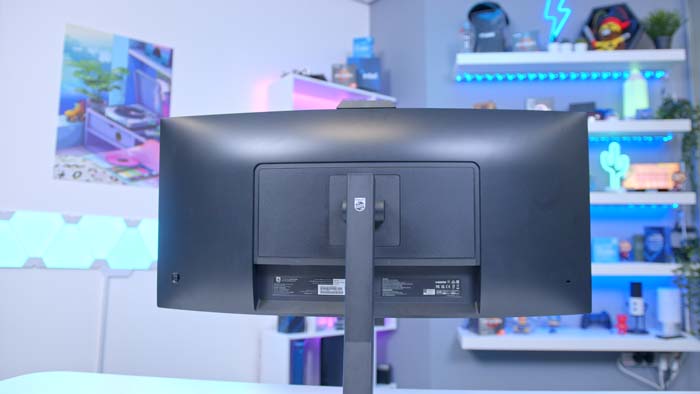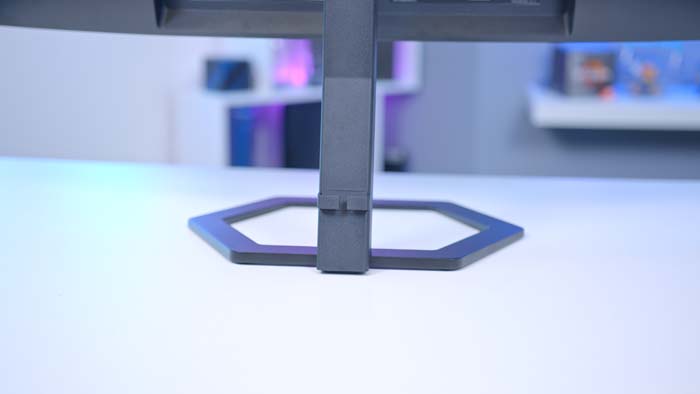 Philips 34E1C56 Features
Despite the relatively simplistic design, the Philips 34E1C56 monitor has a rich set of features on offer for consumers to enjoy a pleasant visual experience when consuming a variety of different content types.
Windows Hello Camera
Arguably, one of the standout features of this monitor is that it comes with a webcam that sits on top of the display. The webcam has a 5MP rating which means you won't likely be taking any high quality pictures, but it does suffice for Zoom and Teams calls with family, friends or colleagues.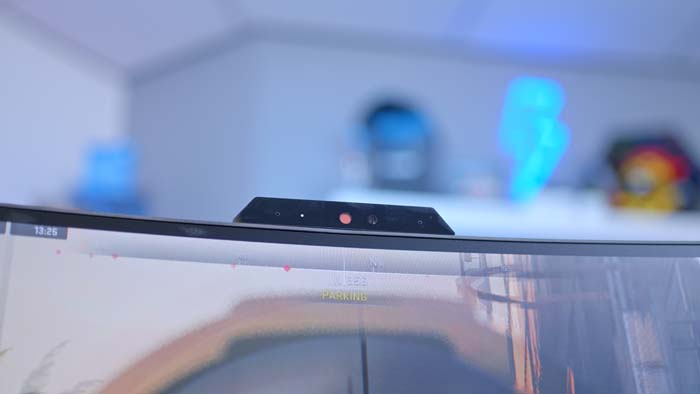 The camera also has integration with Windows Hello which allows you to log into your PC through facial recognition. From a security standpoint this is one of the most secure methods to use to log into your PC, which makes this great for users that worry about security and passwords. The camera needs to be plugged into your PC via the USB-C port located on the display, but this gives you instant access to the camera. This same connection can also be used with compatible desktops and laptops to pass video to the display, and power to the notebook. The webcam also has a lens cover switch for those worried about privacy – something we love to see!
Ultrawide 1440P
As we've mentioned above, this monitor is an ultrawide display, providing a sharp resolution of 3440 x 1440 pixels. This gives you access to a much wider field of view which is perfect for increased productivity, and an optimal 21:9 aspect ratio. It also helps to reduce horizontal scrolling for players of strategy games like Civilisation or Cities: Skylines!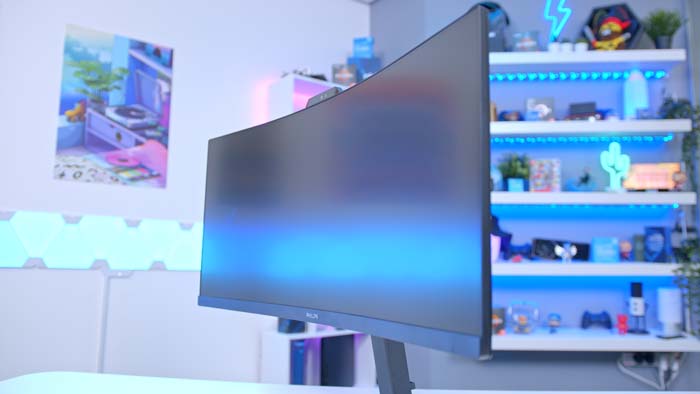 Display over USB-C
One of the best features of this panel is the USB C integration. If you're the kind of consumer that enjoys a portable setup while you're out and about, but you want to come back home to a widescreen display, this monitor is ideal. The Philips 34E1C56 supports USB Type-C power delivery and video output purely over one cable. This allows you to charge up your laptop, and enjoy crisp visuals without the hassle of extra cables. Plus, the integrated USB hub allows you to dock a keyboard and mouse which also connect upon linking you notebook to this display.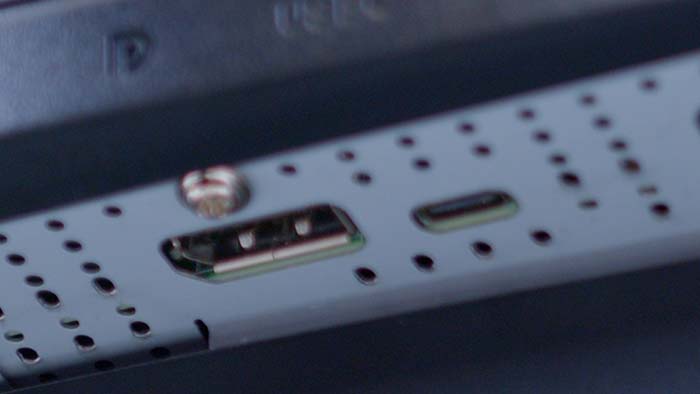 USB Hub & IO
Alongside the USB-C display connectivity you've also got access to a wide range of IO to plug in a variety of accessories. The USB hub features four USB 3.2 Gen1 ports with one fast charge, ideal for charging a phone, or perhaps a mouse or keyboard. For display connectivity you've also got access to HDMI 2.0, and DisplayPort 1.2 which is supported by all modern graphics cards.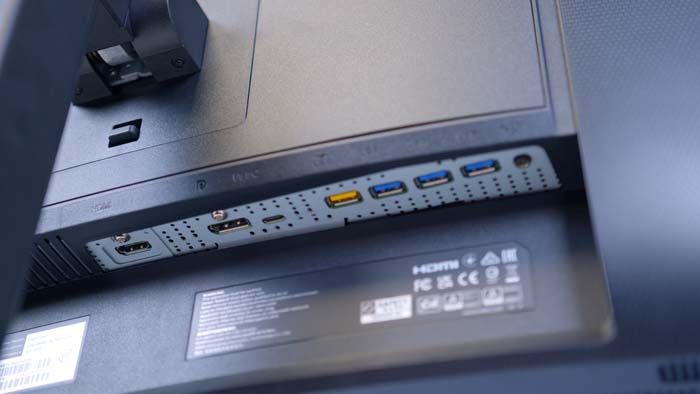 100Hz Refresh Rate
The Philips 34E1C56 monitor has a 100Hz refresh rate which allows you to enjoy buttery smooth mouse movement in a variety of applications. Although 100Hz isn't quite as high as we'd like for gaming, this is a reasonable refresh rate to also enjoy a stutter free gaming experience.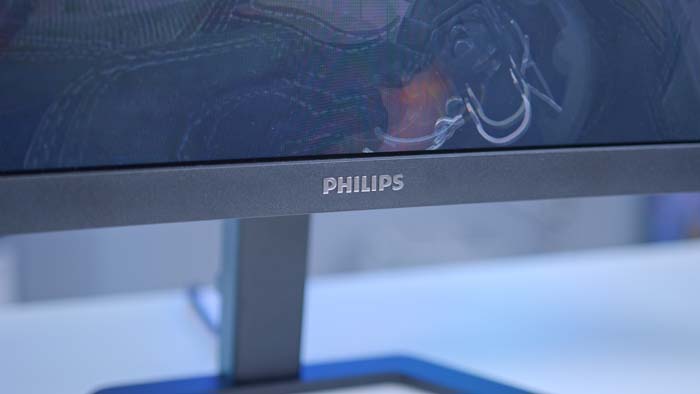 OSD Menus
One of the major benefits of the Philips 34E1C56 is that it has a huge amount of configuration options when it comes to changing the brightness, BlueLight mode, response time, and more. Admittedly, I'd prefer if the OSD joystick was in a different place as you have to reach quite far if you have multiple monitors. But once you get access to the joystick, navigating the menus is very simple, and you can customise your monitor's display panel to your heart's content.
Alternatives
Although the Philips 34E1C56 has plenty of features on offer this isn't the only good 1440P ultrawide monitor that you can buy. We've provided some excellent alternatives that offer a wide range of features.
Alienware AW3423DW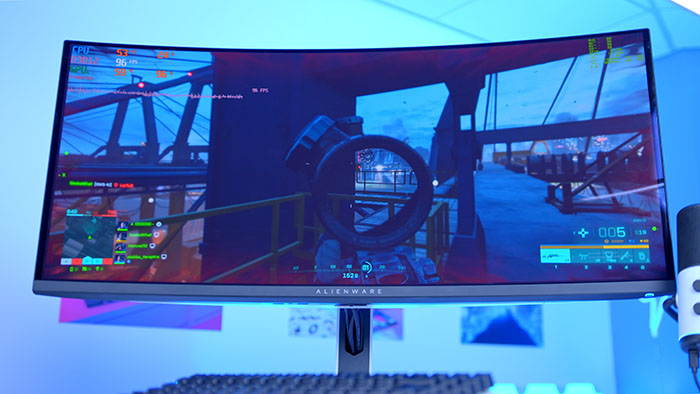 Alienware's AW3423DW is a monitor we've reviewed in full before, and needless to say this display is incredible. The panel offers a crisp and vibrant 1440P on a Quantum-Dot OLED panel, providing unparalleled visuals ideal for a high-end system. The visual fidelity of this display is somewhat indescribably, and although this monitor is rather expensive you definitely get what you pay for. With G-Sync Ultimate, a 0.1ms response time, and 175Hz refresh rate, users can enjoy a buttery smooth, stutter and tear-free experience with no hindrances whatsoever. This monitor is the cream of the crop of displays, but does cost significantly more than the Philips design we're focussing on today.
Buy the Alienware AW3423DW on:
BenQ MOBIUZ EX3415R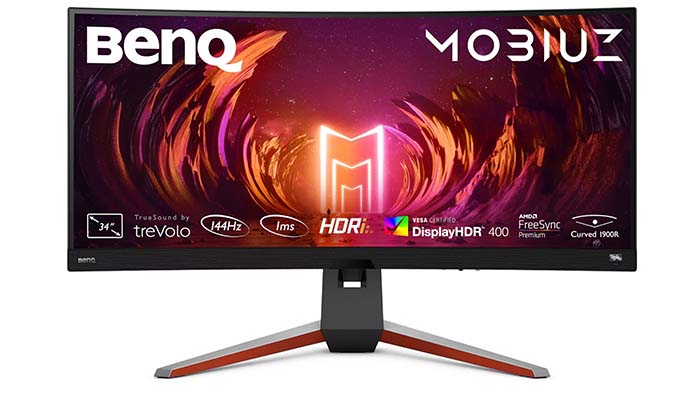 The BenQ MOBIUZ EX3415R is an HDR 1ms monitor perfect for SimRacing, or to enjoy a variety of games at 1440P with a much wider field of view. BenQ has integrated a TreVolo speaker bringing excellent sound quality removing the need for extra speakers or a headset potentially saving you some money. The 1900R curvature combined with the monitor's in-built racing mode gives you a wide FOV with sharp visuals and smooth lighting effects making it perfect for high intensity racing titles like F1 2022 or the latest Need for Speed Unbound. This monitor is definitely a worthwhile pickup for racing lovers!
Buy the BenQ MOBIUZ EX3415R on:
HUAWEI MateView GT 34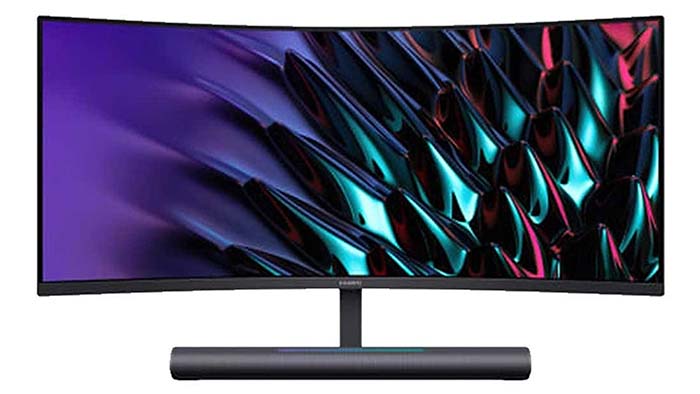 Our final alternative is Huawei's MateView GT 34 providing cinematic colour at a crisp and vibrant 1440P resolution. This monitor is ideal for gaming sporting a 165Hz refresh rate designed to bring a smooth visual experience with minimal hindrances. The HUAWEI MateView also has a Delta E colour accuracy of less than 2 making it ideal for those that want to create colour accurate content. For the price, this monitor is an excellent pickup giving you the option to enjoy games at great visual fidelity, whilst offering exceptional colour accuracy for productivity workstations.
Buy the HUAWEI MateView GT 34 on:
Conclusions
Philips 34E1C56 Monitor
Features

Design

Versatility

Value For Money
Summary
The Philips 34E1C56 Monitor is an interesting ultrawide design that gives consumers the opportunity to enjoy games, or other content at a crisp 1440P resolution with plenty of screen real-estate. Philips has included some nice features such as a Windows Hello compatible webcam, a 100Hz refresh rate, and plenty of different monitor configurations providing you a wide range of customisation. But despite the impressive feature-set, I really don't understand who this monitor is geared towards. The 1440P resolution seems weaker compared to the other monitors that I use regularly, and there aren't any productivity features that I'd say are vital for workstation users. I think the price of this monitor might be a bit too high when looking at the features, but there are very few ultrawide designs that sit at this price.
I'd say if you're looking for a cheaper 'gaming-esque' ultrawide then this display from Philips is a great choice. But if you're looking for a strong 1440P gaming display there are other options that won't be ultrawide but still offer excellent visuals. Overall I think Philips have done a good job in terms of price, but the panel resolution is definitely weaker compared to alternatives.
Pros
✅ 100Hz is a good refresh rate for smooth gameplay.
✅ Windows Hello camera is great for security purposes.
✅ Plenty of configuration and colour options.
Cons
❌ Not much swivel or tilt adjustment.
❌ 1440P resolution weaker compared to other options.
❌ Base response time is 4ms.