Introduction
Zotac has been a mainstay in the PC gaming and building space for quite some time. For those of you that have been building for a while, you'll be familiar with Zotac as the budget option for graphics cards. Back in the days of the GTX 1000 series, Zotac's AIB card were generally much cheaper versus the competition, and therefore were viable options for budget, or price conscious PC builds.
But in recent years Zotac have definitely stepped up their game. We've covered a significant range of Zotac products from Mini-PCs, high-end graphics cards, and more. This manufacturer has definitely cemented themselves more within the mid-range and top-end spaces, whilst still catering to those that can't quite afford the high-end options.
Zotac have been kind enough to send us a 3D printed, proprietary case of the Ztorm head. The Ztorm is Zotac's mascot and is seen on a lot of their products and merchandise and is comparable to a cute transformer/robot. We're pretty psyched to put a PC in this thing, so let's get building!
Suggested Article: Intel Core i5 13600K Review – A Mid-Range Performance Titan
Zotac RTX 4070 Performance Preview
Before delving into the PC build we wanted to offer some insight into the performance metrics of the Zotac Twin Edge RTX 4070 Spider-Man edition. We'll be looking at the performance in more detail later on in the article, so be sure to keep reading for a deeper analysis of the gaming performance.
To summarise, the RTX 4070 is a strong competitor at 1440p with relatively decent legs in 4K too, easily surpassing performance of the previous generation's mid-range options. Although this GPU is rather pricey, performance metrics are very strong overall. There is definitely a noticeable dip in framerates at 4K, but this card isn't necessarily geared towards 4K, so we're not concerned that the performance is weaker in comparison to alternative options.
But for this reason, we'd recommend gamers stick to 1440p gaming as opposed to 4K, or even 1080p. Based on this price of this GPU it would be wasted as a 1080p option, and 4K can be a bit too much at times, especially in more modern titled. The Zotac RTX 4070 will be ideal for mid-range system, especially for hitting those high refresh rates at 1440p.

1440p, High Settings
Avg: 158FPS
Preset: High
V-Sync: Off
Anti Aliasing: TSAA
Texture Filtering: 8x
Ambient Occlusion: High
Volumetric Lighting: High
Dynamic Shadows: Enabled
Model Detail: High



1080p, Comp. Settings
Avg: 288FPS
Preset: Low
V-Sync: Off
Render Distance: Far
TSR: Off
Global Illumination: Off
Ray Tracing: Off
Effects: Low
Post Processing: Low



1440p, High Settings, DLSS Perf
Avg: 148FPS
Preset: High V-Sync: Off DLSS: Performance Textures: High Particle Quality: High Tessellation: Near Shaders: High

1440p, High Settings
Avg: ---FPS
Preset: High V-Sync: Off DLSS: Performance Textures: High Particle Quality: High Tessellation: Near Shaders: High
Main Components
Case: Zotac Ztorm Head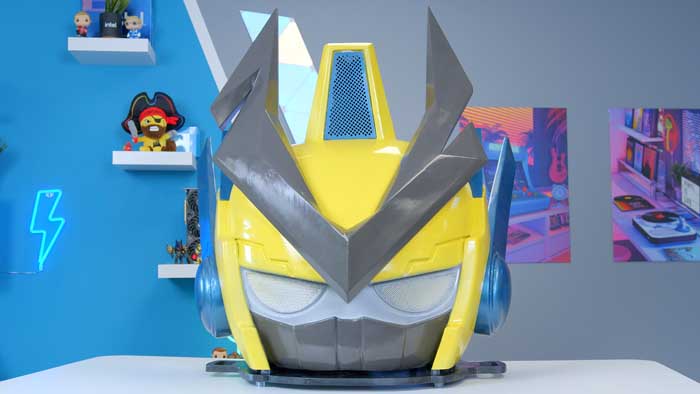 Introduction
First off is the proverbial star of this PC build, the Zotac Ztorm case. This case was especially 3D printed for this build, and it slots itself neatly on top of a case framework that allows us to install of the individual components. The Zotac head has been painted with a set of vibrant colours that give it a nice glossy look whilst providing some depth to the Ztorm itself.
Admittedly this case was rather difficult to build in at times. The framework itself, works similarly to a test-bench style build. You have the bare minimum when it comes to supports, and then all of the individual components screw in relatively easy with the Ztorm head being placed on top last. Airflow was a minor concern with this particular chassis, but as this build is more of a showcase system, we weren't massively worried.
Things We Like
Looks pretty cool: This case is definitely the 'wow factor' of this build. The Zotac Ztorm head offers a unique spin versus any case that we've ever used in a build. Definitely a winner on the aesthetic front.
Performs pretty well: Despite the airflow concerns, this case actually has an awesome set of components that make it a great performer as a mid-range system. This PC will be perfect for high framerate 1440p gaming.
Things We Don't Like
This case is an oven: Although the Ztorm case looks pretty cool, it is not thermally efficient at all. There are major concerns here in terms of airflow as there is effectively no ventilation.
It is massive: As you can probably expect, the Ztorm head is absolutely gigantic, and you'd be correct. It took two or three people to mount this case onto the actual framework so that we could finalise the build.
CPU: Intel Core i5 13600K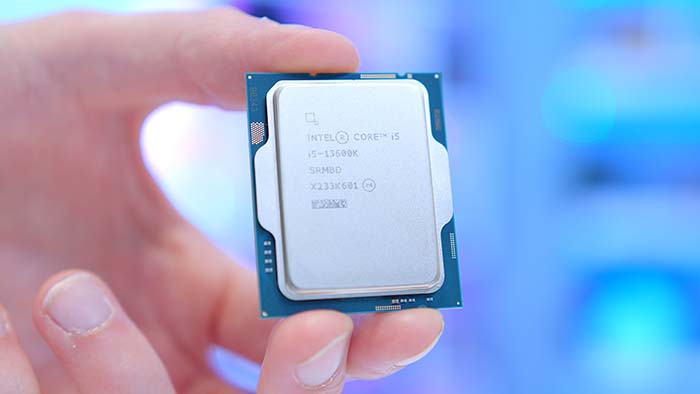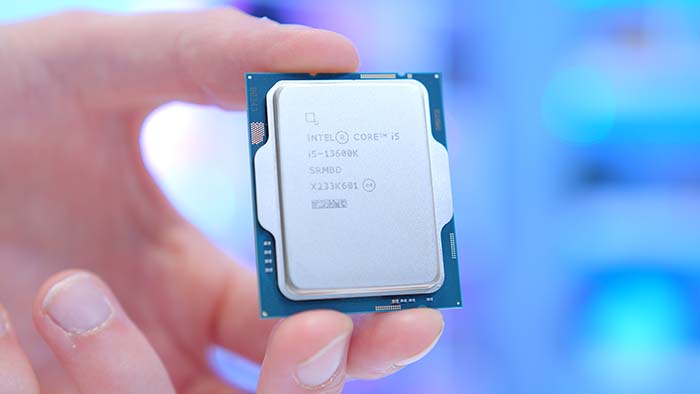 Introduction
Intel's Core i5 13600K is a component that we've recommended time and time again for those building a mid-range system. This CPU is an underdog and a titan of the 13th-Gen options, providing consumers with excellent single core and multithreaded performance too. The 13600K always surprised us, offering incredible metrics in some of the most popular games, with the capability of playing 4K games without any problems. This CPU is also great for workstation applications too due to the stronger core and thread count.
On top of all of the performance bonuses, you can pick up this CPU at a very competitive price point. The 13600K sits around $300 and is likely to drop below this over time, especially when the 14th-Gen range of CPUs releases. Overall, I'd argue that the 13600K is an extremely solid option for those building a mid-range system, and we'd urge consumers to definitely take a look at this performance beast.
Key Specs
| Key Spec | Intel Core i5 13600K |
| --- | --- |
| Base Clock Speed | 3.5GHz |
| Boost Clock Speed | 5.1GHz |
| Core Count | 14 |
| Thread Count | 20 |
| Max Turbo Power | 181W |
| Overclockable | Yes |
Things We Like
Powerhouse of performance: The Core i5 13600K is one of the most powerful CPUs on the market. This processor is comparable to the previous generation's Core i9 12900K, and is fully capable of 4K gaming with good legs in workstation applications too.
Competitively priced: The 13600K is also one of the cheapest options available on the market right now, sitting around the $300 mark. Although this doesn't quite sit within the budget category, I'd argue it is an excellent choice for those wanting top-end performance, but minus the high price tag.
Things We Don't Like
There are better options for workstations: Although the 13600K has great legs in productivity applications, there are still a number of better options available for high intensity applications. If you need more cores and threads, we'd recommend looking at the Core i7 and i9 ranges.
Weaker 4K performance: The Core i5 13600K is a strong competitor when it comes to gaming, but 4K can be a struggle at times. If you need top-end gaming performance, there are a number of more powerful options designed to handle higher resolutions.
Want to know more? Check out our Core i5 13600K Review!
Where to Buy
Buy the Intel Core i5 13600K on:
CPU Cooler: bequiet! Silent Loop 2 280mm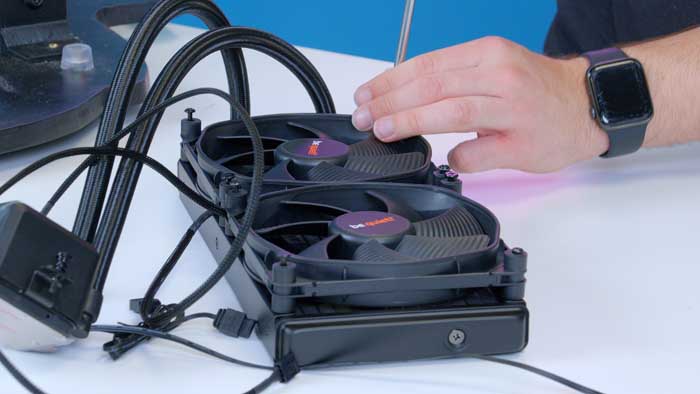 Introduction
To keep our Core i5 13600K nice and cool, we've picked out bequiet's Silent Loop 2, 280mm version. 280mm isn't the most commonly used radiator configuration as it requires the manufacturer to utilise 140mm fans instead of 140mm options. However, because the fans are larger and thus require more radiator space, these AIOs are often stronger performers in comparison to traditional 240mm liquid coolers.
The Silent Loop 2 in particular is designed for high-end systems that need near-silent operation. Bequiet have put silence at the forefront of this design ensuring that each individual component part of the pump and loop is whisper-quiet. This allows you to enjoy high intensity applications, but without the worry of having to dial up your headset to max volume so you can't hear anything.
Key Specs
| Key Spec | bequiet! Silent Loop 2 280mm |
| --- | --- |
| Fans | 2 x 140mm |
| Max RPM | 280mm |
| Connector Type | PWM 4-Pin |
| RGB | No |
| Radiator Size | 340mm x 140 x 52mm |
Things We Like
Extremely quiet: The bequiet Silent Loop 2 is one of the quietest coolers that we've ever had in the GeekaWhat office. Even with the case offering weaker ventilation, this AIO still held up very well versus a multitude of other higher-end options.
Pretty reasonably priced: Although this definitely isn't what we'd consider a budget liquid cooling option, it also isn't the most expensive either. If you're looking for a solid mid-range to high-end cooler, we'd recommend taking a look at the Silent Loop 2.
Things We Don't Like
May limit case choices: As 280mm radiators are a bit more niche, not all cases will support this size. This means that you might be slightly limited in your case options as you'll need to find a chassis that supports 280mm radiators.
Will impose clearance issues: The radiator on this cooler is quite large, and sits at a length similar to that of some RTX 4000 series AIBs. For those with larger components in their build, you'll need to double check you have enough clearance to install this cooler.
Where to Buy
Buy the bequiet! Silent Loop 2 280mm on:
Motherboard: Gigabyte B760M Gaming X DDR4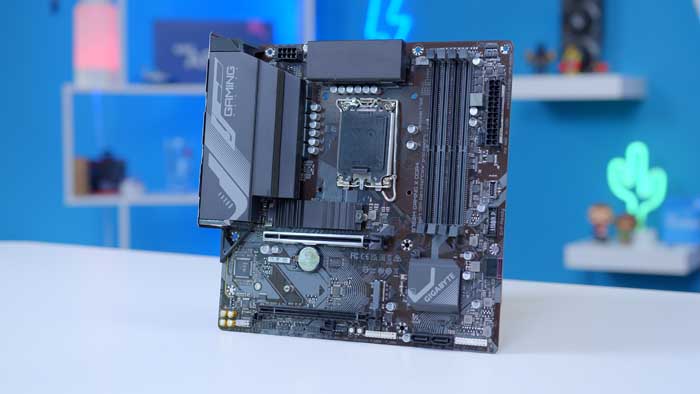 Introduction
For our motherboard, we've picked out Gigabyte's B760M Gaming X DDR4 edition. This Micro-ATX motherboard is perfect for this system, as the smaller form factor should help keep our build footprint nice and compact. This DDR4 option comes equipped with a solid set of modern rear IO choices, a wide array of usability features to make building much easier, along with two Gen4 M.2 SSD slots.
Although this isn't the best looking motherboard on the market, I'd argue that it doesn't really matter that much for this build. As the Ztorm case is sitting at the forefront of the aesthetic here, a slightly more boring motherboard isn't a major concern. Based on the price and the excellent feature set, I'd say that this board is more than reasonable for a mid-range build, especially if you're not overclocking.
Key Specs
| Key Spec | Gigabyte B760M Gaming X DDR4 |
| --- | --- |
| Form Factor | Micro-ATX |
| Max Memory | 128GB DDR4 5333MHz |
| PCI-E x16 Slots | 1x PCI-E 4.0 |
| PCI-E x4 Slots | 2x PCI-E 4.0 |
| Rear IO | 3x USB 3.2 Gen1, 5x USB 2.0 |
| Networking | 2.5 Gigabit LAN |
Things We Like
Solid set of rear IO: The B760 Gaming X has a great set of rear IO for you to choose from. Although this doesn't have the most modern choice of ports, there's eight in total, allowing you to plug in a massive number of accessories and peripherals.
Reasonbly priced: The B760 chipset is one of the cheaper options when it comes to motherboard selection. The Gigabyte Gaming X in particular is one of the lowest priced boards on this particular chipset, making it ideal for price conscious buyers.
Things We Don't Like
Limited PCI-E slots: Due to the form factor of this motherboard, there are a reduced amount of PCI-E slots. For those installing multiple graphics cards, or consumers needing plenty of drive space, this board won't be a great option to pickup.
No onboard WiFi: Unfortunately the Gaming X board doesn't come equipped with any onboard WiFi. Consumers that aren't able to plug in an ethernet cable, you'll want to look at alternative motherboards that supports an onboard WiFi module.
Where to Buy
Buy the Gigabyte B760M Gaming X DDR4 on:
RAM: Lexar Ares RGB 32GB DDR4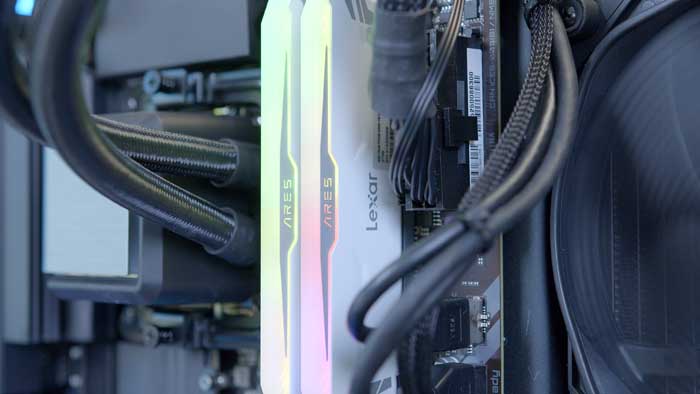 Introduction
For our RAM kit, we've picked out Lexar's Ares RGB 32GB DIMMS. Lexar is a relatively lesser known brand in the RAM space, but they offer some pretty solid gaming-oriented kits at reasonable prices. The particular kit that we've picked out today is the Ares set of DIMMs which offers some nice RGB, providing some additional flair to the build.
This kit is also 32GB which should provide an ample amount of RAM for gaming, but is also ideal for workstations too. These DIMMs are also extremely fast, clocking in at 4000 mega-transfers, making it perfect for more intense workloads, or for overclocking. We're pretty happy with this kit as it provides some alternative DDR4 options on the market to combat Corsair's dominance.
Key Specs
| Key Spec | Lexar Ares RGB DDR4 |
| --- | --- |
| Kit Capacity | 32GB |
| Memory Speed | 3600MHz |
| CAS Latency | CL18 |
| RGB | Yes |
| Colour Options | Black/White |
Things We Like
Solid speed: This kit of DDR4 DIMMs clocks in at 4000MHz which makes it perfect for both gaming and productivity applications. Definitely a winner for those building a high-end system.
Excellent price: DDR4 RAM is incredibly cheap right now, making these high capacity kits a worthwhile consideration for those that need more RAM for intense workloads and applications.
Things We Don't Like
High speed may cause instability: Higher RAM speed kits that surpass the 3600MHz mark can often cause instability issues. If you're not familiar with manual RAM overclocking we'd advise looking at other kits that have a lower speed that can be changed easily with XMP.
Will be deprecated in a few years: DDR5 DIMMs are slowly becoming much cheaper and offering improved performance versus DDR4. As the performance demand for workstation and gaming increases, a kit like this Ares option will become deprecated.
Where to Buy
Buy the Lexar Ares RGB 32GB DDR4 Kit on:
SSD: Lexar NM790 1TB
Introduction
Lexar's NM790 1TB Gen4 SSD is a new option on the market as part of Lexar's brand new gaming SSD line-up. This particular SSD offers a 1TB capacity ideal for installing your favourite games, whilst utilising it as a boot drive. In terms of speeds, the NM790 can provide up to 7400MB/x sequential read, and 6500MB/s sequential write.
This Gen4 drive is perfect for modern gaming. Although I wouldn't say it is a requirement at the current moment in time, these faster drives will become all the more necessary in the future. As we get access to the new Active Storage technology, we're likely to see gaming framerates significantly improve and having a faster SSD will be vital to ensure this.
Key Specs
| Key Spec | Lexar NM790 |
| --- | --- |
| Capacity | 1TB |
| Read Speeds | 7600MB/s |
| Write Speeds | 6500MB/s |
| Interface | PCI-E Gen4 x4 |
| Form Factor | M.2 2280 |
Things We Like
One of the fastest Gen4 options: The Lexar NM790 is one of the best and fastest options when it comes to read and write speeds. This almost puts it on par with the top titans such as Seagate's Firecuda 530, or Samsung's more recent 990 Pro.
Provides longevity: As I've alluded to above, having a Gen4 drive is not pivotal for a gaming PC, or even a workstation PC at the best of times. However, as performance demand increases, a high speed drive like the NM790 will be vital in ensuring your PC can keep up with modern demands.
Things We Don't Like
1TB is not enough for a workstation: Although we're not necessarily advertising this PC as a workstation system, we would advise consumers to pick up a higher capacity drive or more of them for a workstation system that handles larger files and applications.
No heatsink option: If you're the kind of user looking for a cheap drive to plug into your PS5, the NM790 unfortunately won't be it. This drive doesn't have a heatsink option and therefore won't be compatible with the PS5.
Where to Buy
Buy the Lexar NM790 1TB on:
GPU: Zotac TwinEdge RTX 4070 Spiderman Edition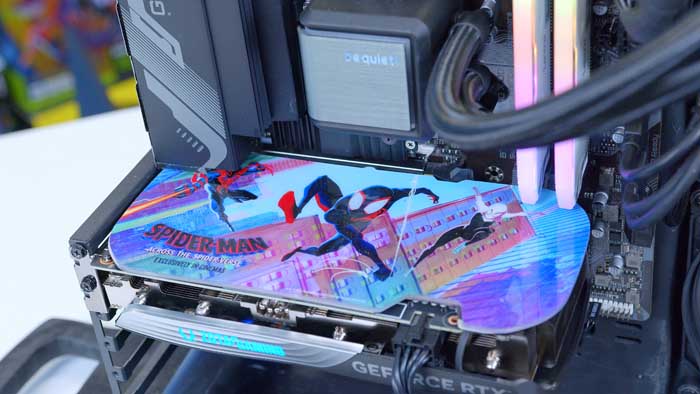 Introduction
Moving onto the graphics card, as this is a Zotac build, we figured out we'd pick out a Zotac GPU to fit in with the awesome aesthetic of the case and the various components. Zotac has recently released an entirely new range of Spiderman themed graphics cards with the release of the new film by Sony Spiderman – Into the Spiderverse. This card offers a metal black plate that simply magnetises to the GPU offering an entirely new aesthetic that can spice up your build.
Performance wise, the RTX 4070 is an absolute beast when it comes to 1440p gaming, surpassing the 144Hz sweet spot in the majority of titles (including modern triple A games too). The RTX 4070 also has pretty decent legs at 4K too, with consumers being able to enjoy very playable framerates across most games. This card does struggle in more modern titles at 4K, but with settings like DLSS or FSR enabled, the overhead isn't as significant.
Key Specs
| Key Specs | Zotac TwinEdge RTX 4070 Spiderman Edition |
| --- | --- |
| Video Memory | 12GB GDDR6X |
| Memory Bus | 192 bit |
| Base Clock Speed | 1.92GHz |
| Boost Clock Speed | 2.47GHz |
| CUDA Cores | 5888 |
| Power Consumption | 200W |
| RT Cores | 46 |
| PCI-E Generation | PCI-E 4.0 |
| GPU Length | 250mm |
| Fans | 2 |
| RGB | No |
Things We Like
Awesome gaming performance: The RTX 4070 is an excellent card geared towards those playing games at a 1440p resolution. It can also handle 4K relatively well too, but can struggle to a degree in some titles, especially with Ray-Tracing enabled.
Spiderman design looks awesome: The Spiderman backplate is an awesome design that provides some addition flair without having to change much. Users can simply clip on the backplate and install the GPU!
Things We Don't Like
AIB card is more expensive: Unfortunately, as this card is a specialist design and offers some extra features versus the Founders Edition it is a fair bit more expensive in comparison to the MSRP price tag.
The magnetic backplate is a little bit tacky: Although the interchangeability is nice, the magnetic backplate is quite tacky. I feel Zotac could have done a better job to provide a unique design that isn't just a cheap plate that sticks on the back.
Where to Buy
Buy the Zotac TwinEdge RTX 4070 Spiderman Edition on:
PSU: bequiet! Straight Power 11 750W Platinum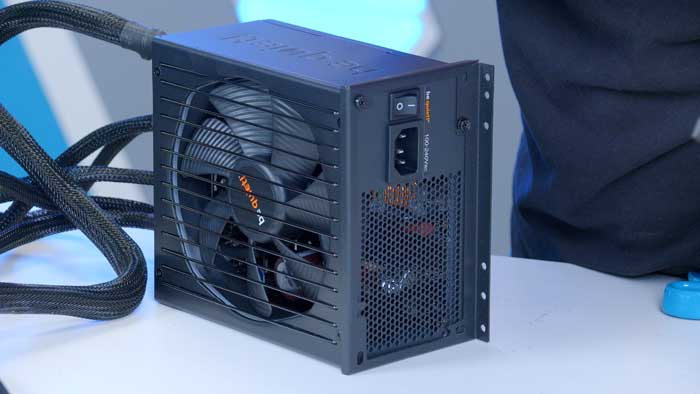 Introduction
For our final main component, we've picked out the Straight Power 11 750W platinum power supply from bequiet!. This PSU is an excellent option for this build as it is able to provide incredible efficiency, whilst still maintaining low noise levels. This unit is designed with efficiency and silence in mind by minimising any power lost as noise or heat.
The Straight Power 11 is also fully modular, so this should aid with any cable management issues, whilst also allowing you to pick and choose exactly which power connectors you need for all of your components. This PSU is also equipped with a Silent Wings 3 Fan, which should aid in airflow around the system whilst still keeping noise levels quieter.
Key Specs
| Key Spec | bequiet! Straight Power 11 750W Platinum |
| --- | --- |
| Wattage | 750W |
| Efficiency Rating | 80+ Platinum |
| Modularity | Fully modular |
| ATX Standard | ATX 2.0 |
| Zero Fan Mode | No |
Things We Like
Excellent efficiency rating: There are few 750W options on the market that offer such high efficiency ratings. The Straight Power 11 is an excellent option for the price conscious buyer as the platinum rating should keep heat and noise levels should be kept to a minimum.
Easy to cable manage: If you're like me, and you hate having to get your cables nice and tidy, this PSU is a perfect option. The fully modular design allows you to plug in exactly what cables you need, and then you can jam them away in your case and forget about them.
Things We Don't Like
Pretty expensive: Unfortunately, this PSU is not a cheap option by any means. Although this is likely to save you some money in the long run, the initial cost is likely to be a big deciding factor for many consumers.
Doesn't offer a zero-fan mode: For those of you that prefer silence when your PC isn't under any stress, this unit won't be a great option to pick out. Although the Straight Power 11 is relatively quiet overall, the lack of a zero-fan mode is disappointing and would aid with noise levels when your PC isn't under much load.
Where to Buy
Buy the bequiet! Straight Power 11 750W Platinum on:
Mid-Range Peripherals
After picking out all of the main components for a PC build you'll also want to pick up some peripherals too, to ensure you can leverage a high quality gaming experience. We know how complicated it can be to find good options, so we've rounded up some of our favourite options.
Steelseries Aerox Wireless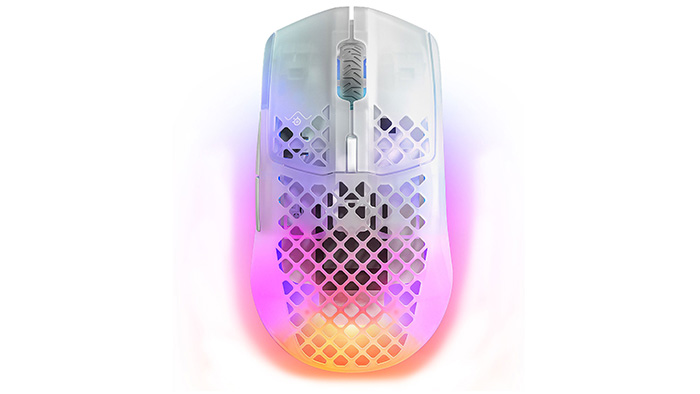 First up is the Aerox 3 Wireless from SteelSeries. We've recommended this mouse a number of times for mid-range builds, because it is awesome. The honeycomb aerated design allows you to easily glide your mouse across the surface, whilst also minimising the amount of weight, making this a great option for competitive games. The vibrant RGB lighting can easily be seen through the hex design seen on the chassis of the mouse. Consumers can pick this mouse up in white or black and configure the lighting and colours easily, using SteelSeries' software.
Buy the SteelSeries Aerox 3 Wireless Mouse on:
Cooler Master CK721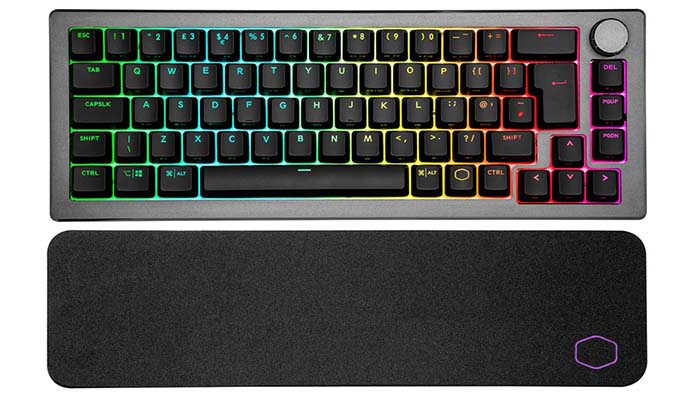 Next up is the CK721 from Cooler Master. Cooler Master is a bit of an underdog when it comes to peripherals, but there are some really solid options, especially if you're looking for a cheaper design. The CK721 specifically is a 65% keyboard, providing portability due to the smaller size. Consumers can choose between three different switch types (linear, clicky or tactile), suiting your preference. This keyboard is also wireless, supporting both 2.4GHz and Bluetooth 5.1 for those that prefer a wireless connection, or wired, for consumers that prefer more stability.
Buy the Cooler Master CK721 Keyboard on:
Logitech G733 Wireless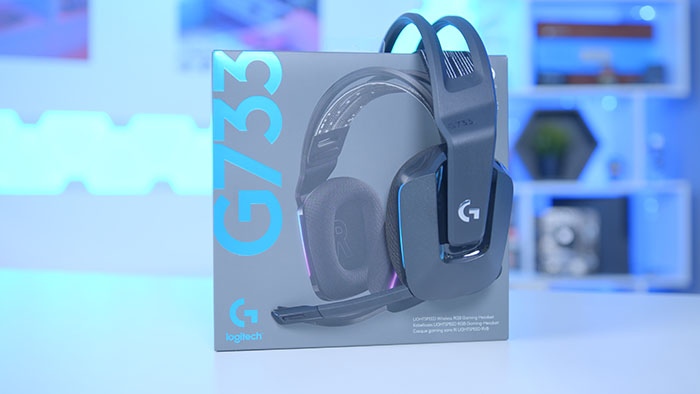 And finally, the Logitech G733 Wireless headset is our last peripheral to pair up with the PC build. Logitech is one of our favourite manufacturers when it comes to peripherals, and the G733 is quite possibly one of the best mid-range headsets on the market when it comes to sound and microphone quality. Logitech utilise DTS Audio, and also have equipped the G733 with BLUEVO!CE which allows consumers to change microphone quality or add filters. This lightweight design is definitely a winner if you're looking for an excellent wireless mid-range headset.
Buy the Logitech G733 Wireless Headset on:
RTX 4070 Gaming Benchmarks
[smartslider3 slider="64″]
Gallery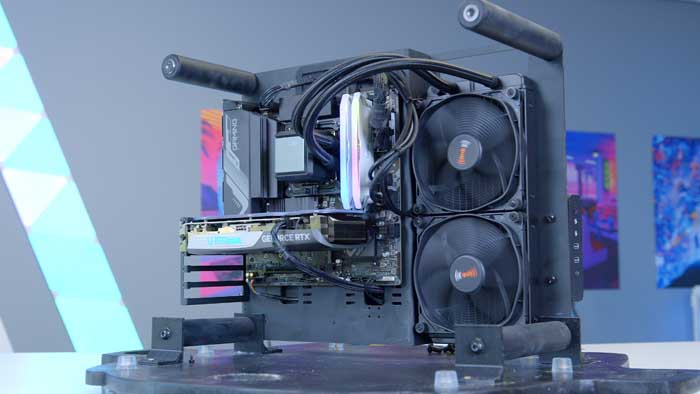 Video