Introduction
Finding a high-quality audio solution is an important factor when putting together a gaming setup as it enhances the experience in a way that other peripherals simply can't. There are a number of ways to improve the sound-quality, but a gaming headset is the got-to choice due to the improved communication and ability to block out distractions.
With an abundance of choices on the market, it can be difficult to decide which headset is the one that will dial your gaming experience up to 11. Here at GeekaWhat, we're trying provide the answer one headset at a time.
Today, we're looking at the latest addition to Corsair's range of wireless gaming headsets, the HS55 Wireless. As always, we'll be giving you all the details about the design, features, and performance of this headset, then rounding things off with our thoughts.
Buy the Corsair HS55 Wireless on:
Suggested Article: The Best Gaming Headsets to Buy in 2023
Do I Need A Gaming Headset?
In short, no, you don't need a gaming headset. Unlike other gaming peripherals, a headset isn't required in order to start playing your favourite PC games. Whilst it would be almost impossible to play games without a keyboard or mouse, a headset won't make a game unplayable.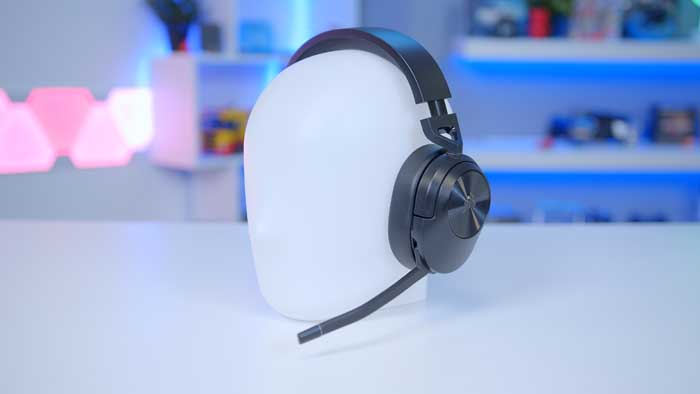 However, that doesn't mean it shouldn't be considered an essential part of a gaming setup. A high-quality gaming headset provides plenty of quality-of-life improvements, and goes a long way in creating a more comfortable gaming experience. Along with providing a better way to chat with friends and team-mates, having unobstructed sound helps to improve immersion compared to speakers or other audio-based upgrades.
Because of this, we'd suggest that all gamers should grab themselves a gaming headset once they have finished buying everything they need to start playing their favourite games. Whether you are playing competitive titles online with friends, or just looking to sit back and enjoy a single-player adventure, a headset provides plenty of benefits to gameplay that makes them worth the purchase.
Corsair HS55 Wireless Design & Aesthetics
Now, let's take a look at Corsair's latest offering, the HS55 Wireless. Opening up the box, you'll see the wireless headset with the USB wireless receiver and charging cable. My first reaction when taking the HS55 Wireless out of the box was to be sceptical over the design choices.
Anyone familiar with the pre-existing wired version of this headset won't be in for any surprises here, as it shares an almost identical design with the original HS55. Whilst the aesthetics on this headset looks sleek and stealthy thanks to the shiny exterior and pleather cushioning, it is a fairly simplistic design that fails to stand out from other headsets on the market.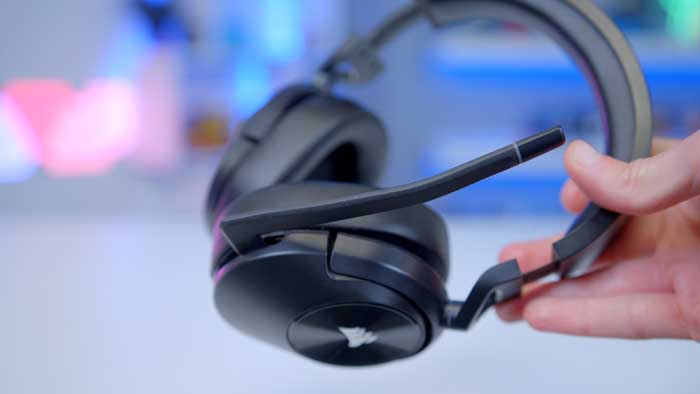 But my main concerns here came from the build quality and comfort. The headband set off a few alarms in particular, as the rigid plastic feels like it could snap fairly easily if it wasn't handled with care. Also, having the padding directly attached to the headband usually leads to a headset feeling less comfortable during long sessions, and makes it prone to suffer from wear and tear.
Suggested Article: Best Wireless Gaming Headsets to Buy in 2023
After using the HS55 Wireless for a few days, it managed to dampen some of these initial concerns, and surprised me with how comfortable they felt during longer use sessions. The lightweight design of the HS55 Wireless means that this headset doesn't start to weigh you down after a few hours of gaming, and the memory-foam padding earcups are comfortable enough for long sessions.
In terms of design, the HS55 Wireless is by no means perfect, but it acts as a fairly safe option that will leave most gamers happy. However, there are a few areas for improvement, and the design leaves me with concerns over the longevity of this headset.
Corsair HS55 Wireless Features
Though the design of the HS55 Wireless left a lot to be desired, perhaps the features will be able to make up for it. Here are some of the key features that have been implemented into this headset in an attempt to enhance your gaming experience.
Wireless Connectivity
Like most products in recent years, gaming headsets with wireless connectivity now offer some serious competition for their wired counterparts. Corsair appear to have noticed this, as this headset offers strictly wireless connection options. Connecting through either Bluetooth or a 2.4GHz USB receiver, the HS55 Wireless lasts for up to 24 hours, and offers freedom of movement for up to 50ft away.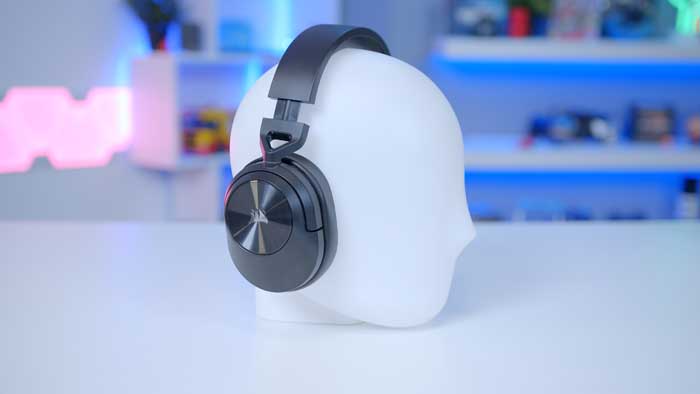 50mm Neodymium Audio Drivers
One area of the HS55 Wireless that instantly impressed was the sound quality. Even on the lowest volume settings, the base sound was very loud and clear -almost too loud at times! The main reason for this booming audio is the 50mm neodymium audio drivers that rival some of best gaming headsets on the market. If you are a big audiophile, then the performance of the HS55 won't let you down.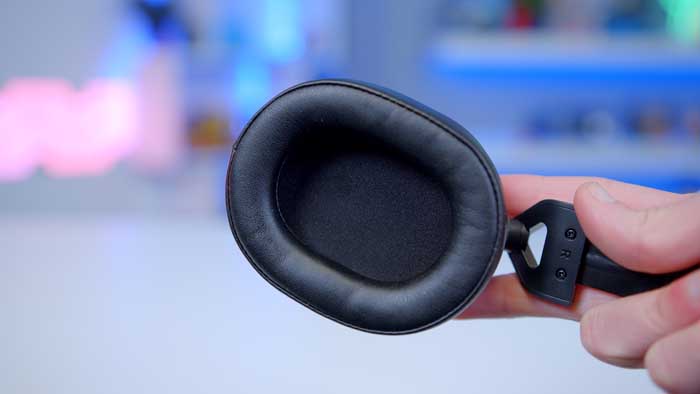 Dolby Audio 7.1 Surround Sound
To add to the already solid audio quality on the HS55 Wireless, Corsair have added support for Dolby 7.1 surround sound. This technology allows gamers to pinpoint where a sound is coming from in relation to their position, resulting in a more realistic gaming experience. In turn, this combines with the drivers to block out any external sounds to let you zone in on the game.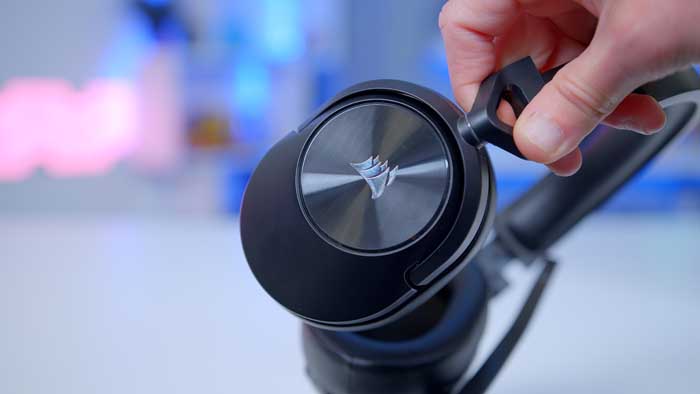 Flip-to-Mute Mic
When it comes to communicating, the HS55 Wireless includes a flip-to-mute microphone. Whilst it is a nifty feature that has become synonymous with Corsair headsets, a detachable microphone would have been a better inclusion in our opinion. The mic often gets in the way when not in use, and the ability to remove of it would have contributed to the lightweight design more. Otherwise, the Discord Certified microphone performs fairly well, and the sound can be tweaked in iCUE for more customised verbal communication.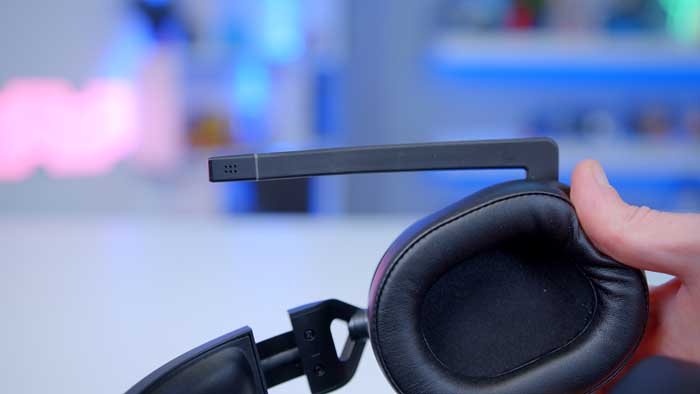 On-Ear Volume & Mute Controls
As a wireless headset, on-ear controls are required to make adjustments on the fly and without the need for external software. The controls included on the are fairly straightforward, with the expected power, Bluetooth, and mute buttons, along with a volume rocker and LED indicator for real-time reports on battery and connection status. These inputs are all located in ideal spots that make adjustments quick and easy, even during the most tense gaming moments.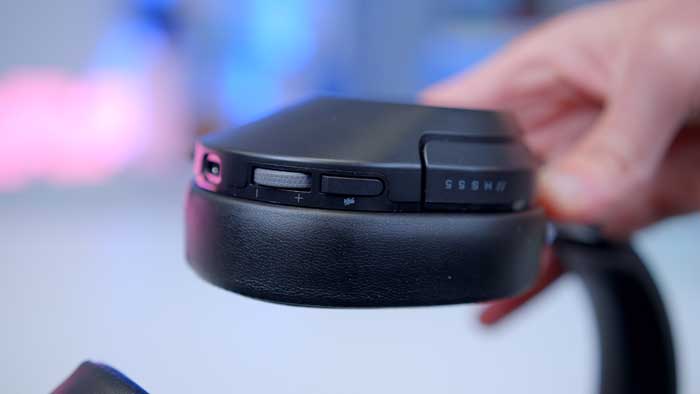 Corsair iCUE Compatibility
We've gone on record numerous times to say that Corsair's iCUE is one of the best software's for gaming components and peripherals right now, so it's to see another product making the most of it. Connecting the HS55 Wireless up to Corsair iCUE opens up the customisation options, such as custom EQ profiles and voice prompts, leading to an experience that is more suited to your gaming needs.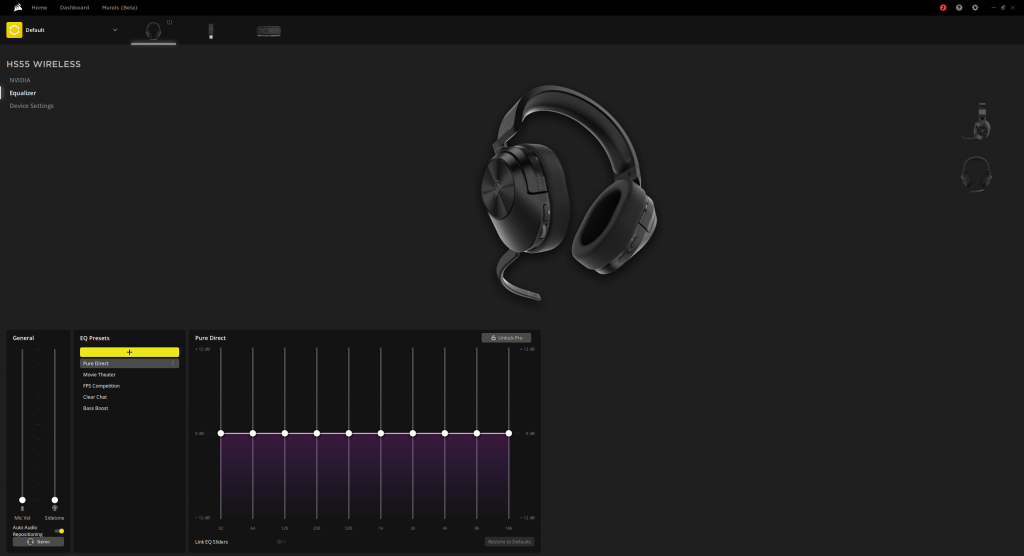 Alternatives
Corsair HS80 Wireless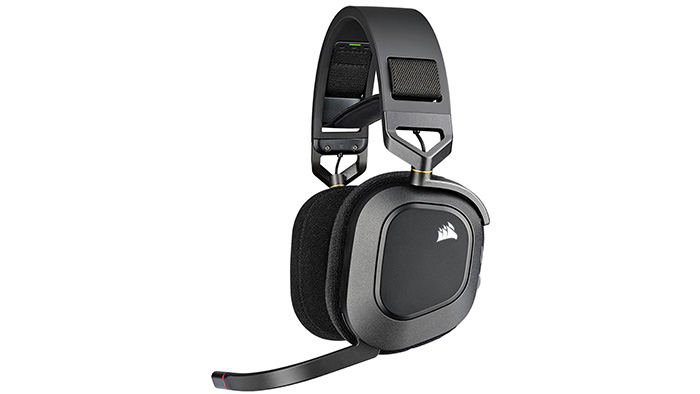 For anyone looking to stay with Corsair for their gaming headset, then the HS80 is a great choice. Even though it is a bit pricier than than the HS55, this headset has similar performance features to its cheaper counterpart, but adds an improved design that seriously makes this upgrade worth considering.
✅ Comfortable floating headband design
❌ More expensive
Buy the Corsair HS80 on:
Logitech G733 Wireless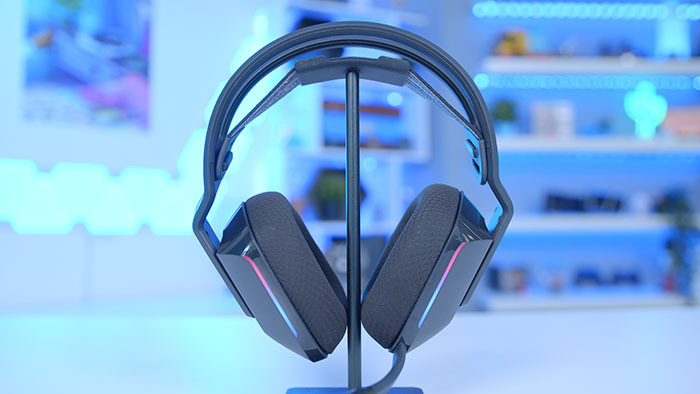 If sticking to Corsair isn't a concern , then the Logitech G733 Wireless is arguably the best choice within a similar price range. And whilst this headset is not the cheapest, it is great value for money, as it combines a comfortable design with solid performance and connectivity. If you want to learn more, check our full coverage of the Logitech G733.
✅ Excellent design & connectivity
❌ Doesn't include ANC
Buy the Logitech G733 on:
ASUS ROG Delta S Wireless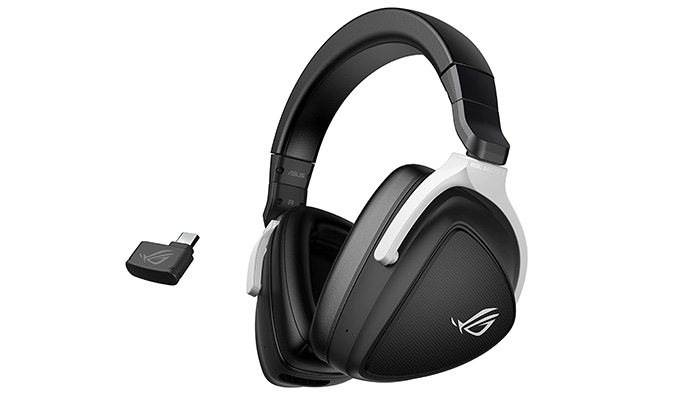 With comfort being one of the main concerns with the HS55 Wireless, the ASUS ROG Delta S Wireless is an alternative option that has no such issues. Despite the similar leather feel, the padding is well-cushioned for an extremely comfortable design that is perfect for long gaming sessions. To learn more, take a look at our full review of the ASUS ROG Delta S Wireless.
✅ Comfortable & subtle design
❌ Fairly poor mic quality
Buy the ASUS ROG Delta S Wireless on:
Conclusion
Corsair HS55 Wireless
Design

Features

Sound Quality

Value For Money
Summary
As far as gaming headsets go, Corsair's HS55 provides pretty much what you would expect from a cheaper wireless option. The only real problem I have with this design is that it had the potential to be so much more! Starting off with the positives first, the HS55 Wireless has some brilliant sound quality that is guaranteed to make you feel honed into whatever game you are playing. Paired with the vast range of options within Corsair's iCUE software and strong wireless connectivity, this headset has the essentials needed to keep most gamers happy. 
However, there are a few design choices that let this headset down. Whilst this headset is fairly comfortable due to how lightweight it is, the materials used feel fairly cheap for a headset within its price range, making it more susceptible to damage over time. The plastic headband is the main culprit, with the rigid plastic and attached padding feeling more uncomfortable after a while. On top of this, the flip-to-mute microphone is a bit of a nuisance as it often gets caught when putting the headset down, and the subtle design doesn't portray the premium look that was perhaps intended.
Though the Corsair HS55 Wireless looks nice and sounds even better, the price tag puts it just under some of the best wireless headsets on the market, making it hard for us to say that it's worth getting at this moment in time.  
Pros
✅ Solid audio quality for gaming
✅ Corsair iCUE offers lots of customisation
✅ Strong and versatile wireless connectivity
Cons
❌ Strange design choices for the price
❌ No wired connection option
❌ Microphone does not detach