Introduction
MSI is a titan in the PC components space, offering a massive range of product options across the entire scope of PC building, peripherals, accessories, and more. One particular market that they've tapped into is cooling. Although MSI isn't exactly the most well known manufacturer when it comes to cooling, they've really started to step up their game over the past couple of years, offering a myriad of liquid AIOs that cater to a plethora of use-cases.
In today's review, we'll be taking a look at the MAG CoreLiquid E360, a triple-fan 360mm option which seeks to combat other high-end options by coming in at a rather tantalising price point. We'll be doing a deep dive on the aesthetics of the CoreLiquid E360, along with performance metrics, and we'll be taking a look at some potential alternatives at the end.
Buy the MSI MAG CoreLiquid E360 on:
Suggested Article: Best 360mm Liquid Coolers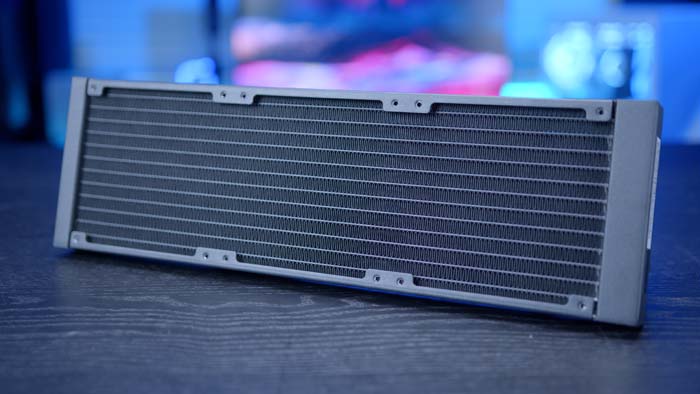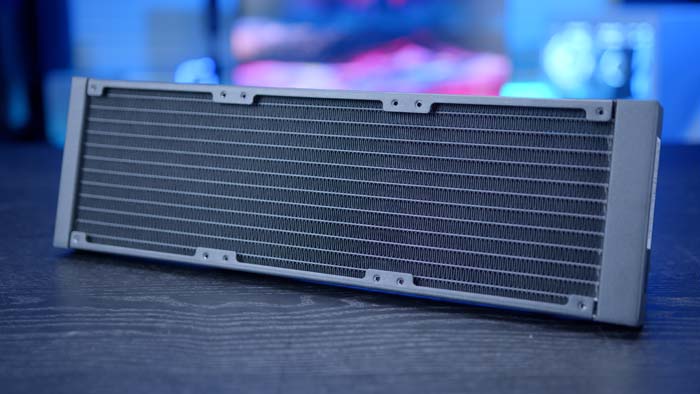 CPUs like the Core i7-13700K, or even AMD's Ryzen 7700X boast rather high temperature thresholds. This means those pushing these CPUs with more intense multi-core workloads will see very high thermals, which in turn requires a strong cooler to handle them.
Which leads us to our next question, are 360mm options starting to become a requirement? Or are they just plain overkill? It depends on your use-case, but 360mm coolers are really starting to become the norm for some mid-range and the vast majority of high-end CPU options. Due to the increased power consumption that comes with more cores, threads, and higher boost clock capability, all of the new generation of processors kick out a lot of heat. It is for this reason that 360mm coolers are becoming more of a requirement to handle and deal with the heat.
For budget and some other mid-range systems, a 360mm liquid cooler is overkill, because your CPU isn't likely to output enough heat for a large radiator to be needed. But with newer CPU options that have a TDP of 250W or more, you're going to want to consider picking up a 360mm cooler, especially if your system is designed for more intense multi-core workloads.
MSI MAG CoreLiquid E360 Design & Aesthetic
Moving onto the design of the CoreLiquid E360, MSI have opted for a more minimalist aesthetic. All three of the radiator fans are RGB, which provides consumers with some additional flair to play around with and configure within MSI's Mystic Light software. The top of the CPU block is also RGB as well, featuring a rounded circular design with a ring of lighting around the top.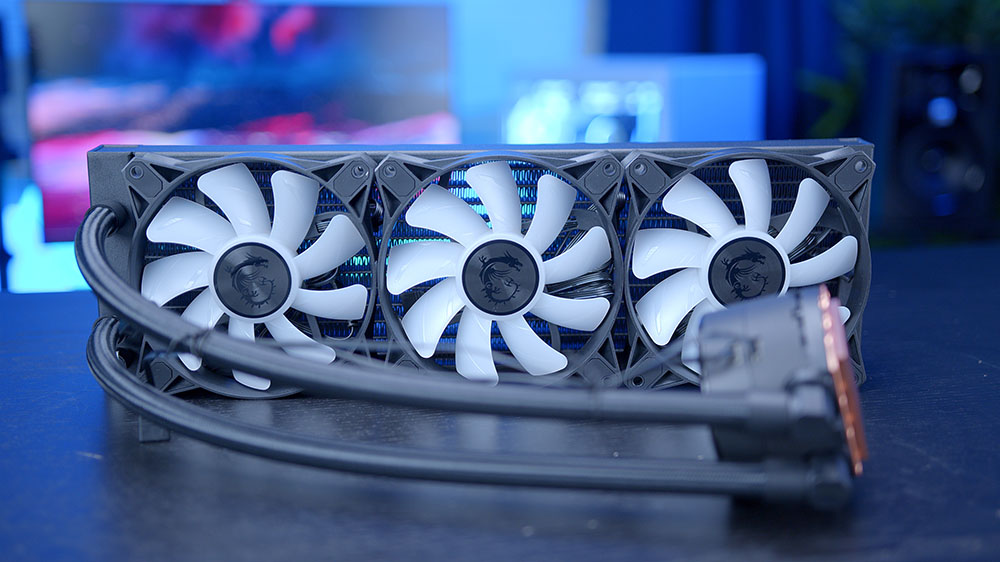 The CPU block of the E360 is also fully rotatable, which is something we'll touch upon later. This just adds some more usability to the cooler, alleviating some of the hassle when building a PC. Looking at size, the E360 comes in with a height of 27mm, which is pretty standard for a 360mm AIO. The radiator itself isn't particularly large, so you shouldn't have any major clearance problems within your case, as long as the chassis officially supports 360mm coolers.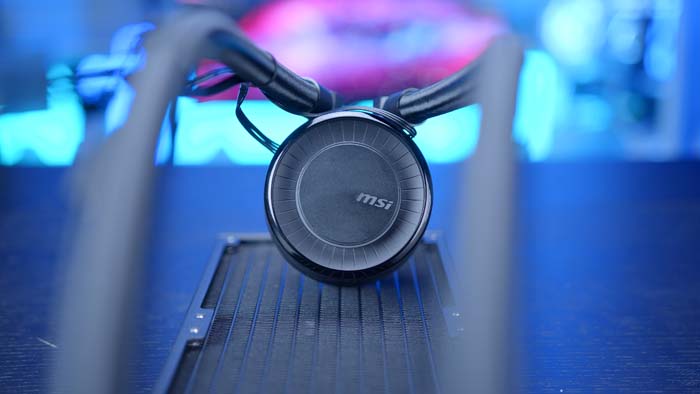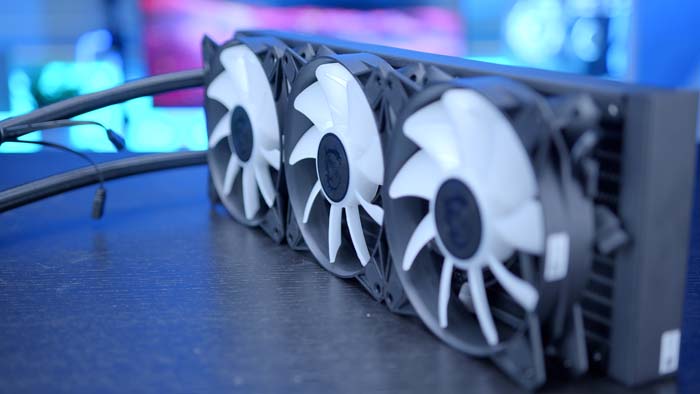 Overall, the design of the CoreLiquid E360 isn't impressive, but it also isn't disappointing, I feel almost neutral about it. As always, you've got the choice between white or black, and the additional RGB is a nice touch. I imagine MSI haven't put much of a priority on the aesthetic in order to save some costs, which is a point that we'll be touching upon later. Regardless, the E360 is a relatively nice looking 360mm AIO, but don't expect to be blown out of the water by any insane or crazy design choices.
Rotatable Block Head Design
Normally we'd use this section to talk about the features, but because the E360 isn't exactly jam packed, there isn't much to talk about. However, the rotatable block head is worth briefly touching on. When installing your cooler and getting the CPU block head mounted, you might quickly realise that you've mounted the block upside down. But by having a rotatable head, all you need to do is quickly rotate the blockhead, allowing you get the cooler upright.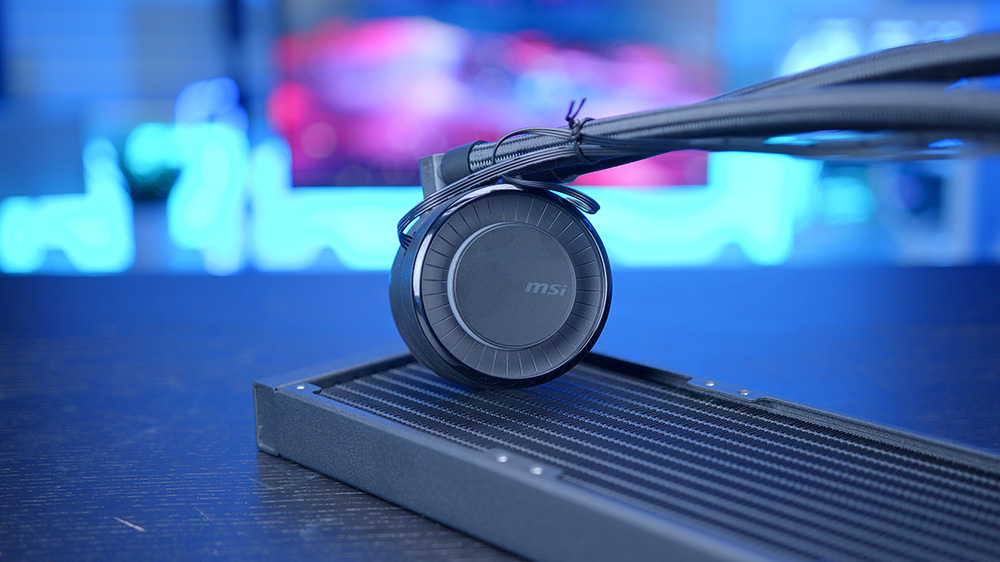 This ultimately saves some time and hassle when it comes to building. As I've alluded, MSI haven't gone crazy on the feature-set of this cooler, but including quality of life features like this is just a nice touch. Its great to see manufacturers make building easier, especially when liquid coolers can at times, be a nightmare to install.
Thermals
To see how this cooler holds up against the rest of the market, we've put it through the wringer within a range of different benchmarks. To do this, we fired up HWInfo to see what temperatures our CPU was hitting, and ran Cinebench, along with Prime95. These benchmarks are designed to see how a cooler handles multi-core and single core loads. The system that was used ran a Core i7-13700K, which is a solid middle ground for single and multi-core metrics.
Prime95 Stress Test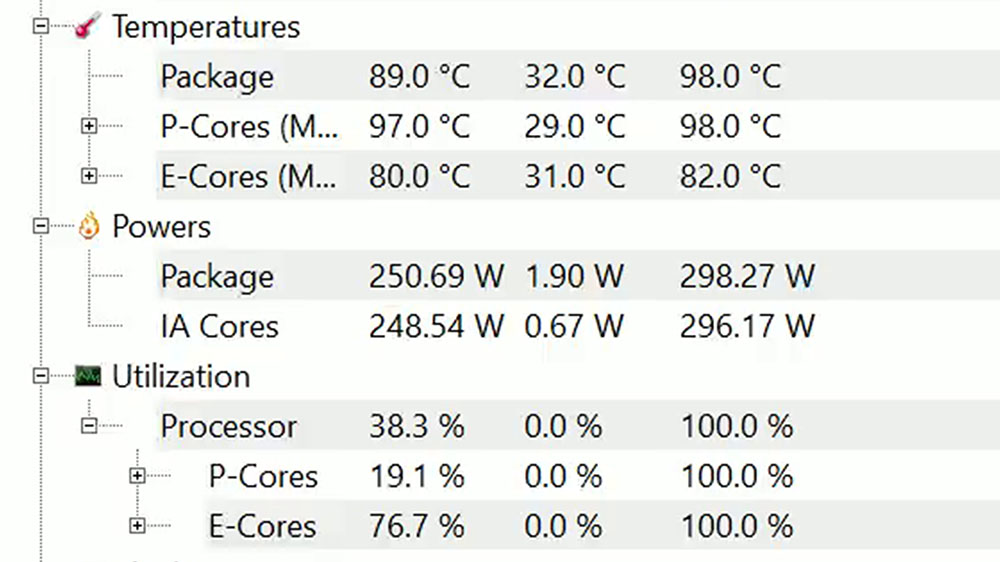 In Prime95 (which is an all-core stress test), we saw pretty decent temperatures, with the 13700K maxing out around the 89 degrees mark. Ultimately you don't want your CPU to be hitting 89 degrees, especially when using multiple cores, but considering the vast majority of air coolers we've tested will hit 100 degrees very easily, its fair to say that 10 degrees lower is a breath of relief for us.
Even when the 13700K was hitting more than 250W, the CoreLiquid held strong and didn't really budge past 90, which was impressive. This isn't a fully realistic benchmark, because there isn't a high likelihood you'll ever max out all cores for a prolonged amount of time, but this shows the worst case scenario and that the CoreLiquid E360 will keep your CPU at a safe temperature in this instance.
Cinebench Multi-Core Test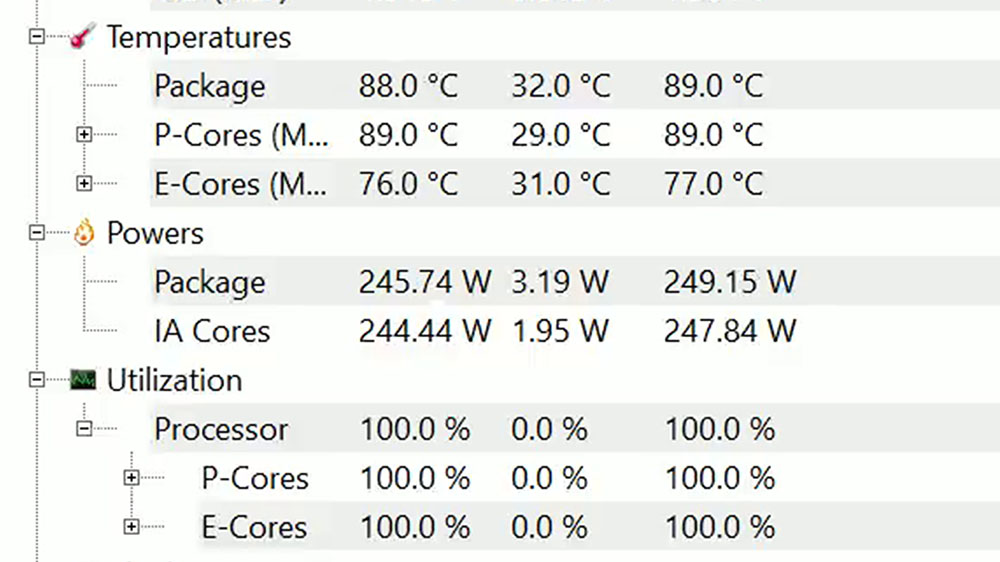 In the Cinebench multi-core test that we ran, the results pretty much confirmed what we saw during the Prime95 benchmark. While this isn't the most realistic use-case, an average temperature of 88 degrees on an all-core workload is very impressive. This goes to show that with fewer cores running, lets say half (which for the 13700K is 8 cores, and 12 threads), you're definitely in safe hands.
The Core i7-13700K pushed close to 250W again here, but the CoreLiquid E360 was able to keep it at bay and maintain a solid temperature of 88 degrees, which did jump up to 90, but quickly dipped back down again afterwards.
Cinebench Single Core Test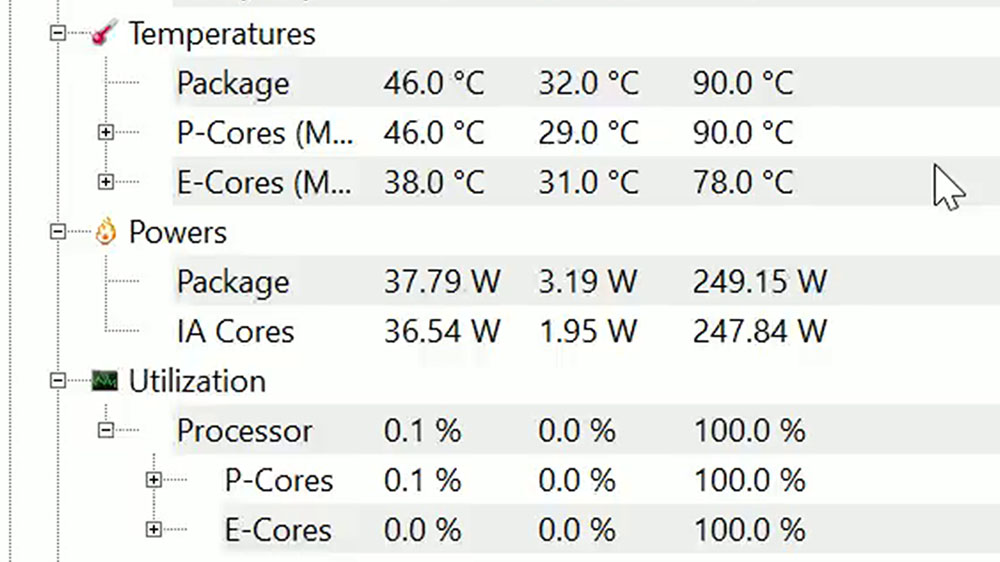 In Cinebench again, we saw vast improvements to the temps during our single core run. This single more benchmark is more indicative of the temperatures that you'd see when playing games, or perhaps in a lighter workstation application. Games only tend to run on a couple of cores, so thermals and wattage are generally much more forgiving, even in more intense triple A titles.
The CoreLiquid E360 was able to keep the Core i7-13700K at around 46 degrees on average, with our highs capping out at around 50 degrees or so. Again this was quite impressive, as the vast majority of 240mm coolers or even some cheaper 360mm designs will normally hit 60, so props to MSI for putting a priority on efficiency.
Alternative Option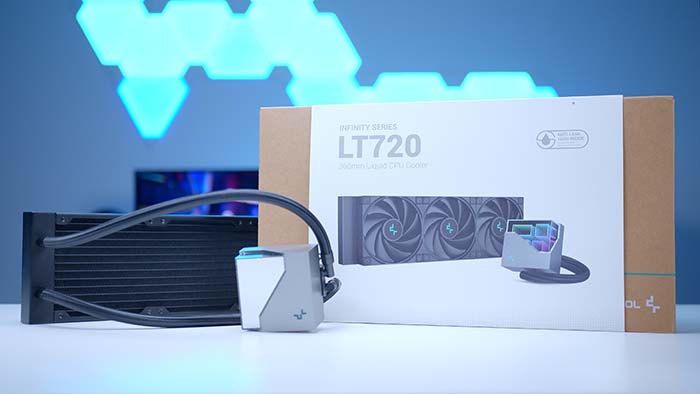 Deepcool LT720
In terms of alternatives, the only liquid cooler that comes remotely close to the performance and pricing of the CoreLiquid E360 is Deepcool's LT720. The vast majority of 360mm AIOs on the market will easily surpass $150 out of the box, which means that these coolers don't exactly cater to the budget demographic of consumers looking to maximise their cooling potential.
Waffle aside, the LT720 is a solid alternative that doesn't quite offer the same performance as the CoreLiquid E360 but it comes pretty close. The infinity mirror design on the CPU block looks awesome, and can be configured with a variety of different RGB lights. It is also worth noting that the LT720 is a particularly quiet cooler as well, making it ideal for those looking to keep their system silent even when under load. Regardless, the LT720 is definitely worth considering if you're looking for a 360mm cooler that performs similarly to the E360 but has a slightly better focus on aesthetics.
Buy the Deepcool LT720 on:
Conclusion
MSI MAG CoreLiquid E360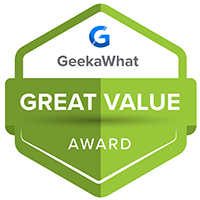 Product Name: MAG CoreLiquid E360
Brand: MSI
Features

Design

Performance

Value For Money
Summary
MSI's MAG CoreLiquid E360 is a new 360mm liquid cooler that puts a massive priority on affordability and performance. 360mm AIOs typically come with a significant premium that puts them in an area of the market that most would consider 'high-end'. But with the exceptional price point of the E360, and the well-rounded performance across multi and single core metrics, I can easily say that the CoreLiquid E360 is one of the best value options on the market.
There isn't much of a focus on design or aesthetics, but if you're the kind of consumer that needs a solid liquid cooler to keep your beast of a CPU at bay because of the power it draws, the E360 is the option that we'd recommend looking at. This cooler caters to a massive range of users that don't quite have the money to pick up that fancy cooler with a screen, and all of the bells and whistles, which is why it is such an excellent option. Hats off to MSI for this one, because the competitive nature of the E360 is going to be very hard for other manufacturers to beat!
Pros
✅ Easily one of the best priced 360mm coolers on the market.
✅ Very strong single and multi-core metrics.
✅ Has some nice quality of life features.
Cons
❌ Design and aesthetic isn't much of a priority here.
❌ MSI Mystic Light is a pain to use.
❌ Core i9 and Ryzen 9 may prove to be too much.