Introduction
It seems that the introduction of AMD's Ryzen 7000 CPUs to the world has all but flown by. It feels like I was writing reviews about the new CPUs only the other day, waiting for the budget chipsets to be announced by AMD shortly afterwards. However, it appears that AMD's B650 and B650E boards have almost snuck up on us, with many of these new motherboards popping up out of nowhere.
Well today, we're taking a look at one of these brand new B650 motherboards from MSI (which is seemingly the only one we have in the office so far). In this review, we'll be breaking down the design, features, and BIOS of the MSI MAG B650M Mortar WiFi, with a brief look at the B650 chipset and the kind of offerings you should expect.
Buy the MSI MAG B650M Mortar WiFi on:
What is the B650 Chipset?
Prior to the release of the new motherboards, not much was actually known about the new B650 chipset. AMD announced that more information pertaining to these boards would be available in October, and it seems they weren't lying. The B650 and B650E chipsets have had a stealthy rollout. From a brief glance, many manufacturers have focused more on the budget B650 boards as opposed to B650E motherboards. However, we imagine as Ryzen 7000 becomes widely available as more B650E motherboards are likely to enter the market.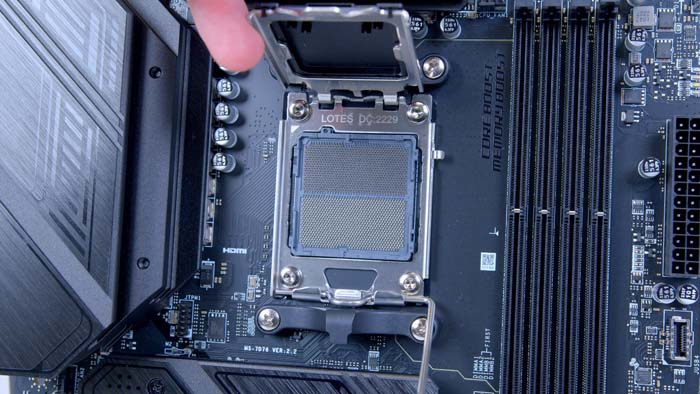 Moving onto the technical aspects of the B650 chipset, these boards provide the cheapest options for consumers to gain access to the AM5 platform by cutting down on some of the major features that come with the upgrade. This means that you unfortunately only get 4 PCI-E 5.0 lanes (with the rest being Gen4 or Gen3 dependent on the manufacturers decisions). But as a brief overview of the board we're reviewing today, much of the other features are quite bountiful and might be a better value proposition compared to X670 and X670E chipsets.
The main focus of this board is ultimately the price. Much like B550 and B450 motherboards on the previous AM4 platform, these boards are budget oriented, meaning you'll lose out on some features dependent on how much you spend. But areas like connectivity (rear and front IO) don't tend to differ much between boards, apart from the amount you have. And this can also be determined by the size of the board (Micro-ATX and Mini-ITX) too. But generally, I think the B650 motherboards are very competitive in their offerings and I hope we can get our hands on more of these boards at the GeekaWhat offices to take a look at them in more detail.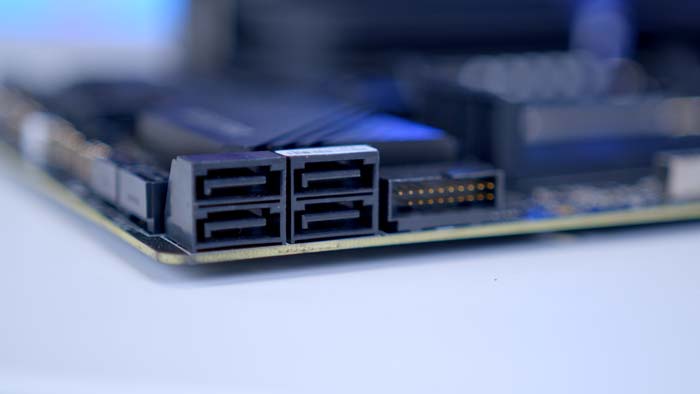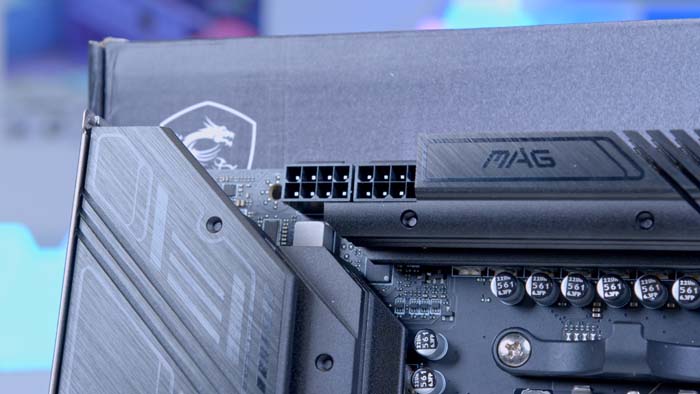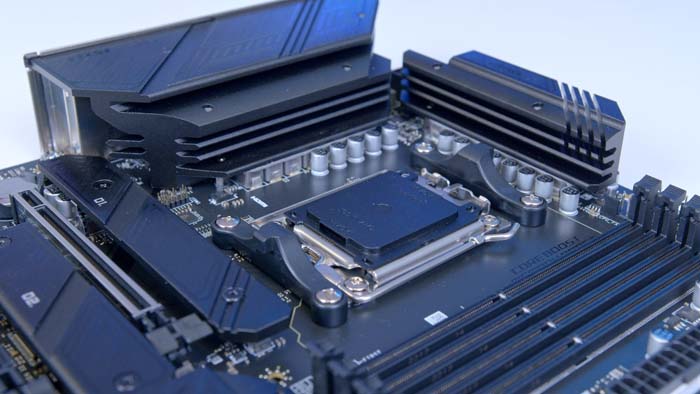 B650 vs B650E
As we've alluded to above, there are some very clear differences between B650 motherboards versus other chipsets like B650E and X670. We've put together a table that compares the board we're taking a look at today, as well as a Gigabyte board on the B650E chipset. Hopefully this provides some context on the kind of sacrifices you might make and the features you could miss out on picking one chipset over another.
Features
MSI MAG B650M Mortar WiFi
Gigabyte B650E AORUS Master
CPU Overclocking Support
Yes
Yes
VRM Power Phases
12+2+1
16+2+2
PCI-E 5.0 Slots
N/A
1 x16 PCI-E 5.0 Slot
4 x4 PCI-E 5.0 Slots
PCI-E 4.0 Slots
1 x4 PCI-E 4.0 Slot
2x x16 PCI-E 4.0 Slots
USB Connections (Rear)
1x USB 3.2 Gen2x2 Type-C
4x USB 3.2 Gen1
3x USB 3.2 Gen2
4x USB 3.2 Gen1
2x USB 3.2 Gen2
1x USB 3.2 Gen2 Type-C
USB Connections (Front)
2x USB 3.2 Gen1
1x USB 3.2 Gen2
1x USB 3.2 Gen2x2 Type-C
2x USB 3.2 Gen1
LAN Type
2.5 Gigabit LAN
2.5 Gigabit LAN
WiFi Module
WiFi 6E
WiFi 6E
Estimated MSRP
Check on Amazon
Check on Amazon
Comparison of Differences
If you take a look at the table above, the first thing you'll immediately notice is the lack of PCI-E 5.0 on the MSI B650 motherboard. Ultimately, this is the biggest caveat to picking up a B650 motherboard. Due to having no PCI-E 5.0 lanes as part of the chipset, the only support for PCI-E 5.0 will come from the new Ryzen 7000 CPUs. But whether a B650 motherboard supports PCI-E 5.0 is entirely down to the manufacturer. For this reason, B650 motherboards primarily have Gen4 slots, with the inclusion of Gen3 depending on the price.
Another stark difference between these boards is the amount of VRM power phases. The B650E chipset is more geared towards those that want to overclock, but on a budget. This means you'll get access to higher power phases and better VRM cooling, but at a slightly lower price compared to the X670E chipset boards. Although B650 motherboards will be capable of overclocking, they won't be as good compared to B650E motherboards due to having less power phases.
Looking at the rest of the features between each board, the MSI B650 motherboard actually comes out on top with slightly more USB ports overall. Both of these boards have a large selection of USB ports to choose from and the majority of them seem to be high speed options. In summary, although there are some stark differences when taking a look at overclocking and PCI-E 5.0, these boards are relatively similar. If you're looking for an entry to the new AM5 platform, B650 boards are a sure-fire way to do this!
MSI MAG B650M Mortar WiFi Design & Aesthetics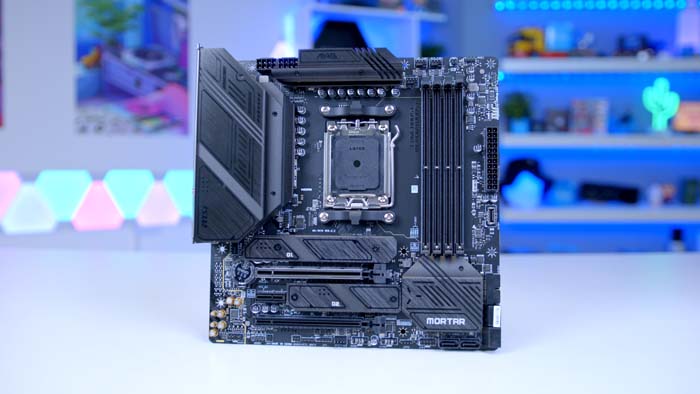 Overall, the design is relatively simplistic. There's an industrial look on the heatsinks and rear IO plate, which gives you something extra to look at instead of block colouring. But the heatsinks are somewhat sparse across the motherboard, leaving more exposed PCB wherever you look. However, I think this is perfectly fine based on the price, and further executes the industrial style that we're getting from the heatsinks.
The black colouring is a little bit boring I must admit. It leaves me wanting something extra like some greys or whites, even red as a possibility. But the dark aesthetic that we see on most motherboards tends to be a common favourite, and we're seeing it persist here. Otherwise, this board is very simple looking. You get some nice heatsinks that add a little bit extra to the theme, but there isn't an insane amount of RGB that we see on other designs. In addition, more of the traces, capacitors, and individual pins of the motherboard is poking through. I'd say that based on the very reasonable price of this board, the design is great and I'd be more than happy with this myself.
Features
Despite this board definitely sitting at the low-end in terms of price, the MSI MAG B650 Mortar is absolutely loaded with features, giving you plenty of options for a variety of accessories, peripherals, and usability features that make building much easier!
PCI-E Gen4 Slots
Unfortunately, this motherboard doesn't have access to the new standard of PCI Express, but there aren't actually any Gen5 supported components as of the time of writing. Although your upgrade paths might be limited in the future, you can still make use of Nvidia's latest RTX 4000 cards, along with blazing fast storage options on the Gen4 platform. Numerous slots are Gen4 compatible, giving you the option to install a number of drives or graphics cards.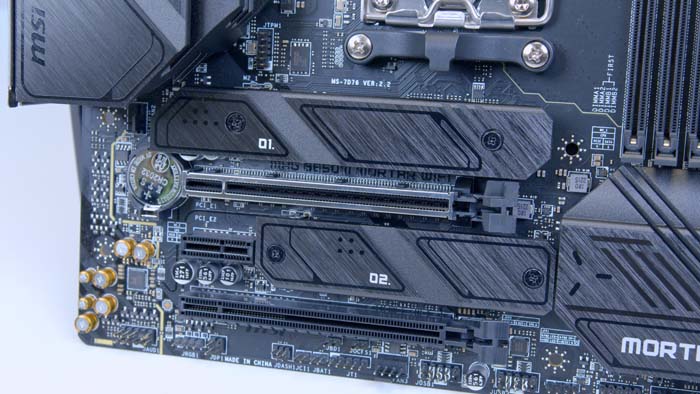 DDR5 Overclocking
This board supports a maximum DIMM speed of 6400MHz. This is an excellent speed which can provide a performance boost with a lower latency. If you've got access to an EXPO memory kit, you'll see great performance gains in games and workstation applications.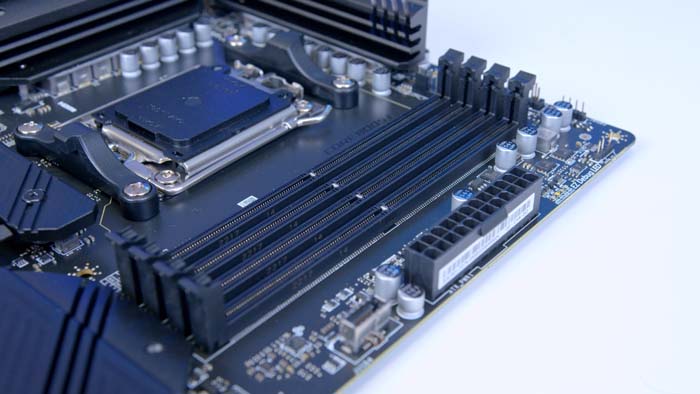 Rear & Front IO
On the rear IO, you've got a wide amount of access to a variety of high speed USB ports including a 20GB/s Type-C port on the rear and a front USB Type-C too. The rear IO panel also includes 7 USB 3.2 ports of which three are Gen1 and four are Gen2. You've also got access to S/PDIF port and full audio suite for those that want to utilise a surround sound speaker setup.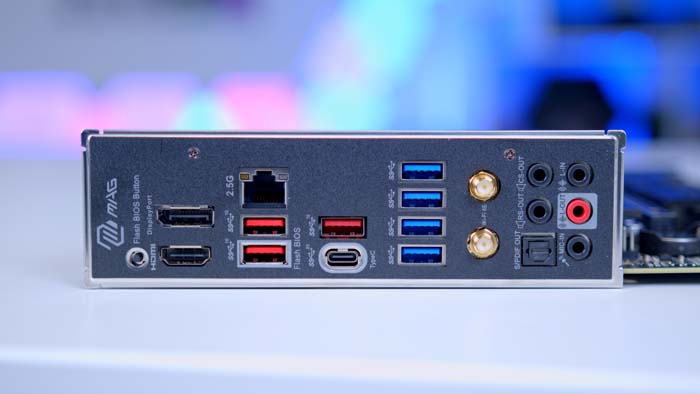 Usability Features
MSI motherboards come with a plethora of usability features to improve the user building experience, removing the frustrations that come with building a PC. The included M.2 EZ clips allow you to simply install your M.2 drives without any added tools or screws. This board also features a BIOS flashback button, giving you the ease of installing BIOS or troubleshooting your system by the simple click of a button.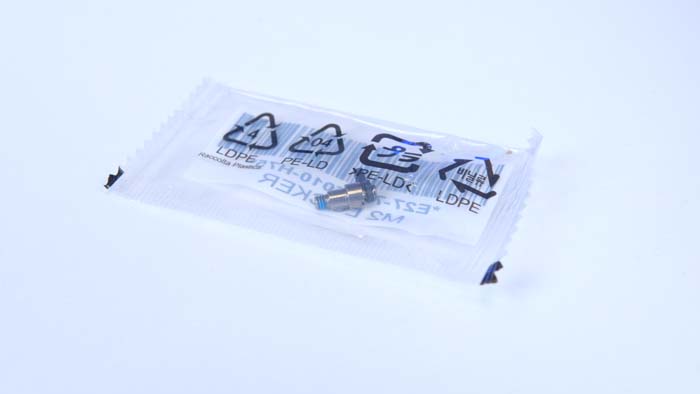 What's in the Box?
Although this board is on the cheaper side, MSI have included some extra accessories that help make your building process much easier, and save you some money too.
EZ M.2 Clips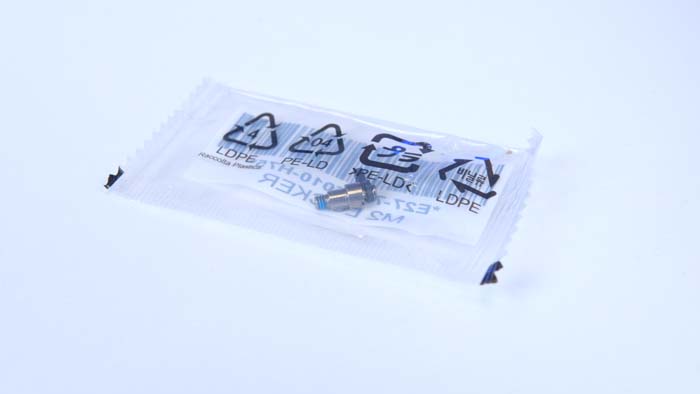 WiFi Antennae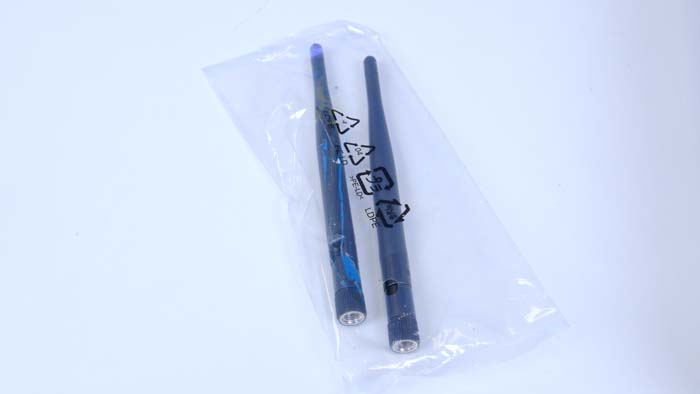 SATA Cables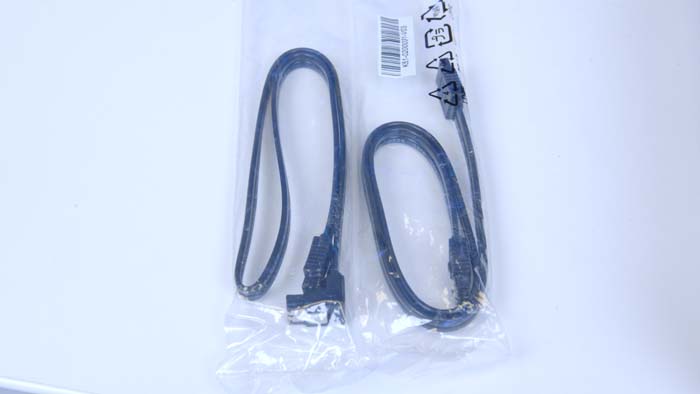 Conclusion
MSI MAG B650M Mortar WiFi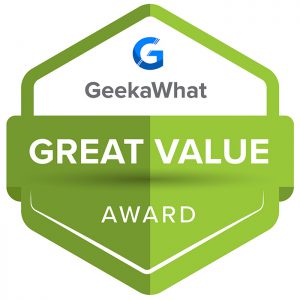 Product Name: MAG B650M Mortar WiFi
Summary
MSI's MAG B650M Mortar WiFi is an excellent board that fully encapsulates the cost friendly and budget philosophy that we believe in at GeekaWhat. This board comes with a wide range of features, giving consumers a cheaper gateway into AMD's new Ryzen 7000 AM5 platform. The board isn't particularly amazing to look at. If you're looking for alternative colours or loads of RGB, unfortunately you won't find it here. But I'd argue for the price you're paying for this board, the design isn't an issue and this board is an absolute steal considering how much more expensive the other options are. Either way, MSI have done an excellent job and this motherboard is definitely worth picking up if you're looking to build a cheaper Ryzen 7000 PC.
Pros
✅ One of the cheapest and best value boards you can buy.
✅ Plethora of Gen4 slots.
✅ Comes with onboard WiFi 6E and 2.5 Gigabit LAN.
Cons
❌ Doesn't offer much in terms of aesthetics.
❌ Micro-ATX form factor does limit features somewhat.
❌ No PCI-E 5.0 slots.