Introduction
Everyone loves getting their money's worth after spending hours looking for gaming components and peripherals online. When building a PC, the costs can add up pretty quickly, so it is important to save money as and when you can.
Gaming peripherals such as keyboards and mice are one of the best ways to save money as they are easy to replace and less likely to jeopardise performance if things go wrong. However, with so many budget keyboards on the market, it can be hard to pick out the gems from the duds.
Here at GeekaWhat, we're looking to provide the answers by offering a number of reviews and buyers guides.
Today, we'll be looking at the Surefire Kingpin M1, a budget keyboard with a small form factor, to see which side of the scales it lands on.
Buy the Surefire Kingpin M1 on:
What Makes a Good Mechanical Keyboard?
Before we head into reviewing the Kingpin M1, let's outline some of the key characteristics that we believe a good mechanical keyboard should possess. Whilst every gamer is going to have their own preferences to the type and style of keyboard they use, there are a few fundamentals that need to be reached.
The most important aspect of any keyboard is the build quality. Most PC users will be using their keyboard on a daily basis, making it important for a keyboard to be able to withstand regular use. After all, the last thing you want is to be stuck with a broken keyboard after a few weeks. Most high-end keyboards will have a keystroke lifespan within the tens of millions, meaning they should last for years- or even decades! Although most keyboards won't last that long, it is often a good indication of the build quality. Also, a well-built keyboard feels a lot nicer than one made with flimsy parts.
Most PC users will be using their keyboard on a daily basis, making it important for a keyboard to be able to withstand regular use. After all, the last thing you want is to be stuck with a broken keyboard after a few weeks.
Another thing to consider is the connection and ease of use. Choosing between a wired or wireless connection is often down to preference, but there are plenty of other connection features that will improve versatility. For example, a detachable cable is a great feature that increases portability as it makes it easier to switch between devices.
Finally, having additional features that make your keyboard stand out from the competition is now more important than ever. RGB lighting and multimedia keys are slowing becoming a standard in keyboard designs, meaning that manufacturers need to start thinking outside of the box to grab the attention of consumers.
Pros and Cons of a 60% Keyboard
The Surefire Kingpin M1 adopts a 60% layout, which has become a popular choice amongst gamers. There are a few advantages to the smaller design, but they will only appeal to certain types of users. Before making the decision to pick up a 60% keyboard, it's important to weigh up the positives and negatives to determine whether a smaller keyboard will suit your daily needs.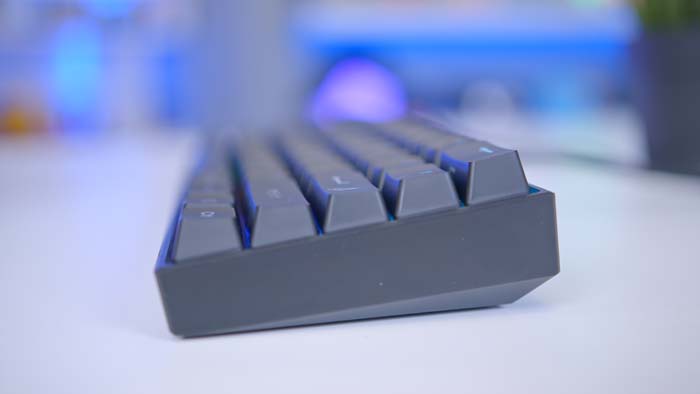 Starting with the positives, the smaller form factor takes up less space on a desk or work surface, leaving more room for other gaming peripherals and accessories. This makes a 60% layout perfect for competitive gamers because it reduces the risk of bashing a mouse into your keyboard during tense shootouts. The compact design is great for anyone lacking desk space, and it's probably one of the easiest ways to clear up desk real-estate. Another benefit is the removal of inputs like the numpad, which most keyboard owners won't miss. If you are someone that rarely uses macros or doesn't do a lot of typing, then the removal of these keys won't be much of an issue.
Suggested: How to Choose the Right Mechanical Gaming Keyboard in 2022
However, those that want to use their keyboard for productivity-based tasks and like to have lots of shortcuts will struggle to adapt to the 60% layout. A lot of manufacturers have developed ways around these issues, but it still takes some time to get used to and adds an extra step to lots of tasks. As someone who was recently looking for a compact keyboard, I opted for a 65% layout instead due to most 60% keyboards not having arrow keys included.
Another limitation of a 60% layout is the lack of space for additional features. The restricted keys and emphasis on saving space often cause 60% layouts to compress their keys into a frame that leaves no room for add-ons such as multimedia controls. This often leads to larger layouts such as 75% or TKL to be more appealing to those less worried about space, as they provide a better balance of portability and functionality.
Surefire Kingpin M1 Design
Now that we have outlined some of the key factors to take into account when looking buying a compact mechanical keyboard, it's time to review the Surefire Kingpin M1.
When this keyboard arrived to the Geekawhat office, I didn't really know what to expect as Surefire was a brand I was unfamiliar with. But if the Kingpin M1 is anything to go by, I may be hearing more from them in the future.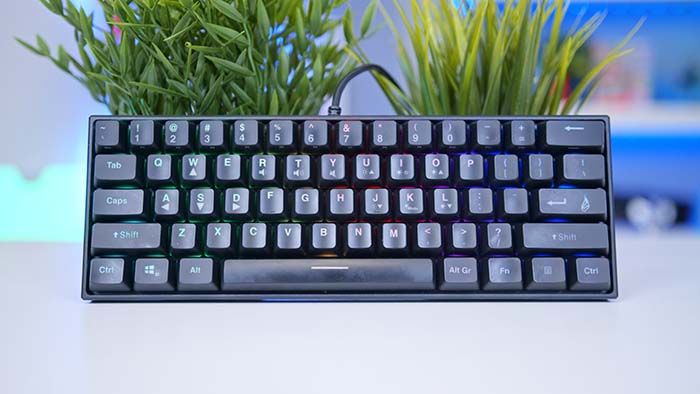 The unboxing experience was fairly lacklustre, with just the keyboard and a quick start guide included in the box. Whilst this is to be expected from a budget offering, the simplistic packing acts as a sign of what's to come. After getting the keyboard out of the box, the quality of the frame and keys stood out immediately. This keyboard is fairly heavy for a compact design, which normally suggests the parts are strong and sturdy.
The frame and keycaps are both made from ABS plastic, which is often undesirable due to their tendency to leave marks and wear over time. This keyboard does suffer the shimmer of marks, which makes it harder to keep clean. However, they are the standard choice for budget keyboards thanks to the cheaper production cost, so the Kingpin M1 won't lose too many marks for this.
Unfortunately, one design choice this keyboard does lose marks for is the strictly wired connection through an attached cable. It would be a longshot to expect wireless connectivity in a budget keyboard, but a detachable cable offers major improvements to versatility and longevity, making it a disappointing exclusion from the Kingpin M1.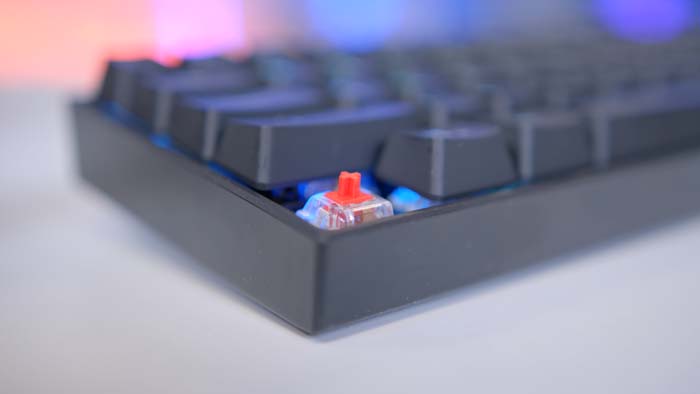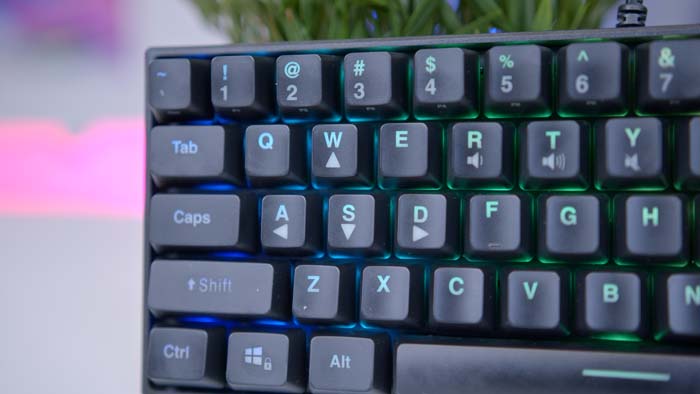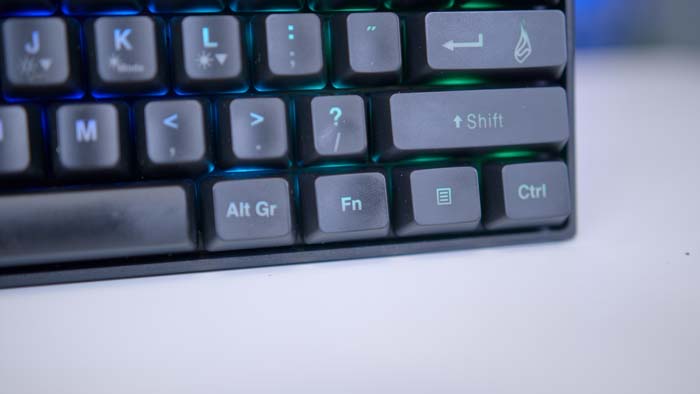 Switches & Keycaps
The initial assessment of Surefire's compact keyboard has been a bit of a mixed bag so far, but the design of the switches and keys could sway it in the right direction. As previously mentioned, the keycaps are made from an ABS plastic, which often leads to them feeling thinner and lower-quality. Despite this, the keycaps on the Kingpin M1 feel nice and sturdy with a softer touch on the surface.
On top of this, the Kingpin M1's keycaps include transparent detailing to allow the RGB lighting to shine through the icons on each key. As a result, the overall lighting effects on this keyboard look great, and the visuals on specific effects are greatly enhanced. This decision to include this feature will also help to reduce the wear and tear, adding plenty of value to the design.
For the switches, the Surefire Kingpin M1 comes with linear red mechanical switches, which should result in a less feedback for a quiet click. As someone who typically uses a keyboard with clicky or tactile switches, it would have been nice to have a choice of switch types. But as a linear option, they feel a lot better than most keyboards within a similar price point. Anyone that has used a more expensive gaming keyboard will be able to notice the odd springy sound as the keys bottoms out, but most people interested in this keyboard won't be able to tell.
Overall, the typing experience is surprisingly satisfying on the Surefire Kingpin M1. After using it for almost a week- including writing this review- my time with the Kingpin M1 has been pretty smooth sailing. Whilst it's not going to replacing the MSI GK50 as my daily driver, it does provide a typing experience that is great for a budget gamer looking to buy a mechanical gaming keyboard for the first-time.
Software
Whilst the budget approach restricts the amount of customisation features in the Kingpin M1, Surefire has included the ability to download supporting software for this keyboard. This software allows customers to access more advanced settings for the RGB lighting, the option to change inputs, and the ability to record macros. Having the ability to customise inputs in particular is a nice inclusion for a compact keyboard, as it allows you to make the most out of the smaller form factor and helps to reduce the effect of the lack of inputs.
Without the software installed, the function key adds a layer of inputs that act as a replacement for the lost inputs and multimedia controls, but the added software unlocks more freedom with the layout to suit your needs. Similarly, the lighting controls on the Kingpin M1 provide plenty of options, but the supporting software adds greater control over the speed, colour, and direction of the effects, along with some bonus effects.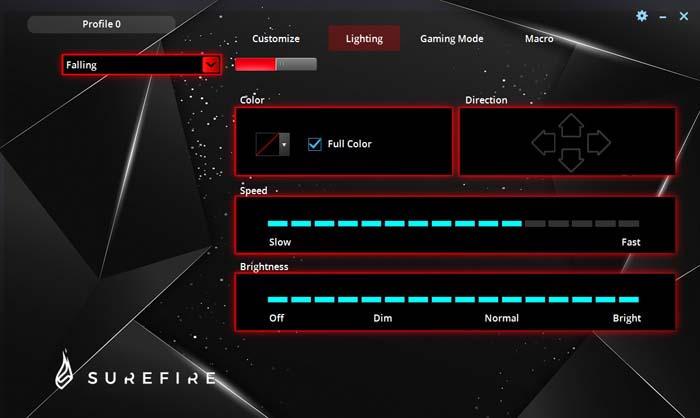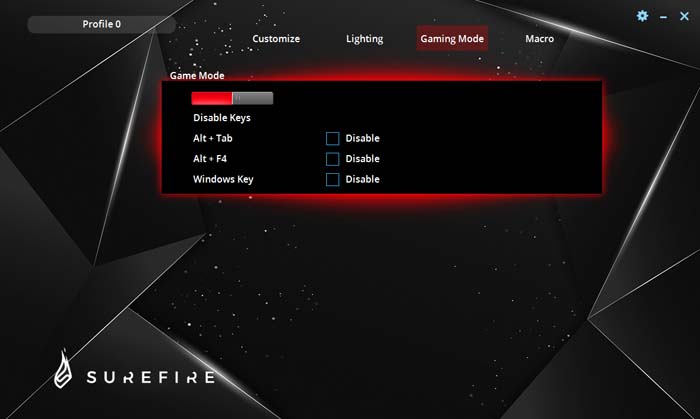 Alternatives
If you are interested in looking at some of the other compact keyboards on the market, we have put together a few recommendations for alternatives to the Kingpin M1. We have included a range of price points and form factors too, so there should be an option to suit the needs of every gamer.
Royal Kludge RK61 Wired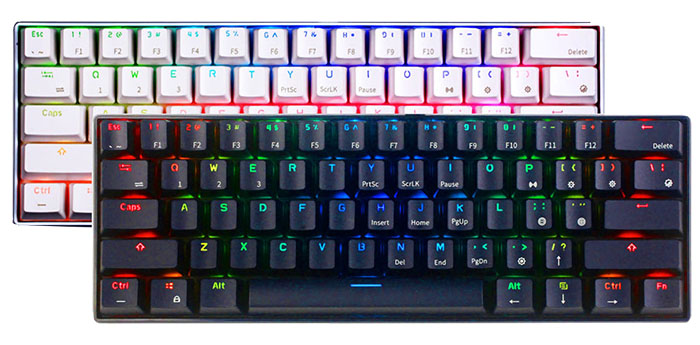 Royal Kludge has built a reputation for their budget mechanical keyboards as they often provide plenty of customisation. With the ability to pick between 3 different key switch types and a detachable USB-C cable, the RK61 is great for taking on the go. Also, the parts on the RK61 are hot-swappable, which makes it the ideal choice for anyone interested in modding their keyboard, or just looking for an easy way to replace their broken parts.
Buy the Royal Kludge RK61 Wired on:
ASUS ROG Falchion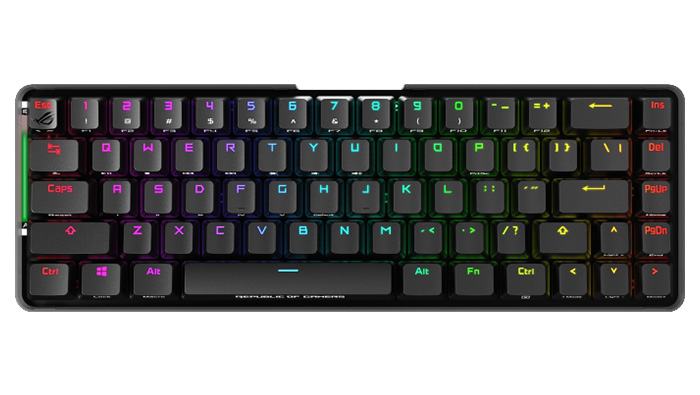 If you are looking for a wireless option that has a similar layout, then we would recommend the ASUS ROG Falchion. This layout is slightly bigger at 65%, but this design is still fairly compact, and includes the arrow keys. Along with a wired connection, the Falchion can connect wirelessly via USB. Whilst this keyboard is expensive compared to the Kingpin M1, the wireless connection will be a welcomed addition for those with limited space.
Buy the ASUS ROG Falchion on:
HyperX Alloy Origins 60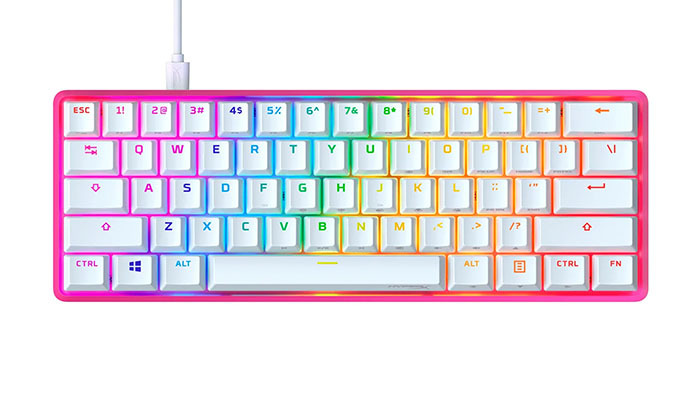 For anyone that is using their compact keyboard specifically for gaming, it is worth taking a look at the HyperX Alloy Origins 60. This 60% keyboard is specifically designed for competitive gamers, removing any unnecessary features for a streamlined gaming experience. Whilst the RGB on the Kingpin M1 is great, the HyperX takes lighting to the next level whilst offereing plenty of customisation through the HyperX NGENUITY software.
Buy the HyperX Alloy Origins 60 on:
Conclusion
Features

Design

Versatility

Value for Money
Summary
For a budget mechanical keyboard, the Surefire Kingpin M1 provides a great gaming and typing that is hard to replicate within the price point. The quality of the keycaps and switches are an improvement on some of the other options within a similar price range, and they work together to create a surprisingly satisfying typing experience that looks great thanks to the RGB lighting that shines through the keycaps. Adding in the supported software also provides a vital boost to the customisation options on this keyboard. However, there are plenty of sacrifices made to keep the Kingpin M1 at a budget price point. For example, the attached wired connection makes it less portable and reduces the longevity. Despite its flaws, the Kingpin M1 is a valid choice for entry-level gamers looking for a smaller design that offers a good typing experience.
Pros
✅ Good build-quality for price.
✅ Bright RGB lighting.
✅ Additional software available.
Cons
❌ Cable does not detach.
❌ ABS plastic tend to leave marks.
❌ Only available with linear switches.