Introduction
Finding gaming peripherals that provide a good balance between gaming performance and general day-to-day tasks is crucial, with gaming keyboards being the key to finding this equilibrium. Whilst getting a wireless gaming keyboard that helps your play style is important for any gaming setup, it also needs to focus on including quality-of-life features in a way that other peripherals such as mice and headsets often overlook.
Because of this, a lot of manufacturers have produced high-quality gaming keyboards that attempt to find a perfect balance of gaming and productivity benefits. One feature that often improves the functionality of a keyboard is the integration of wireless technology as it increases portability and versatility.
But with a vast range of wireless gaming keyboards on the market, which ones should you consider for your gaming PC?
In this buyers guide, we'll be breaking down the factors to consider in a wireless gaming keyboard, along with recommendations for each type of gamer.
Suggested Article: Best Wireless Gaming Mice to Buy in 2023
At A Glance: Our Top Picks
Best High-End Option: Corsair K100 Air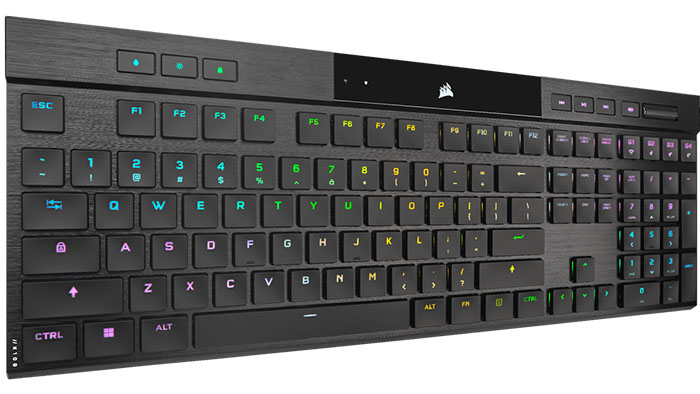 As Corsair's latest addition to their range of high-end gaming peripherals, the release of K100 Air has come with some heavy expectations. Fortunately, the K100 Air lives up to said expectations by providing lots of features and performance inside of an extremely thin and lightweight low-profile design. Despite being a full-size keyboard, the K100 Air is easy to take on the go, meaning you no longer need to sacrifice additional keys for portability. In typical Corsair fashion, this keyboard include dedicated media controls for quick adjustments, and the Slipstream wireless technology offers low-latency response times that are perfect for gaming.
✅ Ultra-thin and lightweight
❌ Very expensive
Buy the Corsair K100 Air on:
Best For Modding: Royal Kludge RK68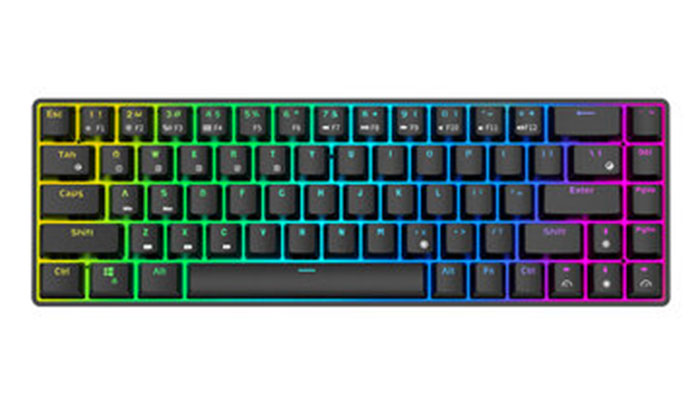 It can be extremely difficult to find a budget wireless keyboard that offers high-quality design and performance, but the Royal Kludge RK68 stands out as one of the best value for money deals in the PC gaming peripherals market. Royal Kludge are a favourite for lots of keyboard enthusiasts, as they have built a reputation for providing a range of budget keyboards that are ideal for entry-level modding. The RK68 is their 65% model that provides a build quality and typing experience found on premium gaming keyboards. But the main advantage of the RK68 is that it's fully hot-swappable, making a great starting point that can be upgraded eventually.
✅ Fully hot-swappable
❌ Low battery life
Buy the Royal Kludge RK68 on:
Best All-Rounder: Iqunix A80 Explorer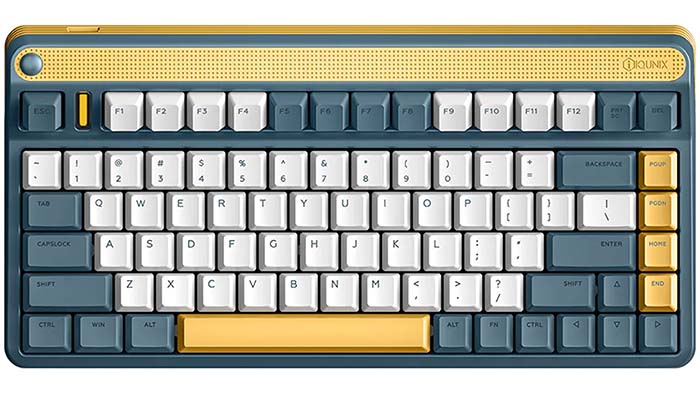 If you are looking for something a little bit different that also offers all the features needed for a wireless gaming keyboard, then the Iqunix A80 Explorer is the perfect choice. Whilst the retro design with a blue and yellow colourway won't be to everyone's taste, this 80% keyboard has a lot of desirable features. For example, the A80 Explorer includes three types of connectivity, along with an impressive battery that can apparently last for up to 200 days. This makes the A80 Explorer a great option for anyone that wants both style and substance. We would suggest looking at other Iqunix products too, as you may find a style that is more to your liking.
✅ Incredible battery life
❌Lack of multimedia controls
Buy the Iqunix A80 Explorer on:
Pros & Cons of a Wireless Keyboard
One of the first things to consider when looking at any gaming peripheral is the type of connection you would prefer. Whilst there are a few variations on the forms of connectivity, they can be split into wired or wireless options. Both have their benefits, but the general consensus in recent years has swayed towards the wireless connectivity option.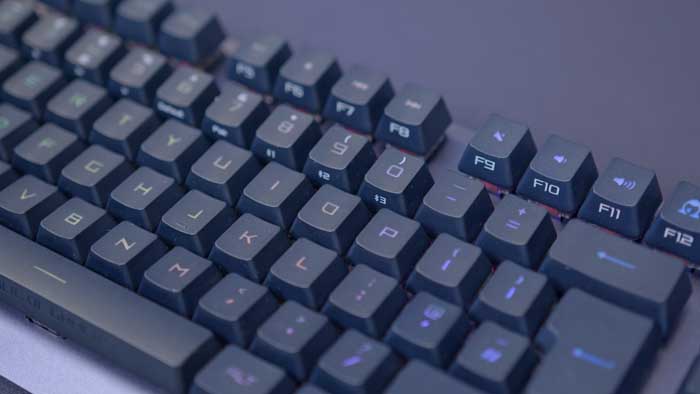 And for good reason, as there are plenty of benefits that come with a wireless connection. One of the main advantages is the improved versatility. Being able to connect via Bluetooth or a wireless USB dongle allows for less restricted movement for quick adjustments whilst also providing a cleaner look to your desk. Wireless keyboards tend to have multiple connection options too, allowing you to easily switch between devices with minimal fuss.
Another benefit to wireless technology is the increased portability, especially when it is included in compact keyboards. A lack of wires means you can simply pick up the keyboard and take it wherever and whenever you please. Whilst it is worth picking up a protective case if you plan on travelling with a keyboard frequently, removing the need to fiddle with wires any time you want to relocate will be a major benefit to remote workers or anyone who travels a lot.
Suggested Article: Best Wireless Gaming Headsets to Buy in 2023
On the other hand, it is important to note that there are downsides when looking at wireless keyboards. For example, the inclusion of a wireless connection leads to an increase in price, meaning that it is harder to find a wireless gaming keyboard on a budget. Although there are a few budget wireless options available, the wired options at the same price point are usually higher quality and provide a better gaming experience.
Another important aspect to consider is the lack of latency and more reliable connection from a wired connection. Wired keyboards have historically provided lower response times and less connection issues, making them preferable for Esports and competitive gamers. However, recent years has seen wireless technology catch up, leading to premium wireless keyboards possessing response times almost identical to wired connections. On top of this, wireless keyboards usually include the option for a wired connection, which helps reduce the impact of input lag and other connection issues.
Overall, wireless gaming keyboards are becoming more popular with each passing year as both the performance and price gap to wired keyboards gradually decreases. Whilst there is still a space for wired options, particularly in the budget keyboard market, investing in a keyboard with wireless capabilities will result in plenty of quality-of-life improvements that are hard to ignore.
Key Features
Choosing the right connectivity option for you is definitely a key factor when picking up a gaming keyboard, but it by no means the only one worth considering. There a lot of variables that can influence whether a keyboard is the right choice for you. If you are wondering what you should be looking at in a gaming keyboard, then here are some factors we suggest getting to grips with.
Hot-Swappable Parts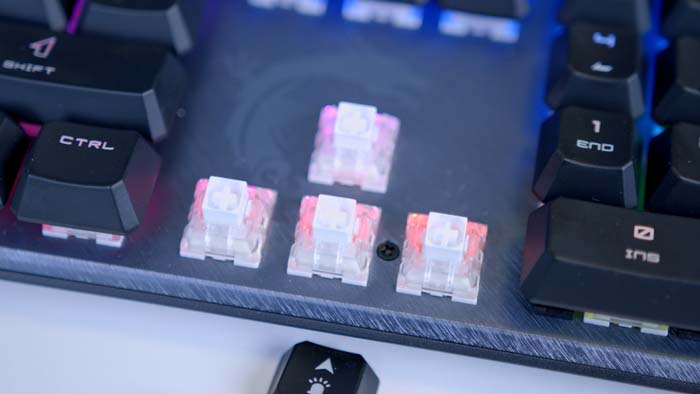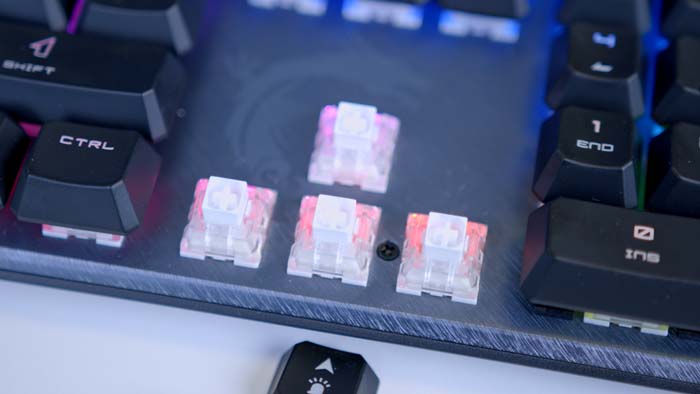 The design of a keyboard is made up of a lot of different layers, which makes finding one that has all the parts you're looking for pretty hard to find. Because of this, modifying keyboards has become a popular activity for gaming and tech enthusiasts. Lots of manufacturers have embraced this trend by including hot-swappable keys and switches in their designs. These parts make modifications much simpler, as they can be swapped without having to tear apart the entire keyboard, which can easily result in unrepairable damage for less experienced modders. Whilst not every customer will be interested in modding their keyboard, it does add an infinite amount of design and functionality possibilities.
Layout & Form Factor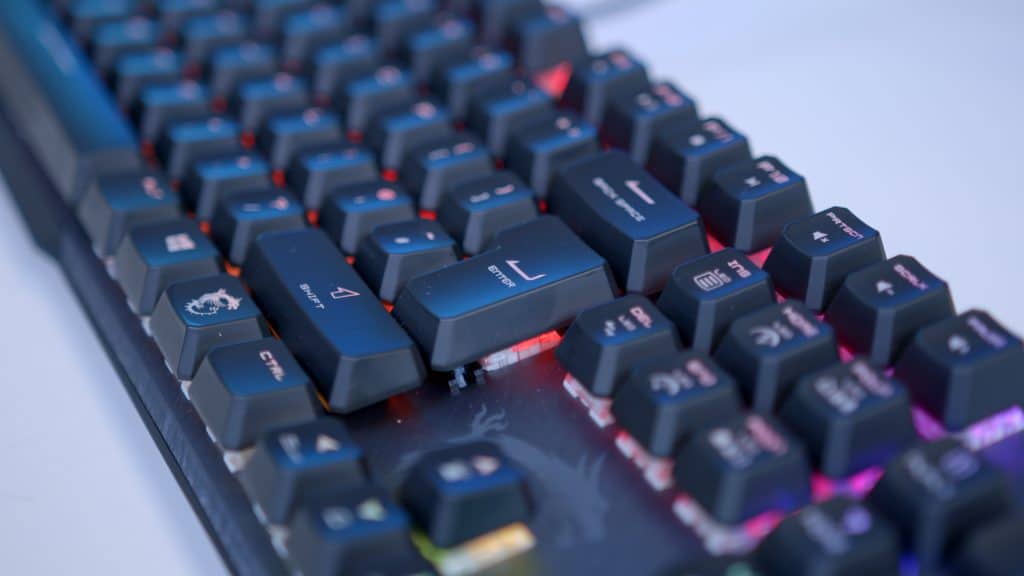 Along with connectivity type, the layout of a gaming keyboard is one of the most important choices to make. Keyboards come in all shapes and sizes which are categorised based on percentage. These layouts range from full-sized (100%) to as little as 40%, with variations in form factors determined by manufacturer preferences. Deciding which layout is best for you is usually determined by the where you lie on the scale of space vs functionality. Gamers tend to lean towards smaller form factors like 60% or 65%, as it takes up less desk space, allowing for more mouse movement. However, those using keyboards for productivity as well may prefer a 100% or TKL layout for the wider range of inputs and macros.
Key Switches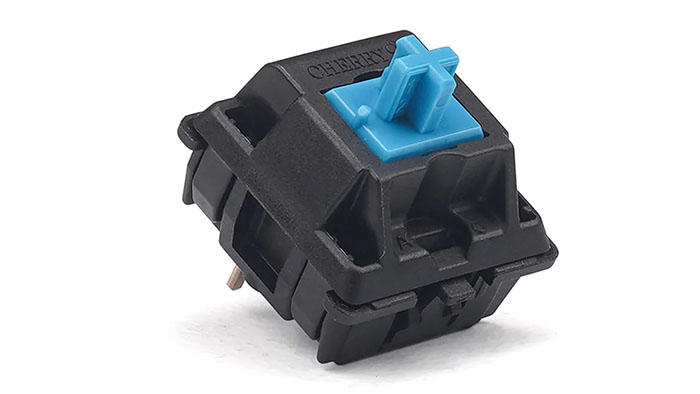 Another key factor to consider with any gaming keyboard is the type of key switches used, as this will have a huge impact on the build-quality and comfort. It's great to have a keyboard that is aesthetically pleasing, but it becomes redundant if the typing experience feels uncomfortable. Luckily, gaming keyboards offer three types of mechanical switches (clicky, tactile, and linear), with each providing a different form of feedback. Clicky switches are the most responsive due to their low actuation point, whilst linear switches offer a quieter response that requires more force to register a click, with tactile switches lying somewhere in the middle. Before picking a keyboard, it's worth trying out each switch type to know which suits your needs.
Macros & Media Controls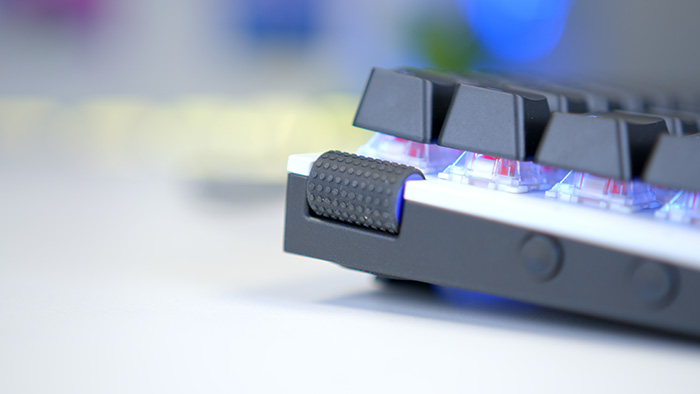 An addition that is less important but always welcome is the inclusion of macros and media controls. Macros are perhaps more popular with gamers than casual keyboard users, but they are still fairly low on the priority list. However, they are a nice addition to any setup and unlocks the ability to add custom inputs and shortcuts. Similarly, having dedicated media controls makes it easier to adjust settings such as volume and lighting effects on the fly. Controls and macros are more common on larger layouts, but smaller keyboard tend to include a function key that adds multiple uses for one key to make up for the lack of switches within the layout.
Software Compatibility
Software is another way that keyboard manufacturers provide further customisation options. A lot of gaming manufacturers have their own software suites that can connect to their range of peripherals in order to provide a custom experience that is easy to navigate. Whilst this isn't a necessity in a gaming keyboard, it is a welcomed addition that unlocks a lot of functionality features that are hard to implement onto the keyboard itself. Whilst most manufacturers that have an external software will add most peripherals to their software, it is always worth double-checking before buying to avoid disappointment.
Battery Life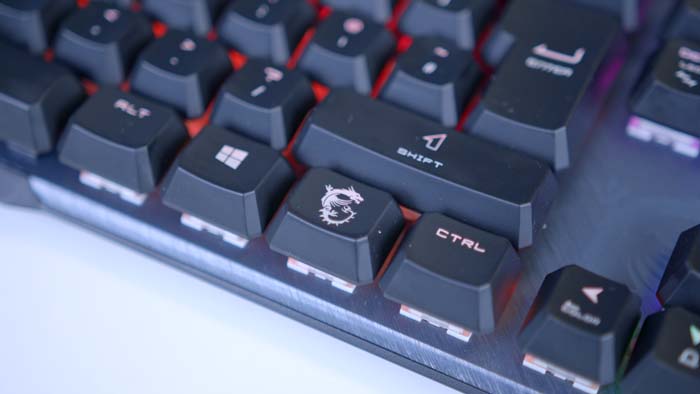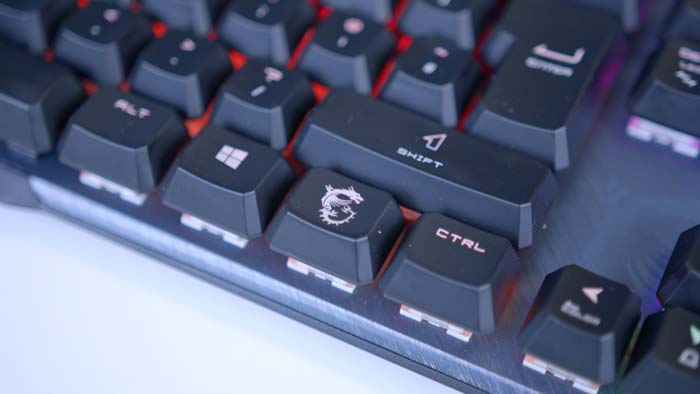 Finally, we have a consideration that is an important consideration for any wireless gaming peripheral, battery life. The vast amount of inputs and features on a keyboard usually leads to a lower battery life when compared to more simplistic items such as gaming mice. Because of this, it is important to pay attention to the advertised battery life, as this will provide a fairly good indication of what to expect from a single charge. Ideally, you want the battery life to last for at least 20 hours, as this would be enough for a few day-long gaming sessions before having to recharge. Looking at the time it takes to recharge is also worth considering to avoid running out of power mid-game.
Best Manufacturers
The market for most gaming products are flooded with a wide range of manufacturers competing against each other, and wireless keyboards are no different. Whilst having plenty of fish in the sea is great, it can make it difficult to pick the best of the bunch. Lucky for you, we've been working hard at Geekawhat HQ to provide a list of the best manufacturers for wireless keyboards. Here is a list of the manufacturers that we consider to be the most reliable options right now.
Our Recommendations
If you are looking for more guidance on high-quality gaming keyboards, then have a look at our recommendations for the best wireless options on the market. We have tried to include a vast range of products with varying layouts and features, so you should be able to find an option that suits your gaming needs.
1. Corsair K100 Air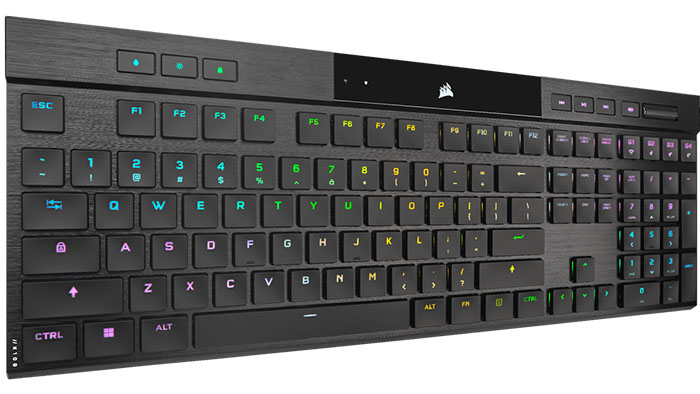 To start things off, we have Corsair's flagship wireless gaming keyboard, the K100 Air. As the name suggests, this is a full-size keyboard that is extremely thin and lightweight, making it one of the best 100% keyboards to travel with. However, this lighter design does come at the sacrifice of non-mechanical switches or lack of additional inputs that would be expected in such a design. Instead, the K100 Air uses low-profile switches with an extremely responsive 0.8mm actuation point. Not all gamers are going to like the this design, but the thinner mechanical keys are going to feel great for anyone transitioning from a work or gaming laptop.
Key Facts: Layout: 100% // Hot-Swappable: No // Max Battery Life: 200 hours
One aspect that is less likely to divide opinions on the K100 Air is the functionality. In typical Corsair fashion, this keyboard has a wide range of media controls at the top of the frame, with the full-size layout allowing more room to play with. As a result, the K100 Air includes a multi-function roller, four G keys that can programmed to launch specific applications, as well as dedicated controls for both lighting and sound. On top of this, on-board controls can be customised further in Corsair's iCUE software, in which the K100 Air can store up to 50 custom profiles for specific tasks or games.
The K100 Air isn't lacking in performance either thanks to the integrated Slipstream wireless and Bluetooth technology. This allows the K100 Air to last for up to 200 hours without RGB enabled, whilst providing response times that sneak under the 1ms mark, outperforming some of the best wired options out there. In addition, the K100 Air can connect with up to 5 devices at once, making it easy to switch between multiple setups and devices.
We've recommended a lot of Corsair peripherals on this website due to the consistency and functionality they provide to a setup, and their latest wireless keyboard is no different. Whilst it is pretty expensive for a gaming keyboard that lacks hot-swap capabilities, it is one of the best options for travelling gamers looking for an all-in-one package.
Buy the Corsair K100 Air on:
Pros
Ultra-thin and lightweight
Lots of additional inputs
Range of connectivity options
Cons
Very expensive
Not a traditional gaming design
Not hot-swappable
2. Royal Kludge RK68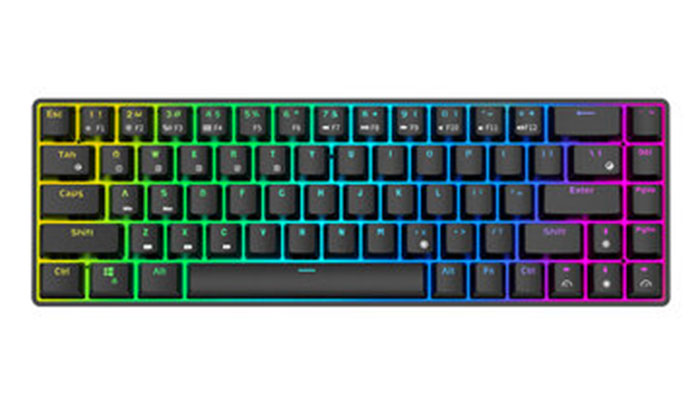 From one end of the spectrum to the other now, with one of the best budget gaming keyboards on the market, the Royal Kludge RK68. Like the majority of Royal Kludge offerings, this 65% keyboard is one the cheapest ways to enter the wireless keyboard market. Despite the lower price point, the RK68 manages to compete with some of the offering from more established brands in terms of features. With wired and wireless connectivity available, the base version of the RK68 offers great value for money.
Key Facts: Layout: 65% // Hot-Swappable: Yes // Max Battery Life: 13 hours
However, what makes the RK68 so budget-friendly is its upgrade potential. As a brand, Royal Kludge have built a reputation within the modding community for their budget keyboards that act as a good base for entry-level modders. The RK68 is fully hot-swappable, allowing you to swap freely between switches and keycaps to suit your design preferences. This makes the RK68 a great choice for those unsure of which switch and keycaps they prefer, as they can explore a range of options without having to buy a brand-new keyboard.
The main downside to the RK68 is that the connectivity is lacking compared to the competition, which is to be expected from the lower price point. The RK68 is stated to last for just 13 hours, which is barely enough for a day-long gaming session. In addition, this keyboard does suffer slightly due to the lack of a 2.4GHz wireless connection, meaning that you won't be reaching the sub-1ms times on premium gaming keyboards. Casual gamers will be satisfied with the performance of the RK68, but it is less ideal for those wanting to gain an competitive advantage.
As someone who uses the ISO UK version of this keyboard in their home setup, I can recommend the the RK68 for anyone interested in modding their keyboard, or budget gamers that simply want a fairly cheap and reliable wireless keyboard.
Buy the Royal Kludge RK68 on:
Pros
Great upgradable budget option
Fully hot-swappable
USB-C for fast charging
Cons
Low battery life
No wireless via USB
Better options available
3. ASUS ROG Strix Scope RX TKL Wireless Deluxe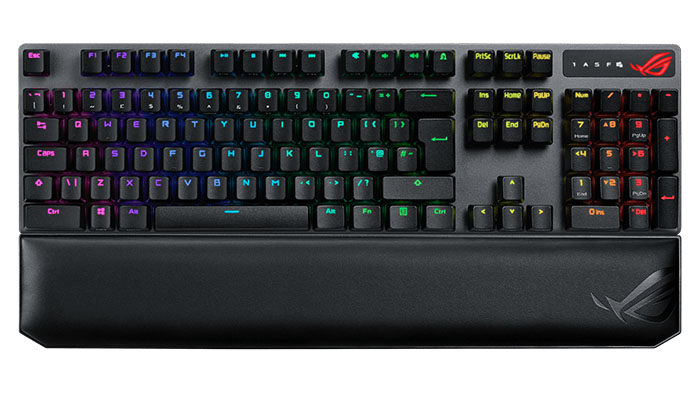 Onto another keyboard that is fan-favourite within the Geekawhat office, we have the ASUS ROG Strix Scope RX TKL Wireless Deluxe. Even though the name is a bit of a handful, the Strix Scope RX TKL Wireless Deluxe is one of the most versatile options on the market. TKL layouts are a popular choice gamers and non-gamers alike due to the blend of compactness and functionality. Most keyboard users find the numpad to be an unnecessary inclusion compared to the rest of the inputs, making its removal beneficial. However, it keeps other important inputs lost in smaller form factors such as the arrow keys and the row of function keys.
Key Facts: Layout: TKL // Hot-Swappable: No // Max Battery Life: 76 hours
There are a lot of options for TKL keyboards on the market, but this keyboard in particular has received praise from us in the past due to it's versatility and quality in all the key areas. Whilst the design won't blow you away with bright colours or wacky gimmicks, the Strix Scope RX TKL Wireless Deluxe possesses a stealthy appearance that looks sleek on any gaming setup. And when it comes to the switches, this keyboard lives up to the deluxe mantra. The combination of a sturdy aluminium alloy frame, PBT Doubleshot keycaps, and ASUS ROG RX switches create a typing experience that feels great and is designed to last.
In addition, the tri-mode connectivity of the ROG Strix Scope RX TKL Wireless Deluxe ensures that the connection matches the high bar set by the design at all times. With the ability to connect through Bluetooth, 2.4GHz via USB, or a wired USB, this keyboard always finds a way to let you play your favourite titles. In terms of battery life, ASUS claim up to 76 hours of low-latency gameplay, which is more than enough for at least a week of gaming and general use.
Overall, the ASUS ROG RX TKL Wireless Deluxe might not have the wow factor of other products on the market, but trust us when we say that you shouldn't judge a keyboard by its cover. If you want to learn more about this keyboard, check out our detailed review of the ASUS ROG RX TKL Wireless Deluxe.
ASUS ROG Strix Scope RX TKL Wireless Deluxe on:
Pros
Tri-mode connectivity
Great typing experience
Included wrist-rest
Cons
Quite expensive
RGB lighting is fairly dim
Simple aesthetics
4. Razer BlackWidow V3 Mini Hyperspeed Phantom Edition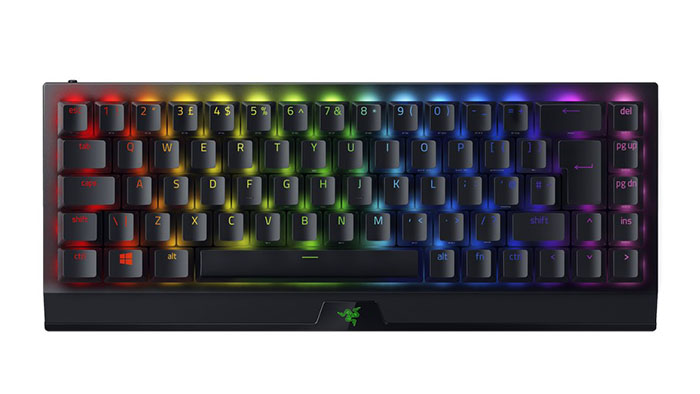 If a TKL layout is simply not small enough for your liking, then the Razer BlackWidow V3 Mini Hyperspeed Phantom Edition. A keyboard with an equally as complicated name to the previous inclusion, this 65% keyboard is one of many variations to Razer's BlackWidow line-up. We've picked out this version in particular due to the inclusion of the phantom pudding keycaps. This design is perfect for stealth lovers, as the details on the top of each keycap virtually disappear when the RGB lighting is disabled or the keyboard is switched off.
Key Facts: Layout: 65% // Hot-Swappable: No // Max Battery Life: 200 hours
Whilst this inclusion by itself feels like a novelty, the rest of the BlackWidow V3 Mini Hyperspeed's design supports the feature by honing in on the stealthy aesthetic to create a compact keyboard that looks and feels premium. With the choice between Razer's clicky Green or linear Yellow mechanical switches and the addition of Doubleshot ABS pudding keycaps, the BlackWidow V3 Mini Hyperspeed Phantom Edition offers a solid gaming and typing experience. Though it would have been nice to have PBT keycaps instead of ABS, the phantom technology helps to soften the blow.
This compact keyboard also impresses with its performance thanks to the inclusion of Razer's Hyperspeed wireless technology. This provides the BlackWidow V3 Mini Hyperspeed Phantom Edition with a 2.4GHz wireless connection that offers a low-latency gaming experience that competes with the best wired keyboards on the market. If you prioritise versatility over performance, than this keyboard also has you covered with Bluetooth and a USB-C Wired connection option on top of the Hyperspeed wireless integration. And what makes this even better is the long-lasting battery means you don't have to constantly worry about running out of charge.
If you are looking for a stealthy and compact keyboard that is bound to impress your mates, then the BlackWidow V3 Mini Hyperspeed Phantom Edition is definitely worth picking up for your gaming setup.
Buy the Razer BlackWidow V3 Mini Hyperspeed Phantom Edition on:
Pros
Great connectivity options
High build-quality
Great for stealth lovers
Cons
ABS keycaps
Not hot-swappable
Expensive for 65% layout
5. Logitech G915 TKL Wireless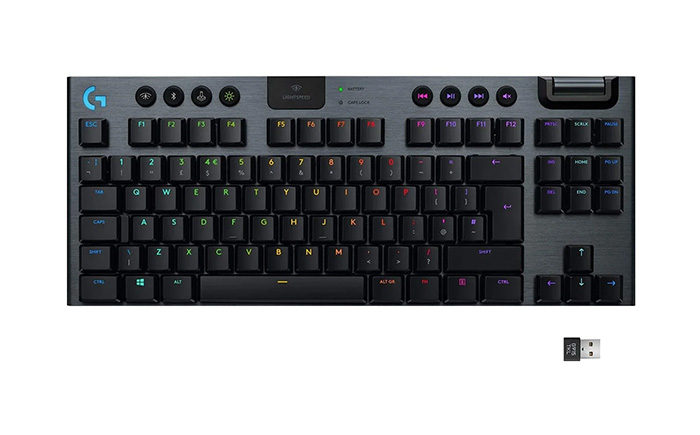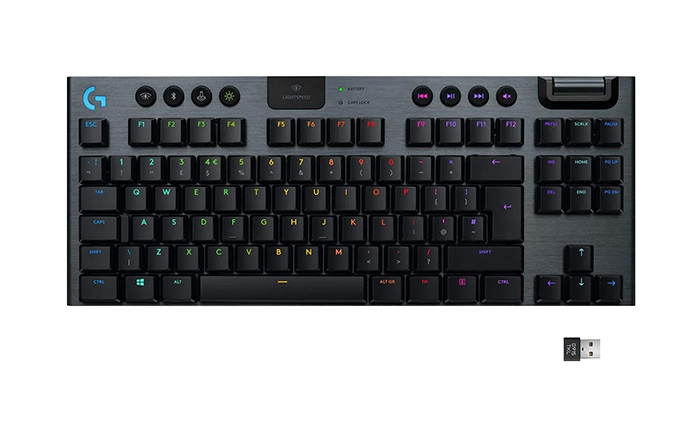 Anyone who has read a lot of our PC builds may have seen this one coming, as we have mentioned the Logitech G915 TKL numerous times as a great wireless keyboard for high-end builders. The Logitech G series has some of the best peripherals on the market, and the G915 TKL is the standout for us within their range of wireless keyboards. Whilst it's full sized alternative was also a contender for this list, we believe the TKL version is a better pick for most gamers and has less alternatives that can compete with the features and performance on this keyboard.
Key Facts: Layout: TKL // Hot-Swappbale: No // Max Battery Life: 40 hours
As a low-profile option, the G915 TKL Wireless is slim and lightweight, making it much easier to carry and move around. The low-profile keys may not be to everyone's taste as it removes some of the satisfaction of pressing in a key, but it is great for gaming due to the reduced travel distance on each click. Despite the unconventional design, you can choose a clicky, tactile, or linear version of Logitech's GL switches for a typing and gaming experience that suits your preferences. Also, the G915 TKL includes a row of multimedia controls that allow you to adjust audio, connectivity, and brightness with ease.
The performance on the G915 TKL is also exceptional thanks to the integration of Logitech's LIGHTSPEED wireless technology. This 2.4GHz connection allows the G915 TKL to possess a response time of 1ms, making the difference between a wired connection pretty much non-existent. This keyboard can also be connected via Bluetooth, and the dedicated controls for each connection type means you can switch between them with a simple press of a button.
As far as premium gaming experiences go, it is hard to ignore Logitech's G series, and the G915 TKL shows why they are considered as one of the leading manufacturers within the gaming peripherals market.
Buy the Logitech G915 TKL Wireless on:
Pros
Thin and lightweight design
Great gaming performance
Lots of additional controls
Cons
Expensive
No wired connection
Fairly low battery life
6. Iqunix A80 Explorer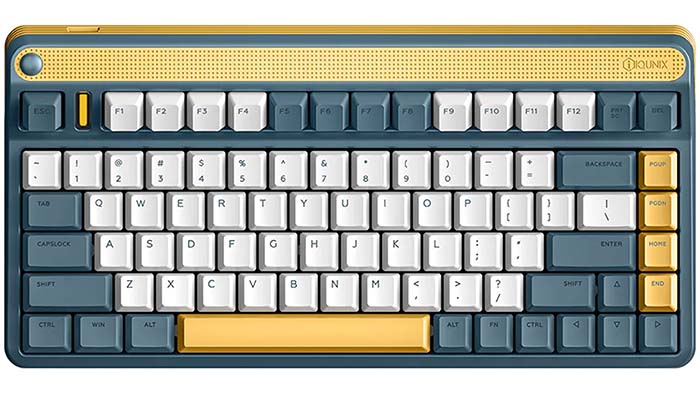 To round of our list, we have the Iqunix A80 Explorer. If you're not a keyboard enthusiast, you have probably never heard of Iqunix as they are a brand that is predominantly keyboard based. Because of this, they have a huge variety of keyboards, each with different designs and form factors. We've picked out the Iqunix A80 Explorer for this list because we thought the retro style offered something different for this list. However, we would suggest looking at the full range of Iqunix keyboards before picking up the A80 Explorer, as you may find a design that is a better fit for your setup.
Key Facts: Layout: 80% // Hot-Swappable: Yes // Max Battery Life: 1000 hours
You have probably figured out by now that the unique retro-inspired design is one of the main benefits to the Iqunix range of keyboards. However, their keyboards also possess plenty of ergonomic and performance benefits too. Looking at the A80 Explorer specifically, the 80% form factor provides a unique layout that is designed to improved the typing experience, which is supported by the PBT keycaps. But if any of the features aren't to your liking, then this keyboard is hot-swappable, allowing you to adjust to your typing needs.
Whilst the A80 Explorer is not specifically made for gaming, it does offer enough performance to keep up with the demands of most titles. With options to connect wired via USB-C, and wirelessly with Bluetooth and a 2.4GHz USB transmitter, the A80 Explorer can be linked up to multiple devices whilst offering a low-latency response of less than 1ms. If you weren't already convinced, the A80 Explorer has a battery life that is expected to last for 200 days, which is quite frankly ridiculous for a wireless keyboard.
If you are looking for a wireless keyboard that can do a little bit of everything, including gaming, then a Iqunix keyboard like the A80 Explorer is an option that can't go wrong – as long as you like the design at least!
Buy the Iqunix A80 Explorer on:
Pros
Hot-swappable
Great for all tasks
Incredible battery life
Cons
Abstract design not for everyone
No software compatibility
Lack of multimedia controls