Introduction
Building a custom keyboard has the same level of thrill that comes with building your own PC. You get to pick out all of the materials that go into the actual chassis and internals, along with the switches and keycaps, which will change the overall look and feel. We've seen a huge surge in the interest of custom keyboards, and this is likely to continue growing as more manufacturers throw their hat into the ring.
For those looking to dip their toes into the custom keyboard market, but don't want the additional hassle of assembly, keyboards like the ProjectD Tinker65 exist. As a cheaper alternative to their renowned Outlaw65, the Tinker65 offers a consumers customisable option without the pain of having to build one. We'll be taking a look at the Tinker65 in a full review with an in-depth analysis of the pre-assembled version which comes with the switches and keycaps already installed.
Buy the ProjectD Tinker65 on:
Pre-Assembled Versus Barebones
The custom keyboard market has a vast range of options available catering to consumers that want the full building experience, or only some of it. This means there are a range of pre-assembled keyboards that might have hot-swappable switches, allowing you to change them out after buying your own set. Or there are barebones kits.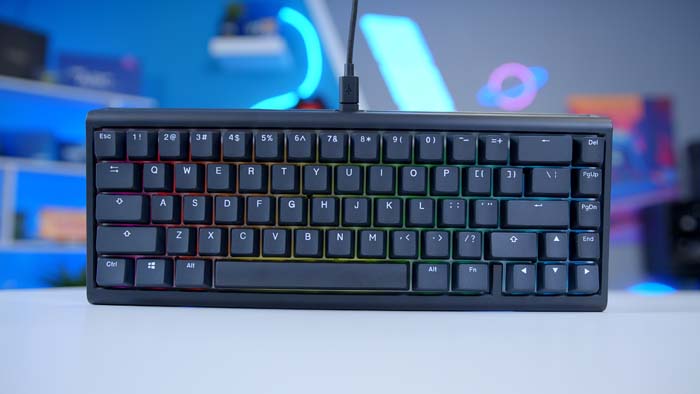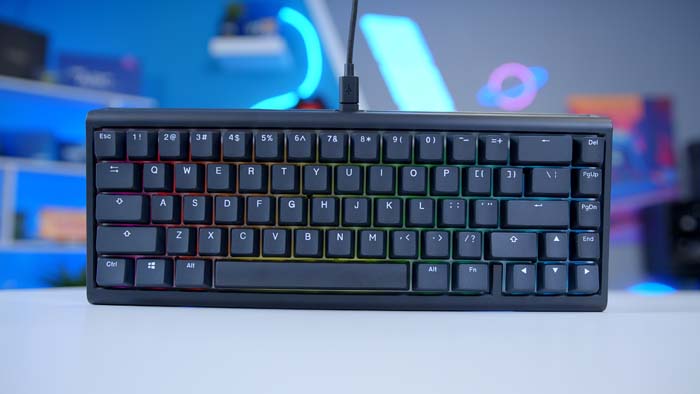 These alternative kits might be somewhat assembled, but consumers will have to buy their own switches and keycaps. Or there might be an extra element of assembly, such as mounting the switch alignment plate, or placing some foam. But one question remains, which of these is better?
Ultimately, this entirely depends on your preference and the kind of experience you're looking for. A fully pre-assembled customisable keyboard might come with switches and keycaps that you don't particularly like. And because these options are generally more expensive than their barebones counterparts, you'll have to spend additional cash to secure different switches and keycaps, which can rack up the final total by a fair margin.
On the other hand, barebones kits provide consumers with that extra element of customisability and configuration that isn't achievable with a fully pre-assembled option. But the resulting hassle (and cost) might not be worth it for many. So while both of these options do have their merits, it is entirely down to preference. I personally prefer barebones kits, because the option of being able to change the sound and feel of your keyboard is vital to me, but this is my personal choice.
To summarise, I wouldn't say that barebones or pre-assembled keyboards are necessarily better than one another, but a pre-assembled option will generally be cheaper in the long run. So if cost is your concern, this is what we'd recommend looking at.
Suggested Article: AverMedia Live Gamer Ultra 2.1 Review – The Ultimate 4K Capture Card
ProjectD Tinker65 Design & Aesthetic
Upon opening the box of the Tinker65, I was greeted with a rather simplistic looking keyboard. Admittedly, the Tinker65 is not the best looking keyboard that we've had in the office. The contrasting black and white housing on the top and bottom of the chassis doesn't look amazing. I would have much preferred a full block colour across the entirety of the case. But I digress, I wouldn't label this as a big concern. The housing material that the Tinker 65 uses is plastic, which does give it a cheaper look overall, but this is primarily to bring down the cost. Custom keyboards can be quite expensive, so ProjectD are likely trying their best here to bring down costs.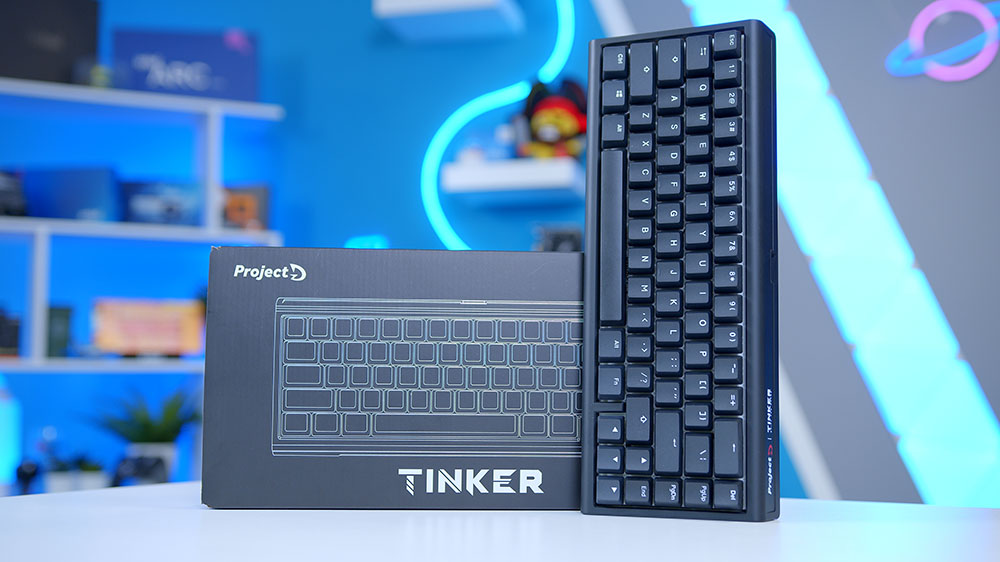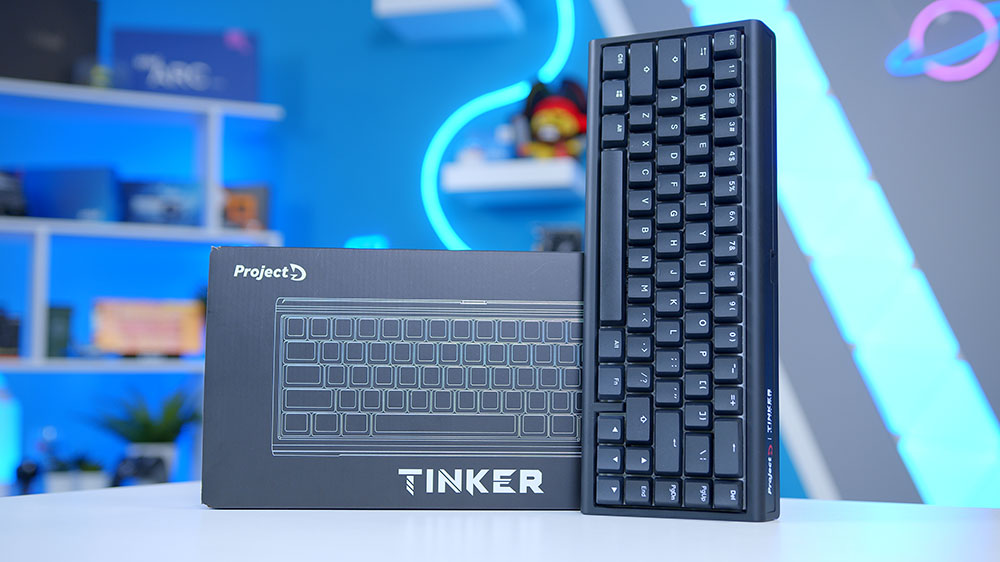 Despite the chassis being plastic, there isn't much flex to the Tinker65. It seems like a fairly robust design, despite looking cheaper on the material side from a glance. The Tinker65 as you've probably assumed is a 65% layout, so you're missing out on a full numpad and some of the function keys. But for those that don't use them, this won't be much of a problem. Admittedly I am sad that there isn't an ISO layout of this particular keyboard, but the ANSI style doesn't take much getting used to.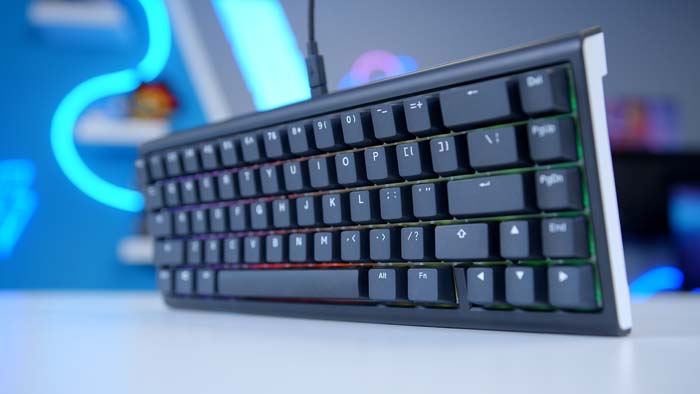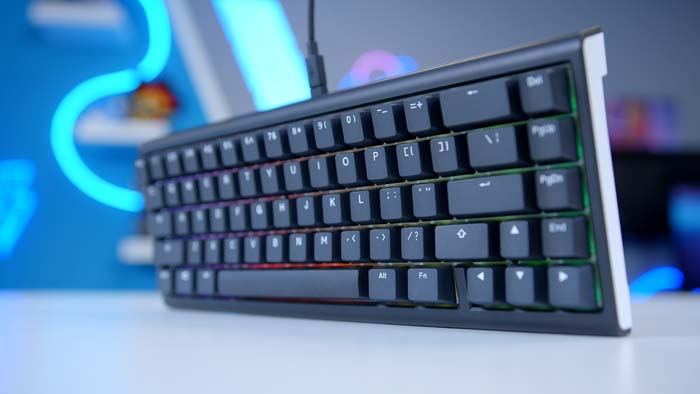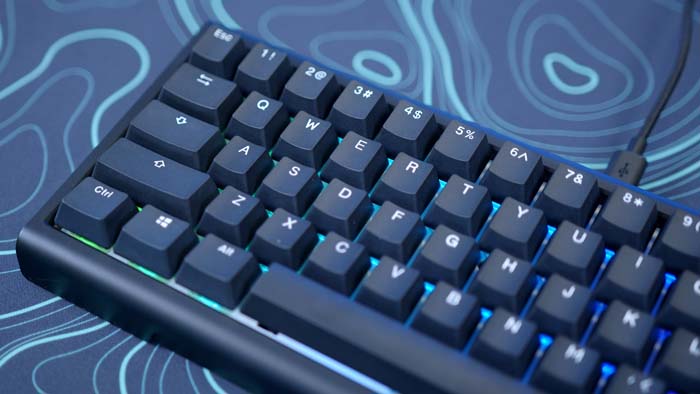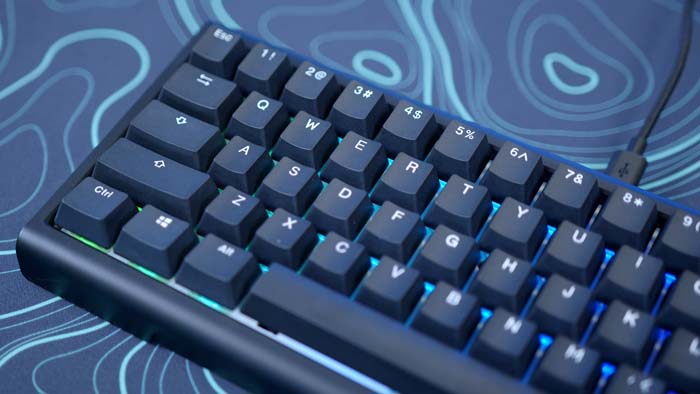 The Tinker65 does offer RGB lighting on all of the switches. The lighting itself can be configured by using QMK or VIA, which are common applications for those building their own custom keyboard. These applications also allow you to configure any macros or scrips, along with keybindings too. This just provides another level of customisation for those that want it.
On the underside of the Tinker65, consumers can leverage a two-step kickstand, allowing you to change the angle at which your keyboard sits. It is worth noting that the full height kickstand does sit quite high, I had to lower this to the smaller set of feet, as the height was causing me to strain. To summarise, I think the Tinker65 offers an 'acceptable' overall design. The aesthetic isn't mind blowing, but the kickstand, RGB and robust feel does add to the strengths of this keyboard. If you're the kind of consumer that prefers something more minimalist, then the Tinker65 is a solid option, but I understand that the cheaper look will put some people off.
Tinker65 Keycaps and Switches
The switches and keycaps of any keyboard are always worth discussing, because these will ultimately change the entire feel and sound of your keyboard. Because the Tinker65 has two different versions that you can buy, we'll be referring to the 'Classic' option, which is the one that we were sent. Obviously if you've picked out the Barebones kit, then the feel and sound will be entirely different to the version that we've got in the GeekaWhat office.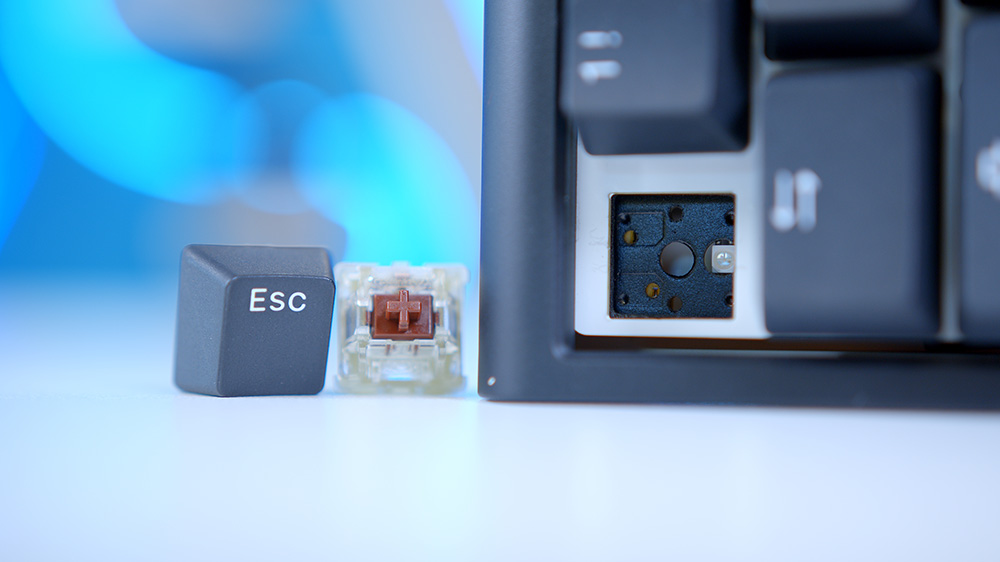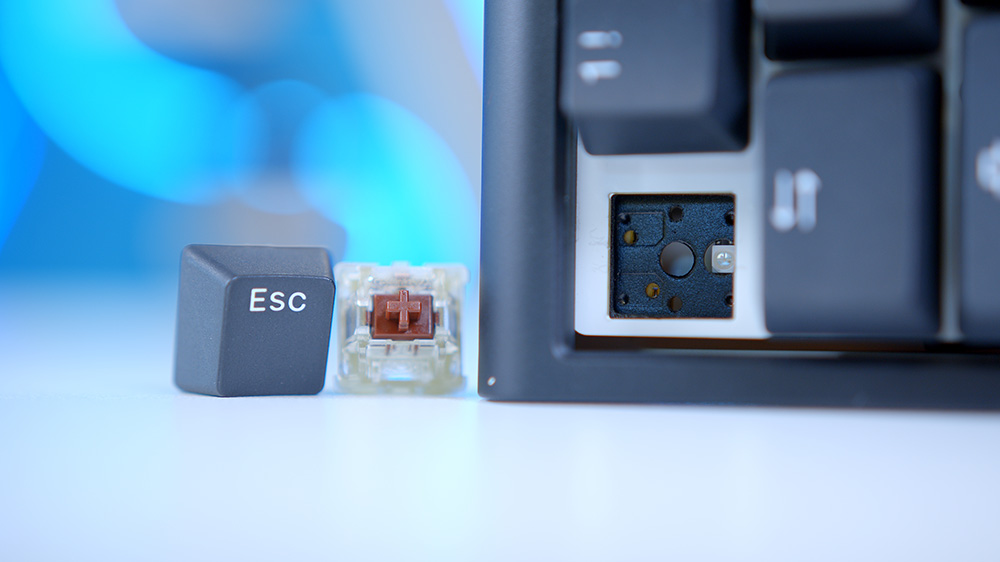 The Tinker65 is a relatively well built keyboard that has applied some solid practices that will keep noise levels a bit lower versus some other keyboards on the market. The keyboard that ProjectD sent us uses standard Cherry MX Brown switches. These are tactile in nature, have about 4mm of total travel, and require around 56gf for the switches to actuate. Tactile switches will always have more force required to activate them, because of the feedback that they present afterwards, which is a bump as opposed to a click.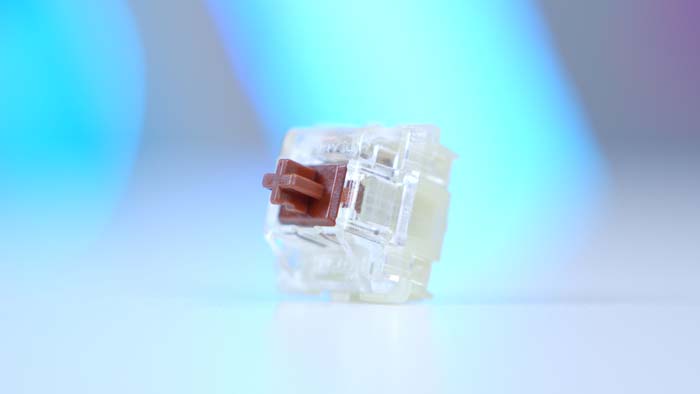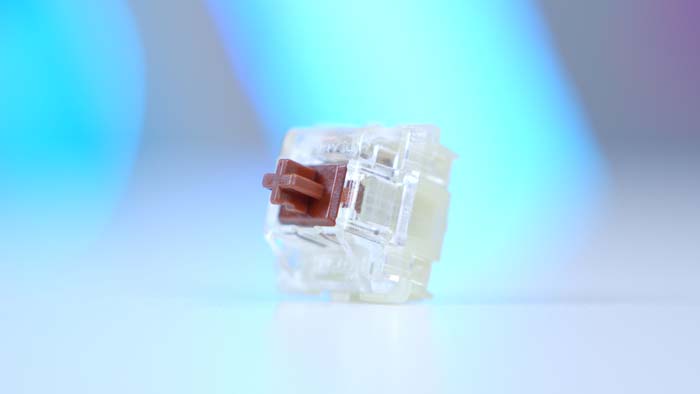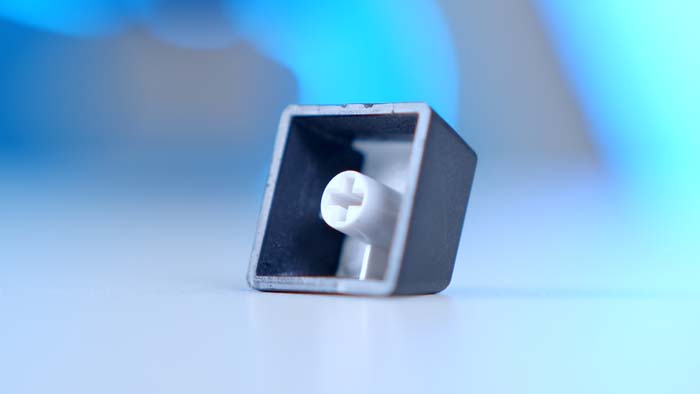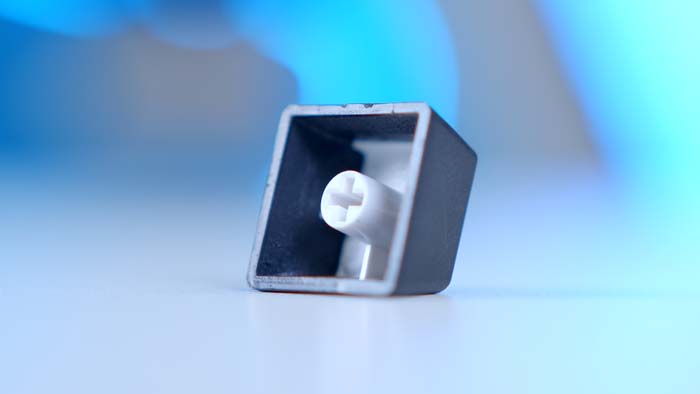 In terms of the keycaps, the Tinker65 uses PBT double-shot, so the legend shouldn't fade away with time and usage. While I do commend ProjectD for opting to use PBT double-shot, I can't say that I'm a fan of the frosted finish on the keycaps. They feel grainy and quite rough on my fingers, and while this will hide sweat and grease pretty easily, I just don't think they feel good. The finish also gives the keycaps a very cheap look to them, akin to those old Dell keyboards that we all had to put up with in school.
I can't say that I was blown away by the switches and keycap choice here. It is abundantly clear that ProjectD are attempting to keep costs down by using cheap switches and keycaps. However, in doing so, it means that the fully assembled model isn't great when it comes to feel and quality. I think if this keyboard used some better tactile switches, and a nicer set of keycaps, it would be really worthwhile picking up versus the barebones. But as it stands, the barebones kit stands to offer stronger value based on the fact that you can just pick up some new keycaps, switches, and just lob them straight into PCB.
Features We Like
In this section we'll be taking a look at the main features of the Tinker65. I'll be highlighting the ones that were particularly standout, along with the ones that I wasn't a massive fan of.
Gasket Mounting
When building a custom keyboard there are a few options that consumers have available to them vis-à-vis how the PCB is secured within the keyboard housing. Some are more rigid or flexible than others, with gasket mounting being a personal favourite of mine. The reason why gaskets are so popular, is because they provide a smoother and cushioned feel to the keyboard. Gaskets sit above and below the plate, which minimises the amount of movement that the plate has. A keyboard that we reviewed recently (the LOFREE Flow) also used gasket mounting, and is one of the smoothest keyboards that I've ever reviewed.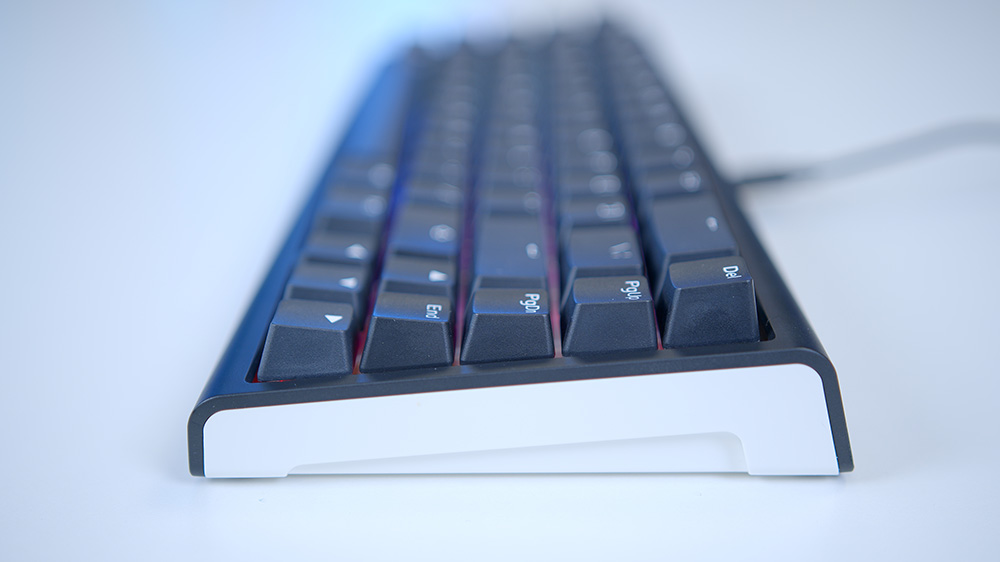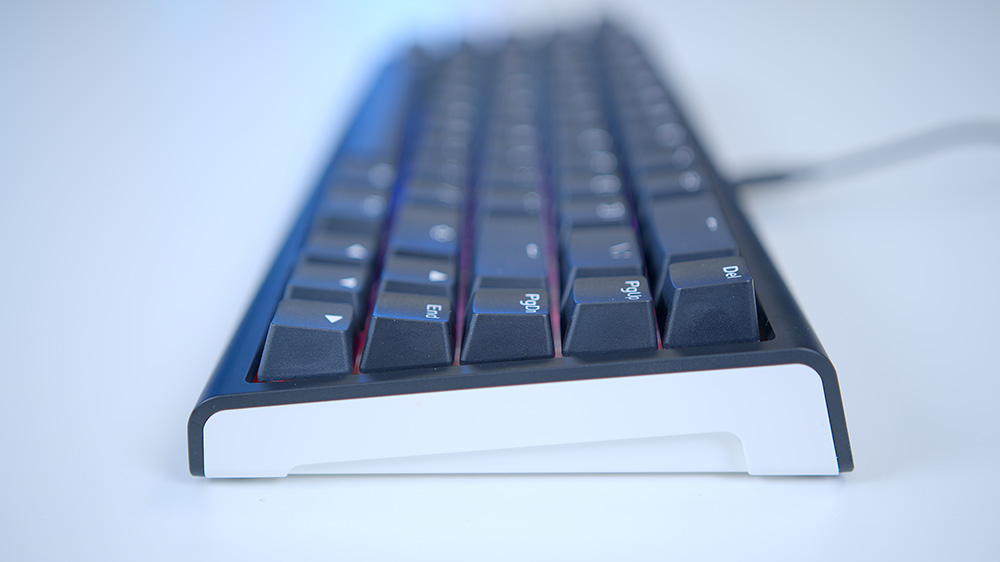 Despite the Tinker65 being a cheaper design, the fact that it uses gasket mounting is a huge bonus. This just adds to the overall smoothness of the design, and despite the fact that I'm not a fan of the switch choice that the Classic version uses, this keyboard is very smooth overall.
Fully Hot-swappable Switches
The biggest feature of the Tinker65 is the fact that the switches and keycaps are fully customisable. Whether you've picked up the barebones keyboard, or the fully assembled one, you can swap out your switches for other 5-pin hot-swappable options. As long as you've picked up a set of 5-pin hot-swap switches, you can customise this keyboard to feel exactly how you want it to.
With keycaps, all you need to do is make sure that the switch stem works with the switches that you've chosen. It is also worth noting that this is a 65% ANSI layout keyboard, so make sure that you pick the appropriate set of keycaps for this size.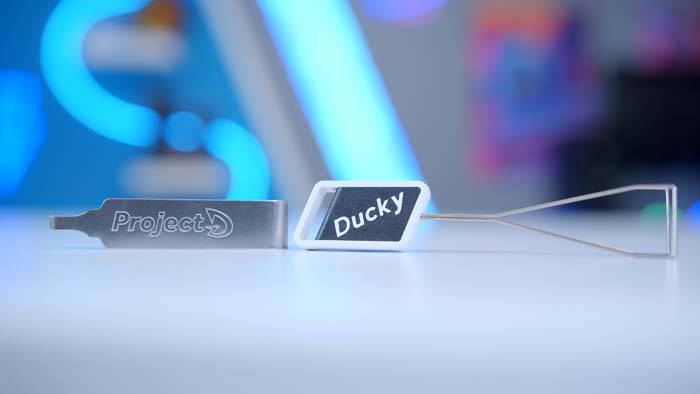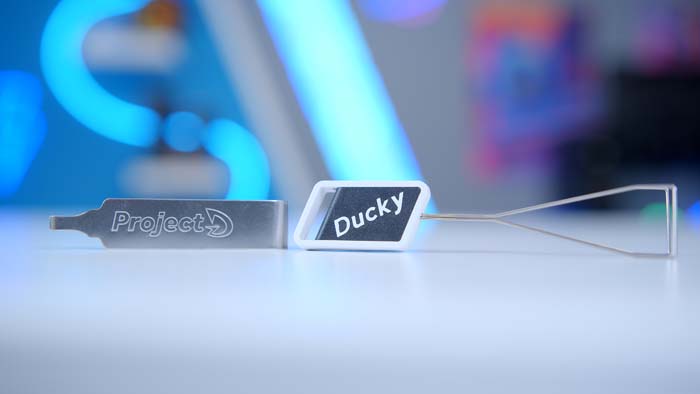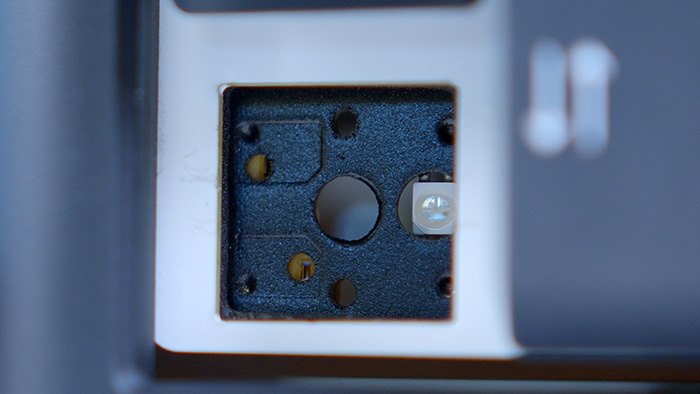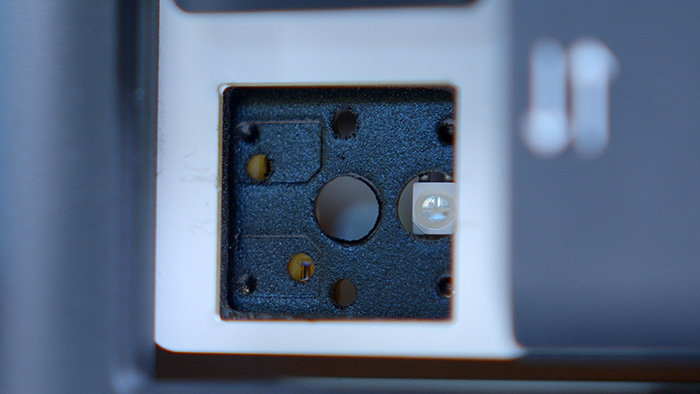 Fully Programmable through QMK or VIA
Although the Tinker65 doesn't provide a huge amount of customisation on the hardware front, such as the chassis, plate and PCB mounting options, or even adding foam. Consumers do have the option to configure the Tinker65 with software. QMK and VIA are the industry-leading applications for those looking to rebind their keys, add macros or scripts, and even change RGB.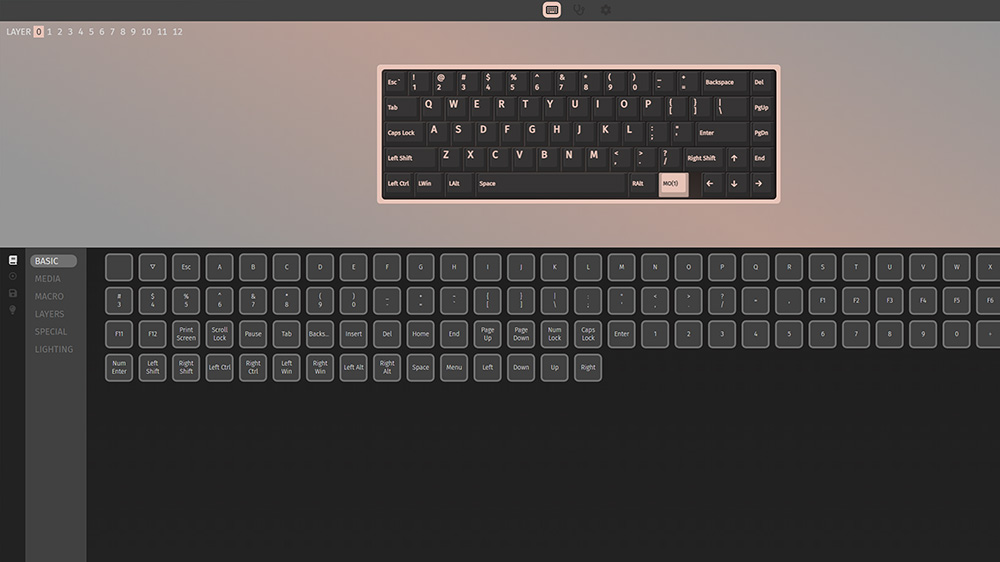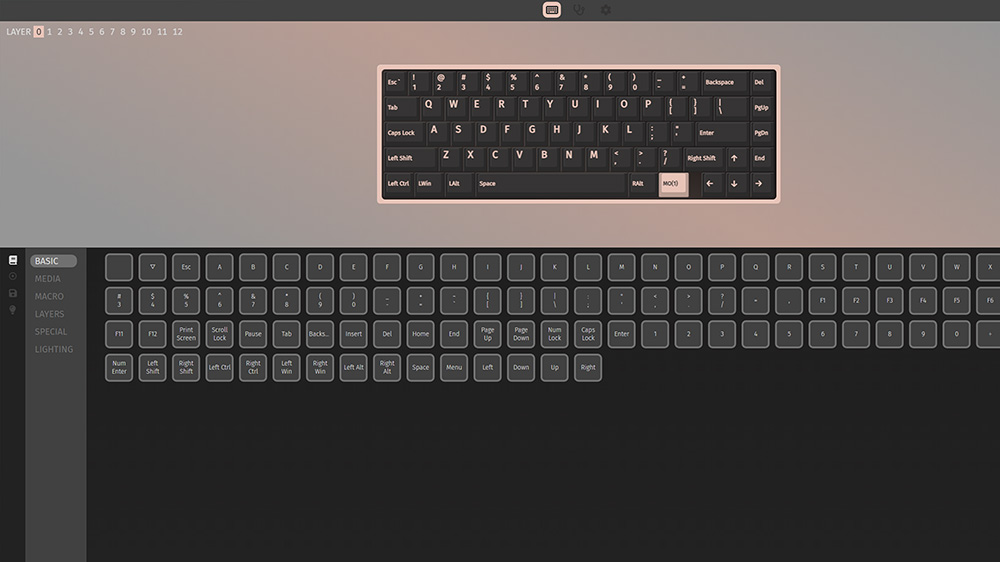 As you can see from the image that we've provided above, VIA is relatively simple to use, and it doesn't require consumers to download any additional programs to get their Tinker65 up and running. VIA is incredibly easy to use, and so is QMK.
Features We Don't Like
No Wireless Connectivity
Although the Tinker65 does offer a detachable USB-C table, there is unfortunately no wireless option for this particular keyboard. Bluetooth and 2.4GHz are very common nowadays, and even custom designs from alternative brands are including wireless connectivity, but the Tinker65 does not. This is a bit of a shame, as this would bump up the value-proposition of this keyboard quite significantly.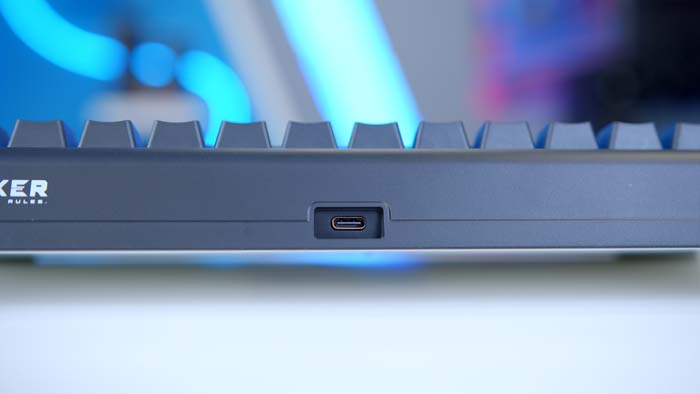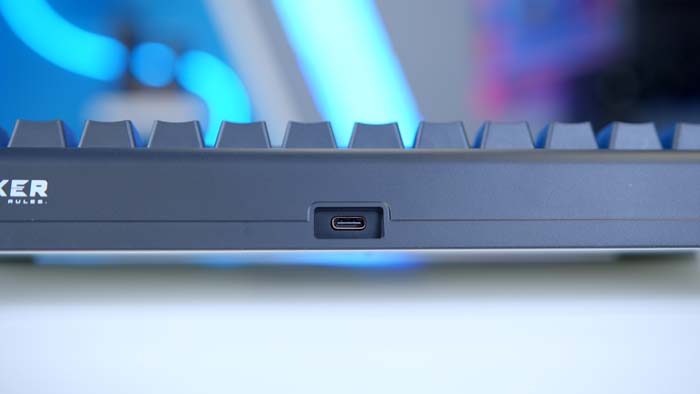 Doesn't Include a Wrist Rest
Whether a keyboard includes a wrist rest tends to vary between each product. We've seen the likes of budget and more premium options include one, so its saddening to see that the Tinker65 doesn't offer an included rest. Considering this keyboard has a fair bit of height when the biggest kickstand is being used, we would definitely recommend picking up a wrist rest alongside this option.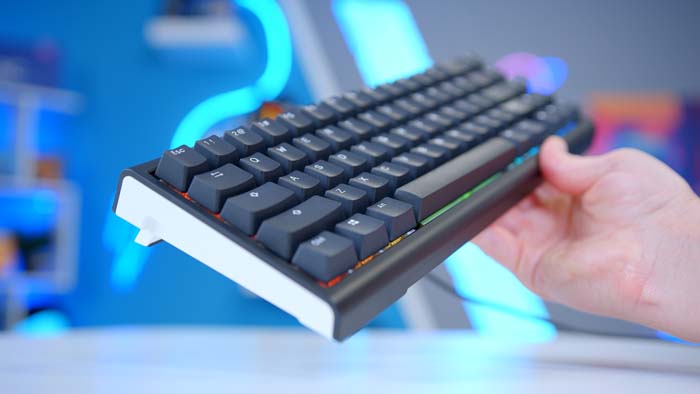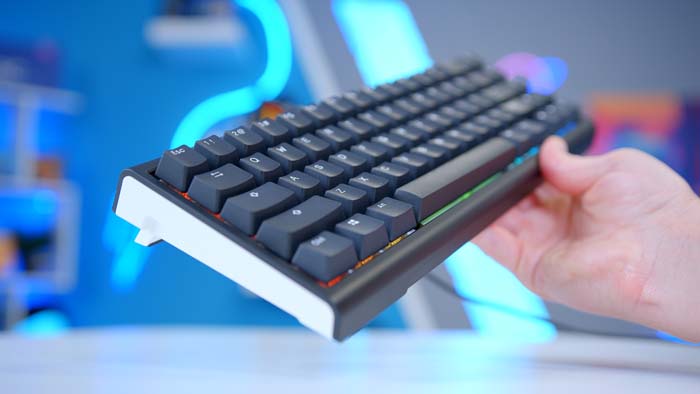 Conclusion
ProjectD Tinker65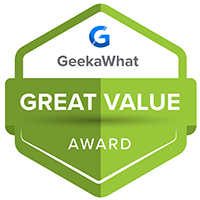 Product Name: Tinker65
Brand: ProjectD
Features

Design

Versatility

Value For Money
Summary
The Tinker65 from ProjectD is a rather tantalising and exciting offering for consumers looking to dip their toes into the custom keyboard market. While this particular option isn't the best looking keyboard that we've seen, and nor is it the most feature-rich, it offers a great entry point for those who want the benefit of having a somewhat custom built keyboard, but without the hassle of actually building one. While I do think the fully pre-assembled option that comes with an included set of switches and keycaps, may not seem like the best option. The included benefit of being able to swap out the main makeup of the feel and sound of the keyboard is great.
There are few OEM designs that provide hot-swappability, so with manufacturers like LOFREE, and ProjectD opening up more options for consumers, this provides users more customisability for their keyboard of choice, allowing them to get their setup looking exactly how they want it. It is worth noting that you will have to buy the keycaps and switches that you want, which add extra cost on top of actually buying the Tinker65. But as soon as you've picked these up, you can customise this keyboard to your heart's content.
Pros
✅ Incredibly competitive pricing.
✅ Well built.
✅ Very easy to configure and assemble.
Cons
❌ No wireless connectivity options.
❌ Doesn't come with a wrist rest.
❌ Included switches and keycaps on assembled design aren't great.