Introduction
Buying a CPU cooler is a difficult endeavour in itself. With a myriad of options available on the market, consumers need to make the choice between air and liquid cooling, whilst deciding on the radiator size and a number of other features that make options all the more complicated. To make matters worse, if you're building a PC that demands a particular aesthetic or colour, your options become even more limited.
So what are your options if you're trying to build an alternative themed white PC? Should you grit your teeth and just buy a standard black CPU cooler? Or are there some great options out there for those looking to make a sleek and sophisticated white build? Today we'll be answering those very questions with a roundup of the best white liquid CPU coolers to buy. We'll be covering a variety of options from cheaper designs, all the way up to the crème de la crème of expensive coolers!
Suggested Article: The Best Silent CPU Coolers To Buy For Any Gaming PC Build
Is Liquid Cooling Necessary?
In short, the answer is yes! There is a clear use-case for liquid CPU coolers within the market, but ultimately it depends on the kind of PC you're trying to build. Air coolers have generally been the go-to for the majority of users, but with the increasing power and thermal output of CPUs, the need for efficiency has gone up exponentially in recent years.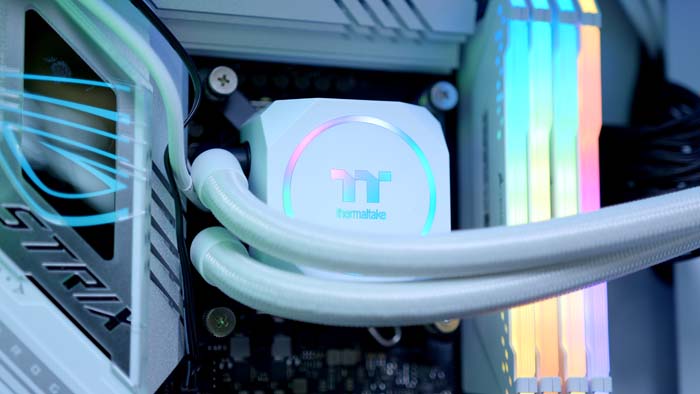 Liquid CPU coolers are designed to disperse heat using a radiator, moving the heat away from the CPU using liquid and a pump. The larger the radiator, the more surface area available to dissipate the heat, something which makes 360mm or 480mm radiators designs a great shout for top-end CPUs. While air CPU coolers are perfectly fine for less demanding chips, they can be more noisy and when delving into things like overclocking, a liquid cooler starts to become more of a requirement.
There are some minor caveats to picking up a liquid cooler. The first is price. Liquid CPU coolers are generally more expensive than air coolers, but with the efficiency increase you're arguably getting what you pay for. The second caveat is clearance limitations. 120mm liquid coolers, the smallest kind available, don't tend to pose much of a problem as there is always (even in small cases) room for a 120mm fan. As you increase the size to 240mm or 360mm, problems can start to arise. Some cases will support larger radiators, but you'll want to check the manufacturer's website for clearance and configuration support.
CPU Cooling Requirements
To provide some further context on the kind of CPUs that will need a liquid cooler we've created a table that covers both AMD and Intel SKUs, and whether we'd recommend using an air cooler or liquid cooler for each range.
| | | |
| --- | --- | --- |
| CPU SKUs | Air Cooler | Liquid Cooler |
| AMD Ryzen 9 7000 Series | ❌ | ✅ |
| AMD Ryzen 7 7000 Series | ❌ | ✅ |
| AMD Ryzen 5 7000 Series | ✅ | ✅ |
| AMD Ryzen 9 5000 Series | ❌ | ✅ |
| AMD Ryzen 7 5000 Series | ✅ | ✅ |
| AMD Ryzen 5 5000 Series | ✅ | ❌ |
| Intel Core i9 13th Gen | ❌ | ✅ |
| Intel Core i7 13th Gen | ✅ | ✅ |
| Intel Core i5 13th Gen | ✅ | ❌ |
| Intel Core i9 12th Gen | ❌ | ✅ |
| Intel Core i7 12th Gen | ✅ | ✅ |
| Intel Core i5 12th Gen | ✅ | ❌ |
As you can see from the table above, you've got plenty of options when it comes to liquid cooling. As a general rule, most modern CPUs from Intel and AMD will benefit from liquid cooling, with the top-end SKUs effectively requiring it. As a general rule, Intel's most recent CPUs are quite thermally efficient, apart from the 13th-Gen Core i9 which runs hotter, giving you more room to decide between a liquid or air cooler.
If we shift over to AMD, the situation becomes slightly more complicated. AMD's Ryzen 5000 SKUs were predominantly thermally efficient meaning you could get away with using an air cooler on even the high-end designs. But with Ryzen 7000, the boosting behaviour has effectively forced a change in the way these CPUs need to be cooled. Because the Ryzen 7000 CPUs throttle thermals up to their maximum and then boost, you need a good cooler to ensure that the die doesn't become damaged with temperatures this high. An air cooler unfortunately won't be able to sustain such high thermals in many cases, hence a liquid cooler being a good idea for even the Ryzen 5 CPUs.
Best White Liquid CPU Coolers
Now for the bit you've all been waiting for… what are the best white liquid CPU coolers that you can pick up right now? All of the below recommendations look to include a wide variety of coolers in terms of price, size and features!
1. Best 240MM White Cooler – MSI MAG CORELIQUID 240R V2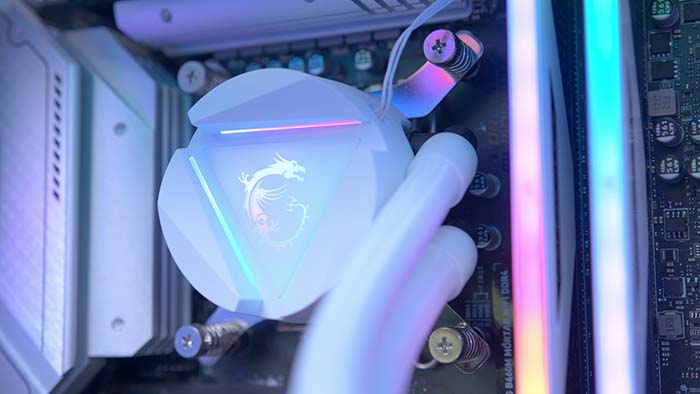 Key Specs:
Size: 240mm
Fan Header: 3-Pin PWM
Max Pump Speed: 4200RPM
Number of Fans: 2
RGB: Yes
Socket Support: LGA1700, LGA1200, AM5, AM4
First off is MSI's MAG CORELIQUID 240R V2. This excellent looking cooler sports a 240mm radiator designed to dissipate heat rapidly using the split pathway design found on the inside of the radiator. The tubing connector the radiator to the pump is evaporation proof, reducing the chance of any liquid being lost due to high thermals. The unique pump design also generates minimal vibrations designed for long-lasting operation whilst keeping your noise levels low and removing any annoying buzzing or whirring sounds.
The MAG CORELIQUID has extensive compatibility, providing you the option to choose between AMD and Intel with support for the latest LGA1700 and AM5 sockets. Not to mention this CPU cooler looks awesome. The triangle design on the pump with the integrated RGB logo provides some much needed flair, and the RGB fans are both silent and vibrant allowing you to create a lightshow in your PC case!
Buy the MSI MAG CORELIQUID 240R V2 White on:
2. Best Budget White Cooler – Cooler Master MasterLiquid ML240L RGB V2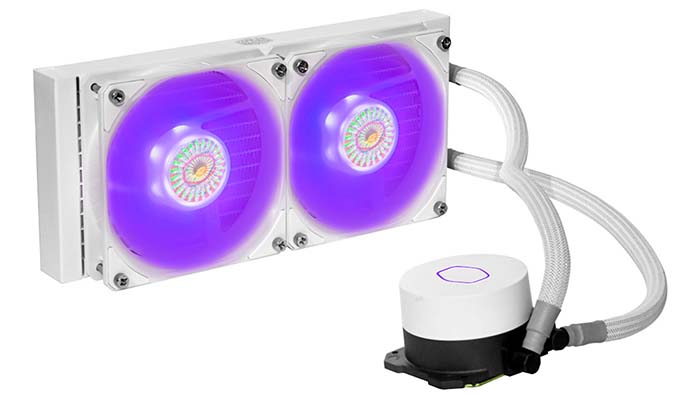 Key Specs:
Size: 240mm
Fan Header: 3-Pin PWM
Max Pump Speed: 2400RPM
Number of Fans: 2
RGB: Yes
Socket Support: LGA1700 (with extra mounting accessories), LGA1200, AM5, AM4
For our pick of the best white liquid cooler on a budget, we've picked out Cooler Master's ML240L RGB V2. We've recommended this cooler in our best budget liquid coolers buyers guide, and a number of other articles, because this AIO is an excellent pickup for a very reasonable price. The ML240L brings great performance for mid-range and budget systems whilst also bringing an excellent aesthetic for those that want to build an awesome white PC.
This AIO features a dual pump with improved housing designed to efficiently move heat away while keeping noise levels down to a minimum, removing any annoying buzzing. Cooler Master's renowned SickleFlow RGB fans also feature on this cooler bringing impressive airflow, vibrant customisable lighting and ensuring thermals are ideal for a high performing system.
Buy the Cooler Master MasterLiquid ML240L RGB V2 on:
3. Best 360mm White Cooler – Corsair iCUE H150i Elite Capellix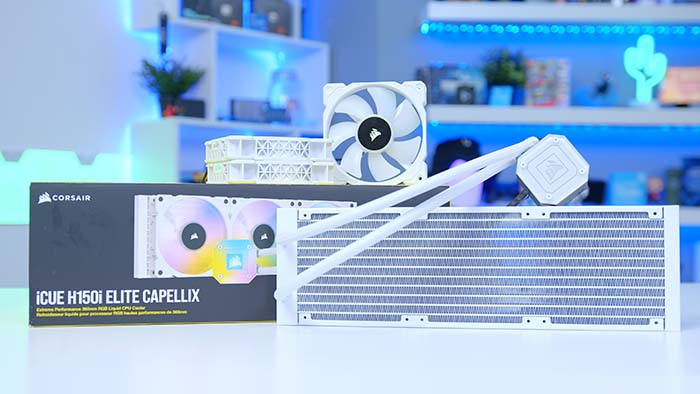 Key Specs:
Size: 360mm
Fan Header: 3-Pin PWM
Max Pump Speed: 2650RPM
Number of Fans: 3
RGB: Yes
Socket Support: LGA1700 (with extra mounting accessories), LGA1200, AM5, AM4
For our next cooler we've picked a firm favourite of the GeekaWhat office, the iCUE H150i Elite Capellix from Corsair. Alongside this cooler offering excellent thermal dissipation and performance, its biggest selling point is how good it looks. All of the Capellix designs feature Corsair's unique 'Capellix RGB' lighting. This proprietary technology allows Corsair to integrate small but vibrant RGB LEDs into their components giving users the opportunity to create incredible lighting effects and colours using Corsair's industry leading iCUE software.
The low-noise centrifugal pump delivers an excellent flow rate to ensure that heat is dispersed quickly and efficiently while remaining extremely quiet even while offsetting a significant workload. The magnetic levitation fans also deliver powerful airflow for great CPU cooling, combined with near-silent operation due to the magnetic bearing design.
Buy the Corsair iCUE H150i Elite Capellix on:
4. Best Aesthetic White Cooler – NZXT Kraken X73 RGB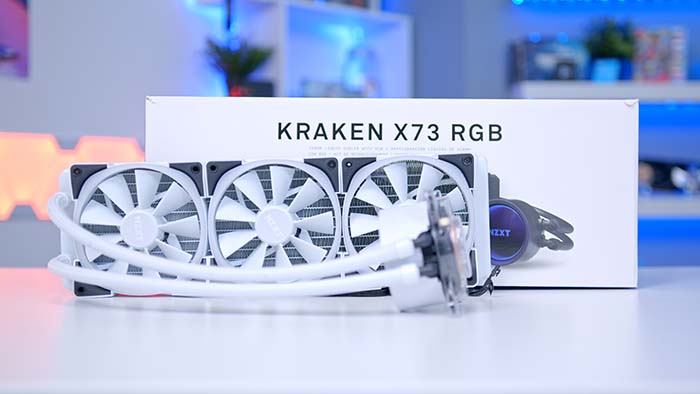 Key Specs:
Size: 360mm
Fan Header: 3-Pin PWM
Max Pump Speed: 2800RPM
Number of Fans: 3
RGB: Yes
Socket Support: LGA1700, LGA1200, AM5, AM4
If there's one thing that NZXT is good at, it is making fine looking components. For years NZXT have been the go-to for cases due to their sleek and minimalist design, along with usability tweaks which make the building process much simpler. When the NZXT Kraken X73 came along, we knew we would have to get our hands on one to show off in a number of gaming PC builds.
The Kraken X73 RGB features an infinity mirror design with RGB lights lining the inside that just look awesome. Customising the lighting with a number of different colours and effects using NZXTCam is extremely easy. All three of the Aer RGB 2 fans can make your build shine brightly and can be synced up with any other NZXT components or accessories. This cooler will be perfect for a high-end build that needs a powerful solution to sustain lower temperatures, but also for users that want to put their PC on display in all its glory!
Buy the NZXT Kraken X73 RGB on:
5. Best White LCD Display Cooler – Corsair iCUE H100i Elite Capellix + Corsair LCD Display Upgrade Kit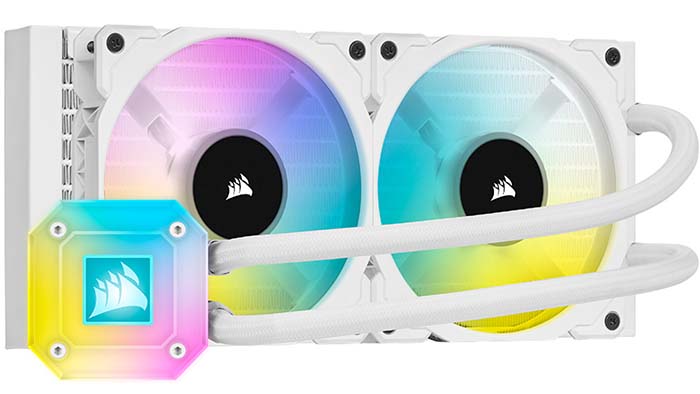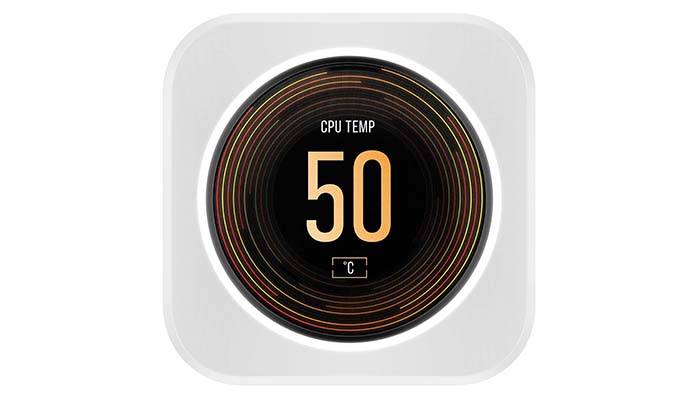 Key Specs: Size: 240mm // Fan Header: 3-Pin PWM // Max Pump Speed: 2800RPM // Number of Fans: 2 // RGB: Yes // Socket Support: LGA1700 (with extra mounting accessories), LGA1200, AM5, AM4
You might think we're clutching at straws with this one, but you'll probably be surprised to know that there are very few white liquid coolers that have an LCD display. The only one that comes to mind is NZXT's Kraken Z73, but we wanted to find a nice balance of features, price and performance. So we've picked out Corsair's smaller 240mm radiator, the H100i, and paired it up with their White iCUE LCD Upgrade Kit. The upgrade kit is extremely easy to install, all you need to do is remove the Capellix block with an phillips screwdriver, and then screw in the necessary mounting hardware to get the LCD display working.
I believe that Corsair's LCD display CPU coolers offer a nice balance of aesthetic and utility. You can customise what the LCD screen shows using the iCUE software, which has a very simple and easy to use UI. The display can show GIFs, memes, or if you're interested in your thermal output, then you can show your system temperatures in a variety of different ways. The iCUE coolers from Corsair perform extremely well when it comes to thermals, and because this is a 240mm design you can save some money instead of opting for a 360mm radiator.
Buy the Corsair H100i Elite Capellix White on:
Buy the Corsair iCUE ELITE LCD Upgrade Kit on: