Introduction
When it comes to picking a CPU cooler, there are two main factors that come into play. The priority in a CPU cooler is primarily the ability to keep the temperature of your CPU to a minimum, in order to avoid thermal throttling and allow for the highest clock speeds.
The next biggest factor, behind the cooling capability, is how much noise the cooler makes. There's no point having a chilly system that sounds like a rocket ship every time you load up a new game of Apex Legends.
In this article, we'll be providing you with a list of CPU coolers that offer the best of both worlds, but specialise primarily in keeping audible volume to a minimum.
Air vs Liquid Cooling- Which is better?
One of the biggest debates for PC builders is whether air cooling or liquid cooling is the superior option for a gaming PC. It can be tough to choose between the two types of cooling, with plenty of pros and cons for each. Ultimately, we believe that picking the right one for your build comes down to a few key variables.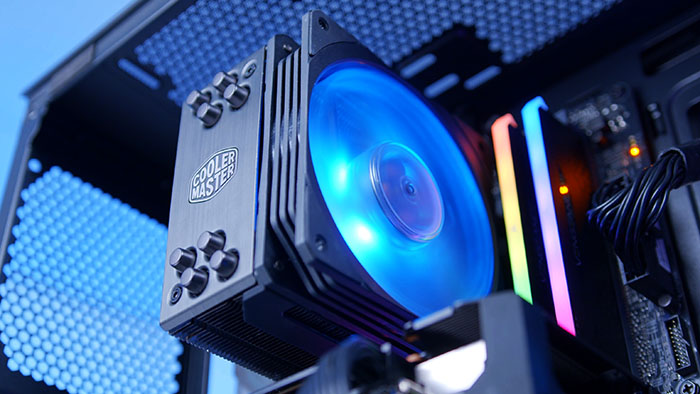 The first factor that could sway the decision is size. Liquid coolers tend to take up a lot of space within a PC build compared to an air cooler, something which won't suit all chassis.
Similarly, anyone on a budget will want to select an air cooler as they tend to be cheaper than liquid alternatives. The smaller form factor and less complicated mechanisms make air coolers easier to manufacture, which helps bring the cost down. Most air cooling options will provide enough airflow to keep budget and mid-range CPUs cool, making them a great choice for those cutting costs.
If size or budget is not an issue, liquid cooling is generally the better choice for a gaming PC build. Liquid cooling is a more efficient practice than air cooling as the systems are engineered to move heat away form the CPU much quicker. This makes liquid cooling a must-have for high-end builders as it can manage heavier workloads.
Finally, liquid coolers often look better than air coolers due to their more intricate designs which allow for more room for customisation features such as RGB lighting. If the appearance of your build is just as importance as the performance, a liquid cooler is likely your best best bet.
Our Favourite Silent CPU Coolers
We've compiled a full roundup of our favourite coolers below, but if you're after our favourite designs at a glance, here are the best options to buy right now:
Best Budget Silent CPU Cooler: Noctua NH-U12S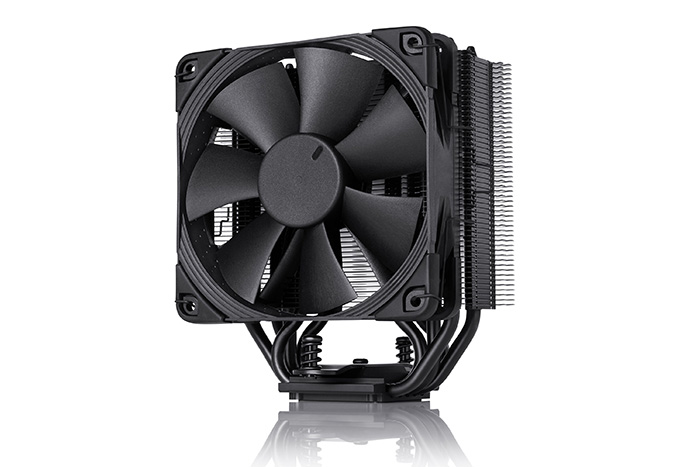 Noctua have become renowned for their impressive air cooling at a reduced price point. As one of their lower-end options, the NH-U12S fits a lot of cooling capability into its single fan design. It can generate plenty of airflow whilst remaining silent. And with plenty of options to enhance the base design for even better performance, this air cooler is a perfect choice for budget builders who are looking to upgrade their components within a few years.
Buy the NH-U12S on:
Best Software Control: Corsair iCUE H115i Elite Capellix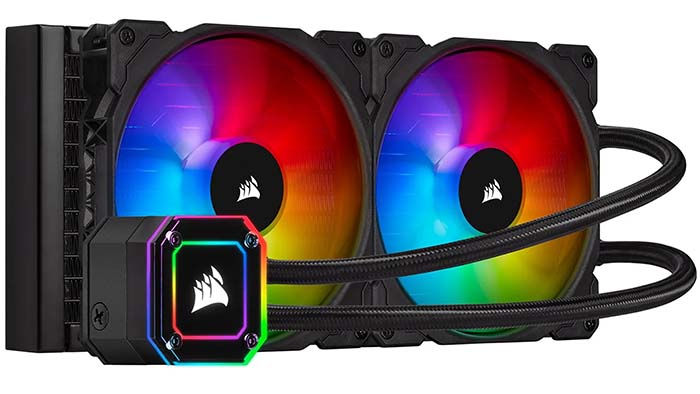 The Corsair iCUE H115i Elite Capellix offers extremely efficient liquid cooling in a form factor that will be an ideal fit for most mid-range builds. The larger 140mm fans can move heat away from the CPU at a faster rate than 120mm fans, which leads to a cooler that barely makes a sound whilst running. And like other Corsair coolers, the H115i includes the ability to monitor performance and customise settings in the iCUE software.
Buy the Corsair H115i Elite Capellix on:
Best High-End Silent CPU Cooler: Noctua NH-D15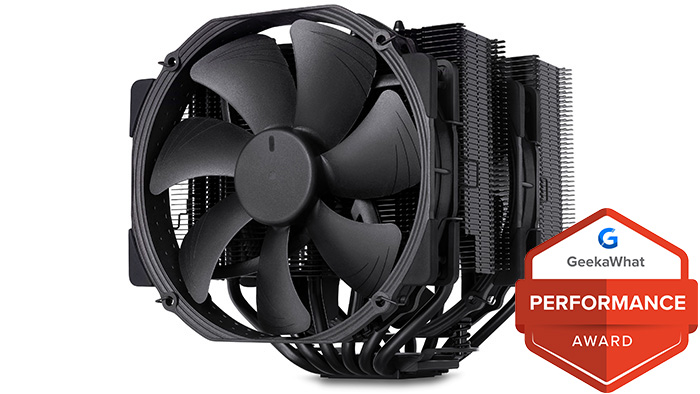 The NH-D15 manages to transfer the efficiency found in their smaller models like the NH-U12S to create a premium air cooling solution. Whilst liquid cooling is often preferred in higher-end builds, the NH-D15 has enough power to compete with the best liquid coolers on the market, whilst also offering better value for money. The dual fan design drastically increases airflow, which allows your system to run quietly and hassle-free. Just like it's budget counterpart, the NH-D15 includes of optional adjustments that can provide significant gains in performance, or just add a splash of colour.
Buy the Noctua NH-D15 on:
Our Recommendations
1. Be Quiet! Dark Rock Pro 4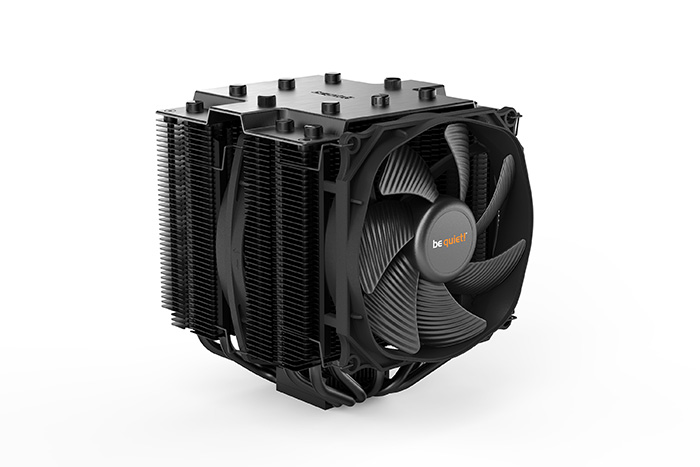 Staring off our roundup of the best silent CPU coolers is the Be Quiet! Dark Rock Pro 4. When the name of a brand is 'Be Quiet!', it's fair to assume that their products will have a silent approach to them, and the Dark Rock Pro 4 certainly lives up to those expectations. This air cooler includes two Silent Wings PWM fans, which are designed to optimise airflow and keep the noise down so that it is virtually inaudible. Even during the most demanding circumstances, the fans work in conjunction with the integrated pipes and vibration-isolating heatsinks to move heat away from the CPU without causing a noticeable increase in noise pollution.
Noise Rating: 24.2dB @ 100% Fan Speed
In terms of appearance, the sleek black finish throughout will allow the Dark Rock Pro 4 to blend nicely into a stealth build. It is also compatible with both AMD and Intel's latest motherboards, as well as previous CPU generations, making it a good solution for those looking for a versatile cooler that will last a number of years.
All for a price that won't break the bank, the Be Quiet! Dark Rock 4 is a worthy choice for stealth lovers that need a CPU cooler that sounds as quiet as it looks.
Pros
Dual fan design for optimal cooling
Sleek black aesthetic
Compatible with AMD & Intel
Cons
No RGB or custom software
Fan can block RAM slots
May struggle in high-end builds
Buy the Be Quiet! Dark Rock Pro 4 on:
2. Noctua NH-U12S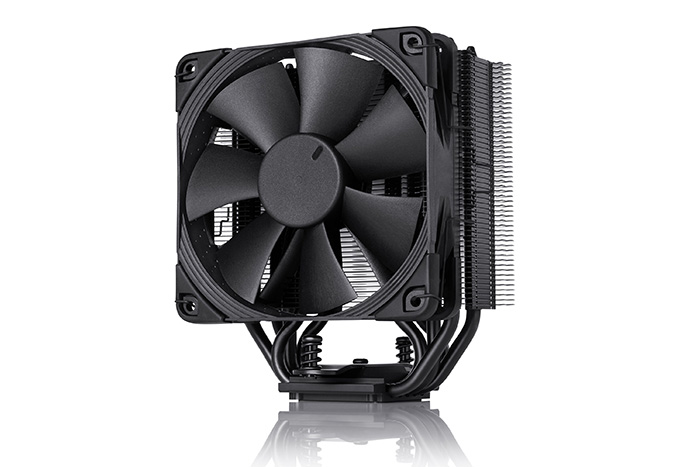 Next up is an air cooler from Noctua that has a smaller form factor than the Dark Rock Pro 4. The Noctua NH-U12S is a great budget option that has built a reputation for being one of the best value CPU coolers on the market. Despite its smaller size, the NH-U12S can handle intense heat loss whilst remaining as quiet as possible. The single 120mm fan performs surprisingly well, maintaining sufficient airflow levels throughout.
Whilst this fan will be more than enough for most budget builders straight out of the box, there are some extras that can be applied to improve the performance or appearance of the NH-U12S. For example, optional coloured heatsink covers can be added to make the fan stand out more in a case whilst providing improvements to heat dissipation.
Noise Rating: 22.4dB @ 100% Fan Speed
This is also a great choice for wide motherboard compatibility, as Noctua often bring out new mounting kits that will allow their fans to be installed into future motherboard designs, meaning you won't have to worry about the NH-U12S becoming outdated.
The NH-U12S is available in Noctua's traditional brown colour scheme, but most consumers will opt for the chromax.black version as the sleek black colour looks much nicer in a regular PC build.
Pros
Small design fits in most builds
Ability to upgrade parts
Compatible with AMD & Intel
Cons
No RGB or custom software
May struggle in high-end builds
Stock brown colour
Buy the Noctua NH-U12S on:
3. Corsair iCUE H115i Elite Capellix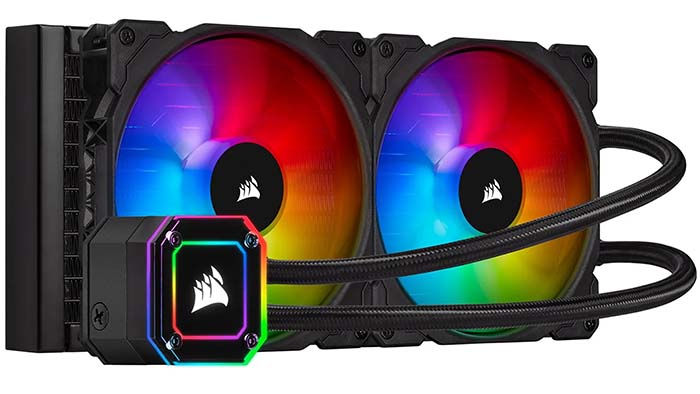 Our first liquid cooling option is the iCUE H115i Elite Capellix from Corsair. This CPU cooler is equipped with a 280mm radiator that includes 2 fans, an RGB pump head, and a split-flow cold copper plate. As the mid-range option in the Elite Capellix lineup, the larger 140mm H115i fans offer improved cooling compared to the H100i whilst keeping a smaller form factor compared to the premium H150i. The larger fan diameter helps to provide more airflow at lower fan speeds.
Noise Rating: 35.dB @ 100% Fan Speed (Fans Only)
Whilst having a 280mm layout is less conventional than 240mm, most mid-tower cases will support the two-fan design, and some smaller cases might be able squeeze it in too. But those builds that can fit this CPU cooler will benefit from a number of custom performance settings, along with multiple RGB lighting options available with Corsair's iCUE software. This software will let you adjust fan and pump speeds, monitor the temperatures of components, and synchronise the CPU cooler's RGB lighting with other iCUE compatible components in your system. Combining this software with the already impressive default settings ensures that your PC will remain silent and cool, or at least give you the ability identify the problem if the noise levels increase.
Pros
Efficient two-fan cooling system
RGB Lighting on fans & pump head
Corsair iCUE software integration
Cons
280mm design won't fit every build
Takes up fan additional fan space
More difficult to install
Buy the Corsair iCUE H115i Elite Capellix on:
4. Noctua NH-D15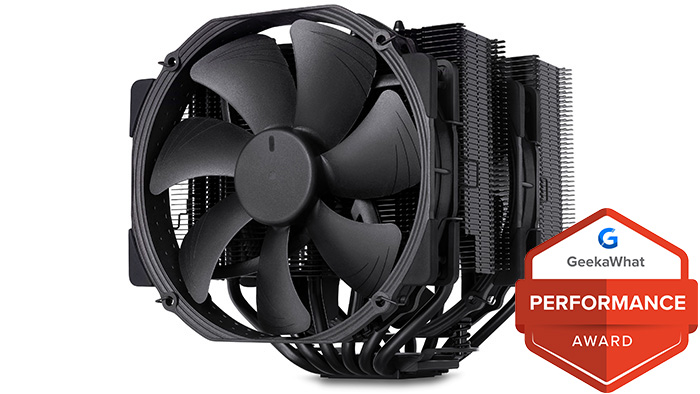 Another Noctua product makes the list, with the more powerful NH-D15 air cooler. For a slight increase in price, the NH-D15 extends the fan size to 140mm and adds an additional fan for major boosts to airflow. This drastically improves the efficiency of the NH-D15, allowing it to compete with the performance of a variety of liquid coolers within the same price range and above. As far as air coolers go, this cooler is one of the best options for keeping your system nice and quiet, making it an ideal choice for budget and mid-range gaming PCs. Whilst the increased size could be an issue for smaller builds, the performance enhancements makes the added size seem like less of a sacrifice.
Noise Rating: 19.2dB @ 100% Fan Speed
In a similar fashion to the NH-U12S, the NH-D15 can also be upgraded by installing extras parts for an additional boost to performance and aesthetics. Also, the SecuFirm mounting system allows for easy installation onto motherboards past and present, with plans to release kits for compatibility with future boards as well. If possible, this will add some future-proofing to your build, saving you money on potential upgrades in a few years time. In the traditional Noctua style, the NH-D15 is available in their distinct brown colour scheme, or the more conventional chromax.black. Again, we would advise picking up the chromax.black edition as it will be more suitable for most builds.
Pros
Dual fan design for optimal airflow
Ability to upgrade parts
Compatible with AMD & Intel
Cons
Large fans won't fit into some cases
Can cover RAM slots
Buy the Noctua NH-D15 on:
5. MSI MEG CORELIQUID S360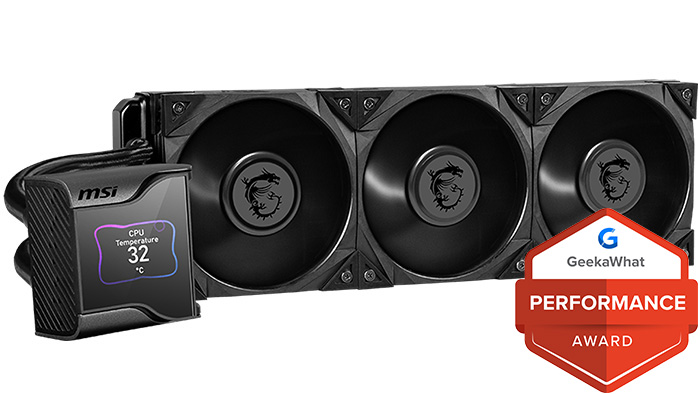 Last but not least, we have MSI's MEG CORELIQUID S360. As the most high-end option on this list, this liquid cooler is built to handle the most powerful CPUs on the market. The 360mm radiator is packed with 3 fans to provide sufficient airflow during the most demanding of tasks. More specifically, these fans are the MSI MEG Silent Gale P12's, which have been intentionally built to cool a system without making a sound. Whilst the S360 is on the more expensive side, the performance of this CPU cooler does help to justify the price tag.
Another feature that makes the MEG CORELIQUID S360 feel more premium is the built-in display on the top of the pump. This 2.4″ IPS screen can be used to provide real-time feedback on hardware information such as the CPU temperature, allowing you to monitor the performance of your system with ease. Alternatively, you can customise it to show the weather, time, a custom image, or video via the MSI Center software. Like many of the other coolers on this list, the MSI MEG CORELIQUID S360 has a sleek black design that will look great in most builds. Unfortunately, there is no RGB on the fans or cooler itself, with the IPS display being the only way to alter the aesthetics.
Pros
Designed to cool high-end components
IPS display offers real-time monitoring
MSI center software integration
Cons
Large radiator won't fit smaller builds
No RGB lighting
Relatively expensive
Buy the MSI MEG CORELIQUID S360 on: