Introduction
Gamers looking to build a white gaming PC are still quite restricted on the parts they can select. Generally speaking, manufacturers opt for a more traditional colour scheme of either black or grey, with only a few select components equipped with an alternate design.
However, this hasn't stopped white-themed gaming PCs from soaring in popularity over the past few years, to a point where it has become one of the more difficult choices to make for builders starting from scratch. Once gamers have decided on a colour scheme, the process doesn't get any easier, as it is then time to find a component that performs well and contribute to the overall look of your build.
In this buyers guide, we'll be offering our top picks for the best white PC cases on the market, along with some guidance on how to pick the right PC case for your next build. When choosing our list, we tried to make sure to include cases which varied in size, style, and functionality in order to provide at least one option that will suit your needs.
Best White PC Case: Corsair 4000D RGB Airflow
If we had to select just one of the PC cases featured in this for a white-themed build for the best white case to buy, we would have to go for the Corsair 4000D Airflow. Featuring a ventilated front panel, RapidRoute cable management, and Corsair iCUE compatibility, this case has all the elements needed for builders of all experience levels, whilst providing a look that is made to stand out. Plus, it's available at a very reasonable price.
Suggested Article: Best PC Cases to Buy Under $100
All Cases in our Roundup
1. Corsair 4000D RGB Airflow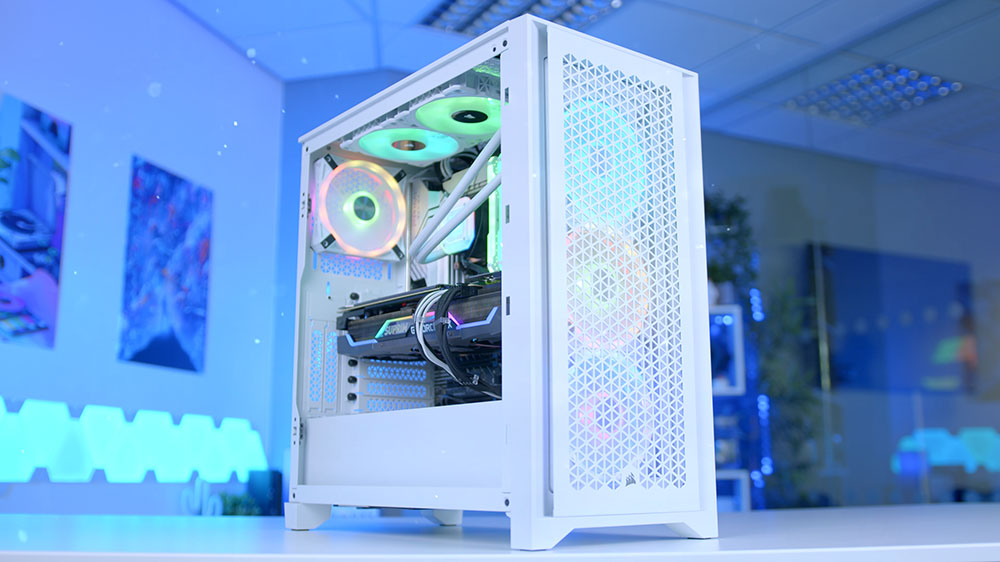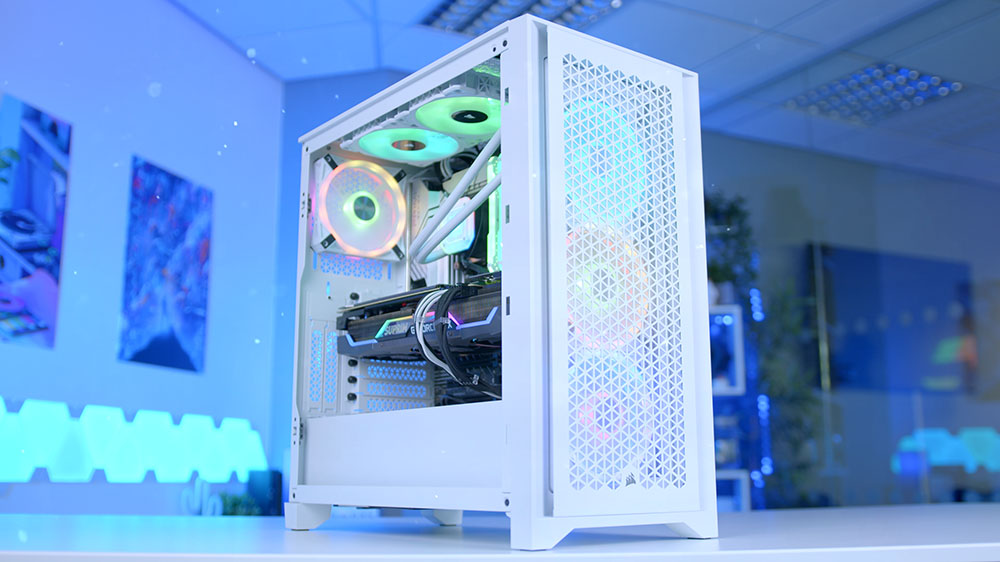 Kicking things off as we intend to go on, our first case is Corsair's 4000D RGB Airflow. As you might have gathered from the name, this case puts an heavy emphasis on providing plenty of ventilation to keep components at an optimum temperature. Even though airflow might be its top priority, the 4000D provides a lot more than this thanks to the triangular pattern on the front panel and clean finish.
Additionally, this case includes lots of support for RGB lighting, which looks awesome shining through the front. As a Corsair product, its no surprise to see this case supports their industry-leading iCUE software, unlocking a variety of different lighting effects and allowing gamers to synchronise their PC with the rest of their setup. On top of this, the 4000D isn't shy on practical features, with a glass side panel that remove without any tools needed, and a RapidRoute cable management system to make it easier to keep a system nice and tidy.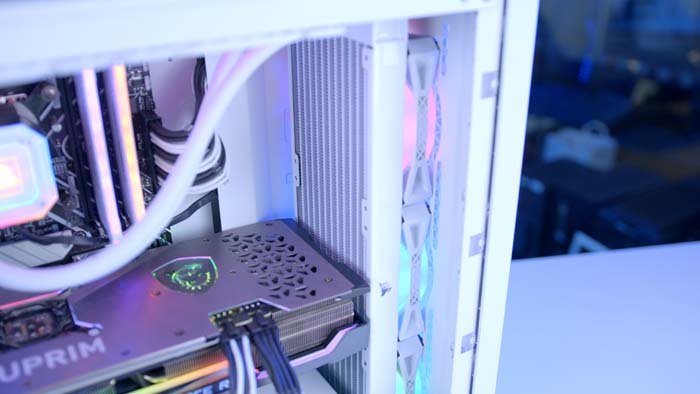 Anyone looking to build a PC with a larger E-ATX motherboard for greater connectivity will be out of luck here, as the 4000D doesn't offer support for these boards. This shouldn't be an issue for most builders, but those building a high-end system may be affected.
As a design built for optimising airflow, we were left slightly confused that this case only comes with two fans instead of three. This results in builders aving to pick up at least one additional fan, along with the typical CPU cooler.
Where to Buy
Buy the Corsair 4000D Airflow on:
2. Lian Li O11D Mini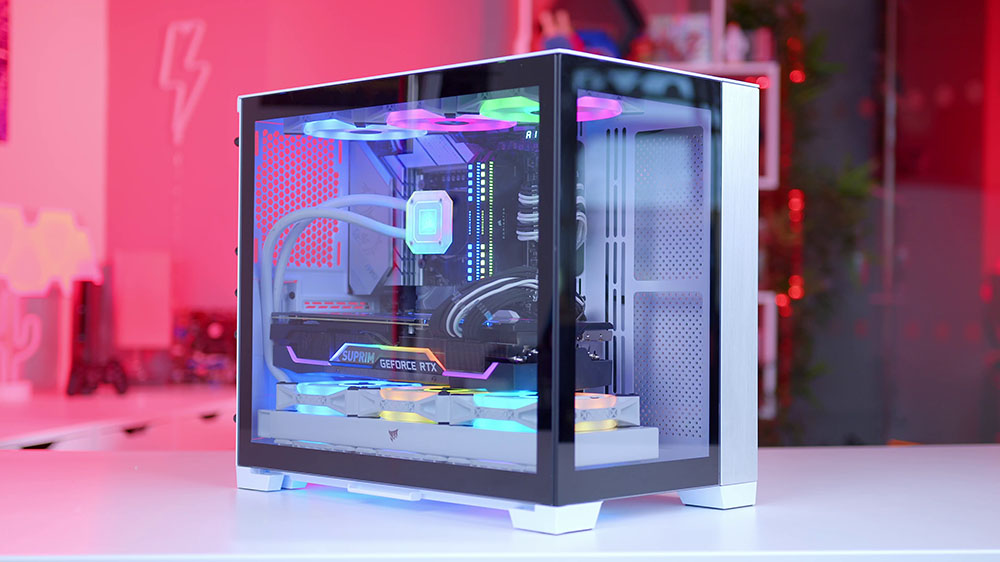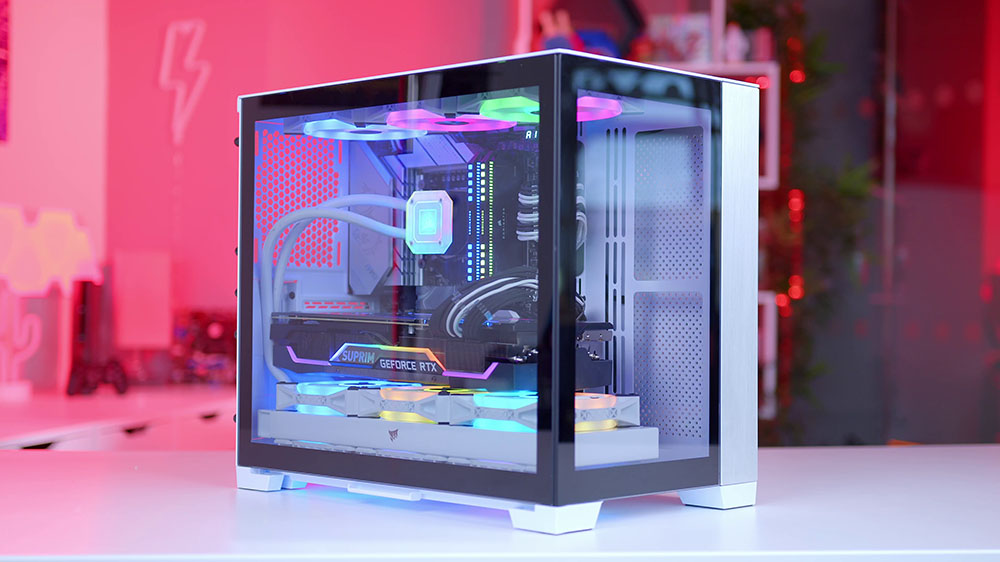 Now onto a design with a slightly smaller form factor, our next pick is the Lian Li 011D Mini. One of the biggest gripes with a lot of PC cases is the amount of space they take up within a gaming setup. Whilst there are plenty of compact solutions on the market, these cases often come with limited support for components. However, Lian Li throw these concerns out the window with the O11D Mini.
Despite the compact nature of this case, its modular design makes it extremely versatile compared to other cases of a similar size, allowing builders to configure their system in a way that fits all of their components. As for looks, the predominantly white design featured here is less apparent due to the two glass panels which help to showcase the components inside, a current trend that was arguably started by cases like this one.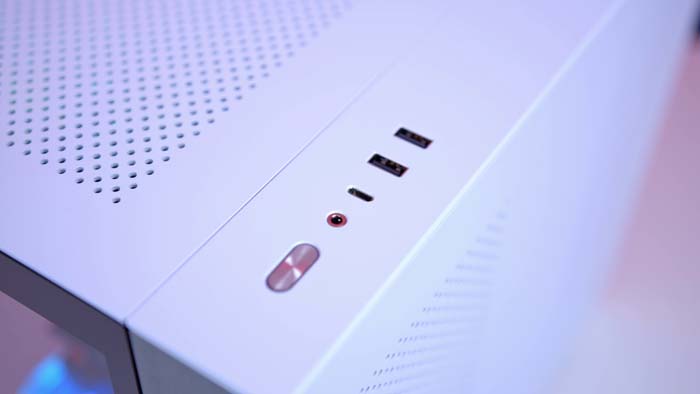 We wouldn't say that building a PC in this case is too difficult compared to a more conventional design, but it does come with some additional steps. As a result, novice builders should stick to a case that offers a more streamlined building process.
The black trim surrounding the glass panel takes away from the snow white aesthetic that the rest of the case delivers. While the glass case is great for showing off parts inside a build, the obstructive border is less than ideal for an all-white gaming PC.
Where to Buy
Buy the Lian Li O11D Mini on:
3. Cooler Master TD500 Mesh V2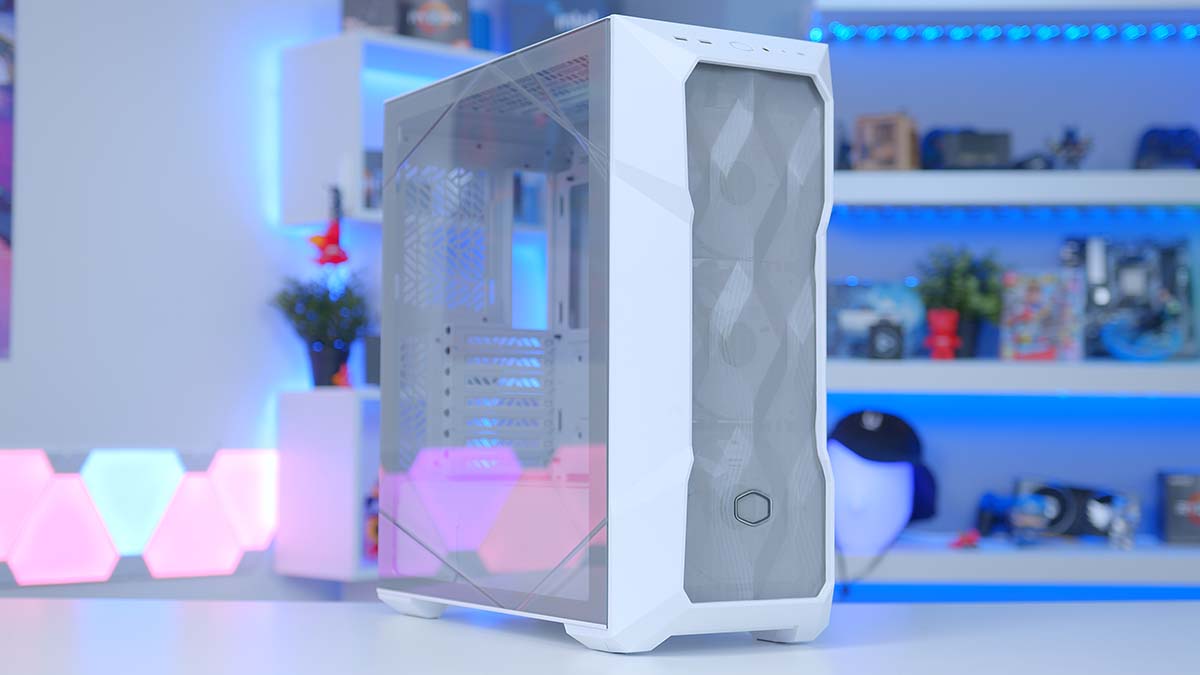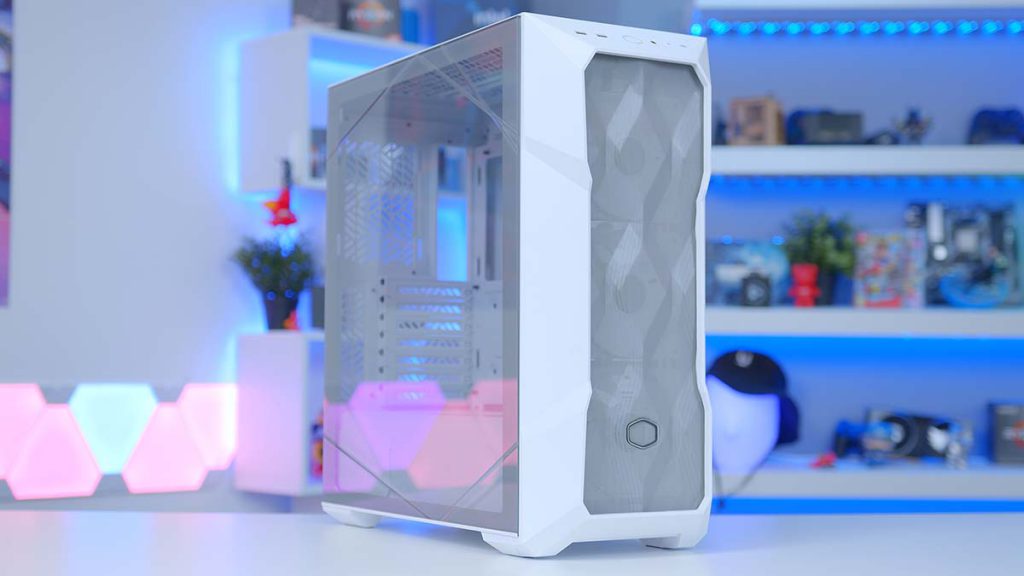 For first-time builders, navigating around a PC case can be quite a daunting experience, so picking a case that doesn't include features to relieve this stress and make building process easier can lead to some costly errors. That's why Cooler Master's TD500 Mesh V2 is a great option for builders with less experience, as it includes plenty of design features that helps to remove the complications of building a PC.
For example, the removeable top panel allows users to install fans or a CPU cooler without having to screw things down at an awkward angle, and the tool-free side panel makes it easy to access the inside of your PC when necessary. Whilst the aesthetic is very similar to the original TD500 Mesh, this case refines the look whilst adding lots of accessibility features, making it the superior option. As a fairly large mid-tower case, the TD500 Mesh V2 has plenty of room for the latest components, and the mesh front panel provides lots of airflow to keep components cool.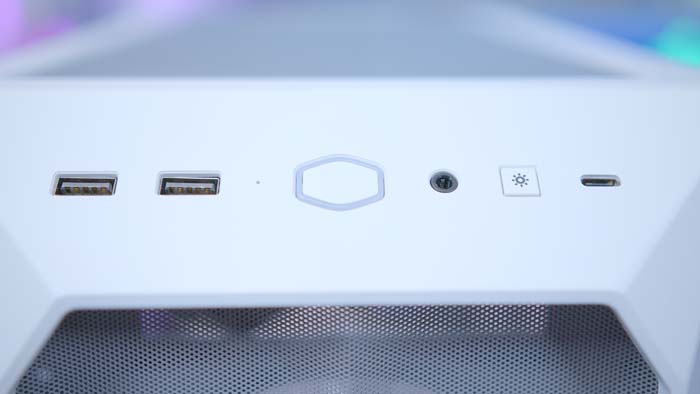 Whilst this case does offer some support for E-ATX motherboards, support is limited to 12″ x 10.7″ boards. Furthermore, any E-ATX motherboards could obstruct the cable management features included in this case.
In contrast to the previous entry in this roundup, the TD500 Mesh V2 is pretty large for a mid-tower case. Therefore, anyone looking to pick up this design should have enough room to accommodate a large PC.
Where to Buy
Buy the Cooler Master TD500 Mesh V2 on:
4. NZXT H9 Elite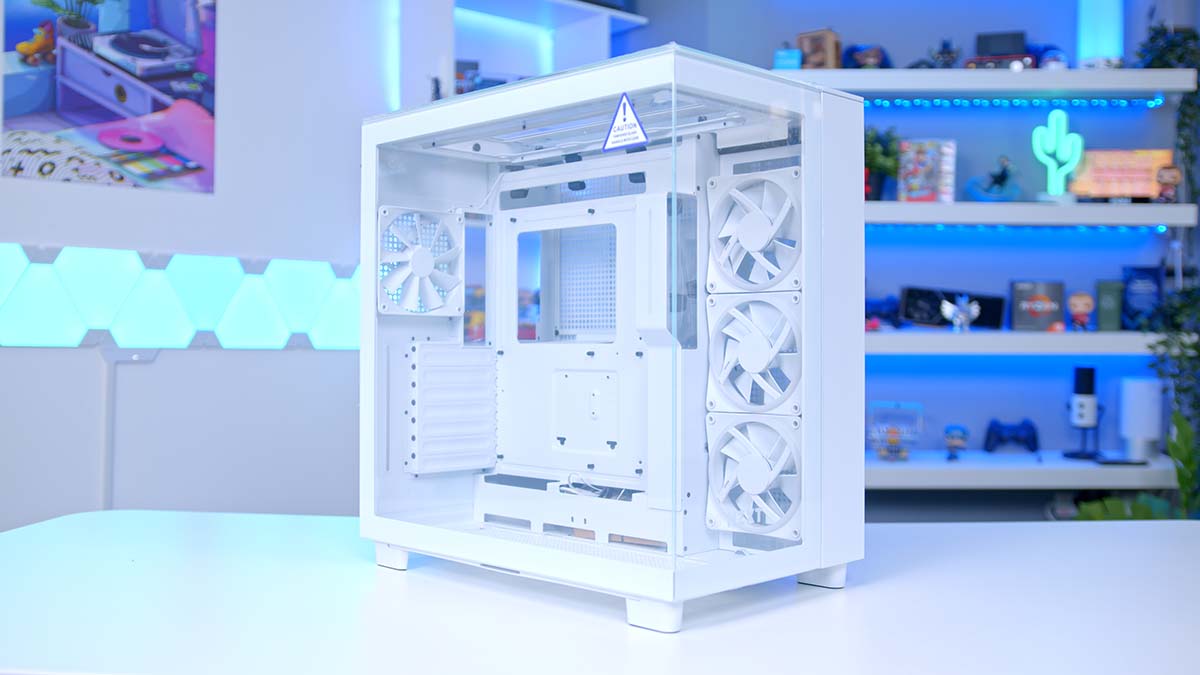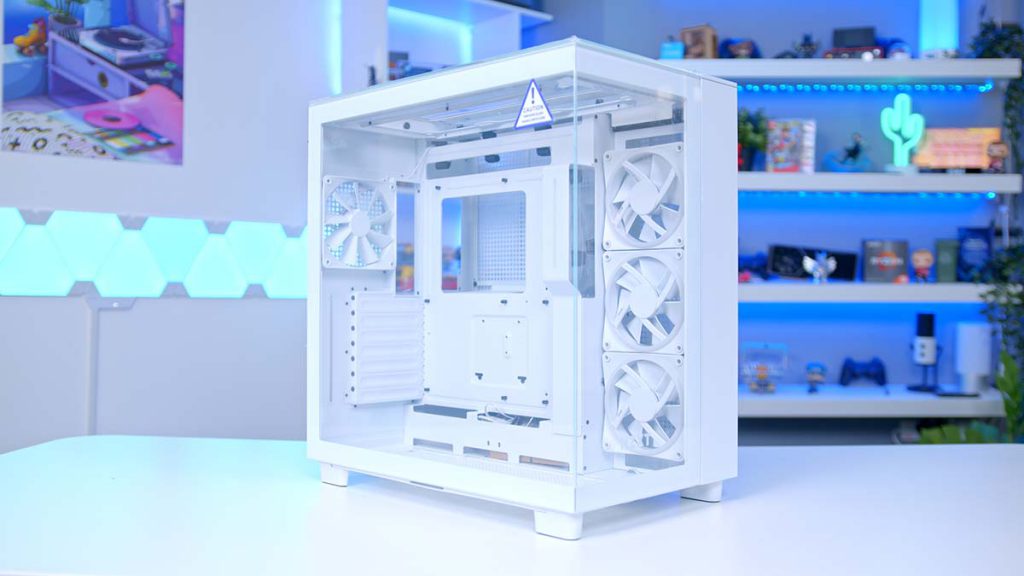 Our next pick is one of the newest entries to the white PC case market, NZXT's H9 Elite. This premium mid-tower design takes inspiration from the likes of Lian Li and HYTE to provide a sophisticated method of displaying a high-end gaming PC, acting as a statement piece within a personal setup. Featuring the wrap-around look which continues to grow in popularity, the H9 Elite has more than enough space to support the best components on the market.
We've used plenty of NZXT cases for a number of different PC builds over the years, but the H9 Elite provided the most luxurious experience. The larger design allows you to orientate fans and radiators in multiple ways, whilst ensuring that any RGB lighting can be on full display, and the 435mm GPU clearance leaves plenty of room for an RTX 40 series or Radeon 7000 series GPU. Finally, the all-white aesthetic is very clean, perfect for those putting together an all-white gaming PC.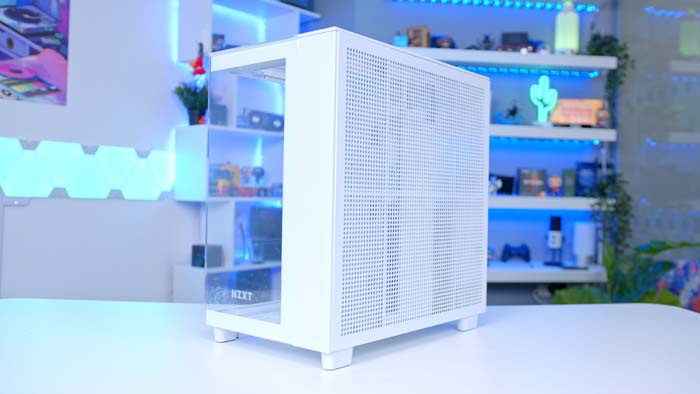 Due to the luxurious nature of this case, it is unsurprising to see a large price tag attached to it. The minimalist design and enhanced features on NZXT products often come with an increased price, but this particular product is significantly higher than most PC cases available.
Even though the dual chamber design and large capacity for components is useful within the building process, this case doesn't offer much in terms of cable management. Because of this, it may not be the best option for new builders.
Where to Buy
Buy the NZXT H9 Elite on:
5. HYTE Y60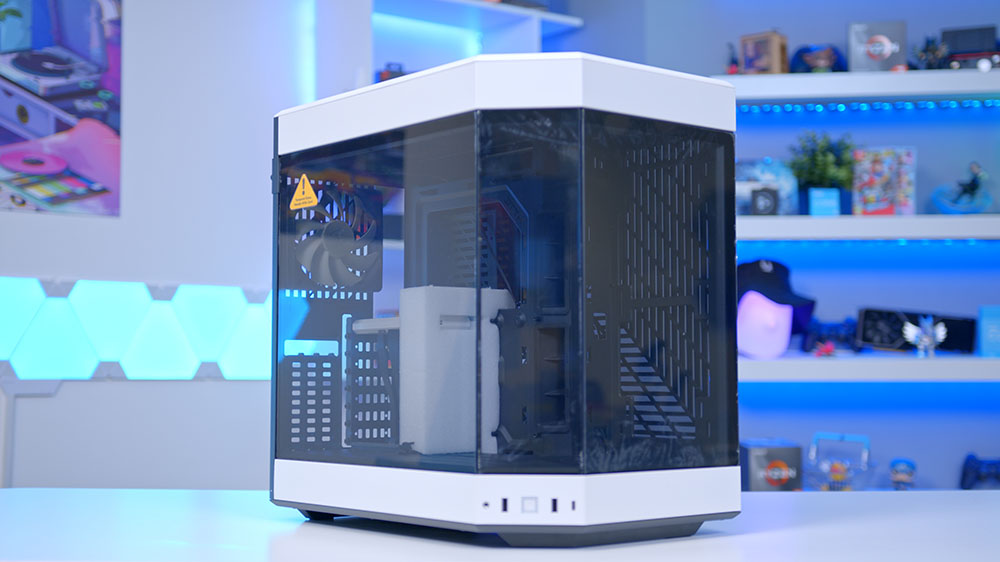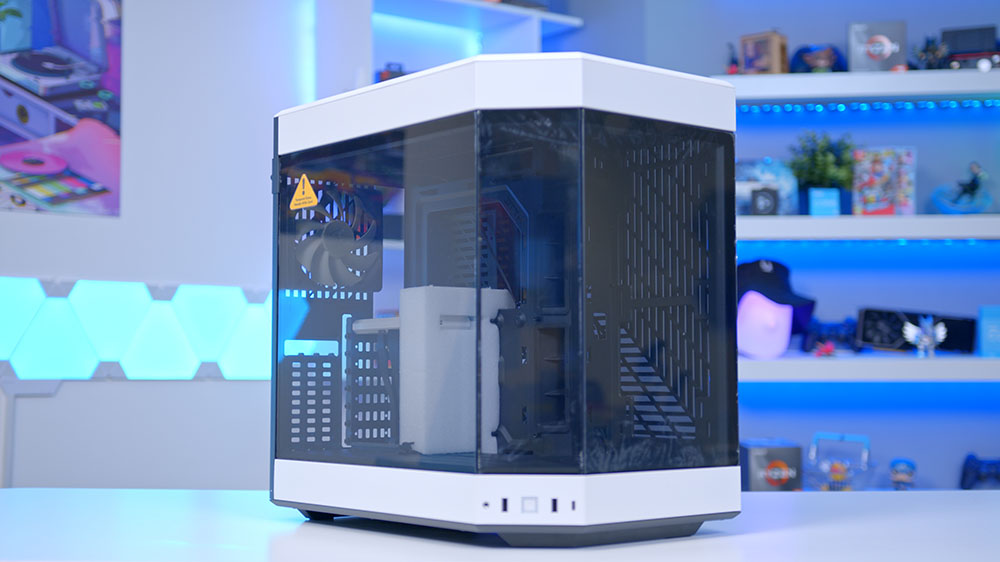 Last but certainly not least, we have a PC case that has grabbed the attention of PC building enthusiasts around the world, the HYTE Y60. This case shares a lot of similarities with our previous entry, along with most of the newest PC case designs hitting the market, as this case also includes wrap-around glass panels to show off the inside of the system. However, HYTE's panoramic design adds a lot of grandiose that is missing on the more simplistic alternatives.
Available in multiple colours such as white, red, and snow white, consumers can pick the colour scheme that best fits the rest of their gaming setup. This is great for those building a white PC in particular, as they can choose between a cleaner snow white case perfect for all-white builds, or the regular white, which includes a black interior to add contrast to highlight the components within a system. As for support, the Y60 can accommodate most components, including E-ATX motherboards.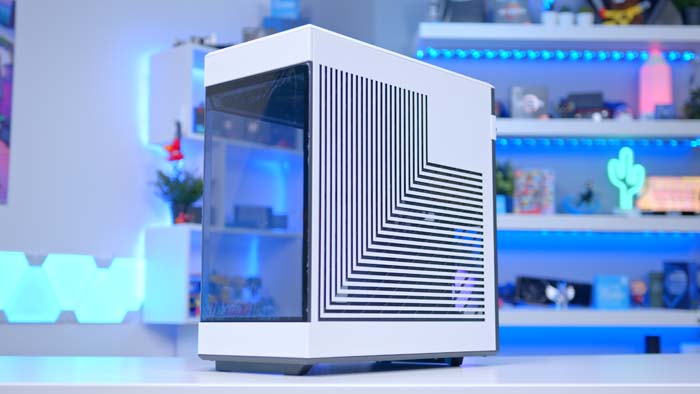 Like many of the PC cases that share a similar design, this case is slightly pricier than the average case. However, HYTE do offer a more affordable version of this design, the Y40, allowing more gamers to enjoy the aesthetics of this revolutionary offering.
Compared to most mid-tower PC cases, the Y60 has fairly limited space for components such as GPUs and CPU coolers. This could result in larger products not being able to fit inside this case, so it is worth checking the size of other components on your wishlist before picking this case.
Where to Buy
Buy the HYTE Y60 on:
How Do I Know If My Components Will Fit into a PC Case?
When picking up a case to house all of your components, it is important to check whether there will be enough space to allow each component to run on top form. This can be pretty difficult to balance, as cases can often provide either too much space for one component, but not enough for another.
PC case clearance refers to the amount of space between a component and the edge of the case. It is important to keep some distance between these two points in order to prevent damage and stop the obstruction of airflow. Our advice is always to leave at least 20mm of space between a component and the case in order to prevent any issues from occurring.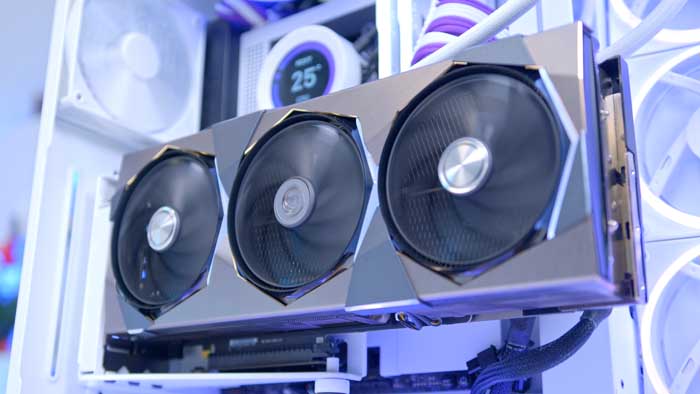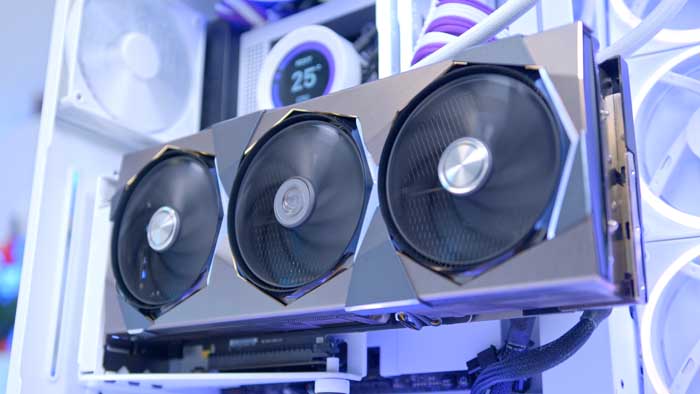 Which PC Case Size is Best?
Ultimately, the right PC case size for a build depends on the components that will be slotted inside of it, as well as how much room you have within your setup. Whilst the size of PC cases vary quite drastically, they are still bound to take up a lot of room on or under a desk. Because of this, our first piece of advice for anyone looking to buy a new PC case is to consider the space available within your setup and go from there.
As a general rule of thumb, the larger a PC case, the more expensive it gets, making larger cases such as full-tower designs a better choice for high-end builders, and smaller cases like mini-ITX cases a more affordable option for those on a budget. There are some exceptions to this rule, but this is a good indication of what to expect when planning a build.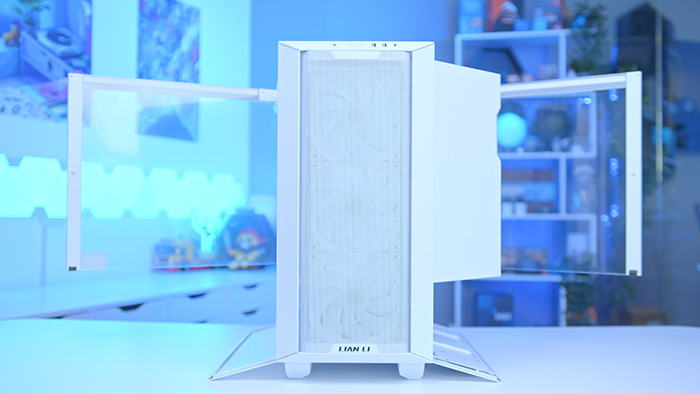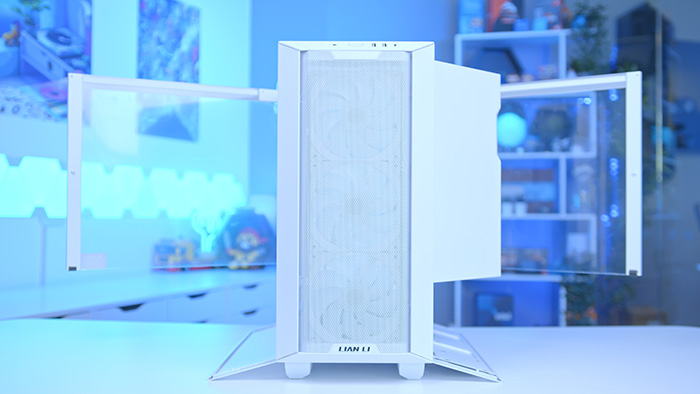 How We Tested the Best White PC Cases
In order to test and evaluate the best White PC cases on the market, there are a number of factors that we take into account, these are:
Size
Component support
Aesthetic
Value for Money
For a more detailed look at our testing and evaluation methods, we recommend checking out the reviews and buyers guides that we've provided in the table below.
Frequently Asked Questions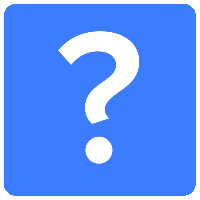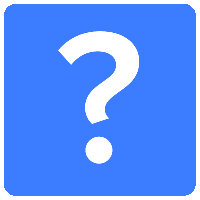 Should I Be Worried About Airflow?
Yes. Airflow is an important factor to consider when browsing for a PC Case, as restricted airflow can have a major impact on performance.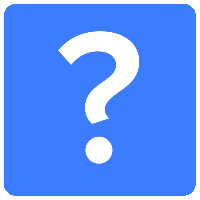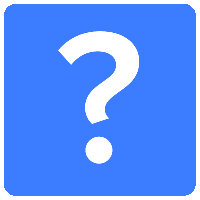 Can You Get All-White PC Cases?
Yes. A number of manufacturers provide a PC Case that is entirely white, making for a great way to house an all-white PC build.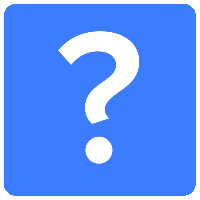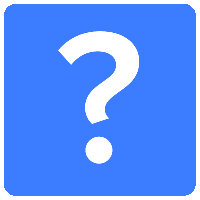 Are Mid-Tower Cases the Best Size for a Gaming PC?
Mid-Tower PC cases are the most common size for PC cases, providing a strong balance between size and functionality. However, it does not make it the best choice for all gamers, as it depends on the type of component gamers intend on using for their system.