Introduction
Mechanical keyboards are an essential peripheral for any gaming PC build, providing a tactile feel when playing fast-paced titles, and a more satisfying typing experience for general productivity and day-to-day tasks. But with a myriad of options available, how do you choose the best budget mechanical keyboard out right now?
The difficulty comes in finding one that is right for you. With so many options to choose from, it can be daunting to scour the internet and find a mechanical keyboard with the right design, size, functionality, and features to suit your needs.
But no need to worry, as we've done all the heavy lifting for you. Here at GeekaWhat HQ, we've searched high and wide to curate a list of the best budget keyboards for under $50, along with explanations of all of the mechanical keyboard jargon. In our roundup of the best budget keyboard options, we've included products with different features and designs to ensure the needs of every gamer are catered for.
Suggested Article: How to Choose the Right Mechanical Gaming Keyboard in 2022
At a Glance: Our Favourite Options
Keep reading for a more in-depth coverage of each keyboard in this roundup!
What is a Mechanical Keyboard?
To put it simply, a mechanical keyboard is a keyboard that includes individual switches for each key. This means that each key has a separate input that needs to be pressed down with a degree of force to register. The springs from the switches usually provide resistance and a clicking sound to indicate that they have been activated, triggering a physical mechanical actuation method. This provides for a more refined gaming experience, and faster typing in day to to day tasks.
It is for this reason that mechanical keyboards have become so popular amongst gamers, and that there is a huge market with a vast array of options available to suit a wide range of users.
Features to Look For
There are lots of key features to consider when looking for the perfect keyboard, and factors to consider. Selecting a specific feature over another can drastically alter the characteristics of the keyboard, leading to a completely different experience for the end user. While this may sound a little dramatic, gamers use their keyboards a lot, so it is important to pick one that will make you feel comfortable and productive.
The first factor to consider when choosing a keyboard is connectivity. Currently, the main connectivity choice is between wired or wireless. Both options have their advantages and disadvantages, but wired options are typically better for those on a budget as they provide a greater value for money. They also trim down latency which can be helpful for fast-paced, competitive FPS titles. That being said, wireless is not completely off the table in the less than $50 price range, and could be the best option for those looking to take their keyboard around with them and minimise cables in their gaming setups.
Another thing to consider is the size of your keyboard. Typically, a keyboard's size will be determined by the number of keys, as well as the physical space required for any other features that have been placed on the peripheral. Standard keyboards often have a total of 104 keys, with smaller keyboards reducing the keys down to as little as 45. For many gamers, reducing the amount of keys is a worthy sacrifice that clears up some desk space for mouse movements and other peripherals. Additionally, the smaller size improves portability and ergonomics, further enhancing user experience. The most common sizes from biggest to smallest are 100%, Tenkeyless (TKL), 75%, 65%, and 60%.
Perhaps the most complicated aspect of choosing a keyboard is the type of switches that have been used. The switches you choose will change the 'feel' of a keyboard, influencing the actuation force and sound when typing. Switches are sectioned off into colours, with each of these colours fitting into a specific typing style. The three main types of switches are clicky switches, tactile switches, and linear switches. As the name suggests, clicky switches, like Cherry MX blues, provide the most feedback, whilst linear switches like MX reds offer the least. Tactile switches like MX browns lay somewhere in between, providing just a hint of feedback on each press.
Whilst it may not impact the performance a keyboard, RGB is another important feature for any gaming product. Nowadays, most gamers would expect to see RGB on everything, but some of you may want to keep things low profile. Making the lighting options addressable is always a nice touch, but probably not a priority on a budget keyboard.
Things to Avoid
When looking at budget keyboards, the main aspects to avoid unsurprisingly comes from the materials and build quality. Poorly built keyboards are going to cause a lot of issues at the lower-end of the market, but what specific weaknesses should you be aware of?
The first thing to look for is the quality of the keycaps. A good keycap needs to feel ergonomic and endure millions of clicks without any major issues. Double-shot injection keycaps are proven to be reliable designs. With so many different designs out there, others will offer similar results, but keyboards that use double-shot methods are almost guaranteed to be of a higher quality.
Another observation to make is the quality of the switches. Like the keycaps, switches need to be sturdy enough to withstand heavy usage and plenty of presses (sometimes in the millions!) Switches that break after a few thousand clicks won't last more than a few months and are simply not worth the hassle.
Whilst the build quality of the keys should be prioritised, the construction of the keyboard chassis is also an important aspect to consider. Housing the keys in a robust frame is likely to add some years onto a keyboard's lifespan, especially if they are comprised of water and dust resistant materials.
Best Manufacturers
Lots of manufacturers are in the keyboard market, which can make it difficult to pick out the great from the good. Due to the sheer amount of keyboards available, companies tend to specialise in products for a certain subcategory. Less brands tend to stand out in the $50 or below market, with products often building up a reputation from the product alone. But from a more general perspective, there are a few companies that consistently provide quality range of keyboards to choose from. So if you catch a deal for keyboards from any of the following brands, it is worth the browse.
Best Budget Mechanical Keyboards – Full Roundup
1. Redragon K552 RGB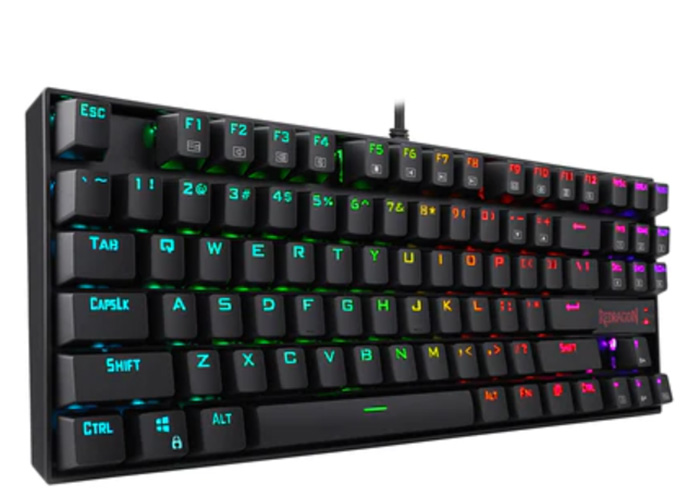 The first choice on our list is the Redragon K552 RGB. This TKL keyboard offers a great blend of size and performance, with the number pad being the only sacrifice. Most people won't miss the absent keys and will benefit from the ergonomics of a more compact design. This layout is supported by a robust design that is splash and dust proof, which means you don't need to constantly worry about small spillages ruining your gaming sessions.
For the key switches, there is a choice between blue, brown, and red, allowing you to select a level of feedback that fits your style. All the key switch options are designed with precision and durability in mind. The dust proof key switches have been tested to last for up to 50 million keystrokes, and the keycaps on the K552 are engineered for precise inputs. To top it all off, they are backlit to let the RGB shine through.
Speaking of RGB, the lighting options on the K552 are quite impressive for the price point. The rainbow LEDs can be programmed to provide 19 different lighting effects, including the ability to create custom modes. Brightness levels on these modes can also be adjusted if the patterns and lights get too distracting. The backlit keys boost the lighting effects a lot, making this keyboard a great choice for all the RGB lovers out there.
For the price point, the Redragon K552 is a sleek and durable keyboard that will add a splash of RGB to any gaming setup. It connects via USB and is compatible with windows devices, but has limited support for MacOS. The K552 is available in both black and white, with three variants for each switch type.
Pros
Splash and dust proof design
Choice of key switch type
Backlit & programmable RGB lighting
Cons
Limited MacOS compatibility
Lack of additional controls and features
Wire is not adjustable
Buy the Redragon K552 RGB on:
2. Royal Kludge RK61 Wired 60%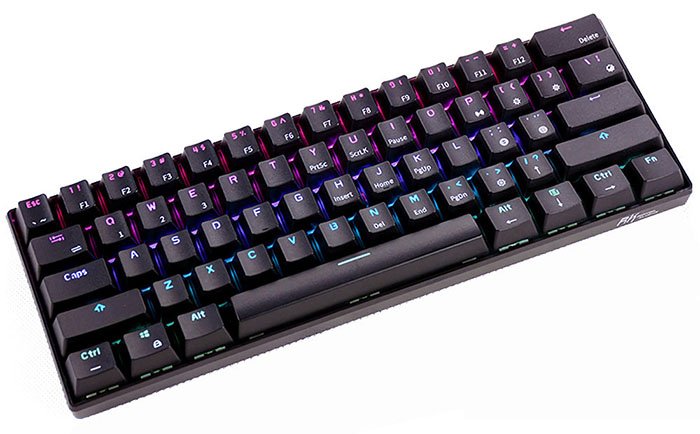 There is a pretty big clue in the name, but the Royal Kludge RK61 is a 60% keyboard, making it extremely portable and compact. Depending on your taste, the 60% layout will either be a major advantage or disadvantage. Whilst it will clear up plenty of workspace, the smaller design removes some essential inputs such as the arrow keys. However, the RK61 does it's best to substitute this by including plenty of multi-functional keys.
In terms of design, this keyboard's compact form factor causes it to appear minimalist, with the keys being encased in a slender frame. Whilst this could be an appealing factor in itself, the RK61's design focuses on substance over style. Equipped with blue, brown, or red RK custom switches, all of the keys on the RK61 are hot-swappable, which means you can replace them easily. This is a major plus for those unsure of what key switch type they prefer because it gives you the chance to experiment with the feel of multiple switches, without having to splash out on multiple keyboards.
Another aspect that this keyboard excels in is its connectivity. The RK61 connects via a USB-C port, which is a rare find in a low-end keyboard. What makes this even better is that the cable is detachable, letting you easily connect and disconnect from devices. Also, this opens up the possibility of upgrading or replacing the existing cable to one that better suits your setup.
The RK61 also includes over 20 RGB backlighting options that can be controlled on the keyboard itself, removing the need to go to external software. But if you do want more custom lighting, you can create your own effects through the RK Royal Kludge software.
This mechanical keyboard is a great budget choice for anyone that wants to try a few styles of keyboard. The hot swappable keycaps and detachable cable removes the need to buy a new product, and acts as a cheap and cheerful way to create a custom gaming and typing experience. Having the ability to customise the RK61 makes it a solid entry point for those looking to get into keyboard modding.
Pros
Hot swappable keys for easy modification
Detachable USB-C cable
Lots of function keys
Cons
Lack of native inputs
Design is pretty simple
Not water resistant or dust proof
Buy the Royal Kludge RK61 Wired 60% on:
3. Black Shark Sixgill K2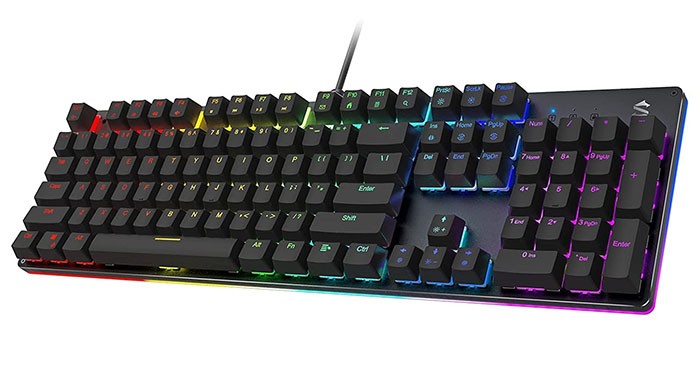 As a full size keyboard, the Black Shark Sixgill K2 has the advantage of having the the traditional layout. With all the buttons on a traditional keyboard still in tact, there is no need to worry about missing those all important keys! Because of this, the Black Shark is a good choice for those that are used to having the full range of keys, or for those that use lots of macros.
The larger layout is accompanied by a metal frame that has an RGB border around the side, giving the Black Shark a more premium look. There is also RGB on the keys that can be customised through the Black Shark software. In total, there are 12 backlight effects to choose from, including effects for the sidelight surrounding the keyboard frame. Within the same software, there is also the ability to create macros for more efficient work or gaming performance.
The Sixgill K2 is available in two key switch options, blue for a clicky response, and red for a quiet, more linear motion. These keys have also been given a keystroke life of 50 million, which means they will survive lots of ferocious typing sessions. However, one of the downsides to this keyboard is the lack of built-in water or dust resistance, leaving it vulnerable to water damage.
For a budget price, Black Shark's Sixgill K2 offers a premium feel in terms of build quality and software. Having complete freedom over the programming of each keys makes it a solid cheap option for anyone looking to increase their productivity, or just looking for a faster way to navigate in-game menus.
Pros
Premium metal base with RGB border
Ability to customise and add macros to each key
Choice of blue or red key switches
Cons
No water & dust resistance
Large layout takes up lots of space
Cable not detachable
Buy the Black Shark Sixgill K2 on:
4. Havit KB487L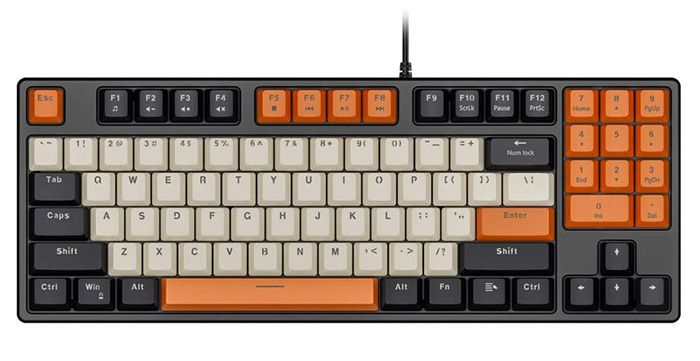 If you are looking for a bit more colour on your keyboard, then the Havit KB487L is worth taking a look at. Unfortunately, the colours are currently limited to a single combination of black, white, and orange. But if that's not your cup of tea, then the keycaps can be removed to add some personal flavour.
Unlike other compact layouts, the Havit KB487L has 89 keys as it integrates the numkeys into the design. Switching the numpad for the traditional TKL setup leaves more room for macros while reducing the impact on work space and mouse movements. Because of this, Havit's 89 key layout will be ideal for MMO or RPG games as they often require lots of additional functions, as well as general improvements to productivity.
The keycaps are made with a sturdy and durable PBT material to provide stability and contribute to the ergonomics of the keyboard. However, the key switches are only available in red and are not hot swappable, making this a no go for fans of clicky keys.
Another big exclusion in the KB487L's design is a lack of RGB. Whilst the colour keycaps offer a splash of colour in their own right, not having RGB slims down customisation options. The only keys that have lighting are the numkeys, but these lights are used to indicate when they are locked or unlocked. The lack of backlighting will make it difficult to see keys in the dark, and will be a shock to the system for those that are used to backlit keys.
The Havit KB487L connects via USB, making it compatible with most devices. Whilst this keyboard is missing some big features like multiple key switch options and RGB, the unique style will add some flair to any setup.
Pros
Compact design that includes numkeys
Replaceable keycaps
Unique design & colour scheme
Cons
No RGB or lighting options
Only available with red switches
Cable does not detach
Buy the Havit KB487L on:
5. Dierya DK63N 60%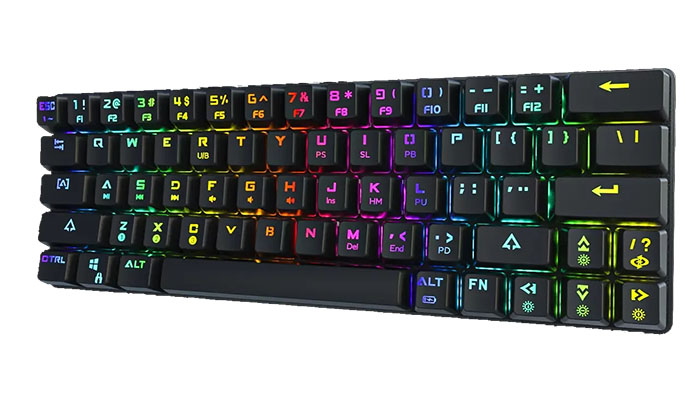 To round things off, we have the Dierya DK63N 60% wireless keyboard. With all the other options on this list featuring a wired connection, the DK63N is the ideal choice for anyone looking to keep their setup tidy and cable-free. Along with the wireless connectivity, this keyboard has an ultra-compact 60% layout, making a great for travel and smaller work areas.
Connecting via bluetooth, this keyboard can pair with up to three devices at once, which bolsters its versatility and portability. Alternatively, the DK63N can be connected via a detachable USB-C cable, which is also used to charge the 1900mAh battery. All of these components make this keyboard super convenient when compared to competitors at a similar price point.
The DK63N doesn't skimp out on stylistic features either, with a choice of 4 key switch types to choose from, as well as custom RGB lighting. This keyboard is available with blue, brown, black, and red switches, so most users will be able to pick a resistance option that suits them. When it comes to lighting, the DK63N has 8 lighting effects to choose from, which can be controlled with Dierya's software. This software also lets you record macros to improve functionality and make up those missing keys.
Dierya's DK63N seems to be a great package for the low price, especially for those looking for a keyboard they can take on the go. But a couple of things to consider if you are wanting to pick one of these up is that the design is not water or dust resistant, so it will need to be taken care of in transit to avoid damage. Also, it is built to primarily work with tablets and phones, and could struggle to connect wirelessly to a more powerful PC.
Pros
Wired and wireless connectivity
Choice of 4 key switch types
Software allows for custom lighting and macros
Cons
May struggle when connected to powerful devices
Not water or dust resistant
Does not support hot swapping
Buy the Dierya DK63N 60% on:
6. SteelSeries Apex 3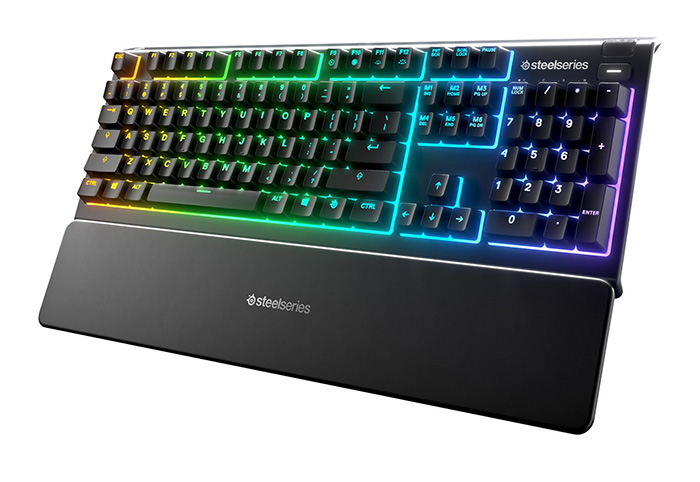 We're heading back to the TKL keyboards with the Steelseries Apex 3. Steelseries have built up a reputation for offering quality gaming peripherals at numerous budgets, and the Apex 3 TKL is another one to add to the list. As the cheapest option on the list, the Apex 3 still manages to include some distinct features that makes it stand out from the crowd.
Arguably, the most interesting feature on the Apex 3 is the dedicated multimedia controls located on the top right of the board. The volume scroll and media key allows you to adjust settings such as volume and brightness at the click of a button. Not only does this improve functionality, but it also adds a unique aesthetic to the layout.
Another design feature that adds some quality of life whilst keeping the price low is a three-way cable routing which lets you choose where the integrated cable exits. Whilst this is a small touch, it is sure to please cable management enthusiasts and allows gamers to avoid issues with desk space.
Despite the budget pricing, the Apex 3 is built to last and prevent damage. This keyboard is made with IP32 water resistant and dust proof materials to stop spills and mishaps.
Like most mechanical keyboards made for gaming, the Apex 3 includes RGB lighting options thanks to Steelseries' PrismSync technology. This software allows you to choose from a wide range of advanced modes whilst also letting you synchronise the lighting with other Steelseries products.
Technically, this keyboard is not a true mechanical design, and instead uses a 'meg-chanical' switch type to imitate mechanical switches for a cheaper price point. It's still worth considering (hence its inclusive in last place in our roundup), but this is a big factor to consider.
Pros
Dedicated media controls
Three-way cable routing
IP32 water & dust resistant
Cons
No key switch options
Lack of programmable keys
'Mem-chanical' design