Introduction
Activision's brand new Call of Duty MW2 Remastered (2022) has recently been released to much acclaim across the gaming community, but its release brings along the age-old question – can my gaming PC run it? Fear not though, as in this piece we'll be covering off the best graphics cards (GPUs) you can buy to play this mammoth gaming title at 1440P, while achieving top-tier frame rates!
We'll also be looking to answer the age old question of Nvidia vs AMD (in the context of whether either is best for MW2), and looking at GPUs to perhaps avoid for cranking those settings up in MW2 at 1440p.
Want to skip straight to our recommended GPU choices? Take me there!
COD MW2 Hardware Requirements
Call of Duty MW2 has a pair of specs which look to cover off both the minimum hardware required, and the recommended spec level. It should be noted that both of these configs are geared towards 1080P gaming only, and that you should use these numbers as a starting point only. By modern AAA game standards, the recommended spec level is pretty modest, something which should allow us to have strong mileage at 1440P, without needing to spend a fortune.
Minimum Specs
Recommended Specs
Operating System
Windows 10 – 64 Bit (latest update)
Windows 10 – 64 Bit (latest update)
Windows 11 – 64 Bit (latest update)
CPU
Intel: Core i3-6100/Core i5-2500K
AMD: Ryzen 3 1200
Intel: Core i5-6600K/Core i7-4770
AMD: Ryzen 5 1400
GPU
NVIDIA: GeForce GTX 960
AMD: Radeon RX 470
NVIDIA: GeForce GTX 1060
AMD: Radeon RX 580
VRAM
(Video Memory)
2GB
4GB
RAM
8GB
12GB
Storage
75GB
75GB
Graphic Drivers
NVIDIA: Version 516.59
AMD: Version 22.9.1
(We would always recommend updating to the latest GPU drivers, even if these are not strictly required)
NVIDIA: Version V516.79
AMD: Version 21.9.1
(We would always recommend updating to the latest GPU drivers, even if these are not strictly required)
Minimum and Recommended Specs for COD MW2 Remastered (Source: Activision.com)
Testing Methodology
Whenever testing a new graphics card, game release (or in this case, both!), we publish full recordings of our testing runs over on the YouTube channel, 'Benched! by GeekaWhat'. The aim of doing this is to not only be transparent with our audience and readers, but also to show the kind of visual fidelity you can expect when playing with certain configs.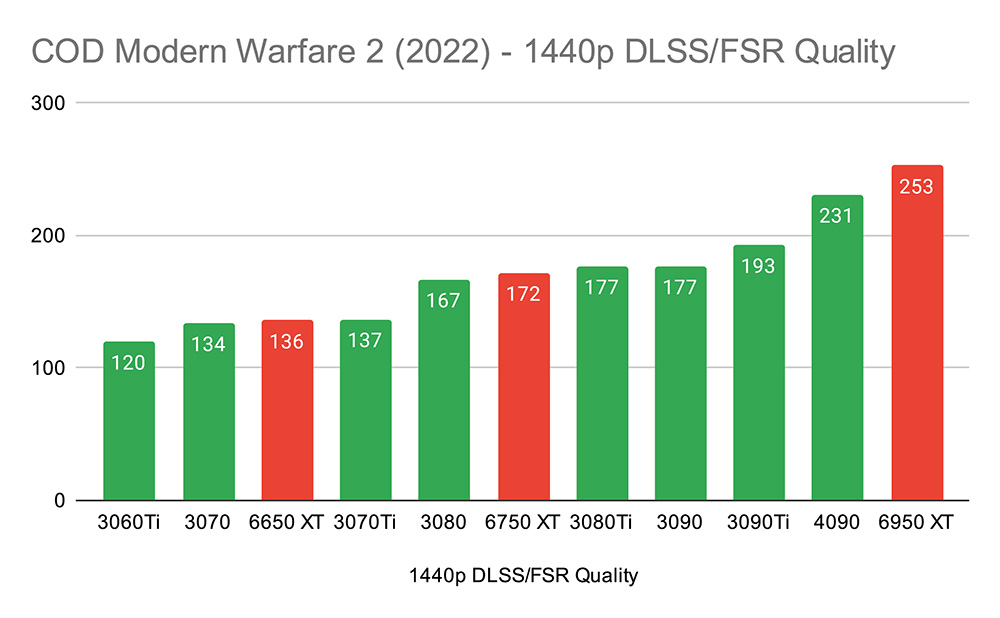 Best GPUs for COD MW2 Remastered:
1. NVIDIA GeForce RTX 3060Ti
In a win for Nvidia, their GeForce RTX 3060Ti graphics card comes in as our budget pick for playing MW2 at 1440P. This might seem like a surprising choice when looking above graph, given that AMD's RX 6650XT actually delivers more frame rate for less money.
This is because our testing incorporates the use of Nvidia DLSS and AMD FSR. These are both next-gen resolution scalers, which use technology to offset the visual impact of resolution scaler. While AMD do a more effective job of delivering more frame rate via FSR, than Nvidia do with DLSS in this case, it comes at the impact of visual fidelity.
The image with AMD's card looked a little too soft for our liking, with Nvidia's DLSS tech doing a much better job of increasing frame rate, and retaining a good looking image. The RTX 3060Ti delivered a strong 120FPS in our testing, double the crucial 60FPS figure console gamers will be accustomed to. The gameplay is smooth, stutter-free, and this lower-end Nvidia GPU retains its strong reputation as a strong underdog for 1440P gaming across a wide range of titles.
You can view the visual difference between the RTX 3060 and RX 6650XT below:
Pros
Solid 1440P performer
Great value for money
Support for superb DLSS 2.0 tech
Cons
RTX 3070 can be a better buy
Weak for gaming at 4K
Buy the NVIDIA GeForce RTX 3060Ti on:
2. AMD Radeon RX 6750 XT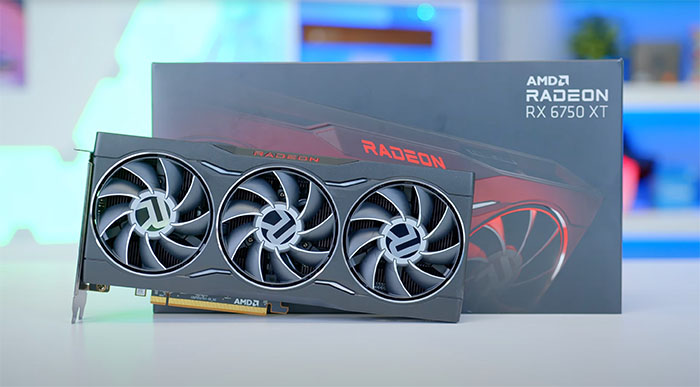 The RX 6750 XT comes in with a strong performance that earns it a well justified second place in our roundup. Although FSR has its downsides, apparent with the aforementioned RX 6650XT, it has the upside of allowing cards like this to compete with much higher end GPUs. With a superb 172 frames per second on average, this card is able to satisfy the refresh rate of widespread 165Hz, 1440P gaming monitors and provide an excellent gaming experience.
Plus, with a solid 12GB of video memory and solid increase in performance over the RX 6700XT (the card which this is based off), it's an impressive release from AMD. You can pick up a wide range of board partner RX 6750XT designs, or learn more about the AMD Radeon edition.
Check out how the RX 6750XT and RTX 3070 compare in MW2 Remastered below:
Pros
Very solid performance at 1080p & 1440p
Esports-worthy, competitive frame rates
Solid improvement over the previous RX 6700XT
Cons
Less mature render scaling tech than Nvidia's DLSS
Close in price to the better RX 6800XT
Buy the AMD Radeon RX 6750 XT on:
3. Nvidia GeForce RTX 3080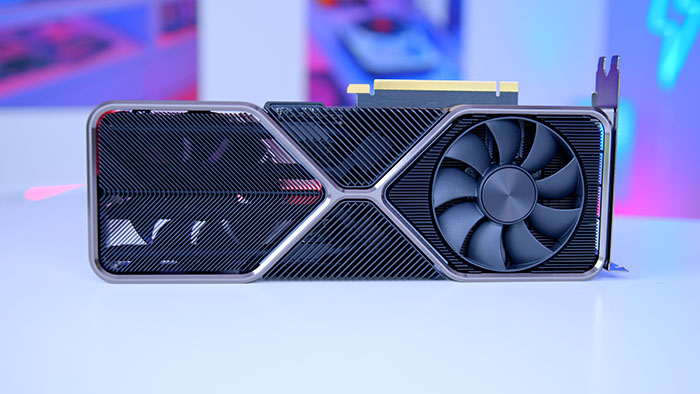 Nvidia's RTX 3080 is a card that never fails to perform well, even in light of the new RTX 4080 and RTX 4090 launches. Continuing to be produced, and at a lower MSRP price point than the 4080 at that, it is still a very solid performer.
Delivering over 160FPS at 1440P with, what has be to said, better visual fidelity than the RX 6750XT, this is a card that never seems to disappoint. Frame rates were butter smooth and Nvidia's Ray Tracing and DLSS tech remains matured when compared to the competition.
Pros
Fantastic performance
Great DLSS and Ray Tracing support
Strong Ampere architecture
Cons
No DLSS 3 support
Ageing a little
Buy the Nvidia GeForce RTX 3080 on: