Introduction
Intel's 13th-Gen CPUs brought with them a whole host of shiny new Z790 motherboards, and with brands constantly bidding to out do each other, motherboards are seemingly becoming more feature-rich and outlandish by the day! But with so many options on the market, how to you find which Z790 motherboard is actually the best, and is MSI's Z790 Godlike design just that?
Having been impressed with the last-gen Z690 Godlike motherboard, our hopes are understandably high for MSI to knock it out of the park two years running… but have they? Let's take a dive into their Z790 Godlike, reviewing everything from the BIOS and overclocking settings in this board, to the extras that come in the box.
Buy the MSI MEG Z790 GODLIKE on:
Suggested Article: Intel Core i9 13900K Review & Benchmarks – The Best Gaming CPU Ever Made
The Z790 Chipset – What Features Are on Offer?
The Z790 chipset is the flagship chipset, launching alongside Intel's 13th-Gen CPUs and bringing the consumers the best of the best by way of features. Many of these motherboards are geared towards the top-end of the market, but we've seen plenary of mid-range Z790 designs that also hold up well at lower prices.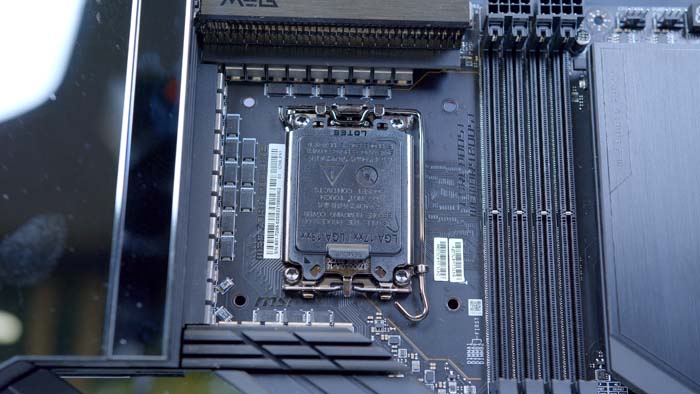 Although the Z790 chipset hasn't seen any major architectural changes over the last-ten Z690 design, there are definitely some benefits to choosing Z790 over Z690. The main benefits to using Z790 motherboards are the widespread uptake of PCI-E 5.0, alongside access to USB4 ports and other high speed rear IO. Although PCI-E Gen 5 did feature on a number of Z690 motherboards, Z790 brings this in a much more widespread fashion. More boards also include Gen5 M.2 slots too, great for those looking to purchase the new drives when they enter the market.
Z790 boards have also retained support for both DDR4 and DDR5 memory. We should make absolutely clear that while the chipset supports both memory types, boards have to pick a standard, as the slots are physically different. We commend Intel giving this choice to board makers like MSI, ASUS and Gigabyte and see it to be a very consumer-friendly approach.
With the MSI GODLIKE being so high-end, it predictably supports DDR5 out of the box, as is to be expected with a design like this. We'd recommend getting a low latency kit for the GODLIKE to ensure you get optimal performance, as higher latency kits can impede performance significantly in high-end builds.
Are Expensive Motherboards Worth It?
Instead of the usual Z690 vs Z790 motherboard comparison I thought it would be apt to discuss the the importance (or thereof) of expensive motherboards within the market. These motherboards are designed to house the most powerful CPUs whilst offering a range of features designed for gaming and workstation PCs.
The MSI Z790 Godlike is not supposed to be a board for everyone. In fact, most people shouldn't buy it. But for those that need it, it is a godsend (no pun intended!)
Ultimately, whether or not you need to pick up an expensive motherboard will be down to your use-case. If you plan on getting some overclocking underway to push the performance boundary, a motherboard with an ample amount of VRM phases will be a requirement here. If you're building a workstation PC and you require more USB ports for peripherals and accessories, you may need to look towards the high-end market to give you the amount of ports you need. And this is a similar situation for multiple PCI-E slots, with many of the top-end motherboards offering room for multiple graphics cards – great for video rendering or editing, not so much for gaming.
Design & Aesthetics
MSI's motherboards often tend to sport some of the best looking designs, but the Z790 GODLIKE certainly plays things quite safe. I would have preferred MSI to be a little more outlandish here, but it is by no means a bad looking board.
The sheer amount of metal heatsinks and heat spreaders help to break things up, and hide a myriad of SSD slots (seven in total!).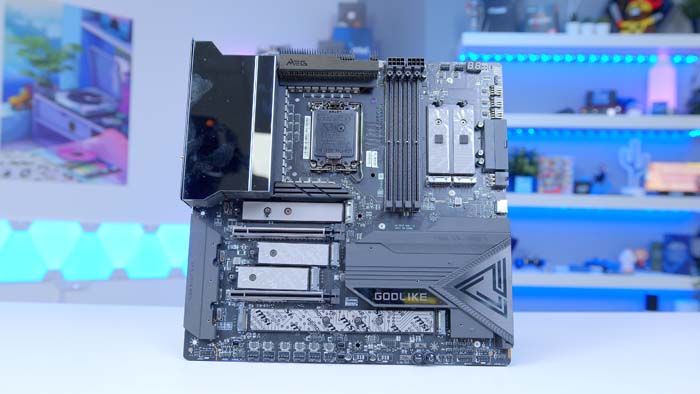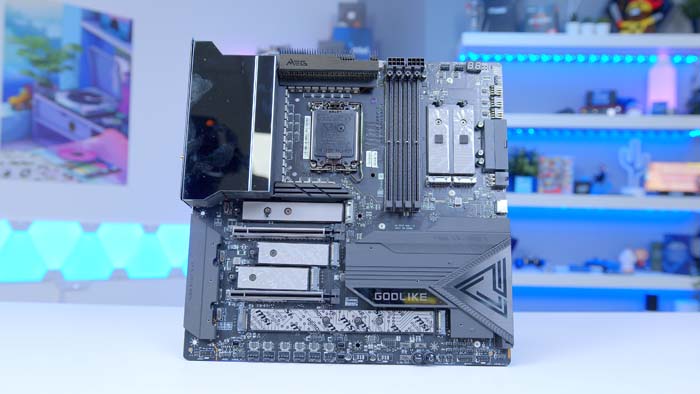 I was a big fan of the black and gold aesthetic that came with the Z690 MEG ACE, and is a little bit of a shame that MSI haven't followed up with an equally cool design here. We can forgive this on the grounds that you're not really paying for 'looks' here, and more the ridiculous amount of features. I can also see why MSI have strayed away from anything too obscene, given the launch target audience of professionals using this board for a high-end workstation.
Features
The MEG Z790 GODLIKE from MSI is one of the most feature rich boards we've ever had in the office, and based on the price of this beast, you can probably imagine how extensive the list is. We've noted down some of our favourite features that come with the Z790 GODLIKE below:
LCD Display
Arguably one of the biggest features on this board is the M-Vision Dashboard. With a touch-responsive USB C powered, 4.5 inch IPS LCD panel, you can monitor your system in realtime. From system temps, to hardware status, along with live weather, a countdown time, or just some good ol' fashioned GIFs, this display has it all!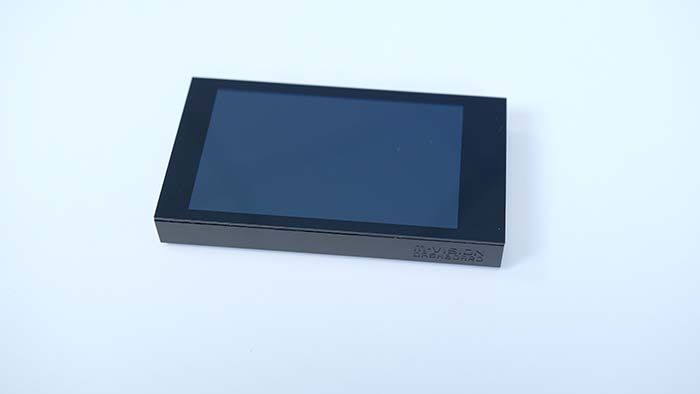 VRMs & Overclocking
With any high-end motherboard you would expect to see an ample amount of VRM power phases and cooling, giving you the opportunity to get some overclocking underway. The GODLIKE has the most amount of power phases I've ever seen on a consumer motherboard, sitting a 28 in total. A CPU like the Core i9 13900K needs consistent power delivery in order to sustain a high boost clock and an overclock.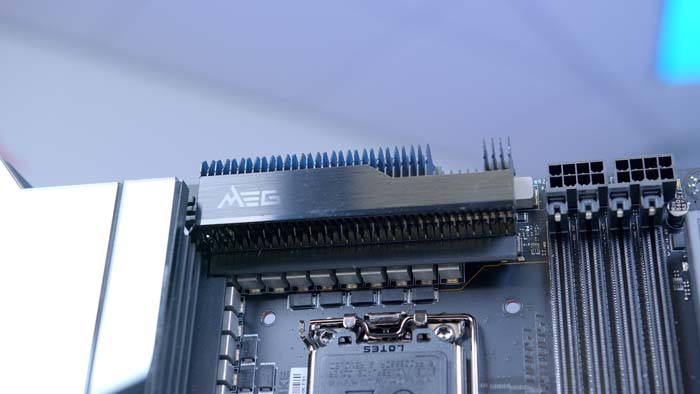 Although this many power phases might be overkill, I'd argue if you're buying the GODLIKE you're probably building an overkill gaming or workstation PC. For this reason, the insane heatsink design and ridiculous amount of VRM power phases will be plenty to boost your CPU over the 6GHz mark!
PCI-Express Slots
The GODLIKE is an absolutely gigantic motherboard, and because of its size there's a massive amount of PCI-E slots on offer for a number of graphics cards and SSDs. On the GPU front you've got access to two Gen5 x16 slots that can run at full x16 speed, or x8 if you've decided to build a multi-GPU system.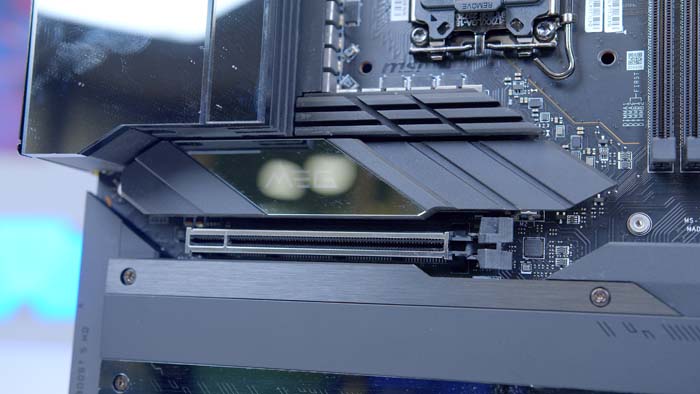 The MSI Z790 GODLIKE also caters well to users in need of lots of storage. With no less than seven M.2 connectors, you can add in drives to your hearts content. Plus, most are Gen4 standard, with one of them being Gen5 compliant and only one Gen3!
Thunderbolt 4 Ports
One of the major benefits of buying an expensive motherboard is the amount of rear IO you get access to. With the launch of select Intel 12th-Gen motherboards, consumers got access to Thunderbolt 4 Type-C ports. On the GODLIKE there are two of these that can deliver up to 40Gb/s speeds, with 8K display support alongside fast charging to ensure your peripherals and accessories can stay powered for gaming!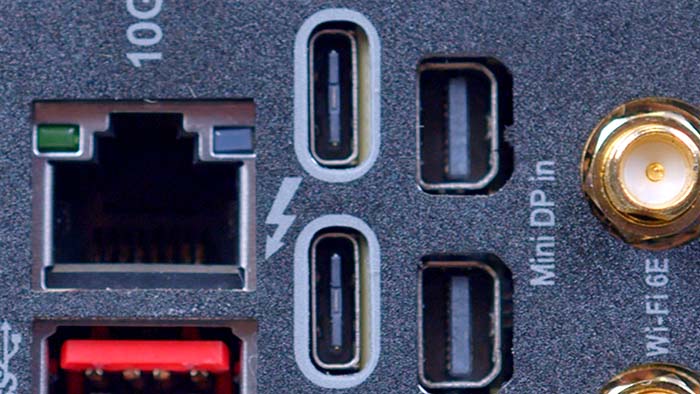 Rear IO
Along with the Thunderbolt 4 ports, the Z790 GODLIKE houses a ridiculous amount of rear IO, proving the ability to plug in a huge number peripherals. This board has no USB 2.0 in sight with the bulk of ports supporting the USB 3.2 Gen2 standard. Networking is excellent, with WiFi 6E and Dual Lan ports, one of which is a 10 Gigabit port, perfect for file transfers.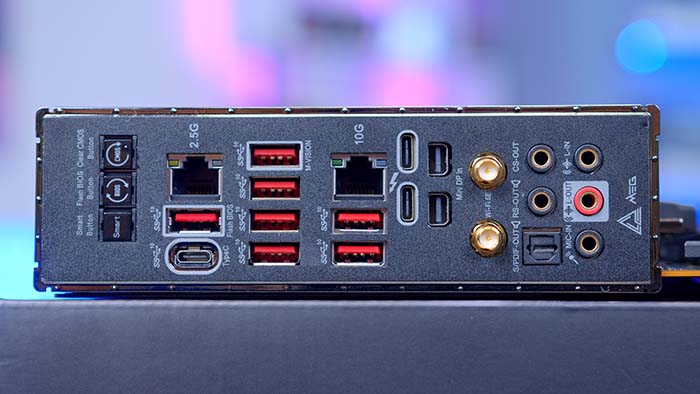 Audio is also well catered to, with gold plated 3.5mm and optical audio outputs. If there's a port or connector you are after – the chances are the MSI Godlike has it!
Angled Connectors and Headers
A unique design feature that I believe worth mentioning are the angled headers on the board. Presumably, due to the nature of the extended heatsink design, MSI changed the angle all of the USB and SATA headers to a 90 degree angle. This is extremely useful in terms of versatility making, cable management and installation much easier. You won't need to worry about cable strain as your various headers can plug into the right side of the board without issue.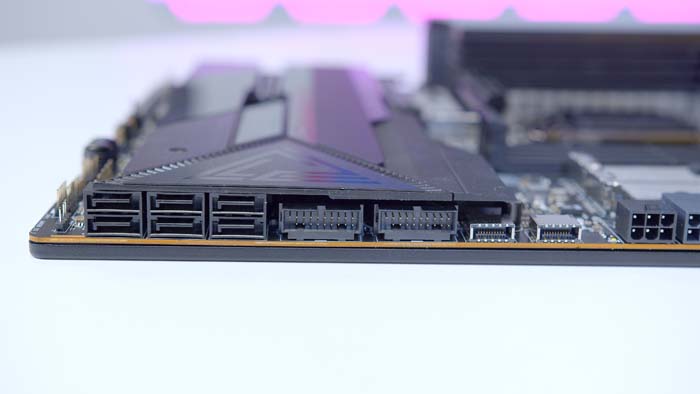 Usability Features
The MSI Z790 GODLIKE has plenty of extra features that help make the PC building process a smoother experience. First off, two of the M.2 SSDs feature a latch-less design that allows you to secure any drives without the next for extra tools or fiddly tiny screws. Towards the top right of the board you'll also find a Q-Code LED display which allows you to quickly diagnose any issues.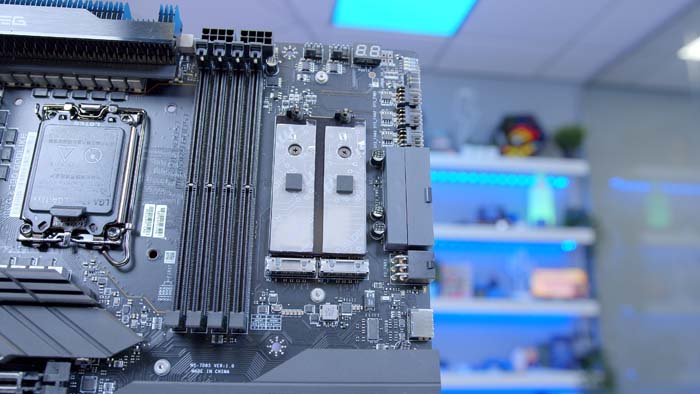 On the rear IO you'll be able to see a Clear CMOS and Flash BIOS button. Should you have any boot issues or need to install a new BIOS update, you can use either of these buttons to make the process much simple. The M-Vision Dashboard also features plenty of usability options like hardware monitor or CPU overhead detection to ensure that all of your components are in tip-top condition.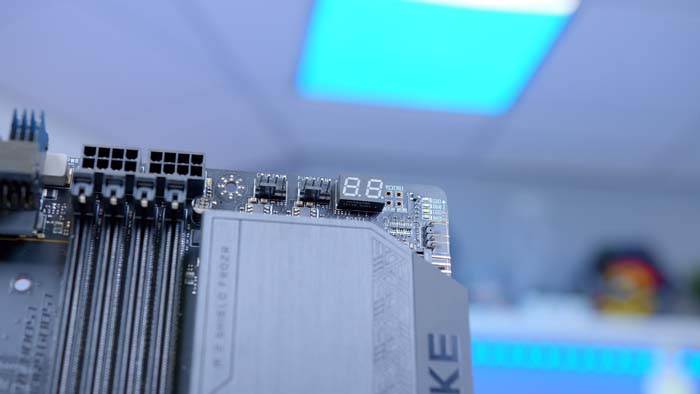 What's In The Box?
As you can probably expect, alongside the insane amount of features that this motherboard has, you also get plenty of extra accessories, and cables in the box that can simplify your building process while saving some money too!
WiFi Antenna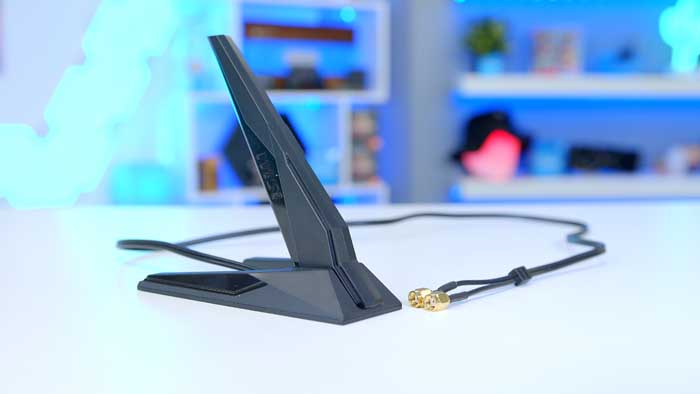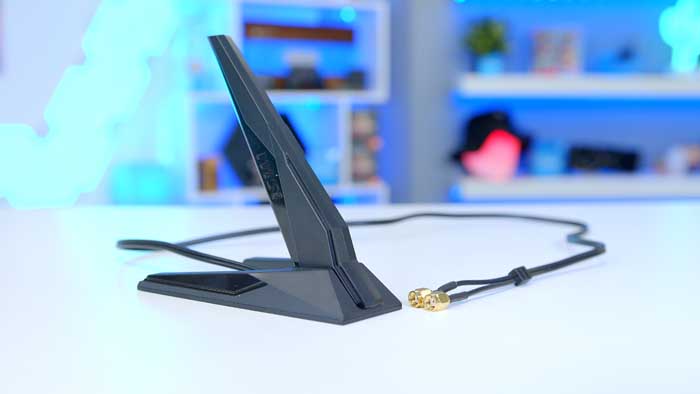 Braided SATA Cables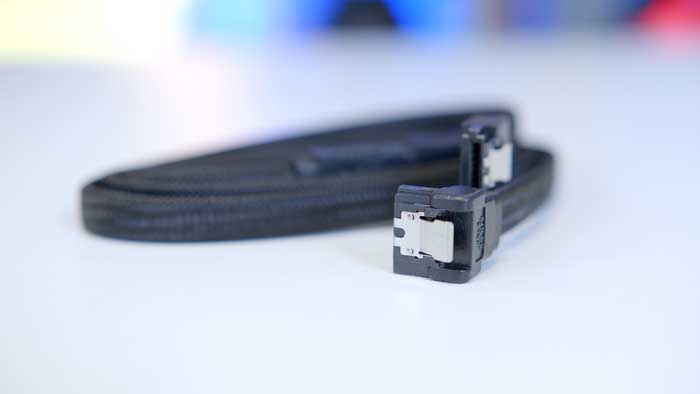 RGB Extension Cables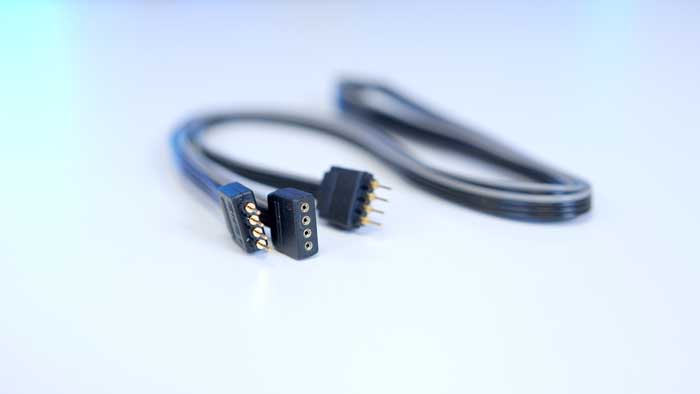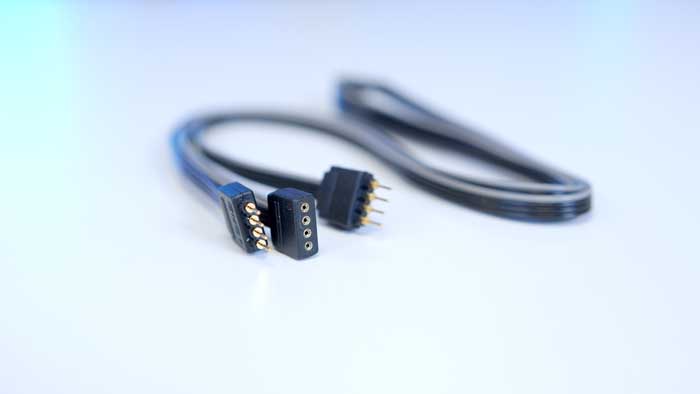 Thermistor Cables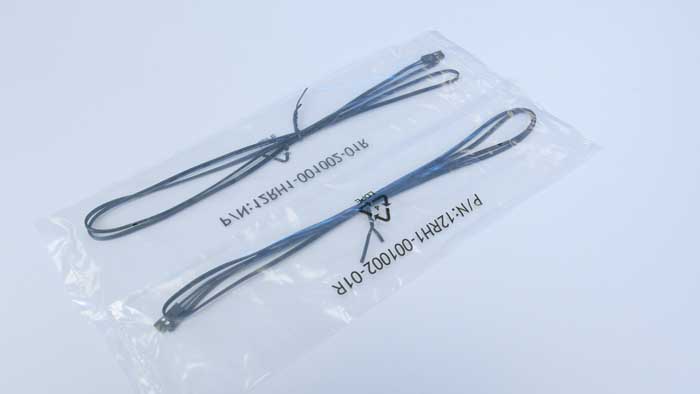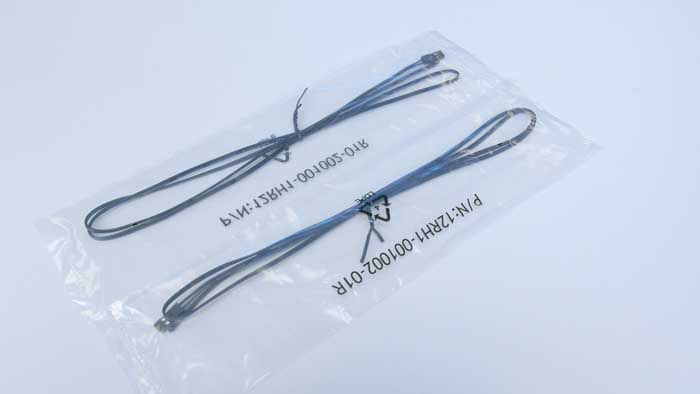 EZ M.2 Clip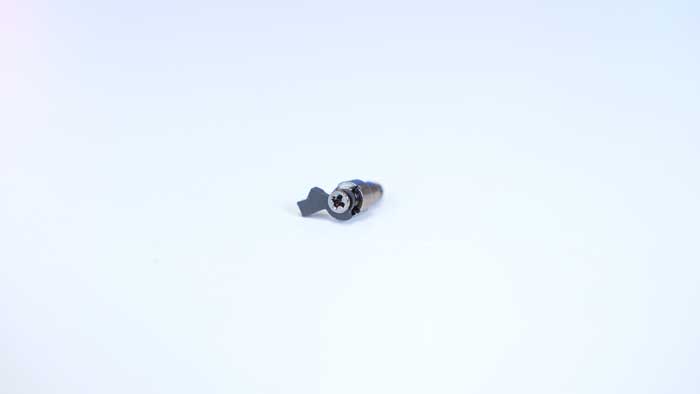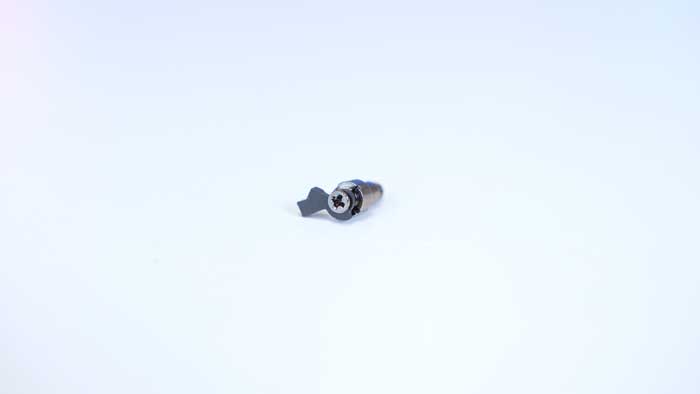 EZ Front Panel Cable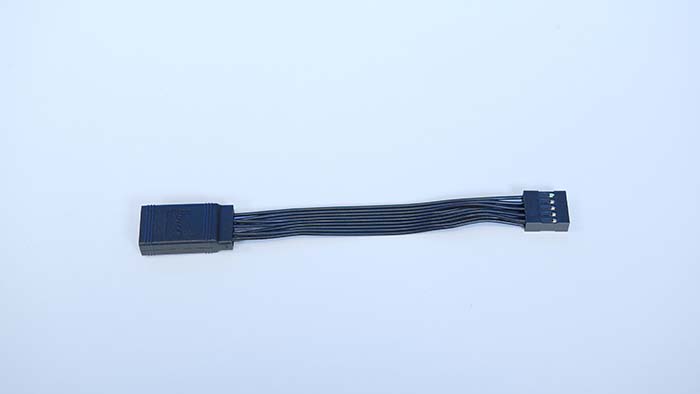 The EZ front panel cable is designed to help you locate your front panel pins!
Mini DP Cable
M-Vision USB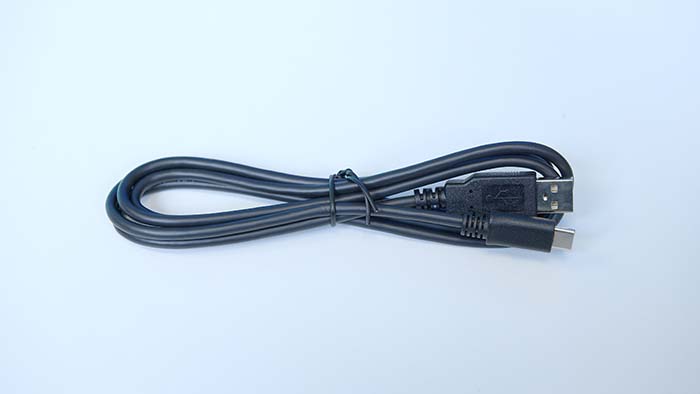 BIOS USB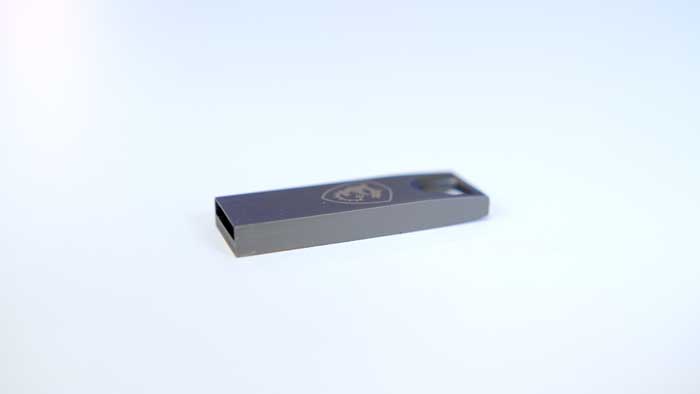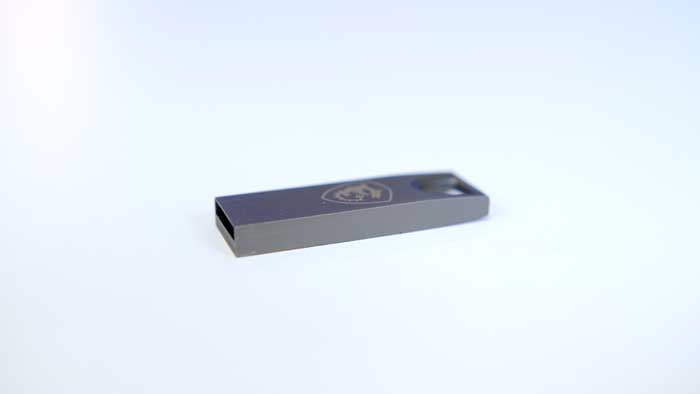 Gallery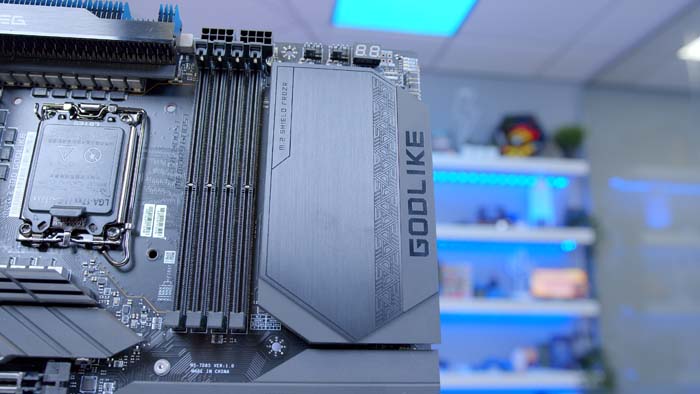 Conclusion
MSI MEG Z790 GODLIKE
Features

Design

Performance

Value For Money
Summary
MSI's Z790 GODLIKE is one of the most feature-rich boards that we've ever had in the GeekaWhat office. Although this board is definitively overkill, you get what you pay for with staggering attention to detail and endless connectivity. A gargantuan amount of SSD slots and USBs, along with a full-fledged LCD display that allows you to monitor real-time information, and this board doesn't disappoint. The overall aesthetic is a little restrained for my liking, but the design still looks sleek if a little bland at times. 
Pros
✅ Insane amount of features.
✅ Excellent usability options aiding the build process.
✅ LCD display is awesome!
Cons
❌ Insanely expensive.
❌ Doesn't offer much in terms of RGB.
❌ Large and heavy design will limit case choices.